Farmhouse Printables: 6 FREE Funny Laundry Room Printables
Sharing is caring!
Are you inspired by farmhouse DIY decor and would like to add some down-to-earth rustic wall art to your home? You are not alone as decorating your walls with free farmhouse printables trend is not going away (yet).
Why is that? Why do we see #barndominiums on Instagram with a huge following of fans, numerous blog posts dedicated to all aspects of DIY farmhouse decor, as well as a pilgrimage of faithful fans to Waco, Texas which, thanks to the magic of Chip & Joanna Gaines of Magnolia Homes, became an unofficial capital of All-Things-Farmhouse?
Home is the most important place on earth. It's where life happens and where your family's story is told.

~ Joanna Gaines
There is something heart-warming and nostalgic about simple things. Country posters or farm animals printables remind us about good food which is grown on a local farm or in your own garden (organically, of course), the warmth of a fireplace on a stormy day, a home filled with memories, laughter, and good times, and a feeling of belonging to a tight-knit community.
That's why farmhouse is not just a country decor style but a lifestyle that is appealing to so many people. Millenials are buying farms and growing organic vegetables as well as producing artisan cheeses. We see a come-back of a humane approach to raising chickens on pastures and collecting eggs that have all the goodness of sunshine in their yolks. Farmers' markets are slowly making its way to the suburbs. And it feels great to add this warmth to your own home through farmhouse DIY decor, no matter where you live.
One of the quickest ways to add farmhouse style and flavor to any interior is to decorate with free rustic wall art printables that you can download and print yourself or take to a local store. Any frame would work: you can repurpose some of your antique finds, buy simple black frames at IKEA, or upcycle pallet wood to make your own.
Our team browsed hundreds of free and not-so-free printables and came up with a collection of BEST FREE FARMHOUSE PRINTABLES for home decor available. We checked all the sites for the authenticity of prints they are offering, evaluated the ease and quality of downloads, and made sure that all the links are current and working.
Enjoy our Free Farmhouse Printables Round Up and if you find any discrepancy, please feel free to let us know and we'll correct it.
Let's honestly face it: there is hardly any person who enjoys doing laundry. Consequently, it can become a chore that you keep avoiding for days… What if you can make your laundry room a delightful space and add some farmhouse-style black and white funny sayings that will lift your spirits?
We have recently found a great collection of free laundry printables by The Mountain View Cottage that will greatly complement your modern farmhouse decor. Love the classic black and white theme!
They can also bring a smile to your face when you are doing that tedious labor of love for your family. Print them today and enjoy!


Source: themountainviewcottage.net
You can't go wrong with this collection of classy and elegant botanical prints! Ready to be printed in 8″ x 10″ or 11″x 14″ formats, these unique vintage prints will create an impressive multi-panel rustic wall art collection that is sure to warm up your home. Use all 21 prints or create a triptych – it is your wall and you can decide how to arrange your art.
The best part – it is FREE, thanks to SimplyMadeByRebecca! You can even use bigger frames and add some white or burlap matting if it suits better your existing rustic decor. Experiment and you will be rewarded by creating your own unique look.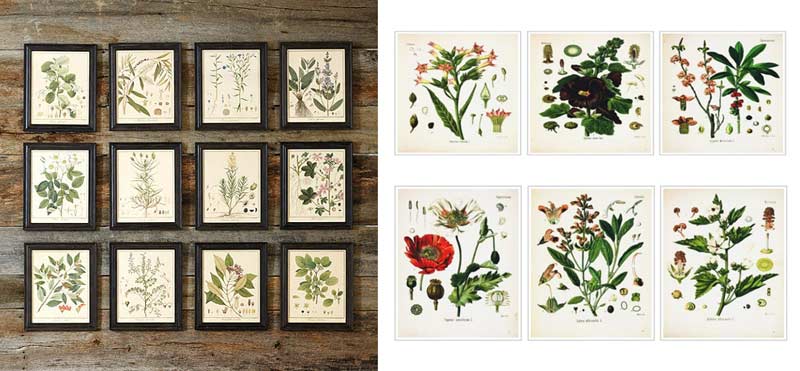 Source: SimplyMadeByRebecca
These tasteful rustic wall art prints are available from TheCottageMarket thanks to the generosity of author and creator Andrea. As each of these 2 designs is available with four different weathered wood backgrounds: white, gray, aqua, and warm-toned wood, they can go perfectly with any type of rustic farmhouse décor.
These prints are available in 2 different sizes: 5"x7" and 8"x10" and with extra mating would create a wonderful gallery wall or a simple accent piece. Love the fonts and the beauty of a simple cotton wreath! The instructions are very clear and download is quick and easy. Just a delight!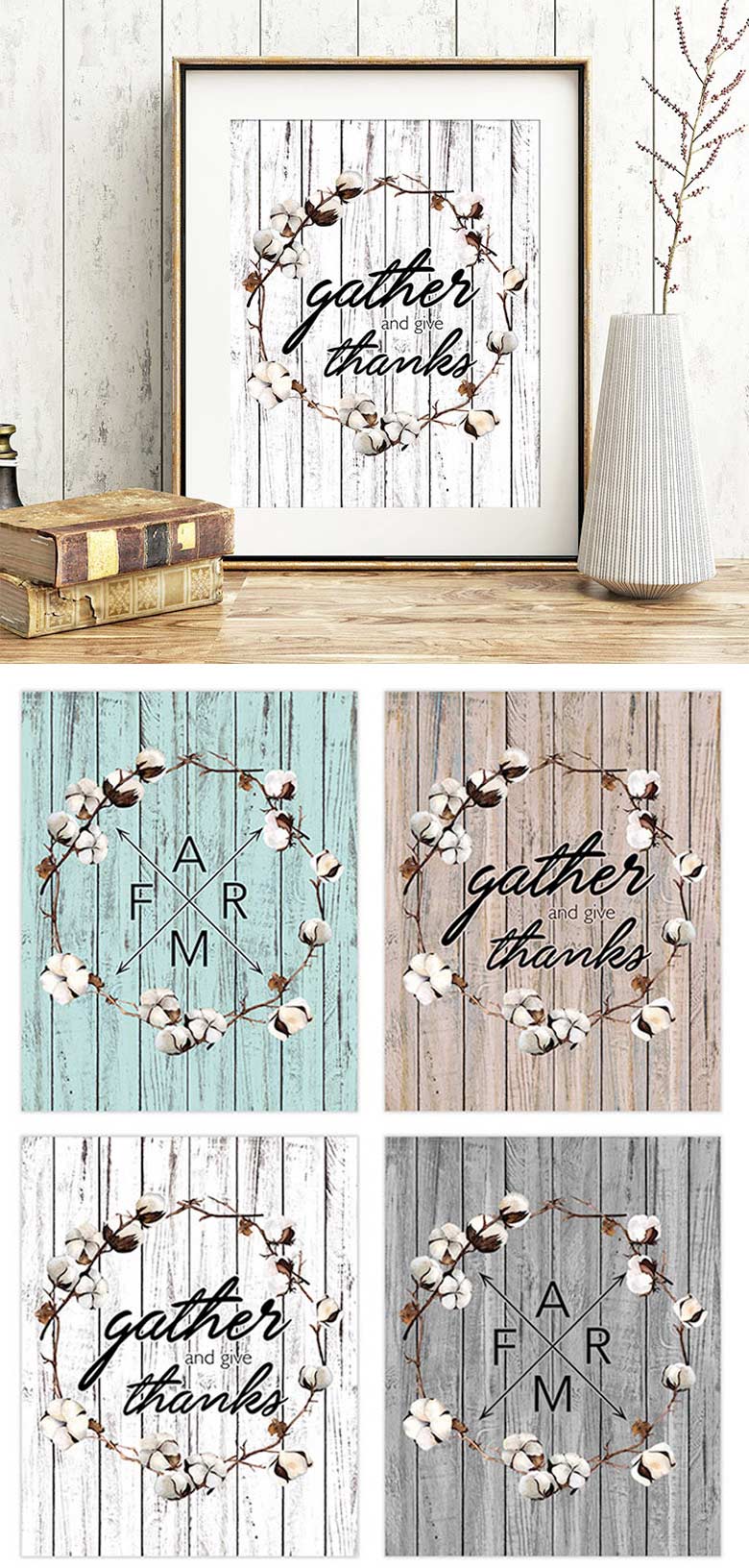 Source: TheCottageMarket
Are you fond of patent art but don't know where to find an affordable print for your home decor? TheNavagePatch has a beautiful collection of high-quality patent art printables if you provide your email and sign up for VIP newsletter. Who doesn't want the gorgeous tractor, cow milker, silo, and other farm animals printables designed with engineering precision and begging to be part of your modern farmhouse decor DIY style?
You gain instant access to 18 free downloadable farmhouse patent art prints and other bonus farmhouse printables, so in our book, it is a win-win. They look great with an off-white, cream, and black background and will complement perfectly any farmhouse-style decor – just add an antique or DIY wooden frame.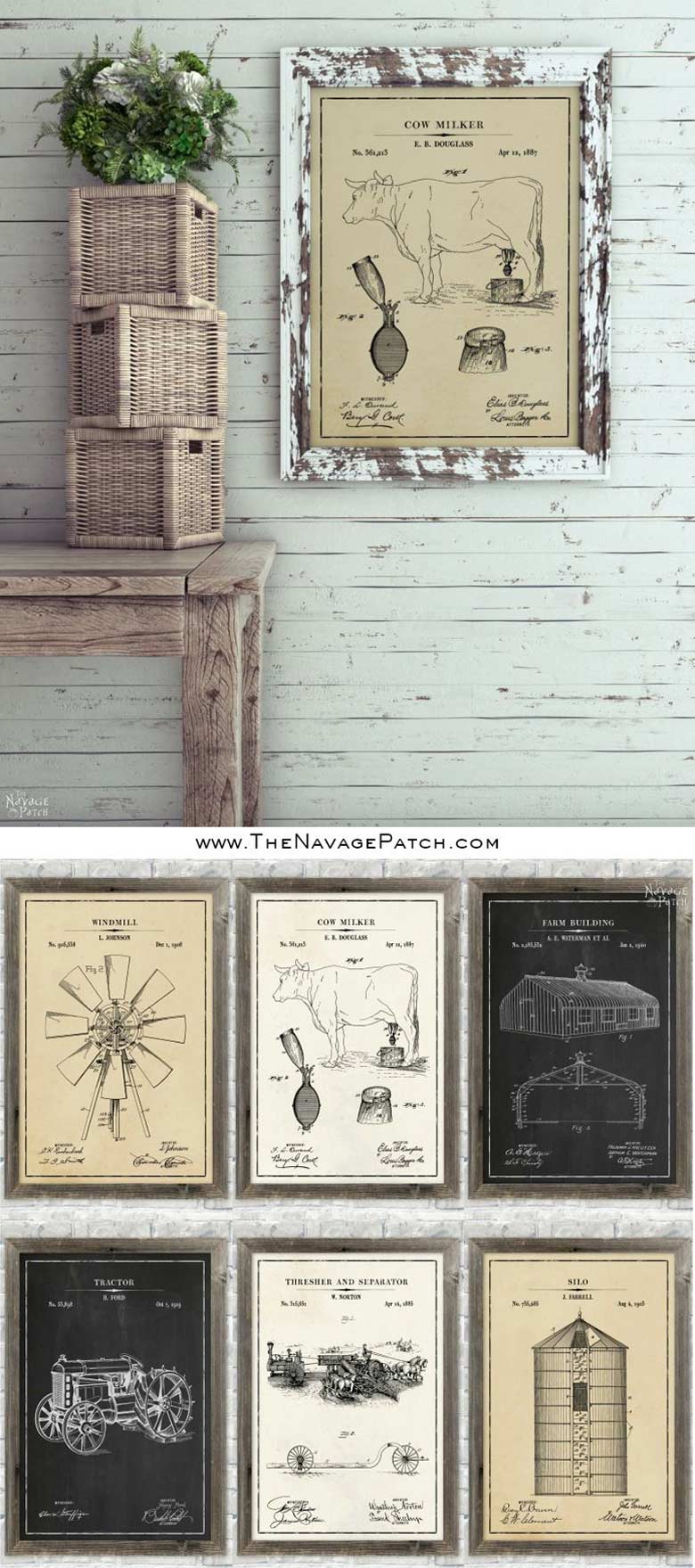 Source: TheNavagePatch
These alluring spring-fresh herb farmhouse printables created by CherishedBliss will brighten up your kitchen or dining room even if you don't have farmhouse decor. They are simple yet charming and are available for no-gimmicks free download as PDF files. You can print them on regular 8.5″x 11″ paper and frame with mating (or without) for an eye-catching gallery wall. Six free botanical prints include Lavender, Rosemary, Thyme, Basil, Mint, and Dill. You can use all six of these charming herb prints or group them in 2 sets of triptychs. A gorgeous addition to your DIY home decor and it is FREE!

Source: CherishedBliss
These original watercolors were hand-painted by skillful artist Annie Mertlich and are available as a free download of Magnolia Journal content. Just click on the bottom link Spring Issue 2017 Download to save a zip file. There are easy step-by-step instructions on the page on how to unzip the files and get six wonderful ready-to-print vintage florals: allium, crocus, daffodil, hyacinth, muscari, and tulip. In one of our posts dedicated to three easy farmhouse decor projects, we shared a tutorial by Joanna on how to hang vintage printables.
Check it out for the best of both worlds: free farmhouse printables and a DIY project you can do in an hour to add some farmhouse decor to your home. It is a quick and easy way to make your home cozy while staying on a budget with free printables.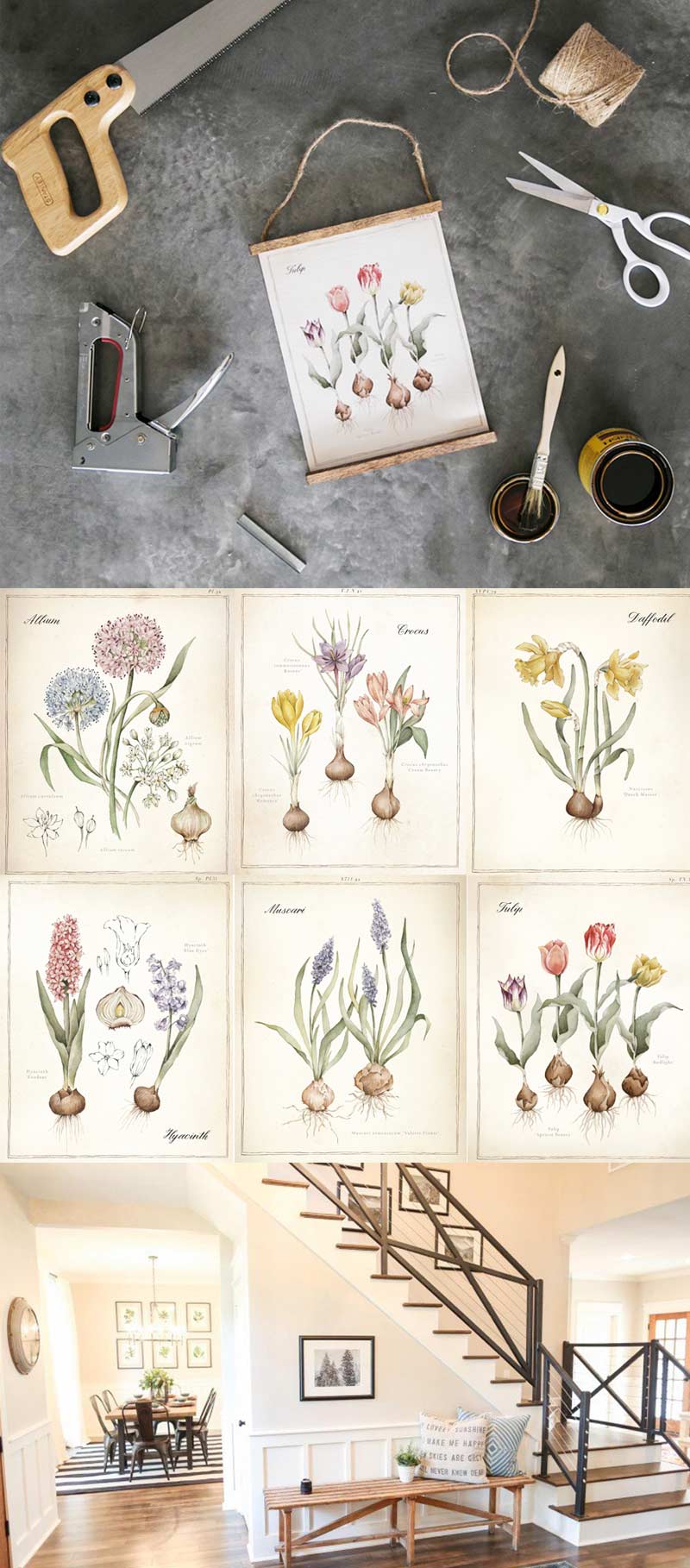 Source: Magnolia Journal Free Content
These high-quality Olive Branch botanical prints were shared by Lauren from Gather & Flourish and are an absolute delight! Available through New York Public library collection of rare books, they were lovingly cleaned and made available for an instant download if you subscribe to the blog.
They come as a PDF file ready to be printed at home or on canvas (at your local UPS store, Costco, or any print shop) as multi-panel canvas prints and will make a great addition to the farmhouse style neutral decor. You can use them in your dining room or kitchen for a timeless display of olive tree botanicals with some vintage flair. Great find for those looking to spruce up home for spring with free farmhouse printables – all you have to do is find some frames that will complement modern farmhouse architecture.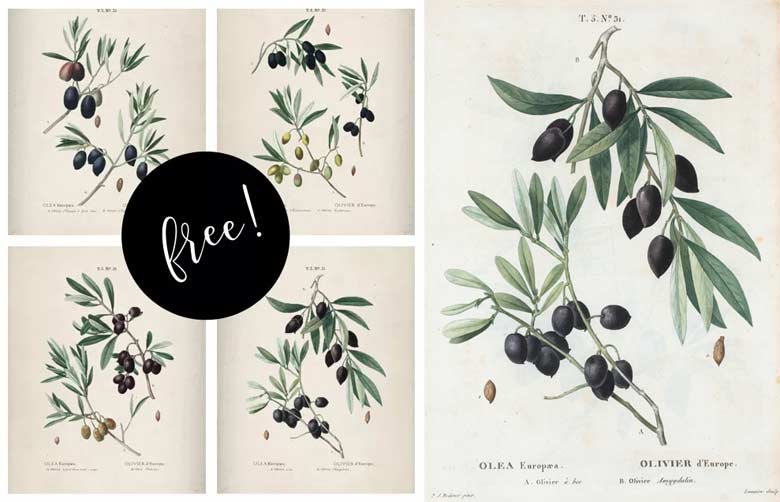 Source: gather & flourish
The next set is available from an inspiring blogger, talented graphic artist, and a busy mom who runs The Mountain View Cottage – Hailey Estes. If you are a farmhouse style enthusiast, you've probably come across her other work such as farmhouse butcher block animals and cute kitchen printables. The instructions for downloads are very clear and you get 50 wonderful farmhouse printables (12 Inspiring Bible verses for every month of the year and 38 planner free farmhouse printables to organize your whole life – from grocery list to weekly planner. If you are looking for free printable rustic wall art, this set is simply wonderful!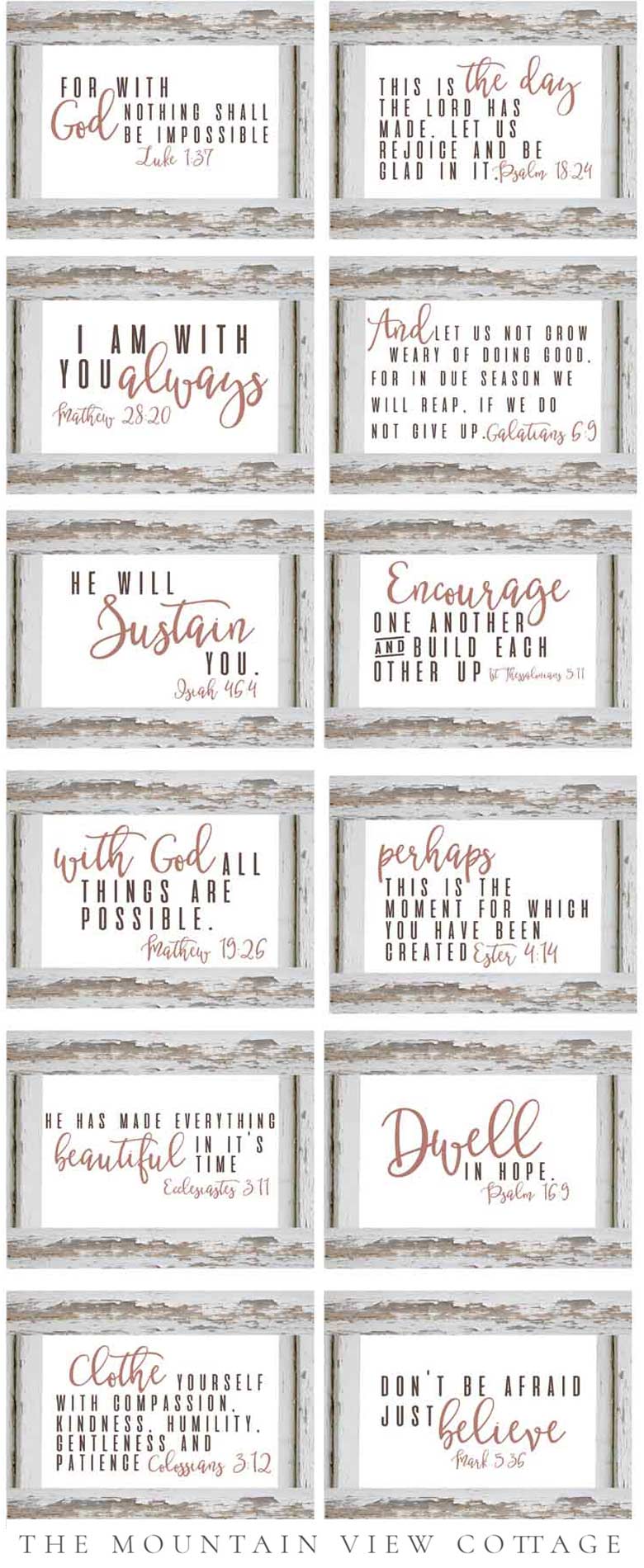 Source: themountainviewcottage.net
Want to save them for later? Thank you for sharing!


Sours: https://craft-mart.com/diy-projects/best-free-farmhouse-printables/
20+ Free Farmhouse Printables
These free farmhouse printables are such a simple way to fill your home with farmhouse charm!
Looking for a simple and inexpensive way to fill some empty wall space? Or maybe you've got a shelf or side table that's looking a bit bare.
Printables are such a simple way to bring some colourful artwork to any space and, with endless possibilities available out there, you're sure to find something that perfectly suits exactly what you're looking for! Plus, it just doesn't get more inexpensive than FREE!
I've been collecting all sorts of pretty printable art on Pinterest for years now and today, I can't wait to share some of my favourite free farmhouse printables…

---

It's so Good to be Home



Vintage Botanical Inspired Prints



Watercolour Herbs + Flowers



Bless Our Nest



Collection of Fern Printables



Farmhouse Art



Lavender Botanical Prints



Vintage Flower Printables



Spring Bird Watercolour Printable



Vintage Flower Art



Farmhouse Printable



Vintage Style Laundry Room Art



Farmhouse Prints



Farm Fresh Milk Printable



Flowers Printable



Olive Branch Botanicals



Book Page Quote Art



Floral Botanical Art



Farmhouse Text



Watercolour Landscape

Where would you put these beautiful prints to work?
Wishing you SUCH a lovely week!

PS. This post may contain affiliate links. For more information please see our disclosure and privacy policies.

· 38 Comments
Sours: https://www.makingitinthemountains.com/20-free-farmhouse-printables/
Here's another ridiculously easy DIY wall art idea, brought to you by the Queen of Shortcuts (yup, that's me!)… FREE Farmhouse Printables!
Let's face it… we all want to have the creative capabilities of Martha Stewart, but some of us are a few apples short of an apple pie, am I right?
If you don't have a crafty bone in your body, but you still want to feel the satisfaction of accomplishing a DIY home decor project, then free printable wall art is for you, my friend.
No exacto knife or crochet hook or Cricut necessary.
If you've got a printer, or if you live within driving distance of an office supply store, then you can totally decorate your home with free farmhouse printables.
What could be easier than downloading one of these cute farmhouse style printables, printing it out, and popping it in a frame?!
Here are loads of tips for how to use free printable wall art for easy and inexpensive DIY wall decor… plus, don't miss the 100s of free printables at the end of this post!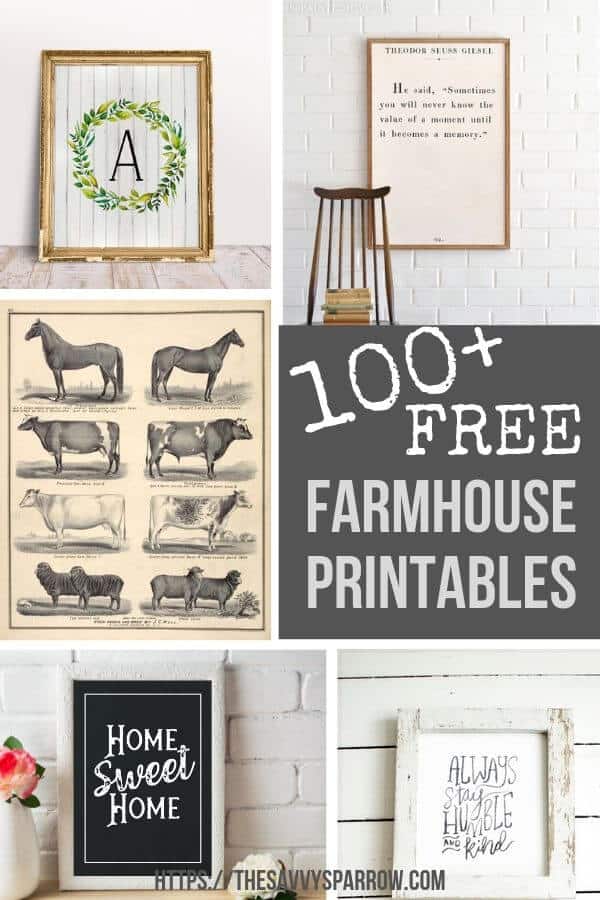 *This post contains affiliate links, which means I may earn a small commission from these links at no additional cost to you. Read my full disclosure here.
How to use FREE Farmhouse Printables for DIY wall art:
1. Download the FREE Printables to your computer or flash drive
These printable farmhouse designs are all in PDF format.
What does that mean for you?
That you don't have to have any special photo software to open them. Once you download the free printables, you should be able to open the files on any device.
After you open the PDF files, you can print them directly from your home printer, or you can download the files to a flash drive and take them to an office supply or printing store to be printed.
2. Print your Printables on high-quality paper
I recommend using one of these types of paper to print your Free Farmhouse Wall Art:
Matte Cardstock – This is my preferred paper because it is thicker and the flat texture gives your printable wall art a more rustic feel. You can get it here or if you take your printables to a printing shop, you can tell them you want matte cardstock.
Glossy Photo Paper – If you want to go with a shiny finish, then photo paper is best. However, keep in mind that if you frame your free farmhouse printables in a glass frame, then you probably don't need glossy paper.
I DO NOT suggest printing your wall art on regular old printer paper. Your standard printer paper is much lighter weight and it is prone to wrinkling when you frame it. For more professional DIY wall art, heavier weighted paper is always best.
3. Or have your Farmhouse Printable Wall Art printed at an office supply store or print shop
Your DIY wall art doesn't have to be limited by the quality of your home printer.
If your printer is just "meh", then consider downloading your farmhouse printable wall art onto a jump drive and taking it to a FedEx Kinkos, Office Depot, or Staples to be printed.
Many office supply stores also offer an online ordering option for prints. You can place your print order entirely online and then just pick it up from the store when it's done.
Personally, I prefer to use FedEx Kinkos for special printing jobs that my home printer can't handle. However, I'm a bit old fashioned so I like to actually go into the store to place my order. The benefit of placing your print order in-store is that you can actually see and touch the different paper options to decide which you like best.
Another benefit of taking your free farmhouse printables to a print shop is that they can print them in large poster form so you can get a truly custom look. Just like these Oversized Book Quote Printables from The Painted Hive.Download this awesome farmhouse decor printable, or one of her many other book quote prints, for free by clicking the link.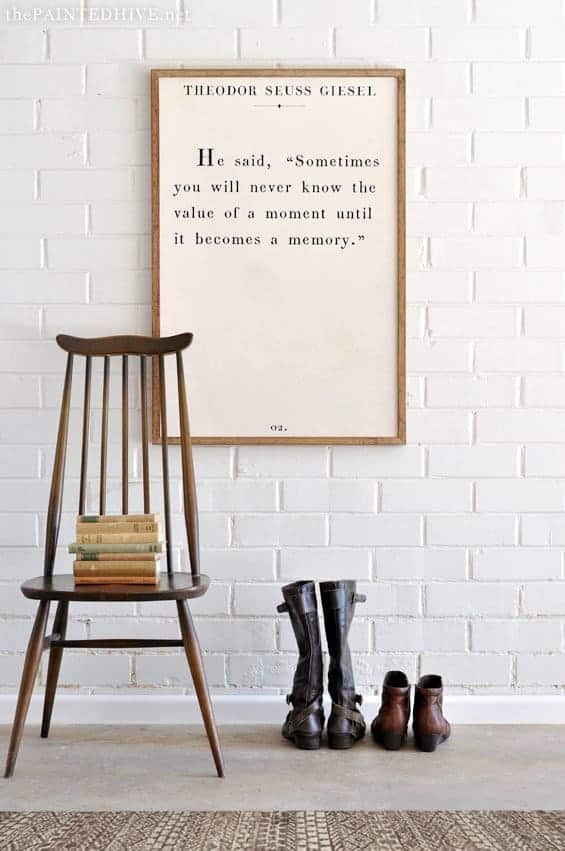 4. Get creative with framing
You have a TON of options when it comes to picking out a frame for your DIY farmhouse wall art. So get creative! Here are some easy ideas for how to frame free printables so that they feel a bit fancier:
Large White Mat
When framing printables for DIY wall art, I like to go with a frame with a large white mat. A matted print looks more professional, in my opinion, instead of looking like it was thrown together in a few minutes. Even though it was… wink wink… our secret!
This free printable cactus wall art from Sustain My Craft Habit is a great example of how a large white photo mat can work wonders for a free printable: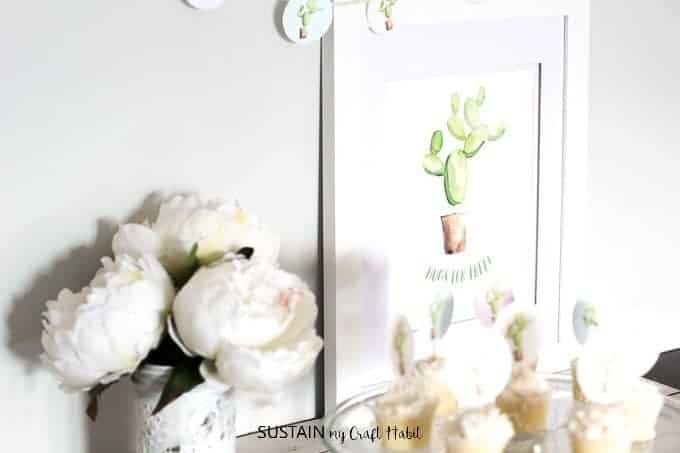 Puzzle-piece Collage
If you're not afraid of a challenge, then you can make your free farmhouse printables seem like custom art by turning them into a puzzle-piece collage.
What the heck do I mean by that?
You can print your printable farmhouse wall art out in a large engineering print, and then cut it into pieces (to match the sizes of your frames). Then arrange the framed pieces on your wall like a puzzle.
The Free Printable Wall Art from Shrimp Salad Circus is an awesome example of this gallery wall technique. Wouldn't this look so cute in a nursery:
Textured Frames
It's easy for a simple printable to feel a bit bland as DIY wall art. To avoid that, choose a frame with some texture.
This Free Fall Printable from The Best Ideas for Kids looks awesome and elevated in a burlap frame. And I love how the color of the frame perfectly compliments the fall colors of the printable wall art: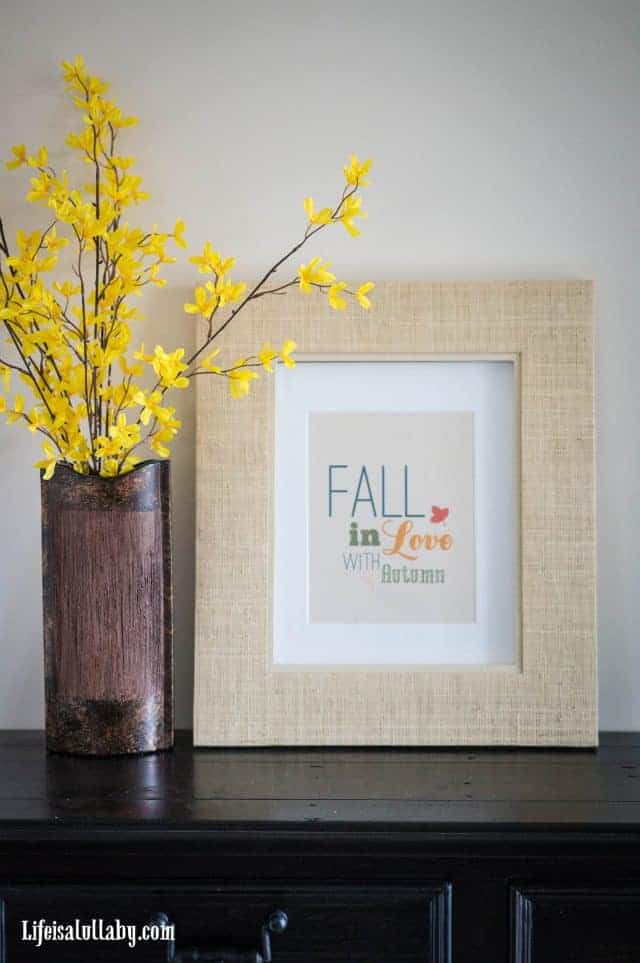 Floating Frames
I love the look of floating glass frames for a collage of similar free farmhouse printables.
Floating frames like these give farmhouse printables a light and airy feel, since the frames are mostly just clear glass. When combined with a grouping of delicate botanical printables like these from Repurpose and Upcycle, floating frames allow the beautiful artwork to take center stage. Click the link to download the 6 Free Botanical Printables!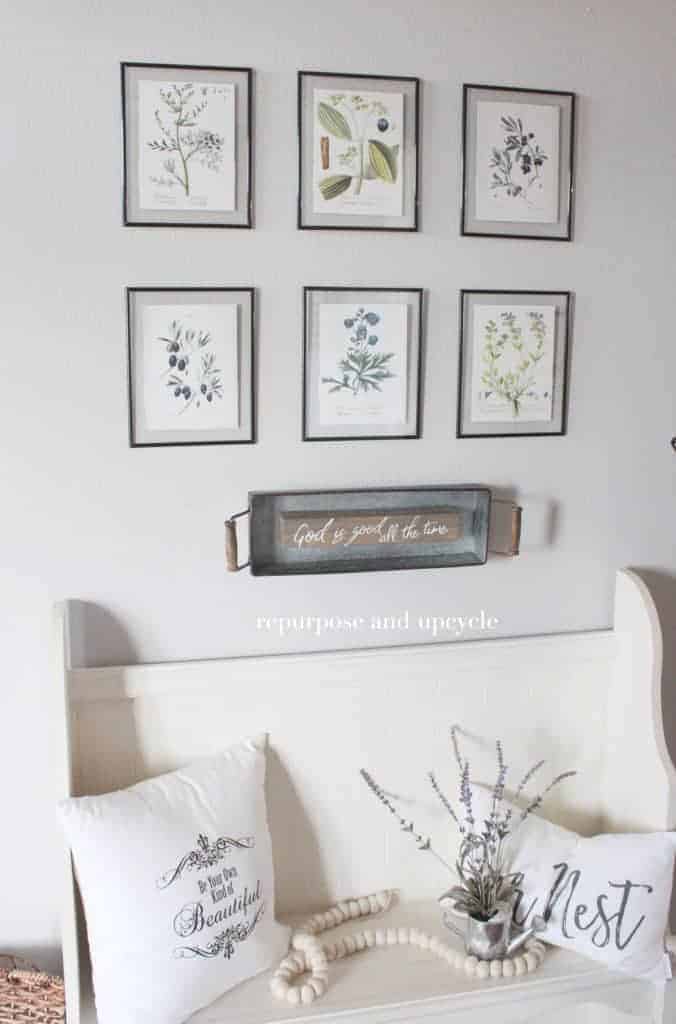 Skip the Frames
Who says that these free farmhouse printables have to be framed?
I absolutely LOVE how Simplicity in the South used free vintage botanical illustrations to cover the large, empty space above her fireplace. Get her 25 FREE Vintage Botanical Illustrations HERE!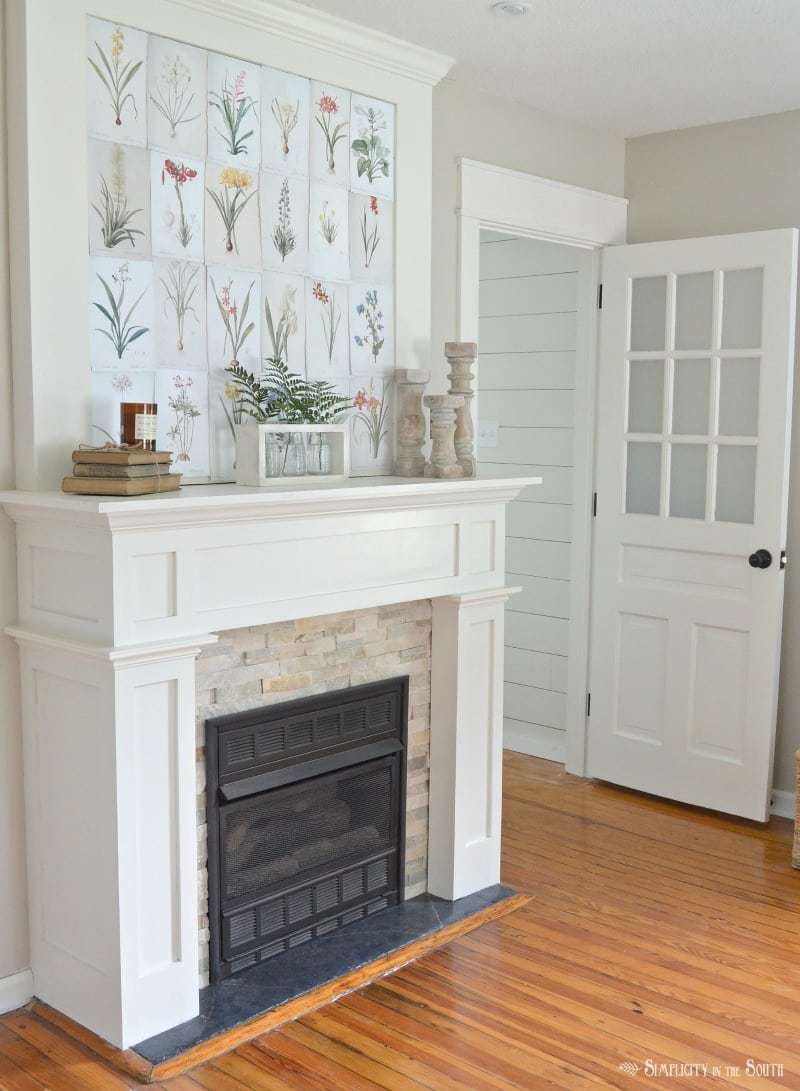 Or use the Free Printables for something other than DIY Wall Decor…
Like this adorable Spring Pillow Cover from Gather and Flourish! Click here for the easy tutorial for how to use a free printable on a pillow!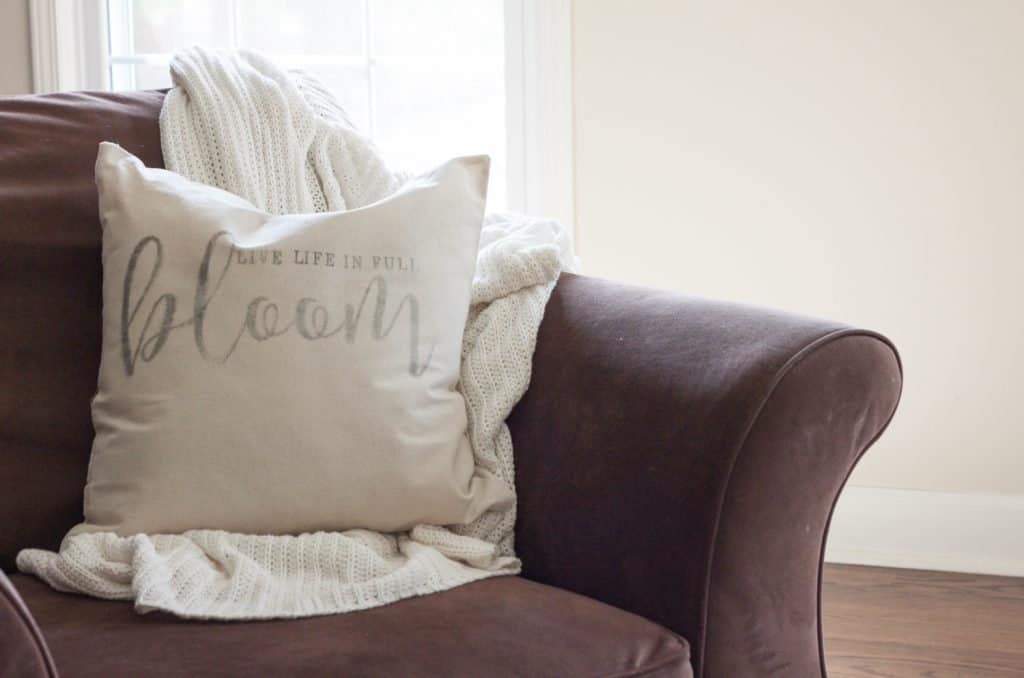 Get My Free Farmhouse Printables Now!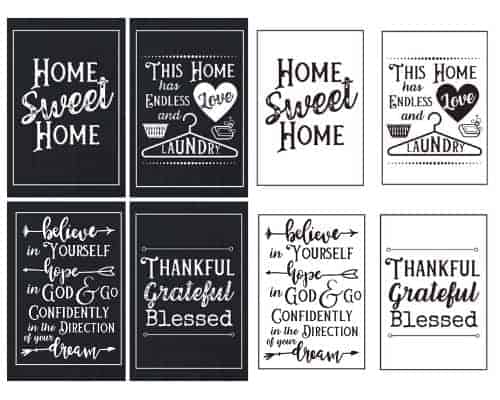 Subscribe to my FREE email newsletter using the form below, and I'll send you my set of 4 free farmhouse printables as a Welcome Gift! Plus, when you sign up I'll email you the password for my FREEBIES library so you'll have access to ALL of my printables!
More Free Printables for DIY Wall Art
One of my go-to resources for free farmhouse printables is the New York Public Library Digital Collections. If you've never visited this site, then you're in for a treat!
To date they have over 800,000 images (including vintage advertisements, sketches, and photographs) that are completely free to download! Here are a few of my favorite items from their collections:
You can also visit the New York Public Library Digital Collection and type in the name of your state in the search box to find some rustic maps that would be perfect for your DIY farmhouse wall art. Here's an old mining districts map from 1833 that I found for Tennessee:
And, as if all of those free printables weren't enough, I have a huge list of even more free printables for you to use for your easy DIY wall art! Happy browsing!
Even More FREE Farmhouse Printables for Easy DIY Wall Art!
Check out even more FREE printable wall art from fellow bloggers (because a girl has gotta have options!):
18 FREE Patent Printables from The Navage Patch: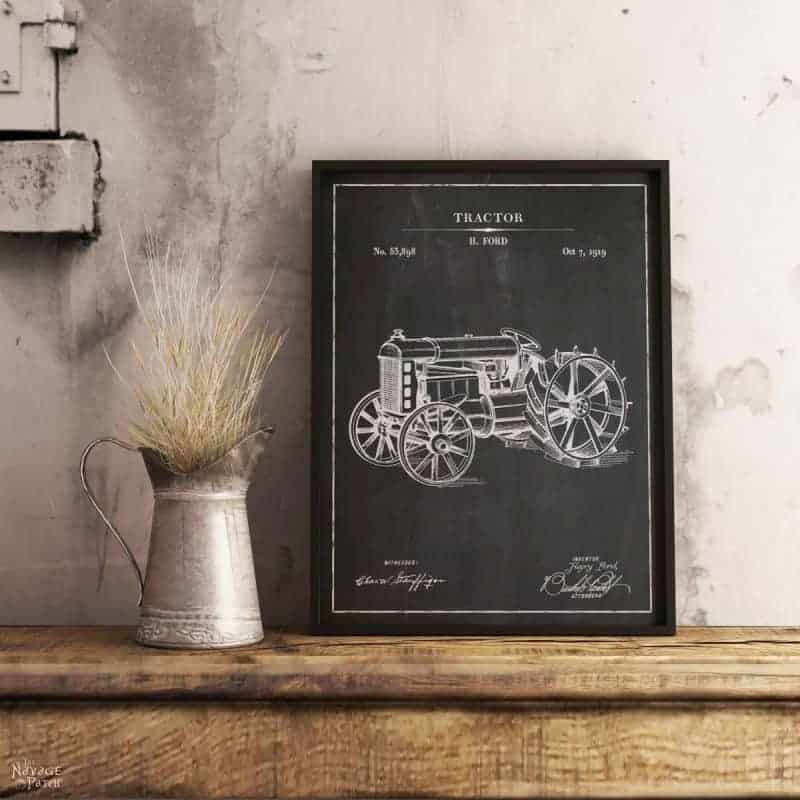 30 FREE Farmhouse Wreath Monogram Printables from The Cottage Market: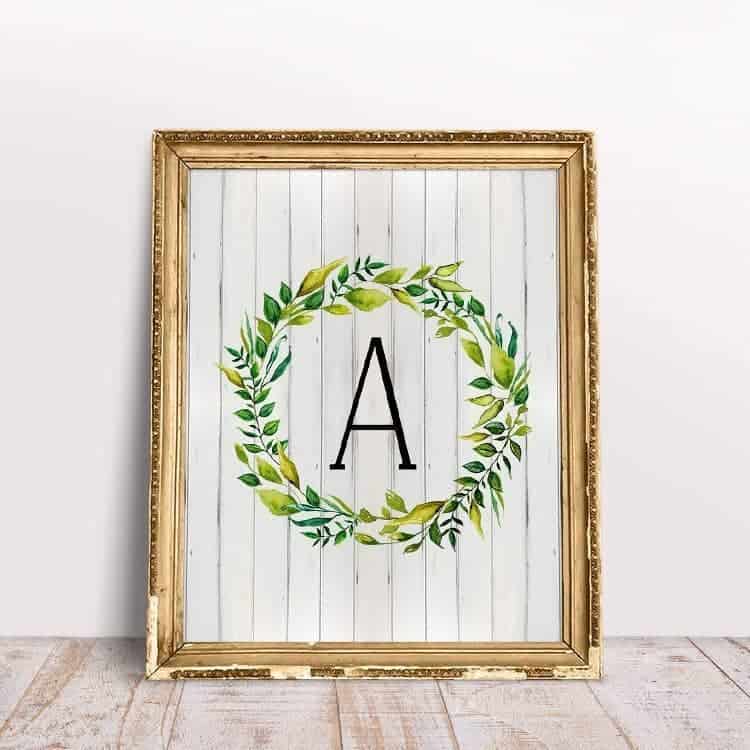 2 FREE Gardening Printables from The Lily Pad Cottage: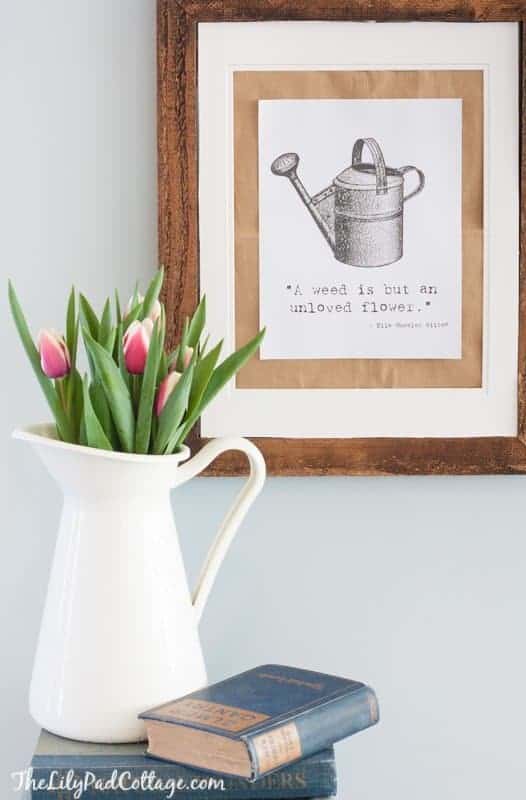 Always Stay Humble & Kind Free Printable from We Lived Happily Ever After: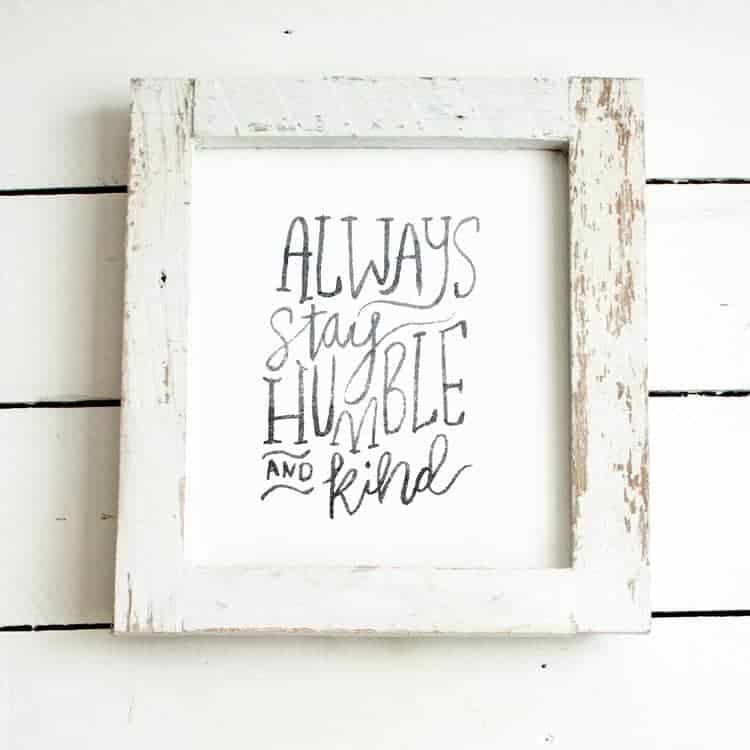 And there you have it! Some of the best free printable wall art that you can find!
I hope you're inspired to create some beautiful and easy wall art yourself with one of these awesome printables!
Sharing is caring!
Sours: https://thesavvysparrow.com/free-farmhouse-printables-easy-diy-wall-art/
How to Create Printables in Canva to SELL ON ETSY
I feel a little like a fraud writing this post. Here I am, writing about free farmhouse printables.
Have we met? Do I seem like the kind of person who decorates with giant white-washed signs that say "Family" and beats up wood with a hammer?
Actually, that hammer thing does sound kind of fun …
Anyway.
Farmhouse style may not be my personal jam, but do you know what is?
The show Fixer Upper. Because Joanna and Chip Gaines, obviously.
They remind me of my Texas family. Hi, if you're reading!
Joanna in particular makes me smile. She of the undying shiplap love. I kinda stalk her on Instagram, not gonna lie.
Hi there, friend!Did you find this post via Pinterest? If so, nice to meet you, and thanks for stopping by! I hope you have a few minutes to click around so we can get to know each other better. There is a freebies page I think you would like, as well as my About page and a roundup of my Favorite Posts. Looking for help planning your gallery wall? Book one of my gallery wall consultations! I sell my best printables on Etsy, and you can get my designs on products in my Society6 shop. Last but not least, sign up for the newsletter so we can become BFF.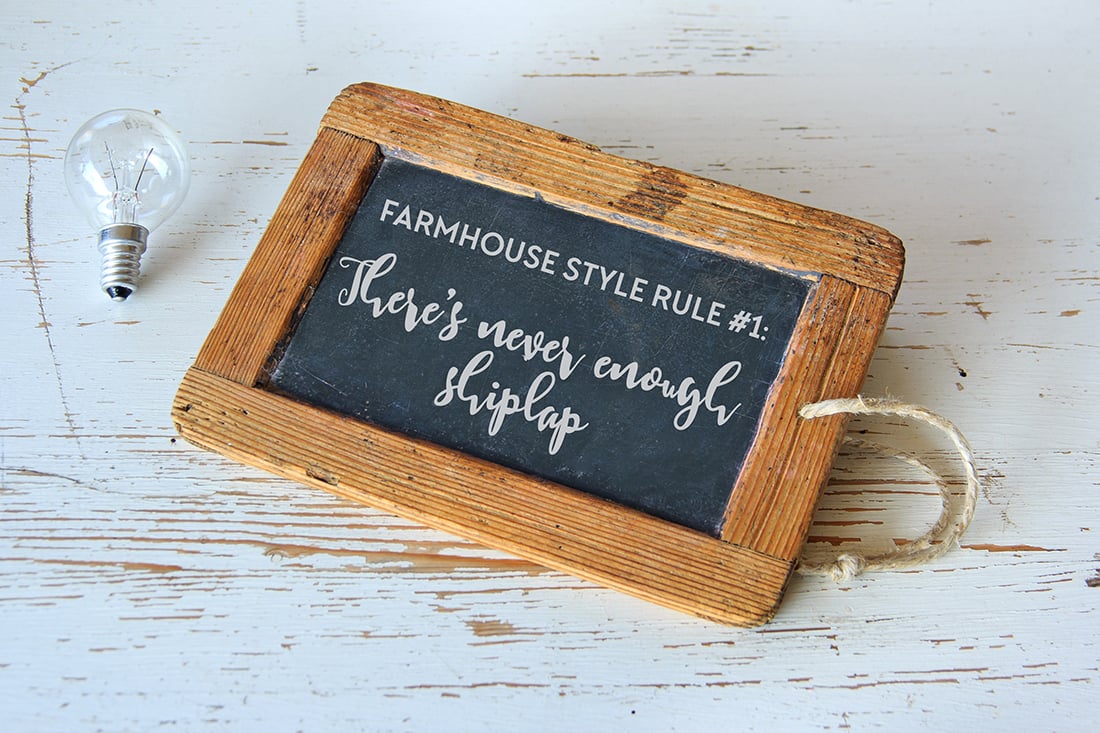 As time has gone on, I have noticed more and more fun free farmhouse printables popping up on Pinterest. I have been pinning them, of course. Not for me, necessarily, but for my clients, who seem to really enjoy enjoy this style.
I can see why. It's cozy, it's airy, it's a fun excuse to distress the hell out of some stuff.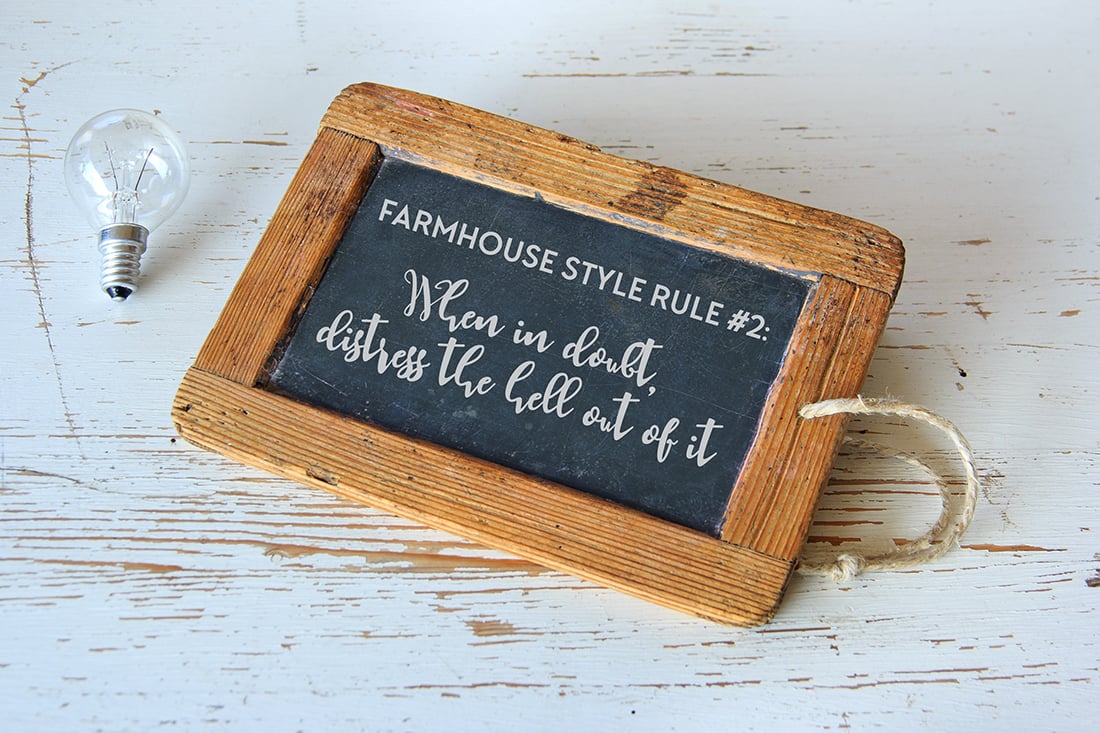 Here are 44 of the best designed free farmhouse printables out there. It's a fine line to walk between kitschy and kick-ass, and I think I found it.
Please click through to the corresponding link beneath each image, and give props to the right designer on social media!
Free Farmhouse Printables — The Cows Come Home
Certain trends came to surface in my roundup, and this is the first one: COWS.
Cows are everywhere in farmhouse art. Other animals that make an appearance from time to time: horses, birds, roosters, chickens, pigs. Also known as farmhouse animals. (D'oh.)
Some of my favorite printables are almost edgy giant typographical printables — if only they weren't so happy. I jest, I jest! Everyone needs to be reminded to take joy in things and to be kind. Especially if they live in a farmhouse.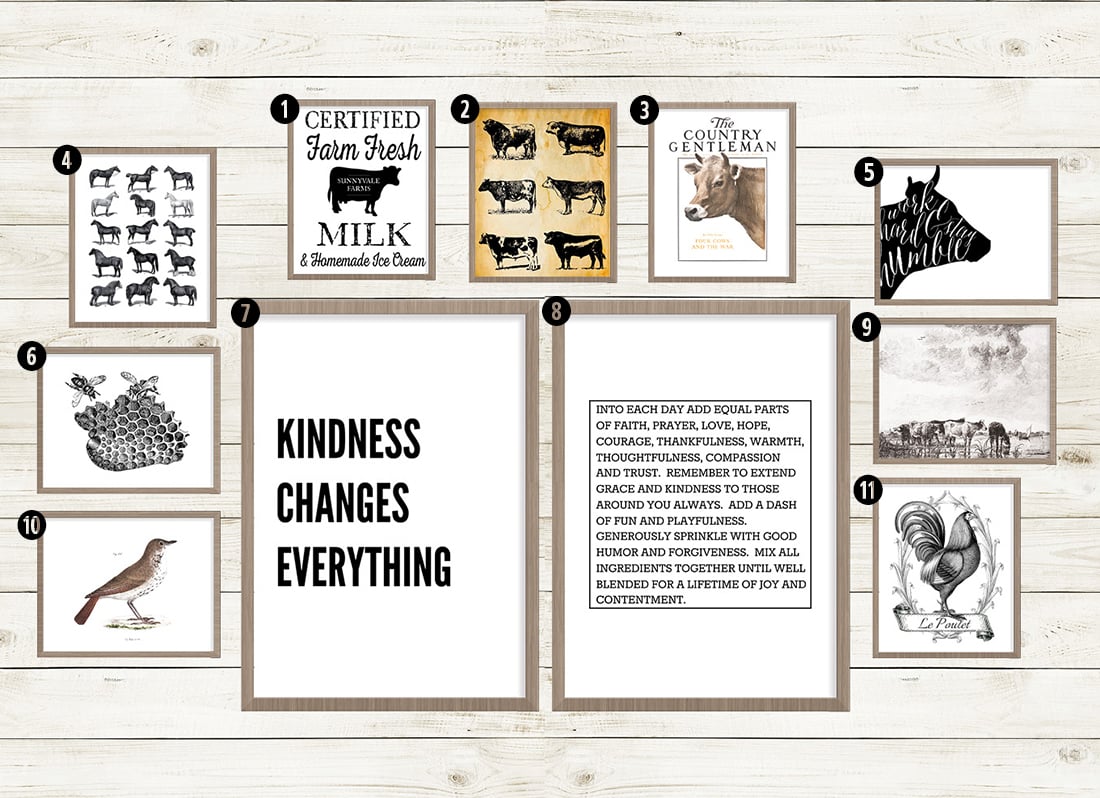 Free Farmhouse Printables — Master Plans
Here's a trio of themes representing: chalkboard, old grain bag designs, blueprints.
How meta is it to frame a print of a farmhouse blueprint if you live in an actual farmhouse? I think it should be a prerequisite, actually.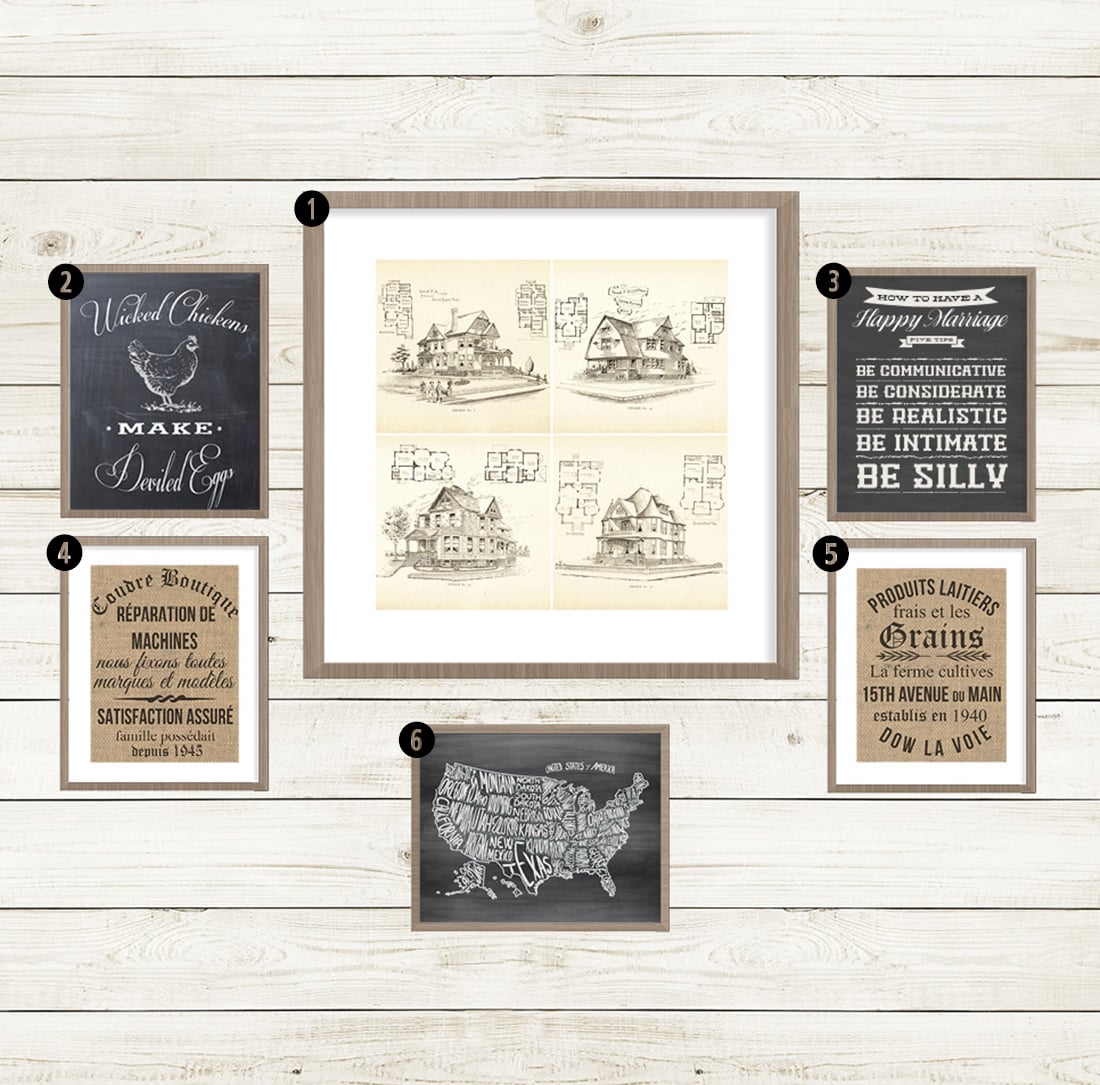 Free Farmhouse Printables — Shiplap, Shiplap, Shiplap
Let's not get into whether shiplap is technically shiplap (apparently there's more to it than wood boards on a wall).
The easiest way to give your art a farmhouse look is to put some shiplap on it. Oh yeah.
Also of note: The state printable below comes in all 50 states. I chose Kansas as a shoutout to my roots.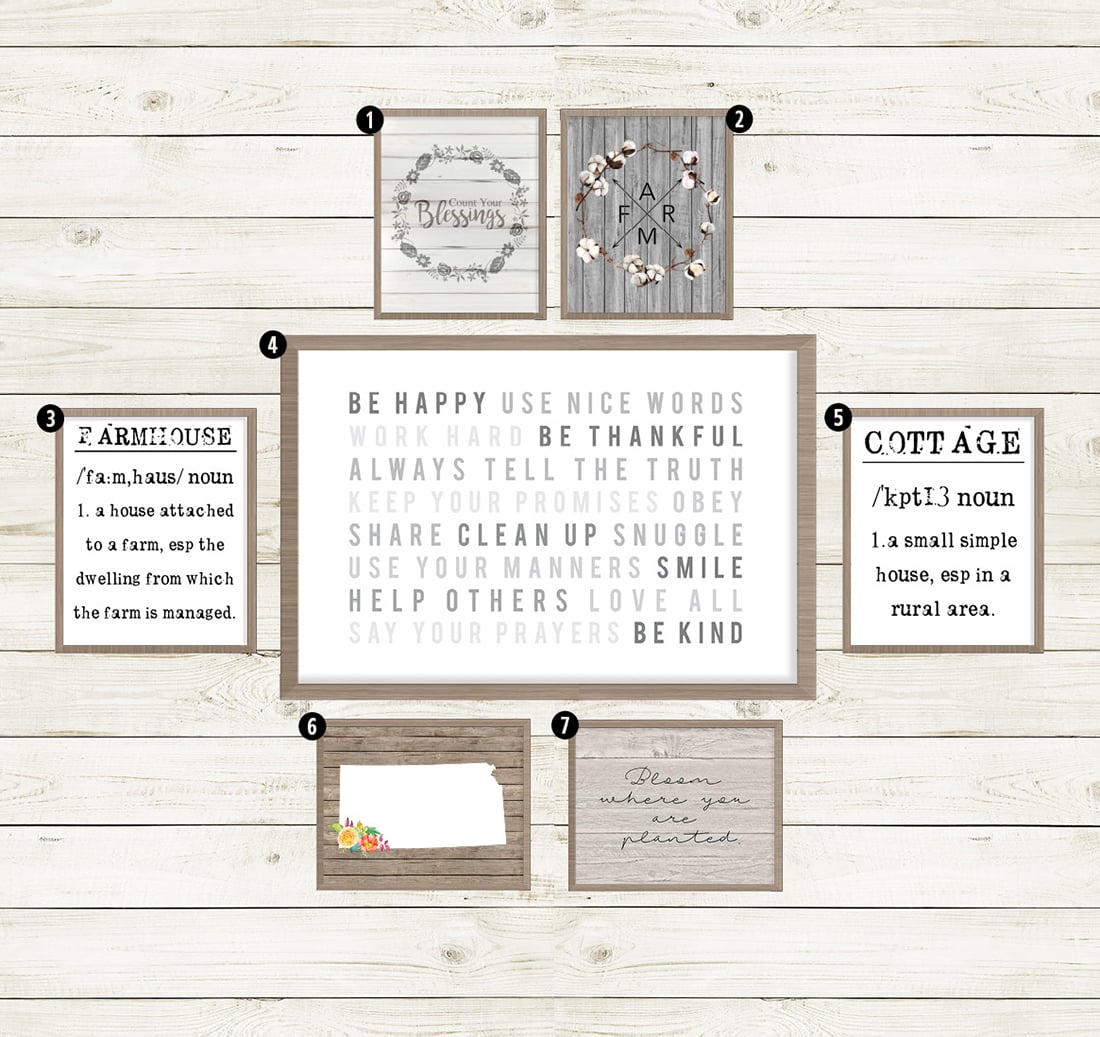 Free Farmhouse Printables — Get Thee to Nature
Trend alert: Nature! Gardening! Florals!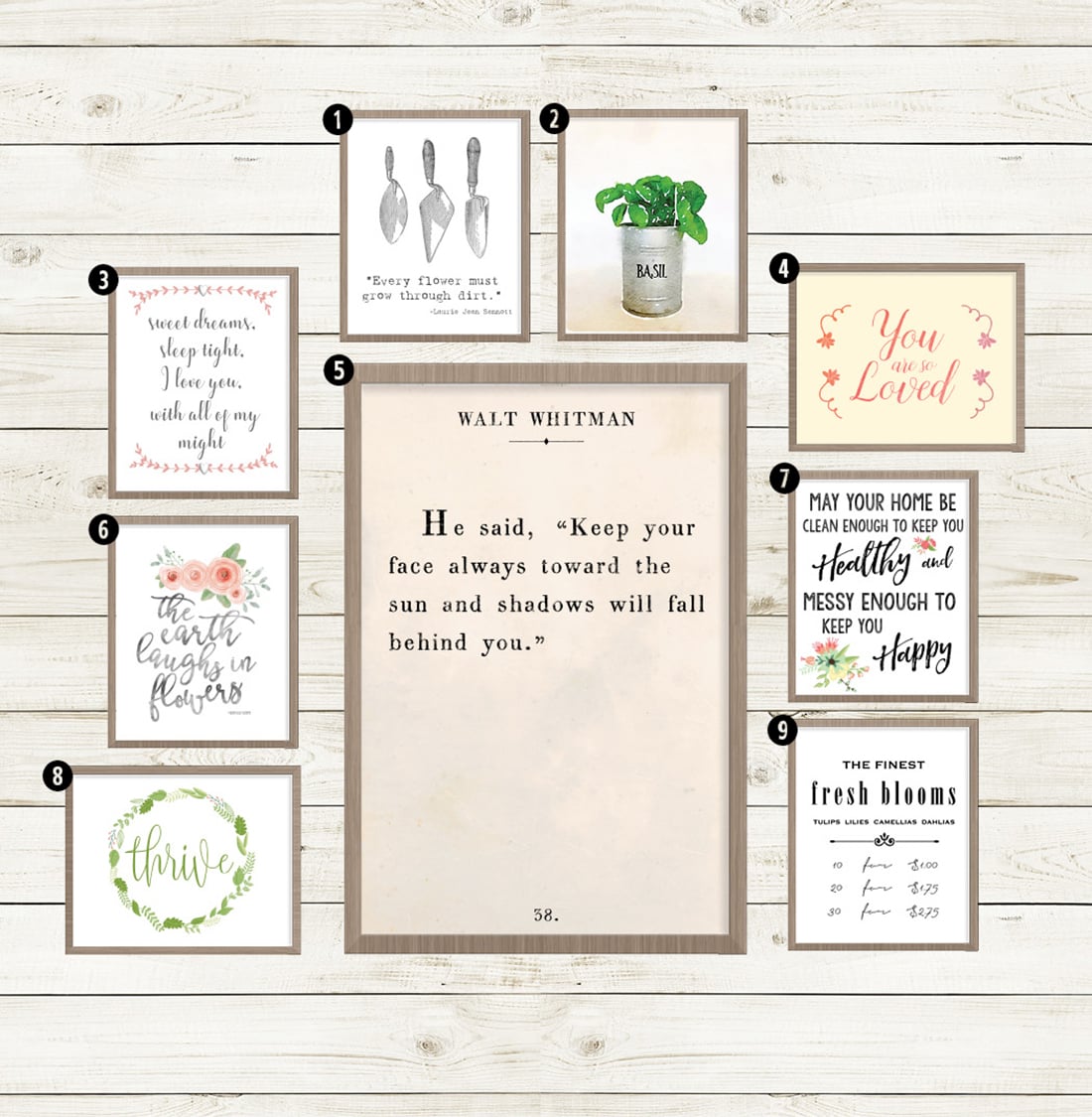 Free Farmhouse Printables — There's No Place Like Home
The biggest trend, by far, is anything highlighting a happy home, family and traditions.
How cute is the "My Mason Jar Runneth Over" printable?
Beyond cute.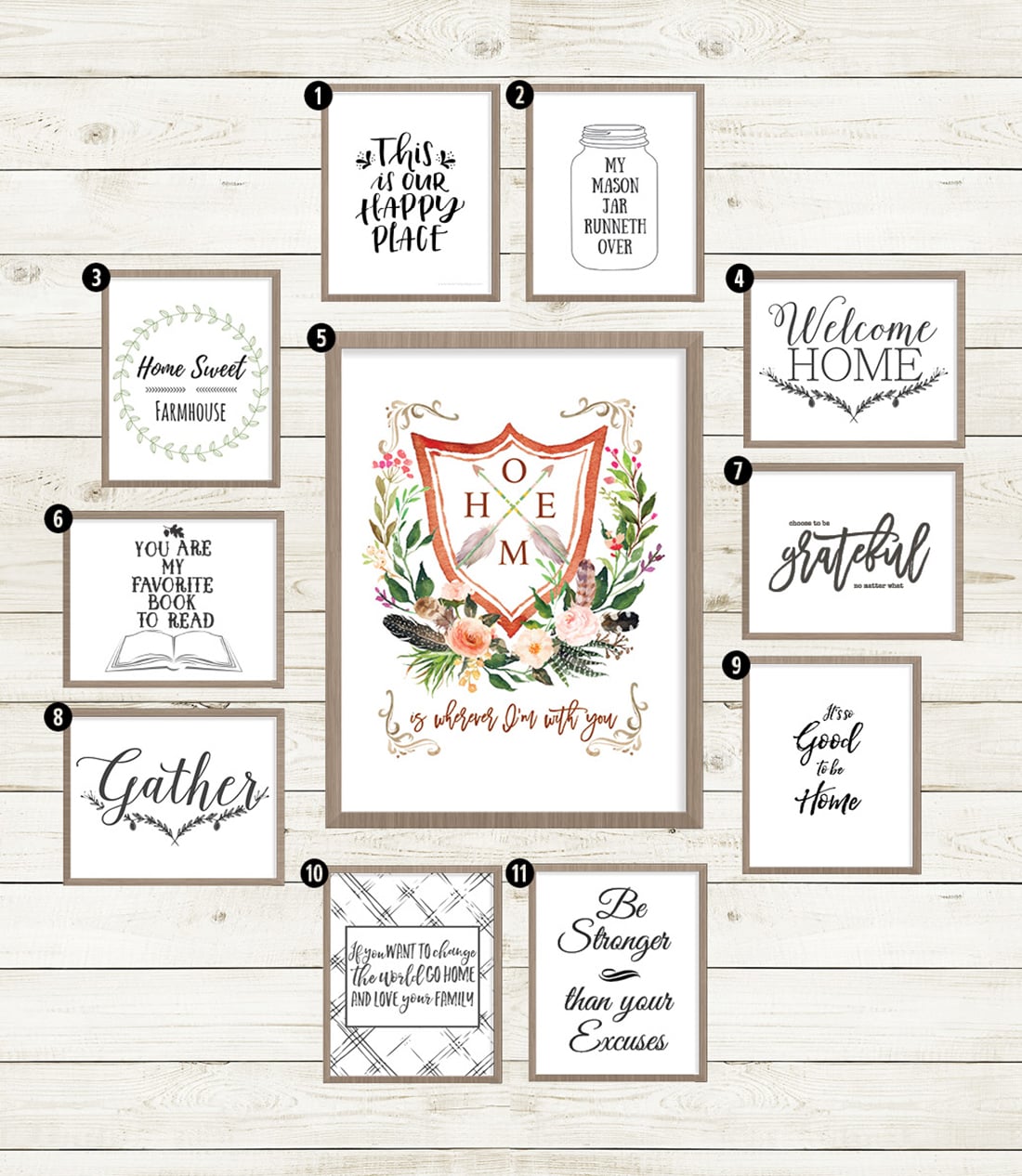 ---
P.S. Get your fix of free printables here.
---

---
Bookmark for later: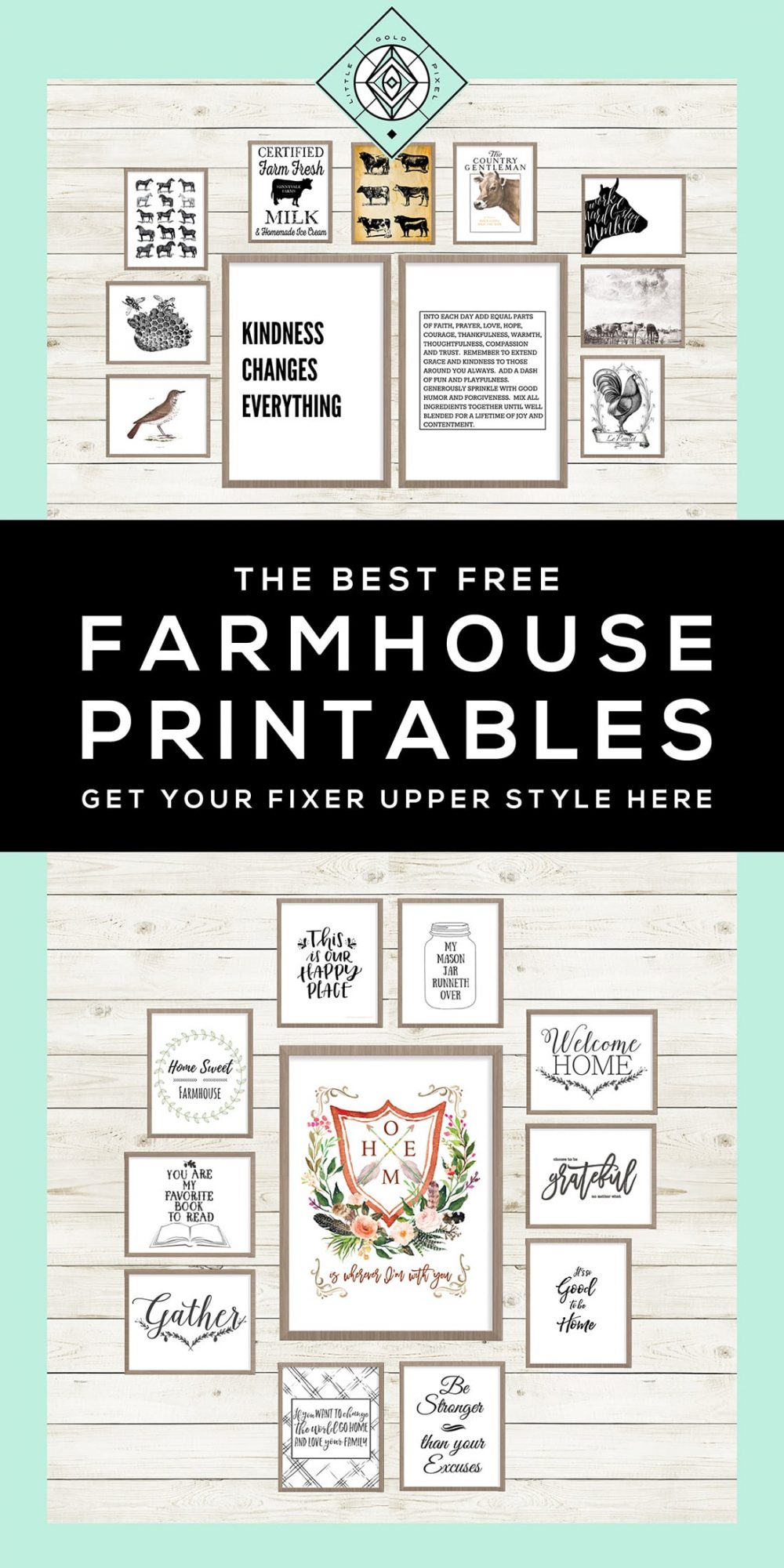 FreebiesRoundups
Sours: https://littlegoldpixel.com/free-farmhouse-printables/
Farmhouse prints printable

Free Farmhouse Printables! These gorgeous prints are perfect for framing and putting up on your wall and bonus they are all FREE to print.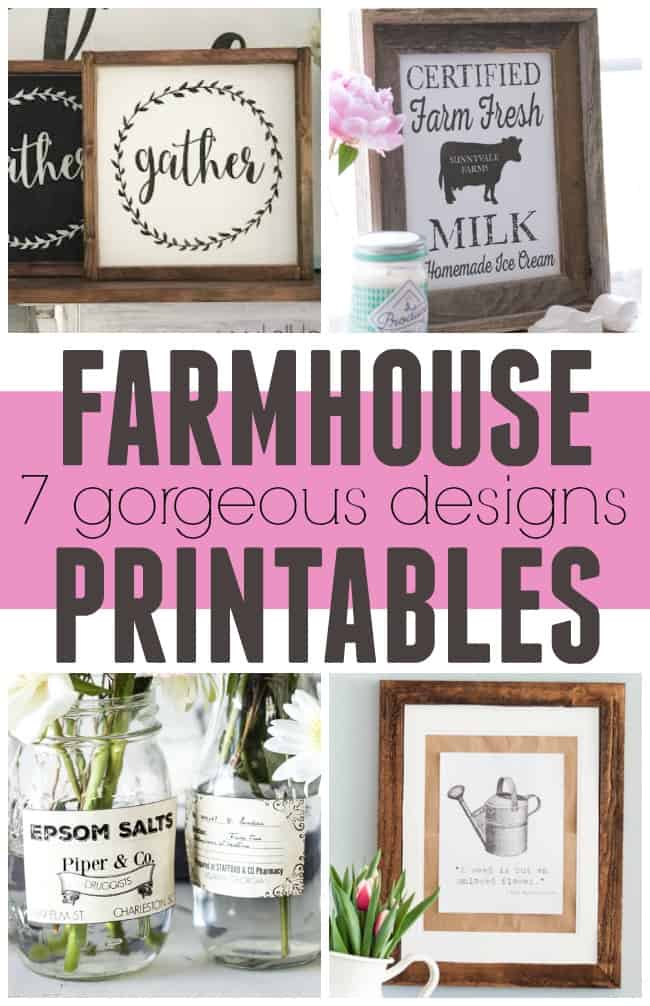 I have always loved the Farmhouse Style decor.


If you haven't been living under a rock then you know it is on-trend big time right now.


I won't say "back in style" because it has been a classic that never went out of style. However, right now it is EVERYWHERE (yes.. everywhere).


Gorgeous wooden beams, shiplap on the walls, open room layouts, vintage antique furniture…


All of these are what make up some of that beautiful farmhouse charm.


That doesn't mean we have to have a Fixer Upper (the HGTV show) budget to get it.


Today I wanted to share with you 7 free ways to decorate your home with a touch of that rustic vibe.


These amazing bloggers have provided for you these beautiful Farmhouse Printables and yes they are all FREE to print.


All you need to do is find the one you love, pop over to their site and get your ink ready.


FREE FARMHOUSE PRINTABLES!!




Finding Home Farms offers this super cute farm-fresh milk print. Perfect for a little touch of rustic charm to your kitchen or dining room.


To me, it seems to be the perfect accent to a farmhouse style kitchen. I placed mine inside of a rustic frame, but any would do, and surrounded it with summer scented candle and my favorite salt and pepper shakers. – Finding Home Farms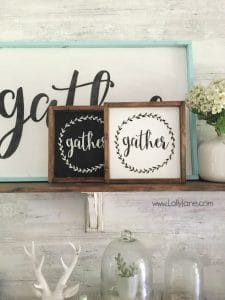 Want to add a little print to your sideboard. This mini gather print from Lolly Jane is probably just what you are looking.


Although this printable is no longer free to print you can still get their printable off Etsy for a reasonable price or they show you how to create one as a DIY in this easy to follow tutorial.




Butcher prints are pretty iconic for a Farmhouse printables design. I love these from The Mountain View Cottage.


Farmhouse butcher prints are typically something you would find in a butcher shop! But you can take these fun farmhouse printable signs and hang them in your kitchens! – The Mountainview Cottage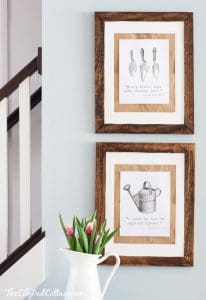 If you are thinking to yourself that you already have tons of farmhouse animal prints and word quotes then what about these vintage gardening prints from The LilyPad Cottage?


These definitely give off that farmhouse charm.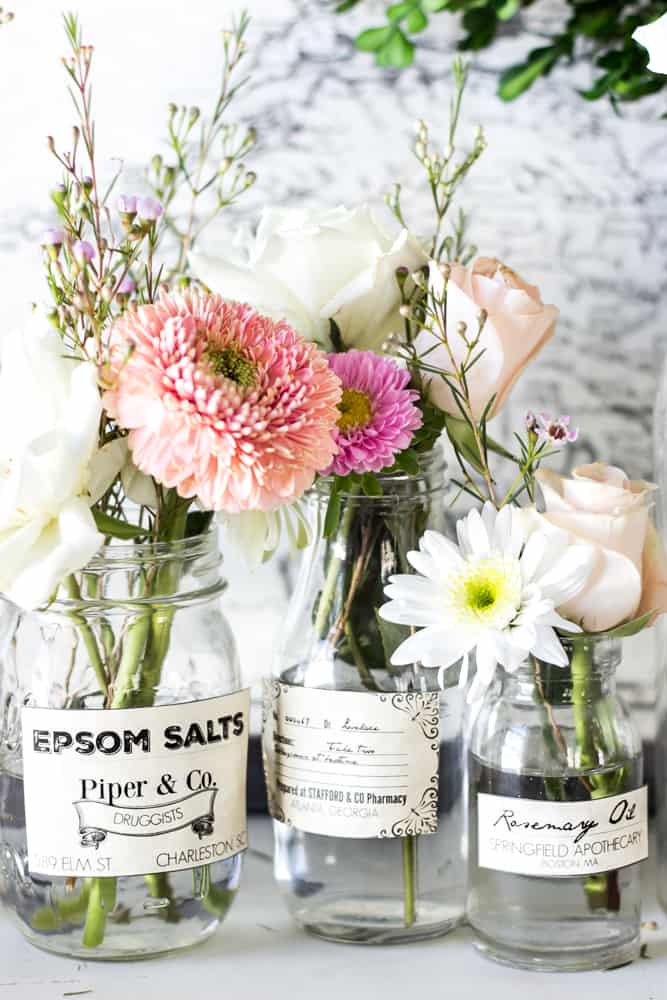 It doesn't have to be just your walls that get a little free printable love.


Blesser House offers these amazing apothecary jar prints that are so gorgeous.


You could even soak your paper in tea before printing to give them a vintage feel.


These are so easy to print out, tape onto any random glass bottles you have lying around, and fill them with some pretty grocery store flowers. – Blesser House


Whether you want to make a banner or you just want to show off your monogram Thistlewood Farms did a beautiful job creating these lettered monogram prints.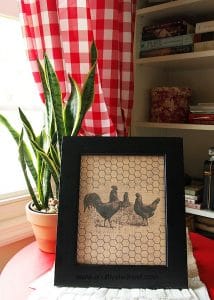 Last but not least A Cultivated Nest offers a chicken wire print that would be simply beautifully displayed in the kitchen.


Roosters have been a part of my kitchen design since I first got married (17+ years ago) so I really enjoy this print.


And that is it… I hope you found at least 1 but hopefully a few different prints you can't wait to print out for yourself or a family friend or two. These bloggers did amazing work, right?



(This post contains affiliate links.)


Don't want to print? Just want to shop?

Here are a few gorgeous prints you can purchase!




EVEN MORE FUN FARMHOUSE AND RUSTIC POSTS YOU DON'T WANT TO MISS!


Sours: https://todayscreativeideas.com/farmhouse-printables/
WHAT SIZE ART PRINTS SHOULD I SELL ON ETSY? ETSY PRINTABLE ART SIZES - SELL PRINTABLES ON ETSY
.
Similar news:
.
1013
1014
1015
1016
1017