I've been wanting to make a bandsaw box ever since I watched Steve Ramsey's DIY video. David Piciuto also has some nice bandsaw box videos over at MakeSomething.tv. Watching those videos inspired me and instilled in me hope that bandsaw boxes weren't that hard to make. They're not, as I discovered. My challenge is that I own a small, bench top bandsaw that only cuts a 3.25 inch depth. Which meant I would need to make a small bandsaw box. Then inspiration struck: I love to make wooden pens, and so I came up with the idea to make a bandsaw pen box. What a great way to store one of my wooden handmade pens.
Another great resource — if you'd rather get a book on the topic — is David Piciuto's book: The New Bandsaw Box Book: Techniques & Patterns for the Modern Woodworker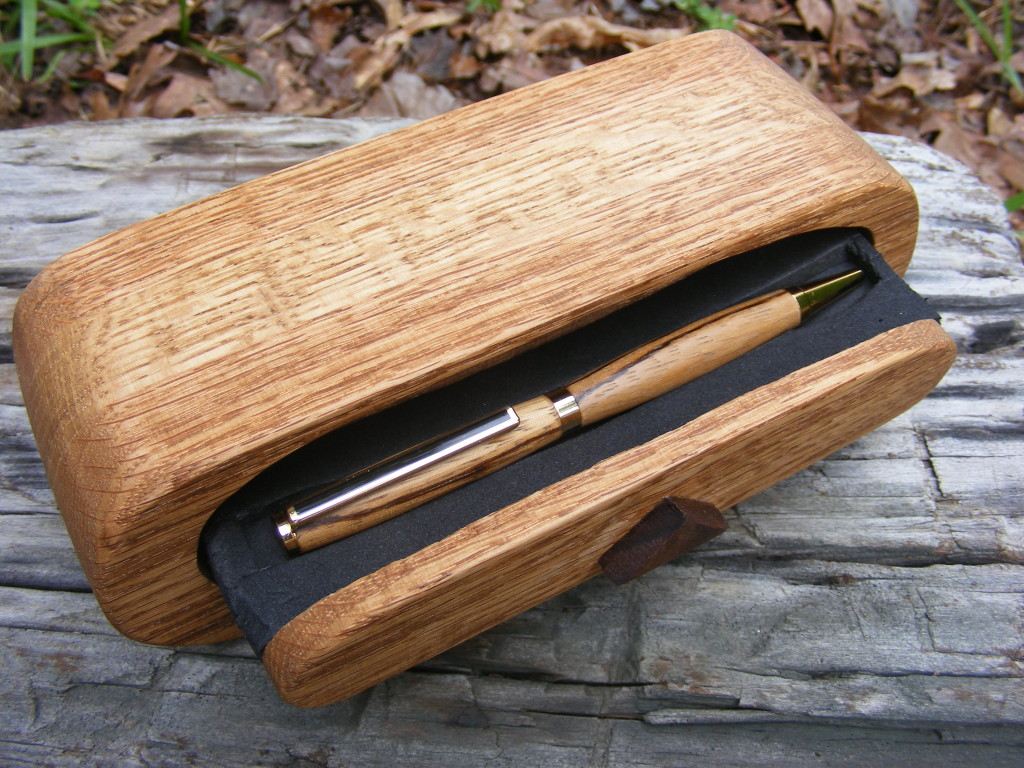 The Bandsaw Pen Box Tutorial
The tutorial below will take you step-by-step through the process of making this simple, but elegant bandsaw pen box. This was a fun project and it only requires a few tools and skills. This will look beautiful sitting on someone's office desk. Makes a nice gift to go along with your handmade pen.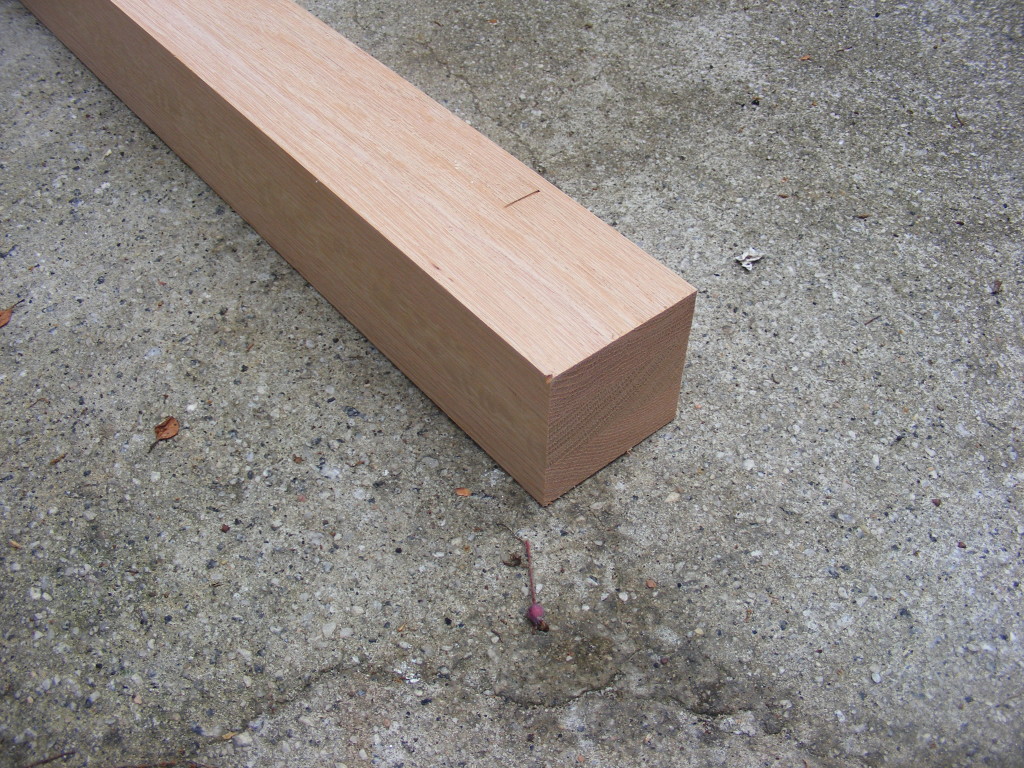 Step 1 – Choose a wood. I decided to go with oak because it looks great, and I could easily buy it from Lowe's just down the road from my house. But for future bandsaw boxes, I will also consider walnut, maple, cherry, and maybe some kind of exotic like Zebra wood. It doesn't really matter — the choice is all yours.
Lowe's sales pre-cut oak boards, and I bought this 3 inch X 3 inch X 3 foot board (pictured above). This one board runs around $22, but you could make up to 4 bandsaw pen boxes.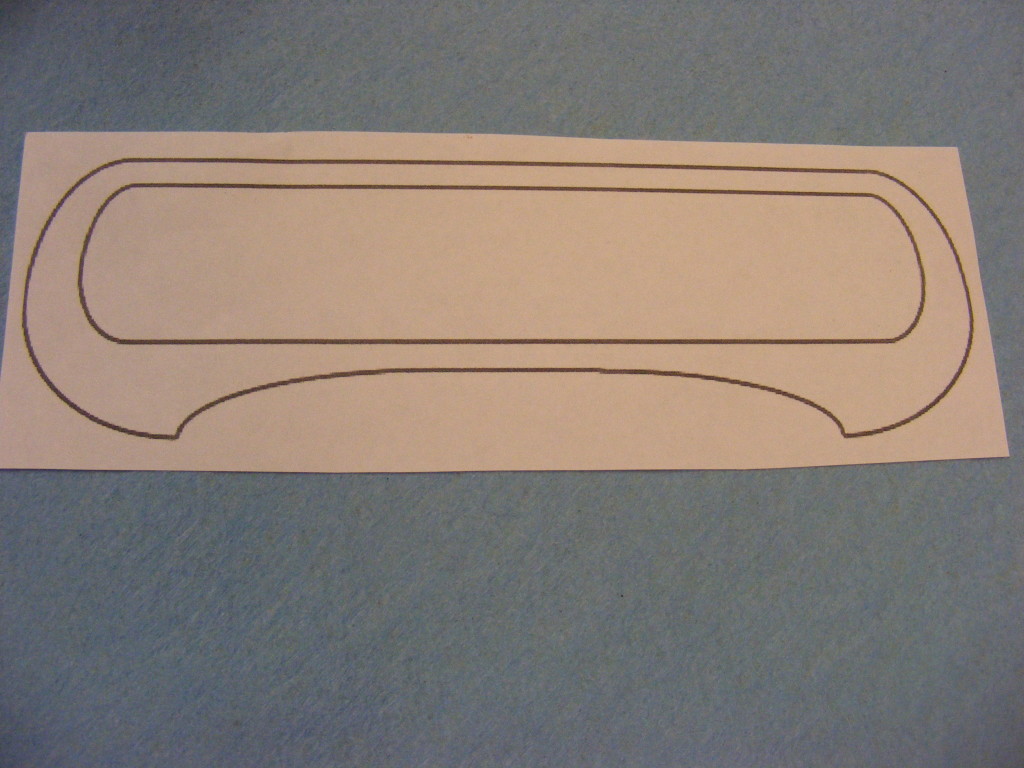 Step 2 – Decide on a design. I took some advice I had read, and visited the Lumberjocks website. That is where I found several bandsaw box patterns and templates. I picked the one pictured above, because it just screamed pen box. It's long and shallow, just the right dimensions for a pen. Lumberjocks also has many bandsaw box instructions and projects that will inspire and inform you.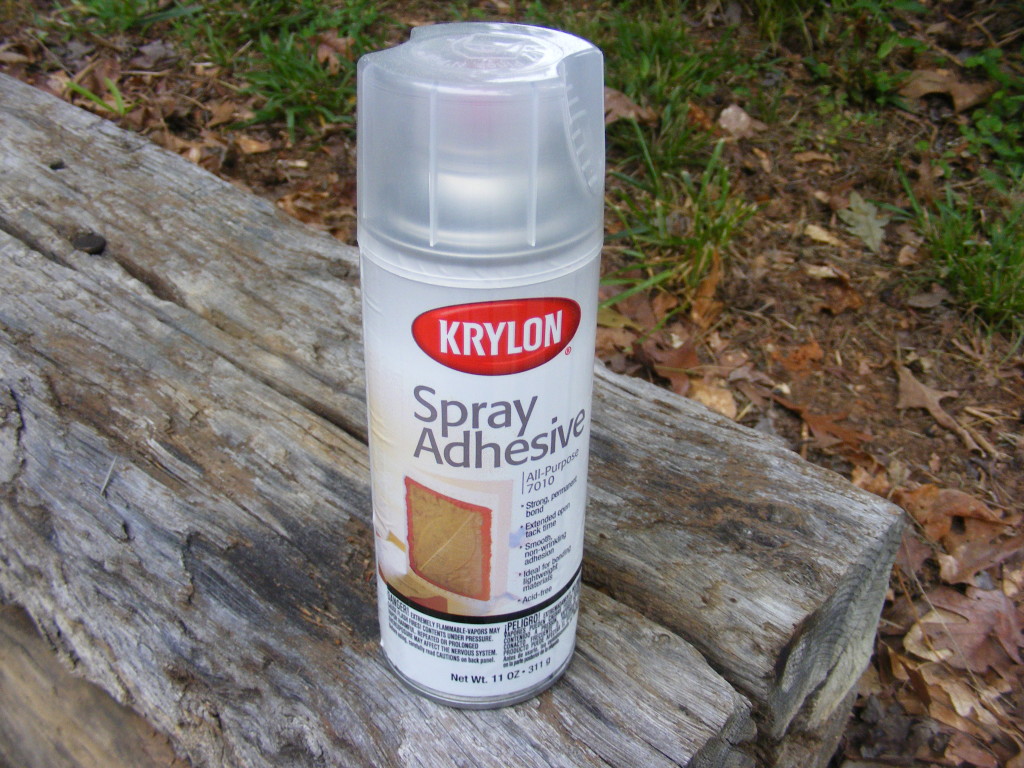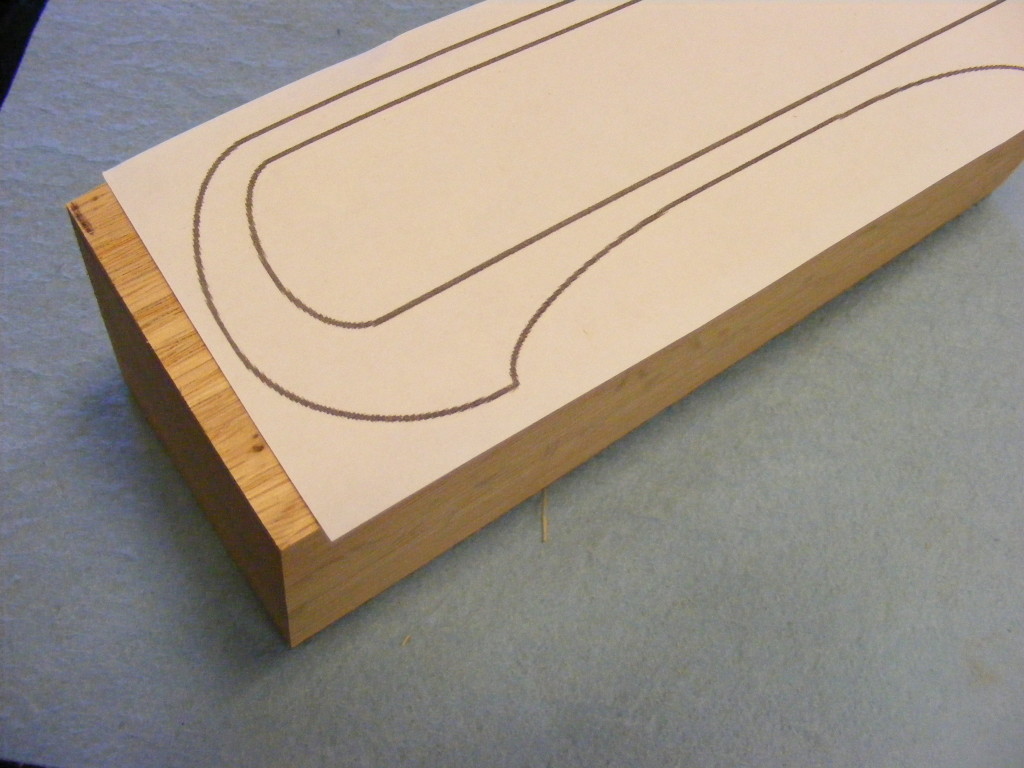 Step 3 – Transfer design or pattern to the wood. I printed the template straight from the lumberjocks website, but then I did have to magnify the pattern to get the dimensions I wanted. Then I used some spray on adhesive to glue it to the wood.
A little tip: Since the top of the box is flat, I carefully placed the template to match one side of the board. That way I minimized the amount of cutting.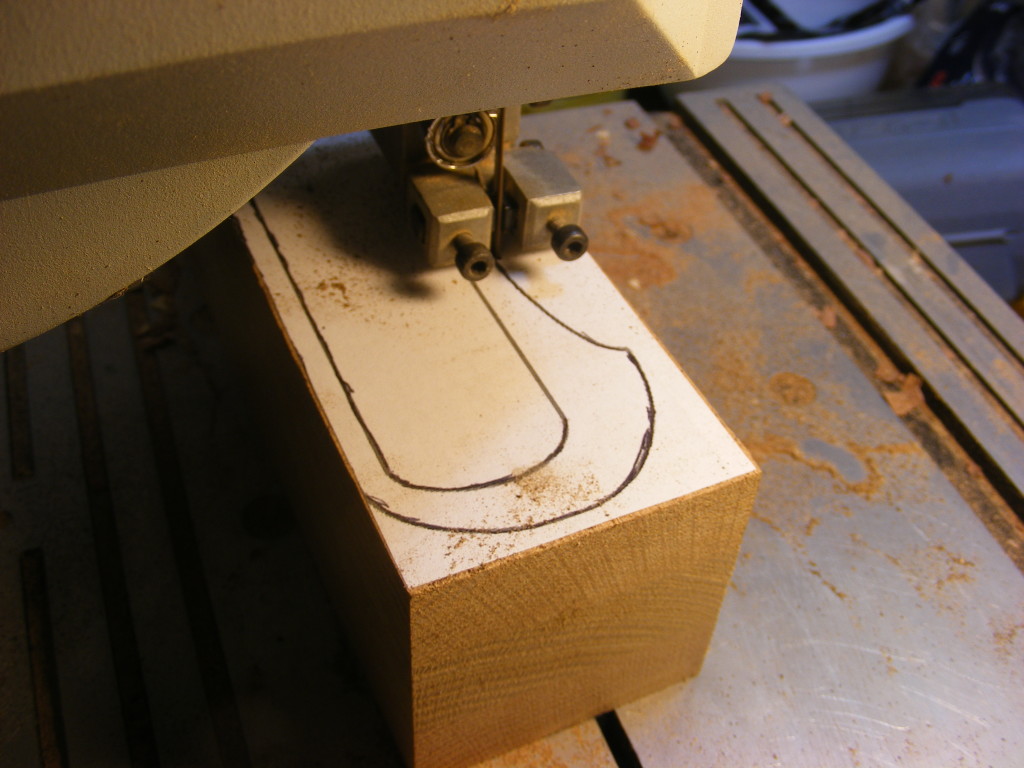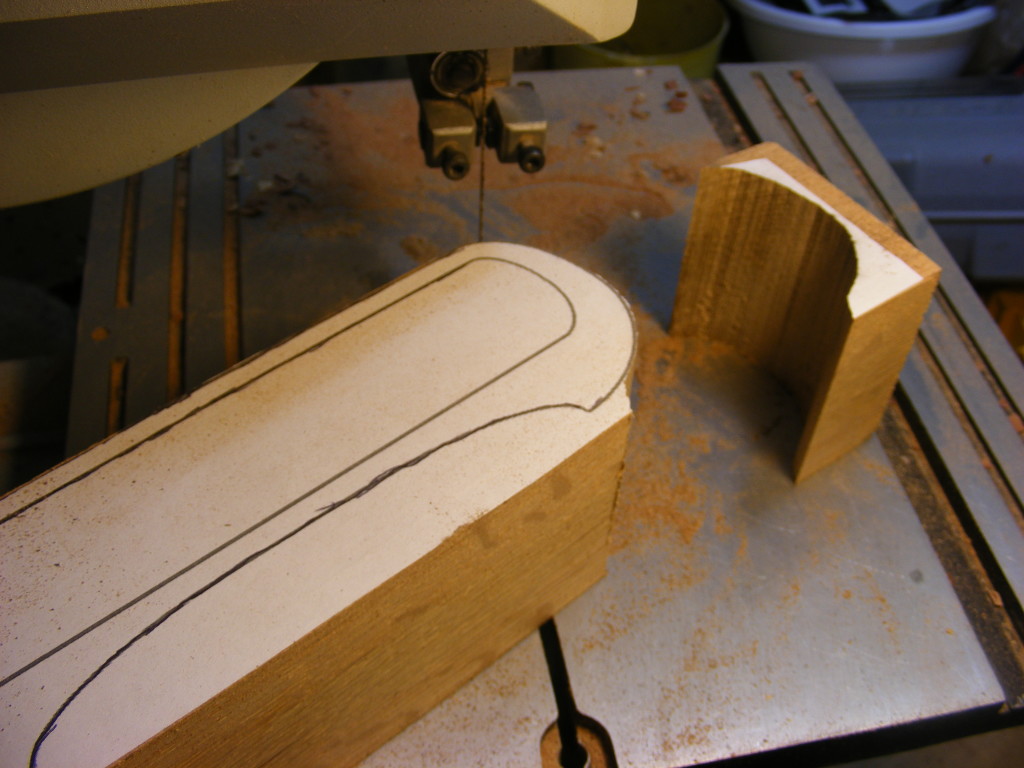 Step 4 – Cut around the outside lines first. I used my bench top bandsaw and first cut around the outside lines of my pattern. I recommend using a 1/8 inch blade or 1/4 inch. These sizes will help you make some pretty tight turns without the blade binding so much. I found that my 1/3 hp bandsaw was slightly underpowered. The oak was something of a challenge to cut through.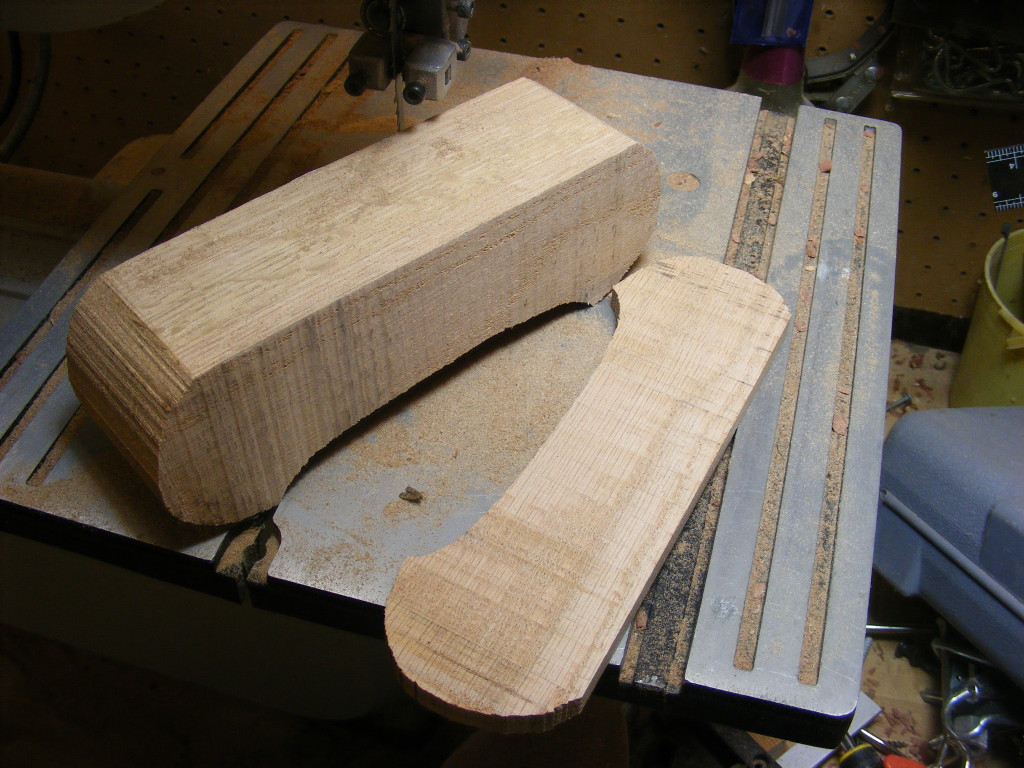 Step 5 – Cut off the back of the box. Next, I cut off the back of the box and laid it aside for later.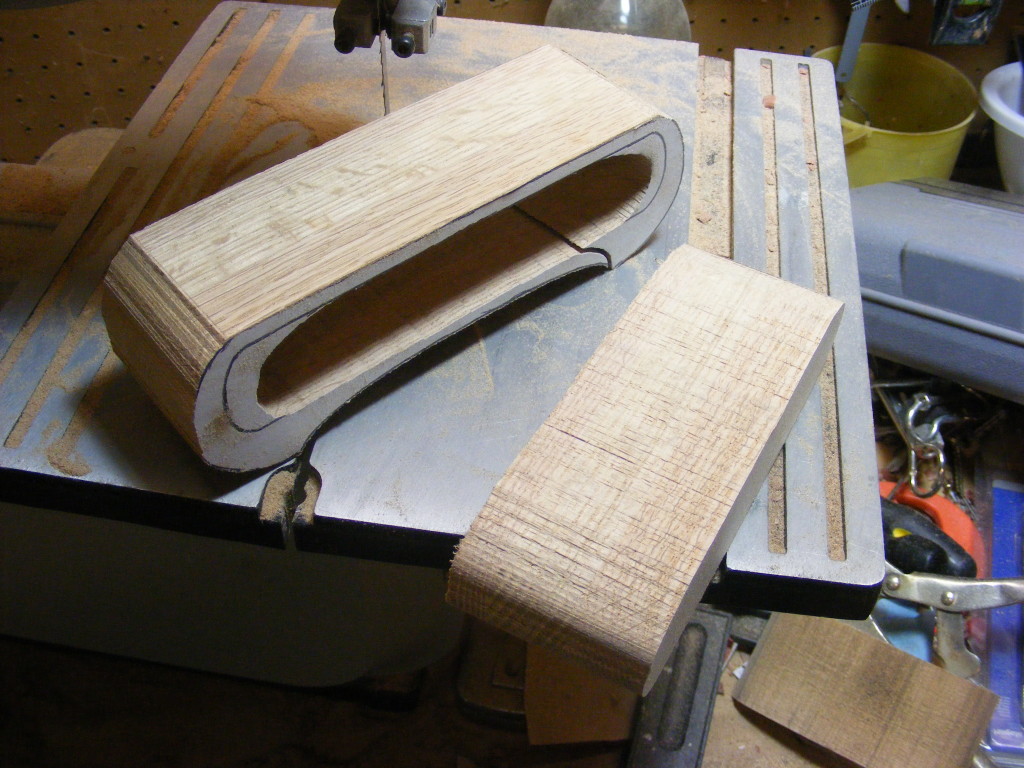 Step 6 – Cut around the inside line. Find a good place to enter the box. I chose the bottom and came in at an angle. This part I'm cutting out will, of course, become the drawer for the box. You will probably notice that I didn't follow my lines exactly and that's the beauty of making these boxes. They're hard to screw up. But I did need to consider how my pen would fit in the box. So, if you are considering doing this for a pen, make sure you take some measurements of your pen to properly fit the drawer.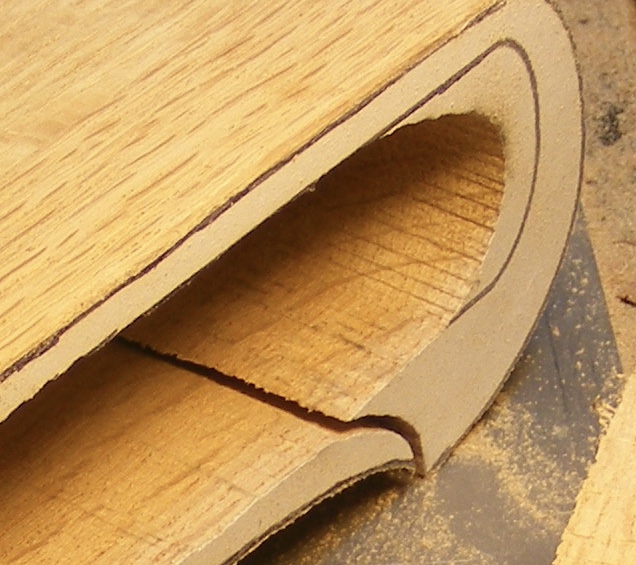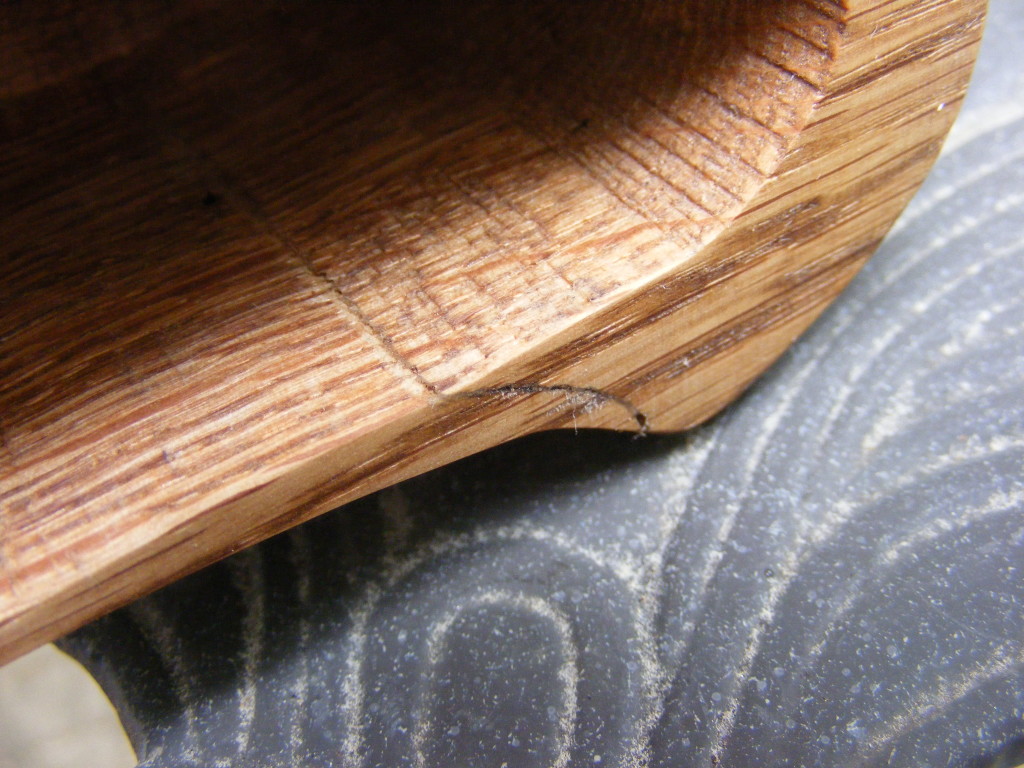 Step 7 – Glue the entry cut. I took some wood glue and bonded that entry cut together. I used one of my quick grip clamps to press the wood together and hold while the glue dried.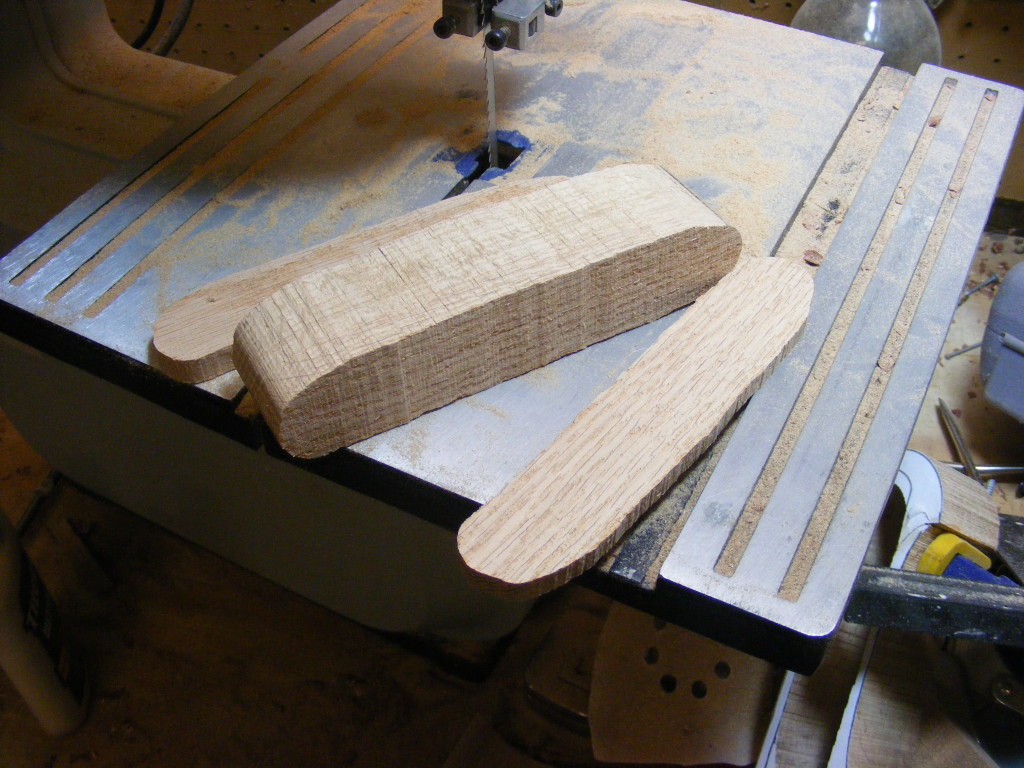 Step 8 – Cut off the front and back of the drawer. Next, I went back to the bandsaw and cut off the front and back of the box. All I recommend here is making a few pencil marks or labels so you can remember how they will go back together.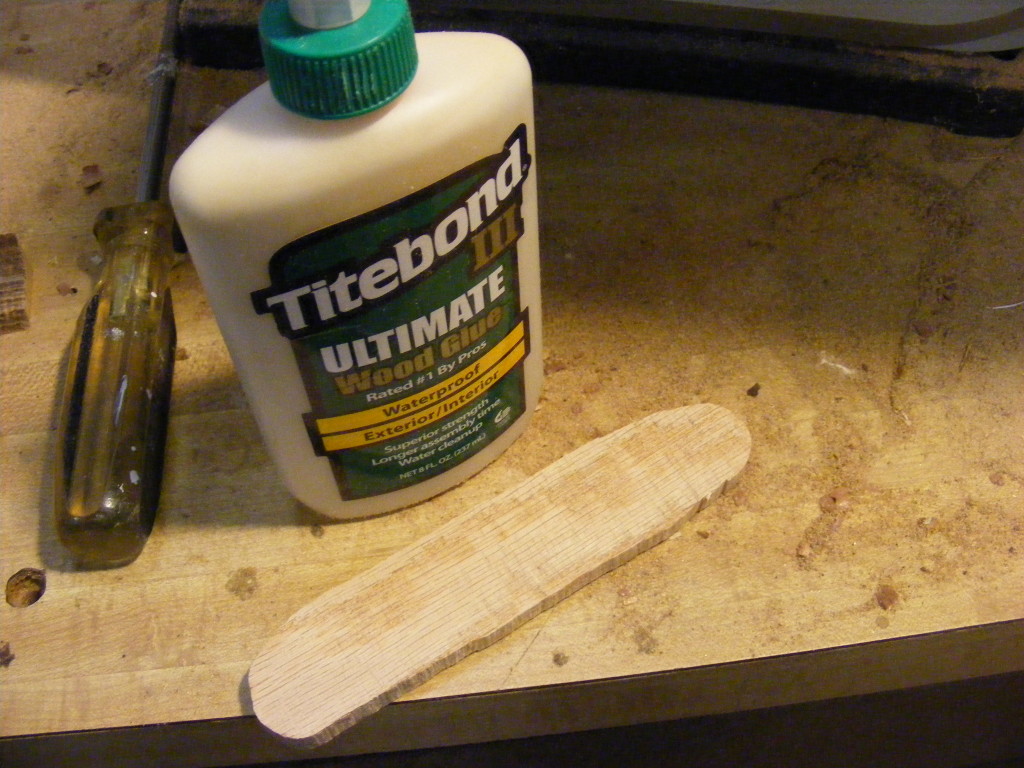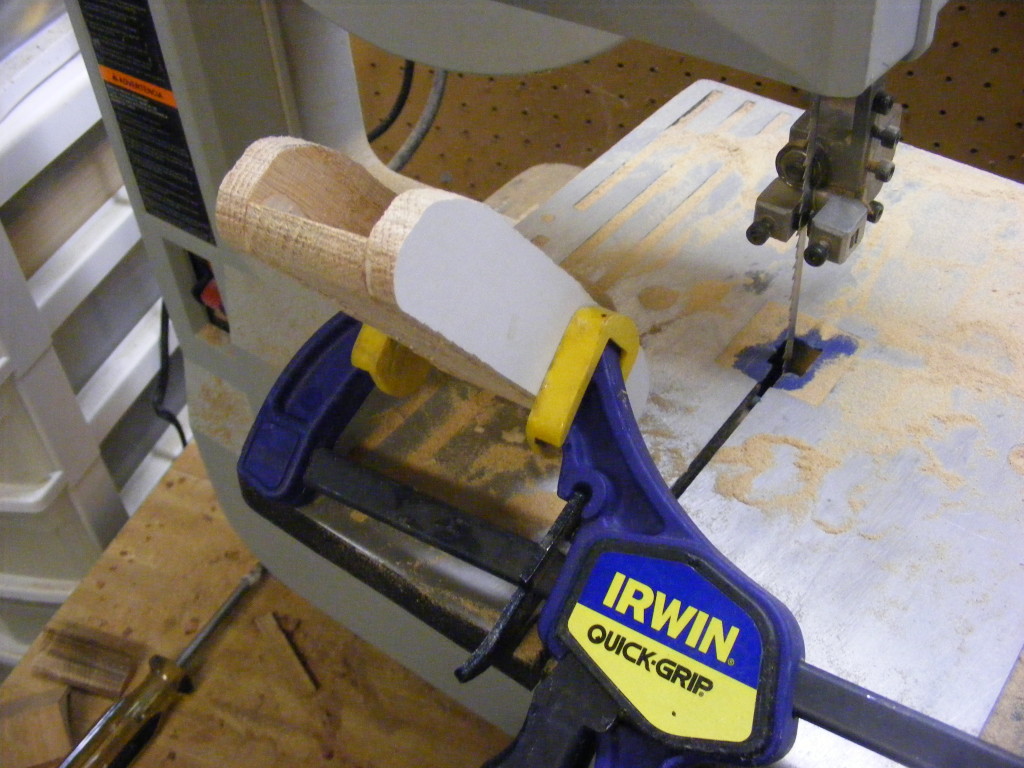 Step 9 – Cut out the drawer. Here again, you can be rather free style on the cut. I had to consider the fit of my wooden pen, so I held it up to the drawer to decide on my cuts. Next, glue the front and back of the drawer back on. I matched these pieces back up exactly, applied some glue with my finger and clamped together. I wiped off the excess glue. Allowed 24 hours to dry. Any wood glue will do. I use Titebond. Either Titebond II or Titebond III is fine.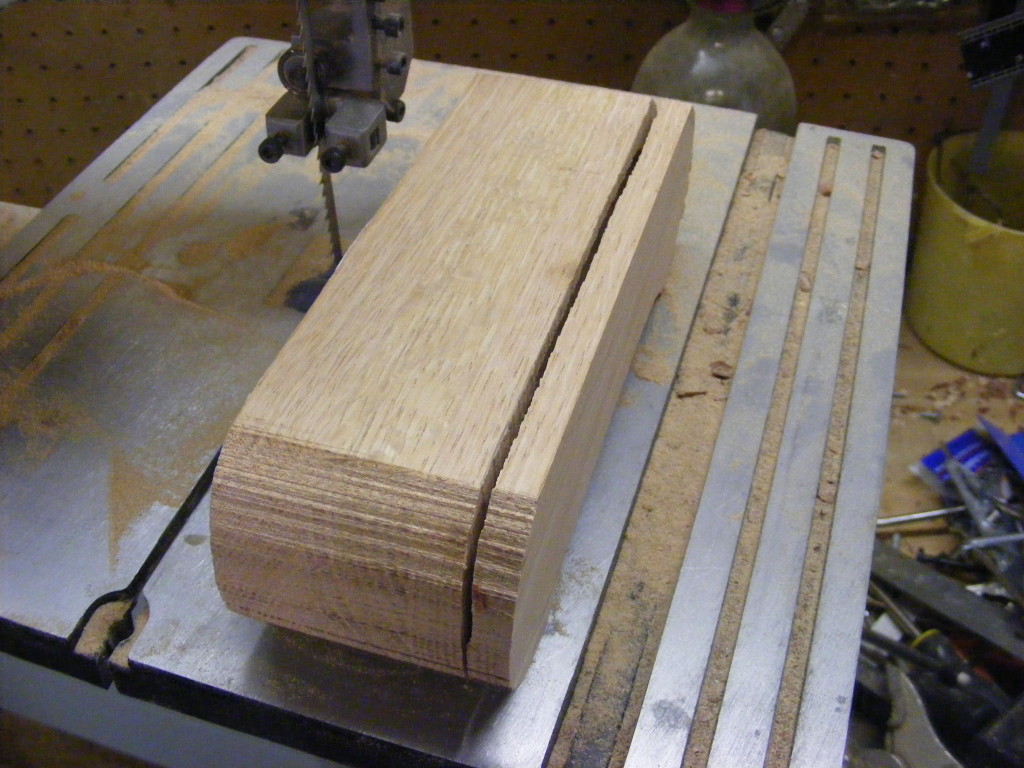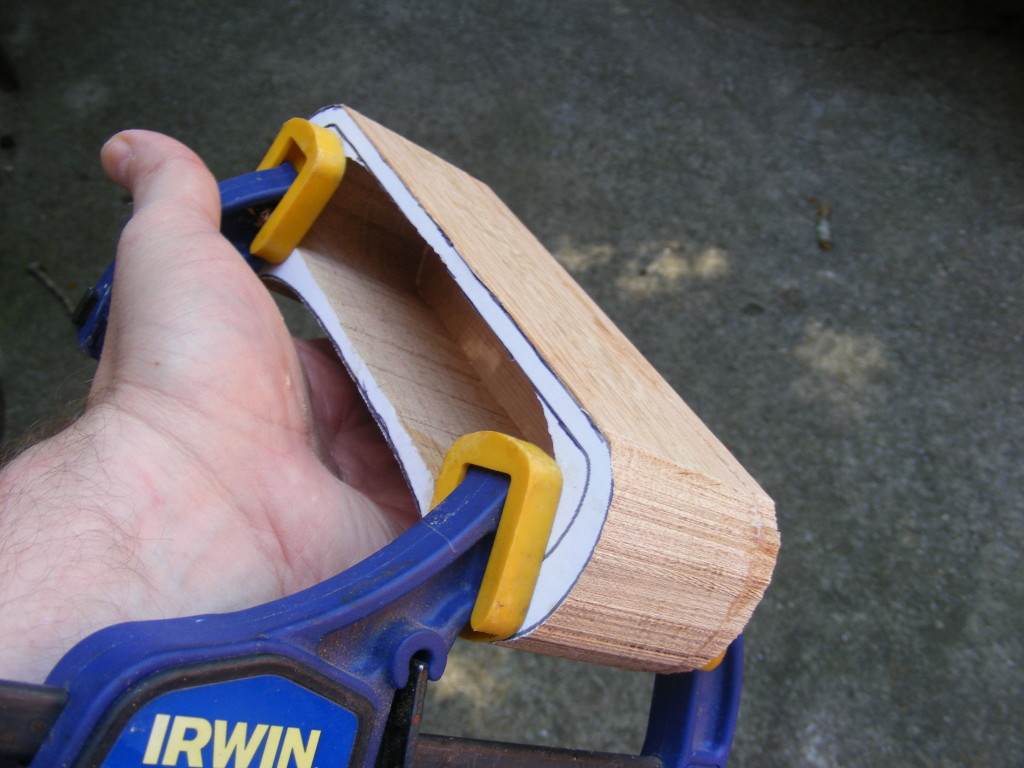 Step 10 – Glue the back of the box back on. While I was glueing on the front and back of the drawer, I went ahead and glued the back onto the main box. If you recall from step 5, this is the back piece for the entire box. Again I used Irwin Quick Grip clamps.
You will need about 4 to 6 of these small size quick grip clamps — that's for the box and the drawer. I love these clamps and they come in handy for all types of projects. Allowed 24 hours for the glue to dry.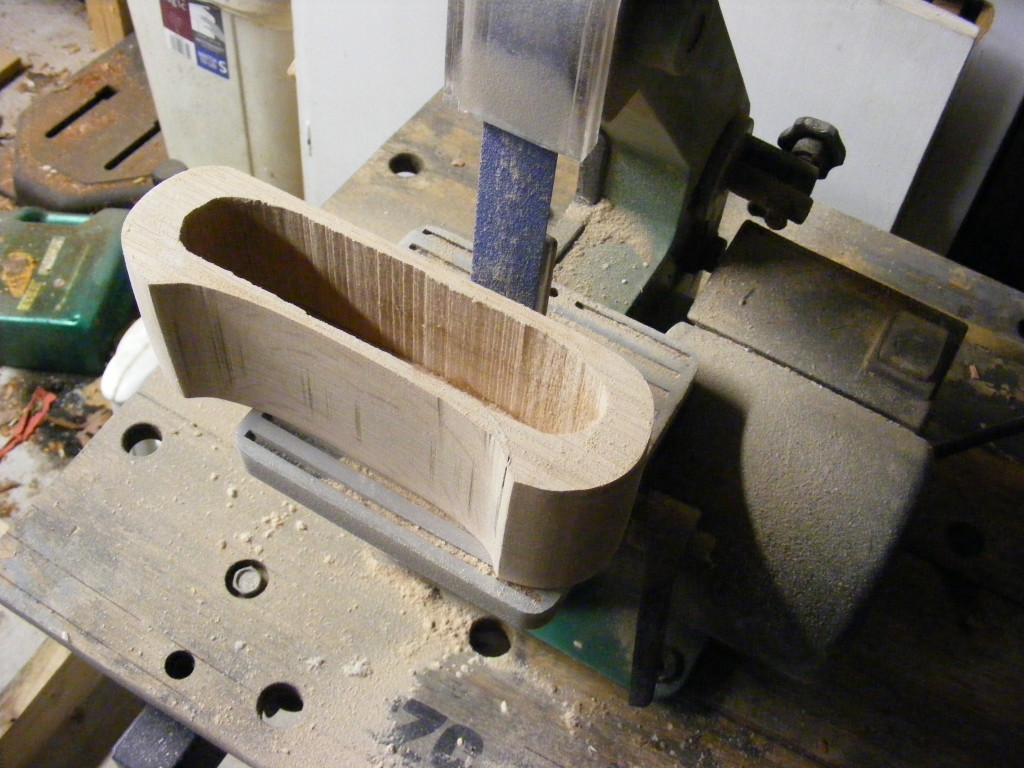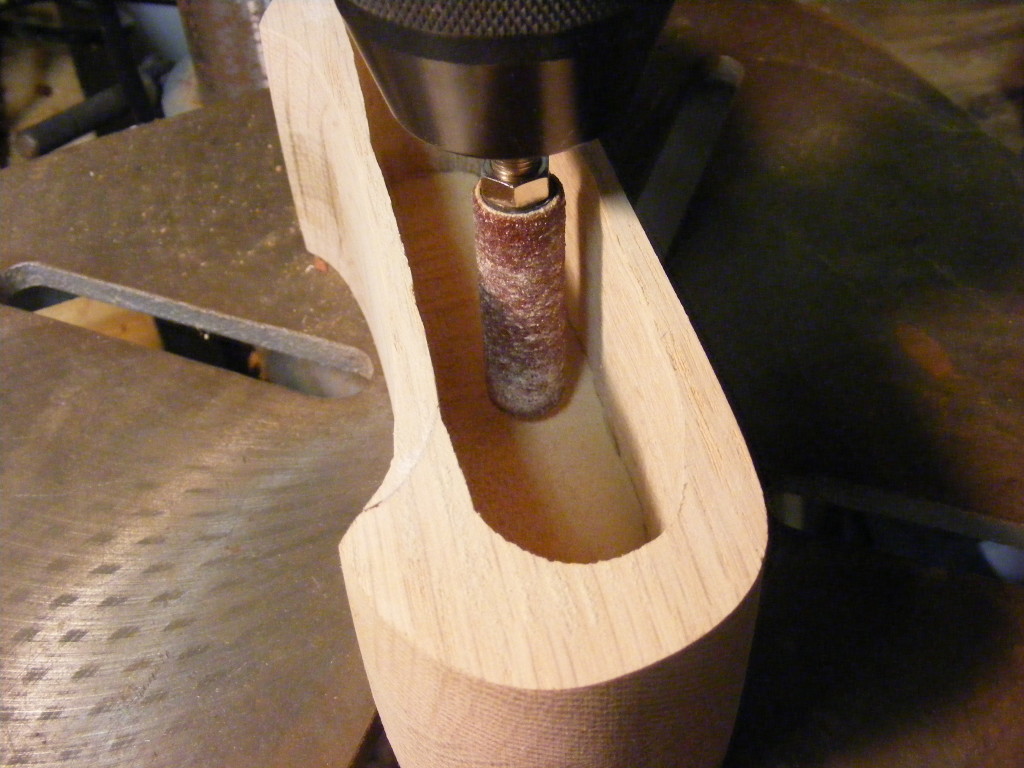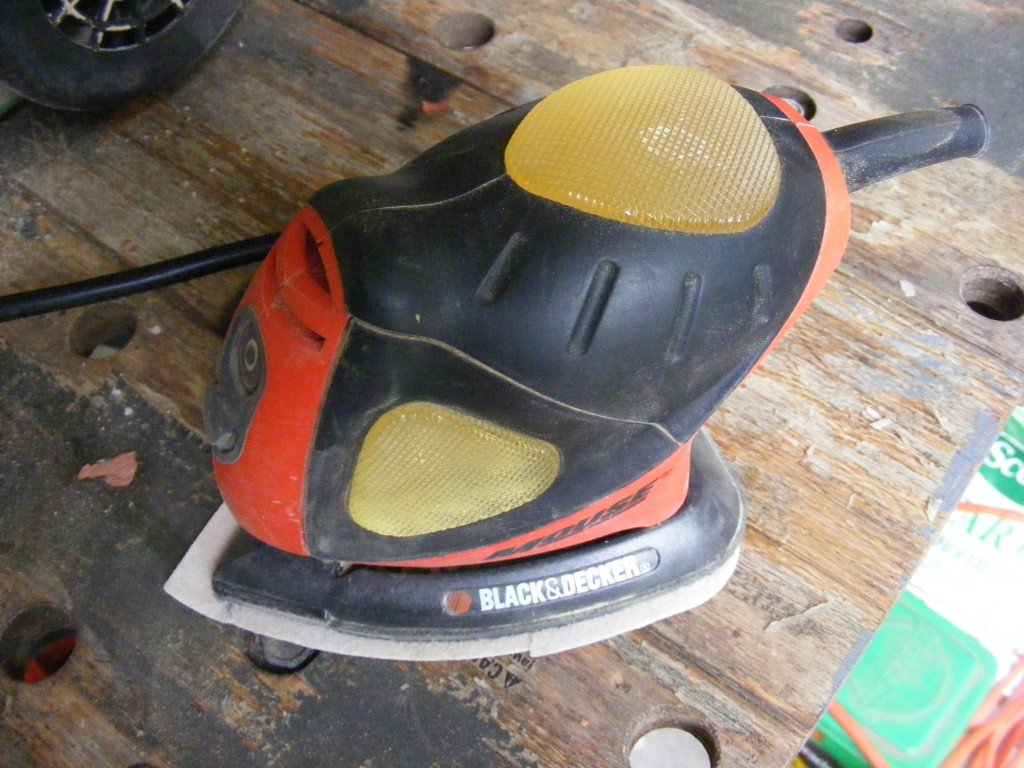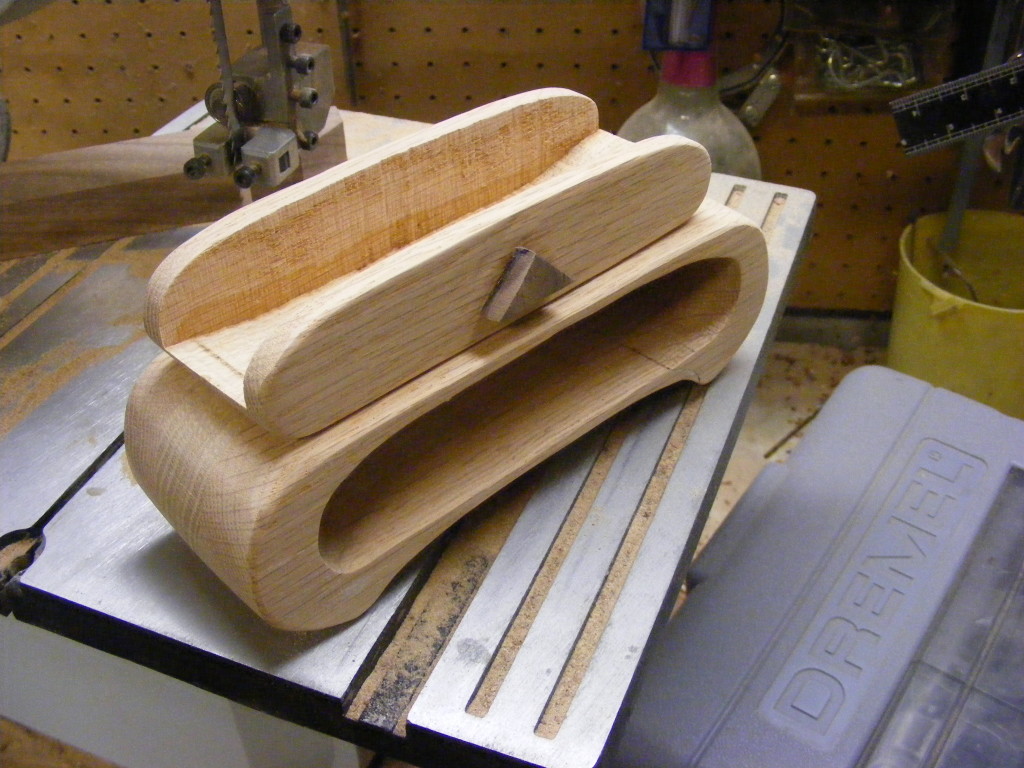 Step 11 – Sand the box. Now the messy part begins. I grabbed my respirator and started sanding the outside and inside of your box. Be careful how much you sand the inside drawer section as you don't want to create huge gaps — there will be some gaps though. My bandsaw cuts were not that smooth, so I had to do some extra sanding. As the pictures show, I used a combination of belt sander, drum sander (attached to drill press) and my Black and Decker Mouse sander. The Mouse Sander comes in handy for these small projects.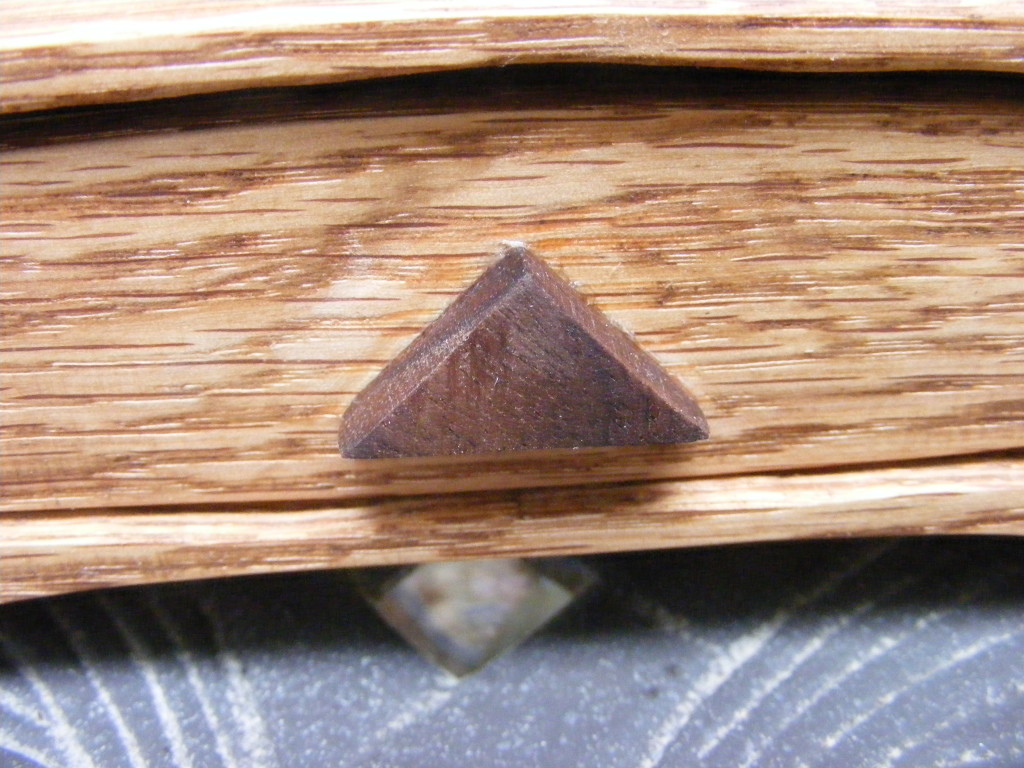 Step 12 – Add a drawer handle. Here is another way to add a creative flair to my box. I decided to use a piece of walnut I had on hand, and I used the bandsaw to cut out a small triangle. I then glued that to my drawer.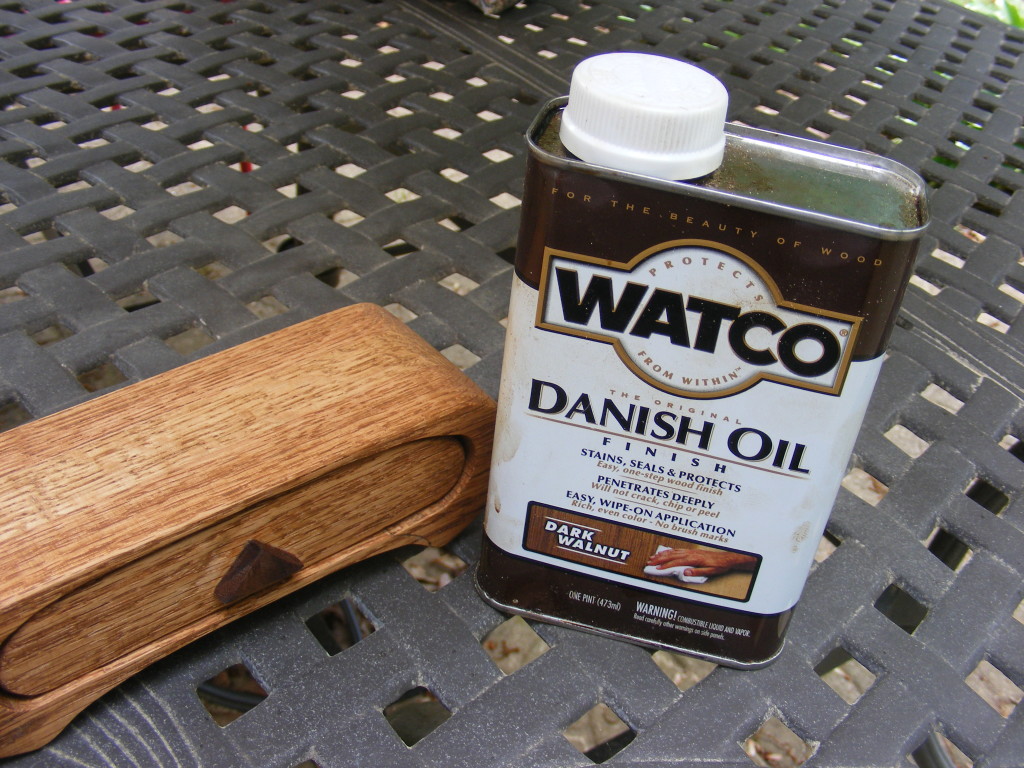 Step 13 – Finish the box. I used a dark Danish Oil and allowed it to dry overnight. You might decide to use a polyurethane. Whatever you use, read the directions on the container for application and drying guidelines.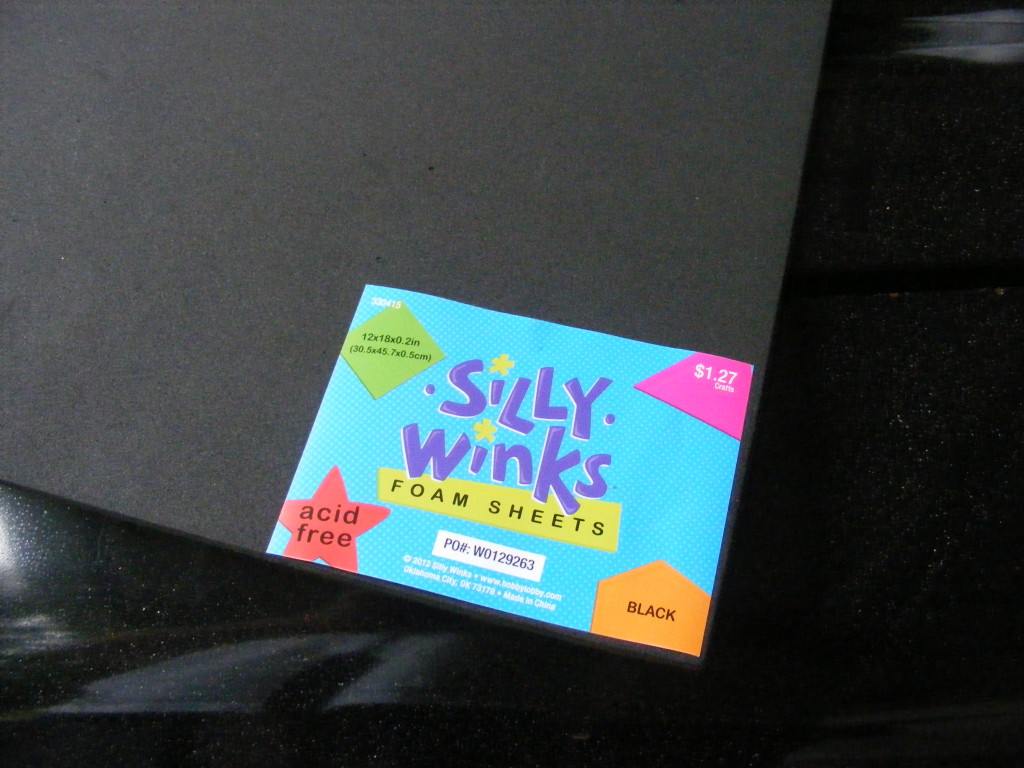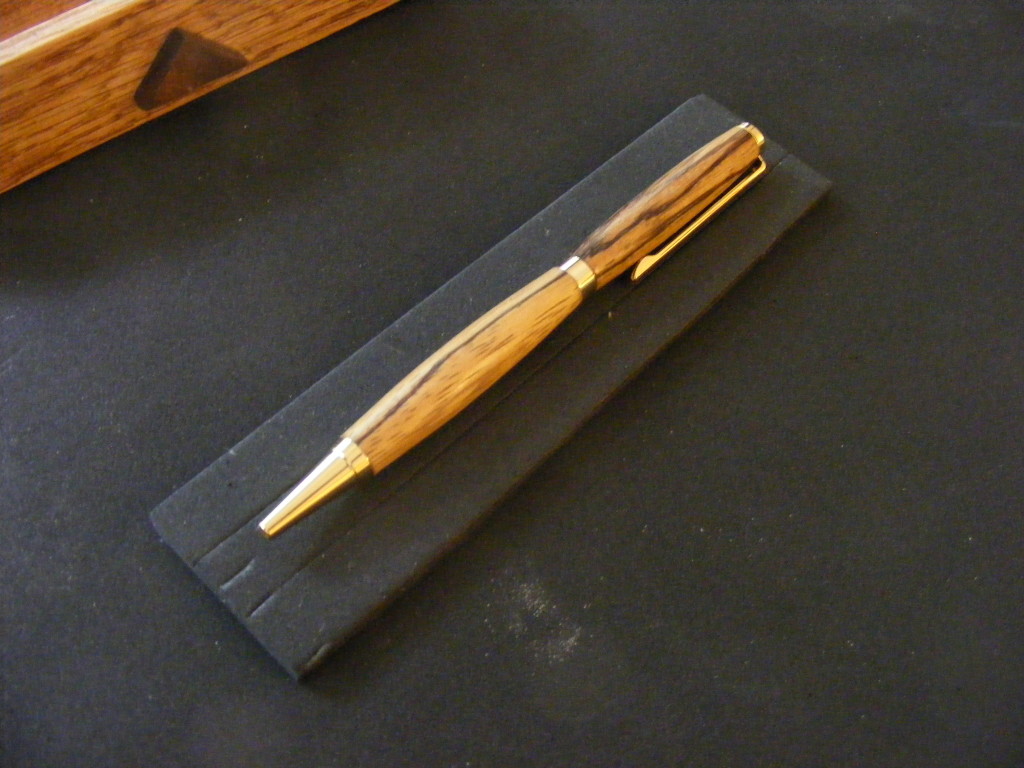 Step 14 – Line the drawer. This is an optional step, but I really wanted a way I could cradle my pen so it would't slide around haphazardly. I got this foam from Hobby Lobby, measured and cut to fit with an exacto knife. I used 2 layers of the foam. The bottom layer to line the box, then a top layer with a notch cut out for the pen. I decided not to glue this in because it fit fairly snug anyway.
I hope you enjoyed this simple tutorial on how to make a bandsaw pen box. Obviously, you can make these boxes in all shapes and sizes and designs. They can be used for holding jewelry, watches, knives, and who knows what else. Just remember the main limiting factor will be the size and power of your bandsaw. Want to make bigger bandsaw boxes? Then you'll need a bigger bandsaw with more power. I'm putting a bigger bandsaw on my tool wish list. Hope my wife is reading this — Father's Day is coming up soon … LOL
For the pen turners who might be reading this, please check out my basic pen making tutorial and my comprehensive pen turning resource. I hope these will be helpful resources for the beginner and advanced turner alike.
If you decide to use this tutorial as a guide, please read my disclaimer. Have fun and be safe!
Please consider subscribing to Four Oaks Crafts where you get tons of free woodworking / DIY tutorials. The subscribe entry box is in the left hand column. You can also follow me on Facebook or Pinterest. Until we meet up again, happy woodworking!
Sours: https://www.fouroakscrafts.com/make-bandsaw-pen-box/
Description: -Made of environmental friendly wood materials,sturdy construct,safe and non toxic. -Multi-layer compartments, layered reading is easy to carry, bid farewell to messy desks, and clean desktop organizers will provide enough space to store a range of items. -The storage box measures 21 x 15 x 25.5cm, 9-piece pen holder, 3 storage compartments and a drawer. -Suitable for collecting paper documents, stationery, books, magazines, notebooks, letters, CDs, mobile phones, classification pens, notes, cosmetics, etc. -Superb craftsmanship,excellent touch feeling and funny DIY design makes it be a perfect gift choice. -Perfect for teachers, students, teens and children in the school classroom or teacher's desk. -Storage scene: study, table, bedroom, living room, carry-on, storage room, balcony, etc Specifications: Product name: Pen Holder Type: B11 Black, B11 White Maple Color, B11 Cherry Wood Color Material: Wooden Uses: Desktop storage Size: About 21 x 15 x 25.5cm(L*W*H) Package Included: 1 Pc * Pen Holder Note: Transition: 1cm=10mm=0.39inch -Due to the light and screen difference, the item's color may be slightly different from the pictures. -Please allow 0.5-2 cm differences due to manual measurement.
Sours: https://shopee.ph/Office-Multifunction-DIY-Wooden-Desk-Organizer-Pen-Box-Stationary-Desktop-Storage-Rack-with-Drawer-i.19153394.6668829612
When you are in school or college there is always writing – and then more writing and then some more. For all that you need countless pens, highlighters, pencils, gel pens, sketch pens and then there are so many accompaniments to this like erasers, post-its, mini stapler, and other knick-knacks or just about anything that you need to carry to school/college – coins, keys, lip balm and hand sanitizer comes to my mind. And you are always in need of pencil pouches to carry all these. Here are 4 very easy to make pencil pouches for all that
DIY PENCIL CASES
1 Pencil pouch 
This is a boxy pencil box- just right to carry a lot of pens and pencils. Increase dimensions if you want a bigger size.
You can use fabric or faux leather to make it – you need a heavyweight fabric or use double layers of medium weight fabric or interface your fabric. 
How to make this pencil case
Step 1 Cut out a 10 inch square fabric piece.
Step 2 Keep the fabric right side up in front of you. Keep the zipper face down along one edge of the fabric. Sew in place. 
Step 3 Fold the fabric and join the remaining zipper edge to the other edge of the fabric as in the picture below.
Step 4 Keep the tube you have now flattened and arrange the zipper to the center. Stitch the side edges closed.
Clip the corners
Step 5 Pinch one of the corners and sew across one inch from the corner. Remember to keep the seam allowance open as you sew.
Do this for all the corners.
That is it. Turn your pencil box right side out. Now you can stuff the pencil pouch with anything you have a mind to. You can use tack stitches to keep the inside corner neat and tidy – they do give some sturdiness to the pouch so you may not want to trim it out.
2 Simple flat zipper pouch
This is a compact flat pencil case which will easily fit into your bag/backpack/purse etc. Make two or more to keep different types of pens separately organized
How to make this pencil pouch.
Step 1 Cut out fabric pieces – 2 for outer pouch and 2 for lining with the same dimensions – 10 inch by 5 inch. Use a coordinating zipper.
Step 2 Keep one of the lining fabric face up on table. Keep the zipper face up along the long edge. Place the outer fabric face down on top of this. Refer picture below.
When you stitch the edge and turn the zipper out – you will get one side of the pouch ready
Step 3 Now to join the other side fabric pieces – Place the other remaining lining piece face up on the table. Keep the already prepared pouch piece with zipper attached on top of this, face up as in the picture below.
Now keep the other outer pouch fabric piece face down on top of all this. Refer picture below.
Stitch along the edge joining the zipper edge to the lining and outer pieces.
You get the zipper in the middle and the outer fabric and lining fabric to either side of it.
Step 4 You may want to add a small strap to the purse for ease of carrying the pouch around. Cut out a 4 inch piece of webbing or ribbon or make  on with fabric 
Turn the fabric pieces so that the outer fabrics are on one side and lining pieces are on the other side of the zipper. Refer picture below
Keep the strap folded inside the two outer pouch pieces.
Stitch along the outer edge leaving a 2 inch unstitched
Step 5 Get the bag out of the lining through the hole in lining – remember to clip the corners before doing this – if you want sharp corners. Stitch the hole closed after everything is as it should be.
3 Small Pencil Case Pattern
This is a similar pouch as the boxy one – just that it is smaller and the construction is a little different. There is no bulk inside.
Step 1 Cut out a square fabric piece of 7 inches 
Cut out the fabric as per the pattern
Step 2 Join the zipper to both edges 
Attach the zipper to either side of the fabric edges as done in the first pouch
Step 3 Bring the zipper to the middle and join the sides. The size of the sides are not the same but join as much is there. 
Step 4 Pinch the corner openings and stitch.
Finish the edges. Bring the pouch right side out.
4  Felt Pouch
If you are really in a hurry and your kid needs a pencil pouch super fast you can make a simple pouch with felt this way.
How to make the felt fabric pencil pouch
Step 1 Simply cut out a shape from felt – get two pieces for front and back and a zipper 
Step 2 Cut out a window for the zipper on the back piece.
Step 3 Keep the zipper to the inside and stitch along the edge. Cut out the extra tail of zipper.
Step 4 Join the two pieces of felt by topstitching along the edge. Make a decorative stitch if you want a fancy pouch.
If you want to check out other types of pouches which are similar but different check out these posts : Make a make up pouch : 2 types ; Make a zippered pouch
Make a phone pouch : 3 easy ways
Hand sew a Leather Pouch
AUTHOR : Hi, I am Sarina. I am passionate about clothes, sewing, fabrics, fashion and surface design techniques in no particular order and absolutely love writing about all of these including what I learn, what I experience, and what I have bought to do all these. You are more than welcome to stay here and learn with me.Sours: https://sewguide.com/diy-pencil-case/
EPOXY PEN BOX TUTORIAL - DIY RESIN PEN BOX - Glitter Pens - Personal and Commercial Use Template
Introduction: Wooden Pen Box
When I was a student, I wrote with a real 'old-fashioned' pen, then later I started to write with roller-balls. Until 3 years ago, someone gave me a really nice Waterman pen. I must admit that nothing beats the writing experience of writing with a pen on smooth paper.
So I decided to quit writing with all the 'junk' and from that day on, I write only with this pen.

The pen came in a box, which was nice, but because it didn't survive all the travel I did. After 2 years, the original box was dirty, and its mechanics started to fall apart.

At that day I decided to make a new, luxurous and long-life box for my favourite pen.

Enjoy this instructible !
Step 1: Materials & Tools
Materials :
3 pieces Walnut wood : 200mm * 32mm * 9mm (8" * 1¼" * 3/8"). This kind of wood is readily available for wooden floors.
1 piece of thin cardboard (I used an empty corn-flakes box)
1 piece of 10 mm soft foam (this can be recycled from packaging)
1 piece of nice, stylish fabric. Size ~ 30cm * 10 cm (12" * 4")
2 thick staples, or 1 thin paper-clip (diameter should be 1 mm)
Double side tape. I used Tesa 15mm wide
4 mini magnets. I recycled them from a gift box. My magnets are 4mm * 10 mm * 1mm
Tools :
Saw
Router
Sander
Knife
Caliper
Drill, preferably drill-press
Time needed : half a day
Skills needed : medium. You need precision skills, as this a small object.
Step 2: Woodwork
For each sub-step, there is an image that visualises the step.
Glue 2 pieces of wood together (on top of each other), this will become the 'box'. The third piece will become the 'lid'
Take your router with a 12mm straight routing bit, and route the inside of the box. Leave a 4 mm material at the bottom and long sides, leave 10mm of material at the ends.
At each end, route an opening for the hinges (see image)
Cut two small pieces of wood, same size as the opening you just made for the hinges, and glue it to the lid
With sandpaper, round off one side of the box (see image)
With sandpaper, round off the hinges at the lid
With a small chisel or cutter knife, cut out 4 holes for the magnets. Each hole is 4mm* 10mm, 1.5 mm deep. Position it in the corner, which is 3mm from either sides. Try to make these holes as small as possible, i.e. the magnets should go in, but should sight tight in there, not needing any glue.
Put box and lid together, (clamp it or tape it) and drill a 1.2 mm hole  : this is difficult : the drilling needs to be perfectly aligned with the length of the box, everything should be fixed properly, or your drill could break. Be carefull anyway, and proceed slowly, allowing the chips of wood to evacuate while drillin
Take a thick staple or thin paperclip and straighten it. Push it in the hole in the hinges. Normally it should stay in without needing any glue...
Push in the magnets (check their 'polarity'). If the magnets are a bit loose, you can squeeze in a small piece of paper.
Finish the box by additional sanding (if needed), and apply wood-oil.
Step 3: Box Internals
Cut a piece of cardboard of 170mm * 46 mm
Bend it lengthwise, so you end up with a U-shape : bottom is ~24mm wide, sides are ~11mm high (test if it fits snap into the box)
Apply double sides tape to the bottom of the U, and glue the fabric onto it
apply double side tape to the outside of the sides
Stack 2 strips of foam, bend the fabric over it and stick it to the double-sided tape : see cross-section sketch
Insert the cardboard-foam-fabric part into the box
Be the First to Share
Did you make this project? Share it with us!
Recommendations
Micro:bit Contest

Unusual Uses Contest

Audio Challenge
Sours: https://www.instructables.com/Wooden-Pen-Box/
Box diy pen
How To Make A Pretty Wood Box For Pens and Pencils
This pretty wood box makes a lovely gift, or maybe you just want one to store your own pens and pencils in.
Disclosure:This shop has been compensated by Collective Bias, Inc. and its advertiser. All opinions are mine alone. #PilotYourLife #CollectiveBias
I love pretty things, in pretty packages. Being able to look at lovely things on the walls of my office and craft room, and around the space where I spend most of my workday inspires me. When things are organized, bright, and easy to find, it makes me happy, calms me, and leaves me wanting to spend more time in that space, and create even more lovely things.
Although I'm pretty sure this pen box is going to last about 24 hours on my desk before it 'disappears' into my daughter's bedroom. She was eyeing it while I was making it and already commented that it's in her favorite colors. I might have to nail it to my desk in the middle of the night I think.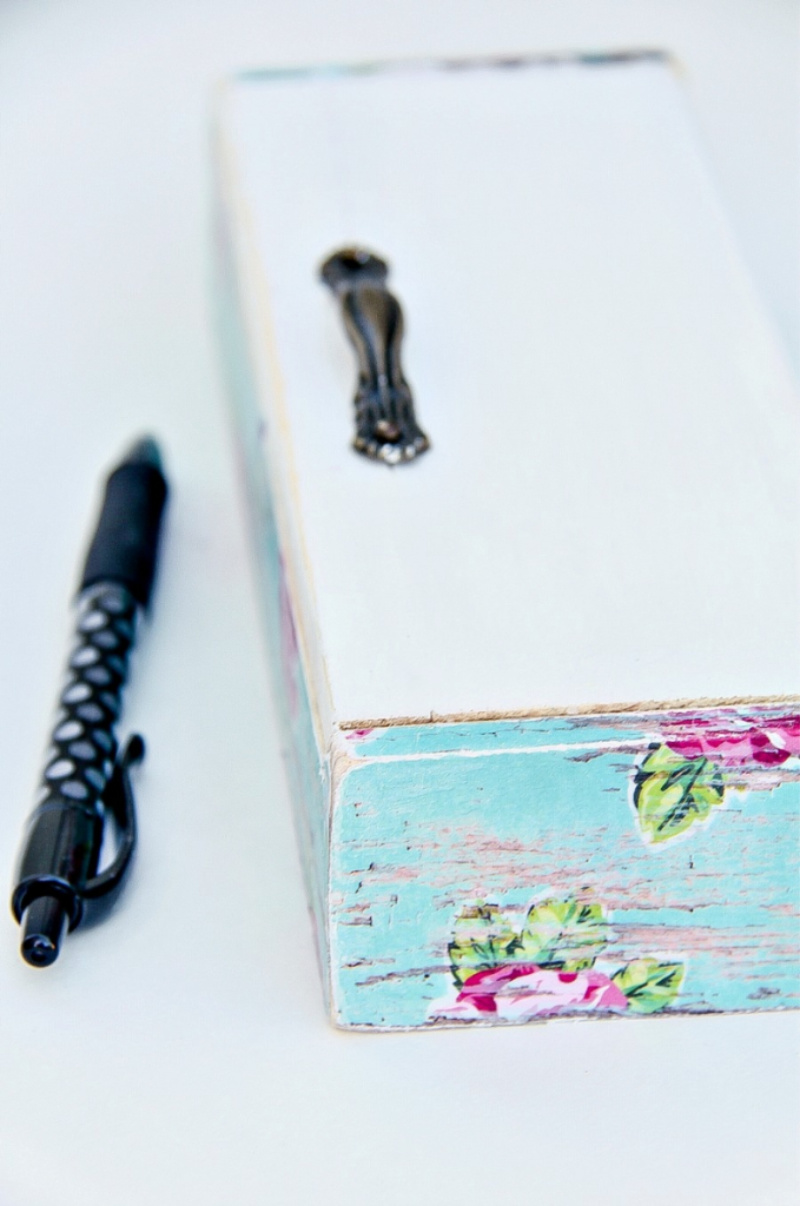 This pen (or pencil) box is the perfect addition to the office of all you everyday overachievers, like me, and you really don't need any crafty skills to put it together either, even though it looks like you do.
What You Need To Make A Pen Box
A small wood box (available at craft stores)
Scrapbook paper
Decoupage glue
Paint and a brush
A decorative handle
Sandpaper
And don't forget your Pilot G2 Pens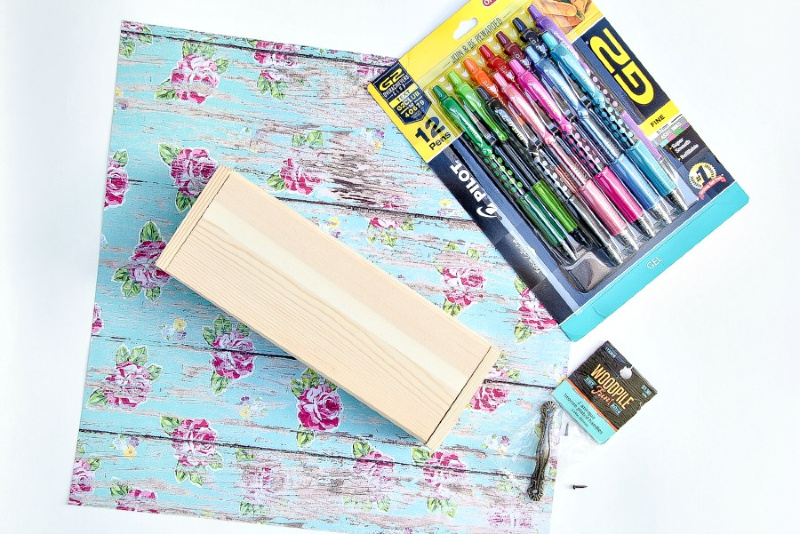 How To Make A Pen Box
Begin by painting the lid of the box with two coats of paint, allowing each coat to dry before painting the next.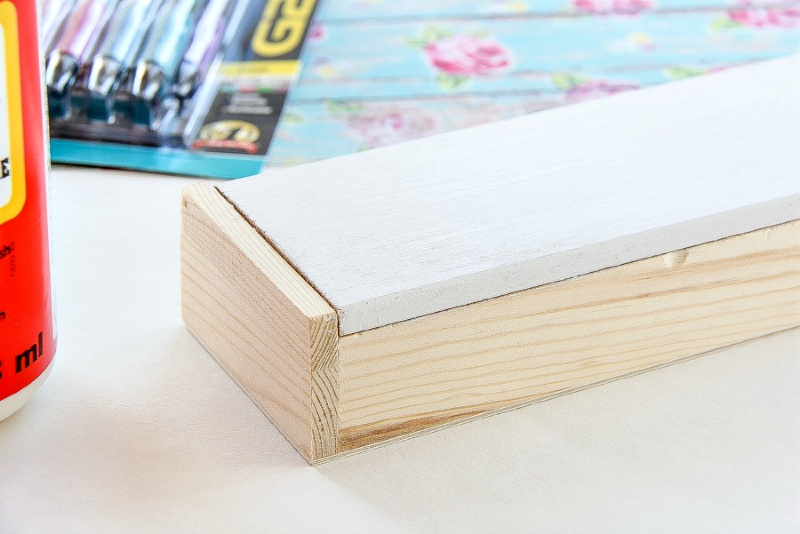 While the paint is drying, measure the sides of the box, and cut the scrapbook paper accordingly.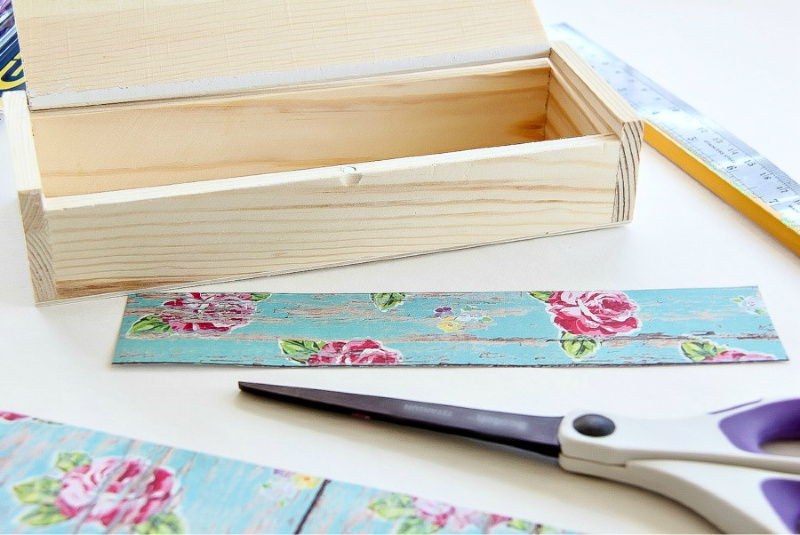 Adhere the paper to the sides of the box using the decoupage glue and set aside to dry.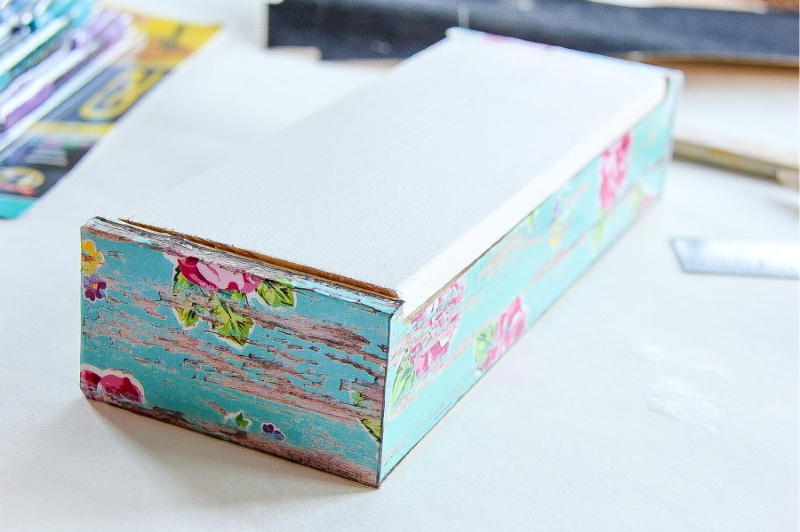 Using the sandpaper, gently sand the edges and across the top of the box to give the box a more worn look.
Apply a layer of decoupage glue over the top, and again set aside to dry.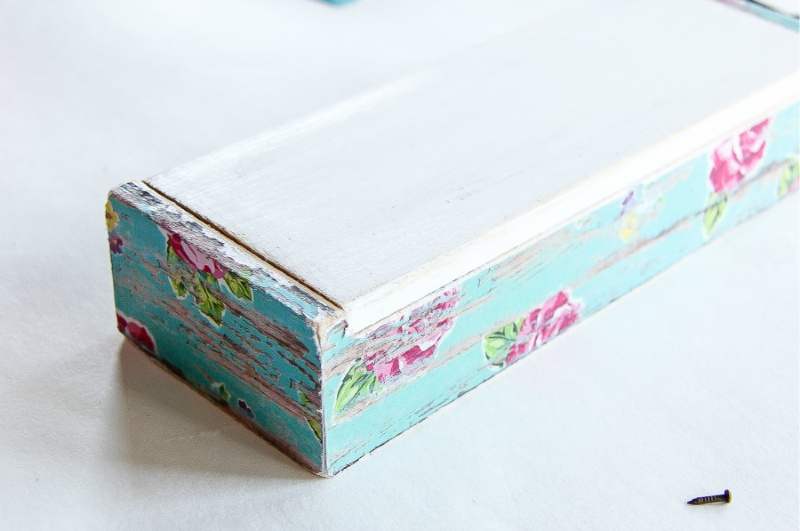 Using a hammer, gently hammer the nails to attach the handle to the lid of the box. But be careful not to crack the top, don't ask me how I know this … learn from my mistakes though.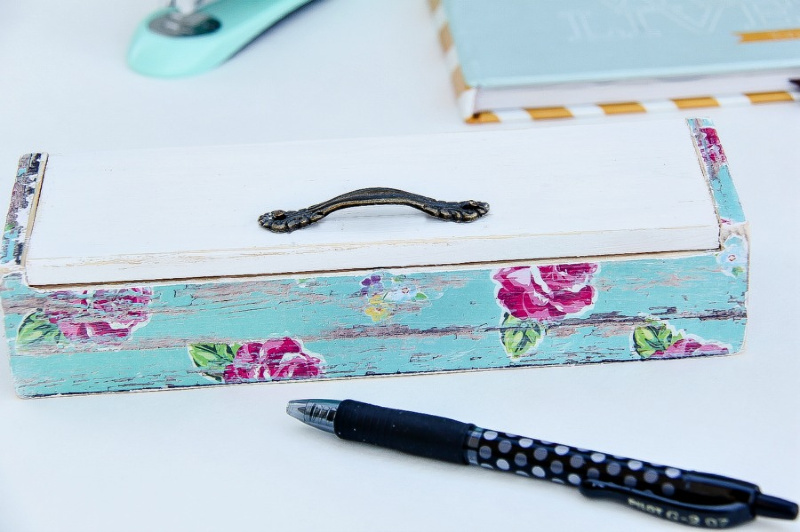 And now you have a lovely pen (or pencil) box to house your favorite writing materials or the special pens you use for projects.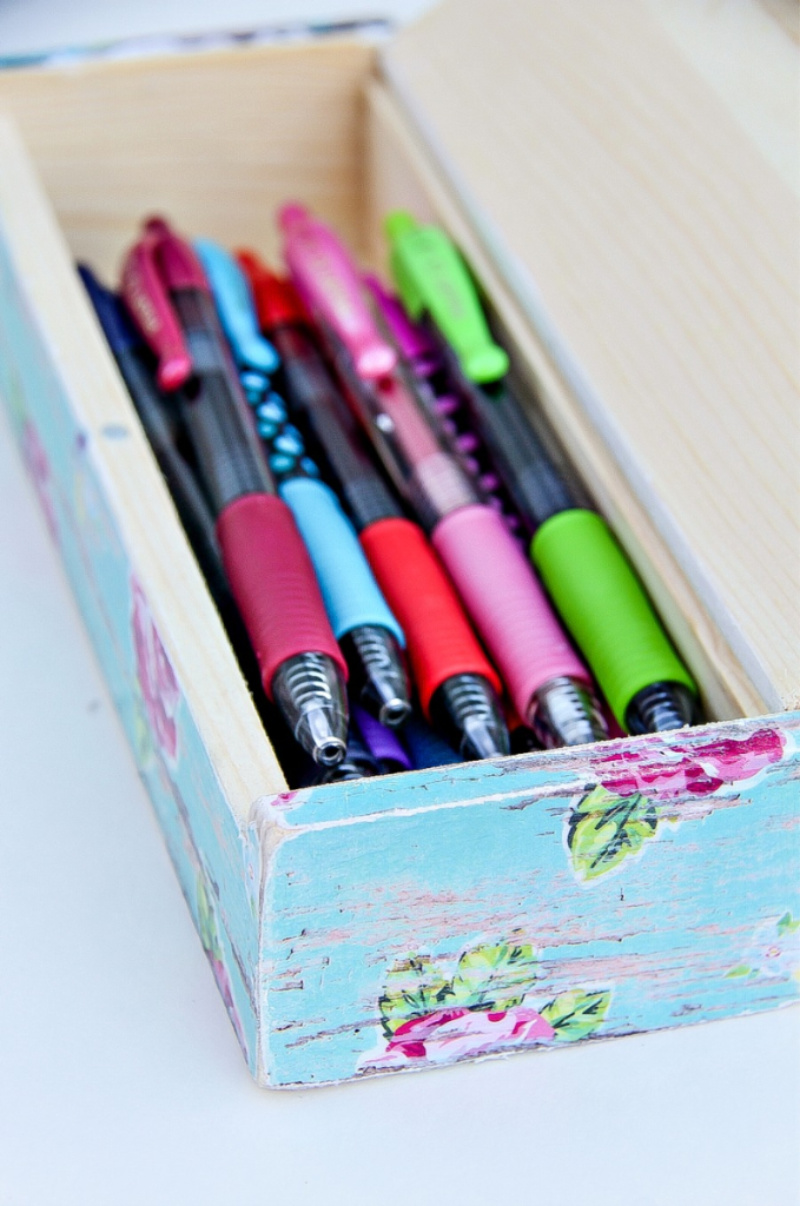 Have you joined the Target G2 Overachievers Club? Join now to receive promotions, product news, Overachiever life hacks, giveaways and more. Text G2CLUB to 40679 to join and we'll send you a coupon to kick off your new club membership.
G2 is America's Go-2 gel ink pen. Known for its smooth writing and comfortable grip, G2 is the #1 Selling gel ink brand in America (NPD, 2015). They include four-point sizes and 15 vibrant colors with multiple collection options available to customize your writing experience including G2 Premium, G2 Target Fashion Collection, and G2 Metallics.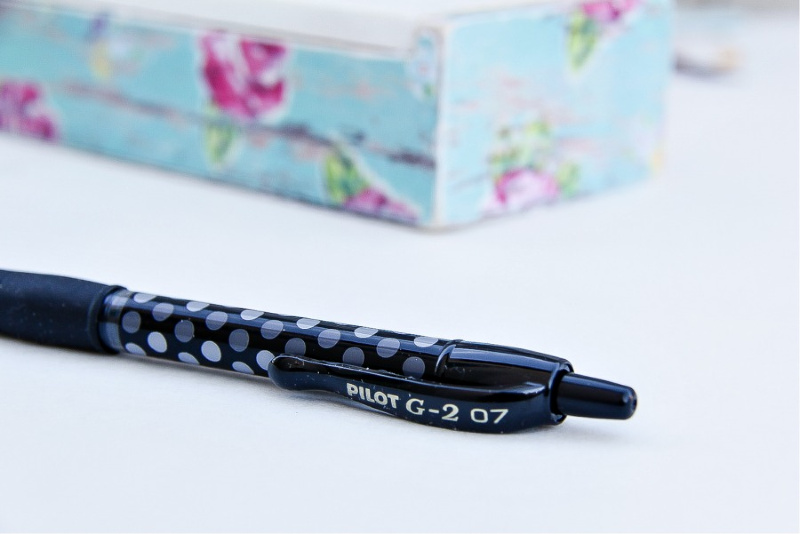 Get inspired and #PilotYourLife with great ideas for the everyday overachiever, and pick up your Pilot G2 pens at your local Target store, you should find them on a special end cap at the moment.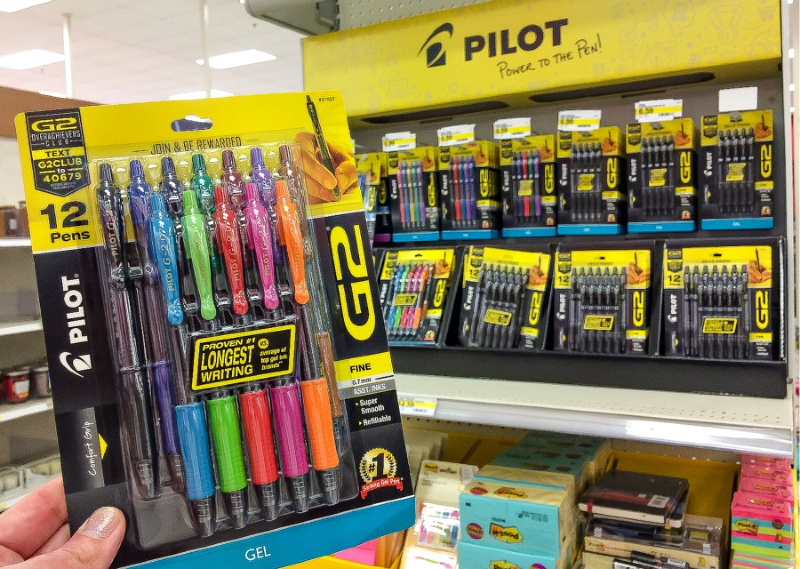 Pin this post for later:

Sours: https://www.tonyastaab.com/a-diy-pencil-box/
DIY Desktop Organizer - Ecobrisa DIY
My Pen Box Holder Version.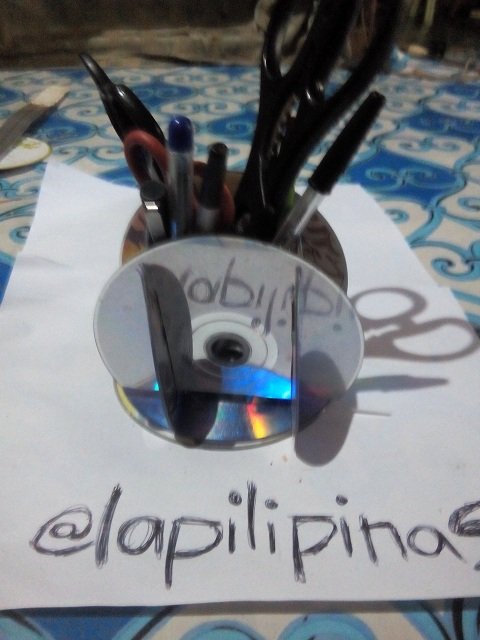 Materials:
5 or 6 Old Dvd or Vcd Disc
Ruler
Scissors
Pen or Pencil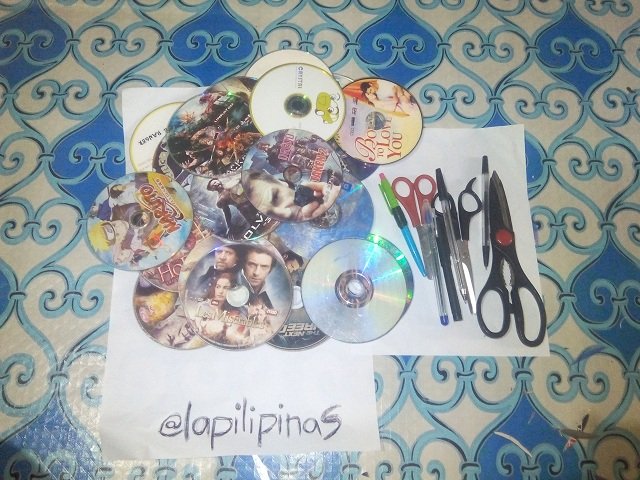 Step by Step:
1.) In the bottom of the disc, make a line (1 inch apart)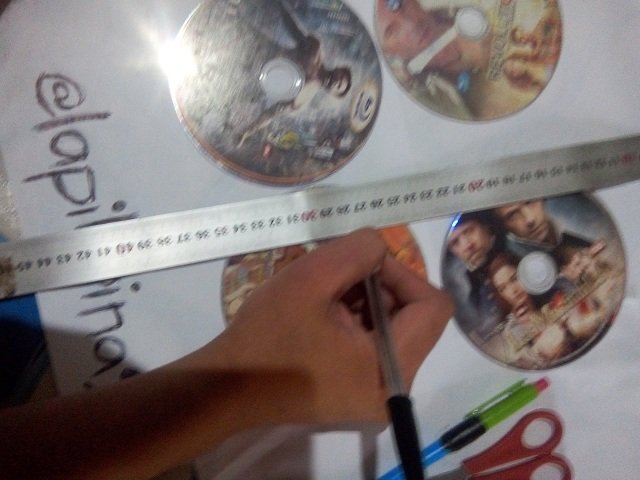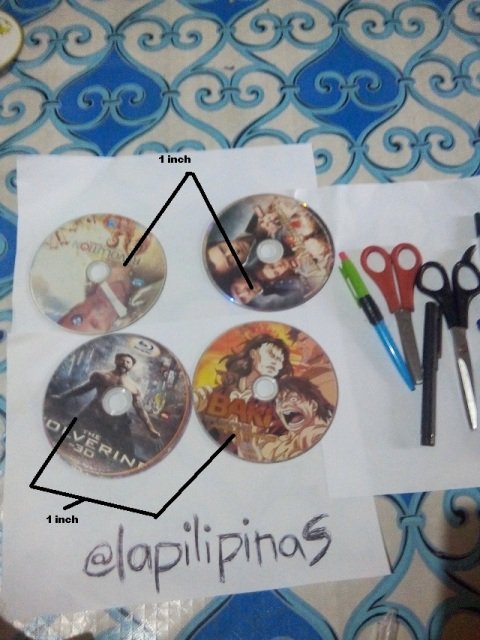 2.) Cut disc.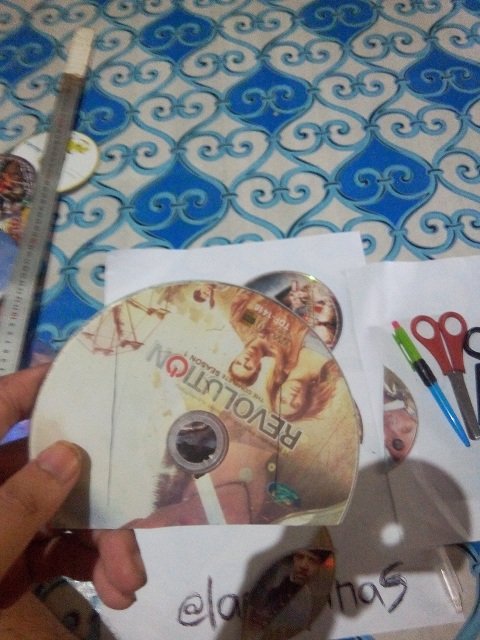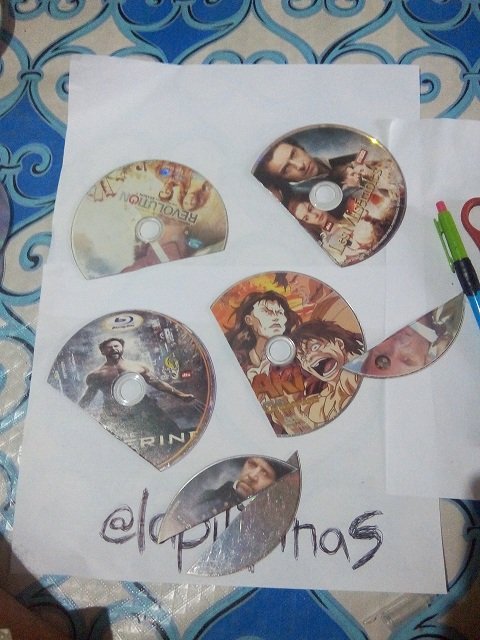 3.) Follow the pictures.
Cut the 2 disc like this.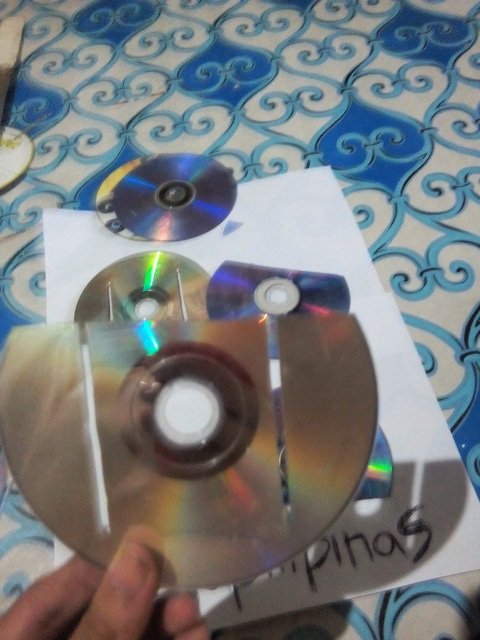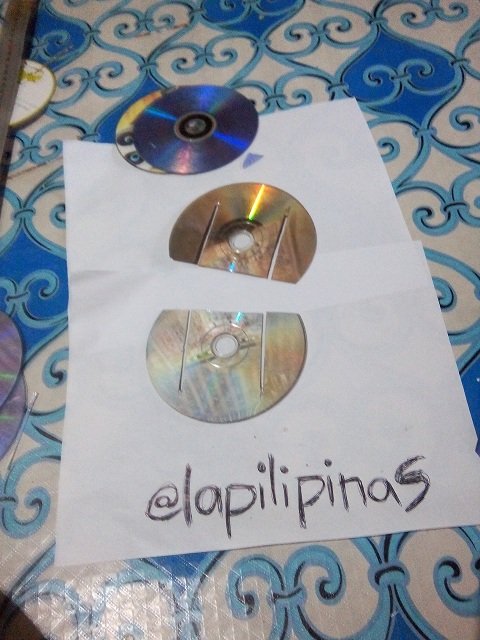 Cut the other 2 disc like this.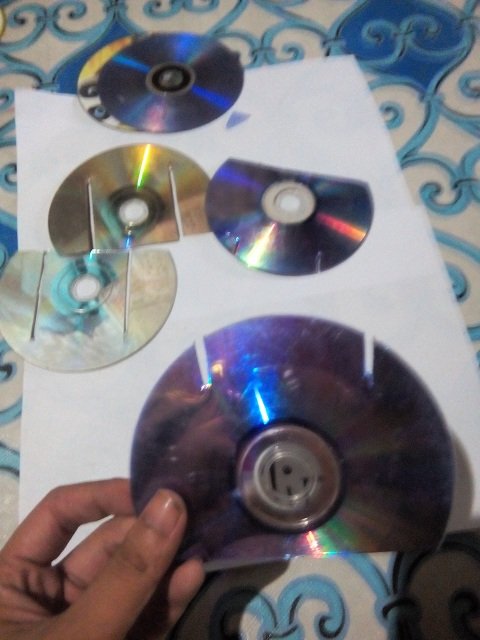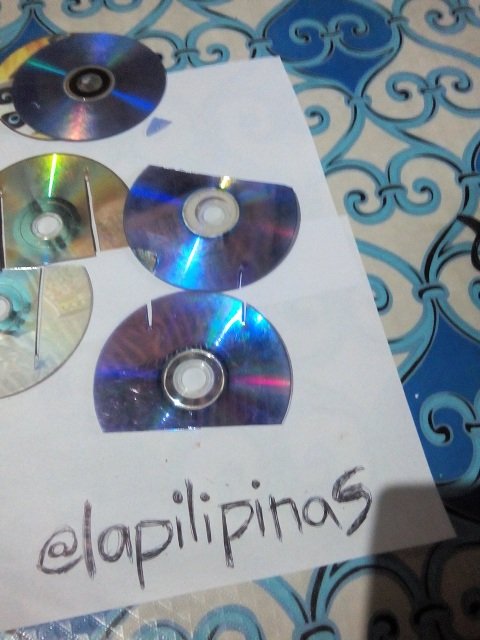 4.) Combine the 4 disc, Just insert the 1 disc with long cut and the 1 disc with short cut. It should be like this.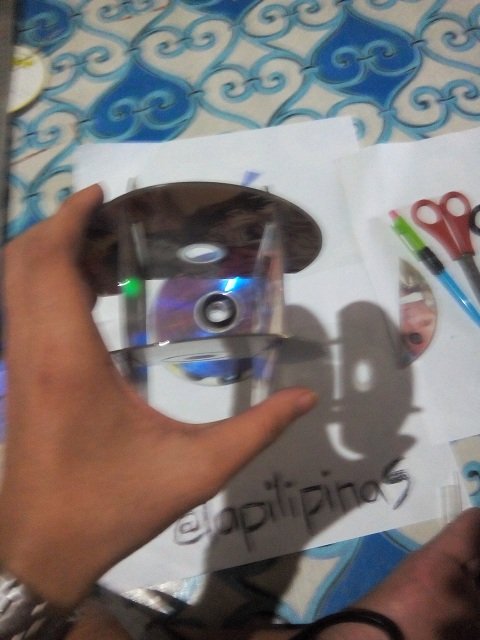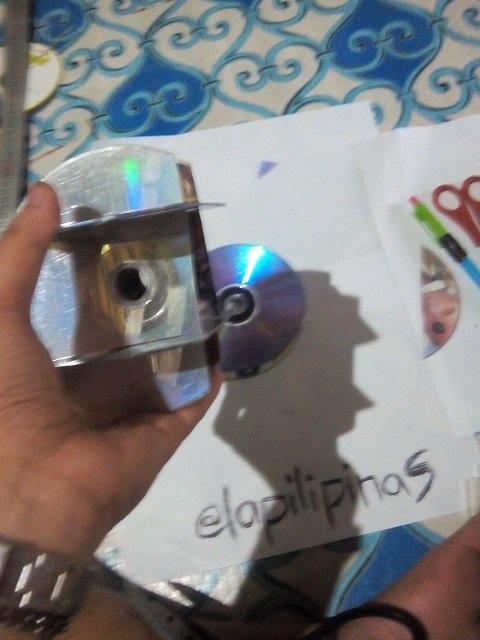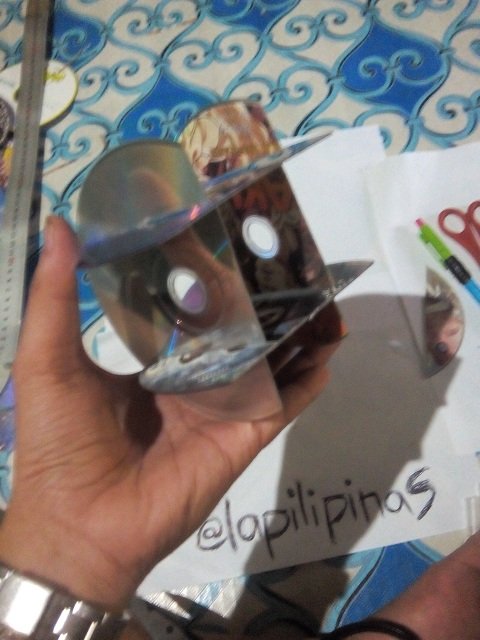 5.) Put one disc in the bottom.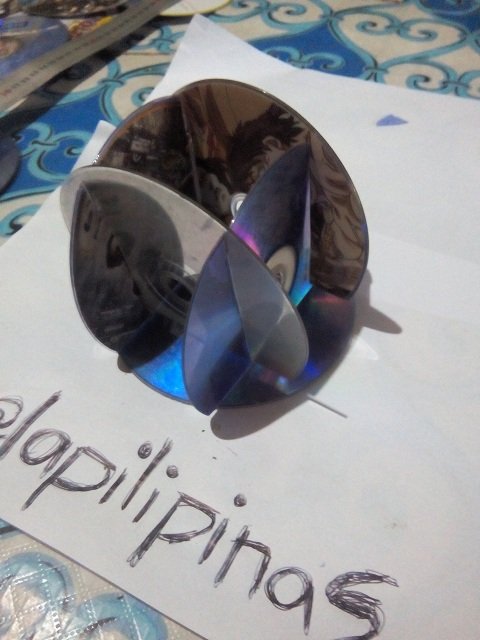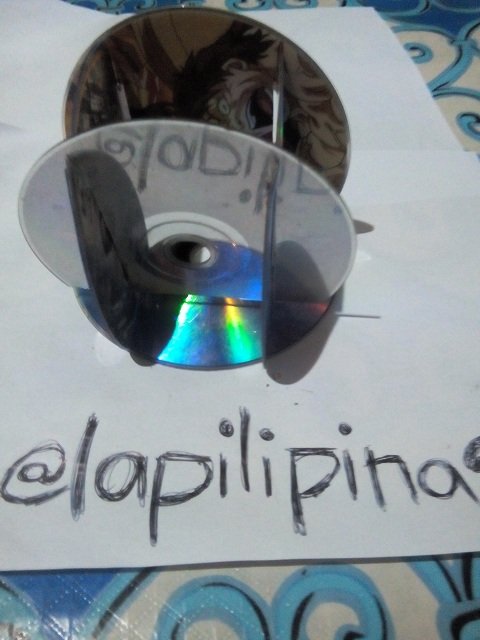 6.) Now, you can put your pen, pencil or scissors in our Pencil Box Holder.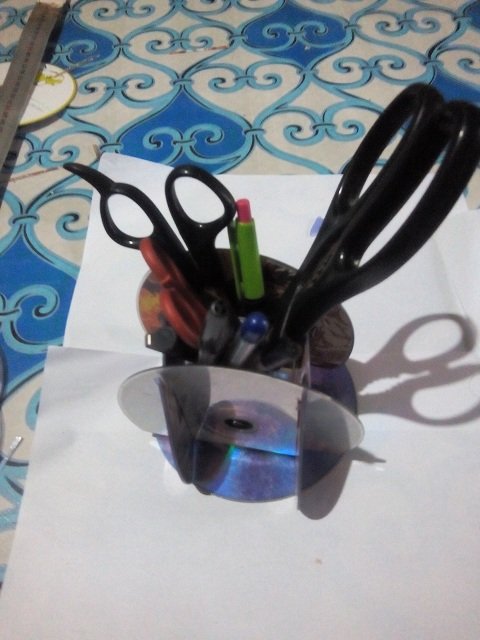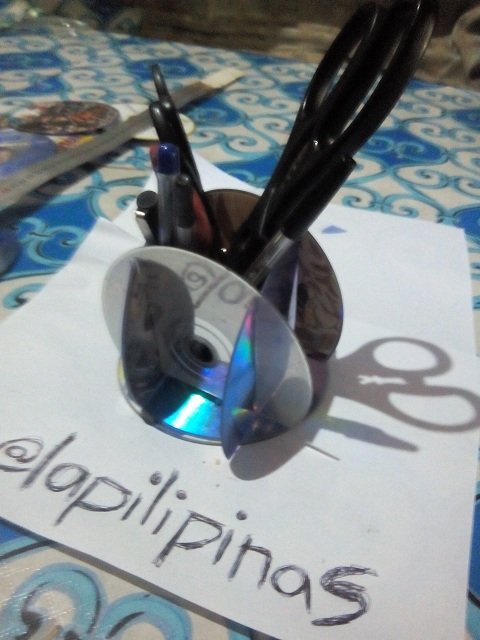 :D I create my own version because I don't have a glue gun.
This Pencil Box Holder was inspired on this video.
Sours: https://steemit.com/recycle/@lapilipinas/diy-pen-box-using-cd-pencil-holder-reuse-crafts-my-version
Similar news:
.
1267
1268
1269
1270
1271