Royalcore Is The Internet Aesthetic That's All About Dressing Like A Princess
Whether it's a fashion trend on TikTok or a certain style taking over Instagram, internet aesthetics are always changing online. Our series 'Core Club breaks down the looks that you're starting to see a lot on social media and highlights the people and brands channeling it best. Next up: royalcore, princesscore, and Regencycore.
It started with a white tulle skirt. Jordan Brown, who's known as @hellomissjordan on social media, was immediately drawn to its whimsical style when she was gifted the garment four years ago. "I immediately fell in love with the vibe it gave me and knew I wanted to share more clothes that gave that same feeling," she recalls to NYLON. Ever since, she's described her personal style as "everyday princess style," and recently, she doubled down on what's known online as "princesscore," a style that falls under the "royalcore" internet aesthetic.
"I've had Tiktok since around 2019, but only really narrowed in on the princesscore niche in the last few months. It became apparent how much people love the princess content, so I've been focusing on that," says Brown. "The response has always been so wonderful with so many people saying that they've been inspired to dress the way they want to, not how society deems to be 'normal.'"
One of Brown's TikTok posts that often goes viral is a video of her piling on a slew of different tulle dresses in nearly every pastel color. The flowy fabric is one of the staples of a princesscore wardrobe, she says, along with ballgowns and corsets. "A little bit like how you'd imagine a person from a fairytale dressing," she adds, along with brands like Selkie, Teuta Matoshi, JJ's House, and Corset Story. Lirika Matoshi, of the internet-famous "Strawberry Dress," could very well fit into this category, too, considering her collaboration with Disney on a collection of Cinderella-inspired gowns.
Matoshi's viral design is usually associated with cottagecore, but the fanciful style can sometimes overlap with princesscore. Kendra Karabayeva, who posts on TikTok via @flowers.fromkenji, says that she was already into the quarantine-friendly aesthetic before creating princesscore-focused content in June 2020. "I did find that the similarities between the two made the transition very natural because both are still super girly, in attitude and in aesthetic," adds Karabayeva. "But when I'm doing princesscore and royalcore, it's an opportunity to tap into a mood that's more glamorous, luxurious, and overall much more extravagant than cottagecore."
Karabayeva's princesscore is more of a dark approach to the aesthetic, like wearing black dresses rather than the usual pinks and whites. "I went full-on with a darker palette with rich colors and my followers all said they really liked seeing this take on the aesthetic," she says. "They were also excited to see Black women represented in this aesthetic because there are quite literally only a handful of us, so for many of them, this was very inspiring to see."
Indeed, one of Porsha Hall's most successful TikTok videos, which shows her sipping from a fancy tea set while gazing out the window, has the caption: "Welcome to black girl #princesscore & #royalcore 👸🏾🕊 ☕️." (She also just started a new YouTube channel dedicated to representing Black women in princesscore.)
"I was already actually doing princesscore and royalcore but I didn't realize it was a certain aesthetic and it was under a certain umbrella," Hall explains. "So when I finally posted that and actually added the hashtags, I feel like that's when I really started taking off and people were enjoying the content that I had loved for myself. Now like-minded people were following me because they loved it, too."
The video has racked up close to 200K views since it was posted on Dec. 25, the same day that Netflix released its breakout hit, Bridgerton. Hall, who didn't know about the show at the time, believes that the engagement she received was likely related to the Regency-era period drama's growing fan base. "Everybody in the comments was like, 'Oh my gosh, this is so Bridgerton,' or 'me after watching Bridgerton," she recalls. "I'm like, wait, hold on a second. What is Bridgerton?"
Brown has noticed a huge increase in appreciation for her princesscore style since the show's release, too. "I finally feel like I'm not the odd one out," she exclaims. "Although a lot of princesscore style isn't historically accurate — especially in relation to Bridgerton and the Regency era — the idea of dressing in beautiful dresses and corsets has really resonated with a lot of people who maybe felt restricted by mainstream fashion trends."
Bridgerton's impact, at least within the fashion space, is hard to ignore. According to Lyst, within the first four weeks of the show's premiere, searches for corsets skyrocketed by 123 percent, and empire-line dresses jumped by 93 percent. The numbers were so impressive that the global fashion search platform dubbed the buzzing interest as "Regencycore." "Following the recent rise of other aesthetics such as cottagecore and normcore, and after having seen a strong rise in searches for Regency-inspired pieces, it made sense for the Lyst editorial team to name this trend Regencycore, a term that has since caught on in the industry at large," says Morgane LeCaer, Lyst's data editor and content lead.
Pinterest, which Hall admits to using frequently to help her channel her royalcore look, also noticed the aesthetic gaining popularity on the platform. "Since the release of Bridgerton last December, Pinners have been shopping on Pinterest to bring an element of royalty into their lives, from puff dresses, to dainty tiaras, to fancy tea sets," says Senior Insights Manager Swasti Sarna. "People often turn to Pinterest to discover new hobbies and find an escape, and dressing up and pretending to live in a castle is definitely a new fun activity."
There's a psychological term behind all of this Bridgerton-meets-royalty craze, too: enclothed cognition. Shakaila Forbes-Bell, who's the consumer fashion psychologist for Afterpay, breaks it down as mimicking the style of a person and unknowingly taking on their characteristics.
"For example, when you wear a lab coat that you associate with doctors, you become more attentive, when you wear an empire-waist dress that you associate with royalty, you feel more majestic," she explains. "When it comes to our favorite TV characters, we're drawn to their clothes and adopt their style because it allows us to embody the traits we admire in those characters. I suspect people are adopting this trend as a way to add a touch of elegance to life, which has been made increasingly unrefined as a result of the pandemic."
Hall channels princesscore far beyond just dressing up. "It's also about your character and how you treat others. One of my best qualities is how compassionate and kind I am to people and how loving I am," she says. "It's more of a lifestyle and this is what has basically made me who I am, not just the aesthetic. I carry myself as though I already know I was a princess in another lifetime."
While Bridgerton may have inspired a new wave of appreciation for all things royalcore, early enthusiasts of the aesthetic, like Brown, Karabayeva, and Hall, are experiencing a nice boost in followers and engagement as a result.
"There is no possible way [my video] would be this popular if Bridgerton didn't happen right now, in my opinion," notes Hall. "And in a sense, sometimes I wonder if Bridgerton didn't come out, would I have really gotten my start on the content that I really wanted to make? And would everybody really like it? I don't question that all the time, but it is interesting for me to think about."
Royalcore's rise may likely be tied with the Netflix show's success, but it also seemed inevitable given its similarities with cottagecore and how that particular internet aesthetic stemmed from being in quarantine and lockdown in early 2020. As we approach our one-year anniversary spent mostly at home, chances are we're more than ready to ditch our simple nap dresses and escape our close-and-cozy quarters.
"In the UK and a lot of other countries we're still in a full lockdown, and a lot of people are struggling with the monotony of everyday life," says Brown. "The idea of being whisked away to a castle, wearing a beautiful gown and attending a ball is like a beautiful fantasy, and the royalcore aesthetic helps to bring it a little closer to reality."
Sours: https://www.nylon.com/fashion/royalcore-princesscore-internet-aesthetic-fashion
Men's Royalty Core Axe T-ShirtNew
Grab this soft, classic tee with our axe logo. It's available in 4 colors and sizes S-3XL. Black and White shirts are 100% cotton; Sport Grey is 90% cotton/10% polyester; Dark Heather is 65% p...
Royalty CoreApparel
USD20.0020.00120.00
Men's Royalty Core Swords T-ShirtNew
Grab this soft, classic tee with our twin swords logo. It's available in 4 colors and sizes S-3XL. Black and White shirts are 100% cotton; Sport Grey is 90% cotton/10% polyester; Dark Heather i...
Royalty CoreApparel
USD20.0020.00120.00
Royalty Core Embroidered BeanieNew
Our cozy embroidered beanie is available in 4 colors, all embroidered with our classic axe logo.
Royalty CoreApparel
USD20.0020.00120.00
Royalty Core Snapback HatNew
This classic 6 panel snapback hat is embroidered with our axe logo and is available in 10 colors. Find your perfect color combo!
Royalty CoreApparel
USD25.0025.00125.00
Unisex Royalty Core Axe HoodieNew
Our unisex hoodie is printed with our axe logo, is available in 8 colors, and is offered in unisex sizes S-5XL. All colors are 50% pre-shrunk cotton/50% polyester.
Royalty CoreApparel
USD40.0040.00140.00
Unisex Royalty Core Swords HoodieNew
Our unisex hoodie is printed with our twin swords logo, is available in 8 colors, and is offered in unisex sizes S-5XL. All colors are 50% pre-shrunk cotton/50% polyester.
Royalty CoreApparel
USD40.0040.00140.00
Women's Royalty Core Axe T-ShirtNew
Our women's t-shirt is printed with our twin sword logo, is available in 6 colors, and is offered in sizes small-2XL.Black and White shirts are 100% cotton; Heather Grey is 90% cotton/10% po...
Royalty CoreApparel
USD25.0025.00125.00
Women's Royalty Core Sword T-ShirtNew
Our women's t-shirt is printed with our twin sword logo, is available in 6 colors, and is offered in sizes small-2XL. Black and White shirts are 100% cotton; Heather Grey is 90% cotton/10% pol...
Royalty CoreApparel
USD25.0025.00125.00
Sours: https://www.royaltycore.com/c-12-apparel.html
Royalcore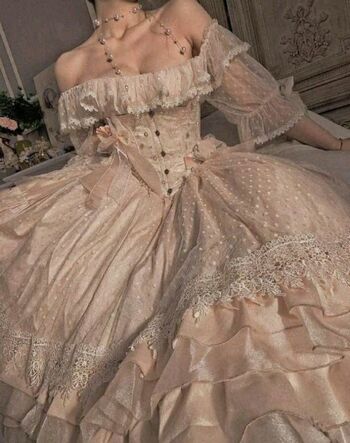 Other names
Royaltycore, Princecore, Princesscore, Kingcore, Queencore
Key colours
Knightcore: Silver, brown, blue, red
Princecore: Gold, red, white, blue
Princesscore: Pink, Purple, White, Gold, Blue
Kingcore: Gold, royal blue, red
Queencore: Purple, Gold, Silver, Red
Key values
Refinement, morality, duty, status, elegance
Royalcore
is a term referring to a group of aesthetics based on the visuals of West European royalty, ranging from Arthurian times (5th and 6th centuries) to the Belle Époque period (late 19th century). Royalcore revolves around refinement and classic western standards of behavior. Intelligence, morality, skill, and elegance are base qualities that give more meaning to the look. Visually, this aesthetic focuses on castle structure and the surrounding grounds, including knight training arenas and gardens.
Sets of laws called sumptuary laws were placed to differentiate the types of fabrics, colors, and types of clothes for social classes. Royal wear consisted of many layers made from high-quality fabrics like silk, velvet, taffeta, wool and fur. Colors were also reserved for royalty, as vibrant colors like purple and gold could only be affordable to those of high status.
Royalcore, as of now, mainly focuses on visual characteristics and contexts of historical European monarchies. This context is awaiting further extension to include other culturally significant aspects of royalty.
Subgenres for royalcore may have page extensions listed below their descriptions.
Visual
Visual references for royalcore can be taken from many different forms of media and history. These images can be inspiration for any modernized twist. Visuals can be from architecture to actions to artwork. Examples include:
Architecture
Listed alphabetically by country, then name of structure
Castles (fortresses)
Alnwick Castle, England
Bolsover Castle, England
Dover Castle, England
Kenilworth Castle, England
Tower of London, England
Warwick Castle, England
Chateau de Carrouges, France
Chateau de Combourg, France
Château Comtal, France
Chateau de Falaise, France
Chateau de Fougeres, France
Château de la Napoule, France
Chateau de Rambures, France
Château de Roquetaillade, France
Chateau de Vitre, France
Mont Saint Michel, France
Schloss Marksburg, Germany
Schloss Reichenstein, Germany
Schloss Rheinstein, Germany
Schloss Sooneck, Germany
Castel del Monte, Italy
Castello di Roccascalegna, Italy
Edinburgh Castle, Scotland
Stirling Castle, Scotland
Caernarfon Castle, Wales
Palaces
Schloss Schönbrunn, Austria
Forbidden City, China
Buckingham Palace, England
Windsor Castle, England
Hampton Court Palace, England
Chateau d'Anet, France
Chateau de la Bourbansais, France
Chateau de Chantilly, France
Chateau de Fontaine-Henry, France
Château de Montauban, France
Chateau de Pierrefonds, France
Chateau de Versailles, France
Chateau de Vincennes, France
Palais des Papes, France
Schloss Drachenburg, Germany
Schloss Neuschwanstein, Germany
Schloss Stolzenfels, Germany
Ambas Vilas, India
Alhambra, Spain
Belvedere Castle, USA
Biltmore Estate, USA
Castello di Amorosa, USA
Fonthill Castle, USA
Boldt Castle, USA
Hearst Castle, USA
Iolani Palace, USA
Loveland Castle, USA
Lyndhurst Castle, USA
Architectural Details
Marble Columns
Archways
Long Spiral Staircases
Turrets
Crenelations
Interior Decor
Ornate Thrones
Tapestries
Persian-styled rugs
Frescos
Heraldry
Swords & Suits of Armor
Painted portraits
Marble statues
Inlaid wooden furniture
Lacquer furniture
Gilding
Venetian Mirrors
Crystal Chandeliers
Candlesticks & Candelabras
Torchieres
Flagstone or Parquet Flooring
Long fabric window drapes
Tassels and Fringe
Fine china dinnerware
Silver tableware
Crystal glassware
Fountain Pens and Quills
Executive desks
Four poster or canopied beds
Vanity tables
Clawfoot tubs
Hardcover books
Antique Furniture Periods
Imitation and real pieces exist on the market. It is possible to mix and match for a personalized expression of regality.
International Rococco
International Baroque
French
Louis XVI
Louis XV
Louis XIV
French Empire (Napoleonic)
French Country or Provençal
English
Neo Gothic
Regency
Queen Anne
Victorian
Swedish
German
USA
American Federal; Duncan Phyfe, Lannuier, Hepplewhite
Landscape
French Formal Garden style
Italian Garden Style
Spanish Garden Style, Moorish
Forested hunting reserves
Open Fields
Fashion
Fabric Materials
In general, luxury materials prior to the Industrial Revolution are suitable. Seek out natural materials versus synthetics if possible. Patent leather would not be as chic as vegan leathers in a matte or suede finish, for example, because suede was delicate and therefore more costly.
velvet
satin
silk
linen
cotton
wool
cashmere
angora
tweed
bouclé
leather (vegan options available or print)

cowhide
reptile skin; crocodile, alligator, python
shagreen; shark
fur (faux or vintage, used) as trim, a muff, hat, or coat

fox (orange or white)
mink
ermine
big cats such as leopard, jaguar, tiger
feather trim or accents, faux or real
lace as overlay or trim
cord trim
embroidery accents and details
beading details
brocade print
paisley print
Wardrobe
Eye-catching monochromatic ensembles are used by royalty to stand out in a crowd; bringing attention to themselves. Neutrals are all well and good, but the rest of the color wheel deserves its day.
Winter
tweed skirts (knee-length to maxi length) or
wool skirts (neither brown nor black) or
wool suits in solid color (neither brown nor black) with
jersey blouses or
cotton shirts or
sweater sets in bright or neutral colors, or
sleeveless wool dresses (not brown nor black), knee-length to maxi length, or
black wool dress, not very décolleté for day to afternoon or
black cocktail dress, very décolleté for evening or
long evening gown that can be worn year round (not black or velvet) or
long evening gown for winter (can be black or velvet) or
tuxedo (all genders. Very chic and elegant, as demonstrated by Yves Saint Laurent) with
long coat (neither brown nor black), well cut or
cape or
pashmina shawl
closed toe shoes or boots, leather or vegan leather
Spring
Chanel-type suit in soft, color other than white, with matching blouse
blouses, solid colors, but clear and bright
lightweight fabric trousers, bright-colored
lightweight wool suit in solid color
linen suit for very warm weather
lightweight wool coat for autumn (navy blue is popular, but consider grey, red, green, white, and beige)
lightweight wool skirts, in colors matching the coat
silk dress or two-piece blouse & skirt, knee-length to maxi-length, for day to afternoon
as many washable cotton & linen dresses as particular activities and climate may require
cocktail dress, very décolleté for evening
Men and Male-presenting
To the basic ensemble of collared shirts and trousers, with a blazer jacket or entire suits, consider the opportunities for waistcoats and ascot ties. Explore print and textures over the safe choice of solid color and consider the rest of the color wheel, again, besides the safe choices of black, navy blue, and browns.
Accessories
Regalia
Crowns, Tiaras, Diadems
Scepter
Ermine coronation mantle
Jewelry
signet ring
parure (matching set) jewelry
pearls
cameos
medallion style pendants or brooches
pocket watches with visible chain
watch
cufflinks
tie pins
Hats
(suitable for England's Royal Ascot attendance)
fascinators
picture hat
top hat
flat cap appropriate for countryside
Gloves
opera length (past elbow) evening gloves
white cotton gloves for day, wrist length
colorful gloves in accent colors for finishing outfits, in fabric or leather
Handbags
Top handle bags, light enough to hold with one hand, in simple rectangular or trapezoid shapes. No overt logos.
Envelope clutch, large enough to hold a tablet or paperback book.
Evening clutch
Stockings & Tights, Socks
control top pantyhose, skin tone
stockings, skin tone or dark, thigh-high to be worn with garters
tights, dark or patterned
argyle or patterned knee length socks
socks appropriate for sport and countryside
Shoes
closed toe pumps, slingbacks, or t-straps
leather lace ups; saddle shoes, oxfords, brogues
boots appropriate for riding
boots appropriate for countryside sport
sneakers appropriate for relevant sport
Undergarments
Foundation garments can effect an upright, regal posture, if desired
corsets, being more rigid than
Spanx, being readily available and cost effective
garter belt (Rigby and Peller has royal bonafides, being granted the Royal Warrant as corsetier to HM Queen Elizabeth II and other extended members of the British royal family)
Vendors
Ivory & Co. (tiaras and other costume jewelry)
Olivier Laudus (tiaras and other costume jewelry)
Moonflower (has some crown & tiara rings)
Victorian Trading Co. (womens clothing, costume jewelry, home decor)
Badgley & Mischka (womens clothing)
Marchesa (womens clothing)
White House Black Market (womens clothing)
Ann Taylor (womens clothing)
Etro (men and womens clothing)
Ted Baker (men and womens clothing)
American Duchess (men and womens shoes)
Cornelia James (gloves, HM Queen Elizabeth II)
Swaine Adeney Brigg (umbrellas, HM Queen Elizabeth II)
Burberry (trenchcoats)
Floris (perfume, HM Queen Elizabeth II)
Barbour (raincoats, HM Queen Elizabeth II)
Rigby and Peller (female undergarments, HM Queen Elizabeth II)
Harrow, Hepburn & Gale (the red despatch boxes, HM Queen Elizabeth II)
Media
Art & Artists
Renaissance
Baroque
Rococco
Neo-Classicism
Pre-Raphaelite
Orientalism
British Genre Painting
Italian Genre Painting
Songs
"Greensleeves" - attributed to King Henry VIII, courting Anne Boleyn. Sung version.
"Queen of the Night Aria" (Magic Flute) - Wolfgang Amadeus Mozart. Performance.
"Premier menuet pour les Guerriers" - Jean Philippe Rameau. Minuet performed in 'Marie Antoinette'. Performance.
"Symphony No. 3 in E flat major (Op. 55) Eroica" - Ludwig van Beethoven
"Romany Life Polka" - Victor Herbert. Performance of music and dance.
"Feuerfest! Polka francaise, Op. 269" - Josef Strauss. Performance of music and dance.
"The Second Waltz" - Dmitri Shostakovich
"Masquerade Waltz" - Aram Khachaturian
"Pas de Deux" (The Nutcracker) - Pyotr Tchaikovsky
"Polonaise" (Eugene Onegin) - Pyotr Tchaikovsky. Performance of music and dance.
"Festival Coronation March" - Pyotr Tchaikovsky, for Tzar Nicholas II
"Song without Words, Op. 85, No. 6" - Felix Mendelssohn, arranged for Queen Victoria & Prince Albert to play duets
"Homage to Queen Victoria" - Johann Strauss Sr., for Queen Victoria's Coronation Ball
"Emperor Waltz" - Johann Strauss Jr., for state meeting between Emperors Franz Joseph I and Wilheim II
"Scheherazade op.35" - Nikolai Rimsky-Korsakov
"Merry-Go-Round of Life" - Joe Hisaishi
"When You Wish Upon a Star" remix
"Begin The Beguine" - Cole Porter. Foxtrot "The Crown". Instrumental performance.
"Gay Disney Prince" - Thomas Sanders
Playlists
Documentaries
Phil Spencer's Stately Homes (2016)
Secrets of Great British Castles (2015)
Six Wives with Lucy Worsley (2016)
TV Shows
The Borgias (2011)
The Crown (2016)
Elizabeth R (1971)
The Great (2020)
The Last Czars (2019)
Reign (2013)
The Spanish Princess (2019)
The Tudors (2007)
Rome (2005)
Versailles (2015)
Victoria (2016)
The White Queen (2013)
Wolf Hall (2015)
East Asian (or set in) TV Shows
The Empress of China (2014)
Empresses in the Palace (2011)
Marco Polo (2014)
Ruyi's Royal Love in the Palace (2018)
Story of Yanxi Palace (2018)
Movies
Anne of a Thousand Days (1969)
Blackadder II (1986)
Cleopatra (1963)
Elizabeth (1998)
Elizabeth I (2005)
Elizabeth, The Golden Age (2007)
The Duchess (2008)
Farewell, My Queen (2012)
Imperium Augustus (2003)
Lady Jane (1986)
The Lion in Winter (1968)
The Madness of King George (1994)
Man in the Iron Mask (1998)
Marie Antoinette (2006)
Mary, Queen of Scots (1971)
Mary, Queen of Scots (2018)
Ophelia (2019)
Orlando (1992)
The Prince and the Pauper (1996)
The Other Boleyn Girl (2008)
Restoration (1995)
A Royal Affair (2012)
Shakespeare in Love (1998)
Sissi (1955)
Sissi - The Young Empress (1956)
Sissi - Fateful Years of an Empress (1957)
The Virgin Queen (2005)
The Young Victoria (2009)
Bollywood Movies
Bajirao Mastani (2015)
Jodhaa Akbar (2008)
Mughal-e-Azam (1960)
Padmaavat (2018)
East Asian (or set in) Movies
Curse of the Golden Flower (2006)
The Last Emperor (1987)

Anime, Manga, & Comics
"The Remarried Empress" by Alphatart & Sumpui
"Suitor Armor" by Purpah
"High Class Homos" by momozerii
"Your Throne" by SAM
"Hooky" by Míriam Bonastre Tur
"Revolutionary girl Utena" by Be papas & Chiho Saito
Magazines
Jane Austen's Regency World
Veranda
Victoria
Victoriana Magazine

Pinterest Boards
Literature
Non-fiction
The Essence of Style: How the French Invented High Fashion, Fine Food, Chic Cafes, Style, Sophistication, and Glamour by Joan DeJean
Queen Victoria's Matchmaking: The Royal Marriages that Shaped Europe by Deborah Cadbury
Emily Post's Etiquette by Emily Post
The Ladies' Book of Etiquette and Manual of Politeness, by Florence Hartley. Gutenberg Project e-book here.
Biographies
Charlemagne: The Formation of a European Identity by Rosamond McKitterick
Eleanor of Aquitaine: A Life by Alison Weir
Isabella of Castile: Europe's First Great Queen by Giles Tremlett
The Life and Death of Anne Boleyn by Eric Ives
The Life of Elizabeth I by Alison Weir
The Six Wives of Henry VIII by Alison Weir
Tudor: The Family Story by Leanda de Lisle
The Sun King : Louis Fourteenth at Versailles by Nancy Mitford
Madame de Pompadour by Nancy Mitford
Peter the Great: His Life and World by Robert K. Massie
Catherine the Great: Portrait of a Woman by Robert K. Massie
Frederick the Great by Nancy Mitford
Napoleon: A Concise Biography by David A. Bell
Victoria: The Queen by Julia Baird
Historical Fiction
Memoirs of Cleopatra by Margaret George
Wolf Hall series by Hilary Mantel

Wolf Hall
Bring Up the Bodies
The Mirror and the Light
Plays
William Shakespeare

King John
Richard II
Henry IV Part 1
Henry IV Part 2
Henry V
Henry VI Part 1
Henry VI Part 2
Henry VI Part 3
Richard III
Henry VIII
Hamlet
King Lear
Macbeth
Political
The Prince by Niccolò Machiavelli
Subgenres
Knightcore
Knightcore is an aesthetic that is based on Medieval Knights. Not to be confused with Nightcore, the popular music style. Knightcore in a way could be someone "simping" or having a "code of honor". Knightcore is devoting yourself to a cause of goodness and righteousness in the views of equality and love for people, having a moral code for good, and being a protector in a friend group.
For more information on this aesthetic, please visit the Knightcore page.

Princecore
Princecore is a young male variant of Royalcore, and is heavily based on male loving male (MLM) relationships (not to be confused with Multi-Level Marketing). Most of its popularity is on Tumblr.
For more information on this aesthetic, please visit the Princecore page.

Princesscore
Princesscore is a young female variant of Royalcore that usually involves long dresses. Some can be pastel, gothic, and/or etc. Many also have lace designs made into them. Crowns and beautiful jewelry are also involved in this aesthetic. This sub-genre is more carefree and juvenile.
For more information on this aesthetic, please visit the Princesscore page.
Kingcore
Kingcore is a more mature variant of Princecore with a more regal aesthetic compared to Princecore.
For more information on this aesthetic, please visit the Kingcore page.

Queencore
Queencore is a more mature variant of Princesscore with a more regal aesthetic compared to Princesscore.
Queencore may consist of more adult-like themes, like politics and war, so it is assumed to be more heavy-handed than Princesscore. Inspiration can be drawn from matriarchal figures in hierarchy-centered shows and movies, especially those centered around kingdoms.
For more information on this aesthetic, please visit the Queencore page.
Gallery
Sours: https://aesthetics.fandom.com/wiki/Royalcore
How to get the Royalcore Aesthetic -- Trying DIfferent Aesthetics pt. 2
.
Clothing royalty core
.
dark royalty core aesthetic playlist
.
Similar news:
.
1276
1277
1278
1279
1280