Some links in this article are affiliate links, which means I earn from qualifying purchases.
In addition to the great amount of stress powerlifting puts on your primary muscles, it still puts some pressure on various parts of your body, such as your teeth.
While lifting, you might find yourself clenching and gritting hard, which can affect your dental and orofacial health. One solution to this problem is using a protective mouthguard to prevent these issues.
So what is the best mouthguard for powerlifting? The best powerlifting mouthguard is The New Age Performance 6DS Weightlifting Mouthpiece(click for today's price on Amazon). Unlike most options, this one is specifically designed for athletes who lift weights. It molds quickly and lasts at least 3 months of continuous use, which is more than any other model on the market.
---
In today's article, I'll tackle all the reasons why opting for a mouthguard is essential for powerlifters and how to properly use them!
Top 5 Powerlifting Mouthpieces Available on the Market
There are tons of mouthguards on the market that you can use efficiently while lifting weights. However, a lot of these mouthpieces are specifically designed for contact sports, or are cheaply made and don't last more than a few weeks.
For a lifting mouthpiece, you'll need a specific design that focuses more on preventing clenching and gritting of the teeth rather than protection from external blows.
To make the search process easier for you, I've compiled a list with the best 5 mouthpiece options that you can find out there, let's check them out!
The top 5 powerlifting mouthpieces are:
1. New Age Performance 6DS Weightlifting Mouthpiece – Best Overall
The New Age Performance Mouthpiece is one of the brands that focus mainly on powerlifting products, so their 6DS Mouthguard will be specifically designed for lifting weights.
6DS stands for "6 dimensions" because this mouthguard protects your mouth from 6 jaw dimensions which are: anterior, posterior, pitch, yaw, roll, lateral.
The mouthguard comes with a case to keep it clean and secure after you're done using it. A lot of lifters take their mouthpiece out after their heavy sets.
To use it, you'll need to mold it using boiling water and follow the instructions that come with the mouthpiece.
Remember to take your time and follow the steps carefully, as many people might drool or ruin the piece if they rush the steps.
The mouthpiece takes 5 to 7 days of continued use to fully adapt to your mouth and will last you up to 3 months until you need a new one. While this might not seem like a long time, for mouthpieces that you use for lifting weights, this is the longest shelf life for any product on the market.
Pros
Specifically designed for lifting weights
Comes with a protective case
Easy to mold and adapt to your mouth
Cons
---
2. Nxtrnd Rush Professional Mouthguard – Most Durable
The Nxtrnd Rush Professional Mouthguard is originally designed for contact sports like football, kickboxing, wrestling, and more.
However, the dual-density frame conforms nicely to the shape of gums and teeth after molding, which allows for better absorption of the gritting stress while lifting.
The mouthpiece features an undercarriage channel system that allows for better airflow of air while lifting.
The Nxtrnd Rush features a 3mm temperature molding EVA. This gives it excellent durability, which is why the mouthpiece is covered with a lifetime defective warranty.
Pros
Highly durable EVA construction
Easily molded with high breathability
Boasts an unlimited defective warranty
Cons
Doesn't protect the lower jaw from gritting
---
3. Under Armour ArmourFit Strapless Mouthguard – Easiest to mold
Some mouthguards are difficult to mold and will require applying suction with the right amount of biting pressure and pressing firmly with fingers to create the mold.
If you're looking for a mouthguard that's extremely easy to mold, you should consider this one. Simply all you have to do is leave it in boiling water for 30 seconds or in the microwave for 45 seconds then bite on it to create the ideal mold for your mouth.
The Under Armour ArmourFit Mouthguard is chew-resistant and available in a wide variety of colors with 2 different size options to fit your mouth.
The mouthpiece is also made of a hydrophobic material, so it won't deteriorate with time due to exposure to saliva.
Pros
Good value for its price
Very easy to mold
Available in a wide variety of colors and sizes
Cons
Feels a bit uncomfortable and hard on the mouth
4. Shock Doctor Gel Max Mouthguard – Best Budget Option
A mouthguard is an important accessory for lifters, but with all the gear you have to get, you might want to consider a more affordable option.
In that case, you should consider budget-friendly mouthguards like the Shock Doctor Gel Max Mouthguard.
Despite being inexpensive, it's also surprisingly comfortable and easy to mold. It has a triple-layer design with a gel lining, which boosts the comfort and durability of the mouthguard.
Additionally, the mouthguard is easily trimmed with scissors, which means that you can adjust its size to fit your mouth no matter how small your jaw is.
Moreover, it's available in various colors if you're into styling your gear. The design of the mouthpiece allows for easier breathing and airflow while wearing it and it features a thread-like design for a quick release between sets.
Pros
Ideal for buyers on a budget
Easily trimmed from the back to fit small jaws
Gel padding is great for comfort
Cons
Doesn't come in a protective case
---
5. Redline Sportswear Mouthguard – Used With Braces
Last but not least, the Redline Sportswear mouthguard is another affordable option that you can choose if you're into color variation and styling your gear.
What makes this mouthguard special is that you can use them with braces, which isn't supported by many mouthguard brands.
The mouthpiece comes with a portable case to store the mouthpiece whenever you're not using it for convenience.
Moreover, the materials used for the mouthguard are free of PVC and latex, which causes hypersensitivity to some people.
Pros
Features a portable case for storage
Offers a generous refund policy
Can be used with braces
Cons
One size fits all design isn't good for lifters with large jaws
---
Benefits of Wearing A Mouthguard When Lifting
There are many benefits that wearing a mouthguard can bring to your lifting experience. Let's have a quick look at them.
Enhance the Muscle Activation During Lifts
According to a study on the effect of mouthguards while lifting, using these mouthguards helps in the activation of the head and neck muscles.
According to the study, participants who used the mouthguards felt "stronger and less encumbered" while using them for power clean lifts.
This theory is known as Concurrent Activation Potentiation (CAP), where you increase the produced force by contracting remote muscles to the original movers.
Based on this technique, a lot of lifters argue that using a mouthguard while lifting actually helps them improve their performance to a considerable level.
Protect from Dental and Orofacial Injuries While Lifting
While improving strength is disputed while lifting, this one isn't! Gritting and clenching on your teeth while lifting can cause some serious dental and orofacial injuries with time.
In addition to protecting your lips and inner cheeks from bruising, mouthpieces prevent you from gritting.
Extreme gritting and grinding on your teeth while lifting can easily even break your teeth. Even if it doesn't break, the teeth might start cracking and creating cavities.
These cavities store unswallowed bits of food, which develops into serious and painful tooth decay issues.
Prevent Post-Workout Headaches
Grinding your teeth won't only harm your teeth, but your facial muscles and bones too. In some extreme cases, excessive grinding can also cause severe tension on the jaws, which causes some nasty headaches after workouts.
By wearing a mouthguard during your workout, it'll help in alleviating some of the stress and pressure you put on your jaws and cervical circulation, which in return might soothe the headache or prevent them altogether.
Improve Breathing While Lifting
Some lifters pass out after lifting their maximum weight. This happens because they push their body so hard while not being able to breathe properly due to their gritting teeth.
This causes the oxygen levels that reach the brain to become lower than tolerable, so the brain shuts down to restore normal oxygen.
By using a mouthguard while lifting, you'll be able to sustain a decent airflow and breath comfortably while lifting.
Also, even if you have poor circulation and might still pass out, a mouthguard's job is to protect your mouth from biting your tongue or breaking your teeth after all.
Lastly, with a mouthguard, you'll be able to implement better breathing techniques while squatting, which translates into more successful sessions.
Take a look at what mouthpieces top athletes are wearing:
Things To Consider When Buying A Weight Lifting Mouthpiece
Here are some of the things that you should consider while shopping for a lifting mouthpiece.
Adaptability and Conformation to the Mouth
Different mouthpieces will offer different ways to shape the mold into the mouth. The easiest one of them is the biting-on one.
This type requires minimal biting effort to share the mold. You simply heat them and they're ready for reshaping.
Protection
In addition to being easy to use, the mouthpiece has to do its job properly. This means that it's sturdy enough to absorb the pressure of biting while lifting to eliminate injuries you can cause to your teeth and jaws while lifting.
Comfort While Lifting
The mouthpiece also needs to be quite comfy. Ideally, gel-padded mouthpieces are the most comfortable ones but they're not as durable as the PVC ones. The choice here depends on how much you clench and grit on your teeth while lifting.
For instance, if you're a heavy grinder while lifting, you'll need a durable PVC mouthguard that's able to withstand the pressure you put on it, so it can last you longer.
However, if you don't clench that hard, you might consider a gentle gel-filled one that offers more comfort while biting into it.
Ease of Breathing With It
One of the undisputed benefits of using a mouthguard while powerlifting is that it allows heavy gritters to breathe easily while they're lifting a ton of weight.
Make sure that you're using a mouthpiece that offers decent airflow even when you're biting so hard on them.
How To Wear A Mouthguard While Lifting
When you first receive your mouthguard, you'll have to mold it to your mouth before using it. While different types of mouthguards might differ, almost all of them use the same idea for molding.
These mouthguards are made of materials that get softer as you heat them up. So, to mold them, you usually bring sterilized water to a boil then add the mouthpiece carefully to the water to avoid splashing.
After about 30 to 45 seconds (depends on what's mentioned in the package), you'll scoop the mouthpiece out of the water using a small strainer or a fork and let the water drip.
While the mouthpiece mold is hot, you'll have to bite on it. Keep in mind that the mold will be hot, so you have to be careful.
Also, remember to press down on the mouthguard with all your teeth including your molars. Press firmly with moderate pressure to reshape the mold but allows a gap for airflow to be easy.
When it's ready put the mouthguard in cold water for 1 or 2 minutes to allow the mold to completely solidify.
Now that the mold is ready, all you have to do is bite on it with your teeth so that all teeth and gums are in their custom-made spot.
Wrap Up
Mouthguards will help you avoid a lot of injuries and may even enhance your performance by allowing for better breathing while lifting and even improving muscle activation.
If you're looking for the best mouthguard for powerlifting, I recommend that you go for the New Age Performance 6DS Weightlifting Mouthpiece. It's one of the few mouthguards on the market that are designed specifically for lifting weights.
Despite being a bit pricier than other options, it's surprisingly easy to mold and comes with a protective case to store the mouthpiece conveniently when you're not using it.
But, if you're on a strict budget and looking for a more affordable alternative that can still get the job done, you should consider the Shock Doctor Gel Max Mouthguard.
Although it costs a fraction of what other mouthguards would do, it's easy to trim to your jaw size and features gel padding that boosts its comfort profile!
Other mouthpiece reviews:
Sours: https://powerliftingtechnique.com/mouth-guards-for-powerlifting/
If you work out, chances are you haven't seen someone wear a mouth guard in the gym. This being said, many professional weightlifters and powerlifters have been known to wear mouth guards.
People used to think that mouth guards increase your strength, but today, we think a little differently. The main reasons for wearing a mouth guard in the gym are:
Cracking teeth during lifts
Grinding teeth while weightlifting
Preventing headaches
Protecting Jaw Muscles
Passing out during a lift
Improved breathing
Stress Relief
Thought to increase strength
When you lift a lot of weight, it's natural to clench your teeth. If you don't wear a mouth guard, you could bite hard enough to chip or crack them.
Sometimes, people also pass out when they are lifting a lot of weight. If you do, you can hit your jaw on the ground. Without a mouth guard, you're at risk of hurting your teeth, tongue, and jaw.
If you're interested in mouthguards for building strength, I highly recommend that you join 6 days of lifting
, where you get lifting tips and advice for free, every day for 6 days. As I said, it's free, and you'll learn a lot about lifting. Check it out!
Mouth guards are commonly used by athletes performing in various types of sports and competitions. Popular beliefs tend to associate them only with violent sports, which involve fighting or hitting each other in action.
These include boxing, rugby, football, and even soccer. Some medical professionals tend to disagree and would advise you wearing a mouthguard in many other athletic sports.
They're relatively cheap, and for something that protects your teeth, I think they're worth it. You can grab one off of Amazon that'll conform to your teeth to protect them, your jaw, and your tongue.
Any doctor would tell you to take the same precautions with weightlifting and powerlifting that you would with a contact sport.
Mouth Guards Can Improve Your Strength
Yes, you heard me right. Wearing a mouth guard actually has the potential to make you stronger in the gym. A few decades ago, it was commonly thought that wearing a mouth guard can increase your strength.
You could walk into any bodybuilding gym, and it wouldn't surprise you if you saw someone wearing one. While the popularity of that theory has died off recently, new research is making it look like they were right.
According to T-Nation
, a study from Marquette University found that simply clenching your jaws could increase your strength by as much as 10%. That figure was independent of mouth guards themselves, but weightlifters are more likely to clench their jaw like this when they're protected by a mouth guard.
The study had participants do common exercises, with and without a mouth guard. They also added in gripping handles and doing the Valsalva movement.
If you don't know, that's when you push out with your lungs, but keep your airway closed. When they combined all three of these things, people in the study showed to be 15% stronger!
Those are some huge strength gains for nothing more than doing different things with their body. While wearing a mouth guard won't do everything to make you stronger, it's becoming clear that it can give you a significant boost, after all, becoming 10% stronger is nothing to scoff at.
If you're looking for a quick muscle boost, a simple mouth guard might be your answer. Just remember not to rely on only that, and always work to make yourself stronger.
People also wear belts to get an easy boost in the gym. I wrote an article all about the benefits of wearing a lifting belt
, check it out next!
In Case You Pass Out While Weightlifting
If you don't know, sometimes lifters pass out while they're doing a big lift
in the gym. This happens when you push your body so far that your heart can't pump enough blood.
When this happens to your heart, your brain isn't getting enough oxygen. To protect itself, your brain shuts itself down temporarily, and you pass out.
There are some other factors to this, so if you're interested, check out the article I linked to above. Passing out like this isn't too dangerous on its own, and it happens to a lot of people in all sports.
This being said, when you're in the gym, there are lots of other factors that can get you seriously injured. The main concern for this article is an injury in your mouth, and a few things can happen. If you pass out while you're standing, you can fall and bite your tongue, and sometimes even bite it off.
Wearing a mouth guard helps keep your teeth together, and not lose your tongue. Another common mouth issue is breaking your teeth. In the same scenario, you can fall, and have your teeth smash together.
This can break or shatter your teeth, and also possibly even break your jaw. Once again, wearing a mouth guard can prevent this. When you wear one, it gives you a layer of rubber protection between your sets of teeth.
This protection can save you thousands of dollars in dentist fees, as well as save you from pain if you happened to pass out in the gym.
Mouth Guards Improve Your Breathing (And Performance)
I've mentioned it a few times already, but I'm going to go over it a little more in depth. When you're lifting weights, a common thing that limits people is breathing.
You've probably been here; your muscles are fine, and you want to keep lifting, but you can't get enough air into your lungs. When you're this oxygen deprived, a mouth guard isn't going to do much.
However, it can help you before you're having this problem. Mouth guards can enhance your breathing by aligning your jaws, as well as your tongue, to get more air into your lungs.
If you wear a mouth guard while you're working out, before you become gassed out, it can save you from going home early.
What is gassing out
you ask? It basically means what happens to your body when your muscles aren't able to get enough oxygen, and it can end your weightlifting session early.
It impacts a lot of people, and if you want to learn more about it, check out the article I wrote, linked above. To be clear though, a mouth guard can't stop you from getting gassed out.
Gassing out is more caused by your physical condition, rather than your breathing. This being said, A mouth guard can help you breath more, and in turn, feel better while you're working out.
Avoid Cracking Your Teeth While Lifting
If you've ever hit a heavy lift, you might know that you'll often clench your jaw while doing it. While this is a good way to relieve some of the stress the lift is causing in your body, there are some serious problems that can arise.
While everyone clenches their jaws from time to time, weightlifters can take it to the extreme. When you clench your teeth too hard, you put yourself at risk of cracking and breaking them.
If this happens to you, it's not only costly but very painful. Aside from this, if you can't afford to have them fixed, you can also experience an infection, which is even worse. Not only is that expensive, but even more dangerous to your health. Do yourself a favor, and just avoid cracking your teeth.
If you've ever cracked a tooth, you'd know that it's something you want to avoid. Clenching your teeth while weightlifting is somewhat inevitable, and that's where mouth guards come in.
Mouth guards create a layer of protection between your two sets of teeth, keeping them safe from cracks, chips, and general damage. If I'm being honest, most people won't crack their teeth while they're weightlifting. This being said, the risk is still there, and you could be the one that it happens to.
A huge aspect of weightlifting, bodybuilding, and powerlifting is safety, and wearing a mouth guard is just another cheap way for you to keep yourself safe, prevent injuries, and prevent a costly dentist visit.
They Stop You From Grinding Your Teeth
Grinding your teeth is another huge dental problem that millions of people experience. Whether you do it when you're awake, or asleep without even realizing it, it's one of the most common issues plaguing peoples teeth.
It also turns out that many weightlifters have a habit of grinding their teeth while they're in the gym. I've even caught myself grinding them when I'm a bit stressed out while in the gym.
This isn't as immediate of an issue as cracking your teeth, but over time, it can wear them down and cause them to be weak. Just like protecting your teeth from breaking, a mouth guard offers a protective layer to keep your teeth from grinding down over time.
Wearing one doesn't just benefit weightlifters, however. Lots of people wear mouth guards to protect their teeth from grinding, especially at night.
If you ask your dentist about the benefits, and you have a habit of grinding your teeth, they'll most likely recommend that you wear one. Not only can doing this harm your teeth, but also your jaw muscles, gums, bone structure, and even cause headaches.
As I said earlier, many people grind their teeth because of stress. Doctors don't know the full story of why people grind them, but they have a few hunches. Many reasons are related to emotions, such as stress, anger, anxiety, and general tension.
When we're in the gym, we often experience some of these emotions, intentionally putting our bodies under stress. Do your teeth, jaw, and head a favor, and wear a mouth guard.
Mouth Guards Prevent Headaches From Clenching Your Jaw
If you don't know much about jaws, this might come as shock to you. Your jaws actually go pretty far up onto your head, not ending around your mouth.
Because of this, when you clench your jaws, it can lead to nasty headaches. As I've mentioned, many people clench their jaws together as a reaction to certain emotions.
All this clenching creates tension in your head and can cause chronic headaches. Another cause of this is jaw misalignment, like overbites or under-bites, but these aren't related to weightlifting so I won't cover those too much.
Wearing a mouth guard in the gym, and sometimes even at night, can help relieve all that tension in your jaw and head. Just like grinding your teeth, clenching your jaw can lead to long term problems.
Mouth guards can help to align your jaws to stop these headaches. Another benefit of wearing one is that when you clench your jaws, you won't be directly pressing your jaws together. Mouth guards are made up of pieces of thin, resilient, rubber, or plastic, that guard your teeth and jaws against hurting each other.
This layer of rubber eases your teeth when they're against each other so that when you clench your teeth, they aren't pushing up right against themselves.
Mouth guards might not save your life, but they're cheap and can save you from a lot of pain in and out of the gym.
Protecting Your Jaw Muscles From Injury
I've already been over this a few times, but lots of people clench and grind their teeth in the gym. Just like doing so can cause jaw bone issues, it can also cause muscle issues.
Muscle issues in your jaw can cause general pain as well as headaches, just like grinding your teeth can. A mouth guard can't completely stop side effects from clenching your jaw in the gym.
When you're working out and you clench your jaw, it's usually a lot harder and for longer than throughout a normal day or when you're asleep. A mouth guard does supply a level of protection, but they aren't magical and they can't do everything.
One of the best ways to prevent jaw muscle injury is to be conscious about your jaw while you're working out. Weightlifting can be stressful, and cause you to tense lots of your muscles.
There's not much you can do to avoid that, but try to catch yourself clenching your jaw. If you make an effort to do it less, you can save yourself time, money, and pain.
Doing this, combined with wearing a mouth guard, is your best bet for avoiding mouth injury and staying safe. I also can't recommend wearing a mouth guard at night for everyone.
While they can be helpful for some people, they can mess up some people's jaw alignment. This can lead to even more problems with your jaw, so it's something you want to avoid. Wear a mouth guard while weightlifting all you want, but only wear one at night if your dentist recommends it.
Mouth Guards Relieve Stress in The Gym
This one is a little less known, and it's not preventing you from any injuries. As I've mentioned before, many people clench their jaws in reaction to certain emotions, like stress, anger, or anxiety.
This is normal and healthy, but after a certain extent, it can injure your teeth and jaw. A mouth guard comes in handy in this situation and can let you clench your jaw without as much worry.
After all, clenching your jaw is a natural reaction to stress, and can be a good way to relive it. Some people chew gum while they're stressed, but others just clench their jaw, and might not even be aware of it.
Our bodies also have other natural responses to stress, like other muscles being clenched. Clenching your muscles is okay too, and if you do that, you're less prone to injury than clenching your jaw.
If you're a jaw clencher, you need to wear a mouth guard to protect your teeth. Otherwise, in a few years, you might not have any teeth left to clench.
Mouth guards are great for the gym and can prevent almost every mouth related injury that occurs while weightlifting. Pick one up for just a few bucks, and avoid pain, injury, and payments to your dentist.
The Bottom Line
Overall, it's pretty clear that mouth guards have pretty significant benefits for weightlifters. Increased strength and performance, reduced risk of injury, as well as stress relief and better breathing are all possible when you wear a mouth guard.
Be careful not to wear one too often though, or you might end up misaligning your jaw. Some people also wear a mouth guard at night, and this can be good too, but only do this if your dentist recommends it.
Put simply, mouth guards are a cheap but effective way to increase your strength and be safer in the gym. You can get one for a few bucks online, or pay a lot more for one that's custom fitted for you by a dentist. Either way, they're sure to help you out.
As I've mentioned, clenching your jaw is a great way to relieve stress, and a mouth guard will protect your teeth as you do. Another benefit is protection from falling or passing out in the gym.
Without wearing a mouth guard, you could break your jaw, shatter your teeth, or bite your tongue. If you choose to wear one, however, you're protected from all of those potential injuries.
If you're serious about protecting yourself in the gym, pick yourself up a mouth guard, no matter the price level, and stay safe.
Sours: https://powerfullifting.com/weightlifters-wearing-mouth-guards/
Should I Wear a Mouth Guard for Weight Lifting?
This article has been medically reviewed and verified by Dr. Lara Coseo (DDS, FAGD) as of 6/23/2020. She is a 2004 graduate of Baylor College of Dentistry in Dallas, TX. Having practiced general dentistry for 13 years, Dr. Lara currently serves as an Associate Professor at Texas A&M College of Dentistry.
Best Mouth Guard for Weight Lifting
Although many people think mouth guards are only important in contact sports – like wrestling, American football, boxing, and martial arts – dental experts think otherwise.
In fact, the American Dental Association (ADA) recommends the use of mouth guards for 29 sports, including the ones mentioned above, plus: weightlifting, handball, basketball, and acrobatics among others.
Data from research by the National Youth Sports Foundation shows that strength athletes are sixty times more likely to suffer a tooth (or teeth) damage when they are not wearing protective mouth guards – weightlifting being among the strength sports.
Reasons to wear a mouth guard while lifting weights
prevention of possible injury from accident
prevent the teeth damage from excessive clenching
prevents jaw pain from grinding or clenching on teeth
something to "bear down on". Improved concentration
The importance of wearing a protective mouth guard when training or competing cannot be underestimated. Read on to find out more about the benefits of using a mouth guard as a weightlifter and how can easily order a custom fit online.
Why exactly would one use a mouth guard for weight lifting?
A recent study by the Bloorview Macmillan Children's Center shows that the most frequent orofacial injuries athletes incur when practicing sports are dental injuries.
Besides teeth injuries which may cause loss of teeth; blows on the chin or any strong impact on the base of the jaws or skull may cause a serious fracture or a concussion. Experts advise that athletes can significantly prevent these types of injuries by using protective mouth guards.
Dr. Ann Sagalyn, a dentist and Vice President of Avon Village Family Dentistry says that a lot of weightlifters suffer dental injuries because of the teeth-grinding and gritting they do when lifting.
"When they don't wear protective mouthpieces, the grinding and gritting can result in injuries in the enamel, pulp, cementum, or any other parts of the teeth"
Dr. Sagalyn goes on to explain that when a substance as strong and hard as a tooth grinds against a substance with similar hardness and strength, chances are, there will be some damage. The clenching that occurs when weightlifters are in action results in a tooth-to-tooth action that may cause holes, cracks, or even worse: damage to the teeth or the jaws.
Dr. Vastardis, a New York-based dentist and member of the International Academy for Sports Dentistry adds that: if a weightlifter does not wear a protective mouth guard, the clenching and grinding may cause gum recession, teeth fractures, weakened facial muscles, and even cause headaches after training or competing.
The pressure from the clenching can also wear down and crack the enamel, causing holes in the teeth which may be painful. Again, with time, the small holes may turn into full-blown cavities that may lead to teeth loss.
A concussion is the most serious and possibly fatal orofacial injury an athlete can suffer.
While concussions are more likely to happen in contact sports, strength athletes like weightlifters are also at risk of falls that may result in concussions. Without a protective mouth guard, the trauma resulting from the jaws jarring together violently may cause an impact on the base of the skull, leading to a concussion.
While mild concussions may have less severe effects like headaches, loss of consciousness or memory – which may last from a few minutes to a few weeks – more serious concussions can result in severe problems. These dangerous, long-lasting and potentially career-ending problems include having trouble with movement, speaking, or reading.
As a weightlifter, you can prevent all the above risks by using a mouth guard whenever you are training or competing. You can find simple over-the-counter mouth guards for a few dollars. Better still, you can have one custom-made for you online.
The benefits of using a mouth guard while weight lifting
So having looked at the reasons why you would use a preventative mouth guard for weight lifting, perhaps you now have an idea of the benefits they present to users. For a better understanding, here are the benefits in detail;
• Mouth guards act as buffers between the cheeks, the teeth, and the soft lip and tongue tissues. This way they prevent your tissues from bruising and laceration as a result of clenching and grinding during an action.
• A preventative mouthpiece protects your opposing teeth, dental braces, or fixed anterior bridgework from seismic contact. This helps you avoid fractures, dislocations, root damage and possible tooth loss.
• When using a mouth guard, your mandible is given an elastic and recuperative support that prevents fractures and any other damages to the jaws, especially the lower jaws.
• Preventative mouth guards help reduce the risk of suffering a concussion. They act as shock absorbers between the lower and the upper jaws. Without a mouth guard, in case of an accident while in action, like a collision or a fall, your jaws may violently jar together. This may result in a distribution of the impact from the mandible to the base of your skull, causing a concussion.
• The reinforcement a mouth guard offers can also help prevent possible neck injuries.
• Mouth guards also offer psychological benefits to athletes. Much research shows that athletes feel more confident and they are more aggressive when they have worn a protective mouth guard. For instance, in a recent study by the Journal of Strength and Conditioning (which you can find here) researchers found that athletes wearing a protective mouthpiece had a better control of their cortisol levels than those who had no protective mouthpieces on. Cortisol is a vital steroid that helps in dealing with stress.
Wearing a mouth guard while lifting weights is a choice toward better self care, damage prevention and safety. Many weight lifters claim wearing a mouth guard improves their performance. Try it out! All Sentinel Mouthguards come with a 90 day money back guarantee!
Sours: https://sentinelmouthguards.com/wearing-a-mouth-guard-for-weight-lifting/
Strength Tip From the World's Strongest Man
5 Best Mouth Guards for Weightlifting
The right mouthguard will help you lift more, protect your teeth, and help you breathe like a champ. Here's a breakdown of the best mouthguards for lifting weights.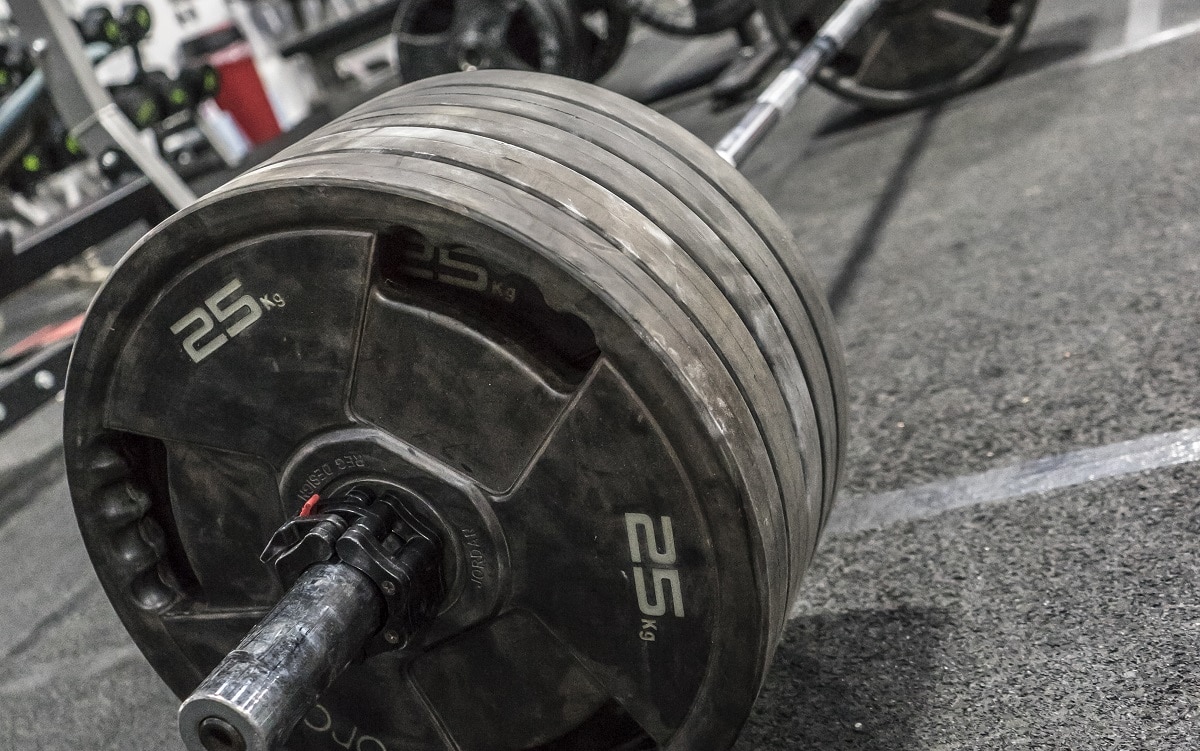 When it comes to weightlifting, not much has changed over the years.
The main things—pick heavy things up, put heavy things down—haven't but the accessory and peripheral stuff has evolved as our understanding of human performance evolves.
For example, one of the pieces of advice and cues an old strength coach used to give me was to grit my teeth during heavy lifts.
Even though the advice was sound—one paper [1] with well-trained males found that jaw clenching, bilateral gripping and the Valsalva maneuver boosted torque by almost 15% on leg extension—the way I was doing it was all wrong.
Driving my teeth into one another left my teeth sore and was often a precursor to migraines later in the day.
That's where a mouth guard steps in.
You can get the benefits of clenching your jaw while avoiding some of the nasty side-effects of going tooth-on-tooth, from headaches to cracked and chipped teeth. And you can also lift a little more weight while you are at it.
That's a steaming cup of wins if I've ever seen it.
While lifting mouthguards aren't super cheap—the best mouth guard for weightlifting and powerlifting tend to fall in the $40 range—they can have a big impact on your lifts and protect your mouth and jaw (and tell those headaches to kick rocks, too!).
Below is a breakdown of the top mouthpieces for lifting on the market.
New Age Performance 6DS Weightlifting Mouthpiece
Best overall mouthguard for powerlifting
Legal for most powerlifting competitions, the New Age Performance 6DS are my go-to.
It's not even close.
These mouthguards, unlike other mouthpieces which are designed primarily for combat sports, the New Age guards are made solely for kicking butt in the gym.
They work by engaging your jaw muscles (compared to a mouthguard you would use for football, for example), keeping your airway clear, and give you maximum support and breathability when lifting.
Available in six different and very bright colors, they retail for just under $40 and include a carry-case. New Age notes that these things don't last forever (no mouthguard does with enough slobber and pressure) and lists a timeframe of three months at 3-4 lifting sessions per week. That said, if you are strictly using for 1RM lifts, and not for every set and every workout, it will last you much, much longer.
I love the colors, I love how quickly they adapt to my not-straight teeth, and frankly, I love how I don't get pounding headaches after big lifting days when using these, making the New Age 6DS my favorite mouthguards for big PR days.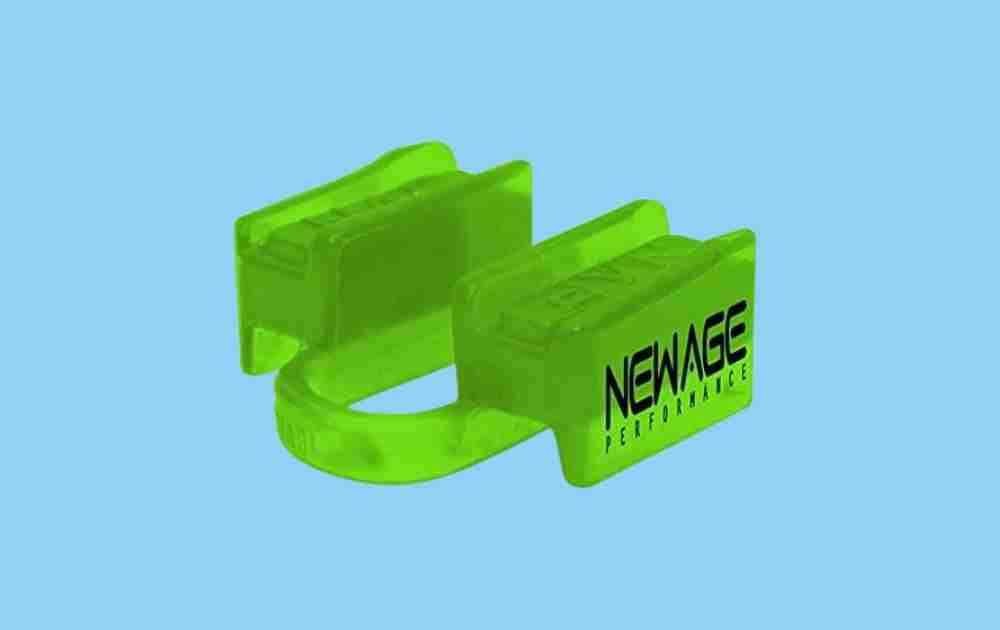 New Age 5DS Performance Lower Jaw Mouthguard for Weightlifting
New Age's mouthguards are so good that even their legacy guards are still better than the others on this list.
The 5DS—the "5" represents the number of places where the mouthguard stabilizes your jaw—is breathable, comfortable, and includes a branded carrycase to store between workouts.
They sell these bad boys in six different superhero themes (gotta go with The Punisher—it is the screensaver on my laptop, after all), are priced around $29 (check Amazon for current pricing and availability), and are one-size-fits-all.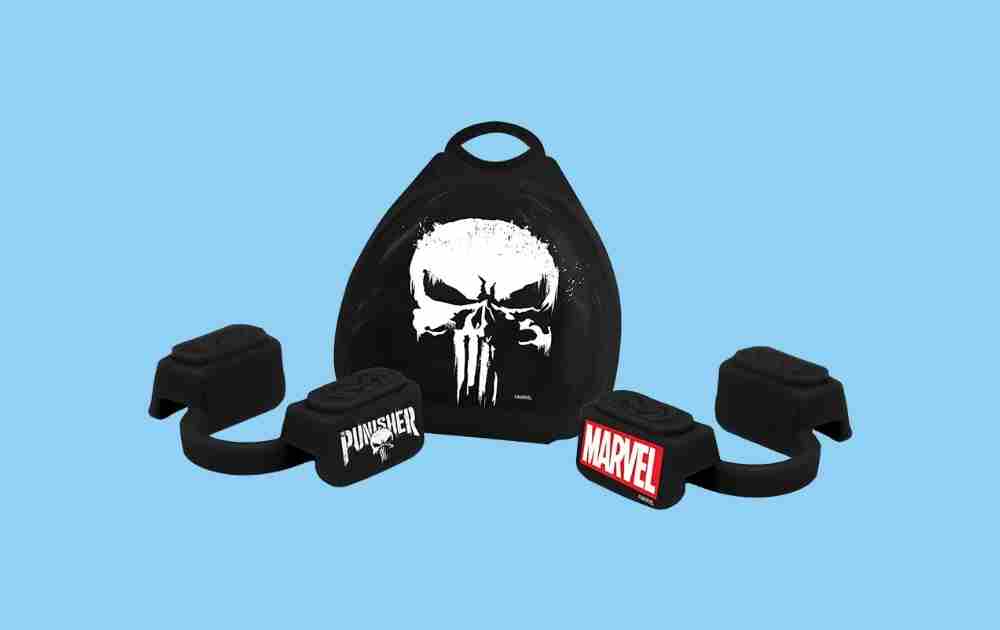 Nxtrnd Rush Professional Mouthpiece
Although it is primarily designed for combat sports, the Nxtrnd Rush is a decent mouthguard for lifting thanks to an under-carriage system that helps to get more air in and out of your mouth when lifting.
A soft-gel liner keeps things soft and easy on your gums. Dual density construction provides a "bouncey" absorption. Nxtrond also has some of the best customer service in the business.
Cost-wise, they are low-cost, with a set running around $15 (check Amazon for current pricing). They are available in four different colors, from black to pink, and some reviewers note that the guard doesn't always fit to size, often fitting smaller.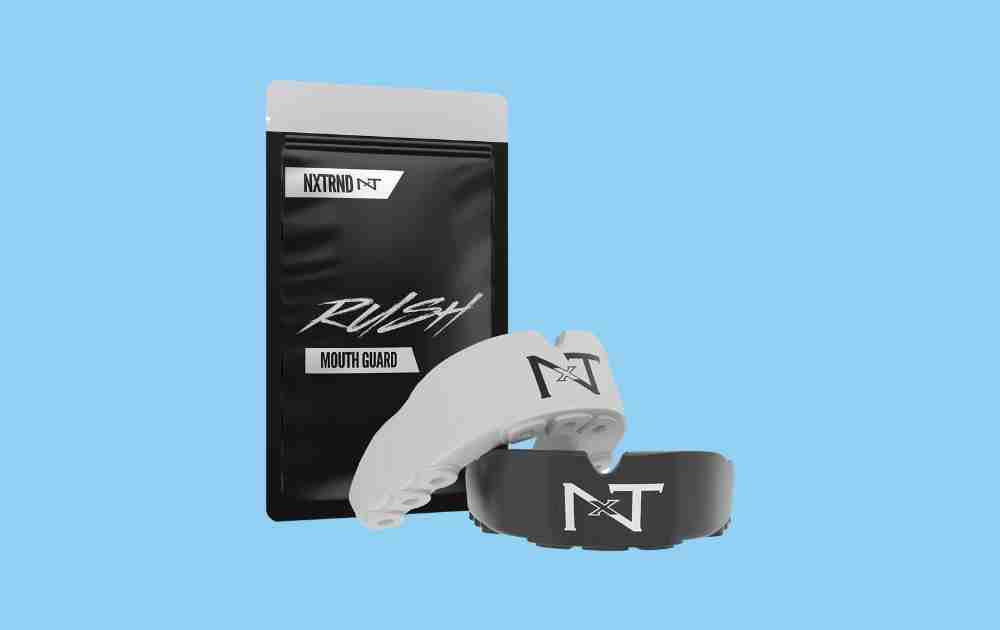 Under Armour Sport Mouthguard
You likely don't need an introduction to Under Armour. They make some of the best-selling sports apparel on the planet, including duffel bags for the gym and compression gear for athletes.
Although it is designed for impact sports like hockey and football, it has applications for the weightlifter as well thanks to a series of breathing channels that make it easier to retain airflow while you slip under the barbell.
Under Armour offers these in both an adult and junior size, in four different colors, and they also ship the mouthpiece with a tether strap for sport use.
These mouthguards are affordable, made of pure EVA, and UA even backs them with a $10,000 dental warranty to give you a little extra peace of mind when shuffling up to the deadlift platform to hammer out a new PR.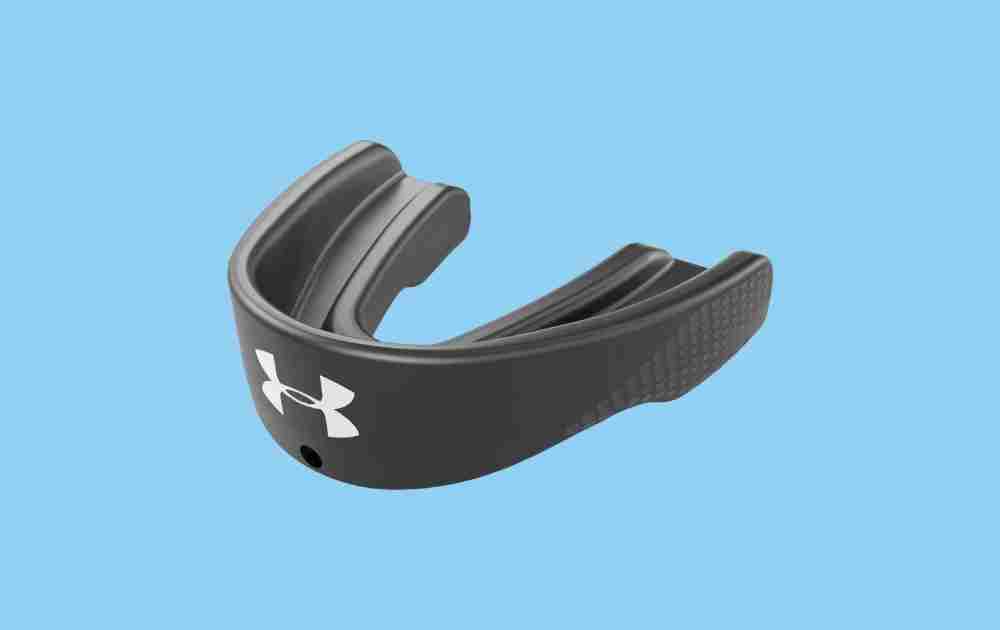 Shock Doctor Gel Max Mouthguard
The Shock Doctor Gel Max is one of the most comfortable mouthguards I've ever worn. A gel liner helps your teeth sink naturally into the guard, breathing pathways help keep airflow flowin', and a heavy-duty BPA-free frame keeps your teeth where it should be while minimizing grinding.
The color options are almost endless with this mouthpiece (17 at last count), Shock Doctor offers these in both flavored and unflavored, and cost-wise, they are the best value pick on this list for mouthguards (less than $10—check Amazon for current pricing and availability).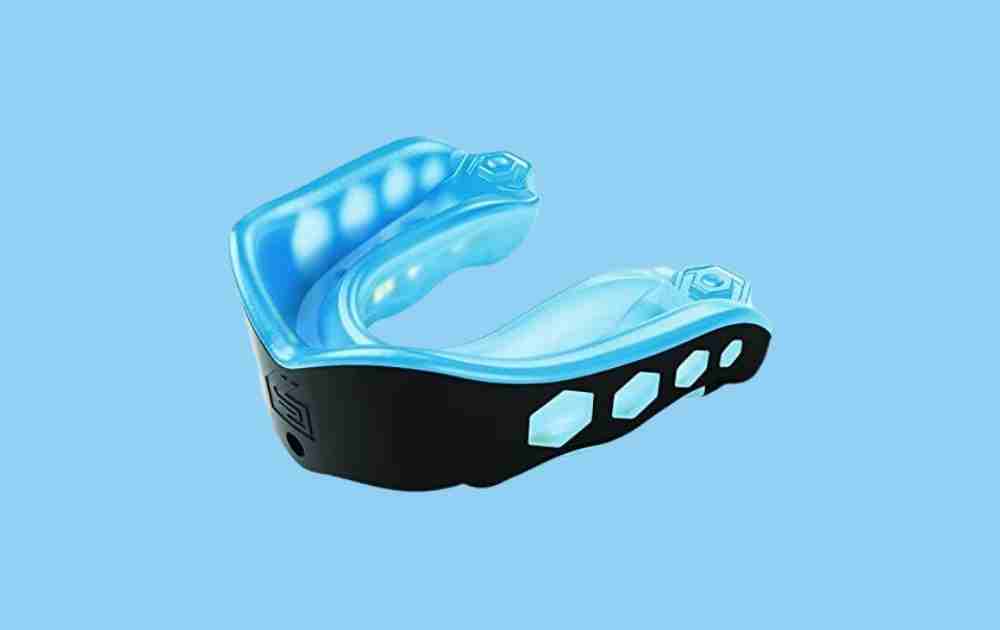 Filed Under: Gear
Sours: https://www.yourworkoutbook.com/best-mouth-guards-for-weightlifting/
Lifting mouthpiece weight
.
Strength Tip From the World's Strongest Man
.
You will also be interested:
.
1288
1289
1290
1291
1292