Lil Wayne Biography
His debut album, "Tha Block is Hot" (1999), went double platinum upon its release and even his lowest selling album is still certified as gold upon the album release by Recording Industry Association of America (RIAA). Despite his success in the music industry, Lil Wayne's childhood experiences, like many other rap and hip hop singers, were far from perfect.
Born as Dwayne Michael Carter, Jr. on September 27, 1982 in New Orleans, Louisiana to Dwayne Michael Turner and Jacinda Carter, who was then 19 years old, Lil Wayne was forced to bid goodbye to his father who abandoned him and his mother right after he was born. During that time, he and his mother were forced to survive by themselves in the criminal-infested community at Hollygrove division of New Orleans. 
Fortunate enough, soon afterwards, his mother met Reginald "Rabbit" McDonald, who eventually became his stepfather. Years later, his stepfather moved the family out from the poverty-stricken Hollygrove to East New Orleans. By that time, Lil Wayne had begun to develop his interest in hip hop and rap music. 
Lil Wayne started rapping at the age of 8. Influenced by Cash Money Recording artists like Pimp Daddy and U.N.L.V., he began rapping at block parties. His performance at one of the parties caught the attention of Lil Slim, a Cash Money rapper. Through the recording artist, Lil Wayne met the Cash Money Records moguls, Brian "Baby" Williams and Ronald "Slim" Williams. Though his free styling talent left strong impressions on the two tycoons, They were impressed enough with his skills to give him one of their business cards. Ambitious, Wayne continued to call them until they took him under their wing and let him hang around the label's offices. Lil Wayne did not get a contract with Cash Money until he repeatedly left freestyles recording on Baby's answering machine.  
At the tender age of 11 years old, Lil Wayne at last got his shot to sign up with Cash Money, being the Records' youngest rapper. A year after signing the contract, Lil Wayne was caught in an incident that almost took his life. He accidentally shot himself in chest with his stepfather gun, putting him on life support for two weeks. According to a Rolling Stone article Wayne says, "It was my mom's gun," Wayne told the magazine in 2008. "It was like a chopper hit me. But the bullet went straight through, and I bounced back in two weeks."
Recovering from his incident, Lil Wayne marched on to welcome his first gig, in which he was hooked up with another newcomer, Lil' Doggie, later more well-known as B.G., to form a rap group The B.G.'z. With this group, the young rapper only recorded and released one album, "True Story" (1995), which did not sell as expected.
It was during this time that he was forced to drop out of 10th grade. He has a daughter, Reginae Carter, with high school sweetheart, Antonia, but was not allowed to meet his child. However, things quickly changed for the better after his stepfather passed away in early 1997. Getting permission to work with Baby once more, he left his unsuccessful stories behind and then embarked to form a new group, called "The Hot Boys", with Juvenile, Turk, and B.G in 1997. 
Their debut album, Get It How U Live (1997), sold more than 400,000 copies. Their next effort, Guerilla Warfare (1999), did even better, eventually selling more than 1 million copies. At the age of 16, Lil Wayne was on his way to music stardom. Both albums earned them mild fame throughout the South and Midwest. Despite the fact that the group was considerably successful, Lil Wayne and his friends officially went on their separate ways in 2001.
Though Lil Wayne had been known in several states by 1999, it wasn't until he released his solo debut, "Tha Block Is Hot" (1999), that he really got his big break, being known all over the States. His solo album peaked at number three on Billboard's album chart and at number one on Billboard Top R'n'B/Hip-Hop Albums, while at the same time scoring him a nomination for 2000 Source Award for New Artist of the Year, Solo.
In the years to follow, the rapper who was originated from the 17th Ward of New Orleans released "Lights Out" (2000) and "500 Degreez" (2002), both failing to match the success of his seminal debut, receiving only gold certification from the Recording Industry Association of America (RIAA). His "500 Degreez" album got its name from Juvenile's multi-platinum album "400 Degreez" (1998). It was supposed to be the album that beat the sales record of Juvenile's, who left Cash Money earlier. However, the sales of the album proved to be disappointing, selling only 536,000 copies in U.S. and 900,000 copies worldwide.  
In June 2004, this young American artist released his most recognized album yet, "Tha Carter" that peaked at number five on Billboard 200, and at number two on Billboard Top R'n'B/Hip-Hop Albums. Around this time, he collaborated with Destiny's Child and T.I. for the noteworthy Destiny's Child's song "Soldier", earning him prominent nominations, naming some were 2005 BET Award-Best Collaboration and 2006 Grammy Award-Best Rap/Sung Collaboration. 
Following the accomplishment of album "Tha Carter" and collaboration single "Soldier", he released "Tha Carter II" (2005) that debuted at number two on Billboard's album chart while its lead single "Fireman" became a hit peaking at number 32 on Billboard Hot 100. Once again, the rapper received positive reviews and gathered notable nomination for the 2006 BET Hip-Hop Award, the 2006 Billboard Music Award and the 2007 BET Award.
In the period of 2006 to 2007, he gained more fans by releasing a series of mixtapes, "Dedication" (2006) and "Dedication 2" (2006), whereas in 2007, he recorded another Carter-titled album "Tha Carter III", scheduled to be released on February 12, 2008, and received his first award, the 2007 BET Hip-Hop Award, for MVP of the Year. 
In response to several unreleased tracks being made public over the internet, Lil Wayne released the download-only EP The Leak in 2007. The songs came from his work on his anxiously anticipated next studio album, which was finally released in 2008: Tha Carter III hit the top of the rap, hip-hop and pop charts, selling more than 1 million copies in its first week of release.
Tha Carter III features several successful singles, including the No. 1 hits "A Milli" and "Lollipop," a track that he recorded with Static Major. Jay-Z appeared on the track "Mr. Carter," and T-Pain was featured on "Got Money." Babyface, Robin Thicke, Busta Rhymes and Juelz Santana also made cameos. The project netted the Grammy Award for best rap album, and Lil Wayne picked up three more honors at the February 2009 awards ceremony. He won the Grammy for best rap song for "Lollipop," earned the Grammy for best rap solo performance for "A Milli" and shared the award for best rap performance by a duo or group with Jay-Z, T.I. and Kanye West, for "Swagga Like Us."
His star continued to shine as every albums he made in the following years sold quite well and climbed to notable spots on the charts. "Rebirth" in 2010 was certified gold despite getting panned by critics. "I Am Not a human Being" in the same year fared better as not only did it make it into the top 10 of Hot 200 like many of his other creations but he also gained back respect from the music reviewers. 
He came back to his fullest in 2011 when releasing the fourth installment of "Tha Carter", selling 964,000 copies in its first week. Through "Tha Charter IV", he posted the biggest sales week for a male solo artist of all time after Usher's "Confessions" (1.10 million) and Garth Brooks' "Double Live" (1.09 million).
He occupied the third and fourth places at the same time with his first best sales week contributed by "Tha Charter III", before Justin Timberlake barged in with "The 20/20 Experience" which pulled "Tha Carter IV" to the fifth slot on the list. 
After taking a rest from releasing an album, Weezy returned in 2013 with the second installment of "I Am Not a Human Being". With "I Am Not a Human Being II", he could easily bow at No. 1 on Hot 200 by selling between 190,000 to 210,000 copies in its first week based on one-day estimates. 
Ahead of the album release, he caused a buzz on the web when he was hospitalized for seizures. Rumors suggested he was on drugs but he explained later that he was epileptic who had suffered multiple seizures before without public knowing about it.
In the meantime, Lil Wayne has been busy building up his Cash Money record label, working with other recording artists such as Drake and Nicki Minaj and even helping underprivileged kids. The rapper established a charitable organization to help urban youth, the One Family Foundation, through which he worked to rebuild the athletic fields at his old school, Eleanor McMain Secondary School, after they were destroyed by Hurricane Katrina in 2005. Despite all of his success, Wayne has never forgotten his roots.
2014–2019: Free Weezy Album and Tha Carter V
On February 10, 2014, Drake tweeted "CARTER V". On October 18, 2013, Cash Money Records Vice President of Promotion Mel Smith, tweeted: "Happy Friday!! New YMCMB music coming soon!! Carter 5." Nearly four months later, in an interview with The Griffin, released on February 14, 2014, Smith spoke on the upcoming album: "We're very close to dropping the album. It's going to be a huge surprise to everyone, it's an incredible album ... I can't release the date because he wants to surprise people, he wants his true fan base to get excited, but he's worked extremely hard on it and you won't be disappointed." On February 15, 2014, during the NBA All-Star Weekend festivities at Sprite's NBA All-Star concert at the House of Blues in New Orleans, Carter appeared as a special guest during Drake's set and performed various hits. Carter and Drake then announced that Tha Carter V would be released on May 5, 2014. However, on March 27, 2014, Carter's manager Cortez Bryant announced that the album had been delayed. Carter then serviced Tha Carter V's first single "Believe Me", which features vocals from Drake, to mainstream urban radio in the United States on May 6, 2014. Three more singles, "Krazy", "Grindin'" (featuring Drake) and "Start a Fire" (featuring Christina Milian), were also released for the album.
On December 4, 2014, just five days before the album was due to be released again, Carter issued a statement saying the album would not be released on its expected release date, due to his displeasure with Cash Money Records label-boss Birdman, refusing to release the album although it had been completed. Carter also expressed his feelings by stating he felt both he and his creativity were being held "prisoner".
On January 20, 2015, Carter self-released Sorry 4 the Wait 2, a sequel to his 2011 mixtape, to compensate for the continued delay of Tha Carter V. Upon Sorry for the Wait 2's release, it was said Wayne disses Birdman and Cash Money Records, several times throughout the mixtape. Birdman was reported to be upset with this. In late January 2015, Carter sued Birdman and Cash Money Records for $51 million. In February 2015, due to Tha Carter V's delay, Carter announced that a free album would be released prior to the fifth installment in his popular series. In June 2015, Carter joined Jay-Z's TIDAL, as an artist owner, kicking off the partnership by exclusively releasing a single on the service titled "Glory". He's also announced plans on his own TIDAL X concert series. On July 4, 2015, Carter released Free Weezy Album, exclusively through TIDAL, under Young Money and Republic Records.
Carter and Birdman supposedly reconciled after being seen at Drake's NYE Party, at Miami's Club Liv, and in studio. On January 27, 2016 when rapper 2 Chainz released his "Felt Like Cappin" EP, Carter is featured on the lead single titled "Back On That Bullshit". On March 4, 2016, 2 Chainz released his third studio album, ColleGrove. The album was initially a collaborative effort between 2 Chainz and Carter, but due to his record label issues, only 2 Chainz was credited as the primary artist. In 2017, Carter announced that he signed with Roc Nation. Later, Carter revealed that there was no official paperwork that he signed to the label. On June 28, 2016, Carter was one of the main singers in the song "Sucker for Pain", along with Wiz Khalifa and Imagine Dragons, for the DC Comics film Suicide Squad. X Ambassadors and Ty Dolla Sign were also featured in the song. On August 8, 2017, he released the song "Like a Man" with sound engineer Onhel. On June 7, 2018 it was announced that Carter had been released from Cash Money Records and will be releasing Tha Carter V via Universal Records.
In September 2016, Carter's song "No Mercy" debuted as the theme song for Skip and Shannon: Undisputed sports talk on FS1. Carter is a frequent guest on the program. On Christmas 2017, Carter released the mixtape Dedication 6, the sixth installment of the "Gangsta Grillz" chronology. The second part was released on January 26, 2018.
Tha Carter V was finally released on September 27, 2018, debuting at number one on the US Billboard 200 with 480,000 album-equivalent units, including 140,000 pure album sales. It is the second-largest streaming week for an album behind Drake's Scorpion with 433 million streams. It is also Carter's fourth US number-one album. Every song on the album charted on the Billboard 100, while simultaneously charting 4 songs in the top 10, also becoming the first artist to debut two songs in the top 5.
2020–present: Funeral, Young Money Radio and re-releases
While Carter was working on Tha Carter V, it was announced that his next album would be titled Funeral. On January 23, 2020, he revealed the album's release date and album artwork. Funeral was released on January 31, which debuted at number 1 on the US Billboard 200, with 139,000 album-equivalent units, becoming his fifth US number-one album.[140] The album received generally positive reviews from music critics. On February 2, 2020, he was revealed to be "The Robot" on the Season 3 premiere of The Masked Singer after the Super Bowl LIV. Carter featured on Lil Baby's track "Forever", a track from Baby's second studio album, My Turn, which was released on February 28, 2020. Carter also participates in the music video for the song, which was released on March 3, 2020. This marked the second collaboration for the two artists in 2020, with the first being on Carter's single "I Do It".
On April 24, 2020, Lil Wayne along with Dash Radio, launched his own radio show, Young Money Radio, on Apple Music. Wayne described the show as having "heavyweights calling in discussing sports, music, comedy, everything!". On July 3, Lil Wayne released his eleventh studio album, Free Weezy Album (2015) on streaming services to commemorate its five-year anniversary. The album charted at number 77 on the Billboard 200 the following week. On May 29, Wayne released the deluxe edition of Funeral featuring artists such as Doja Cat, Tory Lanez, Lil Uzi Vert, Benny The Butcher, Conway the Machine and Jessie Reyez. On August 28, Wayne released another old project, his 2009 mixtape No Ceilings, for commercial release. He also celebrated the release by collaborating with ASAP Ferg on the song "No Ceilings". Wayne was featured on YoungBoy Never Broke Again's album Top on the track "My Window", released on September 11. His verse received praise from critics. On September 25, he released the deluxe edition of his twelfth album Tha Carter V, to celebrate the album's two-year anniversary; it consists of songs that did not make the cut on the original album. On November 27, 2020, Lil Wayne released the mixtape No Ceilings 3, while announcing the album I Am Not a Human Being III for 2021. He is also currently working on Tha Carter VI.
Future projects
Carter has announced several possible upcoming projects, including a collaborative album entitled I Can't Feel My Face with Harlem-based rapper Juelz Santana, that has been in production for several years. In late 2011, it was announced by Mack Maine that Carter and Juelz Santana had gone back to work on their collaborative album I Can't Feel My Face, which had been delayed for a few years due to "label politics".
On June 19, 2008, Carter and T-Pain formed a duo called T-Wayne with plans to release an album, titled He Raps, He Sings; however, those plans have died down due to much of the material recorded for the album being leaked. T-Pain ultimately released T-Wayne in 2017.
According to an interview with Drake, in the December 2011 issue of XXL, plans for an upcoming album with Carter had been scrapped for the time being because of the Jay-Z and Kanye West collaboration album Watch the Throne (2011).
In April 2012, on the premiere of MTV's Hip Hop POV, Carter sat down with Amanda Seales and spoke briefly about an album he put together titled Devol (loved, backwards), an album full of "love songs" that he wrote during his imprisonment at Rikers Island. In May 2013 he confirmed the album will still be released.
Carter's once ongoing litigation with Cash Money prevented numerous completed projects from being released. In January 2017, Young Money revealed the title of a planned Carter album called Velvet.[166] The album ended up leaking online in November 2018.
Relationships and children
Carter has four children. His first child, daughter Reginae, was born November 29, 1998 when he was 16, to his high school sweetheart Toya Johnson. They later married on Valentine's Day 2004 and divorced in 2006. Internet rumors started circulating in August 2008 that Carter's daughter had died in a car crash, which however he quickly cleared up as false saying "Please allow me to dispel any rumors or speculations and report that my daughter is alive, healthy and surrounded by family who cares and loves her dearly. The rumors are completely false and unfounded; neither Reginae nor any other member of my family has been involved in any car accident."
His second child, Dwayne III, was born on October 22, 2008, at The Christ Hospital in Cincinnati to radio broadcaster Sarah Vivan. His third child, Cameron, was born to actress Lauren London on September 9, 2009. His fourth child, Neal, was born on November 30, 2009, to singer Nivea. Trina also became pregnant with Carter's child, but later suffered a miscarriage.
In July 2014, it was rumored that Carter was dating singer Christina Milian whom he attended the ESPY Awards with. They later confirmed their relationship in mid-2015 after which they received criticism from their interconnected exes, singer Nivea and songwriter The-Dream. They split at the end of 2015 after collaborating on various singles, videos, and concert dates.
Wayne was engaged to plus-size model La'Tecia Thomas, but called off the engagement in May 2020.
In June 2020, it was announced that Wayne had started dating Denise Bidot, another plus-size model. In November 2020, they reportedly broke up over Wayne's endorsement of Donald Trump. Shortly after, it was reported that the couple had reconciled.
Feuds
Juvenile
Carter began feuding with former Hot Boys member and Cash Money Records labelmate Juvenile in 2002, after Juvenile took offense to Carter naming his third studio album 500 Degreez, a diss aimed towards Juvenile whose last album was named 400 Degreez. Juvenile responded with a diss track on his 2002 album 600 Degreez, titled "A Hoe". In the song, Juvenile questions Carter's sexuality, and says he's a fake gangster. The two squashed their beef for a short period in 2004, with Carter and Birdman appearing in the music video for Juvenile and Soulja Slim's song, Slow Motion. Carter later paid tribute to the Hot Boys with a song called "I Miss My Dawgs" on 2004's Tha Carter. Juvenile responded by calling the song "fake", and criticized Carter for releasing a tribute song and later promoting the album on BET and having "nothing good to say about them". The two eventually reconciled once again, and Juvenile re-signed with Cash Money Records in 2014.
Young Buck
Young Buck released a song featuring Tony Yayo called "Off Parole" which insulted Carter. Young Buck said that Carter could not be angry, because Young Buck spoke the truth. Young Buck also said "You think you got a problem with Juve and B.G.; you'll have a true problem with me", referring to the Cash Money-Juvenile/B.G feud. One of the reasons 50 Cent stated he was dismissing Young Buck was what he called "inconsistent behavior" which included appearing on stage with Carter, then seemingly dissing him on records with G-Unit. After he was dismissed, Young Buck appeared in the music video "My Life" by The Game, which featured Carter in the vocals. As of 2009, Young Buck and Carter have squashed their beef and also linked up to record a track "Up's and Down's" for Young Buck's Back On My Buck Shit mixtape.
Pusha T
Tension between Wayne and American rapper, Pusha T, had been going on for years, beginning soon after Clipse and Birdman worked on "What Happened to That Boy", the latter's 2002 single. In 2006, Wayne felt the Clipse song "Mr. Me Too" was directed at him which caused more tension between the two. In 2012 after much speculation that Pusha T was subliminally dissing Canadian rapper and Wayne's Young Money signee Drake in several songs, the speculation heightened after the release of Pusha T's "Exodus 23:1" song. Lil Wayne quickly responded on online social networking service Twitter and later released a diss track titled "Goulish". In the first verse Wayne raps "Fuck Pusha T and anybody that love him / His head up his ass, I'mma have to head-butt him". Pusha T called Wayne's diss track "horrible" and said he felt it did not deserve a response. Both men have downplayed the feud, with Wayne saying he's over it. However, in late November, Pusha T dissed Wayne and Birdman on a new Ludacris song titled "Tell Me What They Mad For". However, once the feud between Lil Wayne and Birdman arose, Pusha T sent out a tweet encouraging Lil Wayne to sign to G.O.O.D. Music, which also insulted Birdman for his hand-rubbing habit.
Jay-Z
In a 2009 interview with Tropical TV, Birdman disputed the MTV poll that voted Jay-Z "The Hottest MC in the Game", stating that Lil Wayne was a better rapper and made more money. In early 2011, when Jay-Z and Kanye West's single "H•A•M" was released, Jay-Z took shots at Birdman, saying "Really, you got Baby money" and "[you] ain't got my lady's money!". On August 24, 2011, a song called "It's Good" by Lil Wayne (featuring Drake and Jadakiss) was leaked online and included Lil Wayne responding "Talkin' 'bout baby money? I gotcha baby money. Kidnap your bitch, get that, How much you love your lady? money". Jadakiss later absolved himself of involvement in any brewing beef on his official Twitter feed.
(source: aceshowbiz.com, biography.com, Wikipedia)
Follow Lil Wayne on Social Media
Sours: https://www.hiphopscriptures.com/lil-wayne
Lil Wayne has partnered up with The Motivational Edge, which is a non-profit after school program that motivates the youth towards academic achievement and increases their self-confidence in life, to launch a campaign titled Indiegogo. You can read what Tune and the CEO of the organization, Ian Welsch, said about the campaign below:
"Hi I'm Lil Wayne, I stand behind the mission of The Motivational Edge not just because I support these kids, but because I was one. I grew up in New Orleans in a neighborhood called Hollygrove. I didn't have a lot. What I did have was music and education. I knew that if one didn't get me out, the other would, but then I finally learned I wouldn't get out of anything without education. I personally donated to this cause and now we need your help."
Read more at https://www.lilwaynehq.com/2013/10/lil-wayne-partners-up-with-the-motivational-edge-to-launch-indiegogo-campaign/#dDudfFWesp0X3G3H.99
Sours: https://themotivationaledge.org/the-lilwaynehq-partners-with-the-motivational-edge-for-indiegogo-campaign/
Lil Wayne HQ
Summary - Account Stats
Export (.csv)
Showing recent 15 entries. The stats mentioned below in the table indicates followers drop and rise over the last few days.
Date
Followers
Following
Uploads
2021-10-16
Sat
559,249
+542
67
+3
6,107
+71
2021-09-08
Wed
558,707
+1,807
64
+1
6,036
+44
2021-08-17
Tue
556,900
+3,197
63
+1
5,992
+60
2021-08-02
Mon
553,703
-
62
-
5,932
-
2021-07-15
Thu
553,703
+6,730
62
+2
5,932
+62
2021-06-14
Mon
546,973
+6,109
60
-1
5,870
+52
2021-05-23
Sun
540,864
-
61
-
5,818
-
Total Summary
+18,385
+289
Lil Wayne HQ can demand $ 117 USD per influencer post on Instagram.
Check Influence Cost
---
Lil Wayne HQ's Influence Rate
Lil Wayne HQ's Instagram profile has 0.35 percent influence rate which means an Instagram post on this profile can have an estimated average of 2.3K Influence.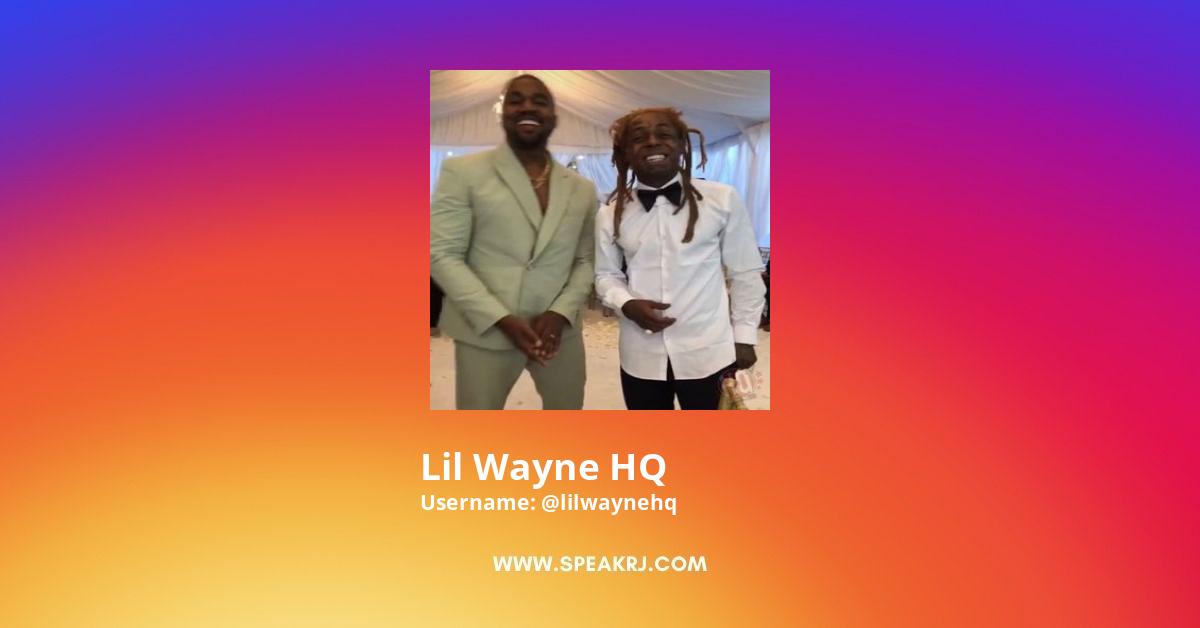 FAQ - Lil Wayne HQ Instagram account stats
Here are some of the frequently asked questions about Lil Wayne HQ's Instagram Account.
Answer: The No. 1 fansite on #LilWayne - www.LilWayneHQ.com. Get the latest updates on the Best Rapper Alive 🐐 Backup page - @LilWayneYMHQ
Answer: Lil Wayne HQ has 559,249 followers on Instagram.
Answer: Engagement rate of Lil Wayne HQ's Instagram Account is 0.35%.
Answer: Average likes are about 2,308 per instagram post.
Answer: Average comments are about 33 per post.
Answer: Instagram Id of Lil Wayne HQ is @lilwaynehq.
Answer: Worth of an Instagram post on Lil Wayne HQ profile is $2 USD - $20 USD.
Sours: https://www.speakrj.com/audit/
Lil Wayne arriving to the Green Bay Packers game at Lambeau Field last night! 🏈🧀🟢🟡
STRANGE MUSIC INC
"Fuck Food" when it became available on Wayne's #1 fan site, LilWayneHQ.com. Fans were surprised by the track, and loved Wayne's participation, with a few fans commenting:
"this right here… is a motherfuckin problem !!!
Weezy killed this shit man…"

"cant wait to hear their collabo on C4 !!!"

"damn this shit is hard as fuck, both wayne and tech killed it, the hook is dope as fuck too"
Fans who wish to hear more of Tech N9ne and Lil Wayne can expect another collaboration slated for Lil Wayne's Tha Carter IV, set to be released later this summer.
Click here to listen to "Fuck Food" at LilWayneHQ.com.
Click here to purchase the iTunes Deluxe Edition of All 6's and 7's.
Sours: https://www.strangemusicinc.com/2011/06/tech-n9ne/fuck-food-lands-lilwaynehq-com/
Wayne hq lil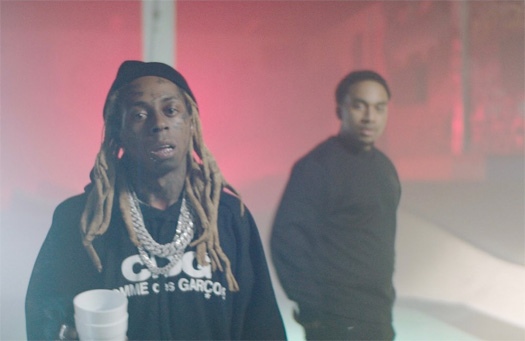 Euro recently chopped it up with Hot 106 radio station for a virtual "Hot Morning" interview that you can watch below.
During their conversation, Euro spoke on working through the pandemic, Providence, his new single "Summer Flings", the new Young Money artists that Lil Wayne is calling the "Fab Five", and more.
The YM rapper revealed he was very surprised, but very happy that he was featured on Wayne's No Ceilings 3 mixtape as the first No Ceilings is one of his favorite projects in Weezy's whole catalog.
Euro also explained how "Ring Ring" came about, shared advice he has received from Tunechi, mentioned what it is like to have him as a mentor, and disclosed him and Tune have more unreleased music in the vault!
(more…)
Sours: https://www.lilwaynehq.com/
Lil Wayne has a message for Tyson Fury before his fight against Deontay Wilder
.
You will also like:
.
1431
1432
1433
1434
1435