Replica Guns, % accurate Replicas of real guns, just more affordable:
Replica guns at real-gun.com has the replica WW1, WW2 and modern weapons you need!
---
---
Looking for the blank firing guns - click here!
***Current high virus levels are really slowing logistics down, shipping, supplies, lunch - please bare with us with any delays***
---
Before you buy a replica gun, real-gun.com has to do its duty and remind you of the VCR act and replica weapons:
Aside from early Western replica guns which are not covered, the VCR (Violent Crime Reduction Act) bill limited the supply of Replica Guns to the public. Real-gun.com cannot sell these to just anyone - only people who can prove the need to have one can be supplied - club members, re-enactors, military vehicle owners etc. who are over 18 are fine to purchase these replica guns - all we ask is that when purchasing please send us via e-mail or post a copy of your registration card or letter of membership.
For example, if you are a member of the MVT (Military Vehicle Trust) then in the eyes of the law it is acceptable that you may want to have a replica Garand on show with your Rio - we just need the a copy of the card or membership letter - easy!
***Please Note - the Quality of Replica Guns varies widly depending on the maker, with the values varying acordingly - a cast replica is tons cheaper than a mega rare top quality Shoei made example, plus some are replicas that just cock and dry fire, some are shell ejecting replicas and some are plug fire (a kind of rebuildable blank cartridge) and it all makes a difference***
All of our Replica Guns will be made from wood and metal and be an accurate copy of the real thing regarding size and weight, though being a replica gun, the fit and finish won`t usually be as good - tolerences on bolts etc may be looser, wood detail won`t be quite as good as they are not 80 odd years old! They do age up very well if you know a skilled re-enactor who can "age" a replica gun, or just keep it as is.
---
Replica Machine Guns:
---
---
Replica Rifles:
---
---
Replica heavy machine guns and replica launchers:
---
---
---
Replica pistols:
---
Due to the VCR act we will require proof of your need of this item - membership no., re-enactment group details, theatre/play details - that sort of thing - if in doubt please contact us by clicking here to discuss your requirements or call us on
---
Replica Guns and the law:
Don`t forget that to purchase a replica gun we need to see your club or membership details. We then ship your replica gun with a special secure gun shipping account with Parcelforce and the replica gun is shipped in a plain brown box. Once you have your replica gun, just remember to be sensible with it - its fine in the privacy of your own home or if you are a re-enactor at a military show, but don`t be an idiot - don`t point a replica AK47 out of your window and don`t forget you have a replica Colt strapped to your leg when you are driving your super cool WW2 Jeep back from a show and need petrol - nothing gets an armed Police unit out quicker than a report of a firearm
---
All our Prices include VAT at 20% where required - but please note that deactivated guns are technically second hand items so VAT is not applied.
Our Cart uses Romancart Checkout - it has a high level of security built in to protect both, the user, and us, the recipient - please be careful to input your correct card registered address or it will reject every time.
We also accept cheque and bank transfers.

Online security is a must for any transaction - if you want to use Paypal then please give us a call on or use the contact us button and we`ll get a Paypal Payment Request over to you - that way you can be sure your details will be safe and secure with the worlds biggest online provider - take no chances!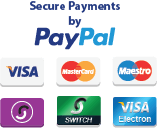 ---
Terms & Conditions
Here at real-gun.com we try to get things right first time - but, being a bit crap sometimes, we do screw things up - if in any doubt please contact us - if we get a price wrong or are out of stock we will contact you immediately - many thanks.
---
Please note - all our items will require an authorised signature on delivery.
We list details of our current stock by batch - due to our high turnover of the most popular models - so the images and descriptions fit that model, though there may be slight variations in stock grain/colour and metal condition - please bare in mind that some of the de-ac guns are almost years old!
---
Deactivated Guns and the law:
Real-gun.com cannot sell deactivated guns to anyone under the age of Though are not required to store this in a gun safe it is advised you store them in you dwelling, preferably in a locked cupboard. When transporting de-acs please keep them in out of site, preferably in a gun bag. Be sensible - don`t mount a cal on the roof of your Jeep and take a drive - its fine on private land at shows but given the current climate please do not stress our Police any more than they currently are!
Looking to sell a Deactivated gun or a collection of de-acs? Please contact us by clicking here for a good deal!
---
Sours: https://www.real-gun.com/rep.html
If you are interested in airsoft or military, looking for survival or outdoor equipment, you've come to the right place. Gunfire.com offers a wide range of products in each of these areas. Airsoft is our main interest. Our activity began with the idea of a group of ASG fans who wanted to promote this sport in Poland. We are professionals with extensive experience in ASG. It doesn't matter if you are just starting your adventure with airsoft, looking for the first replica, or you are an experienced player with specific needs. You'll find all the necessary equipment, accessories, and parts for ASG at Gunfire.com. We offer several hundred types and models of BB replicas, starting from pistols, through submachine guns and shotguns to assault rifles, carbines, and sniper rifles. We offer you a wide range of ASG replicas, including electric (AEG and AEP), gas (CO2 and green gas), spring and rare HPA grenade launchers, and replicas. We have products from the most popular and recognized manufacturers of airsoft replicas such as Krytac, Tokyo Marui, G&G, Umarex, LCT, G&P, and Specna Arms. We also offer products from Armored Claw, Black Mountain, FLYYE Industries, Airsoft Pro, Primal Gear, Emerson, Element, and other producers of accessories and equipment.
Our offer includes a wide selection of airsoft bb's, including the most popular ones weighing g, g, g, and g, and sniper bb's: g, g, g) or types (tracer, bio, precision). You will also find in our store internal parts (gearbox skeletons, precision barrels, nozzles, hop-up chambers, hop-up buckings) and external parts (RIS rails, mounts, flashlights, tactical grips, stocks) and much more. Our experienced employees will help you with choosing the right accessories for your replica. At Gunfire.com we have a rich assortment of optics, magazines, chargers, pouches, or covers and bags for transporting replicas. Are you interested in military items, or maybe you are looking for practical outdoor accessories? Browse our tactical equipment range, which includes backpacks, helmets, protectors, belts, tactical slings, and more. It is also worth visiting the subpage with military clothing, where you will find uniform sets and individual items of clothing. If you are an employee of uniformed services, we have a special offer for you. Get discounts on protective equipment like glasses, gloves, or backpacks. For outdoor enthusiasts, we offer several hundred different products, including multitools, knives, binoculars, flashlights, and camping sets. We sell online throughout Europe and are a distributor of airsoft equipment from recognized global brands.
We are a group of enthusiasts, who a few years ago, when hardly anyone has heard of something like airsoft or ASG, decided to propagate the sport in Poland. The beginnings were as tough as always - most people have only seen airsoft as nothing more than the BB guns themselves, but we knew right from the beginning that there was more to it, we knew that airsoft is a way of life, a passion and a great way to spend your time. That's why our motto is "Airsoft & more"™.
Our strength lies in experience. We have dealt with airsoft for as long as we can remember. None of us are here by coincidence - the majority are active players who know well the equipment we sell because we use it on a daily basis. This allows us to give good advice and find an optimal solution to any problem, as well as help to choose just the right ASG equipment. We are part of the airsoft community.
Despite such extensive knowledge and experience with ASG we are constantly focused on our own development, constantly expanding our offer with cutting-edge airsoft replicas, in the meantime not forgetting about the more economy-level guns. Gunfire's offer also includes airsoft accessories - among them a wide variety of batteries for airsoft replicas, tuning parts, tactical equipment and 6 mm BBs. An airsft store is so much more then just the products. We are constantly raising our standards and improving the quality of our customer service.
Would you like to start your adventure with Airsoft, but you do not know where to start? Are you looking for the right airsoft replica and do not know which one to choose? Or maybe you need professional advice on Airsoft guns? You've come to the right place! At Gunfire, the best airsoft retail store for Europe, you'll find a wide selection of Airsoft guns, parts, and accessories dedicated to Airsoft gun replicas and tactical equipment. The Gunfire team consists of people who have been passionate about Airsoft guns for many years. Thanks to this, they have practical knowledge that they will gladly share with you. Let's start from the beginning. ASG weapon replicas or Airsoft guns are realistically made replicas of firearms. In our offer, you will find hundreds of models of various types of Airsoft guns. From pistols to rifles and rifles to sniper rifles. For your convenience, Airsoft guns available in our store are divided into categories based on the type of power supply, type of weapon, or price. Therefore, if you are thinking about choosing your first Airsoft gun, start by looking at our offer.
Can't imagine a weekend without an ASG gameplay? Are you discussing how you sent one opponent after another to the respawn? Or maybe before going to bed you check the offer of the ASG store so as not to lose the best opportunity? If so, it's a sign that Airsoft has become part of your life. Therefore, welcome to the group of enthusiasts of ASG, people who founded the Airsoft Gunfire store. Our ASG store was created on the initiative of active airsoft players who gained experience at local playgrounds and great airsoft events. When creating an ASG Gunfire store, they based their experience and knowledge. For us, Airsoft has become not only a hobby but also a great passion.
When founding Gunfire, we tried to make our Airsoft store and the offer of replicas, parts, and accessories meet the needs of Airsoft players. We were able to collect in one place products from world-famous brands. Thanks to this, the Airsoft Gunfire store can offer you a wide range of equipment at attractive prices. However, we went a step further and as an Airsoft store, we engaged in the promotion of several less-known airsoft brands, whose popularity is still increasing. Moreover, the Custom Division, the branch of our Airsoft store that produces custom made replica, will provide you with unusual, unique models built by our employees. Thanks to careful preparation, basing on the best quality parts and interesting design, custom Airsoft replicas quickly disappear from the shelves of our Airsoft store. As the best Airsoft retail store in Europe, we know how important it is to support the community. That is why the Airsoft Gunfire store is involved as a sponsor in small weekend shooters, milfs, or airsoft events bringing together hundreds of Airsoft fanatics from all over Europe. In our activities, we try to meet your expectations. That is why we want to share our knowledge and skills in the field of airsoft. Hence the idea of a series of service programs, in which we present you how to repair individual elements of airsoft replicas, how to replace parts, and finally how to assemble whole Airsoft replicas. We hope that they are helpful and allow you to get into the world of airsoft more easily.
In our offer of Airsoft gear you will find dozens of popular equipment brands and several thousand models of Airsoft replicas. Thanks to the constantly updated and expanded offer, you can choose from market novelties or Airsoft guns that have been proven and known to players. Thanks to the availability of electric, gas, and spring replicas in our store, as well as various types of Airsoft short and long guns, you can easily adapt airsoft equipment to your needs or style of play. We also encourage you to check our promotional offers for Airsoft replicas and other Airsoft products. And thanks to various occasions and discounts by choosing your coveted Airsoft replica model or desired airsoft equipment, you can save a lot. Therefore, don't wait and check the Airsoft Gunfire offer now!
Not everyone knows, but simultaneously with our retail store we run airsoft wholesale. The B2B Gunfire department was created because we saw the opportunity to cooperate with the largest suppliers of airsoft equipment from around the world. The airsoft Gunfire wholesale has been operating for over 15 years and has been successfully constantly expanding the portfolio of available brands of airsoft replicas, tactical equipment, parts, and accessories for various models of airsoft replicas. Do you run an airsoft field? Do you have an airsoft shop? Are you a distributor interested in cooperation? Take advantage of the wide offer and experience of our airsoft B2B department employees. Our offer includes the most popular brands on the airsoft market, such as G&G, LCT, Specna Arms, E&L, SHS, JG, WELL, CYMA, Armored Claw, and Theta Optics. Therefore, if you plan to buy wholesale, do not hesitate and create an account on our sales platform to gain access to thousands of products and special offers intended for our partners. Airsoft Gunfire wholesaler is a comprehensive service of your orders. We operate based on integration with the use of classic XML files or an automated API interface. The airsoft Gunfire B2B department provides its wholesale customers with efficient order processing and a wide range of payment methods. Our B2B department uses an internal logistics unit. Thanks to this, we ensure fast and safe transport of products ordered in the airsoft Gunfire wholesale. We fulfill orders all over the world.
Sours: https://gunfire.com/
Replica Imitation Pistols
Replica Modern Imitation Pistols
- Beretta 92F Replica Automatic Metal Pistol
- 44 Magnum Revolver 6 inch stainless look replica
- Artillery Luger P Lange Pistole 08 by Denix With Wood Grips
- Artillery Luger P Lange Pistole 08 denix with chequered plastic grips
- Big Bullet hooks Display mounts pair
- Browning Hi Power GP35 auto metal Denix replica Military pattern
- Bullet Gun Hooks
- C96 Mauser replica machine pistol with wooden stock holster by Denix
- Colt 45 Automatic metal stripdown pattern handgun by Denix
- Colt 45 Government Automatic M Gun Plaque Resin half gun by Relics
- Colt 45 M Automatic metal strip down pattern Denix Handgun
- Colt 45 M Metal field strip pattern with Wood Grips by Denix
- Colt 45 M type Replica Automatic Pistol metal and resin
- COLT 45 NICKEL PLATED M AUTO HEAVY METAL REPLICA
- Colt Python 4 inch Magnum Revolver Metal replica by denix
- Colt Python Replica Revolver with 8 inch Barrel metal gun
- Colt Python Gun black 6 inch magnum metal replica by Denix
- Colt Python Nickel plated 6 inch magnum replica by Denix
- Denix plastic grips for Mauser C96 Broomhandle and Bolo type
- Denix Colt Auto Gun black Standard pattern.
- Denix Webley MK4 Revolver Black plastic grips
- Desert Eagle IMI Metal Replica by Denix
- Desert Eagle IMI Nickel Plated Metal Replica by Denix
- Dirty Harry 44 magnum 8 inch barrel
- GLOCK 17 plastic model automatic handgun
- Liberator Pistol Wooden Replica WW2 Pattern
- Liberator Resin Replica Pistol
- LUGER P German Wartime pattern metal replica by Denix
- LUGER P Pistol by Denix with Chequered Wooden Grips
- Luger P08 Kreigsmarine pattern 6 inch Barrel Wood Grips
- LUGER PO8 Naval WW1 WW2 metal replica by Denix
- Magnum Replica Revolver with 6 inch barrel
- Magnum replica revolver with 4 inch barrel
- Magnum Revolver Simulated Stainless 4 inch barrel resin
- MAUSER C96 BROOMHANDLED MACHINE PISTOL by Denix
- SIG Sauer Auto NYPD pattern automatic
- SIG Sauer P Replica Auto
- Smith and Wesson 44 Magnum Revolver 6 inch
- Walther LP53 James Bond Replica Pistol
- WALTHER P38 metal replica automatic gun by Denix
- Walther PPK Metal Replica Pistol by Denix model
- Walther PPK Metal Replica with silencer German WW2 style Denix
- Walther PPK Resin replica Gun
- Webley MK4 British WW2 Denix metal replica revolver with opening action
- Webley MK6 British Replica WW1 Prop Gun
- WELROD SPECIAL OPERATIONS EXECUTIVE PISTOL
- WW1 FRAMED WEBLEY MK6 REVOLVER WITH BULLETS
Information
Customer Service
Sours: https://www.relics.org.uk/pistols
Denix Replica 1851/Griswold Revolver review
Non Firing Dummy Weapons
Review of: US WWII M3 Grease Gun Non-Firing Replica
I picked up an very early Type of this weapon from a dead VC. It had no "charging handle' /cocking lever" to put in the first round from an open bolt. The dust cover was to be lifted, and your finger slid into an "opening/hole" on the bolt assembly, to draw back the bolt to a locked position. The Operator would then just squeeze the trigger to fire. Designed as capable of Full auto, yet able to pop off just a few with practice when desired. Very rugged and could withstand build up of dirt and fire. Close range effective, not a long range accuracy weapon. Curious as to how many parts in the mock-up.
Reviewed by: gary, November 25,
Review of: Blunderbuss
Great gun and quality, perfect for prop in steampunk stage.
Reviewed by: MARGARET, October 03,
Review of: Pirate Blunderbuss Pistol
Great replica pistol. Good weight and made from sturdy material
Reviewed by: Ronald, December 21,
Review of: Blunderbuss
I got this for an additional weapon for my pirate garb. I love it! Looks and feels like the real thing. The authenticity of this replica is astounding!
Reviewed by: Victor, June 18,
Review of: Old West Repeating Rifle
very nice would be better if it could be used as a real rifle
Reviewed by: Alexander, December 24,
Review of: Caps with Dummy Shells
Really useful - should fit a couple of my s. Looks like fun.
Reviewed by: Lowell, March 24,
Review of: Pirate Blunderbuss Pistol
beautiful reproduction, very pleased with attention to detail
always happy with purchases from Atlanta Cutlery
many thnx.
Reviewed by: Harry J., October 20,
Review of: M Single Action Buntline Special Revolver
The M Single Action Buntline Special is finely crafted and a really nice replica.
I am very pleased with it and the service from Atlanta Cutlery. I would recommend
this particular piece to any replica gun and/or rifle collector. Very unique with the
inch long barrel. I am very pleased with the purchase and with Atlanta Cutlery.
Reviewed by: Stanley, September 26,
Sours: https://www.atlantacutlery.com/non-firing-dummy-weapons
Cheap replica revolver
.
Denix Replica 1851/Griswold Revolver review
.
Similar news:
.
1485
1486
1487
1488
1489