A former GBI medical examiner testified Thursday morning that internal injuries that killed a Georgia toddler were caused by attempts by her foster mother to save the little girl's life.
11Alive reports that Dr. Kris Sperry took the stand for the defense inside a Henry County courtroom, where foster parents Jennifer and Joseph Rosenbaum are currently on trial, facing murder charges in connection with the 2015 death of 2-year-old Laila Marie Daniel.
An autopsy revealed Laila had broken bones and internal injuries, including a separated pancreas. While the prosecution argued that the toddler's injuries were consistent with physical abuse, the defense claimed Laila choked on chicken and could have gotten the injuries when Jennifer Rosenbaum tried to revive her.
How do you protect your children from predators? Join Nancy Grace and a team of world-class experts for the online course 'Justice Nation: Crime Stops Here'.
Rosenbaum said she tried to perform CPR and the Heimlich Maneuver when Laila began choking but didn't do things correctly, which resulted in internal injuries.
"My conclusion was that all these injuries were sustained during a very, very panicked frenzied attempt to try to save Laila's life after she appears to have choked on some chicken," Dr. Sperry testified. "She (Jennifer Rosenbaum) was doing anything she could to try to dislodge this chicken and save the girls life and along the way inadvertently caused injuries to Laila's body."
Last week, Dr. Stephen Messner with Children's Healthcare of Atlanta took the stand and testified that Laila's injuries were consistent with physical abuse. According to Messner, Laila had loop-shaped bruising on her body that appeared as if she had been hit with a belt or cord.
She also had marks consistent with being punched by someone's fist, the doctor said, as well as severe blood loss and signs of inadequate nutrition.
Further, Messner testified that Laila had burns across her stomach that appeared to be healing, and bruises on her head, armpits, inner thigh, and genitals. One of her ears had half of the skin missing, but it didn't happen accidentally, Messner said.
Laila's older sister Millie also lived with the defendants. She, too, showed physical injuries consistent with being abused. Millie, 4 at the time, was removed from the home after Laila's death and currently lives with new foster parents.
Mille, now 7, took the stand last month and testified that Jennifer Rosenbaum hit her with hands or with a belt, AJC reports. Millie said she once got a spanking for not getting dressed fast enough and another time for falling asleep in the car.
The little girl said her foster mom sometimes made them take their clothes off before hitting them.
On Thursday, the prosecution pointed out to Sperry that "no medical professional has seen injuries like this from resuscitation." Prosecutors also argued that the little girl had injuries prior to the alleged choking incident.
Sperry acknowledged that Laila's broken rib appeared "suspicious" and that the child's arm fracture had been there "for a very long time."
"The right eight rib of the back appeared to have a healing fracture. Fractures at this location in a young child are suspicious," he said.
However, Sperry maintained that many of the injuries could have happened while the defendant attempted to help a choking child.
"Mrs. Rosenbaum was trying to pound on the child's back to dislodge the chicken stuck in the child's airway. She left these bruises behind. "
Closing arguments in the case began Friday morning.
Red Flags
A 2016 investigative report by AJC indicated that the Department of Family and Children Services (DFCS) didn't follow up on previous red flags in the case, which likely could have saved Laila's life.
On July 24, 2015, Laila moved in with the Rosenbaum couple after her birth mother was arrested for drug use. DFCS ran criminal background checks on the pair and evaluated their home before determining they were a good fit.
"The Rosenbaums are stable and reliable. They also appear to greatly love children," a note in the child's DCF file read.
By October 2015, however, problems began to surface when Laila broke her leg. Jennifer Rosenbaum, who was once a foster child herself, claimed it happened accidentally at gymnastics. A caseworker visited Laila, and after she determined that the toddler was doing OK, didn't investigate further.
"She is doing fine by her attitude you would never know anything was wrong," Rosenbaum said in a text message to the social worker. "Laughing playing singing and hasn't cried once not even when it happened."
Less than a month later, on November 17, Laila died.
Murder Charges
In December 2015, the suspects were arrested for child cruelty and murder.
Jennifer Rosenaum's arrest warrant read that she kicked Laila "with such force the child's pancreas was transected. The child was believed to enter shock due to the blood loss resulting from the injury."
After the child's death, DFCS looked further into the supposed gymnastics incident. Staff at the gymnastics center said that Laila was never a member there. Millie was enrolled, but Laila was a spectator only and always sat on the side, watching her sister.
The trial is expected to last another week.
Jennifer Rosenbaum is facing numerous charges, including malice and felony murder, child cruelty, assault, and battery. Joseph Rosenbaum is facing a second-degree murder charge for leaving the child in his co-defendant's care while allegedly knowing she abused the child.
For the latest true crime and justice news, subscribe to the 'Crime Stories with Nancy Grace' podcast. Here is a related episode. 
Join Nancy Grace for her new online video series designed to help you protect what you love most – your children.
[Feature Photo: Laila Daniel/ Family Handout]
Sours: https://www.crimeonline.com/2019/07/26/expert-says-foster-mom-killed-tot-girl-on-accident-she-was-found-with-broken-bones-loop-shaped-bruising-ruptured-pancreas-court/
Foster Parents Found Guilty in Death of 2-Year-Old and Passing It Off as Choking Accident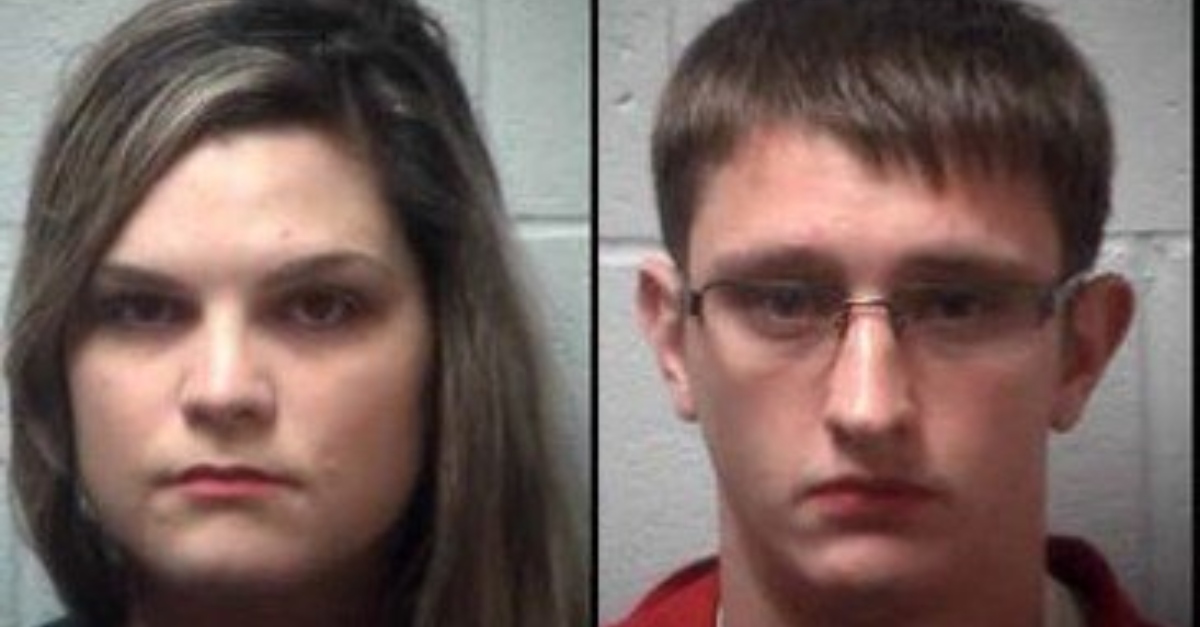 Georgia couple Jennifer and Joseph Rosenbaum were both convicted on Thursday in the murder of their 2-year-old foster daughter Laila Marie Daniel.
Prosecutors said that the victim died on November 17, 2015. The defendants tried to pass this off as her choking to death after eating chicken, but medical examiners determined she sustained blunt force trauma to her abdomen, authorities said. Even the girl's pancreas was separated in two pieces.
The defense insisted that this was an accident. Jennifer Rosenbaum allegedly said she performed the Heimlich maneuver to save Daniel.
Prosecutors from Cobb and Dekalb County took over the case because Jennifer Rosenbaum used to intern for the Henry County District Attorney's Office.
Emergency room nurse Sarah Bohannon testified that she examined the victim, and told the parents about Daniel's death. She claimed their behavior didn't fit what usually happened during family notifications. Usually, relatives want to know what happened, but the Rosenbaums were quiet.
Joseph didn't show a lot of emotion, while Jennifer rubbed her eyes saying she couldn't cry anymore, Bohannan testified. This seemed out of the ordinary, said the nurse. Family members are usually beside themselves when notified about a relative's death, especially if that relative is a child, she said.
"They're sobbing," she said. "They're crying. They can be angry at times. They're just distraught." She did acknowledge that people react differently during these situations.
Authorities said both Daniel and her sister were physically abused. Nurse Crystal Bales testified at trial that she found 15 bruises and two abrasions on the other girl's body after Laila's death.
Have a tip we should know? [email protected]
Sours: https://lawandcrime.com/live-trials/live-trials-current/jennifer-and-joseph-rosenbaum/foster-parents-found-guilty-in-death-of-2-year-old-and-passing-it-off-as-choking-accident/
Foster Parents Who Beat 2-Year-Old to Death Cry as They Are Found Guilty of Murder
On Thursday, a Georgia jury convicted a 30-year-old woman and her 29-year-old husband of murdering their 2-year-old foster daughter in 2015, according to multiple reports.
Jennifer and Joseph Rosenbaum were both facing 49 counts stemming from the death of Laila Daniel.
Get push notifications with news, features and more.
+ Follow
You'll get the latest updates on this topic in your browser notifications.
Jennifer Rosenbaum, a former military police officer and onetime law student at prestigious Emory University, was found not guilty of malice murder, but guilty of felony murder and several other charges, including aggravated assault and cruelty to children, reports WSB-TV.
Her husband, Joseph Rosenbaum, was also found guilty of numerous counts, including second-degree murder, aggravated assault and cruelty to children.
All told, they were found guilty on roughly 36 of the 49 charges initially filed against them, reports the Atlanta Journal-Constitution.
| Credit: Henry County Police Department
After their convictions, the ex-foster parents were sentenced: Jennifer, to life in prison plus 40 years in prison, and Joseph, to 50 year in prison, with 30 to serve and 10 years probation.
According to FOX 5, the couple wept as the verdict was delivered.
Laila died on Jennifer's 37th birthday.
RELATED: Emory University Law Student and Political Candidate Charged with Allegedly Murdering Foster Daughter
It was determined a blow to the stomach killed the child.
According to the arrest affidavit against the couple, Laila was starved and beaten for months leading up to her death. The affidavit states that Jennifer Rosenbaum struck Laila in the abdomen "with such force that [Laila's] pancreas was transected. The child was believed to enter shock due to blood loss resulting from the injury."
• Want to keep up with the latest crime coverage? Click here to get breaking crime news, ongoing trial coverage and details of intriguing unsolved cases in the True Crime Newsletter.
The affidavit also said that Laila had severe bruising throughout her body and that she was malnourished.
| Credit: Henry County Police Department
The defense countered that the Rosenbaums were trying to save Laila after she choked on a chicken nugget.
The couple's lawyers could not be reached for comment.
A prosecution spokesperson was also unavailable to speak about the case.
Sours: https://people.com/crime/foster-parents-beat-boy-2-death-found-guilty-murder/
Why Jennifer Rosenbaum Faked Friendship with Laila's Daniel's Mum
.
Rosenbaum update jennifer
.
Rosenbaum Trial Sentencing
.
You will also be interested:
.
1586
1587
1588
1589
1590