Share
Share
Share
Email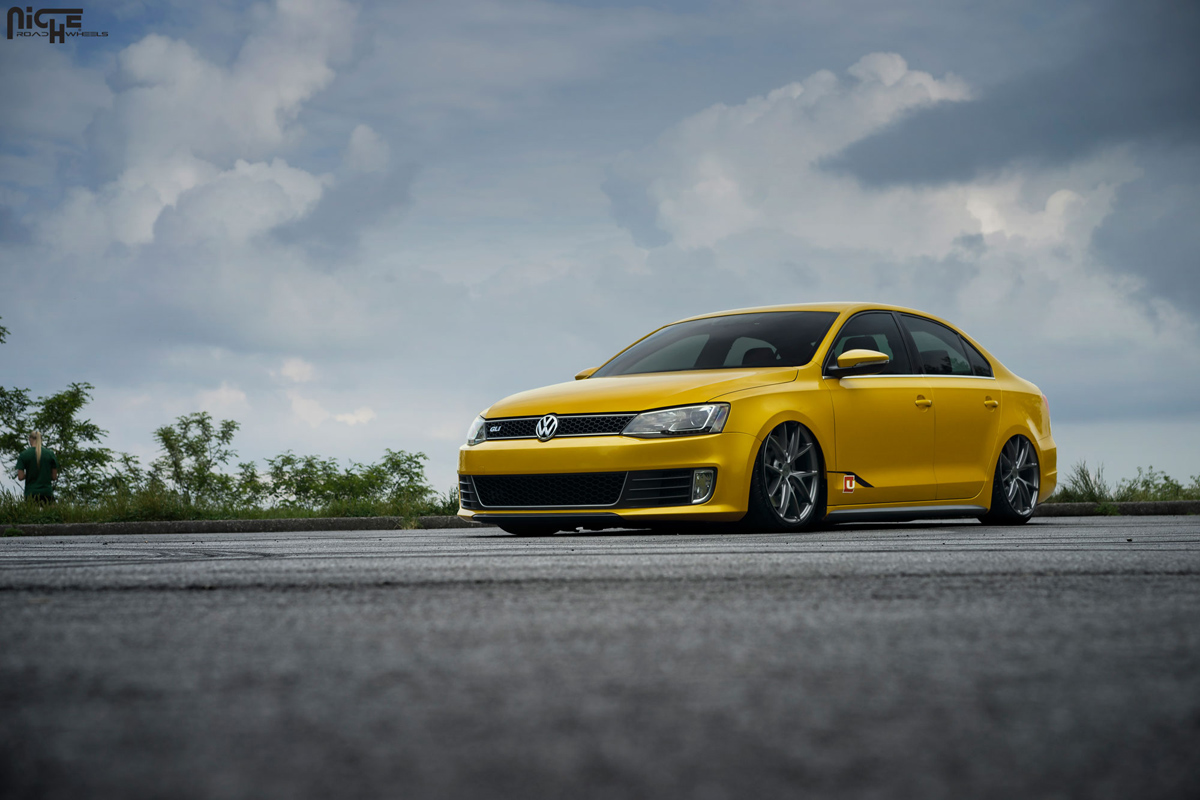 Dubbin' in South Florida.
There's a certain look that many Volkswagen enthusiasts aka "Dubbers" want to achieve the low, "euro" style. This MkVI Volkswagen Jetta GLI takes that to the next level with its slammed stance, Niche Wheels, tuned engine, and booming sound system. If you want presence and power, this "dub" has it in spades.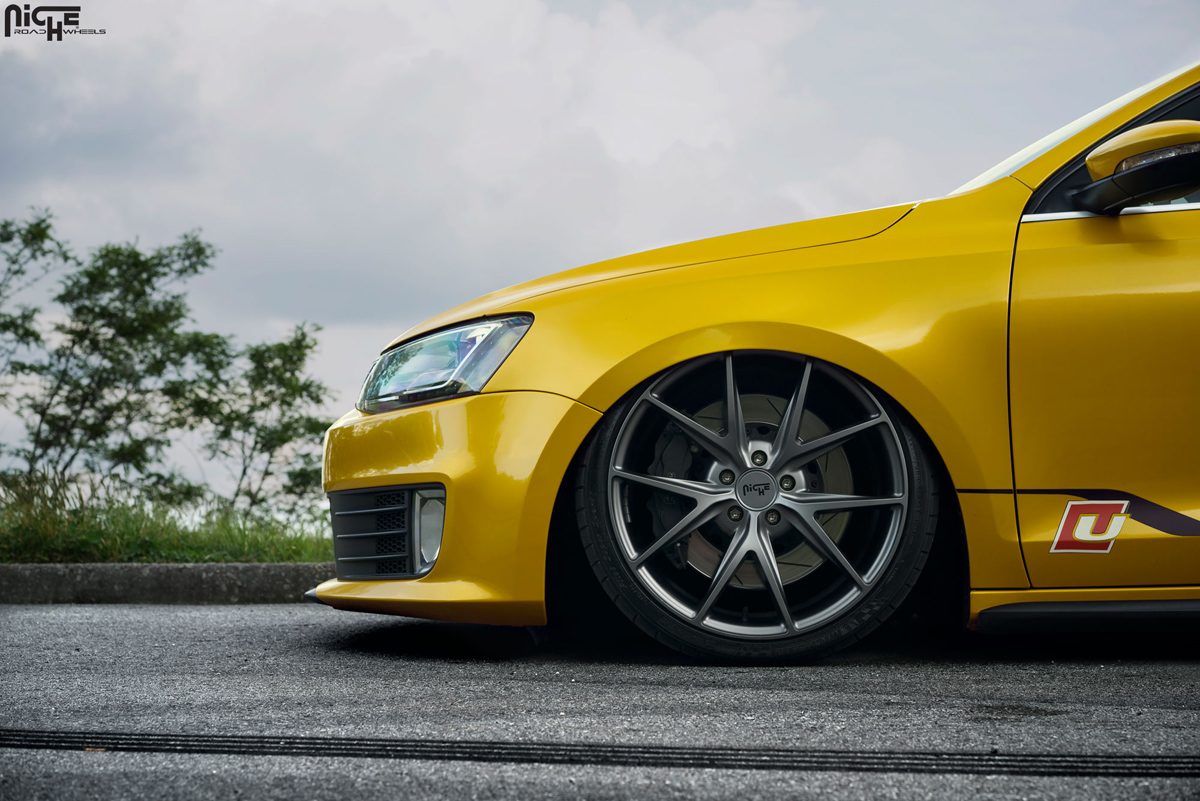 Under the hood of the Volkswagen Jetta GLI sits a potent 2.0-liter TSI turbocharged inline-four cylinder engine that isn't found in your standard, run-of-the-mill Jetta. The force-fed engine was given a new Unitronic KO4 turbocharger, new intake, and Turboback exhaust, and intercooler system. That's good enough to send power through the roof as they spin the front Niche Wheels.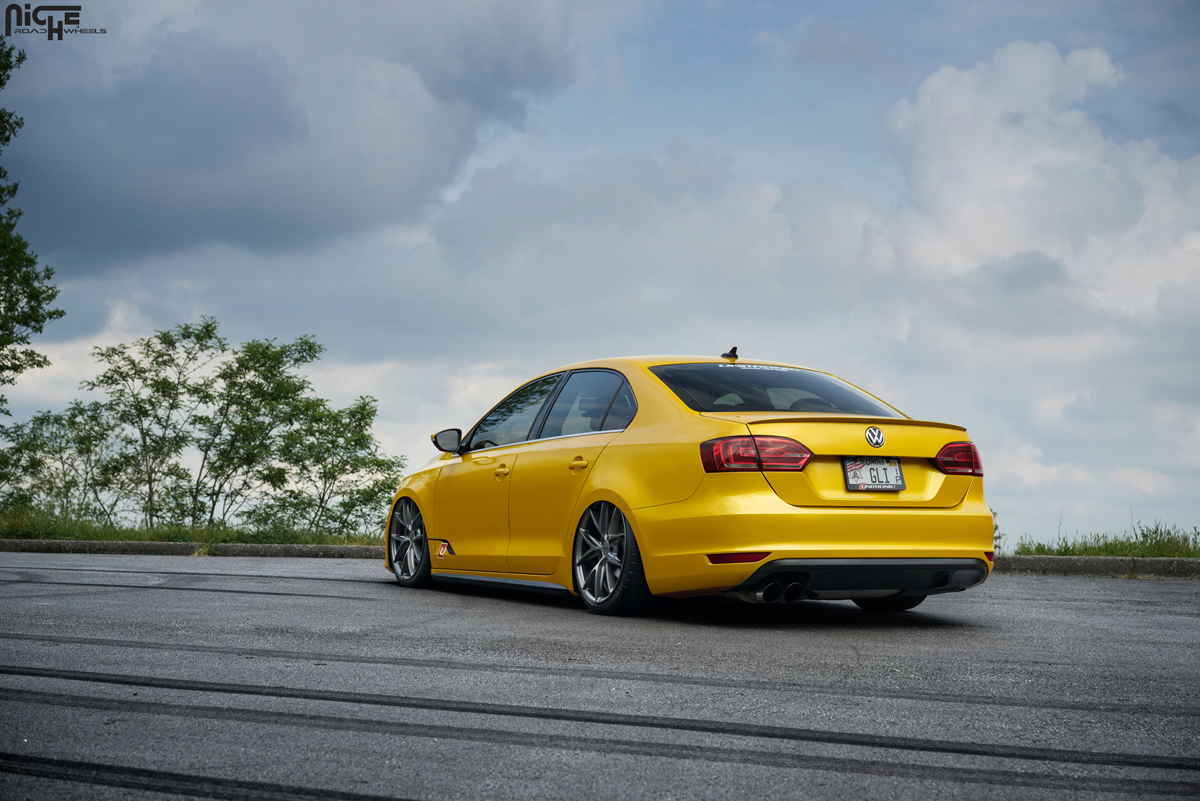 That was only part of the equation. The MkVI Jetta GLI was slammed so hard, onlookers scream "damn!" The centerpiece of the setup is a new Airlift Performance air suspension with Accuair E Level making sure things are riding right. The new Niche Wheels fit perfectly as they are tucked beneath the front and rear fenders whilst the underbody is barely touching the pavement.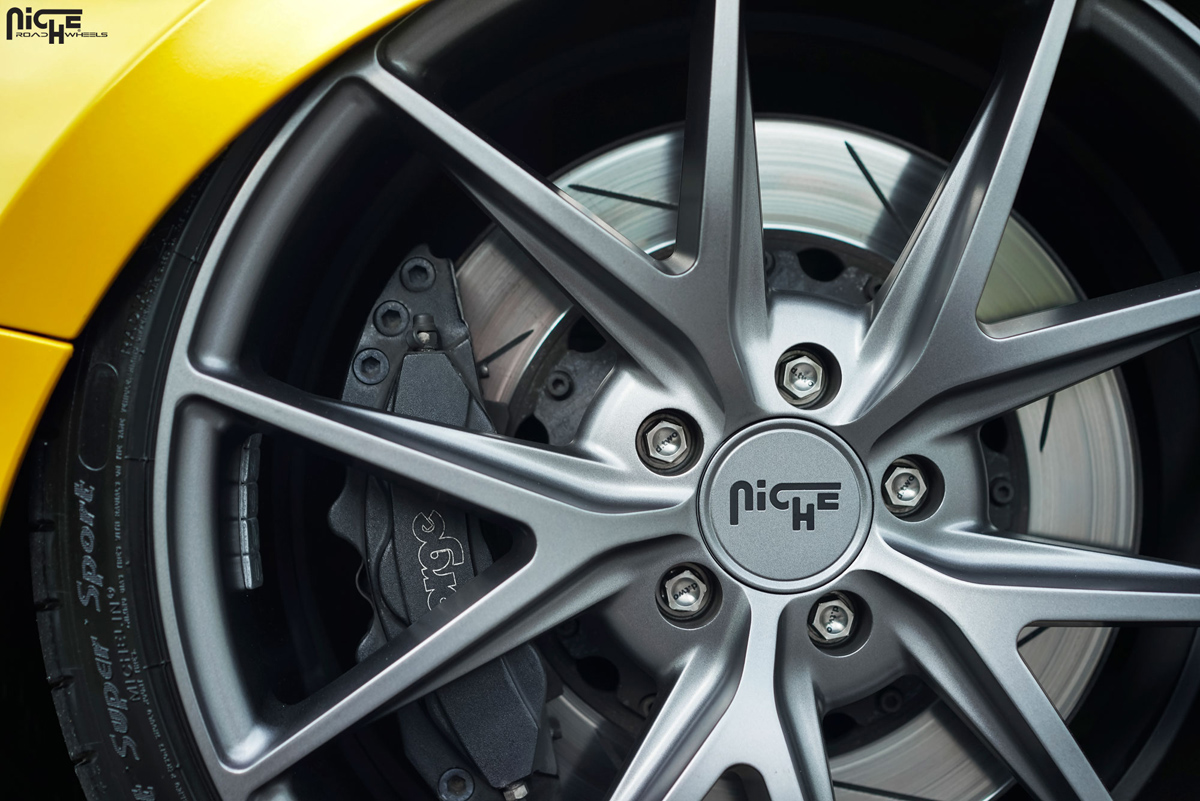 Next up was a new set of Niche Wheels. Here, the Niche Misano M116 were chosen for their Euro-look design that matches perfectly with the aftermarket German style. The Misano M116 wheels were each installed in a 19 x 8.5 front and rear setup with 225/35/19 Michelin Pilot Super Sports tires that are never short on grip. Visually, the Jetta GLI also boasts a new set of Euro Code bi-xenon headlights and other body work from Jorda Donnelly.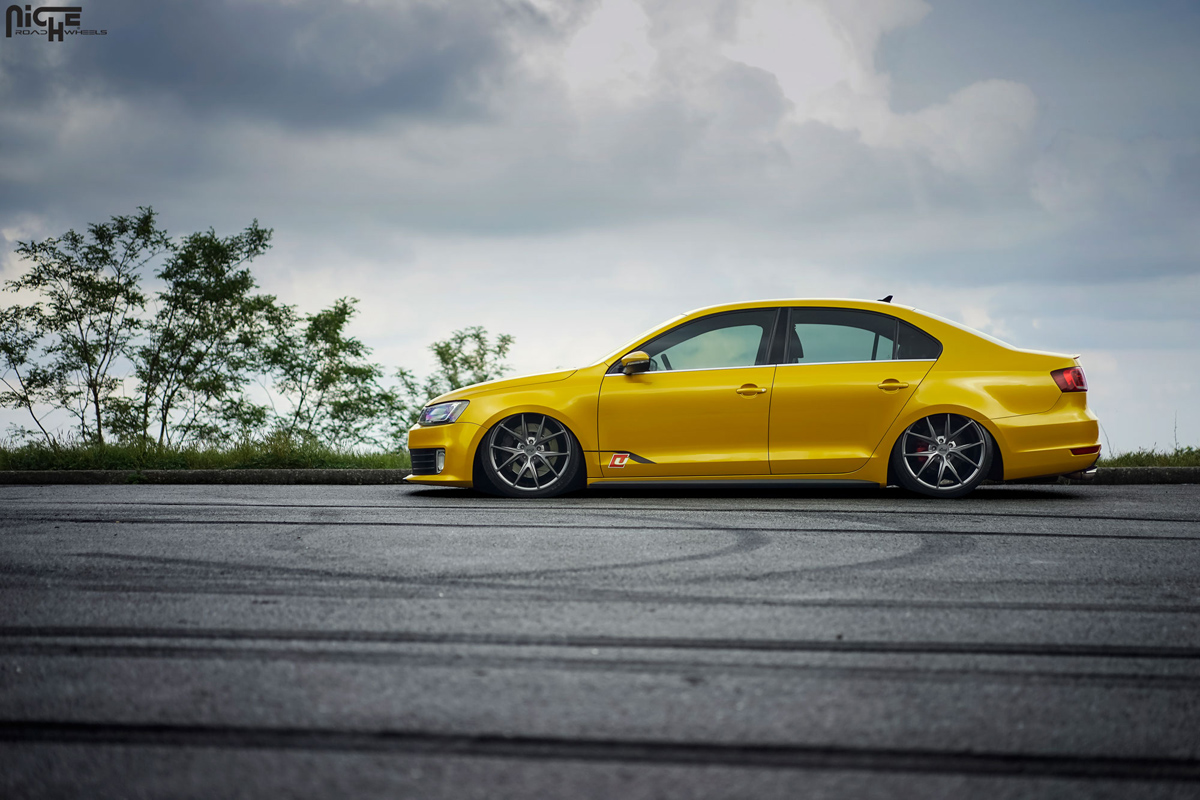 Inside, performance comes in the form of sound waves. The factory audio system was swapped out with JL Audio CR650 front and rear components, a Slash v2 300/3 amplifier, and a 13TW5 subwoofer that's powered up by a Flash v2 500/1 amplifier.
South Florida is the home of this GLI and you can bet that it will be rolling low, fast, and loud.
Fitment Specifications:
Vehicle: MkVI Volkswagen Jetta GLI
Wheels: Niche Misano M116
Wheel Size: 19 x 8.5
Tires: Michelin Pilot Super Sport
Tire Size: 225/35/19
Suspension: Airlift Performance air suspension with Accuair E Level
Source: Niche
Jetta, Jetta GLI, Niche Misano M116, Niche Wheels, Volkswagen, VW
Sours: https://www.wheelhero.com/blog/slammed-and-styling-with-this-vw-jetta-gli-with-niche-wheels/

---
VW Jetta VR6 MK3 1997 Slammed Stanced

Whats up, I have a super clean sequoia green Jetta. It is a VR6 with around 150k miles. Its rust free, dent free, scratch free. It was resprayed right before I got it. Iv only had it a few months and the car is literally flawless and runs immaculate, its just not for me.. It is slammed on coils and salad shooters as of now. It also has a nice magna flow exhaust, and some euro goodies. It is simple and clean. I want around $6,000 for it as it sits. If you have any questions about it or want to see pictures shoot me a text. Thanks!

513-612-0157

heres pic for now

[IMG][/IMG]

---

03-20-2013, 01:58 PM#2

Join Date

Aug 2012

Location

Ohio

Posts

7

Where do you live imma guess cincinnati ohio cuz the phone number

---

---

because some people like to bitch..
salad shooters brand new 205/40 falkens.
fk silverline coils.
magnaflow exhaust system.
shaved trunk.
fresh respray on the whole car.
og 4bar vento grill.
smoked ecodes.
smoked fogs/dummies/turns.
kenwood headunit with blue tooth.
rolled fenders and quarters.
clean on the inside.
extra clean on the outside.
all routine maintenance done.

anymore questions, text me. 513-612-0157

---
Posting Permissions
You may not post new threads
You may not post replies
You may not post attachments
You may not edit your posts
Forum Rules
Sours: https://stanceworks.com/forums/
VW/Audi MKV/VI Platform
Are you looking to go as low as possible with your VW for show season? Do you still need to use your car as daily A-to-B transportation? Do you value great ride and handling? If you want to combine all of those dreams with one simple solution, then look no further than Air Lift Performance!
We have stepped up the air suspension game with our new air strut with threaded body and bag-over-style.  Our monotube struts are 30-way damping adjustable, and allow you to change the ride quality from a plush, smooth ride to a stiff performance feel with the twist of the damping knob.  Since these struts have a threaded body, not only can you change the height of your vehicle with air pressure, but you can also change the position of the lower mount on the strut to fine-tune the height to your liking.
For the rear, we use double-bellow bags and brackets that simply bolt right onto the chassis—no cutting required!  When you couple our smooth-riding bags with our 30-way damping adjustable shocks, you get the kind of drop and improved handling you are looking for in your Volkswagen.
If you love carving up stretches of asphalt, fear not!  All Air Lift Performance Suspension kits are racetrack-tested, and tuned to ensure that your handling expectations are met.  We are seriously addicted to the thrill of a corner taken at high speed, and our suspensions are designed and built to feed that addiction.
Still thinking about using coilovers to go low? Coil-over suspension simply cannot compete with the versatility of air. With our infinitely adjustable ride height, no longer do you need to worry about driveway entrances or speed bumps as you enjoy your lowered car.  With the push of a button, you can adjust your ride height; no need for a wrench to change your car's look or usability.  Quit stressing about the punishing ride that is usually expected with conventional suspension choices—with Air Lift Performance, you can literally be riding on air.
Installation is simple with Air Lift Performance's detailed instruction manuals; if you have the skill to wire a stereo or swap suspension components, then you can complete the installation yourself, and have your car on the ground in a matter of hours. Only basic hand tools are necessary to complete the job. Keep in mind: if you are looking for the ultimate in low frame modifications, it will require fabrication skills.
As the leader in air suspension products for over 60 years, Air Lift is committed to delivering quality parts that last. To ensure longevity for the customer, the key suspension components have been tested on a durability rig for over one million cycles, which equates to 100,000 miles. With a one-year, unlimited-mileage warranty—not to mention the Air Lift reputation for great customer service and technical support—you can purchase this kit with peace of mind.  Ditch those coils and get to a new level of low!
Sours: https://www.airliftperformance.com/vehicle/volkswagen-jetta-2005-2014/
Slammed Volkswagen Jetta Mk3-Bckyrdgrg (4K)
2019 Volkswagen Jetta GLI Gets Slammed on Rotiform Wheels
The fresh 2019 model year version of the car takes the average-looking Jetta sedan to the next level. It's got skirts, spoilers, and a 2-liter turbo engine, all for a price that we'd dare to call affordable. Is it fair that Europe doesn't get to buy this? Probably not, but they also had the Scirocco R and Polo GTI which they were unwilling to share, so it works out in the end.

Being only a couple of months old, the Jetta GLI hasn't been taken to the next level yet. We're sure APR can already make Stage 3 modes to the TSI turbo goods, but we're more concerned with the styling of the thing. Somewhere on social media, we've spotted one guy who put Bentley wheels on the car, but couldn't track down the identity of the project, so this will just have to do.

It's a GLI that's been slammed on Rotiform wheels. These look like the BUC-M design, probably 20 inches wide with a nice cap in the middle to fool you into thinking it's got center locks. The California owner, @mrgreen1717, has made various other small mods to his beloved family sports sedan.

Besides the obvious air suspension system, he's also fitted red aftermarket paddles behind the steering wheel grab those DSG gears a little quicker and blacked out the VW badges. The 2-liter turbocharged engine is probably still stock. It's shared with the GTI, sits a little lower and offers 81 ponies more than the standard Jetta, not to mention 18 HPover the old GLI.

The GLI also gets its own suspension, since the stock sedan comes with a solid rear axle. Red brakes boldly stick out from behind the Rotiform wheels, and you can clearly make out the twin exhausts.
Sours: https://www.autoevolution.com/news/2019-volkswagen-jetta-gli-gets-slammed-on-rotiform-wheels-137683.html
Jetta slammed vw
The annual SEMA (Specialty Equipment Manufacturers Association) show in Las Vegas is an opportunity for car manufacturers to let their hair down and turn their otherwise mainstream offerings into crazy custom cars. The latest to get in on the fun is Volkswagen, with a series of three 2019 Jettas which it announced on Tuesday.
The first of the three custom Jettas comes from H&R Springs and is based on the 2019 R-Line model, featuring a lowered stance courtesy of H&R coilovers. It's also riding on 19-inch Rotiform wheels which offer room for upgraded color-matched front brake calipers and larger rotors. Finally, this Jetta sports an Air Design USA body kit.
The second car was fully built by Air Design USA and is based on an SEL-trim Jetta. Its modifications include 19-inch wheels by TSW, an Air Design USA body kit (natch) and a set of killer '80s-inspired side stripes. It's also schlepping around a roof-mounted bicycle with matching stripes.
Finally, the most extreme of the three cars is a Jetta S modified by well-known VW enthusiast Jamie Orr. The White Silver car is slammed with a set of KW Clubsport coilovers and sits on 20-inch Work wheels. The car uses six-piston Brembo brakes up front and Golf R brakes in the rear, with rotors from ECS Tuning. Finally, it's wearing a prototype 3D printed body kit, also from ECS Tuning.
The 2019 Jetta marks a significant change for VW's entry-level sedan, thanks to its shift to the more advanced MQB platform and the addition of a ton of great tech. It's not necessarily the most exciting thing in the world to look at in stock trim, but these SEMA builds prove that good bones can go a long way.
Sours: https://www.cnet.com/roadshow/news/2019-volkswagen-jetta-sema-customs/
My Bagged MK6 GLI - The Introduction
From Stock to Slammed: En|Ex MKVI Build
---
After selling the MKIV, we were looking for something newer to wrench on. When we found out that the 2014 Jetta SE was going to be equipped with Volkswagen's new 1.8T EA888 Gen 3 engine, we lost it.
We all know that "1.8Tees NEVAR LOSE", so we just had to have a new one.
*Queue the piggy banks*
We did the paperwork and brought the car home. Right out of the box, the little 170hp 1.8t actually really surprised us. It wasn't as much of a dog as it's 2.5l 5cyl predecessor, but it actually had enough pep to get out of it's own way. Merging onto the highway was a breeze, and the car's gears were extremely long, but very smooth. Regardless.. it wouldn't stay stock for long. 🙂
Now in order to meet Massachusetts blaazay state inspection laws, we had to run a front plate. When we put the order in for the Jetta, we ordered every option we wanted, (including that sleek and stylish factory Votex lip kit), and we strictly told them not to drill the front bumper for a plate. They agreed haphazardly and informed us that they would not be able to legally inspect the car.
"Not a problem", we said. "We'll be back next week to get an inspection".
So started the "modifications" of a vehicle that was in our possession for less than four hours. A quick Google search returned a handful of results. USMILLWORKS seemed to be the best bang for the buck. Their newest front plate tow hook mount came with a lightweight version of their most popular plate mount and it was also available with quick disconnect pins. This made it 10x easier to remove to easily wash and wax the car.
Of course while searching for the plate mount, we "stumbled" onto a list of other parts that could fit the car. Due to the engine being brand new, no software or engine parts were available at the time, so we searched for body modifications; something that would really match well with the factory Votex lip, skirts, rear spoiler, and rear diffuser. (P.S. The dealer had been selling MKVI Jettas for over 4 years at that point in time, not once had they ever ordered one with the factory Votex parts. We were amazed. Everyone at the dealership came out to check it out as we were leaving for the first time. It was quite a sight.)
We decided that the Hybrid grille would match the look we were going for pretty well. Luckily enough, we stumbled across a like new hybrid grille that had already been debadged and deblued. The price was right, and we pulled the trigger. We got it the day of inspection, so we brought it with us to the dealer. Without even looking at the installation instructions for the grille (which contains all of 4 screws), we asked the dealer to install it, which was more-so a joke, but they agreed to do it without hesitation.
Once again, everyone from the sales floor had to check it out… (Once again very odd. Most of us see modded cars daily and a grille certainly isn't a huge mod).
While the sales team was checking out the new grille (lol), we asked someone if we could order foglights for the car through the parts department. After doing some quick math (space math apparently), they came back with a price of $3120.00 USD installed. ☠☠☠
Trying to contain our laughter, we said we'd mull it over and return later with an answer. (We never did… haha)
We knew we could score the fogs for A LOT cheaper online, so we took to the classifieds again. We found OEM foglights that were in great condition. Only issue was the wiring harness was junk from the previous owner. With a few mouse clicks more, we had a brand new fog harness from Urotuning en-route.
We decided to install everything at once, and some precut yellow Lamin-x for the fogs was exactly what the car needed. In the picture above you can see we tried the light tint on the stock headlights as well, but ended up removing it rather quickly due to the "butterfly lashing" effect that it caused on the light output. (The lip vinyl wrap was also removed. We're currently trying to get Ghost Knit to make legit carbon fiber front lips for the Jetta). An auto function euro switch, paired with RFB's adapter harness, was installed to make the fogs function and give the car a bit of an update over the stock unit.
With the fogs installed, we were desperately searching for better light output from the stock headlights. Since we all know HID's in reflector housings are a BIG no-no, and after not falling in love with OEM projectors, we took to the aftermarket to see what we could find. Something that is pretty popular now, but was pretty new and uncommon at the time were MK7 Style Replica headlights. They were aggressive, stylish, and pretty unheard of in the VW community. (It's a bit of a different story now-a-days due to Helix finally cashing in on the same style lights). After searching for about a month, the only way to get them to the US was through Alibaba or eBay; both which were extremely expensive for Chinese built replicas. On the verge of giving up, we took to the classifieds again and we found out Chris at MotoMavericks had purchased a set previously but no longer wanted them for his GLI. We both conversed back and forth for a couple hours, and before you knew it we were en-route to Chris' shop in Connecticut to pick them up.
As you can see, the spontaneous trip was well worth it. These are by far our favorite style lights for the MKVI Jettas. To compliment the gorgeous housings, we decided on a RetroFitSource 35W Morimoto kit paired with 5500K bulbs. The bulbs shine pure white with just the right hint of blue. The CANBUS adapters and ballasts were integrated with the housings to provide a truly plug and play unit.
---
Tired of the car being sky high, we settled on modifying the suspension next. Having dealt with coilovers, cup kits, and air suspension before, we decided to go the air route again. E-Level was agreed upon for our build and the management was paired with Airlift Performance struts and rear bags.

A custom enclosure box was built for the trunk. Inside, the box houses a 5 gallon Specialty Suspensions seamless tank. A single SMC water trap sits between the tank and the VU4 Manifold. Dual Viair 444c's with their stealthy matte black finish sit on each wing of the trunk. All wiring and air lines are run under the custom 2″ false floor space.


The entire section has been carpeted since the last pictures were taken. The setup isn't meant to be beautiful like some of the show builds you see. Instead everything is housed inside of the box that can only be accessed from the rear seat. We also opted to run a coiled air hose as a drain, and to take advantage of having a small amount of compressed air in the trunk of the car. A typical shop blower tool is used to drain the tank. Other tools like a tire chuck and small air powered rotary tools are always in hand in the trunk incase of emergency.
The floor is actually probably our coolest part. While the door to the spare is in, the entire floor is locked down. Once the door is removed, the entire floor is free floating and can actually be lifted right out of the trunk. Pretty neat if you ask us.
Due to lack of room to mount anything in the MKVI, we wanted to run something other than big bulky gauges like you normally see. We decided on a Zaetech DigiGauge kit with the red LCD screen to match the interior lighting of the car.
The center console was the only option for the controller and gauge setup. Unfortunately, the only option to get everything to fit, called for the e-Level controller to be mounted sideways. We tried to reach out to Accuair to build a horizontal controller, but it's nowhere even near the pipeline, never mind in it. (We can wish though, right?). The OEM funk button will be hooked up to an electronic exhaust baffle controlled by button push, using OEM relays. Originally, it was going to be used as an emergency switch to cut power to the dual Viair 444c's in the trunk, but the Mass State Police, whom are very unfriendly with current day car mods, have forced us to reconsider. As we really enjoy daily driving the car, this OEM+ addition will be a very useful mod.
(Also dont mind the rough finish of the center console. We were in a rush to get everything bolted together for SoWo and everything will be finished soon).
---
Wheels wheels wheels. Everyone loves wheels in the car community. Wheels are at this point a status symbol, a real dick measuring contest. We decided to keep it semi-average and chose to run a set of 19×8.5 square Rotiform BLQs. We also found a deal too good to pass up on Nankang tires. They are 235/35/19s, and we were definitely weary about running a full sized tire with little to no stretch. Pair that with difficult offsets that plague the MKVI platform, and we were afraid of the results. Much to our surprise, it worked out perfectly.
The fenders were rolled to account for the wider than expected tires. If we decide to keep these wheels on the car next season, we've considered color matching the centercaps to the car.
---
To compliment the orange wheels, we hit the web again for some ideas. Funny enough, the Chinese make cheap replica "R" parts and the trim.. just happens.. to be orange… Hah. Perfect.
The parts were shipped rather quickly and when we got the parts, obviously we weren't totally impressed. The trim was decent quality, but the grilles themselves were cheap and bleh.

We carefully removed the orange trim pieces from the new grille and even MORE carefully removed the chrome trim from the OEM grille. As we started to line the trim up, wouldn't it figure, none of the tabs even remotely lined up. The orange trim wasn't actually as flimsy as it looked online, and actually required Dremel removal. A bit of thinly sliced 3M Automotive Double Sided Tape was placed in the channels of the OEM Hybrid, and lower grilles and the outcome was astounding.
With the suspension squared away, we moved to the interior. The interior of the SE is a bit on the cheap side, although not totally unfortunate. Our SE came with Titan Black leatherette seats, which are heated due to our sunroof package ordered from the factory. (I can't even begin to ask how those two things are remotely related, but VWoA thinks they are, so they're packaged together and we're not complaining). We grabbed our Jetta with the Connectivity package as well, so we were blessed with the RCD-510 with bluetooth capability from the factory. For the time being we decided to leave the head unit alone. We may upgrade to a NAV unit a bit later on, but for now our MDI cable and bluetooth keep us happy.
The trim. Oh boy the trim. It's plastic. It's supposed to resemble brushed aluminum. It doesn't work. Sorry Volkswagen.
We decided to try our hand at vinyl wrap. It came out decent at best.
We decided on gunmetal carbon fiber vinyl. The color is a bit darker and matches the Platinum Grey exterior a bit better. The carbon weave just makes it look… fast. 🙂 We're currently talking with oCarbon about getting a custom set done with real carbon fiber.
OEM under-seat Euro storage drawers were sourced from OEMPlus and installed on both drivers and passengers sides. If you haven't installed them already, do it now. They offer just the right amount of extra space to store all your useless shit you usually leave in your cupholders or center console. 😀
The center console area was a bit bare and the stock shift knob was already showing signs of wear. We decided on something a bit different as the heavy weight shift knob phase was just starting to percolate. Raceseng is (was at the time), a small company that specializes in race inspired products for various vehicles. After meeting them at Waterfest20, we came home and built a custom shift knob on their website using the Ashiko as our base. Gunmetal grey matched the trim's carbon vinyl wrap, and matched the exterior of the car. We also chose to take advantage of Raceseng's engraving options.
Weighing in at 735grams, it's a hell of a lot easier to bang gears now. 🙂
The rearview mirror is the same old design from MKIII days. VW just decided to make it two tone in the MKVI.
Oooooh. Woot. Naht.
Instead, we fitted an auto dimming/compass mirror from a 2003 Audi A6 that we sourced at the junker. All that it requires to work is a 12v switched power source and a ground. The auto dimming and compass are all built in and require no other wiring to make them functional.
It uses the same type of factory mount as the OEM manual mirror, and the red compass matches the existing interior lighting perfectly. The only real gripe we have about the entire install is the fact that it sits about two inches lower than the manual counterpart. If you have the resources to move your windshield mount or know someone who can, have them set it about an inch and a half higher up the windshield. We're going to be fixing that issue soon as our second windshield has more cracks in it after the trip home from SoWo. -_-
The stock steering wheel, another weak focal point of the factory interior, needed to be swapped. We sourced a few MKVI Golf R steering wheels through the classifieds, but each time we were beaten to the punch. We were about to buy new instead, but found a thread on vwVortex regarding a best photo contest. Using a photo that our friend Josh of Josh Brooks Photography took during our stay at SoWo, we entered the contest. The contest started out slow at first, and we thought it was a guaranteed win. Well without paying much attention, we were quickly in second a few days before the contest's conclusion. Reaching out to friends, family, and other enthusiasts in the community brought in just enough votes to win us a new Beetle R steering wheel.

GCP Tuning is a great OEM Supplier located in Puebla, Mexico. They overnighted the wheel to us, (Puebla -> Boston) and the very next day it was installed and looking great. The Piano Black trim matches the car well. The grey stitching of the steering wheel really sets it off, and it's a bit different from other installs we have seen in other MKVI Jettas. Now we're going to have to match the boot with some grey stitiching… Thanks a lot GCP Tuning… 😀
---
By this time, engine mods slowly became available for the new EA888 Gen 3 1.8T. Once again we took to the web for our best options. The big tuning companies were steadily working on a Stage 1 tune, so we looked for other bolt ons first; intakes and exhausts.
Everyone in the MKVI community seemed to be rocking the APR Carbonio intake. We wanted something a little different. According to all the websites, the VW-R intake was incompatible with the new 1.8T. As most of you know, an intake is nothing more than a filter on a stick; possibly including a canister or heatshield of some sort. So we did a bit of research to figure out why it wouldn't work on the 1.8T.
We were confused. All the necessary mounting points for the "Ram-Air function" style canister were present in our car, but there was one necessary point missing after closer inspection.
A tiny adapter ring to connect the two hose halves together. The adapter ring also was pretapped and plumbed to keep the runner flap solenoid happy. An APR breather filter was popped onto the SAI hose and "professionally" zip-tied in place. Most people were just buying these alongside APR's super wonderful Carbonio intake to get the same cookie cutter look and feel. We decided to give it a shot with the VW-R. It worked out beautifully.
Mated with the larger air openings of the hybrid grille, the car lets out a big "whoosh" upon gear changes. Although mainly for looks and sound, we did see lower RPM boost ranges. (Probably placebo effect).
Searching for software, we really tried to hold out for Uni's stage one tune. Thankfully we didn't wait for it, as it's STILL in development on their website. Too bad, really. We may still change in the future, but for now we decided to grab a Stage 1+ tune from APR while we were attending Waterfest20. It definitely woke the car up, absolutely night and day over the stock tune. The big issues that were plaguing APR at the time of purchase made us a bit hesitant, but we pulled the trigger anyways and we're glad that we did.
---
Exhaust. Loud and proud. Not proud of the prices of the big tuners "professional exhaust systems".  All of these exhausts include crazy high end technology and different features to make them the best over the competition. We definitely didn't cheap out on the suspension, but $1800 for some computer created, bent tubing, just sent our minds into a frenzy. We kept it local, as we have in the past with all of our cars. Lou's Custom Exhaust uses stainless parts where it counts, and keeps the cost down elsewhere by using plated aluminized steel. Not a bother to us whatsoever, as we are paying for.. pipe. All piping is custom bent right in front of you and welded into place. Not realizing the cat comes right off the turbo in these cars at time of install, we had the bottom of the stock downpipe cut off and a 3″ (technically) cat-back system installed from there back. A single 3″, non-resonated catback paired with a 3″ stainless Magnaflow muffler before the rear suspension was installed. The independent rear suspension was a bit of a challenge for Lou's, but being a custom exhaust shop they had the right tools and knowledge to squeeze the 3″ piping over the rear suspension and out the back to a nicely polished stainless tip.
(The video below is a much older segment before the suspension and tune was done. The exhaust was actually done before all of these mods, but to keep the flow of the build thread moving, we placed it at the bottom… doh!)
Ambient noises are a bit of an issue, but the exhaust lets out a nice gurgle while coasting in lower gears and a bit of a DSG-esque "fert" between gear shifts. We love it and at $400 for the entire setup, including a two year warranty, our wallet enjoyed it as well.
If you're a TL;DR kind of person, well then here you go:
Exterior

Factory installed Votex body kit (front, rear, skirts)
Factory installed Votex trunk spoiler
eBay roof spoiler
Hybrid Grille with custom orange trim
OEM lower grille with custom orange trim
35% Window Tint
Engine/Performance
APR Stage 1+ EA888 Gen3 Tune
Custom Magnaflow 3″ Catback exhaust

Magnaflow muffler
Unresonated
4″ dual polished stainless tip

VW-Racing Ram Air Intake

APR Gen 3 Adapter
APR SAI breather filter
Suspension
AirLift Performance Suspension

Fully Adjustable Collared Fronts w/ 30 Way Adjustable Dampening and Camber
Performance Double Bellow Rear Bags
OEM Shocks
Accuair e-Level Management
 Custom False Floor Trunk / Hidden Box

US 5 Gallon Specialty Suspension Seamless Air Tank
Zaetech DigiGauge Digital Gauges (Red)
SMC Water Trap
Accuair VU4 Manifold
Air Tool Setup w/ Coiled Hose For Draining / Filling Purposes

Airlift Endlinks
Lighting
MK7 Style Replica Headlights

Dual Projectors / LED DRL and Turn Signals
D2S Morimoto Elite HID kit

Morimoto XB35 Ballasts
D2S XB 5500K Bulbs
XB Igniters
CANBUS

OEM Foglights

Yellow Lamin-X Protective Film
UroTuning Foglight Harness

OEM Auto Function Euro Switch

RFB Adapter Harness With Light Sensor and Coming Home Function

Stock Tail Lights

Lamin-X Light Tint Film
LED Bulbs
Wheels/Tires
Rotiform BLQ

19×8.5″ Square
ET45
Centering Rings
Powder Coated Safety Orange
Locking Spline Lugs

Nankang NS-20
Interior
OEM Under Seat Euro Storage Drawers
Raceseng Ashiko Shift Knob

Gunmetal Grey
Shiftgate Engraving
Threadless Adapter Kit

OEM Audi A6 Auto Dimming / Compass Rearview Mirror
OEM Beetle R Steering Wheel
Gunmetal Carbon Fiber Vinyl Wrap Trim
OEM Monster Mats
OEM Cargo Blocks
VAGCOM Tweaks
Needle Sweep Celebration
Push Button Keyfob Windows/Sunroof Open Close
PTT Button As Mute Button
24 Hour Clock
Planned/In Progress/Future
CTS Turbo Downpipe
Stage 2+ Tune
becausebags e-Level Sensor Brackets
Illuminated Interior Handles

Red Leds On Hand. Color Matched To Interior Lighting

Funk Button Install

OEM Relays
Powered To Electronic Inline Exhaust Baffle

Unitronics/Neuspeed FMIC
Spulen Boost Pipes
Double Apex USB Charging Button
R36 Aluminum Pedals
P3 Gauge System
Stage 1 Engine/Trans/Torque Arm Mounts
Rhino Rack Vortex 2500 RS Black Roof Rack
Westfalia Hidden Euro Hitch
UNIBrace
Stabilia Sway Bars
Audi Style LED Taillights
Passenger Frame Notch
[fbcomments] Sours: https://www.enthusiastexchange.com/en-ex-mk6-bagged-build/
You will also like:
Driving A Slammed, Widebody Car Is More Fun Than I Expected
Back in December I wrote about buying a slammed and bagged Volkswagen Jetta TDI wagon that was more or less the antithesis of everything I normally love about cars. Since then, I've come to enjoy the experience of rolling around in a lowered car.
I'm a sucker for a diesel wagon. I just keep buyingthe things. This Volkswagen Jetta TDI is a bit different than the rest, owing to the fact that it's been widened and slammed to the ground. I don't normally go for cars like this, but it drew me in. Maybe it was the combination of the sweet Rotiform wheels, manual transmission and the car's blue hue that's close to the Golf R32.
One of this Jetta's standout modifications is its Airlift Performance 3P air suspension. Air suspension is way cooler than simply putting a car on lowering springs. The system has a wide range of height adjustment. Set the bags to about 50 PSI and the car has a normal ride height. Set them to 90 PSI and the car gets a bit of a lift.
I've yet to scrape on anything because the air suspension can essentially put the car on stilts if I need it to. And when I park, I can air out the bags to make the body completely sit on the tires:
Driving this thing is a little weird. The detachable steering wheel is about as big as you'd get in a go kart, which doesn't feel right in a road legal vehicle.
As readers noted in the previous post, these seats sort of suck, too. They're perfectly comfortable, but when the power kicks in the seatback feels like it could fold at any moment.
Turning this Jetta is fun if you think of it, and that tiny steering wheel, as an enlarged go kart. The car's widened stance makes it feel really stable and it's surprisingly nimble.
The soundtrack the wagon makes is also quite delightful. The turbo's whistle is clear and the exhaust note is low, but raspy.
The car was noted as having a boost pressure issue when I got it. Finding and solving that issue was actually pretty easy, as the problem was a boost hose no longer making a good connection.
It's funny how much pressure you can lose out of a loose coupling. The car hauls pretty well with good boost. Its Malone Tuning Stage 1.5 tune, which kicks the car's stock 100 horsepower up to 130 horsepower, makes it boogie a little better. It's far from fast, but the extra ponies give it some nice pep. I also can't argue with the car's fuel economy returns of 50 mpg.
I got to chat with the person that built this car and found out that it's a Florida car that made its way up north. That explains how clean it is. Most Jettas of this age in my area are rotting out while this one barely has surface rust.
Of course, cars like these have a number of drawbacks. The biggest one for me is the deletion of a number of features and safety equipment. The go kart-sized wheel means no airbag and no cruise control or a horn without further modification. The custom seats also mean that the heated seat dials do nothing.
The car's suspension components don't seem to be too happy with the giant two-inch spacers hanging off of the wheel hubs, either.
Oh, and those stretched tires in the back? They're terrible. They leak air and seemingly take on noticeable damage with every pothole. The tires also fail to protect the expensive wheels, which show curb and pothole damage. Those tires are getting put into the trash.
This car is a fun experiment into slammed car culture. It turns a bunch of heads and weirdly, is quite economical. I'm not sure if I will keep this wagon, as I'd like to have working airbags in a car like this; but it definitely changed my mind on slammed cars. I wanted to hate it, but it makes me laugh.
Sours: https://jalopnik.com/driving-a-slammed-widebody-car-is-more-fun-than-i-expe-1847238995
181
182
183
184
185