The Top 5 Stair-Assist Chairs
skip to main content
We asked stair lift dealers, companies, and customers about their experience with stair lifts.
Bruno Stairlifts offers five models of indoor stair lifts. Each is customizable with features like power swiveling or an automatic folding footrest. These slim, sturdy chairs can hold up to 400 pounds without taking up the whole staircase.
Bruno works through dealers in your area who can visit your home to conduct a free assessment. It's a friendly, family-owned company with customer-first policies.
From our expert advisor
Our expert advisor, Sally Russell, MN CMSRN, CNE helped guide us towards the best stair lifts. She provided insight on stair lift features like backup batteries, safety belts, food rests, and railing—which helped us find the stair lifts with all the best qualities.
 Info current as of 05/18/21. Offers and availability may vary by location and are subject to change.
How is buying a stair lift different from other mobility devices?
Unlike wheelchair ramps or power scooters, stair lifts involve more customization, labor, and installation after delivery. There's no one-size solution for the homes and people who use them.
So we weren't able to provide exact prices for many of the models we looked at. Factors like your stair width, stair curves (or lack of), length, and features you want in a chair can all affect the price and labor for installation.
1. Bruno stair lifts: Best overall
Bruno turns a complex purchase like a stair lift into a few easy decisions. The company has fewer options than others on our list, but each Bruno stair lift is customizable to suit your needs (or the needs of anyone using it).
Whether it's for curved or straight stairs, indoors or outdoors, a Bruno stairlift comes with power options and a slim profile. For example, the Bruno Elan (our favorite) folds into a mere 12 inches wide, leaving plenty of space on the stairs when it's not in use.
From our expert
​"One of the things to have the person thinking about getting [stair lifts] installed—how wide are the stairs and how much space do others need to go up and down the stairs."
"If the other people need more room than the chair allows them, it could put [those people] at risk of falling."
—Sally Russell
Be sure to measure your stairway before opting for a chair. Narrow stairways could be more difficult to use for those not in a stair lift if the machine takes up too much space.
Pros
Lifetime warranty on major components
Compact chairs save space
Batteries work after power outage
Cons
Only 3 chairs to choose from
No pricing on website
​Bruno stair lifts also come with their share of safety features to keep riders moving smoothly throughout their day. The Bruno Elan and Bruno Elite models each have a seat belt, easy armrest controls, and obstruction sensors to make the trip from floor to floor easy and safe.
These chairlifts charge their two 12-volt batteries at the top or bottom of the stairs (wherever they land) while at rest. So, in the event of a power outage in your home, the stair lift won't be compromised.
Like most stair lifts, Bruno requires professional installation. The process may depend on the dealers in your area who work with accessibility devices like these. The dealer we spoke to said prices and installation time vary with the complexity of your staircase.
But, according to Brent from Accessible Systems, Bruno has the "best warranty." After comparing Bruno to other top companies, we had to agree. Bruno was one of only a few with a lifetime warranty on major components like the gearbox, drivetrain, and rail. All parts are covered for two years after installation, and labor coverage warranty lasts 30 days after installation.
"They have the best warranty I've seen. They even have a warranty on the batteries, which is rare," said a rep from Accessible Systems when we asked about the company.
While prices will vary from customer to customer, stair lift cost for the Bruno Elan generally ranges from $3,000 to $5,000.
It has a weight capacity of 300 pounds and can swivel a full 90° to make entering and exiting easier. The seat is 15.75 inches wide and 16.75 inches deep, making it suitable for most riders while leaving enough room for others to use the stairs manually.
2. Handicare: Best custom options
With seven indoor stair lifts and multiple seat styles to choose from, Handicare is all about customization. The company offers five unique models of stair lifts for straight stairs, two for curved stairs, and two for outdoor stairs.
In addition to stair lifts, Handicare has a handful of other mobility and in-home care devices like ceiling lifts, slings, and floor lifts (to name a few).
Pros
Specialized seating for hip pain
Multiple upholstery colors to match your interior
Built-in backup battery for power outages
Cons
Special seat required for riders over 255 lbs.
Full customization options not available for every chair
Handicare has straight stair lifts but more customizable seat options for curved staircases. Both have the option of a Smart or Perch seat. Both the Smart and Perch seats are easy to clean, water resistant, and come in six color options.
Smart seats: The Smart seats from Handicare can adjust their height and width to accommodate different riders. You can also upgrade these seats to include a power swivel for entering and exiting the chair more easily. The Smart seats tend to work better for larger riders who may want to sit down fully.
Perch seats: The Perch seats from Handicare are best for those with pain or limited mobility in their hips and knees. As the name suggests, Perch seats don't require riders to sit down completely. The shallow seat puts riders at a higher position, making the ride smoother and more comfortable. These seats are also better for narrow staircases because the seat is so shallow.
Handicare also has additional seat styles for curved staircases. In our research, we found that these curved stairs tend to have fewer options for chairs and styles. It was good to see Handicare providing more options for those with more complex stairs. The downside is, stair lifts for curved staircases tend to be more expensive and labor intensive.
In addition to the Smart and Perch seats, the curved stair lifts from Handicare come with options for the Style or Simplicity seats.
Style seat: The Style seat comes in three different color options and optional power features. You can add an automatic folding footrest, automatic swiveling, or both to your new chair.
Simplicity seat: The name says it all. The Simplicity swivel seat doesn't come with color or power options. It's a budget-friendly option for those with curved stairs who don't need as many adjustments or features.
Our pick: Handicare 2000 Curved
Handicare has many seat options available for homes with a curved staircase. Of those, the 2000 Curved model is our favorite. This curved stair lift comes with more customization options down to the color of rails you use.
However, it does have a lower weight capacity than many chairs we encountered. The standard chair can handle up to 255 pounds. The heavy duty option can carry up to 302 pounds.
Because they're expensive and complicated to install, curved stair lifts don't generally come with a ton of custom options, so we chose the 2000 Curved from Handicare because it gives a little more personalization for such a big purchase.
3. Acorn: Best customer service
Acorn earns our spot for best customer service for several reasons. From reviews of friendly technicians arriving right on time to the company's policies for protecting customers from COVID-19, we were impressed with Acorn's dedication to its clients.
Pros
Offers technician check-in after one year
4+ star rating from more than 300 reviews
Virtual surveys and other COVID-19 precautions
Cons
Charges for extended warranty and check-ins after one year
Only 3 chairs to choose from
The company and its technicians have earned glowing reviews on Better Business Bureau for timely service and knowledgeable help. At the time of publication (April 2021), Acorn has earned over 4 stars from more than 300 happy customers.
Acorn also provides a check-in one year after installation to see how you're enjoying your stair lift and provide complimentary maintenance if needed. Unfortunately, Acorn doesn't provide a lifetime warranty like Handicare or Bruno. But you can extend your warranty beyond the first year and continue your annual repair services an extra fee.
Sours: https://www.safewise.com/blog/the-top-5-stair-assist-chairs/
An Age UK Stairlift provides real value. Not only do Handicare, provide high quality and reliable stairlifts they also provide a no-quibble price promise. If you find a similar product with equivalent specification and service levels at a lower price, let Handicare know and they will happily match it. Please note however that they can only match prices obtained following a site survey conducted by a reputable company, not those based on a verbal indication of price given by another company without surveying the staircase concerned.
For your additional reassurance, the Stairlift Price Promise is valid up until the day that your stairlift is installed.
Why not find out more about the benefits that a Handicare Age UK Stairlift can provide, by calling the customer service team on 0800 566 8742.
14 day money back guarantee
If once your stairlift is installed you decide it is not suitable for your purposes, please let Handicare know within 14 days of the installation date. They may then, at their discretion, carry out additional works or alterations to address the issues raised. If after completion of such works you are not satisfied and you still wish to return your stairlift you should then confirm your decision to Handicare in writing. On receipt of such notice they will arrange a full refund and make arrangements to remove the stairlift during normal working hours. Please note, however, that they cannot guarantee fully to make good all works to your property carried out during the installation process and that this offer does not apply in the event of bereavement when Handicare will not buy back goods from you. This offer does not affect your statutory rights.
2 year peace of mind warranty
With a Handicare Age UK Stairlift, there's no need to worry about repair costs; Handicare provide a comprehensive 2 year warranty as standard.
Sours: https://www.ageuk.org.uk/products/mobility-and-independence-at-home/stairlifts/
If an occupational therapist (OT) has assessed your needs and recommended a stairlift, the next step is to find out how much one will cost. This will involve a feasibility study by a stairlift company.
To find out about recommended stairlift companies near your home, consult your OT, or an expert from a equipment demonstration centre or disabled living centre, who will be able to give you some options. 
Alternatively, visit the Disabled Living Foundation's (DLF) Living Made Easy website, which has details of stairlift models from national stairlift manufacturers and suppliers, many of whom are members of the British Healthcare Trades Association (BHTA). 
The latter can be reassuring, as it means that the company has to follow a code of practice set by the BHTA and the Office of Fair Trading (OFT).
Avoid the hard-sell and higher prices. Find out which firms have been voted thebest and worst stairlift brandsin our independent customer survey, andwhere to buy your stairlift.
Stairlift prices
Our 2020 survey of stairlift owners revealed that the average price paid for a new stairlift was £3,284
Although stairlifts are expensive items, the cost of buying and installing one has remained fairly stable for years. 
A simple, straight stairlift can be bought for around £2,000.
Prices can jump to as much as £7,000 or more if you have curved or especially long stairs, or need additional features.
Our 2020 survey of stairlift owners revealed that the average price paid for a new stairlift was £3,284. The average price paid for a new straight stairlift was £2,845; this increases to an average £4,217 for a curved stairlift.
As a general rule, every corner in your staircase will double the initial price. If you have a staircase formed of two straight flights of stairs with a landing area in between, it may be cheaper to buy two straight stairlifts instead of one curved one. You would need to be mobile enough to move from one lift to the other, though.
Because curved stairlifts are made to measure, a deposit is normally required. This isn't usually necessary for straight stairlifts, though. 
Prices and quality vary between manufacturers and by type of stairlift. In our stairlift brand reviews, we've included average prices for brand new and second-hand Acorn, Handicare and Stannah stairlifts, as well as smaller brands such as Bespoke, MediTek and Thyssenkrup.
Where to see stairlifts before you buy
If you want to see a range of stairlifts, there are a few options.
Some companies have showrooms at which you can see and try different models.
Alternatively, you could find your nearest equipment demonstration centre. These are dedicated places where you can try out mobility aids in a non-sales environment, which can feel more relaxed. There are a number across the UK, and you can find a list on the Disabled Living Foundation's Living Made Easy website.
You could also ask your local council which brands it uses. If you have an occupational therapist, ask them or contact the occupational therapy department of your local council.
If you know someone who owns a stairlift, ask to try theirs, and talk to them about the pros and cons. There's nothing like sitting on a stairlift and giving it a go for seeing whether it might suit you.
But remember that your requirements may be very different – for example, if theirs is a straight stairlift, it's likely to have been simpler and cheaper to install than a bespoke option for curved stairs.
What to consider before getting your stairlift quotes
Be sure that a stairlift is the right option for you and your needs, both now and in the foreseeable future: head to our guide to should you get a stairlift?
Ask whether the company is a member of the British Healthcare Trades Association (BHTA). This means it will have signed up to its code of practice, which includes ethical selling.
All stairlifts must be CE-marked and comply with British Standard BS5776.
Getting a quote for a stairlift
For a stairlift company to be able to give you an accurate quote, a surveyor will usually need to visit your home to carry out a feasibility study. This should be free of charge. 
They'll determine, among other things, whether your stairs are wide enough for the stairlift you want, and, for seated stairlifts, wide enough to allow room for your knees when seated.
The visit is your chance to find out about the different models of stairlift the company offers. But it's not just about your staircase, the assessor will need to find out about you too.
This will allow them to identify the features that will suit your individual needs. 
It's a good idea to get quotes from two or three different companies, including one manufacturer and one supplier, so you can compare prices and make an informed decision. 
Get the best from your visit
If possible, try to arrange for your OT to be present during the feasibility study. If this isn't possible, you should at least make sure that your OT has given you clear written instructions about which stairlift features are important for you – for instance, whether you need one that is seated or a standing and, if seated, whether it needs to be height adjustable.
Once the study has been completed, the company representative will give you a written quote, either there and then, or in the following days.
What to expect:
The salesperson should thoroughly assess your needs, including:
Whether you'll be able to safely get on and off a seated stairlift, and whether you'll be able to use the control button and the footrest
If the stairlift will have a retractable seatbelt, that you have the strength and finger movement to secure it
The dimensions of your stairs. Whether they are wide enough to accommodate a stairlift and whether there are there bends that necessitate a curved staircase, or obstructions that will mean the stairlift need to automatically fold back
If any extra home-improvement work, such as an extra plug point, is needed.
Larger companies may have computer software to show you what your customised stairlift will look like on your own stairs.
Questions to ask at your stairlift consultation
Am I physically able to get on and off the stairlift (taking into account any disabilities), and travel on it comfortably and safely?
What type of stairlift would best meet my needs? For example, if I have arthritic knees, will I be comfortable travelling seated or do I need a perching or standing stairlift?
Is the suggested stairlift suitable for someone of my height and weight (for example, is the seat deep enough to comfortably accommodate long legs)?
Can I safely use features such as the controls and seatbelt, or do I need adaptations (for example, a joystick because I can't keep the control button pressed down)?
Can my staircase accommodate the cheapest straight stairlift or will I need a more expensive curved/ bespoke option?
How will the stairlift work in my home environment? For example, will the track need to get around a doorway or radiator at the bottom of the stairs?
Are my stairs wide enough for both the stairlift and for others in the house to safely use the stairs, if needed?
After-sales service – how does the the company deal with breakdowns, including response times? How much will be charged for call-outs, such as annual servicing (usually recommended by manufacturers) and repairs?
Does the company have a 'buy back' policy' (and if so, how does it compare to those of other companies)?
You can also find out more about what the big brands offer in our guide to the best stairlift brands.
A quote should include:
The cost of the stairlift
Cost of any bespoke options, such as choice of seat upholstery
Installation costs.
Check with the salesperson if you're eligible for a VAT exemption because of disability.
A good company will be able to give you information on the length of the stairlift's warranty, too. Most have a one-year minimum warranty, but some offer two-year and extended warranties.
What's included in your stairlift quote?
Make sure the quotes you're getting are like for like. Think about the following:
Is installation included?
Does it include any extra work, such as installing an extra power point or carpentry work?
Check there are no hidden extras that will have to be paid for later.
What is included in the warranty - for example, a service, replacement parts or repairs? 
What aftercare is available? Will the stairlift be maintained by engineers directly employed by the company? Will they be on call and able to visit whenever needed, day or night?
Stairlift installation: how long does it take?
Stairlifts from brands such as Acorn and Stannah can take between one and 14 days to be installed. Council or housing association installation is likely to take longer.
We asked the bigger manufacturers how long you can expect to wait for your stairlift to be installed. Acorn said that an assessment visit is generally scheduled the same day, then it's around one to five working days until installation.
Stannah said that an assessment visit generally takes up to two days to arrange, and it's three to 10 days until a straight stairlift is installed, or 10 to 14 days for a curved one.
Age UK said that an assessment visit usually happens the same or the next day as requested, with two to five days to install a straight stairlift, or seven to 14 days for a curved one.
This is likely to be significantly quicker than council or housing association installation.
If you think you might be eligible for financial assistance towards a stairlift, check out our guidance on council-provided stairlifts and financing home alterations.
VAT exemption for stairlifts
If you are registered disabled or have a chronic health condition, you can claim VAT exemption when buying a stairlift.
Visit the HMRC website for further details.
Make sure you're clear about whether the quote you're getting includes VAT, so you can compare quotes between companies.
Stairlift running costs
Stairlifts are economical items to run. Many manufacturers claim that they cost much less, in terms of electricity charges, than using a kettle.
Stairlift maintenance
Stairlifts should be inspected by a qualified stairlift engineer every six months, and serviced annually – especially as most people with stairlifts are dependent on them to give them access to the whole house.
Your stairlift should come with a minimum one-year warranty; some companies offer two years. Most stairlift companies also offer a 24-hour no-fees call-out service for the first year, which covers any spare parts that might be needed.
After the first year, you'll need to either renew your warranty, or pay an engineer by the hour for any required servicing.
Most stairlift companies offer extended warranties or maintenance contracts when you purchase a stairlift. Not all of these cover the battery, however.
Find out how much call-outs and repairs tend to cost for different brands in our guide to the best stairlift brands.
Finding the best stairlift company
A company should not put any pressure on you to purchase one of its stairlifts. Be especially wary of companies with pushy salespeople, or of those that flaunt 'special offers'. Our stairlift brand reviews shows which brands represent the best value for money, quality, reliability and more – and the ones which avoid using pressure selling tactics.
Head to our guide to where to buy your stairlift, as rated by stairlift owners.
Installing a stairlift
Stairlifts can normally be installed in less than a day. And, as most stairlift rails fit to the stairs rather than the wall, no structural alterations to your home should be needed.
If you're ready to have your stairlift installed you can find a reliable local trader with Which? Trusted Traders. You don't have to be a Which? member to use our Which? Trusted Traders service and all of our traders have been fully vetted by our ex Trading Standards assessors. Use our search tool below to find a reliable trader in your area.
Buying a second-hand stairlift
You can save some money by buying a second-hand stairlift. The average cost of a second-hand stairlift is £2,802, compared with £3,284 for a brand-new one.
Many manufacturers and suppliers sell reconditioned stairlifts, which can be much cheaper than new ones. These are usually straight stairlifts that have been removed from one property and can be fixed to another staircase in a different home. Made-to-measure curved staircases are not normally available second-hand.
If you're considering a second-hand stairlift ask the same sort of questions as you would for a second-hand car. For example, the stairlift's service history, who has serviced it and the length of any warranty included.
Handicare and Stannah told us that only approved or authorised dealers should be selling reconditioned stairlifts. Do check, as if you buy a reconditioned stairlift elsewhere, it won't come with assurances such as a one-year warranty, guarantee and a full service history.
The average cost of a second-hand stairlift is £2,802, compared with £3,284 for a brand new one.
When we surveyed stairlift owners in 2020, we found that the average price paid for a second-hand stairlift is £2,802, compared with £3,501 for a brand-new one.
Hiring a stairlift
Hiring a stairlift might be a better option if you know you will only need it for a set period of time, such as if you're recovering from an accident or operation. Some suppliers have a minimum term for stairlift hire, often around three months.
Installation costs when hiring (which normally also includes removal at the end) range from £350 to more than £1,000, while monthly rental fees range from £10 for a straight stairlift from a local supplier to as much as £150 a month for a complicated curved stairlift from a national manufacturer.
Financial assistance for stairlifts
It's worth looking into whether you might be eligible for a stairlift provided or funded by the council.
If you need to buy a stairlift because you have a chronic illness, or other form of disability, and intend to live in your current property for the next five years, you may be eligible for a disabled facilities grant to help with the cost.
Social services or your local environmental heath department may be able to offer disabled facilities grants of up to £30,000 to eligible people. They also sometimes offer low-cost loans. However, your income and savings have to be assessed first, and referrals from an OT are normally required.
To find out more, see our guide to getting a stairlift from the council. 
You can also visit our Later Life Care website guide to financing home alterations.
Sours: https://www.which.co.uk/reviews/stairlifts/article/how-to-buy-the-best-stairlift/buying-and-installing-a-stairlift-aaH7a1c14jQ0
Mobile Stair Lift
The Best Stairlifts of 2021
Supporting ourselves and the people we care about becomes more involved as the golden years approach, but with mobility aids in the home, health and wellness issues can be far more manageable. Purchasing a stairlift is often highly beneficial for people who have prosthetic joints, significantly reduced mobility or a disability that makes navigating a multi-level home cumbersome. Still, for so many reasons, buying a stairlift can be an onerous process.

No matter what, it will be a significant investment. Then after shuffling money around and planning a budget to make room for the purchase, buyers are faced with a period of waiting, fine print perusal, and the administrative headaches that can come with hiring contractors to install a stairlift.

However, if you spend a bit of time researching what you need, then do some comparison shopping, you can end up with a quality stairlift that allows you to stay in your home, without the hassle and danger of moving up and down the stairs unaided.
We have compiled a list of the best stairlift manufacturers for 2021, and we've included a buying guide to help you navigate the purchase process. The companies listed here stand by their engineering and design by offering strong warranties and industry-leading customer service. Unlike big-box or generic stairlift brands, all of the manufacturers on our list sell their products either directly to consumers or through a brand-certified network of dealers and installation teams tasked with upholding the manufacturer's standards of quality.
Contributing Expert
Christina Drumm Boyd, BHS, CSA, GCM
Christina is a Certified Senior Advisor (CSA) and Geriatric Care Manager (GCM) who is passionate about seniors and their families. For decades, Christina has worked at all levels of the senior health care industry, serving as director of admissions and marketing for assisted living, nursing homes, memory care, and independent living communities. She also served as a support group facilitator for the Alzheimer's Association. Her educational training is in Human Services Counseling.

Before taking her elder care services nationwide through Virtual Consultations, Christina Drumm-Boyd founded Care Connect of Hampton Roads (CCHR) in Virginia in 2006. More than a decade later, CCHR continues to grow in size and popularity as it provides comprehensive guidance and access to quality elder care services.

The Best Stairlift Companies
| | | | | |
| --- | --- | --- | --- | --- |
| | Stairlift Types Available | Straight Stairlifts Base Price Range* | Curved Stairlifts Base Price Range* | Best Overall Feature |
| AmeriGlide Stairlifts | Straight, Curved, Outdoor | $1,995 to $3,995+ | $7,495- 8,995+ | Best for Competitive Pricing |
| Harmar Stairlifts | Straight, Curved, Outdoor | $2,995 to $5,995 | $11,700+ | Best for Larger People |
| Bruno Independent Living Aids | Straight, Curved, Outdoor | $3,200 to $5,700 | $10,000-$10,500 | Best Overall Quality |
| Handicare | Straight, Curved, Outdoor | $2,000 to $3,100+ | $3,100-12,000 | Best for Accessibility Features |
| Stannah Stairlifts | Straight, Curved, Outdoor | Prices available with in-home consultation | Prices available with in-home consultation | Best for Custom Options |
| Acorn Stairlifts | Straight, Curved, Outdoor | Prices available with in-home consultation | Prices available with in-home consultation | Best for Fast Delivery and Installation |
| Savaria | Straight, Curved, Outdoor | Prices available with in-home consultation | Prices available with in-home consultation | Best Standard Package |
*For all stairlift companies, installation fees and the costs of customization cannot always be accurately assessed without a lengthy consultation, so these prices should be taken merely as a starting point. Seniors should note that the range of curved rail prices from Handicare is particularly difficult to pin down without a consultation.

AmeriGlide Stairlifts Review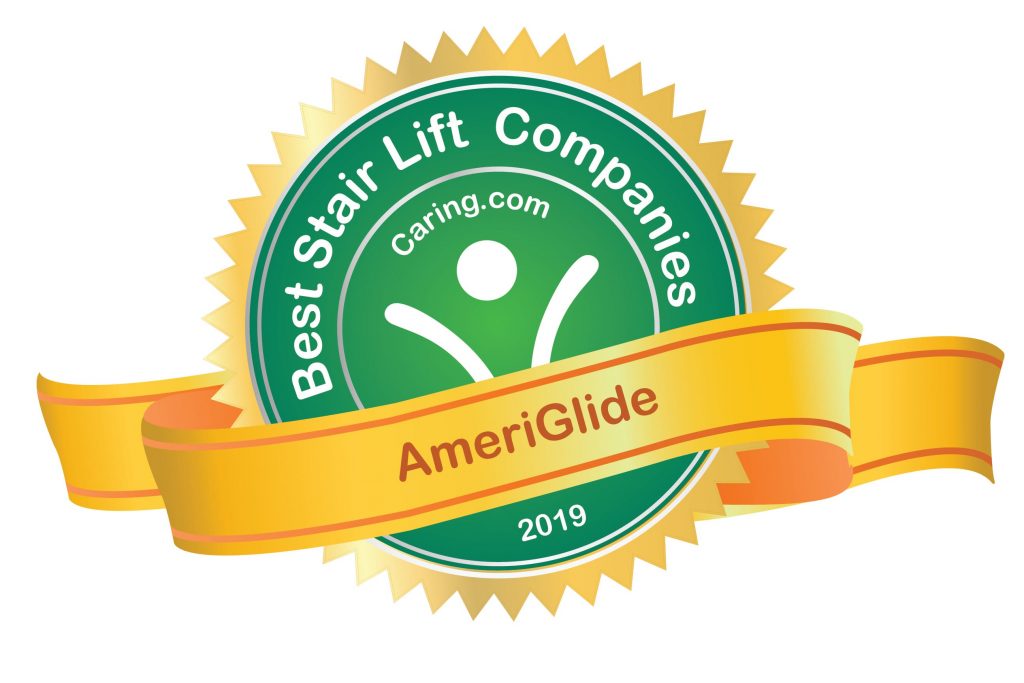 Best for Competitive Pricing
AmeriGlide Stairlifts is an American manufacturer and second-hand dealer offering one of the largest selections of stairlifts in the country, which means they have options to fit any budget. Its stairlifts are available for sale directly from the company in new, certified pre-owned, or factory reconditioned varieties and price ranges, and may be used in either in-home or commercial settings.

Unlike stairlifts bought from big-box stores, AmeriGlide products are sold tax-free. But what makes AmeriGlide's prices especially competitive is the fact that they may be the only stairlift manufacturer that allows buyers to install their own lifts or hire their choice of installation specialist. Buyers who have carpentry or machine installation experience can save up to $1,025 by opting to shoulder the risk of handling their own AmeriGlide stairlift install.

Rubex AC
Rave 2
Rave Curved HD
Platinum Curved
Horizon Plus
Horizon Plus Outdoor
Outdoor Deluxe
Estimated Costs*
$1,995+



$2,090+
$8,995+
$7,495+*
$2,000+


$2,568+

$3,195+

Stairlift Rail Type
Straight
Straight
Curved
Curved
Straight
Straight
Straight
Setting
Indoor
Indoor
Indoor/ Outdoor
Indoor
Indoor
Outdoor
Outdoor
Maximum Weight Capacity
350 pounds
350 pounds
350 pounds
352 pounds
308 pounds
308 pounds
350 pounds
Key Feature
Economy option built for easy installation
Ultra-narrow design for small spaces
Can be used for indoor or outdoor curving stairs
Fits multi-tiered and more complicated stairs
Upgraded seat with Ergo option and color choices
Outdoor capabilities and numerous upgrades
Built for larger people
Upholstery Options
Vinyl
Vinyl
Vinyl
Pleather
Pleather
Vinyl
Weather-resistant vinyl
Seat Color Options
Beige
Taupe
Beige, black, or custom colors in some cases
Blue, red or beige
Blue, grey, red or beige

Blue, grey, red or beige

Light almond
Rail Color Options
White
white
Beige or black
White
White
White
White
*The prices above do NOT include installation fees unless they are marked by an asterisk. None of the prices include shipping, which is likely to be 200+. All prices include a + because they are merely the starting costs- upgrading any features will increase the cost.

AmeriGlide Stairlift Models
AmeriGlide accommodates a greater range of budgets than many other stairlift companies by offering a versatile range of straight and curved models, including models for indoor and outdoor use. Features common to all AmeriGlide stairlifts include infrared remote controls that can transmit signals through obstructions, call buttons for returning the chair to your floor if it gets left at the opposite floor, joystick controls on whichever armrest you prefer, swivel seats, and a stair-mounting rail design for easy installation.

Below you will find ample information on seven stairlift models that are currently available from Ameriglide's own website. Ameriglide does also offer a stairlift made by the company Harmar and a stairlift made for transporting cargo. We have provided details on the Harmar model under its company's own profile rather than below, and we have not covered the cargo model since it is not designed to transport people. Seniors should note that online you may see mention of older Ameriglide models that are now only available used or for rental. Ameriglide frequently updates its product line and retires older models as it makes improvements.

Unlike all other Ameriglide models, the Rubex AC stairlift does not currently come in a battery power option. It's a very basic indoor model, and many homeowners can install it without professional help. If selecting no upgrades, you can pay as little as $2,000 (not including shipping and potential tax). If opting to include all (or most) available upgrades plus installation and its associated costs, the total cost could exceed $5,200.

The standard length of a Rubex AC track is 15', but at an extra cost it can be shortened or lengthened (up to 25'). Seniors should note that customizing the track length reduces the weight capacity of the seat. Its seat comes standard at 19" wide without armrests, but you can upgrade by adding armrests or opting for a bigger 21" seat. The armrest upgrade is only possible on the 19" seat.

Rubex AC features:
Powered by your home (not battery)
Up to 350 pounds weight capacity
Almond colored upholstery
Two seat upgrade options (about $215 for either)
Several length upgrade options ($100-$455)
Option of adding a key-lockable base and lockable remote control (about $280)
Option to add grocery basket ($250)
The Rave model is AmeriGlide's slimline straight indoor stairlift option, offering one of the smallest profiles in the industry with a 22.5" footprint when in use and 11" when folded away. Unlike the Rubex AC, this model operates via home power and a backup battery. This model is ideal for narrow staircases, such as those commonly found in basements or older homes, and is also a great option for people who use their stairlift in a space with lots of foot traffic.

The Rave 2's starting price is $2,090, and it has several different upgrade options. If selecting the standard length plus all other available upgrades and installation services, the prices could rise to $4,482+. Customizing the length up to the maximum 70' might add an additional $2,000+, placing maximum potential costs somewhere between $6,000-$7,000 in most cases. Adding track length will cost between roughly $43-$48 per foot, depending on exactly how many feet you're adding- the calculations for track additions are somewhat complex. Requesting a track that's less than the standard 15' does not cost extra, however.

Rave 2 Features:

Best option for longer stairs (up to 70 feet)
Ultra-compact with a 22.5-inch footprint in use and 11 inches when stowed
More upgrade options that original "Rave" model (no longer offered)
Height-adjustable seat
Taupe vinyl seat is 19" wide and 14" deep
seat swivels at top of stairs only
Key-lockable upgrade option ($125)
Optional bracket upgrade ($99)
Optional folding rail (+$999) to save extra space when not in use
Track runs 6 inches over your top landing for safer dismount
Quiet operation
This model is visually similar to the Rave 2, but it's considered a more durable ("heavy duty") option, and it is designed for curved stairs. While primarily for indoor use, it can be upgraded for outdoor use during checkout. This high-end model can perfectly accommodate a stairwell that has 90 degree or 180 degree turns, and its also a great option for spiral staircases.

While its list price starts at $8,995, this model's true cost will be $11,490+ for all customers. The reason for this is that, unlike many other Ameriglide models, this model cannot be installed by the buyer. Most other models' prices do not include installation since self-installation is possible. Ameriglide includes this model's installation cost in the "shipping" cost, adding a total of $2,995 to the standard list price. You won't see the itemized shipping/installation cost until you add the Rave Curved HD to your online shipping cart. During checkout, you will see that different types of turns in stairs will require additional fees, some of which may add thousands of dollars to the total.

Features of the Rave Curved HD:
Multiple color choices
Endless customization to fit the turns in your stairs
Optional outdoor use upgrade for a $4,992 fee
Professional installation services
Option of adding a lock for safety ($267)
350 pound weight capacity
Impressive maximum track length of 164' (extra costs apply)
In homes where staircases present a design challenge due to twists, turns, and multiple levels, AmeriGlide's Platinum Curved model can be adapted to nearly any configuration. The Platinum Curved stairlift is stocked with AmeriGlide's premium features, including ERGO seats and an option to upgrade the seat folding and swiveling functions to an automatic version.

Unlike Ameriglide's straight track models, the Platinum Curved stairlift is not self-installable due to the high complexity of its curved rail system. As a result, the current purchase cost of $7,495 includes the cost of installation. Costs can exceed this starting price if you add upgrades or length.

The AmeriGlide Platinum Curved includes the following features.

Custom-designed to fit nearly any staircase (multi-level, spiral, etc.)
Automatic fold-away and swivel seat upgrade options
Twin rail leveling system
Ergonomically designed seat
Retractable seatbelt
Pressure-sensitive carriage and footrest
Maximum track length of 19 feet
Wireless call stations included in price
Digital diagnostics display embedded in armrest
Footprint of 25.6 inches when in use and 14.3 inches when stowed
Comes in three seat colors and two ERGO seat options
Custom rail color options
Options to add landing stop points and extra battery-charging points
AmeriGlide's Horizon Plus Outdoor model is great for patios, lakeside docks, and other outdoor spaces. This model is a lot like the indoor Horizon but it has added weather protection and comes with a protective covering. Despite its additional protective features, this model's starting cost is just $2,568. Since it's not self-installable, customers should calculate between $575-$1,025+ extra for installation. You can see detailed information on installation costs when you add the model to your online cart.

Horizon Plus Outdoor Features:
Most affordable outdoor option from AmeriGlide
Well-protected electrical and mechanical components
Comes with an all-weather cover
Maximum track length of 55.25 feet
Digital diagnostics display embedded in armrest
Multiple seat upgrade options ($50-$75+)
Comes with all standard features of the Horizon Plus indoor model
AmeriGlide's Outdoor Deluxe is the company's heavy-duty straight stairlift model for outdoor use. It features a higher-capacity carriage that can lift up to 350 pounds as well as an option for a larger seat up to 21 inches wide. This model comes with three all-weather covers to protect all mechanical and upholstered components. With a starting cost of $3,195, not including shipping and installation, this model is the more expensive of the outdoor models offered. Depending on which upgrades you select and on the kind of installation that you need, your total costs could exceed $5,300. This model is listed as self-installable, so you may be able to save some money.

It should be noted that the stairlift's high weight capacity only applies when it is used on shorter stairs. For stairs of 16 feet or longer, the carrying capacity of the Deluxe is reduced to 250 pounds. The Outdoor Deluxe runs only on electricity (AC), has no digital diagnostics display, and must be upgraded for armrests to fold away when stowed (this feature not available with the extra-wide seat).

Features of the AmeriGlide Outdoor Deluxe include:

Option to add a grocery basket for $250.90
Price includes three all-weather covers for seat, chassis, and track header
Maximum track length of 25 feet
Extruded aluminum rail
Seat width of 19 to 21 inches
Seat depth of 14 inches
Footprint of 24.25 inches when in use and 14 inches when stowed
Key locking option available for call/send remote and base for up to $278.30
Grocery basket available
AmeriGlide Stairlift Safety Features
All AmeriGlide models are built with safety in mind. A standard lap belt, a swivel function on the seat that locks automatically when in motion, and a non-slip surface on the footrest provide basic fall prevention for all Ameriglide models. All models also include safety sensors in the footrest that will stop or reverse it if it encounters an obstruction on the stairs. If a stairlift suddenly loses cable tension, mechanical safeguards will kick in to enable safe dismount. To prevent a child from playing with the chair, a key-lockable base and lockable remote control are automatically included in many but not all models. Some models also include a "Digital Diagnostics Display" for troubleshooting common stairlift issues.

Most but not all Ameriglide models use both home power and battery power. Battery power is capable of keeping a stairlift running for six to twenty minutes in an outage. Battery operation is also said to add an extra layer of protection from electrocution and power surges. Ameriglide models with batteries have "limit switches" that will ensure that the parked chair is in direct contact with the battery charging station when it's parked. Models that have no battery, such as Rubex AC, will cost slightly less but may pose a greater safety hazard since you'll be stranded on your stairs if your home power goes out.

Testing and Quality Assurance

AmeriGlide is certified by both Intertek (ETL), which independently enforces North American safety standards, and Underwriter Laboratories (UL), enforcing what is known as the American National Standards (ANSI) for quality and safety in manufacturing. AmeriGlide's manufacturing sites are subject to quarterly surprise inspections and all of the materials and assembly methods comply with strict rules and guidelines to ensure consumer safety.
Ameriglide Stairlift Costs
Where other manufacturers are unlikely to divulge any pricing information until an installation specialist can visit your home, AmeriGlide publicly lists prices for every model, option, and upgrade they have available. Starting costs range between $1,995-$8,995, and curved stairlifts are typically the most costly. Used, refurbished, and rental Ameriglide stairlifts are frequently available at reduced costs. In some cases, a used unit may be discounted by $300-$1,800+, and refurbished units may be discounted $100-$200. Sales on new stairlifts are also offered occasionally.

The costs described above are just "starting costs." If you need or want several different upgrades on a model, that may result in a total that's $2,000+ higher than the starting cost. Adding track length in particular can cost $1,000+ in some models. However, small upgrades, like selecting a more comfortable seat or adding a safety lock system, will cost only $50-$200 per upgrade in many cases. Not all models have upgrades available, and keeping your upgrades to a minimum will result in a budget-friendly stairlift. The cost of operating your stairlift after you buy it should be fairly low. You'll likely need to spend around $100 on batteries every three years, and you may need to pay for routine maintenance visits in some cases just to make sure everything is in good working order.

Shipping and installation fees are also not included in the list price of most Ameriglide models. You can learn more about those costs under "Purchasing and Installation" below.

AmeriGlide's website lets you select a Bread payment plan at checkout. This financing option is subject to credit approval, but in some cases your monthly payments could be as low as $100 per month. Bread is a program of Cross River Bank of New Jersey, Member FDIC, and is not affiliated with Ameriglide.
Purchasing and Installation
In an effort to create the most consumer-friendly buying process, AmeriGlide has streamlined and simplified both purchasing and installation. Purchases can be made directly through AmeriGlide.com or by calling the AmeriGlide sales team at (800) 790-1635. AmeriGlide Stairlifts stores are also located all over the United States and in Toronto. Visiting a store is a great option for those who prefer to try before they buy. Floor models are available to help you get a strong sense of the look and feel of the many AmeriGlide stairlift models. In addition to buying directly from Ameriglide online, by phone, or in store, you also have the option of buying Ameriglide stairlifts through other authorized dealers. Some stairlift dealers have showrooms that feature multiple brands, giving you the perfect opportunity to compare Ameriglide's stairlifts to other units from other companies.

Seniors should note that for orders that are canceled after measurements and payment have been completed, AmeriGlide charges a 25 percent cancellation fee to pay for resources and the labor of its workforce. If your stairlift's rail has not yet been cut when you cancel your purchase, this fee is reduced to either $250 or 25 percent of the purchase price, whichever is less. AmeriGlide custom-makes its curved stairlift rails, and as such, they cannot accept curved stairlift returns. On the other hand, straight stairlifts can be returned within five business days of receipt. If making a return, you're likely to lose about twenty percent of what you originally paid due to restocking fees, shipping fees, and similar charges.

Installation
Once it's time to bring your new (or used!) stairlift home, the installation process comes with a range of options to suit your budget, ability level, and personal preferences. Many of AmeriGlide's stairlifts are designed to be easy for consumers to install themselves and the process generally takes about one to three hours. However, if you prefer professional installation, you can add this option during the online checkout process. Some curved stairlifts cannot be installed by the consumer due to their complexity.

If you need to have AmeriGlide handle the installation, you miu=ght be able to save money by doing your own pre-installation measurements. In case you're not a handyman, the company provides a simple measurement video guide to walk you through the process.

If you're completing your own measurements, then installation costs start at $575 for the least complex stairlift models. Your installation costs may exceed $1,000 if you want extra services or if your home design presents challenges for the installers. Shipping costs vary, but will likely exceed $200. Factors like living in a remote location can increase your installation costs. AmeriGlide cannot offer professional installations in the state of Oregon, so if you live in that state, you would have to hire your own choice of contractor to complete your installation.

Ameriglide Stairlifts Warranties
AmeriGlide stairlift warranties differ greatly from model to model, but are never extended beyond a 10-year period. Its warranties usually cover the most crucial component of the stairlift — the drivetrain — for two to five years. The chair of the lift will have 1-year of coverage in most cases as well. Most of Ameriglide's indoor stairlifts will have a 5-year warranty, but its heavy-duty and/or outdoor stairlifts will typically have a 1-2 year warranty. It should be noted that no outdoor stairlift is built to be operated in snow, ice, or inclement weather, and may require more frequent servicing if you live in an area with more severe weather conditions.

Used stairlifts will have far less warranty coverage than new ones do, but factory reconditioned ones may have comparable levels of coverage. As with all warranties, exceptions and conditions apply. If purchasing an Ameriglide model, read the warranty details when your stairlift is first installed.

To make a warranty claim for a stairlift bought directly through AmeriGlide, call (800) 922-3659. If you have purchased an AmeriGlide stairlift through an authorized dealer, you'll need to contact the dealer to initiate any claims.

FYI:

Whether you purchase your AmeriGlide stairlift through an off-brand dealer or directly through the manufacturer, when you make a warranty claim, you can be charged for things like labor and travel — things that aren't covered by AmeriGlide's warranty. It's better to understand these kinds of charges when you make your claim than to be caught unawares after the work is done.

Harmar Stairlifts Review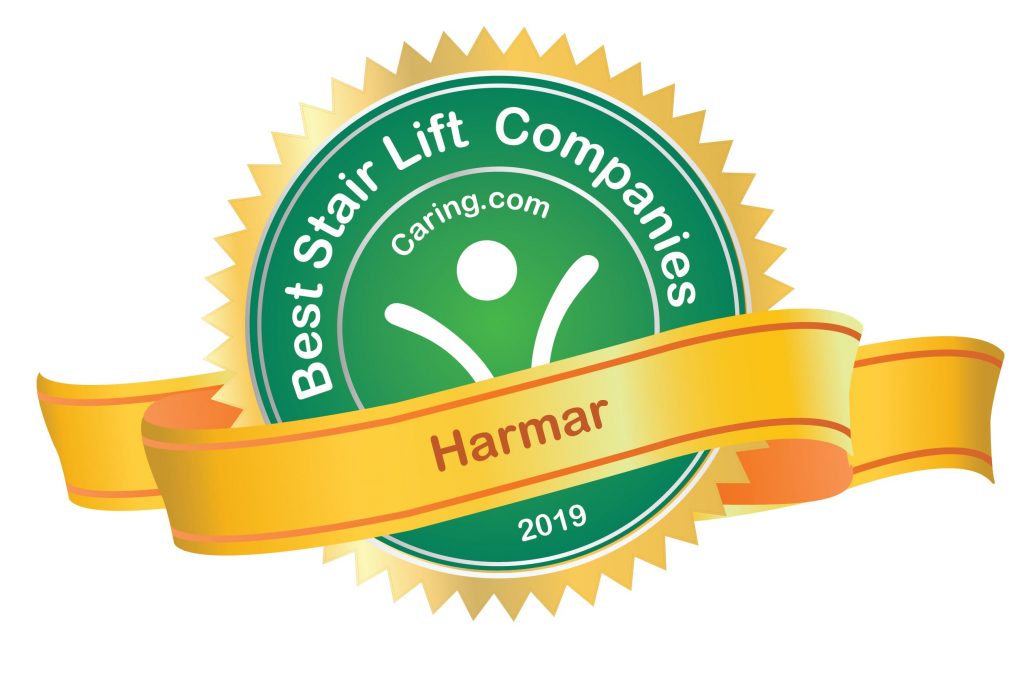 Best for Larger People
Harmar Stairlifts is an American manufacturer and one of the most trusted stairlift brands in the world. Its manufacturing centers are in Missouri and Florida, and rather than shipping its customer service jobs overseas, all Harmar customer service centers are based in the U.S. Harmar specializes in fast delivery, supportive customer care, and perhaps most importantly, top-quality engineering.

Where Harmar truly shines is in the long-term convenience and efficiency of its mechanical engineering. No other manufacturer of quality stairlifts can beat the 600-pound weight capacity of Harmar's Pinnacle HD stairlift, and every Harmar machine comes with a highly capable motor and a battery that is double the size of nearly all other stairlifts.
The Pinnacle
The Pinnacle Premium
The Pinnacle Heavy Duty
The Summit Indoor
The Summit Outdoor
The HelixIndoor/Outdoor
Estimated Costs
$3,195
$3,595
$5,995
$2,995
$3,495
$11,700
Stairlift Rail Type
Straight
Straight
Straight
Straight
StraightOutdoor
Curved
Maximum Weight Capacity
300 pounds
350 pounds
600 pounds
350 pounds
350 pounds for stairs up to 16 feet long
350 pounds
Key Feature
Smooth, stable ride and most compact design
Space-saving profile of only 10.5 inches
Highest weight capacity stairlift on the market
Affordable option comes pre-installed on a rail segment
Functions in temperatures as low as 0 degrees
Can adapt to challenging stairwell configurations indoors or outdoors
Upholstery Options
Vinyl
Vinyl
Vinyl
Vinyl
Marine-grade vinyl
Vinyl or marine-grade vinyl
Seat Color Options
Beige
Beige
Beige
Beige
Beige
Beige
Rail Color Options
White
White
White
White
Steel grey
White or steel grey
Note: Harmar does not list prices on its own website. The prices listed above were gathered from various third-party dealer websites in June 2021. Your costs may vary.

Harmar Stairlift Models
Harmar's stairlifts each come with a drivetrain that best suits the device's specific application, whether indoor, outdoor, curved, or heavy duty. All come with a comprehensive suite of safety features, though seatbelts that retract and key locking are upgrade options on most models.

Additionally, all Harmar stairlifts are capable of speeds of 20 feet per minute, which is slightly faster than average, and high-capacity batteries that provide up to 40 trips in power outages. Below, you can read more details about each of the 6 Harmar stairlifts covered in the above table.

Harmar's Heavy Duty model is the highest-capacity stairlift available. Most HD stairlifts can carry from 350 to 400 pounds, but with the benefit of Harmar's patented drivetrain, the Pinnacle HD is the best option for larger people. It also features a generously padded and more ergonomic seat than Harmar's other models.

Features of the Pinnacle HD include:

Seat depth of 16 inches
High-comfort seats for larger individuals
Patented helical worm gear drive system for smoother rides
Reinforced nylon polymer gear rack reduces long-term maintenance
An 85-degree seat swivel for safer dismount
Track lengths of up to 40 feet with 15.6 feet considered standard
Appropriate for inclines of up to 45 degrees
Options to add retractable seatbelt and key locking
The Summit Indoor is Harmar's economy option. It comes pre-attached to a short length of rail and operates directly through household electricity rather than utilizing a 24-volt battery. It features a fully adjustable backrest and footrest and operates on a somewhat dated cable drive system rather than a worm gear drive.
Features of Harmar's Summit Indoor option include:

Seat depth of 14 inches
Seatback is adjustable to three positions
Footrests adjustable to two different heights
Cable drive system
AC powered means it runs off your home's electricity
Track length up to 25 feet with 15.6 feet considered standard
Suitable for inclines up to 45 degrees
Harmar Stairlifts Safety Features
Harmar utilizes many safety features for its stairlifts, helping to prevent injuries among its users. Prospective buyers can learn more about each model's safety features on the Harmar website, where more information is provided. Generally speaking, users can expect the following safety features with a Harmar stairlift:

Swivel Seat Cut-Off Switch: Harmar stairlifts feature a cut-off switch that engages when the chair is swiveled to the side as the rider dismounts. This causes the seat to lock in place in its swiveled position until the switch is disengaged, providing a stable barrier between the rider and the stairs below as they exit their stairlift.
Obstruction Sensors: An array of sensors embedded along the edge of your stairlift's footrest and chassis can see obstructions on the stairs ahead and stop the chair to allow the rider to clear their path.
Slack Cable Brake with Cut-Off Switch: For cable drive units like the Harmar Summit Outdoor model and the Summit Indoor model, if your cable should ever go slack for any reason, your stairlift will engage an automatic braking system to keep things under control.
Constant Pressure Controls: Moving your stairlift requires constant pressure from your hand on the ergonomic joystick, so if you should ever need to stop or reverse your chair in an emergency situation, a simple push or release of the constant pressure control is all that's needed.
Centrifugal Overspeed Brake: Harmar stairlifts come with a speed governor that will engage if it ever senses that you are moving too quickly or too slowly.
Safety Testing and Quality Assurance
Harmar's stairlift models are all weight-tested at several times the advertised load capacity and undergo life-cycle testing at or above industry standards. Harmar is certified by both Intertek (ETL), which independently enforces North American safety standards, and Underwriter Laboratories (UL), enforcing what is known as the American National Standards (ANSI) for quality and safety in manufacturing.
Harmar Stairlifts Costs
Purchasing a new Harmar stairlift can cost between around $2,000 for a basic model up to approximately $14,000, depending on your specific needs and the model you choose. To find out about pricing for upgrades and custom options, shoppers are encouraged to reach out to a Harmar customer service representative or contact an authorized dealer. Note that Harmar does not list prices on its website. Used Harmar lifts can be found online or locally with dealers who are part of the Harmar Authorized Dealer Network.
The average maintenance costs you will pay to keep your Harmar stairlift running through the years is difficult to calculate. Wear and tear on your machine will vary with how often or how seldom it is used, and the yearly prices for Harmar's service contracts are not readily available online. However, any brand of stairlift is unlikely to have a big impact on your power bill as they consume minimal power with average use — about as much as a small television on standby.
Long-term Harmar stairlift owners will incur upkeep costs for battery replacements, which cost approximately $10-$40 and will need to be replaced about once every three years. Other ongoing costs include any service agreement premiums, and replacement parts and service not covered under warranty or service agreement.
Harmar Stairlifts Warranties
Harmar Stairlifts warranties are offered by Harmar and honored by their Authorized Dealer Network, and cannot be extended beyond three years after the initial warranty term except in the case of the SL600 Pinnacle Premium, which comes with a limited lifetime warranty. After purchasing your stairlift, Harmar asks that you register your product within 10 days of purchase to activate your warranty coverage.
Authorized dealers are able to offer their own, additional warranties on used Harmar stairlifts, such as 101 Mobility's first-year service warranty, but Harmar warranties are non-transferrable, which means they do not transfer to a new owner if a stairlift is re-sold as used or refurbished.
In the event that you must make a warranty claim, you will need to contact the dealer from whom you purchased your stairlift. Note that, in the process of fulfilling your claim, your dealer may charge you for labor, service, travel and other associated costs unless these expenses are covered under a service warranty.

Purchasing and Installation
Rather than offering direct sales through an online store, Harmar's customer care team helps consumers find an authorized dealer in their area. A store locator tool is also available at Harmar.com where interested buyers can find multiple locations without the hassle of ever speaking to a customer service representative.
If you're searching for specific pricing info on any options and upgrades that Harmar offers, talking to a representative at 101 Mobility may be your best bet. Harmar is one of four top brands they offer, and there are 101 Mobility stores located in 38 states, making them readily available to most buyers.
Installation
Installing a straight-track Harmar stairlift should take anywhere from an hour to one full day. Curved stairlifts can be much more complex, so both the wait time on orders and installation can take longer. Most curved stairlift installs can be completed in one to two days.
Harmar trains and certifies what it calls Certified LiftSquad Installers in order to guarantee consistency and quality in the installation process. All LiftSquad participants are vetted by Harmar to confirm that they are insured and meet certain standards of accreditation. LiftSquad members must take a Harmar-sponsored technical training certification course to be accredited as certified installers and must retake the course at least every five years thereafter to remain certified.

FYI

Many stairlift dealers and manufacturers — including Harmar — require that buyers who wish to maintain their warranty coverage must have their stairlifts serviced by an authorized technician at least once per year. Failure to do so can result in your warranty becoming void. Set reminders for yourself to have your stairlift serviced each year to get the most mileage out of your warranty.

Bruno Independent Living Aids Review
Best Overall Quality
Bruno Independent Living Aids is a family-owned, American stairlift manufacturer that has been in business for 35 years. Bruno sells stairlifts in markets all over the world and is a key brand for the largest residential stairlift dealer in North America, 101 Mobility.
The overall quality of Bruno's product line comes from a mix of practical features, innovative design and high standards in manufacturing. Even Bruno's entry-level stairlift, the Elan, offers a complete feature profile to fit almost any user's needs. All models utilize Bruno's unique vertical rail system that adds stability using less space than possibly any other stairlift rail. What's more, Bruno's manufacturing systems are ISO 9001 certified, proving that the company's high standards of workmanship are consistently applied to the production process, creating quality machinery for every stairlift order.
The Elan
The Elite
The Elite Curve
The Elite Outdoor
The Elite Curve Outdoor
Estimated Costs*
$3,000+
$4,300+
$10,500+
$5,700+
$10,000+
Stairlift Rail Type
Straight
Straight
Curved
Straight
Curved
Maximum Weight Capacity
300 pounds
400 pounds
400 pounds
400 pounds
400 pounds
Key Feature
Unique rail design offers an unobtrusive profile for tighter spaces
Premium, stylized seat
Best option for larger people
Tested in extreme weather
Custom curved rail extendable for longer stairs
Upholstery Options
Vinyl or burgundy leather
Vinyl or burgundy leather
Vinyl or burgundy leather
Marine-grade vinyl
Marine-grade vinyl
Seat Color Options
Tan, brown, maroon, charcoal or olive, or burgundy leather
Tan, brown, maroon, charcoal or olive, or burgundy leather
Tan, brown, maroon, charcoal or olive, or burgundy leather
Beige
Beige
Rail Color Options
Silver or champagne
Silver or champagne
Silver or champagne
Silver
Silver
*Note: Bruno lists some but not all of its stairlift costs online. The estimated costs in the table above were obtained from both Bruno's website and a variety of dealer websites in June 2021. Estimates for straight stairlifts include basic installation costs, but estimates for curved models do not. 

Bruno Stairlift Models
Bruno's stairlifts come in any configuration a person could need, including curved-rail outdoor models. The standard features available on all Bruno stairlifts are equally as comprehensive, including audible diagnostic readouts for people with diminished eyesight and a suite of practical safety features.

Standard features of Bruno's stairlifts include:

Onboard audio/visual diagnostics for easy status updates
Continuous-charge strips that charge batteries wherever chair is parked
Manual swivel seats with automatic option for easy boarding/unboarding
Manual fold-away storage with automatic footrest folding option
Obstruction sensors
Uses battery power in an outage
Call/send remote controls
Note that at some dealerships or online stores, Bruno models will be advertised under their more technical-sounding model numbers instead of by their names. Below, we have included such alternate names in parentheses for your convenience.

Bruno Stairlift Safety Features
Battery power is an important modern safety feature present in most stairlifts. Bruno's stairlifts all feature two 12-volt, high-capacity batteries that keep stairlifts in operation even in a power outage. Batteries are charged via a connection to household energy, sending a current to continuous-charge strips positioned wherever chairs are parked when not in use. Sometimes referred to as "ADC" power, this combination of electricity and battery power provides an added layer of protection from power surge and electrocution, and also keeps riders from becoming stranded if their power should go out in the middle of a ride. The average amount of time that a stairlift can continue to function on battery power alone is likely six to twenty minutes.

Safety Controls
Constant pressure controls: Stopping and reversing a Bruno stairlift is as easy as releasing or reversing pressure on an ergonomic joystick embedded in the armrest. Moreover, even if you move or release the joystick forcefully, the stairlift has a "soft start/stop" design that makes movements as smooth as possible.
Spatial sensors: Bruno's stairlifts come with an array of spatial sensors that stop the chair from moving if an obstruction is sensed on the rail or on your stairs.
Swivel seat lock: Bruno stairlift seats come standard with a manual swivel function. The rider can turn towards their landing and lock the chair in the turned position for a safe dismount. The pebbled texture of the included footrest makes slipping less likely during dismount, too. Customers can upgrade some models to the power swivel function, which operates by remote control.
Audio/visual status indicator: When prompted, status indicators will read aloud any diagnostic codes or low-battery prompts for the rider, and Elite model stairlifts also come with visual readouts.
Testing and Quality Assurance

All Bruno stairlifts are certified by independent quality assurance agencies like Underwriter Laboratories (UL), in accordance with the American National Standards (ANSI) for quality and safety in manufacturing. They are also an ISO 9001 certified manufacturer, which means they have a highly standardized system of quality assurance in their manufacturing processes. Performance testing on outdoor models involves deeper testing for things like weatherproofing and cold/heat resistance.

Bruno Stairlifts Costs
Bruno's straight-track stairlifts start at $3,000 including installation, and may exceed $6,000. Its curved-track models start at $10,000 not including installation. Shipping is likely to be included in Bruno stairlift prices most of the time. The most expensive outdoor stairlift models from Bruno can sometimes exceed $14,000+. While some consumers may balk at these prices, Bruno is well-known by dealers to be such a solid brand that long-term costs are likely to stay exceptionally manageable. Bruno's local availability and long-term customer service are unmatched. As Bruno stairlifts are not sold directly through the manufacturer, financing options depend on the authorized dealer from which customers purchase their stairlift. In some cases, you may be able to take advantage of sales prices that dealers will offer.

For some Bruno stairlift models, you will be able to request additional track length, a power swivel seat, or other modifications. On average, you should expect such additions to add at least a few hundred dollars to your total. Your dealer can provide itemized costs when you're considering upgrades. Unfortunately, upgrade costs are usually not available online.

Purchasing and Installation
Buying a Bruno stairlift cannot be done directly through the manufacturer, so to start the purchasing process, you'll need to find a dealer. Even if you're considering buying used or renting a stairlift, you will want to find legitimate dealers. Bruno's website has a "Find Dealer" button that will help you search based on your location. Some dealers have websites and serve customers across the nation, while others serve only one region.

Installation

Once installation begins, Bruno estimates that straight-track installations are likely to be completed within one workday or less. However, two or three days may be needed for custom curved installations, depending on the complexity of the stairlift's design. The specifics of your Bruno stairlift delivery and installation will vary depending on what installation specialists your retail dealer contracts with. For this reason, it's always a good idea to research the history of client satisfaction for any dealer you are considering buying through.

For Bruno's straight stairlifts, the cost of installation is typically reflected in the model's list price. Additional charges might be applied, however, if your staircase presents special challenges for the installers. The costs of installing a curved Bruno stairlift will vary dramatically, but are likely to be $600-$1,000+ on top of the model's list price. Always ask your dealer for installation cost details in writing prior to making a final selection.

Warranties

Bruno's warranties offer separate terms of coverage for what they consider major components. Major components of Bruno stairlifts are mechanical parts that are subjected to the most movement and friction throughout their lifespan. They include:

The drivetrain
The motor
The gearbox
The rail system
Warranty coverage of major components ranges from 5 years to lifetime, and coverage of other parts is likely to be 2-years or less. Straight track models tend to have the longest coverage. Seniors should note that labor costs are calculated separately from the costs of the parts, and on most models labor costs are not covered under the warranty.

Because Bruno offers extensive warranties, and because the top North American dealers provide added warranty coverage, long-term costs should be largely confined to those incurred by user wear and tear or battery replacements. Bruno stairlifts use two 12-volt batteries that have an average life of three years. These can be purchased from your local dealer or potentially found online at a lower price.

FYI
Buying Bruno stairlifts from nationally authorized dealers can provide an added layer of warranty coverage. The largest Bruno dealer in the country, 101 Mobility, provides a one-year service contract to cover any parts that may malfunction due to manufacturer error. While this sort of coverage is commonly offered by other dealers, 101 Mobility also covers costs associated with services provided in your first full year of ownership, such as a repair team's travel and labor expenses.

Handicare Review
Best for Accessibility Features
Handicare was founded in the UK, but has grown to become an international organization in 20 countries and an industry leader in mobility equipment manufacture. With its stairlifts' high quality, comprehensive standard packages, and highly customizable design, Handicare was a contender for more than a few of the other "Best" awards conferred in this guide.

The factor that makes Handicare stand out from the competition, other than its industry-first Slide Track and Hinged Track straight rail options, is the high-accessibility design elements of its Xclusive stairlift. The Xclusive is not just another stairlift; it's an accessibility solution, even suitable for people who have dementia or severe joint discomfort.

With its color-contrasted and high-visibility user controls, power swivel and power footrest features, simple-to-access battery housing, and softened hand rests for people with arthritis, nearly anyone can have a more capable and secure stairlift experience with the thoughtfully designed Xclusive.

The 950
The 950 Plus
The Xclusive
The 1000
The 1100
The 2000
The Freecurve
The 1000 Outdoor
The 2000 Curved Outdoor
Estimated Costs*
$2,600
$3,000
$2,000
$3,100+
$2,970+
$3,100- $6,190
$8,600- $12,000
Pricing available with consultation
Pricing available with consultation
Stairlift Rail Type
Straight
Straight
Straight
Straight
Straight
Curved
Curved
Straight
Curved
Maximum Weight Capacity
310 pounds
310 pounds
286.6 pounds
350 pounds300 pounds for perch seat

287-309 pounds depending on incline
250 pounds300 pounds for heavy duty kit
300 pounds
350 pounds302 pounds with folding rail
250 pounds300 pounds with heavy duty kit
Key Feature
Folds away to an 11.25-inch stowed profile
Smart Seat comes in 6 color options with adjustable height, width, and depth
High-accessibility features
Best seat options for people with reduced joint mobility
Slim design and seat options for people with reduced joint mobility


One of the most inexpensive curved stairlifts available
Largest variety of mobility-supporting features
Weather resistant even in harsh climates
Curved option for complicated outdoor stairs
Upholstery Options
Vinyl
Vinyl
Vinyl
Vinyl
Faux leather
Leather grain or vinyl
Vinyl, polyurethane or faux leather
Weather-resistant materials
Weather-resistant materials
Seat Color Options
Sand
Cocoa, sand, slate, ruby, sapphire or jade
Cream
Cocoa, sand, slate, ruby, sapphire or jade
Beige
Smart seat: Brown, wine, beige, midnight blue, forest green or Kelly green
Simplicity seat: Beige
Style seat: Brown, maroon or red
Elegance seat: Bordeaux red, cream or cocoa brown
Alliance seat: Bordeaux red, cream or cocoa brown with dark wood trim
Classic seat: Anthracite (green), Bordeaux red or beige
Cocoa, sand, slate, ruby, sapphire or jade
Smart seat: Brown, wine, beige, midnight blue, forest green or Kelly green
Simplicity seat: Beige
Style seat: Brown, maroon or red
Rail Color Options
White
White
White
White
White
Ivory, beige, brown or your choice of powder-coated RAL color
Ivory, beige, brown or your choice of powder-coated RAL color
White
White
*Note: Handicare does not list its own prices on its website. This company's prices have tended to fluctuate significantly in the past few years. The costs above are estimates only that are obtained from dealer websites in June 2021. Prices may not reflect the costs of upgrades, shipping, or installation.

Handicare Stairlift Models
Handicare stairlifts all come standard with an impressive array of features, including key safety features common in modern, quality stairlifts. Many, though not all, Handicare models can be modified with a Heavy duty kit so that they can carry up to 350 pounds. Many models also have seats with adjustable heights or other special features, too. These modifications mean that Handicare is often a great choice for seniors of all weights and heights.

Features common in Handicare models include:

Two wireless remote controls
Ergonomic paddle controls
Swivel seats in manual and powered options
Powered folding rail option (most models)
Continuous charging function
Carpeted footrests
Manual emergency stop
Plug-in powered battery operation
Fold-away seat, footrests, and armrests
Key-lockable
We have primarily referred to the models below by the names that they are listed under on Handicare's own website. However, seniors should note that most models have two different names — usually a name that's a number (950, 950+, etc. ) and a name that's a word (Simplicity, Simplicity Plus, etc). Since you may see one or the other name used on other websites, we have included alternate names in parentheses as needed.

Handicare's most popular model, the 950 (Simplicity), comes at the company's entry-level price point for straight stairlifts. It offers a suite of standard features that make it a strong choice for people with restrictive budgets.

The 950's extra-slim stowed profile is built to leave maximum space for foot traffic on your stairs and can be streamlined for even greater space savings with the manual folding rail or Slide Track upgrades. However, on 950 stairlifts that have either of these rail options, the lift's carrying capacity is reduced from 310 pounds to 265 pounds.

Features of the 950 stairlift include:

Option to include manual folding rail or Slide Track rail
A Zero Intrusion option for stairs with doors positioned close to stairs
Seat depth of 14.5 inches
Armrest spacing of 18.65 inches
Continuous charging keeps battery going no matter where you park
Ergonomic paddle control designed in part by occupational therapists
Extended seat option adds three inches between chair and footrest
Handicare Stairlift Safety Features
Handicare stairlifts are "ADC" powered, meaning they operate with the use of a battery that is charged via household, AC electricity. Each stairlift comes with two 12-volt batteries, and these typically last an average user about three years before they need replacing. Handicare has engineered their stairlifts to make changing the batteries as simple as possible.

The major safety benefit of battery power is that in a power outage, Handicare stairlifts can keep functioning for up to 40 trips, or an average of 20 minutes, up and down the stairs so that riders will never be stranded. Thanks to Handicare's continuous charge functionality, batteries are kept fully charged as long as your Handicare remains powered on, no matter where you choose to park your chair.

Safety Controls

Obstruction sensors. Handicare stairlifts all come standard with an array of sensors embedded in the footrest. These sensors will bring the stairlift to a halt should it meet an obstruction on the stairway or rail.
Swivel lock. The swivel safety latch locks your stairlift's seat in place after you turn to the side for dismount onto your stairway landing. This ensures that there is a stable barrier between you and the stairs below as you exit the lift.
Constant pressure controls. Handicare control joysticks and ergonomic paddles only operate with continuous pressure from the rider's hand. All you have to do to stop your stairlift from moving is release the joystick, or for a quick reverse, press the joystick backward.
Safety belts. Handicare stairlifts come with the option of an across-body harness, retractable seatbelt or Velcro seatbelt.
Diagnostic displays. Handicare models come with diagnostic displays to warn of mechanical or battery issues.
LED footlights. The Handicare Freecurve comes with white LEDs to light the footrest when it is folded down awaiting use.
Testing and Quality Assurance

The design, manufacture, installation and maintenance of Handicare stairlifts are assessed and certified by multiple independent agencies. Handicare's products have earned multiple ISO standards certifications for quality in consumer goods. Handicare stairlifts are tested extensively for their load-bearing capacities and long-term durability.
Costs and Financing
Handicare's straight-track stairlift starting costs are between $2,600 and $3,100 including basic installation and shipping (in most cases). Straight track prices can be higher if upgrades are selected, however. Handicare's indoor curved-track stairlift costs start between $3,100 up to $8,600, and its outdoor curved track models command higher, unadvertised prices. For all kinds of Handicare models, you should be aware that upgrades or extensions of track length could add hundreds or thousands of dollars to your total.

When comparing Handicare costs across different dealer platforms, we noted that this brand's costs tend to fluctuate over time. Some older models may actually become permanently less expensive as newer models are released. Seasonal price drops are also possible at some dealers. For seniors on a tight budget, financing for Handicare stairlifts might be available through any major dealer of the brand. Terms of financing may differ significantly depending on which authorized dealer you choose to shop with.

Get a Free Quote for Handicare Stairlifts Seniors and Medicare beneficiaries can receive free quotes for the purchase and installation of stairlifts. Get Started Here.
Purchasing and Installation
While consumers cannot purchase a Handicare stairlift directly through the manufacturer, many authorized dealers are available online, over the phone and in stores. Authorized dealers are brand-certified to guarantee manufacturers' quality assurances and warranty coverage. Even if you're considering buying used or renting a stairlift, it's imperative to find legitimate dealers. Handicare has a "find a dealer" page on its website. You can access this convenient tool by scrolling to the bottom of the handicare page and looking under the "quick help" menu. A link to help you find showrooms is also available there.

Installation

Once an installation begins, Handicare estimates that straight-track installs are likely to be completed within one workday or less, but up to two or three days may be needed for custom curved installs, depending on the complexity of your stairlift's design.

The specifics of your Handicare stairlift delivery and installation will also vary depending on what installation engineers your retail dealer contracts with. As mentioned earlier, the cost of installation is often included in Handicare listed costs, but not always. In some cases, the cost of installation may increase if an evaluation of your home reveals that your situation will be particularly challenging for the installers. Always ask your dealer about how installation costs are calculated, how upgrades may affect installation costs, and whether or not shipping is included free of charge.

Warranties
Handicare offers product-specific warranties on its stairlifts, with most featuring lifetime coverage of the stairlift's most important mechanical part — the gearbox. Two years of coverage on parts other than the gearbox is common for Handicare models. Seniors should be aware that in some cases, labor, travel expenses, and other changes could fall outside of the warranty coverage. Always read the warranty fine print prior to making a purchase or a claim. In addition to Handicare's manufacturer warranties, your stairlift dealer may offer further coverage.
Stannah Stairlifts Review
Best for Custom Options
From its humble beginnings as a crane and hoist manufacturer in England in the 1860s, family-owned Stannah Stairlifts has become an award-winning accessibility equipment manufacturer with locations all over the world. Stannah now has three U.S. headquarters in Massachusetts, New York, and California, as well as a trusted dealer network with locations in every state.

Stannah's feature models, the Starla and the Siena, stand out in the mobility device industry for their custom design appeal. Both can be ordered with such a broad range of options that nearly every part of these devices, from its cushions to its rail systems, may be made with custom colorways, even including an option to add wood trim in one of two finishes.

A Stannah stairlift is tailored to the individual circumstances of the user, not just in terms of one's personal sense of style, but also by offering highly specific safety and accessibility options. Buyers can initiate a simple, three-part design and installation process to create a stairlift that is unique to their needs and blends with their home decor, all with the benefit of industry-leading functionality.

The Starla 260
The Starla 600
The Siena 260
The Siena 300
The Sadler
The Scout
The 320 Outdoor
Pricing
$12,000 to $15,000
$5,695
$12,000
$4,395
Pricing available with consultation
$2,995
$5,900 to $8,000
Stairlift Rail Type
Curved
Straight
Curved
Straight
Curved
Straight
Straight
Maximum Weight Capacity
300 pounds
350 pounds
300 pounds
350 pounds
300 pounds
300 pounds
300 pounds
Key Feature
Large selection of premium options with a custom curved rail
Large selection of premium options
Standard model designed for narrow stairs that require a custom curved rail
Standard model designed for narrow stairs and larger people
Designed for people with low joint mobility and curved or multi-tiered stairs
Economy option with basic comfort and safety features for narrow stairs
High tolerance to salt spray and extreme heat and cold
Upholstery Options
Vinyl or woven fabric
Vinyl or woven fabric
Vinyl
Vinyl
Woven fabric
Vinyl
Weather-resistant plastics
Seat Color Options
Brown, light beige, green, red or stone, plus, dark or light wood trim
Brown, light beige, green, red or stone, plus, dark or light wood trim
Tan, ivory, cranberry, pine, walnut or midnight blue
Tan, ivory, cranberry, pine, walnut or midnight blue
Beige with light wood trim
Nut brown
Light grey
Rail Color Options
Curved rails come in choice of pearl, nut brown, jet black, window grey, beige or ochre brown
Beige
Curved rails come in choice of pearl, nut brown, jet black, window grey, beige or ochre brown
Beige
Curved rails come in choice of pearl, nut brown, jet black, window grey, beige or ochre brown
Pearl
Steel grey
Stannah Stairlift Models
All Stannah stairlifts come with a set of standard features that promote independence for the user, including two remote controls that can send or call the chair to your preferred position. The remotes can be locked with the use of a key and come with wall mounts so they can be positioned at the top and bottom of the stairs.

Other standard controls and safety features include:

Can fit any length stairs
Ergonomic slimline control built into armrests where hands lay naturally
A comprehensive suite of safety features
Option to add supplemental safety features
Option to upgrade to a larger and longer-running battery
Manual and automatic seat swivel functions available
Easy fold-away mechanisms
Multiple style choices
Anti-slip footrests
Automatic hinged rail option for straight rail models
Chair position lock and fold-away come in either manual or power configurations
Options for people with limited manual dexterity or joint immobility
The Starla comes in the 600 version, which has a straight track, and the 260 version, which has a curved configuration and features a tilted seat for added comfort and security. What makes both versions of this model stand out is its potential for customizability. With multiple upholstery, trim, and color options for nearly every part of the Starla, including six colors for the rail, this model is made to blend into the decor of your home. The Starla's standard package includes pearl-toned rails, a manual swivel seat and footrest, Stannah's light touch hand control, and a retractable seatbelt.

Other available features of the Starla include:

300 pound weight capacity for the curved track and 350 pound weight capacity for the straight track
Wood trim available in dark and light finishes
Your choice of waterproof vinyl or woven fabric upholstery
Bi-directional seat swivel option
Manual or powered footrest folding
Push-button and manual footrests do not require bending over to fold away
High-backed and generously padded
Stannah Stairlift Safety Features
If your electricity goes out during a storm or outage, your stairlift will continue to be operable for an average of six to twenty minutes thanks to its two 12-volt, high-capacity batteries which continually charge via your home's electricity. This means there's no risk of getting stranded in the middle of your stairs when the lights go out. Stannah gives consumers the option to purchase a Heavy Usage Kit, which provides an even larger battery terminal to accommodate more power, keeping your lift running for twice as long as the standard battery.

In addition to the safety that its battery-powered designs provide, Stannah also provides numerous other safety features for its stairlifts, which you can explore below.

Safety Controls

Safety sensors: Stannah stairlifts come standard with sensors built into the seat of the chair that will stop the stairlift until you are securely positioned.Each stairlift also has ten safety sensors arranged around the footrest to stop the lift if it meets an obstruction on your stairs or the track.
Arm isolation: Arm isolation technology prevents the chair's controls from being toggled until the downstairs-facing armrest is pulled down and locked into place.
Seatbelt features: Stannah offers multiple seatbelt options to accommodate differing needs. It's diagonal seatbelts and five-point harness configurations provide added support for the upper body.The safety belt on the Sadler model also incorporates a safety setting that will not allow the lift to start until the seatbelt is fastened. This makes riding in the upright perch position much safer.
Swivel seats: A swivel seat comes in either a manual or powered configuration and locks the chair in place to block the stairlift user from falling backward as they turn to dismount at the top of their stairs. Stannah also offers the option of bi-directional swiveling to offer added convenience at the bottom of your stairs. Lifts equipped with a power swivel function can be swiveled using the included remote control.
Rail and door options: The optional folding rail automatically raises and lowers as the chair slides away from it on the track, removing obstructions to make room for doors and hallway passage. An optional door-closing device can also be selected. This device is positioned for use where the chair may run into an open door during travel.
Optional parking kit: The parking kit allows users of curved rail stairlifts to park the chair a short distance upward from the landing to remove potential obstructions.
Reduced-size footrest or offset footrest: Optional footrest sizes are available for especially narrow or steep stairs.
Testing and Quality Assurance

Stannah stairlift carriages are tested over the equivalent of 10 years of average use and motors are tested with over 100,000 journeys. Stannah's stairlifts are independently tested and approved under multiple EN 81 European Safety Standards and the ISO 9386 Worldwide Standard for Stairlifts.

Costs and Financing
Stannah's stairlifts come with so many options to customize your purchase that prices can vary significantly. In general, you won't know your full cost until you have consulted with Stannah representatives regarding your exact needs. Any prices that you find online for Stannah stairlifts are unlikely to convey the full picture of your costs. However, in general terms, Stannah models likely start around $4,000 (including installation), and the most expensive models from this brand are likely to be 2 to 3 times that cost, particularly if you are looking into a curved model or a model that includes numerous upgrades. Seniors should note that Stannah itself does not offer financing options, but some authorized dealers may.

Stannah's website notes that due to their extensive experience as stairlift manufacturers and the many options they offer, stairlift shoppers with economy budgets may be able to find cheaper options. Be clear with sales representatives about the limitations of your budget so that you can get help finding your best option. For people who may only need their stairlift for a short time, perhaps while recovering from a hospital stay or during a visit from a relative who has mobility issues, Stannah stairlifts are available to rent from authorized dealers. A Stannah stairlift rental for 6-months could cost less than $3,000 in some cases.

After an average of three years of use, most people must buy a replacement battery for their stairlift. Stannah's lifts use two 12-volt, high-capacity batteries, which cost anywhere from $10 to about $35 per battery to replace. Stannah's Heavy Usage Kit upgrades the battery to a larger type, which lasts longer but costs more to replace. Other long-term costs of ownership may include occasional repairs or service calls.

Purchasing and Installation
The purchase of certain Stannah models can be started online on Stannah's own website, but by and large the pricing information that you need will only be available after speaking with a representative to evaluate your needs. After the initial conversation, you can set an appointment for a technician to come measure and evaluate your home. At that time, you can ask more questions you may have regarding price, warranties, or installation, and the technician can recommend a particular model.

Stannah stairlifts are also available through authorized dealers, who will likely have a similar process for helping you find the right stairlift. For information on the cost of Stannah stairlift, contact them at (888) 282-9659 to initiate an in-home evaluation, or visit Stannah-Stairlifts.com/find-a-dealer.

Installation
Stannah custom-makes all stairlift purchases for the customer, whether you buy a straight rail model or a curved, and thus more complex, stairlift. While composing chairlifts with custom fabrics and rail lengths take time, the process is unlikely to take more than a week or two.

Stannah emphasizes the after-purchase customer support they offer, noting that all buyers of their products receive free consultations, call-out servicing, and clean, fast installations. However, seniors should be aware that installation costs in the stairlift industry can often be $500+. It's wise to make sure you are very clear on whether or not you'll be charged any extra fees for your installation before it begins.

Installation of Stannah stairlifts generally takes no longer than half a day. Installation engineers are personally trained by Stannah representatives and have access to proprietary technology which allows them to measure your stairway to within a tenth of an inch. Before they leave your home, your engineers will help you find the right height adjustment for your needs, make sure you are comfortable using your new stairlift and clean up any mess left by the installation process.

Warranties
One of the benefits of buying with Stannah is its extensive manufacturer's warranty. It includes the following terms:

For critical components of their straight stairlifts, including the motor, gearbox, and rail, Stannah offers its customers a 10-year warranty for new stairlifts.
Curved Stannah stairlifts include parts coverage for two years and lifetime drivetrain coverage.
Parts and components that malfunction due to normal wear and tear during the warranty period will be replaced for you.
Stannah operates a call-out service and offers current warranty holders priority service windows.
After purchasing your Stannah stairlift, the company asks buyers to complete a product registration form online or by mail within 30 days.

Once the period of use that is covered by your warranty expires, you will be given the option to enter into a service agreement. Most service agreements cost a few hundred dollars per year and offer less inclusive coverage than the original warranty, as the machine being covered has aged.
null
FYI
Depending on whether you buy through Stannah or through a dealer not included in their authorized dealer network, your warranty and financing options can vary significantly. Stannah cannot guarantee warranties provided by an unauthorized dealer, and unauthorized dealers cannot guarantee a Stannah manufacturer's warranty. To find store locations included in Stannah's network, visit Stannah-Stairlifts.com. Otherwise, consider contacting Stannah online or by phone and let them refer your query to an authorized dealer nearest you.

Acorn Stairlifts Reviews
Best for Fast Delivery and Installation
Acorn Stairlifts is a United Kingdom-based manufacturer that has been in business since 1992 and is one of the largest stairlift companies in the world. Acorn may be the only company of its kind to exclusively sell directly to consumers rather than employing licensed dealers or third-party installation engineers. Its dedication to service and design has led Acorn to innovate new ways to fabricate and install stairlifts.

Acorn's curved stairlift models — intended for more complex staircases — are constructed using a unique modular design called FastTrack. The FastTrack rail system removes the long waiting period many stairlift buyers must endure while their curved stairlift rails are custom built in a factory. Acorn also emphasizes features that give its lifts unusually fast and easy installations, such as the stair-mounted (rather than wall-mounted) design, which alleviates the need to make alterations to your home's construction before your installation can begin.

The Acorn 130
The Acorn 180
The Acorn 130 Outdoor
Pricing
Pricing available with consultation
Pricing available with consultation
Pricing available with consultation
Stairlift Rail Type
Straight
Curved
Straight
Maximum Weight Capacity
350 pounds
265 pounds
350 pounds
Key Feature

Simple design with numerous safety features
Faster than average installation and delivery
Comes with a weather-resistant cover and keyed lock
Upholstery Options
Vinyl
Vinyl
Weather-resistant vinyl
Seat Color Options
Beige
Beige
Beige
Rail Color Options
Steel grey
Steel grey
Steel grey
Acorn Stairlift Models
Acorn's stairlifts come in three models, with options for larger people, indoor or outdoor use, and straight or curved stairs. All models are shipped from Acorn's factories complete with a comprehensive suite of features intended to promote convenience, safety, and long-term satisfaction.
Features common to all Acorn Stairlift models include:

Uses 24V DC (battery) that charges on home power
Consumes very little power and is quiet
Fast installation due to innovative design
Extruded aluminium rails
Light, neutral rail and seat colors
Folding footrests
Remote control to send the chair where it is needed
Slimline designs for narrow stairwells
Optional hinged power rails fold away to for even more space-saving
Seat modifications for greater accessibility (availability may vary by location, model, or other factors)
The 130 — also called the Acorn Superglide — is Acorn's standard straight track stairlift model. It features most of the same functions and style as the Acorn 180 and 130 Outdoor. With Acorn's sensor system and intuitive controls, the 130 offers a simple yet safety-enhanced option.

Acorn 130 features:
Most affordable model
Model's standard maximum weight capacity is 300 pounds*
Model can be upgraded to an "HD" (heavy duty) package, which increases its weight capacity to 350 pounds
Intuitively designed controls embedded in armrests
Upgrading to the folding rail can help you save space
*You may encounter discrepancies in which this model's capacity is sometimes listed as 280 pounds online. However, the official user manual lists its capacity as 300 pounds.

Acorn Stairlift Safety Features
All Acorn stairlifts come standard with useful safety features, including a retracting seat belt worn over the lap, a key for locking the lift when it's not in use, and a diagnostic display for troubleshooting issues. In the event of any kind of malfunction, including failure to charge, the lift's digital readout will indicate an error code that corresponds to a potential issue. Error codes are numbered and listed in the user's manual.

Some Acorn Stairlift models may be eligible for a seat upgrade that will improve safety and comfort for those with hip, back, or other joint issues. This upgrade, called the sit-stand or perch/sit-stand seat, allows a user to stand on the footrest of the chair while it's moving. However, very little information on the sit-stand upgrade is available online for customers in the USA. Enquire further with Acorn sales associates if you are interested in this option.

Battery power is another key component of Acorn stairlift safety. All Acorn stairlifts are powered by a battery which continually charges via your main electricity supply. This means that the chair will continue to function for an average of six to twenty minutes if your power goes out. Even if your home power fails, you should be able to finish your trip up or down the staircase. Acorn's lifts charge themselves using "charge points" positioned on the rail, close to the end of the rail where the chair would naturally sit on standby. If, for any reason, your stairlift is not charging, it will also emit a warning tone to indicate either that it is not positioned on a charge point or that there is another issue keeping the stairlift's battery from charging.

Safety Controls

Footrest safety edges and carriage safety pads: These features contain sensors that will stop the chair when they make contact with an obstruction on the stairs or the chair's travel rail.
Speed governing device: The speed governor prevents excessive speed in the event of mechanical failure, ensuring that your stairlift moves at a consistent and gentle pace.
Swivel seat switch: This mechanism prevents movement of the stairlift when the seat has been swiveled to 45º or 90º. The swivel function allows the user to turn themselves toward the landing when they are ready to dismount the lift. When in the swiveled position, your chair becomes an immobile barrier between you and the stairs below.
Final limit switch: This switch prevents the stairlift from traveling too far along the rail, ensuring that the chair remains parked over a charge point to keep its battery charged when not in use.
Downside arm interlock: An Acorn stairlift's seat arms must be in the down position for the stairlift to operate, providing a safe and secure ride.
Testing and Quality Assurance

Acorn puts its stairlifts through a rigorous testing process before they are approved for use. This involves operating the lift through the average equivalent of 11 years of use with 25,000 return journeys. Before each stairlift leaves an Acorn factory, its carriage is checked 29 times by a large quality assurance team. Installation engineers follow a fully standardized, 37-point installation process.

Acorn's stairlifts are independently tested and approved under the EN 81-40:2008 European Safety Standards and the ISO 9386-2:2000 Worldwide Standard for Stairlifts.

Costs and Financing
Due to the customized nature of Acorn's FastTrack rail system, cost estimates are not readily available without an in-home consultation. The best way to learn more about Acorn's costs is to initiate contact with this company's sales team. Seniors should know that across the stairlift industry, costs from $2,500 to $5,500+ after installation are common for straight track designs, and curved track designs can cost considerably more. This range of prices can help you know roughly what to expect, but your costs from Acorn could be considerably different, depending on your situation.

Acorn stairlift cost will be impacted by the kind of model that you select. Acorn's regular 130 model will be its least expensive one. Curved and outdoor models, on the other hand, almost always cost the most. Furthermore, upgrades like custom rail length or power features on footrests or folding rails tend to add at least a few hundred dollars to your total with most brands. It's unclear how much the sit/stand chair upgrade is likely to cost, or if it is available in all locations.

Acorn Stairlifts does not advertise its financing terms online, but the company does offer in-house financing. If asked, a sales person will send an Acorn engineer to your home to inform you of your financing options as they measure your stairs for potential installation.

Get a Free Quote for Acorn Stairlifts Seniors and Medicare beneficiaries can receive free quotes for the purchase and installation of stairlifts. Get Started Here.
Purchasing and Installation
Acorn is one of the few, if not the only stairlift manufacturer that exclusively sells directly to consumers rather than through dealers. Pre-owned Acorn products can be found by visiting local retailers, but new units must be purchased directly from the company.

To request pricing information or to schedule a home assessment by a technician, contact Acorn online at AcornStairlifts.com or by phone at (866) 873-6574. There is also one physical location in the US where people who happen to live near Orlando, Florida may be able to see and sit in a chair before initiating a purchase. Find them at 7001 Lake Ellenor Drive, Orlando, Florida 32809.

Installation

Before purchasing your stairlift, an Acorn installation representative will make an appointment to come to your home and assess the space, determining which track configuration would offer the most appropriate fit and providing exact estimates. Once that is done, if you decide to place an order, next-day installation may be available in some areas, though this is usually only offered for straight stairlift orders.

Most stairlifts can be delivered and installed by licensed Acorn engineers within just a few days after measurements are taken, rather than weeks. The installation process itself takes only a few hours due to the simplified nature of Acorn's FastTrack rail construction. These tracks are constructed from premade, modular sections of high-strength aluminum that come in a variety of shapes and sizes, and can be interlocked to create multiple rail configurations. Acorn states that engineers will always ensure that you are comfortable using your stairlift and will clean up any debris before they leave your home. Installation costs will only be provided after the initial assessment of your home.

Warranties
A 12-month, non-transferrable warranty is issued upon the installment of your lift. This warranty will cover one 12-month, scheduled service plus any damage or failure of the device, as long as an Acorn representative can assess that the cause was faulty parts, manufacturing or installment.

If you realize that you no longer need or want an Acorn stairlift that you've already had installed, you will have 14 days from the date of installation to cancel your purchase. Acorn representatives will disassemble and collect your stairlift at no cost to you and refund your purchase price within about two weeks.

When your warranty period is up, you can opt for an extended warranty or a service agreement sold by Acorn. Though these contracts can cost hundreds of dollars, they can provide greater peace of mind and may especially be worth it if you foresee that you may need to leave the lift unused for extended periods, which can raise the risk of malfunction.

FYI
It pays to read your Acorn Stairlifts owner's manual. If it is assessed that you have improperly used your stairlift — according to the definitions of improper use laid out in your user manual — then you will be held responsible for any repair costs you incur. It may also void your warranty if you do not perform routine maintenance on your stairlift, which includes basic cleanings and checking for full functionality of certain components once every few months. The specific upkeep guidelines can be found in your user's manual.

Savaria Review
Best Standard Package
Savaria is a Canadian mobility equipment company that makes everything from home elevators to wheelchair lifts. Savaria is unusual in that they own a small network of North American dealers rather than certifying existing dealers/installers, as is common for the industry. But perhaps the greatest thing about Savaria is the high practicality of its stairlifts' basic features.

Savaria includes a set of standard features in the price of all of their models that should soundly accommodate most buyers' needs. Not all manufacturers include adjustable armrests or a 350-pound weight capacity as standard, but Savaria stairlifts are all made to comfortably hold people of most sizes.

The K2
The K2 Plus
The Stairfriend
Estimated Costs
Pricing available with consultation
Pricing available with consultation
Pricing available with consultation
Stairlift Rail Type
Straight
Straight
Curved
Maximum Weight Capacity
350 pounds
400 pounds
350 pounds
Key Feature
Exceptionally small fold-away footprint
Extra-wide seat with unusually high weight capacity
Out-of-the-way parking deposits the rider around the bend of their landing
Upholstery Options
Vinyl
Vinyl
Vinyl
Seat Color Options
Beige
Beige
Beige
Rail Color Options
White
White
White
Savaria Stairlift Models
Savaria provides a highly pragmatic set of features as standard on all of their stairlifts, including large, 24-volt batteries, adjustable armrests, and weight capacities of 350 pounds. Savaria models also come with safety features and upgrade options that make them a solid contender in stairlift manufacturing space.

Savaria's standard features and options include:

Two infrared remote controls that send signals through obstructions
Retractable seatbelts
24-volt batteries
Non-slip footrests
Swivel lock seats for safer dismount
Stair and rail system obstruction sensors and auto-stop
Soft start and smooth stop operation
Mounts to either side of your stairs
Option to add flip-up rail
Option to add emergency stop button
Option to add continuous-charge system
Savaria's most popular model, the K2, has one of the smallest folded-away profiles in the industry, making it a great option for people with high-traffic or narrow stairways. It is a straight-track model lift appropriate for single-flight, straight stairwells, and offers the option to add a fold-away rail for a less intrusive profile.

Features of the Savaria K2 include:

A 10.75-inch profile when stowed
Fits stairs up to 32 feet long and inclines of up to 55 degrees
Maximum weight capacity of 300 pounds on inclines over 45 degrees
Quiet and smooth-riding rack and pinion drive
LED status lights to indicate battery life and diagnostics
Can be installed to the left or right of stairs
Adjustable arm width up to 20 inches
The Savaria K2 also comes with the option to upgrade to an outdoor stairlift. The K2 outdoor package will come at an increased cost. It is suitable for moderate climates and includes:

Stainless steel rack and support legs
Zinc hardware for rust resistance
UV-rated, water repellent, closed-cell foam seat
Seat cover
Sturdy clip seatbelt
Upgraded battery for long-lasting charge in variable temperatures
Savaria Stairlift Safety Features
All of Savaria's current stairlift models are "ADC" powered, meaning they operate chiefly with the use of a battery that is charged via household, AC electricity. Included batteries are 24-volt cells that are twice the size of an average stairlift battery. The major safety benefits of battery power are that it offers an average life of about three years, and that in a power outage, Savaria stairlifts can keep functioning for up to 40 trips up and down the stairs so that riders will never be stranded.

A key safety feature of Savaria's stairlifts is their continuous-charge capability. Savaria's lifts have small charge points positioned in places along the rail where the seat can be parked. This ensures that Savaria stairlifts are always charging, as long as they are powered on. This makes the battery unlikely to ever unexpectedly go dead.

Safety Controls

Obstacle sensors. A standard feature of Savaria stairlifts is an array of obstruction sensors positioned along the seat's footrest and the chassis to stop the chair if it should meet a barrier on either the rail or your stairs.
Seat swivel and lock. This feature allows the rider to turn their seat toward the top landing to dismount their stairs and locks the chair in position to act as a stable barrier between the rider and the stairs below.
Soft start and smooth stop. Savaria's stairlifts reach their 15 feet per minute speed in a gentle, gradual push, and come to a stop just as easily.
Overspeed brake. This feature comes standard with all but the K2 model (buyers of the K2 have the option to upgrade to the overspeed break). It functions as a speed governor in the event that the stairlift exceeds its usual speed of 15 feet per minute.
Non-slip footrest. Savaria's footrests come with a pebbled surface that makes boarding and unboarding your stairlift much less likely to result in a fall.
LED status lights. Savaria stairlift chairs come with an arrangement of small LEDs to advise the rider of any issues, including low battery power and mechanical malfunction.
Testing and Quality Assurance

All Savaria equipment is rigorously tested in North America for its load-bearing capacities and life-cycle durability. Savaria stairlifts are ADA compliant and are certified by Underwriter Laboratories (UL), which enforces what is known as the American National Standards (ANSI) for quality and safety in manufacturing.
Costs and Financing
Since Savaria does not sell its stairlifts directly to consumers, it can be difficult to determine the costs of specific Savaria models. In general, this brand's straight track models are likely to retail between roughly $3,000-$4,000+, and adding upgrades or extra track length can increase the price. Savaria's curved model, the Stairfriend, is most likely to retail for approximately $8,800, or more if selecting upgrades. With all Savaria models, your costs will be impacted by location, the dealer and installers that you select, the size and shape of your stairwell, shipping costs, seasonal sales, and other factors. Financing plans may be available through some dealers.

If you take good care of your stairlift and continue to keep it clean and running smoothly after your warranty term is up, long-term costs are unlikely to be a major issue. After a Savaria warranty has run its course, any parts that wear out or otherwise malfunction will need to be replaced at the owner's expense, however. Because Savaria stairlifts come standard with a larger-than-average, 24-volt battery, it is unlikely that your battery will need to be replaced within less than three years, regardless of how heavily you use your stairlift. When it does come time to replace your battery, these can be found online for less than $50.

Purchasing and Installation
Purchasing a Savaria can be done in one of two ways: You can go through an authorized dealer or, if you live near one of five Savaria Direct Group locations, you may purchase directly from Savaria by visiting one of their manufacturer-owned stores. Costs are likely to vary depending on where you make your purchase.

Installation

Installations of straight stairlifts should take only about one to three hours, though installations of curved stairlifts can involve broadly differing spatial circumstances and are thus likely to take at least one full day to complete.

Savaria selects its dealer and installer network based on their record of expertise and the length of their experience. All installation specialists must be certified by Savaria and undergo continued training sessions to stay up to date on industry best practices and Savaria's quality assurance standards.

If you purchase your Savaria stairlift through an authorized dealer rather than through the Savaria Direct Group, it's best to research customer satisfaction with the dealer's previous installs before making a selection. Wherever you choose to buy your Savaria stairlift, it is vital that you ask about which installation costs, if any, you will be paying. Some aspects of installation are often included in the purchase price, but fees could still apply, particularly if you live in a remote location or have a unique stairwell design.
Warranties
Savaria offers a simple, single-item warranty on all of its stairlifts that are sold in North America. They provide 36 months of coverage for all stairlift parts as long as engineering or manufacturing error is at fault for any malfunction. Purchasing directly through Savaria will get you the 36-month parts warranty, and purchasing through a dealer is likely to add an extra layer of warranty coverage.

To maintain warranty coverage, your Savaria stairlift must be serviced regularly by an authorized Savaria dealer on a schedule that is disclosed in the owner's manual. Regular servicing for most stairlifts must take place once per year, but more frequent and/or extensive upkeep may be required to maintain warranty coverage for Savaria's outdoor units.

Savaria's warranty only applies to stairlifts installed by authorized Savaria dealers. This warranty does not cover:

Batteries
Accidental damage
Acts of God
Any kind of misuse, abuse or vandalism
Improper installation or placement
Structural or cosmetic parts subject to normal wear and tear
Drive belts
Mechanical switches
Light bulbs
UPSs (uninterruptible power supplies)
FYI
Dealers of Savaria stairlifts may offer extended warranties or service agreements at their own discretion, but buyers should be careful about accepting an extended warranty. Salespeople often overestimate the likelihood that a major appliance will need servicing, so it's best to always research any warranty terms and guarantors, no matter how reputable your stairlift dealer may be.

What You Should Know About Stairlifts
Stairlifts are battery powered chairs that glide on a track to help people with limited mobility maintain easy access to every level of their home. Whether your stairs are indoors or outdoors, short or long, and whether they are straight, curved or multi-tiered, there's probably a stairlift for you. Below you'll find some basic information on the different types of stairlifts that are available to help you find the best option to suit your needs.

Types of Stairlifts
Straight Stairlifts

A basic, straight stairlift is the most inexpensive form of the machine, though it is, of course, only suitable for people who have average, straight stairs. In homes that have straight staircases with multiple tiers and landings, installing more than one straight lift is an option. This may even be less expensive than purchasing a single curved stairlift since these can cost up to ten times more apiece. Still, navigating a multi-tiered stairwell using more than one straight lift makes transferring from one chair to another at each landing a necessity.

Curved Stairlifts

Curved lifts must be custom-made after purchase as curved stairways are not a well-standardized feature of home design. A curved lift can be engineered to fit with nearly any stairway, even for spiral stairs and uneven, outdoor terrain. However, a highly curved stair may present stairlift design challenges, such as reduced carrying capacity or rail length.

Wheelchair (Platform) Lifts

For those who require the use of a wheelchair in the home, wheelchair lifts are designed to bear a much heavier load than average stairlifts. These lifts utilize a large platform topped by a high-walled, roll-in box that limits movement of the chair while the lift is in motion, though some instead utilize un-walled platforms that lock in place between the wheels, supporting a chair by its frame.

Vertical Lifts

In homes where stairs are bordered by a wall over which a person can be vertically lifted to an upper landing or floor, use of the stairs can be avoided altogether. Vertical lifts attach to the wall beside your stairs, and thus will sometimes require home alterations to reinforce the weight-bearing capacity of the wall itself. Vertical lifts can be found in multiple styles to accommodate a seated or wheelchair-bound rider.

Portable Stairlifts

A portable lift is ideal for wheelchair users who frequent less easily accessible buildings or who may not be able to self-evacuate in an emergency. It is essentially a large-platformed dolly on a motorized, caterpillar track, and it moves freely, unattached to any surface. While a friend or caregiver who can lift at least 60 pounds must be available to help maneuver a portable stairlift, this style of lift has proven an invaluable tool in emergency situations and day-to-day travel outside the home.
A Stairlift's Main Components
User Controls
Hand controls: Modern stairlifts are designed with all kinds of mobility challenges in mind, so a key feature of any stairlift is an ergonomically positioned hand control. Hand controls are mounted in the right or left armrest, and many manufacturers allow buyers to choose which armrest position they prefer. A user can move their stairlift by applying a small amount of constant pressure to a paddle-shaped switch or joystick, with paddle switches positioned to sit between the fingers where hands naturally lay. The constant-pressure feature allows a rider to quickly stop or reverse their stairlift with ease by simply releasing the control or applying pressure in the reverse direction.
Power buttons: Power buttons are positioned either within reach of a rider on the armrest or on the pedestal of their chair. Users are advised to keep their stairlift powered on so that the batteries can continue charging while the chair is in a parked position.
Fold-away levers: Levers for fold-away are usually mounted near a stairlift's seat, so these often do not require much bending at the waist to engage. A fold-away lever can be used to fold the seat, armrests and footrest so that the chair becomes flattened to the wall, making your stairlift less obtrusive to foot traffic while it is parked. Fold-away systems can often be upgraded to function automatically with the push of a button.
Swivel-seat levers: Swivel-seat levers can usually be found on either side of the seat. Swivel seats allow riders to safely turn their stairlift seat toward the top or bottom landing of their stairs and then lock the seat in position, bracing the user to safely sit or stand. Swivel-seats can often be upgraded to function automatically with the push of a button.
Diagnostic displays: A diagnostic window may be found on a stairlift's pedestal, armrest or remote control. If there is ever a functional issue, such as a low battery or malfunctioning mechanical component, diagnostic windows will display an error code that matches up with a corresponding explanation in the user's manual of what the error code means.
Remote call systems: Most stairlifts come with a set of two remote controls that can be carried by the rider or set into wall-mounted cradles, though some call systems may be wall-mount only. Remotes function to bring the stairlift to your position, either at the top or bottom of the stairs. Most modern remotes offer infrared functionality that sends a signal over a long distance and through any obstructions between the stairlift chair and the remote. Some remote controls have the capacity to control automatic fold-away or swivel-seat functions.
Seat adjustments: All stairlift chairs are height-adjustable, allowing for more legroom between the footrest and seat base. Part of the stairlift installation process should involve your installer helping you find the right height adjustment and setting that up for you. Other adjustments may be possible, depending on the brand and model of your stairlift. Many lifts come with adjustable armrests that create more room in the seat and some feature adjustable backrests as well to accommodate taller people.
Folding rails: Most stairlifts offer the option to upgrade to a folding rail in either a manual or remote-controlled configuration. For spaces where there is a door very near the top or bottom of the stairs or where there is limited room for foot traffic, your rail can fold on a hinge to save space. A folding-rail segment is the end section of stairlift track. It folds back onto a more out-of-the-way section of rail, leaving the first or last few steps completely open. Some manufacturers may offer slimline rail options as well, or other innovations like Handicare's Slide Track rail, which travels a short distance as the chair moves, sliding it along the wall away from the final few steps and toward the rider's destination.
Rail Systems
Stairlift chairs house motors that pull the rider along a rail mounted to the homeowner's stairs by bolted-down, metal brackets. Some rails, such as those used with vertical lifts or wheelchair platforms, may be bolted to a wall instead.

Stairlift rails come in many brand-specific shapes and sizes, though they are usually made of extruded aluminum and can be mounted to either side of your stairs. Straight-track stairlifts commonly run on one rail while curved lifts glide almost exclusively on a double-rail system that adds stability. Curved rail systems must be custom-made for a buyer's home, and due to the high variability of curved stairs, added costs for things like extra lengths of rail and other hardware can pile up quickly.

Motors and Power Supplies
If your stairlift uses battery power, it will come with either two 12-volt batteries or one 24-volt battery, and these have an average lifespan of three years. While the lift is powered on and in a parked position, batteries are continuously charged via charge strips or charge points arranged along the rail.

Some stairlift models operate exclusively on your home's electricity. These stairlifts, usually called AC models, carry a slightly lower price tag than battery-powered options. However, an AC model can leave you stranded on the stairs if there's a power outage. Batteries store power and can support up to 20 minutes of usage without household electricity.

Drivetrains that motorize stairlifts are housed within the seat's base and are most commonly found in the "rack and pinion" configuration. The average speed of a stairlift motor is 15 to 20 feet per minute (FPM).

How to Use a Stairlift
Your user's manual becomes especially important when it comes to how you use your stairlift. Your installation specialist should carefully demonstrate exactly how it's done, but reading the user's manual is always in the buyer's best interests.

The features specific to your model of stairlift are intended to produce a carefully orchestrated user experience, giving you the safest and most strain-free use of your machine. Manufacturers of different stairlift brands prescribe a specific "order of operations" to guarantee safe and easy use of their products, so the order in which a user folds down their stairlift chair for use, swivels the seat into a front-facing position, belts in, and takes off should be a brand-specific process.

Another way your user's manual benefits you as a stairlift operator is by showing you what not to do. Certain actions, like using your stairlift to carry heavy packages or pets, can present serious risks. Manufacturers will sometimes go so far as to void a warranty if your stairlift or property is damaged under such circumstances.
Who Should Consider a Stairlift?
The average stairlift buyer is someone who has already faced a reduction of mobility due to age-related circumstances, a lifelong disability, or a debilitating hospital stay. However, there are people for whom a stairlift purchase represents a proactive decision, figuring into their plans to age in place or accommodate a loved one for a short time at home.

Aging in Place
The AARP has found that at about 71 percent of people between ages 50 and 64 wish to remain living in their own homes as they age, but that number climbs to 87 percent for people who have already reached 65. As care services for the elderly and disabled are becoming more accessible than ever before, people with limited mobility now have alternatives to relocating to single-level homes or care facilities.

Those who may eventually lose their ability to safely manage their stairs and anyone at an increased risk of falls can have a safer, and potentially cheaper homelife with the one-time purchase of a stairlift. And considering that stairlifts can also accommodate in-home wheelchair users, the option of installing a lift can be part of almost any conversation about aging in place.

Temporary Users
It is now common, even for people in limited income brackets, to install stairlifts that might only be needed for a few years, or even for just a few months. For example, sometimes a stairlift can make recovering from an intensive surgery a less burdensome process. The devices may also be useful if family members who require assistance on stairs move in or come for extended visits.

Though going through with a short-term stairlift installation can seem extreme, most installations do not require any home remodeling, and some dealers and manufacturers offer un-installation services for $100 or more. Buyback programs through companies like 101 Mobility will also pay aftermarket prices for a used stairlift, which is useful for people who must install their lift with no certain knowledge of whether it will be used for the short or long term. You can also rent a stairlift through many of the same reputable dealers and manufacturers listed in this guide.
Buyer's Guide: How to Choose a Stairlift for Your Home
Determine Your Price Range
When thinking over your budget for a stairlift purchase, it can be difficult to plan for additional costs that can crop up for things like accessibility upgrades or extra hardware for longer stairs. However, stairlift manufacturers tend to stock their standard models with specs and features that are suitable for the majority of users, and most brands offer many of the same upgrades as well.

As stairlifts are single-function machines, there is little variation between the features offered by most top brands. If Harmar or Bruno has it, AmeriGlide and the other companies we've listed here probably offer it too. However, each brand will have their own prices for added features.

Even if you know you will need to add extra features and upgrades, to get an idea of each brand's relative costs, start your search by looking at brand-specific price ranges for standard models. Keep in mind that curved stairlifts must be custom-made, so their listed prices can vary significantly depending on your stairway design.

Compare Costs for Renting or Buying Used
Renting is a good short-term option for people who need a straight lift for only about six months or less. Stairlift rental can be a great option for those who are recovering from an injury or surgery, or who will have a family member with limited mobility in their home for a time.

However, continuing a rental beyond three to six months can easily result in expenses beyond the average cost of buying a new stairlift. For stairlift users who desire a long-term option that is cheaper than purchasing new, used and factory refurbished stairlifts can cost hundreds less.

Renting a Stairlift

Renting a stairlift comes with startup fees as well as recurring monthly costs to be based on the average price of the model you choose. Startup fees are likely to include installation, uninstallation, service visit coverage and a security deposit. Average costs for each of these items frequently fall into the following ranges.

Stairlift installation: $350 to $600
Stairlift uninstallation: $200 to $500
Service visit coverage: $100 to $300
Security deposit: $200 to $800, depending on chosen equipment
Monthly rental costs: $180 to $300 per month depending on chosen equipment
Curved stairlifts are almost never offered as rentals due to their customized curvatures, and straight stairlift rentals may be difficult to find for unusually long or short stairs.

Buying a Used Stairlift

Prices for used stairlifts vary broadly depending on things like brand, stairlift age and the dealers who sell them. Used stairlifts can be found at often significant discounts — usually steeper discounts than used lifts that have been factory reconditioned. An exact price range for used stairlifts is impossible to quantify here, though it is not uncommon to find a used lift at a discount of $300 to $800 off.

Buying used can come with certain risks as the stairlift you choose may have a shorter remaining lifespan due to previous use. Costs for service calls and replacement parts may become an issue with a well-used lift, and for people who are highly dependent on their stairlift, an unreliable product can present a major problem.

Buying a Refurbished Stairlift

Some manufacturers sell used stairlifts of their own brand after refurbishing them at the same factories where new stairlifts are made. In factory refurbishing, parts showing signs of wear are replaced with new, proprietary parts, including torn or stained upholstery and mechanical components. Reconditioned lifts usually come with manufacturer warranty coverage. Buyers of factory reconditioned stairlifts can expect discounts of about $100 to $500 off.
Consider Upgrading for Comfort and Accessibility
Finding the right stairlift brand for your needs should involve a review of both the standard and upgradable options each vendor offers. Even if you're on a tight budget or if you just aren't the type to pay for extra bells and whistles, most stairlift upgrades are engineered for practicality and can make life much easier for people who have joint pain or limited mobility.

Upgrade options can be found to support physical comfort, to blend a stairlift into your home's decor, to save space in narrow places and to provide support that you or your loved one will appreciate as your care needs increase. The following are commonly offered stairlift upgrades.

Automatic seat swiveling: While all stairlifts come with a swivel-seat function that allows the user to turn their chair toward the stair landing to more safely sit down or dismount their stairlift, it's common to find powered versions for an added fee. Manual swivel seats must be engaged either by manipulating a lever mounted next to the seated rider or by planting one's feet on a stairlift's footrest and pushing the chair to swivel toward the landing. Powered swivel seats turn at the push of a button and are a welcome addition for people who have pain or weakness in their hands, hips or legs.
Automatic folding rails: For stairs with limited space near the landing, manual folding rails are a common upgrade that provide more space toward the end of a stairway for foot traffic and doorways. Automatically folding rails, however, may be much easier to operate, as the segment of rail that must be lifted with a manual configuration can be awkward to maneuver.
Cosmetic upgrades: Though most stairlift manufacturers stick with a relatively basic set of color and design choices, some offer upgrades to upholstery color, rail color and seating fabrics. Stannah, Bruno and Handicare offer a particularly broad range of color and upholstery options.
Comfort seats: Most stairlift manufacturers carry a premium option that comes with a more ergonomic or thickly padded seat. There are also options to add high-accessibility functions to seating, such as a perch design that maintains upright posture, or assistive seats that gently aid the user in standing and sitting.
Extended rails: Both straight- and curved-track stairlift rails can be extended or cut down to suit the length of your stairway. Most manufacturers have specific footage that they consider "standard" for their stairlift rails and will add charges for rail installations of greater length. When building a curved stairlift, the tightness of your stairs' turns and how many turns there are will also factor into how much you ultimately pay. Note that for some manufacturers extending either a curved or straight rail or adding a folding rail option can potentially reduce the lift's carrying capacity.
Find a Reputable Dealer
Authorized Dealer Networks

Once you've found a few stairlift brands to consider, search their websites to find store locations for their authorized dealer network. These are stairlift retail stores that have contracts with manufacturers. They can usually guarantee a manufacturer's warranties and installation standards, and have their installation engineers factory trained to install the stairlifts of their preferred brands. Some stairlift brands will also sell directly to the public online or by phone, but buying through an authorized dealer can add some advantages such as additional warranty coverage and nearby locations.

Researching Dealers and Manufacturers

Learning more about a brand or dealer before you buy is also an important part of the process. As a first step, check a company's consumer reviews with the Better Business Bureau. There, users can find reviews that cite specific product and customer service grievances, so it may be helpful to write these down as you read through the reviews section. Submitting a review with the BBB can be a detailed and time-consuming process, which makes it likely that consumers who complete BBB reviews are more committed to the process than those using other product review outlets, like Yelp or Facebook.

The Better Business Bureau also assesses businesses, giving them a letter grade, though grades should not be taken at face value. These grades are based on a variety of factors, including how quickly the company responds to complaints, how accurately they represent their products or services and whether they have appropriate licensing, among other considerations. To learn more about what Better Business Bureau ratings actually mean, visit their Ratings Q and A section.

Look for Strong Warranties
There are many warranty features to look out for when making a stairlift purchase. While nothing is as useful as going through a specific warranty with the help of a knowledgeable dealer, below you'll find some common aspects of stairlift warranties that are of particular importance.

Installation guarantees: Find out if a manufacturer and/or dealer's warranty will cover you in the event of an improper installation.
Drivetrain coverage: A drivetrain contains the mechanical components of a stairlift that are subjected to the most friction and movement, making it a high priority for warranty coverage.
Lifetime parts coverage: While outdoor and curved-rail stairlifts are less likely to come with lifetime parts warranties, some manufacturers do offer lifetime warranties for parts not included in the drivetrain. Note that parts coverage does not include wear and tear caused by average use.
Non-transferable warranties: If you're buying used, while original manufacturer warranties for stairlifts are almost always non-transferrable to second-hand owners, your dealer may provide their own coverage. Sometimes, the term "non-transferrable" also applies to stairlifts that have been moved from one home to another by the same owner.
Authorized dealers: If buying your stairlift from a dealer rather than directly from the manufacturer, ensure that the retailer is included in the manufacturer's authorized dealer network, as unauthorized sales can void a warranty.
Extended warranties: If you are ever offered an extended warranty after your original warranty expires, make sure the dealer or guarantor is affiliated with the manufacturer of your stairlift. Extended warranty sales have become a large industry, so it's not uncommon for salespeople to offer unnecessary or unhelpful coverage in pursuit of a commission.
Tips for Caregivers Choosing a Stairlift for a Loved One
Open a dialogue about finances.

To find out if your loved one has qualifying long-term care insurance or other coverages that could mitigate the high cost of a stairlift, you'll need to openly approach a conversation about finances. Many of us tend to avoid conversations like this as it can feel intrusive or disrespectful to ask a parent or friend about their personal resources. The best way to find out how to help your friend or family member save some money and get the support they need is to just ask, and to do so in open respect of their independence.
Many people find that planning these conversations in advance is a helpful approach, and consider tactics to break the ice. Caring.com senior living expert Christina Drumm-Boyd relates that, "Starting with a narrative of another senior's story who had a positive outcome related to advanced planning can often be very helpful in developing productive dialogue."

Consider your loved ones' accessibility needs.

There are stairlift features that benefit people with particular physical challenges. For example, Bruno models come with an audible diagnostic readout function and color-contrasted user controls for people with limited eyesight, as well as a battery housing that makes batteries easier for people with arthritis to change on their own. Acorn and Handicare offer stairlifts with perch-style seating for people who may be uncomfortable riding in a fully seated position due to limited joint flexibility. Whatever your loved one's biggest physical hurdles may be, a stairlift feature set that would benefit them personally may be available.

Emphasize the importance of using the stairlift once it's installed.

For anyone who has reduced but functional mobility, falls on the stairs are a still serious risk. Once a stairlift is installed, a person who can still walk may find it tempting to just go up and down stairs the "natural way" when they can. It can seem faster and more sensible to do so in the moment, rather than to ride up the stairs at 15 feet per minute in a cushy little seat. When thinking over a stairlift purchase, help your loved one realize that they might have to face the temptation to climb the stairs on their own. Remind them of how important it is to use their lift whenever possible, especially when they are alone at home.

Consider buying a stairlift that you can easily move or uninstall.

If you're planning to eventually sell your home or if you're uncertain of how long your stairlift will be needed, consider buying a stairlift from a dealer or manufacturer that offers financially viable un-installation services and a buyback program. Research what your shipping costs would be after uninstalling your stairlift, and find out if such costs are covered under a warranty or buyback agreement. When buying a stairlift that could potentially turn out to be a short-term necessity, consider shopping high-quality brands that are more likely to retain some of their resale value. If you're certain that you will only need your stairlift for a very short time, stairlift rental may be the most cost-effective option.
Payment Assistance for Stairlift Purchases
Many people cannot make large, out-of-pocket purchases for a big-ticket item like a stairlift. Financing is sometimes available for people who buy through manufacturers or dealers, but depending on the brand you're buying and what region you live in, this is not always the case. And if you do find financing, it's common for financial institutions to charge stairlift buyers sales tax just to simplify the financing process, even though this purchase is supposed to be sales-tax exempt.

Fortunately, there are multiple sources of coverage to support mobility equipment purchases for both middle class and low-income consumers. The following outlets offer grants, low-interest loans and lines of credit that may help you keep your home safe and accessible with a new stairlift.
Low-Interest Home Improvement Loans

Home improvement loans are usually offered for repairs needed after an emergency situation, such as interior flooding or a natural disaster, but they are also available to pay for accessibility upgrades such as the installation of a stairlift. These loans may be offered by state and local government agencies or unaffiliated banks, and usually involve deferred interest.

Zero-Interest Credit Cards

For people with fair to excellent credit, a zero-interest card may be an option for making a stairlift purchase. These cards offer zero interest for a set period of time, and some offer people with fair credit the opportunity to transfer a balance from an existing credit card to take advantage of a long, interest-free term with a new card.

Private and Long-Term Care Insurance

Many people don't realize that some personal insurance and long-term care insurance plans will help pay for the purchase of a stairlift. To find a plan that could qualify you for this coverage, you may need to spend some time comparison shopping. If you happen to have an accountant or financial advisor, one of their most important jobs is helping their clients find the right insurance policies. The insurance shopping process becomes far simpler and more productive when you have a knowledgeable guide — and someone who can help you figure out if your stairlift is tax deductible.

Financial Assistance for Low-Income Stairlift Buyers
Medicaid Waivers and State Entitlements

It is difficult to say for sure whether a stairlift purchase can be covered by Medicaid as each state determines the terms of their own coverage for stairlifts. However, it's not uncommon for people receiving their Medicaid benefits through a waiver program to get some coverage for a stairlift purchase.

Waiver programs are available for people whose health status makes them eligible for nursing home care, but who wish to instead receive home- and community-based services much like those offered in a nursing facility in the comfort of their own home. Waiver programs are capped in most states, meaning they receive a limited amount of funding every year and thus can only accept a limited number of recipients. If you or a loved one may qualify for nursing home care, find out if your state's waiver program can cover a stairlift purchase by contacting your local Area Agency on Aging.

The Area Agencies on Aging

Sours: https://www.caring.com/caregivers/best-stairlifts/
Amazon mobile stairlift
.
Introducing the Mobile Stairlift: The Last Word on Portable Mobility
.
You will also be interested:
.
183
184
185
186
187