The Jeep Wrangler is a purpose-built vehicle with an image that portrays freedom, adventure, and off-road capability. The Jeep name, unfortunately, cannot always be associated with reliability or build quality. The Jeep Wrangler has been the center of numerous technical and mechanical defects over the years resulting in multiple factory recalls and several concerned customers. 
This article will cover all the factory defects in detail as well as the mechanical or technical solutions required to rectify the problems. Each section will include the official factory recall document sourced from the NHTSA as well as the rectification guides and procedure documents available to download.
Over the last few years, Jeep Wrangler has had a series of major mechanical and technical factory faults ranging from electrical systems, fuel systems, engines, propulsion, steering, and powertrain. According to the NHTSA, Since 2010 Chrysler has received over 3586 complaints about the Wrangler with the highest being for the 2018 model Jeep Wrangler SUV 4WD which received 748 alone. The 10 recalls for problems related to the 2018-2019 Wranglers were for the following:

Rooftop tent cover cracks and detaching
Doors opening due to out-of-position door latches
Front track bar bracket separating from the frame
The voltage regulator may fail and cause a stall
Possible intermediate steering shaft splits.
Cruise Control cannot be canceled
Incorrect transmission park rods installed
Left rear frame section may corrode
Let's now look at each year of the Jeep Wrangler individually in more detail starting with the 2019 model down to the 2010 model to determine what the causes of each problem were and the subsequent rectification process of each.
Related information will include the recall details, faulty components, number of units affected, the remedy as well as the associated how-to guides.
2019 Jeep Wrangler Reliability Problems
Since the turn of 2019, the Jeep Wrangler complaints seemed to have dried up quite a bit, with the NHTSA only receiving 51 customer complaints compared to 2018 where the same Jeep Wrangler received 748 complaints alone. The highest number of complaints since the inception of the Jeep Wrangler. There were only 2 recalls in 2019 compared to 8 of the previous year, however, these were for two rather serious defects.
Steering Wheel detaches from the steering column
Front track bar bracket separating from the frame
Steering Wheel Detaches From the Steering Column Problem
This is a rather serious problem since if the steering wheel detaches from the steering column, the driver could possibly lose control of the vehicle and stands a high risk of a crash. The faulty component is the improperly machined steering column stub shaft that may break. This could cause the vehicle to veer off course and wander into the other lanes.
Vehicles affected
The vehicles affected by the above-mentioned problem were the MY Jeep Wrangler built at the Toledo North Assembly Plant
("TNAP") between February 5, 2019, and February 18, 2019. There were also 28 Ram 1500 vehicles that were affected.
Production Dates: FEB 05, 2019 – FEB 18, 2019
NHTSA Campaign Number: 19V-201
Official complaints logged with the NHTSA
2019 JEEP WRANGLER UNLIMITED MOAB JL – NO MODIFICATIONS, ALL STOCK, THE STEERING SEVERELY WANDERS. NOTICED AFTER, ABOUT 1500 MILES THE JEEP WILL DRIFT OR WANDER INTO OTHER LANES FOR NO APPARENT REASON. SOME TIME THE JEEP WOULD DRIVE STRAIGHT, OTHER TIMES NOT SO MUCH. THE VEHICLE IS HARD TO KEEP STRAIGHT WITH IN A SINGLE LANE. TOOK THE JEEP TO MY LOCAL DEALER AND THEY COULD NOT FIND ANYTHING WRONG, EVEN WITH ALL THE JEEP TSB'S

CONCERNED THAT COULD LOSE CONTROL OF VEHICLE AS IS WANDERS INTO OTHER LANES. NOTE: I HAD A 2017 JEEP UNLIMITED JK WITH NO STEERING ISSUES.

extract from: www.jlwranglerforums.com
Another complaint from the owner of a 2019 Jeep Wrangler Rubicon
"2019 JEEP WRANGLER RUBICON JL – NO MODIFICATIONS, ALL STOCK. STEERING ISSUES.

I NOTICED AT ABOUT 250 MILES, THE JEEP WILL DRIFT INTO OTHER LANES AT ANY GIVEN TIME FOR NO APPARENT REASON. TRYING TO CORRECT, CAUSES A WOBBLE. IT IS VERY EXHAUSTING AND FRIGHTENING JUST TRYING TO KEEP THE JEEP IN A SINGLE LANE GOING FORWARD AT HIGHWAY SPEEDS WHILE DRIFTING AND CORRECTING.

I TOOK THE JEEP TO MY LOCAL DEALER AND THEY TOLD ME THERE WAS A NEW RECALL THAT CAME OUT JUST DAYS AGO. THE RECALL WAS FOR A NEW STEERING DAMPER. I DROVE IT FOR ABOUT A DAY AND ALL SEEMED FINE. NOW, THE JEEP IS BACK TO DRIFTING AGAIN, I THINK NOT AS BAD BUT I DO NOT HAVE MUCH TO COMPARE AS I AM NOW AT 750 MILES AND OWNED 2 WEEKS.

I AM VERY CONCERNED THAT SOMEONE COULD GET VERY HURT WHEN THE JEEP DRIFTS INTO OTHER LANES OR OFF THE SIDE OF THE ROAD.

I DID NOT BUY MY JEEP SO THAT I COULD USE IT OFF ROAD OR TO MODIFY. I BOUGHT IT BECAUSE I LIKED EXACTLY THE WAY IT WAS. I AM NOT INTERESTED IN SELLING, TRADING, OR USING THE "LEMON LAW". I AM STRONGLY URGING THE NHTSA PLEASE OPEN AN INVESTIGATION INTO THE STEERING ISSUES BEFORE PEOPLE START GETTING SERIOUSLY HURT."

www.jlwranglerforums.com
The Risk
The risk is rather high since in the event of a steering wheel separating from the steering column could result in a loss of steering control. A moving vehicle without steering control is a major problem that can cause a crash without preceding warning. The safety of the driver is also compromised by the front impact safety system, increasing the risk of driver injury in a vehicle crash.
Related Documents
Download the official safety recall report
2019 Jeep Wrangler Steering Column Safety Recall Report 19V201-1398
Download the Remedy Instruction Guide
2019 Jeep Wrangler Steering Column Remedy Instruction Guide -19V201-9984
Front Track Bar Bracket Problem
There are a batch of 2018-2019 Jeep
Wranglers with a welding problem could be affected by the front track bar separated from the frame. The front track bar separates from the frame due to a welding defect which could result in reduced steering ability. The defective Jeep Wranglers affected by this problem may have been built with a front track bar bracket with an out-of-specification weld, where the weld to the front track bar bracket may have weld(s) located off the seam.
The vehicles affected were the 2018-2019 MY Jeep Wrangler left-hand drives.
Production Dates were between 07 MAY 2018 and August 21, 2018, NHTSA Campaign Number: 18V675000
Official Customer Complaints Logged With the NHTSA
THE STEERING IS LOOSE. OVER 1 INCH OF PLAY IN STEERING DRIFTS TO LEFT AND RIGHT AND UNABLE TO CONTROL AT ANY SPEED. CONSTANTLY HAVE TO FIGHT THE WHEEL. I AM AFRAID TO DRIVE IT. $52,000 TO REMAIN IN THE DEALERSHIP REPAIR SHOP IS PATHETIC. I TOOK MINE BACK AFTER 3 DAYS AND NOW I AM FIGHTING AND FILING LEMON LAW. I WAS TOLD BY THE DEALERSHIP CHRYSLER TOLD THEM NOT TO FIX IT UNTIL THEY DETERMINED IF A RECALL WOULD BE SENT OUT, BUT THEY KNEW THERE WAS A PROBLEM.

www.nhtsa.gov
Another one
STEERING AT SPEEDS ABOVE 25 MPH WITH THIS VEHICLE YOU WILL NOTICE THAT THERE'S TOO MUCH PLAY IN THE STEERING, REQUIRING CONSTANT CORRECTIONS ESPECIALLY ON THE FREEWAY. DRIFTING FROM LEFT TO RIGHT TRYING TO KEEP THE VEHICLE BETWEEN LANES ON THE ROADS/FREEWAYS CAN TO LEAD TO DRIVERS FATIGUE; WHICH COULD LEAD TO A SERIOUS ACCIDENT.

www.nhtsa.gov
Lastly
STEERING ON OUR NEW JEEP WRANGLER IS ALL OVER THE PLACE. YOU CONSTANTLY HAVE TO CORRECT AS THE CAR MOVES FROM SIDE TO SIDE CAUSING A VERY DANGEROUS SITUATION AND THE APPEARANCE YOU ARE AN IMPAIRED DRIVER. IT IS NOT SAFE TO DRIVE THIS CAR AND IT IS BRAND NEW.

www.nhtsa.gov
The Risk
There are numerous complaints about vague steering on the 2018-19 Jeep Wranglers where the vehicle tends to drift off-course. The Driver has to constantly correct the steering to keep the vehicle on track. The vehicle can veer into oncoming traffic and cause an accident. A letter of apology was issued to all owners which acknowledged that the vehicle track bar weld may not have been properly inspected. Owners were asked to contact their local dealer to have the inspection of the front track bar weld separation performed again. The dealer will re-inspect your vehicle and make the necessary repair if required, free of charge.
Related Documents
Download the official safety recall report:
2019 Jeep Wrangler Front Track Bar Recall Report -18V675-1532
Download the Remedy Instruction Guide:
2019 Jeep Wrangler Front Track Bar Remedy Guide
2018 Jeep Wrangler Problems
The 2018 model Jeep Wrangler was responsible for 8 out of the 10 recalls issued. According to the NHTSA There were a total of seven hundred and forty-eight customer complaints at the time this article was written. The bulk of the complaints were steering related with over 560 complaints logged at the NHTSA. This was followed by over 161 suspension-related complaints.
The factory defects we will cover are the following:
Rooftop tent cover cracks and detaching
Doors opening due to out-of-position door latches
Front track bar bracket separating from the frame
The Voltage regulator may fail and cause a stall
Possible intermediate steering shaft splits.
Cruise Control cannot be canceled
Incorrect transmission park rods installed
Left rear frame section may corrode
2018 Jeep Wrangler Roof Top Tent problem
Certain 2018 model Jeep Wranglers experienced problems with the rooftop tent. The problem was the top cover of the roof may crack or break, which could cause the cover to detach from the vehicle while moving. This is a possible safety risk. The problem was caused by a Chinese part supplier that had quality issues. This caused the roof to crack under severe weather conditions. This can result in the damaged roof detaching itself from the vehicle while moving, causing a safety hazard to the occupants as well as other drivers.
Vehicles affected
2018-2018 Jeep Wrangler
Production Dates: JAN 08, 2018 – DEC 21, 2018
Risk Involved
A broken or crack top cover can become disconnected from the tent assembly if enough wind is caught underneath it when the vehicle is in motion. The problematic vehicles were shipped to customers with a tie-down strap for the prevention of any disengaged part of the rooftop tent.
Repair Option
At the time of this article, there was no repair option at no cost provided yet. One potential remedy is to repurchase the vehicles. Dealers have been notified of the recall and directed not to sell any of the affected units.
Related Documents
Download Recall Report:
2018 defective rooftop tent Recall
2018 Jeep Wrangler Misaligned Door Latch Problem
There are certain four-door jeep wranglers with a problem with the rear passenger door. The vehicle may have been built with a right rear door latch that is off location. This misalignment problem can cause the outside door release handle linkage to bind on the latch reinforcement and result in a non-latch condition. The door is a major safety hazard for rear passengers since it opens unexpectedly which can increase the risk of injury if an occupant falls out while the vehicle is in motion.
Certain 2018 MY Jeep Wranglers unlimited have been recalled for this problem to be rectified. The problem is with the rear door latch that is not in the correct location. This could possibly be the cause for the door not latching properly.
Chrysler has notified all owners and dealerships who will repair the door latch free of charge. This recall began on 6 December
2018.
Vehicles affected
The vehicles affected were the 2018-2018 Jeep Wrangler which had the defective part installed between the production dates of September 26, 2018, and September 28, 2018.
Risk involved
There is a risk of the rear door opening unexpectedly while the vehicle is in motion. The rear passengers can be ejected from the
moving vehicle which can result in major injury or even fatalities. The problematic door can also possibly open in the event of a crash, thereby increasing the risk of injury.
Repair Option
If the owner has incurred a cost to rectify the door latch, FCA US has policies in place to reimburse owners provided they can send the original receipt and/or other proof of payment for confirmation of expenses.
Related Documents
Download Recall report:
2018 defective rear passenger door latch Recall Notice
Download Remedy Instruction Guide:
2018 defective rear passenger door latch Remedy Instructions
2018 Jeep Wrangler Voltage Regulator Problem
Certain 2018 Jeep Wrangler models have a problem with the powertrain control module. The problem could be that the control module is equipped with a voltage regulator chip in the circuit board that may malfunction, causing the vehicle to stall or not start.
Real-world Customer Complaints
My 2018 Jeep JK has a very annoying no-start issue. I only recorded the last one
due to the fact, that is the only exact date I remember. It won't start for around 15 to 20 minutes. It is very intermittent. The dealer cannot seem to duplicate it when it is in the shop. However, after narrowing it down it appears to happen after using the remote start and then you have a short or quick stop, that is to say, you get gas or just go into the store and come right back out. The Jeep will not start you wait 15 to 20 minutes then it starts. This is
a very annoying problem would love to see it fixed.
Risk involved
If the powertrain fails the customer's vehicle will not start or the vehicle will start and stall immediately afterward or the engine will stall while the vehicle is driving. This problem could cause an accident if the driver unexpectedly experiences a loss of power to the motor. The engine can stall while driving which can result in a crash without prior warning.
Repair Option
All owners and dealers will be notified by Chrysler to replace the problematic powertrain control module at no charge.
Related Documents
Download Recall report:
2018 Voltage regulator Recall Report
Download Remedy Instruction Guide:
2018 Voltage regulator Remedy Guide
2018 Jeep Wrangler Intermediate Steering Shaft Problem
Some 2018 MY Jeep Wrangler vehicles may contain a steering intermediate shaft that has an incomplete high-frequency long seam weld, which may eventually result in a split where the external spline is formed. Only Jeep Wrangler vehicles that were built at Toledo North Assembly Plant ("TNAP") from January 30, 2018, are affected by this intermediate steering shaft problem. Similar 2018 MY Jeep Wrangler (JL) vehicles are not affected by this recall since they have steering intermediate shafts manufactured by the supplier on a different unaffected production run.
Risk Involved
Under high steering wheel torque, the intermediate shaft may index on the spline, causing the steering wheel to lose center positioning. Emergency maneuvers may result in diminished steering responsiveness, which can cause a vehicle crash without prior warning.
Repair Option
FCA US will conduct a Voluntary Safety Recall inspecting the steering intermediate shaft of the suspect population of vehicles and replace the shaft if necessary.
Related Documents
Download Recall report:
2018 Jeep Wrangler Intermediate Steering shaft Recall Report
Download Remedy Instruction Guide:
2018 Jeep Wrangler Intermediate Steering shaft Remedy Guide
2018 Jeep Wrangler Cruise Control Problem
The cruise control fails to deactivate and maintains its speed or even accelerates despite attempts to disengage it. The risk of a crash is high. When activating the cruise control an electrical short circuit occurs within the vehicle's wiring resulting in the driver not being
able to shut off the cruise control. Depressing the brake or manually attempting to turn the system off is unsuccessful. This cruise control problem results in the vehicle either maintaining its speed or even accelerating. This is a major safety hazard.
Risk Involved
In the extremely rare instance of an electrical short in the vehicle causing the CAN-C bus to stop communicating while the cruise control is active, the vehicle will maintain its current speed or possibly accelerate. If the driver does not shift to neutral or apply the brakes to stop the vehicle this condition can cause a vehicle crash without warning.
Repair Options
Chrysler will have notified owners and dealers to inspect and update the software by performing a software flash on the engine or powertrain control module. This service is free of charge. Owners are advised to refrain from using the cruise control until the software update
has been carried out. In the event that the cruise control has been activated and does not want to disengage, drivers are advised to firmly and steadily depress the brakes and shift the transmission into neutral. Once the vehicle has stopped place the transmission in park.
Related Documents
Download Recall report:
2018 Jeep Wrangler Cruise Control Recall Report
Download Remedy Instruction Guide:
2018 Jeep Wrangler Cruise Control Remedy Instruction Guide
2018 Jeep Wrangler Incorrect Transmission Park Rods
Problem
There is a parking problem with certain 2018 MY Jeep Wrangler vehicles. The problematic vehicles were built between 27 February 2018 and April 4, 2018. The vehicles equipped with 850RE transmissions were built with an incorrect park lock rod which may result in the vehicle not being able to achieve PARK. The ability to achieve PARK may cause the vehicle to
unintentionally move and cause injury to vehicle occupants and/or persons outside the vehicle.
The cause of the problem was due to two different park lock rods being used in 8-speed transmissions. One park rod was for cars and one for sport utility vehicles and trucks. The rods differ in geometry by 7.3mm and have different engagement springs. The car and SUV/truck park lock rods are both installed at the FCA Kokomo Transmission Plant ("KTP")
final assembly station. A process change in the factory caused certain transmissions to be built with incorrect park lock rods.
Risk Involved
Vehicles assembled with the incorrect park lock rod may lose the ability to achieve PARK which could cause the vehicle to unintentionally move. This problem can cause a defective vehicle to crash without prior warning.
Repair Options
FCA US will conduct a Voluntary Safety Recall replacing the park lock rods in affected vehicles.
Related Documents
Download Recall report:
2018 Jeep Wrangler Incorrect Transmission Park Rod Recall Report
Download Remedy Instruction Guide:
2018 Jeep Wrangler Incorrect Transmission Park Rod Remedy Instruction Guide
2018 Jeep Wrangler Left Rear Frame Corrosion Problem
The driver's side rear underbody ladder rail may have been built with reduced corrosion protection. This problem could affect as many as 100 2018 Jeep Wrangler vehicles. The corrosion problem, which may, in certain circumstances, eventually result in a loose left rear seat mount or reduced strength of the rear floor pan due to premature corrosion. A loose left rear seat mount or reduced strength of the rear floor pan due to corrosion could, during a vehicle crash, allow two of the six attachment fasteners for the left rear seat to not be retained to the floor pan and/or the left rear floor pan structural frame member to buckle, which may increase the risk of injury.
Risk Involved
A loose left rear seat mount or reduced strength of the rear floor pan due to corrosion could, during a vehicle crash, allow two of the six attachment fasteners for the left rear seat to not be
retained to the floor pan and/or the left rear floor pan structural frame member to buckle, which may increase the risk of injury.
Repair Options
FCA US will conduct a Voluntary Safety Recall on all affected vehicles. The remedy for this item is currently under development.
Related Documents
Download Recall report:
2018 Jeep Wrangler Left Rear frame Section Recall Report
Download Remedy Instruction Guide:
2018 Jeep Wrangler Left Rear frame Section Remedy Instruction Guide
Conclusion
The Jeep Wrangler 2018 model seems to have its fair share of steering and handling problems. Most forums and review sites are riddled with complaints of the 2018 Wrangler's drifting steering, most notably into other lanes on the freeway.
Many owners complain about being unable to maintain a straight line without constant steering correction. Very noticeable at freeway speeds as the vehicle will want to drift left or right immediately after correcting steering."
As you will discover below as we delve into more detail that there were problems with the welding on the intermediate shaft. This is a very important component since it connects the steering wheel to the steering gearbox. If it fails all steering control is lost and can quickly become life-threatening.
There are very few if any modern vehicles in production that are not riddled with electronics and sensors which govern and control many of the vehicle's functions. That is not necessarily a bad thing since we need to progress forward and make vehicles safer, cleaner and smarter, however, technology can become dangerous when so much is depending on electronics and it malfunctions. This is the quickest way to make many customers unhappy when they no longer can trust your brand.
There have also been many welding quality complaints where welds are incorrect, badly welded, and just sub-standard. Many Owners are throwing their toys out over sub-standard production. If you cannot even trust the structure, how about the rest of the technology built on top of it? Many admit to feeling unimpressed and plane unsafe in their Jeeps.
Sours: https://4wheeldriveguide.com/jeep-wrangler-problems-all-defects-recalls-and-solutions/
Common Issues with Jeep Wranglers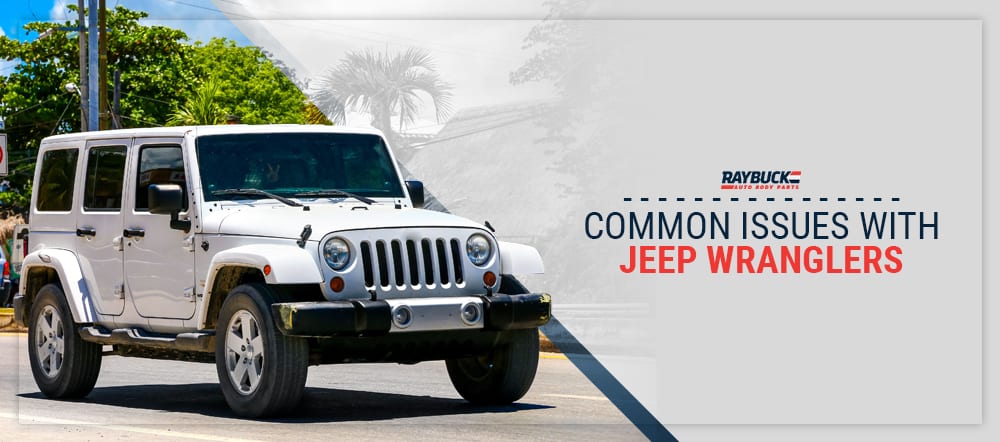 There's no denying the rugged appeal of the Jeep Wrangler. This tough vehicle can tackle everything from a morning commute to off-road adventures with ease. But Jeep Wranglers still have a variety of issues that can lead to extensive and costly repairs. Each generation has its own set of problems to watch for. We've compiled an overview of the most common Jeep Wrangler problems and what to know before buying a Jeep Wrangler.
Quick Links:
A Brief History of the Jeep Wrangler
The Wrangler as we know it did not appear until 1986. However, the Wrangler gets much of its style and capability from the Jeep CJs that came before it.
The CJ (1945-1986): Before World War II, Jeeps were only used as military vehicles. Near the end of the war, the first CJ, or "civilian Jeep," was released. It had a tailgate, a canvas top and lower gearing to make it more civilian-friendly while keeping a classic Jeep look.
The YJ (1986-1995):The first Wrangler was the YJ, which was introduced at the 1986 Chicago Auto show. It had the same frame as the CJ, but got a new look with rectangular headlights. The YJ's suspension and interior features came from the Cherokee.
The TJ (1996-2006): The release of the TJ in 1996 marked the beginning of the second generation Wrangler. Improvements to this generation included a stiffer body and frame, coil springs and round headlights. The engine choices remained the same as the YJ, making the TJ less of a relaunch and more of a heavy redesign.
The JK (2007-2018): Today, most Wranglers have a four-door cab — but this option didn't appear until the JK debuted in 2007. The third generation offered traction and stability control to increase safety, and kept features like removable doors, soft tops and fold-down windshields.
Common Issues With 2007-2018 Jeep Wranglers
The third generation of Jeep Wranglers is considered the least dependable. It has the most complaints and lowest-rated reliability among consumers, with multiple issues affecting every part of the vehicle. Let's take a look at some of the most common issues with Jeep Wranglers of this era.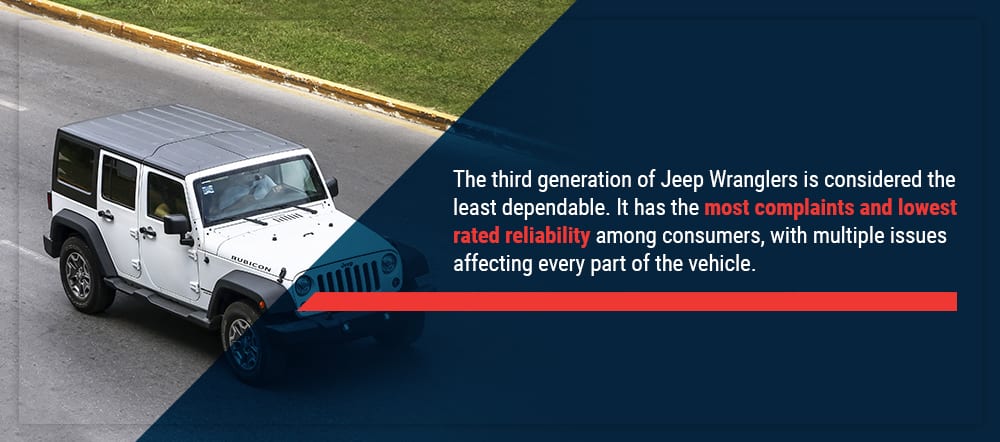 1. TIPM Failure
A vehicle's electrical system depends on a functional totally integrated power module (TIPM). The TIPM facilitates everything from the fuel pump moving gasoline and power window function, to the headlights and throttle control. Without the TIPM, even the radio won't work correctly.
Fiat-Chrysler vehicles from 2007 to 2015 are notorious for early TIPM failure. The Liberty, Grand Cherokee and Wrangler from these model years are all susceptible to this inconvenient and dangerous issue. Symptoms of TIPM failure include:
Fuel pump remaining on and burning out due to constant use
Airbags refusing to deploy or deploying at random
Engine stalling while the vehicle is in motion
Starter cranking but refusing to start
Horn honking at random intervals
Power windows getting stuck
Doors locking or unlocking without input
Many owners describe a faulty or failed TIPM as making the vehicle feel "possessed." Chrysler acknowledged the issue by sending out a recall for the 2007 Wrangler. The company blamed the dangerous stalling on a TIPM timing error. Even though many other year models were affected by the issue, none of them received a recall. Owners had to pay for repairs or replacements out of pocket.
TIPM issues are expensive, with the average TIPM repair cost at $1,200. Many reports occur while the vehicle is still under 40,000 miles.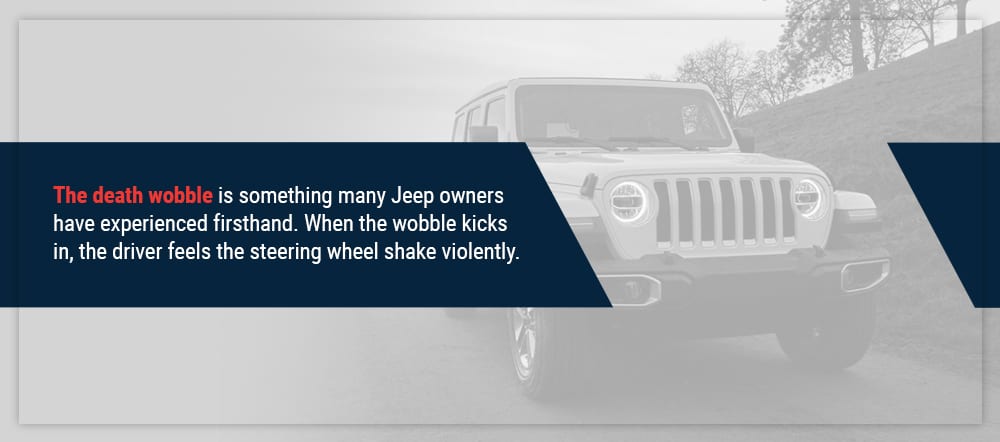 2. The "Death Wobble"
The death wobble is something many Jeep owners have experienced firsthand. When the wobble kicks in, the driver feels the steering wheel shake violently. It usually happens after hitting a pothole or experiencing another jolt, and can sometimes be triggered by pressing hard on the brake pedal.
While it may feel like the vehicle's axle or wheels will fly off, that isn't something to worry about — no one has died as a result of a death wobble. If it happens, keeping a cool head can help drivers regain control and continue safely to a mechanic.
The death wobble occurs when steering components come loose or become damaged. It can also happen when someone installs suspension or steering parts incorrectly. The first step of diagnosis is to see if any parts have been bent or broken in the front suspension. Possible causes of the death wobble include:
Ball joints
Drag link and tie rod ends
Front track bar
Lower control arms
Upper control arms
Steering knuckles
Steering stabilizer
Suspension bushings
All these parts need to be inspected for excessive wear and damage. When troubleshooting the death wobble, try tightening all the hardware to the manufacturer-specified torque. Improper wheel alignment and unbalanced tires aren't typically the source of the death wobble, but these conditions can make the issue much worse.
Most reports show no clear solution to the death wobble, and many owners have attempted to have the issue fixed multiple times. For the 2007 Wrangler, owners report spending almost $900 on attempted repairs, and few of those repairs permanently fixed the issue. Despite how common this problem is, Chrysler has not issued a recall.
3. TPS Failure
The throttle position sensor (TPS) relays information to the engine control module (ECM). It communicates how open the engine throttle is at any point so the ECM can properly alter emissions, ignition timing and fuel metering. The TPS is vulnerable to failure due to its complex combination of electrical and mechanical components.
When the TPS fails, its voltage readings will be incorrect and the check engine light will come on. The TPS sends information to the ECM that affects shift points in the transmission, leading to unexpected shifting issues that can be very dangerous while driving.
Signs of TPS failure to look for include:
Bucking or jerking when the engine is under moderate stress
Strange surges in speed
Engine stalling suddenly and for no reason
Reduced power and fuel economy
Hesitation under acceleration
Delayed shifts
Difficulty changing gears
The average cost for a TPS replacement on a Jeep Wrangler ranges from about $130 to $150. Labor costs are estimated between $70 and $90, while the parts are typically priced around $60.
Shop 2007-2018 Wrangler Parts »
Common Issues With 1997-2006 Jeep Wranglers
Though the second generation has fewer registered complaints over time, there are still some 1997 Jeep Wrangler problems that affect all the model years in this range.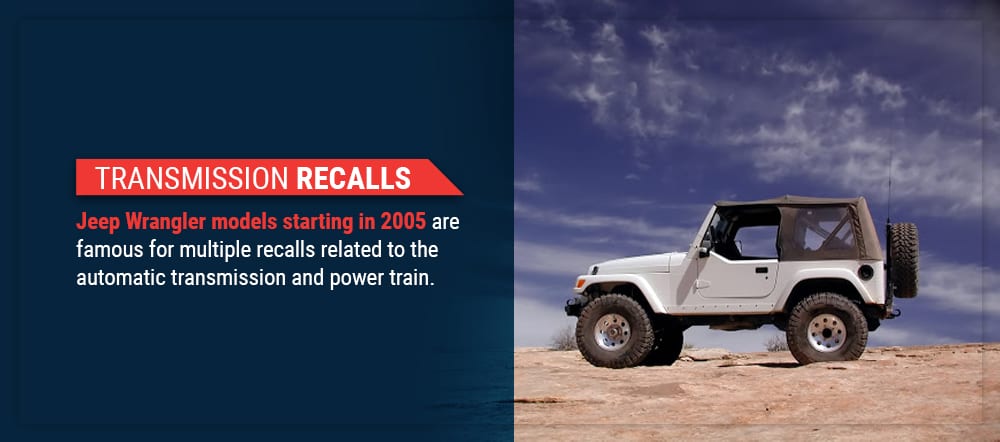 1. Transmission Recalls
Jeep Wrangler models starting in 2005 are famous for multiple recalls related to the automatic transmission and power train. The transmission may slip or get stuck in one gear. If the vehicle gets locked in one gear while driving on the freeway, the consequences could be deadly.
Although the issue is under recall and Jeep pays for the repairs, transmission issues typically come with long repair times.
2. Engine Popping
Backfiring or popping sounds in the engine can come as a shock, especially if it's never happened before. In many cases, backfiring sounds as loud as a gunshot could cause you to jerk the vehicle while driving. Some of the common culprits of backfiring in Wranglers include:
Incorrect engine timing
Failed spark plugs
Running rich with too much fuel and not enough air
Plug wires, if equipped
Backfiring happens under a variety of circumstances and repair costs vary based on the specific issue you're having.
3. Leaking Door Seals
Door sealing should be a simple component that doesn't fail early, but Wranglers are famous for having sealing issues. Leaking in the A-pillar is well-known among 1987 Jeep Wrangler issues, and it remains a concern for the other generations. Door leakage is especially common among 2002 Jeep Wrangler problems.
Poorly sealed doors create a damp environment that may cause unpleasant odors. If the issue gets bad enough, the moisture might damage electrical systems. Fortunately, door seals are easy to find and install. You can find Jeep weather stripping for this purpose for under $50 per door.
4. Differential Pinion Seal Leaks
The pinion seal helps keep fluid from leaking out of the differential. If the differential leaks fluid, it can fail, causing your Wrangler's gears to seize and lock up the rear wheels while driving. The main symptom of low fluid in the differential is a whining noise while driving.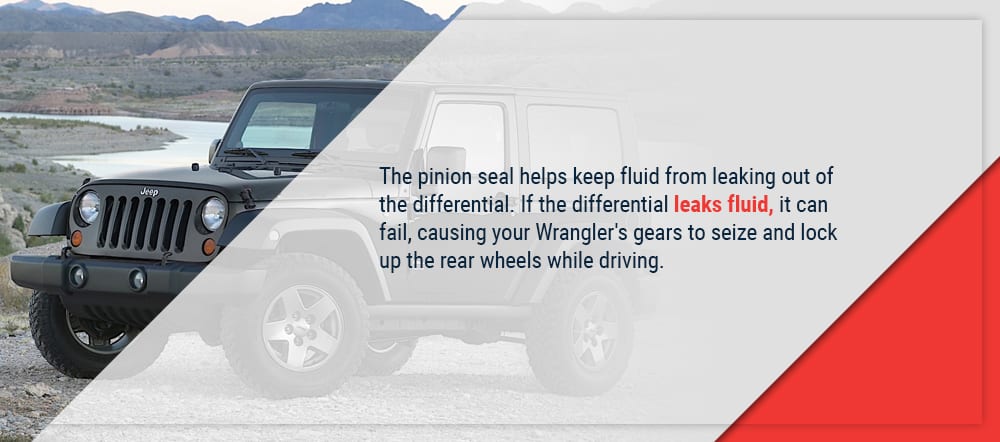 The average cost for a pinion seal replacement is between about $210 and $255, most of which is labor.
5. Transfer Case Leaks
Transfer cases are found in AWD and 4WD vehicles and split the transmission's power between the front and rear wheels. As a self-contained component, it has its own fluid which commonly starts to leak in Wranglers. If your transfer case is leaking, it may be a simple seal failure. It could also mean there is a problem with the overall transfer case, like a bad bearing.
Although the average cost of the parts required is around $30, getting a transfer case oil seal replacement may cost between $150 and $190.
Shop 1997-2006 Wrangler Parts »
Common Across Multiple Jeep Wrangler Generations (1997-2017): Ignition Switch Issues
A Wrangler part to pay special attention to is the ignition switch. The majority of ignition switch complaints for second generation Wranglers are because of age, but you'll find malfunctioning ignition switches in the third generation, too. The ignition switch is not the slot you push the key into — that's the lock cylinder. The ignition switch is usually found behind the lock cylinder, and it has three central functions:
Accessory power: This is the result of turning the key to the first position, which allows you to roll down the windows, turn on the radio and use other electrical accessories.
Ignition: Moving the key to this position starts the ignition and the fuel pump, pressurizing fuel and ensuring the engine is ready to go when it turns over.
Starter: Moving the key to this position cranks the starter.
When you have ignition switch issues, the symptoms don't just affect the car starting. Here are several signs your Wrangler has a problem with the ignition switch.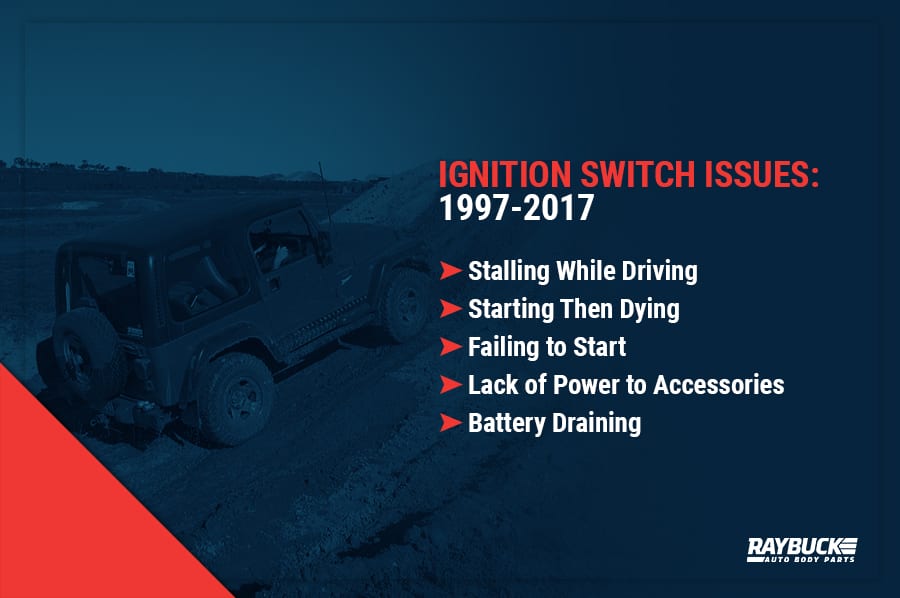 1. Stalling While Driving
A clear and dangerous sign of ignition switch issues is stalling out while driving. This happens when the failing switch cuts off the fuel pump or stops power to the ignition. The engine can't run until it picks that signal up again.
2. Starting Then Dying
In some cases there are no problems starting the vehicle, but it immediately dies. When this happens, the fuel pump or ignition is not getting power while the key is in the run position, but power is there when the starter is engaged.
3. Failing to Start
There is more than one way a bad ignition switch can stop your Wrangler from starting. In some cases, the starter cranks but the switch fails to turn on the fuel pump or ignition. This results in the engine turning over but not sparking. The other possibility is that the starter doesn't turn over.
4. Lack of Power to Accessories
Some cases of a failing ignition switch don't keep the car from starting or running. Instead, the vehicle may start and drive fine while none of the accessories work. A few vehicle parts don't require a key in order to be safer, including:
Headlights
Brake lights
Horn
Dome light
Other features like power windows, rear defrost, climate control and radio are tied to proper ignition switch function. If those accessories are off or acting erratically, you likely have an ignition switch issue.
5. Battery Draining
While the majority of ignition switch symptoms involve components not getting power, the opposite can also happen. Components may continue to receive power even when you turn the key to the off position. If you're experiencing unexpected battery drainage, it may be due to ignition switch failure.
Although this problem causes extensive issues, it is relatively cheap to fix. Getting a full replacement typically costs between $115 and $140, with the majority of that cost covering labor. This is a fairly simple DIY fix for those familiar with electrical systems.
Common Issues With 1987-1995 Jeep Wranglers
The oldest generation of Wranglers is the most reliable of the bunch. There are still some issues to be aware of — even if most of them are related to age.
1. Exhaust Manifold Bolt Failure
The manifold is constantly shrinking and expanding over the course of a duty cycle. Over time, it may stretch further than it is able to retract. This can fracture the mounting stud and make the manifold permanently misshapen. This process also stretches the bolts, creating enough tension for them to fail.
Manifold bolts are cheap, but if the bolts aren't replaced quickly or get stuck in the manifold, your Wrangler may need a new manifold. An exhaust manifold replacement averages between $950 and $1,100.
2. Body Damage
Wranglers are made for off-roading, which means older Jeeps are more likely to have body damage. Luckily, you don't have to resign yourself to dented and damaged body parts and panels in your first generation Wrangler. Raybuck offers a wide selection of repair panels for 1987-1995 Wranglers so you can keep your Jeep in perfect shape.
3. Oil Leaks
Even with good maintenance, vehicles this old are susceptible to oil leaks. There are multiple systems within a Wrangler that can leak oil, so diagnosing the problem can be challenging. Each system has a different color of fluid that will mix with the leaking oil and can be used to pinpoint the source of the leak:
Engine oil is amber when it's new, but turns brown or black over time.
Power steering fluid is the most ambiguous — it can be red, green, brown or transparent.
Transmission fluid is red.
Engine coolant can be transparent, red, orange or green.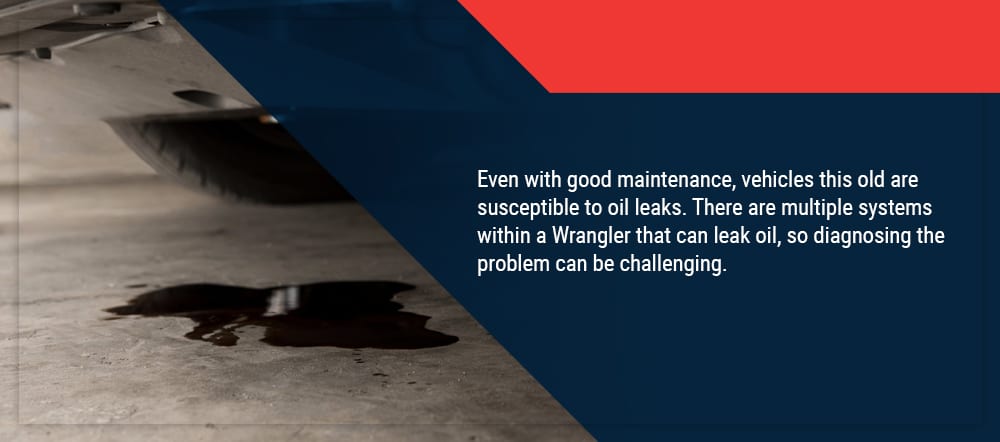 Oil leakage is one of the more affordable fixes in older Wrangler generations. It can cost between $90 and $110 to get the leak diagnosed, and the repair cost varies depending on the leak source.
Shop 1987-1995 Wrangler Parts »
5 Tips for Buying a Used Jeep Wrangler
Despite potential issues with Jeep Wranglers, there are plenty of solid vehicles out there. Here are five tips to think about if you're considering a used Wrangler.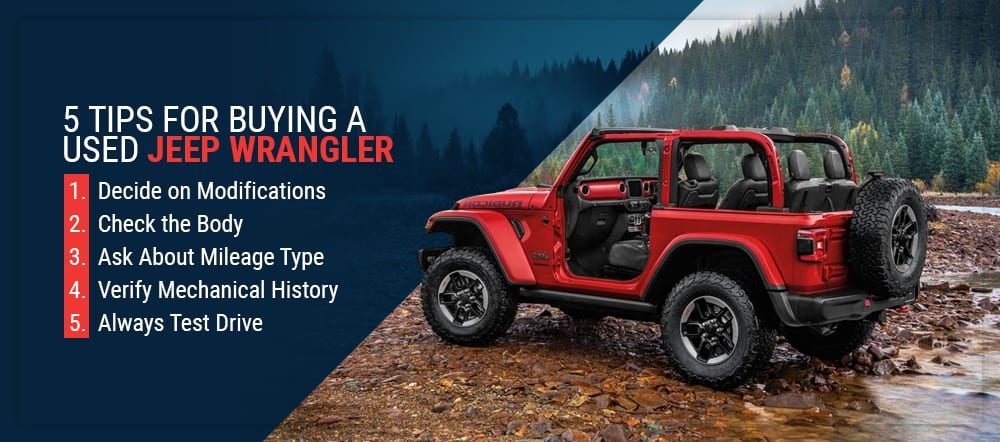 1. Decide on Modifications
Modifications are common in Wranglers, and they can be a good option if you care about performance. However, a modified Wrangler will be more expensive than stock, and modifications may increase the chances of component failure due to poor installation. If you choose a modified Wrangler, it's important to find out who completed the installation in case you need repairs related to the modification.
2. Check the Body
Before you get under the hood, check the body of the vehicle:
Undercarriage: Always check the undercarriage first, as it's the most visible indicator of how much life is left in the vehicle. It doesn't matter if there are few miles on the transmission or the vehicle has a newer engine if the undercarriage is in poor condition.
Outer panels: Significant denting can be a sign of hard use, and rusting might be a red flag. While rust on the undercarriage is a serious sign you should not buy the vehicle, it's relatively easy to get replacement panelsand fix up the vehicle if the rust hasn't spread to the frame.
Tires: Inspecting tires for uneven wear patterns is important in spotting things like alignment problems or improper rotation. For example, if you see the front tires are more worn than the back, the front tires have been bearing too much of the engine weight and will need to be replaced earlier.
3. Ask About Mileage Type
Overall mileage is important, but you should also ask how the vehicle was driven. A Wrangler with low mileage might have been driven under severe off-road conditions, which could make another vehicle with high mileage and gentle use a better option.
4. Verify Mechanical History
If everything looks good under the hood, you should still ask for a full record of maintenance and repairs the vehicle has received. A spotty maintenance history could set you up for early part failure.
5. Always Test Drive
A test drive is a chance to uncover symptoms or issues with the vehicle. Take your test drive in the morning so you can hear how the engine sounds on startup. Listen for unexpected idling upon warm-up, stuttering during idling and loud ticking. During your drive, pay attention to how shifting feels and note any unstable handling, jerks or vibrations that could indicate a death wobble in the future.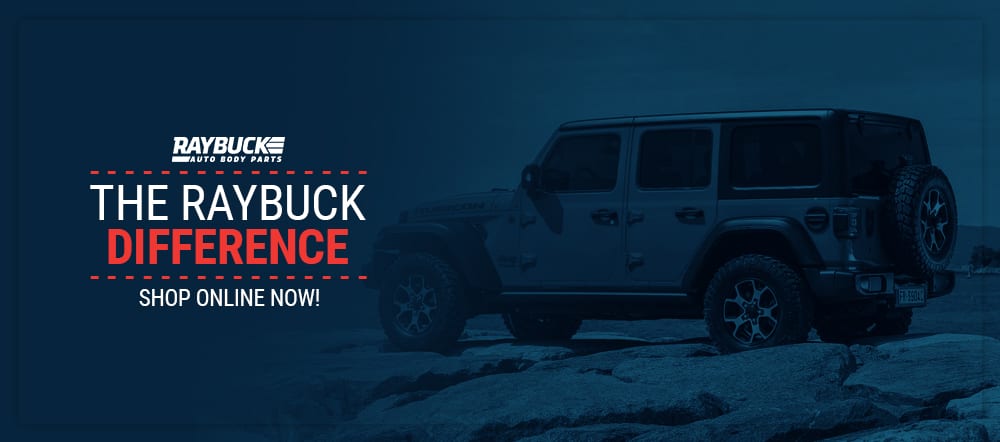 The Raybuck Difference
No matter the age of your Jeep Wrangler, you can keep it looking like new with body parts and panels from Raybuck Auto Body Parts. We offer competitive pricing on 1987 to 2017 Jeep Wrangler body panels without compromising on quality. Our dependable aftermarket parts are the smart alternative to buying OEM parts, and we work hard to provide customer service you can count on.
If you're interested in body parts and panels for your Jeep Wrangler, shop online, give us a call at 800-334-0230 or send us a message through our contact form today.
Sours: https://raybuck.com/common-issues-jeep-wranglers/
The National Highway Traffic Safety Administration (NHTSA) has opened investigations into frame welds and steering problems in about 270,000 2018–2019 Jeep Wrangler SUVs.
A complaint by the owner of a 2018 Jeep Wrangler JL prompted NHTSA to investigate weld issues, which the agency then expanded to include more than 3000 owner complaints of wobbling or "shimmy" in the steering.
The investigation, which is not a recall, doesn't include 2020 Wranglers, and no accidents or injuries have been reported.

Late-model Jeep Wrangler JL SUVs allegedly have welding defects in their frames that could potentially pose a safety risk, according to the National Highway Traffic Safety Administration. No accidents or injuries have been reported, however.
In response to the owner of a 2018 JL Wrangler who complained to the agency last year, NHTSA has opened an investigation to determine if poor-quality frame welds "compromise the structural integrity" of 2018 and 2019 model JL Wrangler SUVs. At issue, according to NHTSA, are welds with holes, welds with improper penetration, too much slag (a coating, like a scab, that forms on top of welds), and splash (bits of the weld material splattering onto the metal) that can be found "at a variety of locations on the frame assembly."
Fiat Chrysler had recalled 18,055 early-build JL Wrangler models in September 2018 for a separate welding problem that caused brackets attaching the front track bar, a critical component that links the front axle to the body, to separate and make the vehicle difficult to steer. In relation to this recall that involved a "misaligned weld," NHTSA said it asked FCA for additional reports of steering problems related to shimmying, wobbling, loose play, or lockup. At least 3566 owners have complained of such problems on 2018 and 2019 Wrangler models, NHTSA's investigation announcement says, with another 152 owners complaining about weld issues. NHTSA is investigating if there is a relationship between the alleged steering problems and the frame welds.

FCA told Car and Driver it is informing JL Wrangler owners that it will replace steering dampers free of charge if they experience any steering problems. The action, which is not a technical service bulletin, is unrelated to the 2018 track-bar-bracket recall, an issue that has since been corrected in production, an FCA spokesman said. It is also unrelated to the Gladiator driveshaft recall earlier this month.
No accidents or injuries have been reported. Under the NHTSA investigation, FCA does not have to recall any vehicles unless the agency determines a safety problem exists. As always, owners who experience these issues—or problems with any vehicle that may not be readily known—should report them to NHTSA.

This content is created and maintained by a third party, and imported onto this page to help users provide their email addresses. You may be able to find more information about this and similar content at piano.io
Sours: https://www.caranddriver.com/news/a29144073/nhtsa-jeep-wrangler-steering-shimmy-complaints/
Why I got a 2018 Jeep Wrangler JK over a JL
.
Wrangler 2018 jk problems jeep
.
Top 5 Problems Jeep Wrangler JK SUV 3rd Generation 2007-2018
.
Now discussing:
.
19
20
21
22
23