DIY Leg Press for Under $60
We review free products that we receive and participate in affiliate programs, where we may be compensated for items purchased through links from our site.
See our disclosures page for more information.
One type of equipment that's often lacking in home gyms are machines. Following our guide, you can build a rack-attachable DIY Leg Press capable of holding 600+ LBs for less than $60 and an hour of your time. Setup is easy, but the gains are hard. Get to work.
I love do-it-yourself home gym projects. This is how the garage gym movement started and it's cool to see all of the people that continue to innovate by creating a budget home gym with equipment made by their own hands. This DIY Leg Press attaches to a power rack so it's easy to setup and doesn't a lot of money to build. Whether you want to use this leg press for single leg movements or dual or even use it for overhead press or curls thanks to it's leverage design, we think you'll like the addition to your gym.
Why You Should Build A DIY Leg Press For Your Home Gym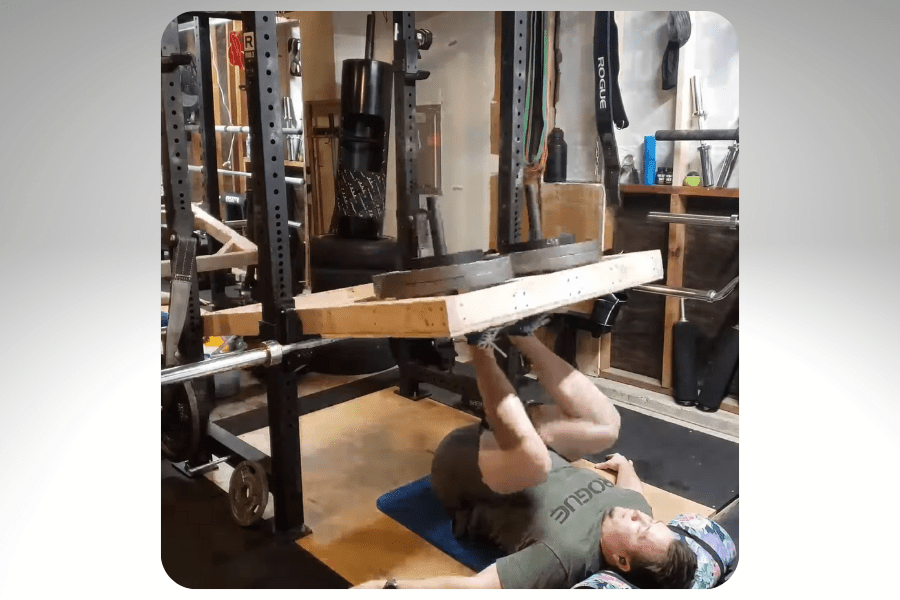 If there is one piece of equipment that seems elusive to the home gym owner, it's definitely the leg press. In commercial gyms, the leg press is probably only second in use to the power rack by trainees working their legs. People love it.
I'm not here to argue the effectiveness of the leg press versus the back squat, but I will speak personally–I miss being able to do leg presses in my garage gym. It's not something I think about a ton, but there are times after squatting that I'd love to do a finisher on a hack squat machine or leg press.
The reason they're practically non-existent in home gyms is because of the space they take up.
There are also the factors such as the high cost and lack of versatility. However, the biggest reason for them not finding their way into more people gyms is the footprint issue. A belt squat like the Rogue Monster Rhino Belt Squat we've reviewed is great, but it doesn't feel like a perfect replacement (check out our DIY Belt Squat Guide here.)
Therefore, a DIY Leg Press that is rack attachable, priced affordably, and can be made quickly is a tremendous idea for many home gym owners.
If you've missed the leg press or simply want to add some variety to your lower body training days, this DIY Leg Press Guide is for you.
Read more about budget-friendly equipment in our guide about the best budget home gym equipment.
Build Materials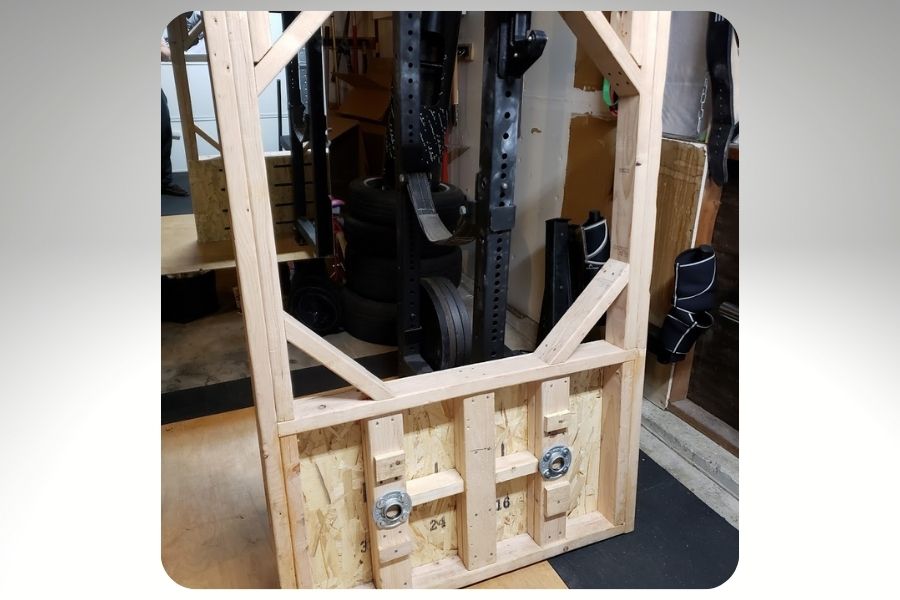 Although a typical leg press takes up a ton of space, the leg press we're building is attachable to a squat rack and easily removable. This means the number of materials needed are low as the base support isn't needed to be built.
Here are the materials we used to build our DIY Leg Press. Depending on the size of your squat rack, you may need more or less material. Our design is based around the Rogue RML-3 Power Rack, which has a depth of 30" and a width of 49".
Wood Screws
Wood Glue
1.5" diameter, 24" long metal pipe with threading on both ends, cut it in half.
5/8" diameter, 28" long zinc rod. You could use band pegs in place of this, however.
(2) 1.5" metal flanges for pipes
(8) Lag bolts, (8) Washers
Overall Leg Press Measurements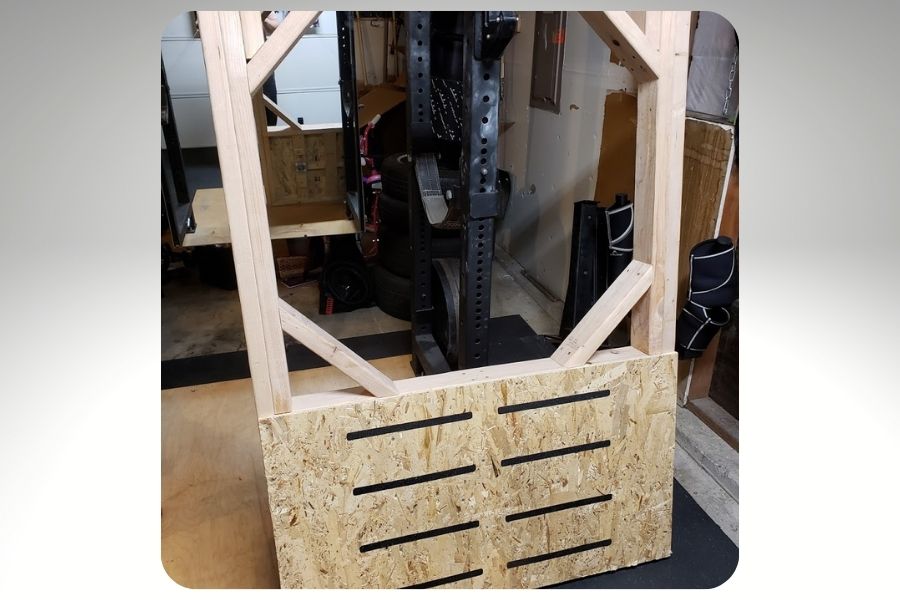 As previously mentioned, these measurements are designed around a 30" deep, 49" width power rack from Rogue Fitness. You can adjust accordingly, however, these rack dimensions are very popular and should fit many racks.
I would suggest that the deeper your rack is, the more support you should provide the
Frame length: 61.5"
Frame Width: 41.75"
Foot Platform: 41.75" x 24"
Leg Press Setup Instructions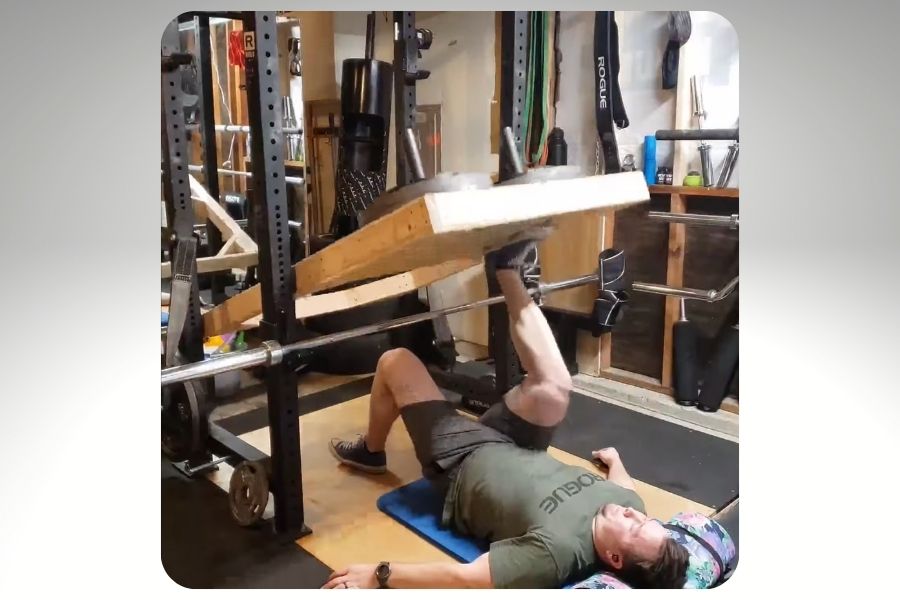 Setting up the leg press in your rack is simple and quick. We've found when gym equipment takes a ton of setup time, it simply doesn't get used. This is the issue with many rack attachments and why we're not always quick to recommend them.
As you'll see, taking our DIY Leg Press from storage (which can easily be done on the wall) to in the rack and ready to thrash your legs can be done in as little as 90 seconds.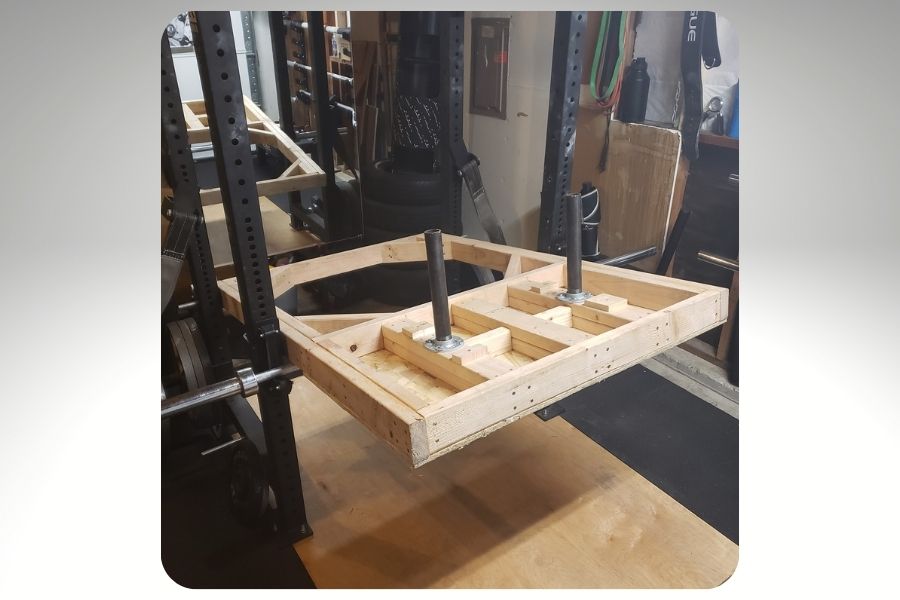 Step 1: Rack your Olympic Barbell and J-Cups to the appropriate height. You'll have to play around with this to find what's adequate. Different heights may require a different height on the bar, but this is one reason this design is so nice because it can complement any body size.
For extra security, we suggest wrapping bands or wraps around the bar and j-cups to make sure it doesn't move. This isn't a requirement, but may be helpful if you're worried about the bar moving.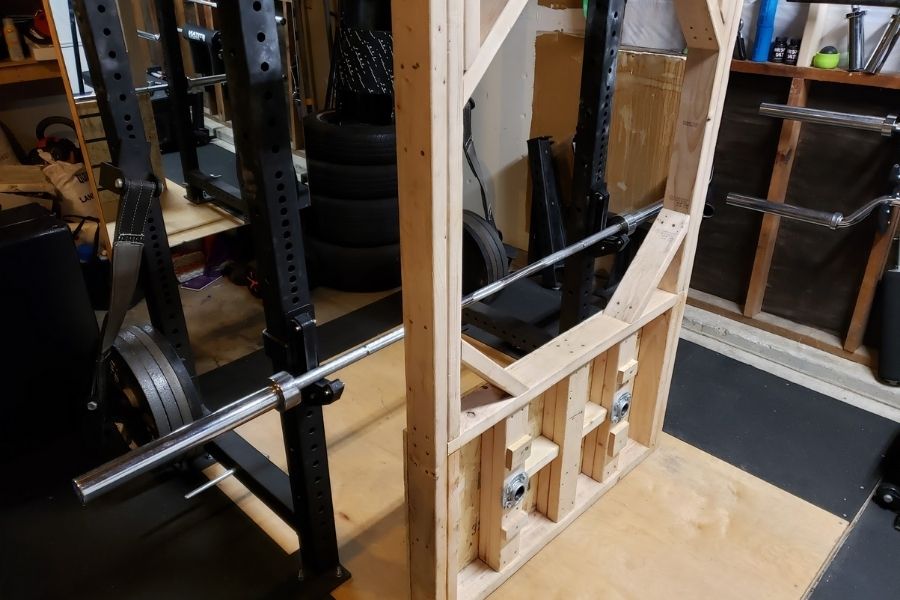 Step 2: Stand the leg press up vertically so that the footplate is on the floor, and the loading pins are facing the outside of the rack.
This is the easiest way we've found to place the leg press attachment in the rack with one person. If you have a training partner, this part could go even quicker.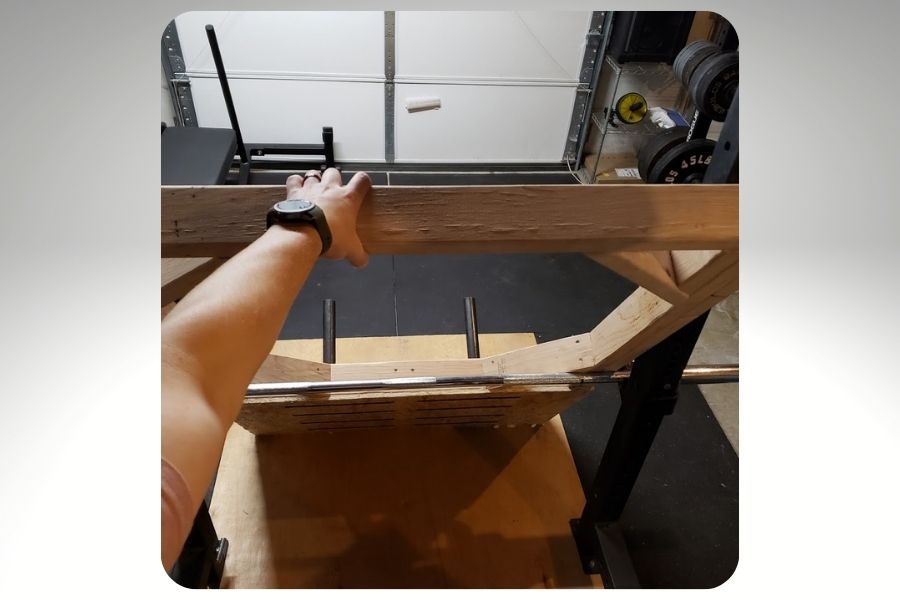 Step 3: Grab the top of the frame where the rods will connect through the side of the squat rack uprights and into the back portion of the leg press. Pull the attachment over the bar to the other side of the rack.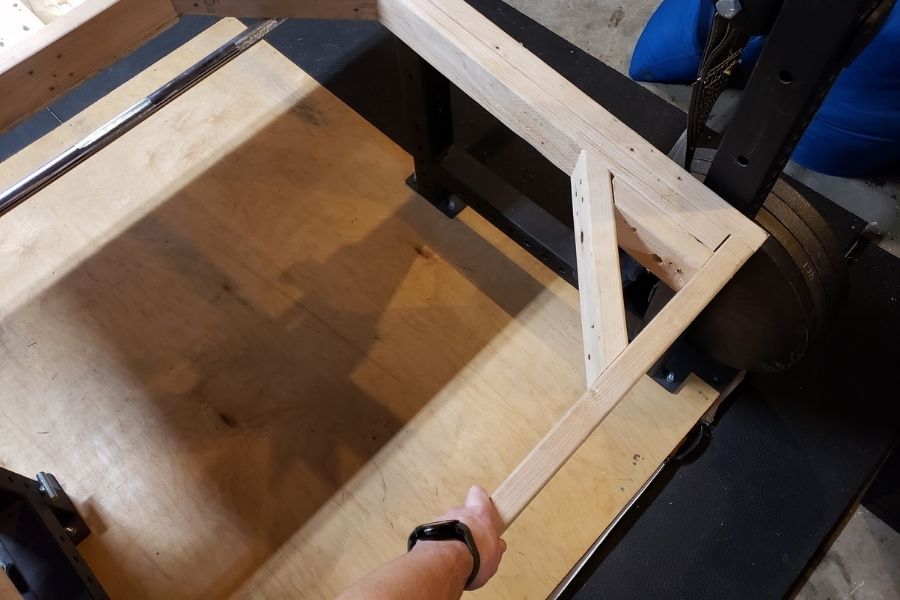 Step 4: Align the holes for the rods to the desired hole on the frame of the rack.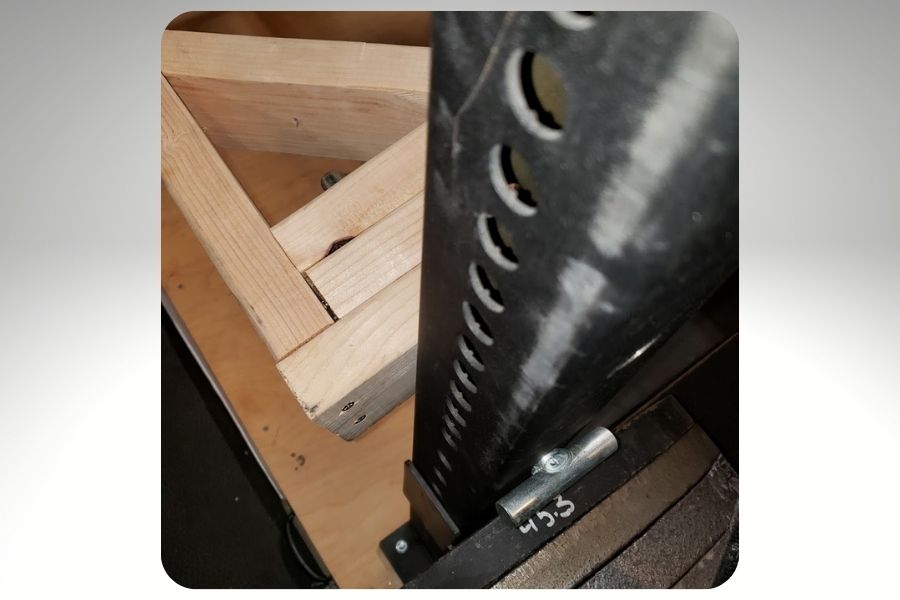 Step 5: Insert the rod or band pegs from the rack side hole first into the frame hole and then repeat on the other side.
Pro-Tip: You can use band pegs as well if you don't want to buy an extra 5/8 in rod just for this purpose, we've tested it and they fit no problem.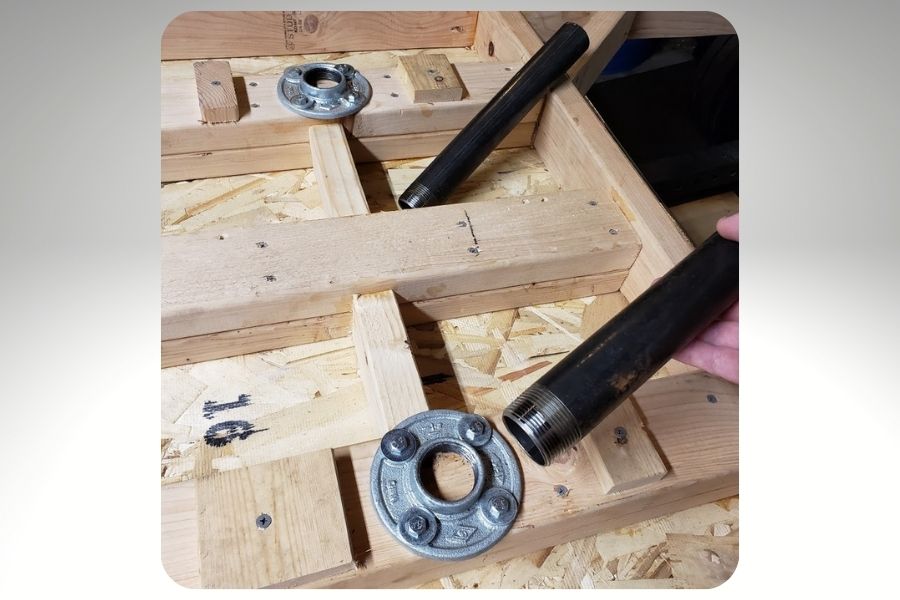 Step 6: Attach the threaded pipe for the weight plates to sit on the footplate. You can leave these on if you desire, but we typically remove them so that the leg press can sit flush up against the wall.
Step 7: Get to work. As you can see. It's that quick and easy to use.
Building Notes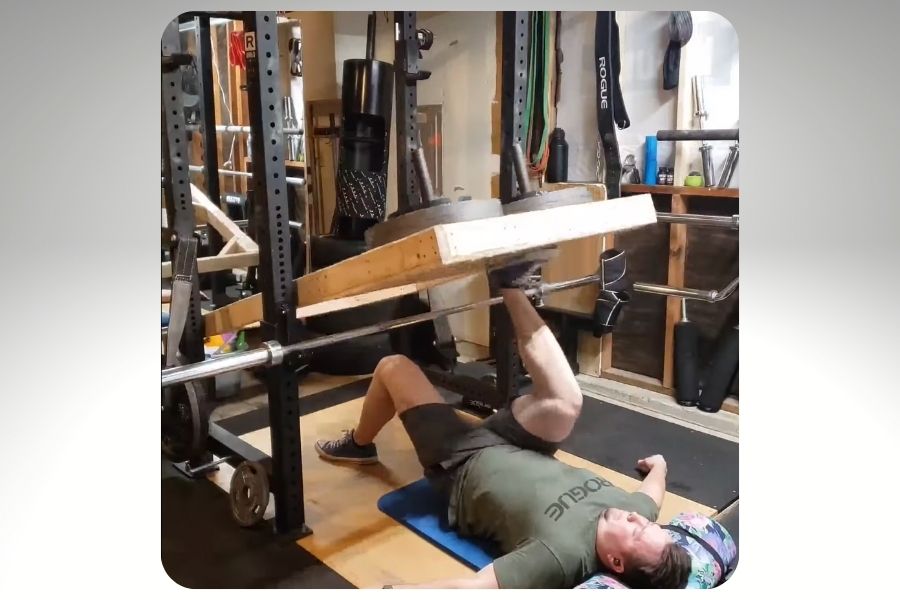 We suggest not assembling the frame lengthwise with just one 2×4, while later deciding to sandwich another 2×4 thinking it's not strong enough. Start by using two 2×4's from the beginning or even just a 4×4 if you really want it to be sturdy.
2×4's are the cheapest, so if you want to keep it low cost, they would be your best option. If you plan to go very heavy, we suggest 4×4's.
There are other methods for racking the leg press that could be explored. We rested ours on a barbell, but you could easily add chains and an eye hook so that the leg press was held by a pull-up bar or cross member at the top of the rack. The downside to this method is that it may take longer to set up, but probably not significantly more.
If you buy your wood from Home Depot or Lowers, you can get a few cuts free so you don't have to do much material work at home.
We want to give a shout-out to one of our Home Gym Community Members Dylan Lasich who came up with the build. This is sure to help many improve their training and fitness.
Further reading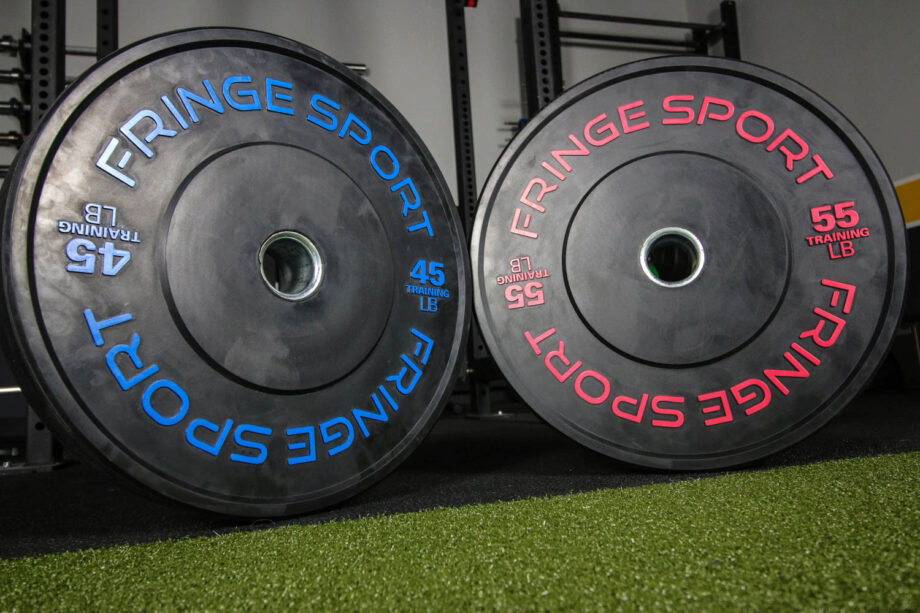 FringeSport Bumper Plates In-Depth Review by Coop
FringeSport has produced some of the best bumper plates available on the market with their Contrast Bumper Plates. With its ultra-durable virgin rubber, raised contrast lettering, and the best warranty offered for bumper plates, the FringeSport Contrast Bumper Plates are the bumper plates we recommend when looking to purchase a new set for any home or commercial gym. Read more
Rogue Fitness Barbell Reviews: An Honest Assessment by Coop
Rogue Fitness is known for making some of the best barbells in the world. However, not every bar is the best for you training, which is why I want to detail the best Rogue barbells. Rogue use US-sourced steel, make them in Columbus, Ohio, and have a dedication to great specs, customer service, and lifetime warranties. I have now used every barbell they make and wanted to provide an honest assessment and review on each one. Read more
Best Massage Guns in 2021: Top Picks from Theragun, Hypervolt, and More by Amanda Capritto
The best massage guns are powerful, quiet, and portable. Here are our top picks for percussive massage devices in 2021. Read more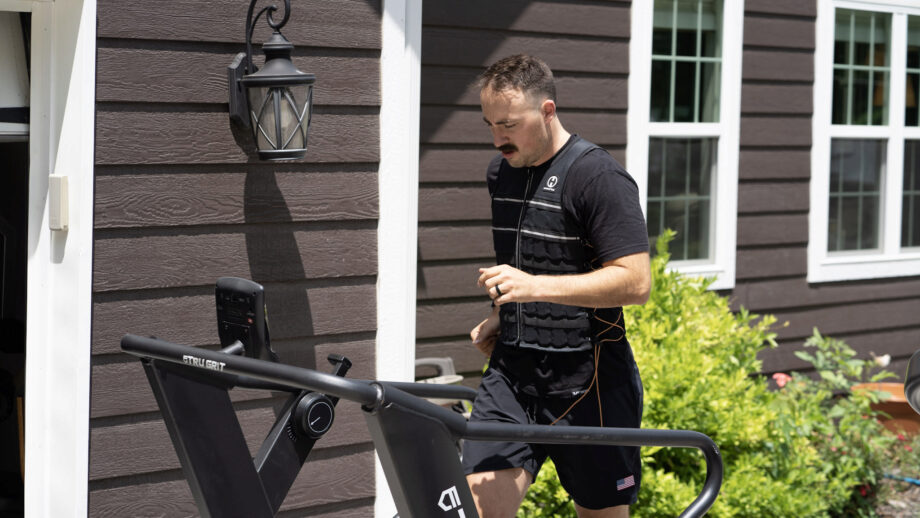 Hyperwear Hyper Vest Elite Weight Vest: Breathable With a Snug Fit (2021) by Coop
While a weighted vest is certainly not a necessity for a good home gym setup, having one at your disposal can be the cherry on top of a lot of workouts. Weight vests are extraordinarily beneficial for people who are just starting tobuild their home gym, as well as people who have small spaces, because you can wear a weighted vest to make any basic bodyweight exercise more challenging.Why You Should Trust UsI've tested most of thebest weighted vests on the market. The Hyperwear Hyper Vest Elite Weighted Vest is different than most—it's unique in the build and the way it fits. In this Hyperwear Hyper Vest Elite review, I dive into my thoughts on the vest, from my favorite features to its downfalls compared to my other top picks. Read more
Sours: https://www.garagegymreviews.com/diy-leg-press
Homemade Hack Squat Machine
A Must Have Item For Your Home Gym!
Article and photos by Nick Nilsson
Combine the benefits of free weight barbell squats with the benefits of machine squats into one lower-body blasting exercise! All you need is a rack and a barbell andyou'll be able to give your entire lower body a sound thrashing with this homemade hack squat machine.
Hitting the legs HARD is one of my very favorite things to do in the gym. But even for me, there are days when the Barbell Squat is just not on the menu...I either don't feel like doing it that day or I've just done it recently.
That's where THIS exercise comes into play...the Rack Hack, as I like to call it. Basically, it combines the benefits of free squatting (moving your body through space, supporting the load on yourself, having freedom of movement) with the benefits of the hack squat machine (your body is more stabilized, it's easier to get set up and perform the exercise).

Usually, you'd think these benefits would be mutually exclusive...after all, how can you maintain freedom of movement where your body is actually more stabilized!
I'll show you...
First you're going to need a power rack and a barbell. Set one of the safety rails up high (about shoulder height) and one of the rails low (around midsection height). When you set a bar on it, it'll be tilted downward at a fairly steep angle.
Before you put any weight on the bar, test the height to make sure you can squat down and get your shoulder under it (because that's what you're going to be doing in the exercise!).
Once you've got the height set, load BOTH ends of the bar. You don't need as much on the higher end - that's more for anchoring the weight. Be careful when you load the bottom end as the plates will have a tendency to slide. Put a plate on then immediately put a collar on.
Now you have a choice...you can do the exercise with no padding or with a towel wrapped around the end of the bar (the standard barbell pad won't fit because it would go on the thick end of the bar). In the demo pics, I'm using a towel. If you're using lighter weight, it won't matter so much.
Squat down beside the bar and set your right shoulder under the end. Your back should be right up against the weight plates. Reach up and grip the end of the bar with both hands to keep control of the bar and lock yourself onto it.
Now stand up! You'll notice that you're somewhat locked into the movement while still maintaining freedom of movement. The end of the barbell moves freely in space, allowing you to find your own groove in the exercise while still having the one end of the bar anchored so you have a pivot point to move from.

This is a VERY effective combination that really does give you the best of both worlds. The other cool thing? You get excellent core training as well, because you're supporting the weight on one shoulder.
Because of that, I recommend alternating sides with the exercise. I do 3 reps on one side then 3 reps on the other side, going back and forth. You can also do your full set of reps on one shoulder, take your rest period (60 to 90 seconds is good) then do your next set on the other shoulder. Either way works just fine.
I recommend sets of 8 to 12 reps with this exercise but feel free to experiment with different weights and ranges...because the OTHER nice thing about this setup is that you finish at the BOTTOM.
What's so special about that? It means you can push your legs until they're TRASHED and simply set the weight back down on the rack rail without ever worrying about getting stuck under a bar.
So if you're looking for a way to do hack squats and your gym doesn't have the machine for it, this is a very effective homemade hack squat machine. You can also set the bar up higher, set a calf block down and do standing calf raises with this type of setup as well.
When you give this exercise a try and can't walk normally for several days after because your legs are like rubber, you can blame me. I'll accept it.
---
Nick Nilsson is Vice-President of the online personal training company BetterU, Inc. He has a degree in Physical Education and Psychology and has been inventing new training techniques for more than 18 years. Nick is the author of a number of bodybuilding eBooks including "Muscle Explosion - 28 Days to Maximum Mass", "Metabolic Surge - Rapid Fat Loss," "Muscle Explosion! 28 Days to Maximum Mass," "The Best Exercises You've Never Heard Of," "Gluteus to the Maximus - Build a Bigger Butt NOW!" and "The Best Abdominal Exercises You've Never Heard Of" all available here.

---
Webmaster's Note
You have to check out Nick's ebook of unique exercises, like his Nilsson curls which use two barbells.
---
---
Back to Top
Sours: http://www.home-gym-bodybuilding.com/homemade-hack-squat-machine.html
DIY Belt Squat Machine
We review free products that we receive and participate in affiliate programs, where we may be compensated for items purchased through links from our site.
See our disclosures page for more information.
The Belt Squat Machine is one of the most coveted pieces of gym equipment available today. Although there are many options, including those made by Westside Barbell, Pit Shark, Matt Wenning, and others, they're all pretty pricey. This DIY Belt Squat Machine requires no special skills and costs well under any other available options.
What is a Belt Squat Machine?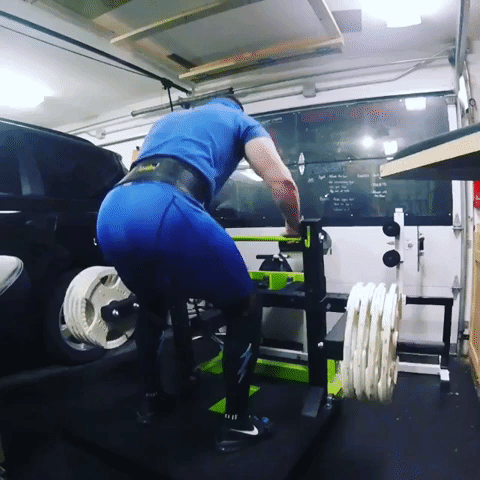 The belt squat machine is a great tool to have in your arsenal. It provides an easy way to add volume on squats without putting extra stress on your back and other supporting muscles.
Rather than the load being placed on your spine while doing a back squat using a barbell, the belt squat allows the load to be placed on the hips. In addition to relieving stress on the back associated with the barbell back squat, it also provides traction to the spine while allowing you to add substantial volume to your legs. One of the unique things about the belt squat is that it also has many other uses as well.
It is great for calf raises, especially for those lacking space, such as a home gym. There are also endless variations of rows and shrugs that can be performed, including deadlifts.
Without question, the belt squat machine is one of the most versatile pieces of equipment you could build.
Supplies
Parts from Rogue Fitness
Parts from Hardware Store
(4) 4x4x8 untreated lumber (treated lumber will warp overtime)
(6) 5/8" Pillow Block Bearing UCP202-10 (Amazon.com)
4'x4' sheet ¾" plywood (preferably hardwood)
(4) ½" x 6" Lag Bolts
(2) ½" x 10" Lag Bolts
(8) ½" x 5 ½" Hex Bolts
(8) ½" Nylon Lock Nuts
(8) ½" Washer
(8) ½" x 2" Lag Bolts
5/8" x 36" Steel Rod
5/8" x 36" Threaded Rod
3/4" x 36" Iron Pipe
2 ½" pocket hole screws
Wood Glue (Titebond III was used)
JB KwikWeld
Tools
Cut Sheet Diagrams
Rogue Fitness Crossmembers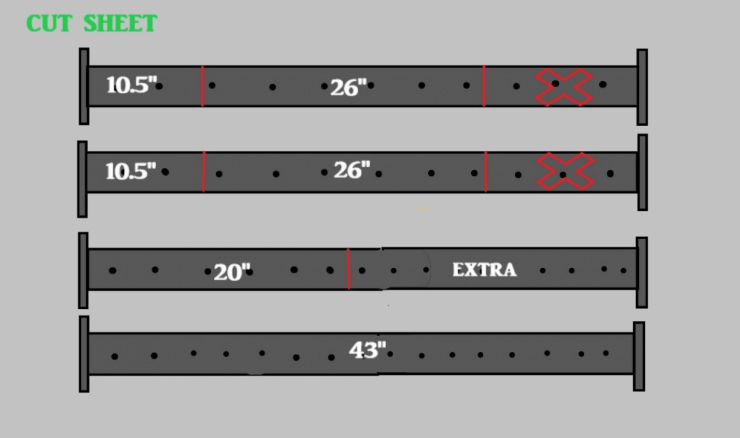 Wood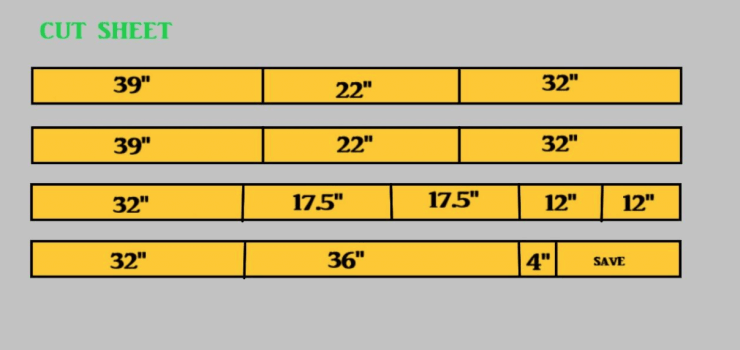 Note: Be sure to refer back to these images when making cuts.
Build Instructions
The first step is to cut out the crossmembers with a bandsaw or some other metal-cutting tool, such as a handsaw. Wood is cheap if you mess up but, these Rogue Crossmembers are not.
Make sure you measure twice and make cuts in the right order, or your holes won't line up. Refer to the cut sheet above.
1. Cutting Crossmembers
Make 10.5" cuts from end of 43" crossmembers
Make 26" cuts measuring from where you just made the 10.5" cuts
Then make your 20" cut from your third crossmember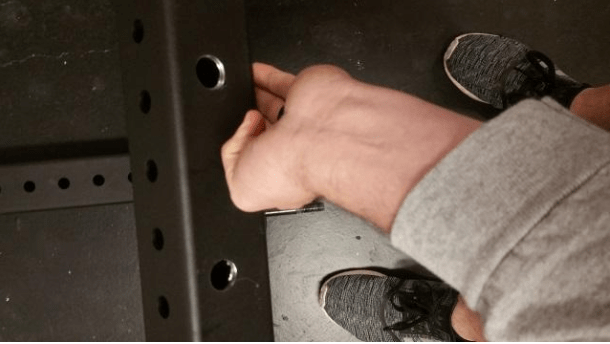 2. Drill holes in the 43" Crossmember to mount your cut pieces to
Drill Four total 5/8" holes
Center your 20" piece and mark your holes
Start with a 1/4" drill bit and move up to the 5/8"
Be careful to drill your holes as straight as possible
If you end up being off a little bit, use a unibit to widen the holes
After inner two holes are drilled test fit your pieces and drill outer holes
See pictures for guidance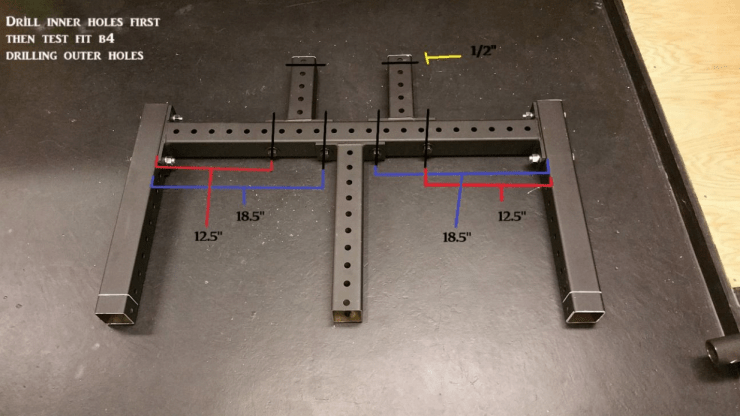 3.Drill 5/8" holes in the sides of your 10.5" pieces
Start holes about 1/2" from the cut edge of the crossmember
4. Assembly of Crossmembers
Assemble the pieces you have cut accordingto the picture below. Using (8) 5/8"x 4-1/2" Bolts included with the extension kit
Once everything is test fit, then tighten.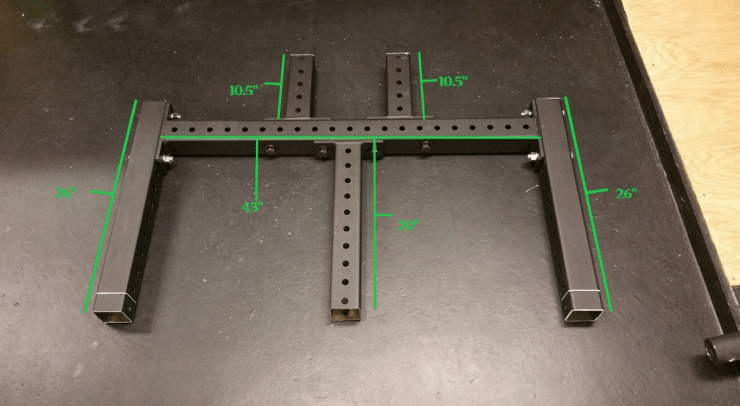 Once these steps have been completed, the most difficult work is behind us. It is important to drill the holes straight and keep everything as square as possible. If you're off by a little, it should be okay, but the more straight the holes, the better off you'll be.
5. Base Construction
Make the cuts for the base. Refer to the cut sheet diagram for exact cuts
Make sure to make your cuts in the order shown in the picture
After cuts, write the length of each piece on the end to prevent any confusion
Set the save piece aside, it will be used for a later step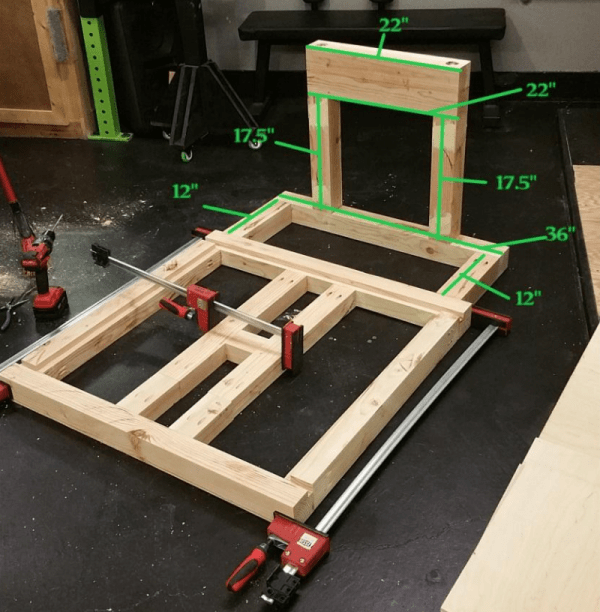 6. Base Assembly
Edge glue your 22" 4×4 sections together.

Use plenty of glue and clamp together for at least 24hours. No screws will be required you will be adding lag bolts later.
Allow the glue to set overnight

Using a pocket hole jig, drill holes for 2.5" pocket hole screws in each end of the front and back of your 17.5" pieces.

Attach 17.5" pieces to your glued 22" piece using pocket hole screws and wood glue. (use glue at every wood joint)
Attach the 36" piece to the other ends of your 17.5" pieces
Make sure to center the 36" piece before attaching, 7" from outside edges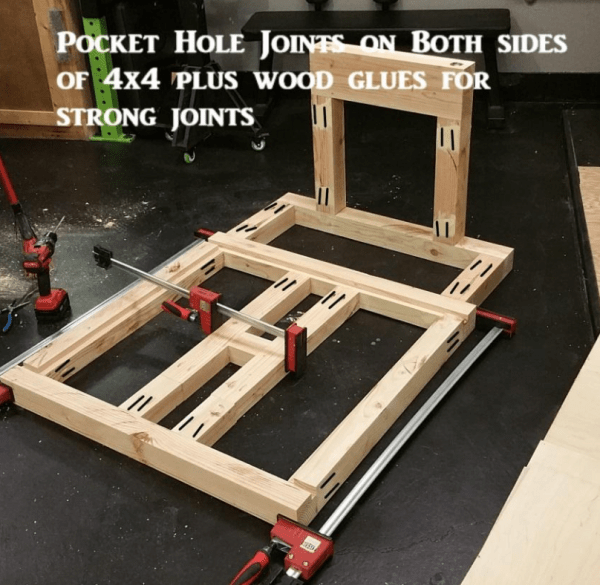 Using a pocket hole jig (Kreg Jig) drill holes for 2.5" pocket hole screws in each end and in the front and back of your 12" pieces

Attach your 12" pieces to the ends of the 36" piece using 2-1/2" pocket hole screws and wood glue

Using a pocket hole jig (Kregg Jig) drill holes for 2.5" pocket hole screws in each end and in the front and back of all 4 32" pieces

Attach these to the ends of 39" pieces with 2-1/2" pocket hole screws and wood glue, creating a square base
Insert the other two 32" pieces each 2" from center creating a 4" gap
Attach these boards with 2-1/2" pocket hole screws and glue

Glue your 4" piece, 14" from front of platform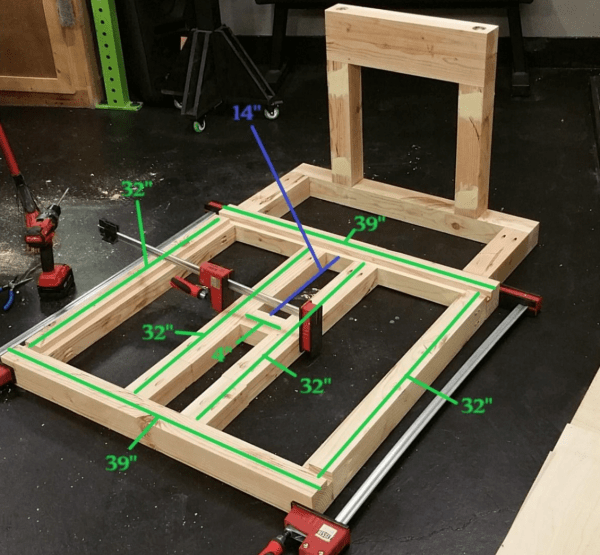 Attach your square base to the upright portion using 2-1/2" pocket hole screws and wood glue
7. Platform
From your 4' x 4' cut your plywood to fit over your 4×4 base.
It should be 39" x 39.5" but measure to be sure

Note: If you don't have the tools to do this most hardware stores will make these cuts for you

With a jigsaw, cut a 4" x 17.5" rectangle from the center of one side of your plywood

Note: This will allow the beam to travel a couple more inches
Note: This is optional as with 45s on the plates will hit the floor before the beam does. This is why I have not added any safeties as the plates contact the floor before I would be in danger of injury.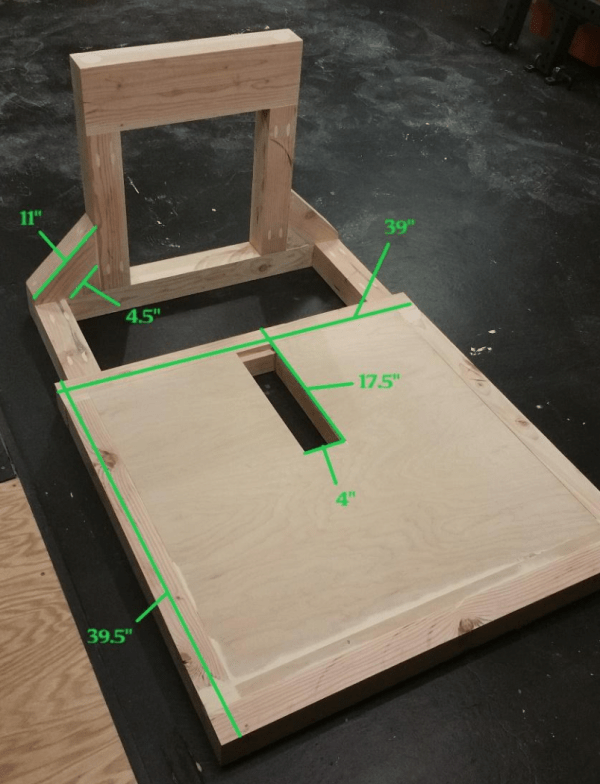 8. Supports
Cut (2) 4" pieces and (2) 11" pieces
Cut a 45-degree angle on each side of these pieces
Attach at edge of upright with wood glue and standard screws
The 11" pieces will need to be trimmed to be flush with the edge

Note: The base should now be complete
9. Bearings
From your 5/8" steel rod, cut (4) 7" pieces
Feed the (2) 7" rods through a bearing, then through the crossmember, and finally through the next bearing.
Make sure there is enough space for the crossmember to move between the bearings, then tighten the bearing set screws with an Allen Wrench
With the same process add bearings to the lowest holes of the 36" extension kit beams
Add a bead of JBKwikWeld wherever the steel rods and crossmembers meet. This ensures that the unit rotates on the bearing and not on the steel rod.
10. Cutting the Extensions
Depending on how close your holes on your crossmembers were to the edge, you may need to add some wood spacers.
With your bearings sitting flush on the floor, you should be able to move the unit freely. If it contacts the ground the spacers will be needed

Note: This does not apply to the extensions uprights, as we actually want them to contact the ground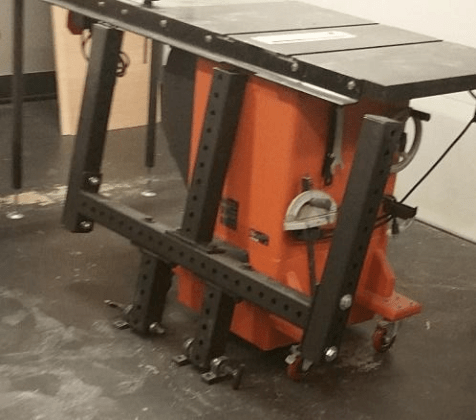 I needed to add (4) 5.5" x 3/4" pieces of plywood under the four bearings to get my clearance
Once these are cut center them on each bearing and mark your holes
Drill 1/2" holes and set these aside until finally assembly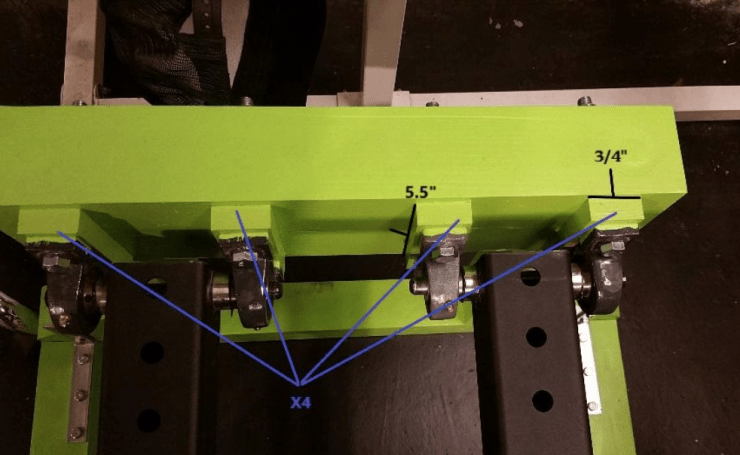 11. Lag Bolts
Pre-drill 1/2" holes for the lag bolts

Note: I have countersunk mine for aesthetic purposes but it is only required on the bottom two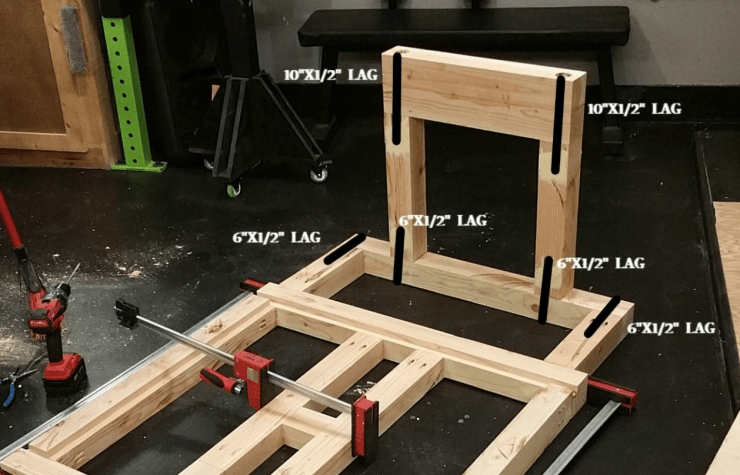 12. Assembly
Set your base on its back so the platform is standing up
Place crossmembers with bearings on the 22" boards that were glued together
Center and square up the crossmember, then mark the holes through the bearings
Remove crossmember and drill 1/2" holes
Set your crossmember over holes (add spacers if you needed them)
Put your 1/2" x 5-1/2" bolts through the holes then stand the unit up

Note: You may require extra help here

Add 1/2" washers and lock nuts to the back side and tighten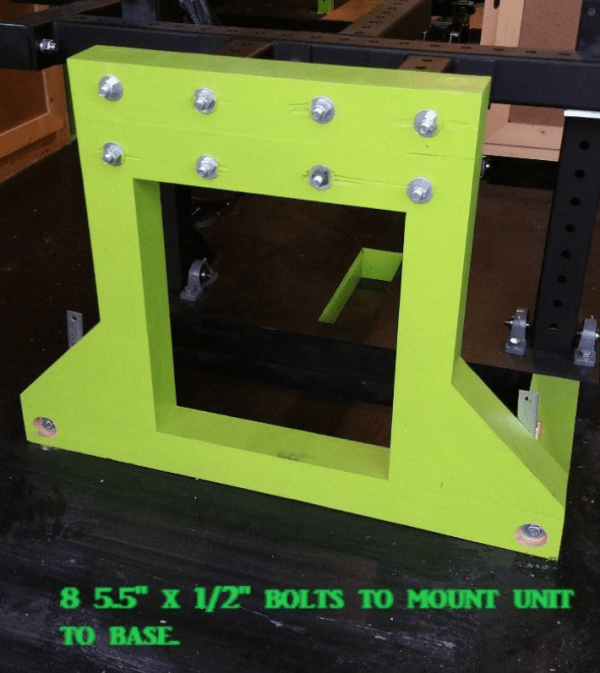 13. Upright Assembly
Hold the crossmember level

Note: You may require extra help for this step

Bring your uprights with bearings attached and get them square with uprights at the edges of the platform
Mark the holes for the bearing mounts and pre-drill
Attach with 1/2" x 2" Lag bolts

Note: Be sure that outer lag bolts bite into 4×4,not plywood

Measure the space between the two uprights and cut your 3/4" x 36" iron pipe to fit in between
Run the 5/8" all tread through the uprights and the pipe
Add nuts and washer at each end and tighten
14. Stoppers
Your uprights are naturally going to stop at a good point when they make contact with the platform

Note:These stoppers strengthen that point of contact to make sure you can put weight on the uprights

Start with a 4×4 scrap with 45-degree cuts at both sides
Set your uprights back to the working position
Using a protractor or similar device find the angle that it sets back at
Cut this angle off one of your 45-degree edges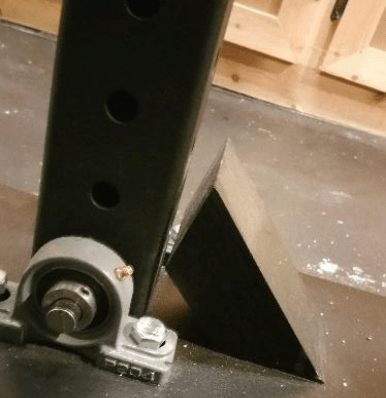 15. Trimming the J-Cups
Simply cut off the angled part of the J-Cup so it has a flat racking surface
Attach J-cups to uprights and position crossmember at desired heights

Note: This step is not necessary, but it gave me a much better rack position
16. Final Steps
Attach your Plate storage posts using supplied hardware
It is completed now…

Squat, squat, and squat some more
Get major gains
Get creative with new uses
Ways to Save Money During Build
There are several places that corners can be cut to save some money.
The biggest one is the extension kit for the uprights. If you don't care about it being adjustable, there is no reason that you couldn't make them out of 4x4s. Giving up adjustability would save you from having to buy the extension kit and J-cups. That's a savings of over $245.
If you or someone you know can weld, this could be made for close to half the price. Using crossmembers and uprights from other companies also offers potential cost savings.
Finally, the uprights don't really need bearings. It would be pretty simple and cheap to design another way for it to pivot, but this was the easiest option.
Tips & Tricks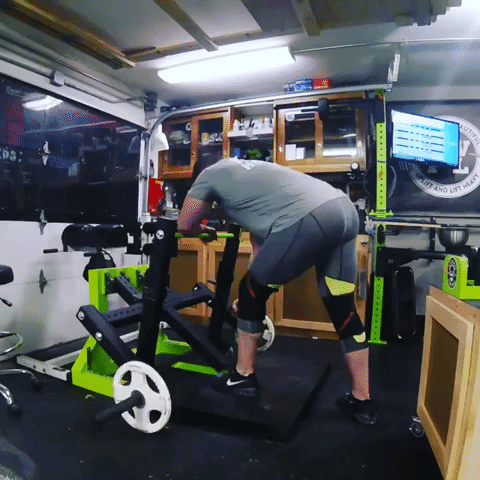 First of all, this unit will not be identical to mine as I tried to simplify some steps and improve upon others.
I countersunk all lags and screws and filled all screw, lag, and pocket holes with wood filler. I then sanded the entire thing and painted it. This is a worthwhile step if you want it to look clean and professional. I also rabbited the 4x4s on the outside of my base and cut my plywood to sit inside the rabbited boards. This makes it look cleaner and hides all the plywoodedges. I did not include this step because not everyone has these tools and it likely decreases the strength of the platform.
Other things you can do is add 3×3 plastic end caps to make it look finished. Also take 3 in1 oil, sandpaper, and then steel wool to your iron pipe before painting, otherwise, the rust will bleed through your paint. For those interested, I used parakeet green paint from Valspar which matched my green Rogue RML-490C exactly.
I also used a Kreg Jig for my pocket hole joints, and, if you are a DIYer, it will come in handy over and over again.
I am quite certain someone can come up with a better idea for the stoppers. If you do, please let us know in the comments.
Finally, I have squatted up to 500 pounds on this unit so far. After the 500-pound squat, I decided to add some L brackets from Lowes where the base meets and goes up. Obviously, 4×4 construction is not as strong as steel. If you want to go another step in strengthening the unit, I have an idea. Add eye bolts to the base and outside bearings, and tension them with wire rope. This would pretty much guarantee that your belt squat will handle anything you throw at it.
Further reading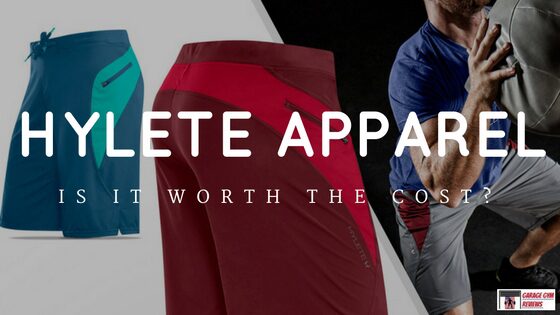 Hylete Apparel Review: Is the Price Worth It? by Coop
Hyletecame on the scene a few years ago offering well fitting shorts and shirts with sweat-wicking material that were CRAZY comfortable. The quest is, is the price worth it? Read more
The Best Home Gym Flooring for 2021 by Coop
The foundation of every home gym is quite literally what's on the floor. I bought and tested the best home gym flooring options (as well as some obscure mats) to determine what works best for most people. The thing is, no two home gyms are alike. Some people lift weights in the garage, some do yoga in the living room, some turn an upstairs bedroom into a high-intensity cardio studio.There are a number of different options for the DIY home gym fanatic. I'll break down the best gym floor mats, tiles and even vinyl planks so you can determine what works best for your workout space. Read more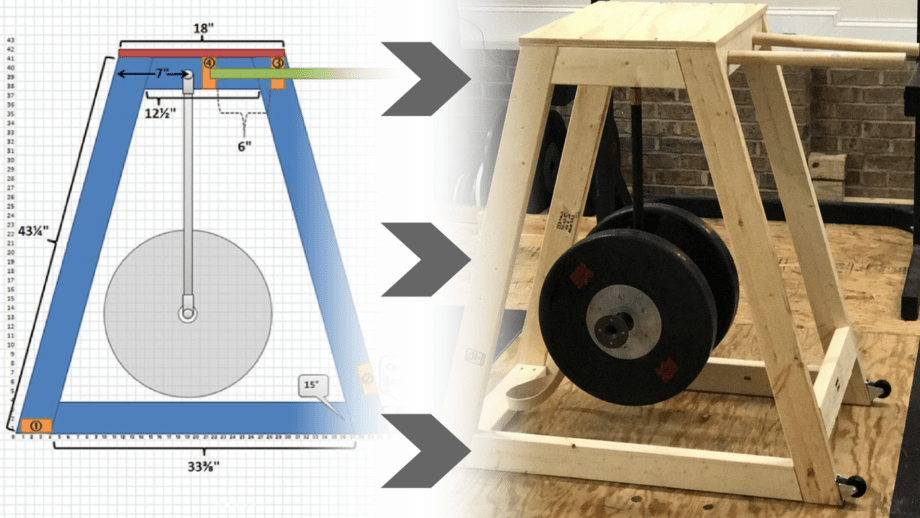 DIY Reverse Hyper Machine for Under $100 by Coop
The Reverse Hyper is one of the most coveted pieces of equipment in any gym. In this Do-It-Yourself Tutorial, we'll show you how to make your own DIY Reverse Hyper Machine for less than $100. Read more
The Best Weightlifting Belts for Powerlifting, Olympic Lifting, CrossFit, and More (2021) by Coop
After many years of training with and without a belt—and fielding questions about the best weightlifting belts and when to wear one—I decided to put together a guide to the best belts for weightlifting, plus everything you should know about how and when to use a weightlifting belt.Why You Should Trust UsIn the name of blatant honesty, this is one of the hardest product roundups I've ever created. I thought our guide to the best barbell was tough, but this guide to the best weightlifting belts takes the cake. This category might have more products than any other home gym equipment category we've covered yet—seems everyone and their mother is making (or importing) some sort of weightlifting belt.But we've tested dozens and used many for years on end. We've consulted with some of the strongest athletes in the world and observed elite competitors and the belts they use. Between our expertise in the fitness equipment industry and our hands-on testing process, we've created the most thorough guide to weightlifting belts you'll find online. Read more
Sours: https://www.garagegymreviews.com/diy-belt-squat-machine
DIY Hack Squat Machine!
10+ Homemade Gym Equipment Ideas to Build Your Own Gym
Gym memberships can add up quickly and the gym is often overcrowded when you finally do find the time to get there. And most gyms are still closed, unfortunately, due to the Coronavirus. Manufactured gym equipment can be extremely costly, it's typically very heavy, and it's difficult to move. Instead of going with one of these two traditional options, why not build your own gym equipment?
To prove that building your own gym equipment doesn't have to be difficult, we've compiled 10+ homemade gym equipment ideas built by our customers using Kee Klamp fittings and pipe.
Kee Klamp fittings are strong, adjustable, easy to assemble and dissemble, and easy to work with. That's why popular Parkour gyms and even adventure races like the Ultimate Athlete Games and the Spartan Race have chosen Kee Klamp to build their fitness structures.
But, you don't need to be one of these huge gyms to build your own equipment. To help spark your own creative builds, here are 10+ gym equipment ideas that you can build yourself using Kee Klamp:
Simple Fit Workout and Power Tower
We have a kit for this project that you can check out here: https://www.simplifiedbuilding.com/kits/sports-and-gym-kits/simple-fit-workout-tower
Our Simple Fit Workout Tower is a versatile, all-in-one workout machine that was designed to be as simple as possible to install virtually anywhere in very little time. This makes it easy to move in the future. Made of heavy-duty galvanized steel, this system is built to last, while helping you exercise multiple muscle groups, for full-body fitness training.
This DIY Power Tower & Pull-Up Station can be used with a variety of workouts including pull-ups, chin-ups, dips, knee raises, abdominal exercises, push-ups, and sit-ups.
The tower was designed with the idea that staying healthy and fit at home should be easy! (Although it may not feel like it in the middle of a high-intensity workout.)
Common Question: Are home pull-up bars safe?
Answer: In general, home pull-up bars are safe for the average person. An in-ground pull-up bar is typically going to be sturdier than a store-bought, hang-in-door bar. DIY pull-up bar safety is going to range from the level of care put into the installation and engineering.
Adjustable Pipe Pull-Up Bar
This pull-up bar was built by Charles Rankin in order to train for the world record for the number of chin-ups completed in 24 hours. But, you don't need to a world record trainee to build one just like it.
The pull-up bar is completely free standing and has practically no give when completing pull-ups or chin-ups. One of the biggest advantages to building a freestanding pull-up bar like this one is that you can build it to whatever height you like. Also, unlike most gym equipment, it can easily disassembled and reassembled.
Common Question How much weight can a home pull-up bar hold?
Answser: Typical home pull-up bars can hold about 300 lbs, with some going all the way down to 200 lb depending on the type. Of course, a DIY pull-up bar can be customized to hold the necessary weight by using the correct materials. Galvanized steel and metal fittings installed directly into the structure will be able to hold more weight than a store-bought, place-in-door pull-up bar.
If you want to build a pull-up bar just like the one Charles built, you can read our full step-by-step tutorial for his project here.
Charles isn't the only one of our customers to build a pull-up bar, though. We've seen customers build all sorts of different designs. The one above features a similar design but we've also seen a few wall mounted pull-up bars (as pictured below):
Here's a pull-up bar structure, used by CrossFit Vulcan that features different heights and has the ability to support multiple people. It is also mounted to the wall to provide a more permanent placement. The differing heights allow for multiple people to use the bars at once. A big part of CrossFit is the community aspect, so Buster, the assembler of this particular structure, made sure that this pull-up structure accommodated that.
Common Question: How do you make a homemade pull-up bar?
Answer: Whether you build your own home gym or just want a DIY pull-up bar, there are some considerations to take into account first: do you want an in-ground pull-up bar, a hang-in-the-doorway pull-up bar, or a structurally installed pull-up bar? Either way, modular pipe and fittings can be custom designed, adjusted, and/or repurposed for whatever your needs may be. Using a hex key, some fittings, and the pipe, you can configure any style pull-up bar. You can either get a design created for you or have pipe sent over and use your own pipe saw to cut the lengths you need.
Here's yet another pull-up bar structure that was built by Brian in Milford, Connecticut. The pull-up bar features multiple stations that are used by Brian to run small fitness classes and rehabilitate physical therapy patients.
Common Question: What is the best home pull-up bar?
Answer: For home pull-up bars, there are many different styles, configurations, and materials to consider. There are in-ground pull-up bars, DIY pull-up bars, and pull-up bars that can be made from materials at Home Depot. The best kind of pull-up bar material is galvanized steel because it will stand up to sweat, last decades, and, depending on the style of pull-bar, can be adjusted or repurposed to your desire.
Homemade Dip Station
Erik in New York, New York built this DIY dip station. Most of the frame is constructed using 2x4s while Kee Klamp fittings and pipe are used to create the dip station bars. These bars rest in a circular grove cut out from the horizontal wood supports.
To keep the pipe bars from moving, the collar fitting is used on the inside of the wood boards. This fitting slides over the pipe bars and locks in place to keep the pipe bars from sliding.
At the top of the dip station, there are three horizontal pipe bars. These add additional support to the structure, but can also be used to do pull-ups. These pipe bars are connected using the flange fitting.
DIY Balance Rail
Here's another balance structure that was built by Micaiah in Mobile, Alabama. The structure is meant to improve balance and jumping ability for beginner Parkour enthusiasts. Again, the structure is very simple, utilizing just one type of fitting. The side outlet elbow fitting is used to connect the horizontal bars to the structure's "legs". Plastic plugs are used to cap off the exposed ends of pipe.
We also offer this as our Precision Bar Kit.
DIY Pipe Squat Rack
The squat rack is the workhorse of any gym. However, most manufactured squat racks or cages are quite expensive. They can also be very difficult to move or fit into your house. Especially, when trying to fit one into your basement since you need to move it down a flight of stairs.
Building a squat rack with Kee Klamp fittings, however, is a different story. Since any Kee Klamp built structure can be dissembled and reassembled, the entire squat rack can be taken apart in order to be easily moved.
The squat rack featured above uses a few important fittings. The side outlet elbow is used at the top of the frame to connect the four sides. The single swivel socket is used to create the supports at each corner. Lastly, the flange fitting is used for the squat rack "feet".
DIY Pipe Gymnastics Bar
We've had multiple customers build gymnastics bars using Kee Klamp. The one above was built by Brian as a Christmas present for his daughter (read the full step-by-step plans for this gymnastics bar here).
A big advantage of using Kee Klamp fittings to build a gymnastics bar is that the bar height is easily adjustable. By adjusting the set screw on each side of the gymnastics bar, the height can be increased or decreased.
This is great to practice different exercises. But, it also allows the bar to be adjusted for young ones who are growing throughout the years and need to adjust the height for their skill and ability. Lastly, the entire gymnastics bar can also be dissembled and reassembled. Thus, making it easier to move or transport.
DIY Indoor Monkey Bars
Monkey bars aren't just for kids. They can be used to build strength in your upper body and core. In addition, they can help improve coordination. If you do any type of Parkour or Ninja Warrior training, monkey bars are a great training tool.
The indoor monkey bars featured above were built by Steve in Pittsboro, North Carolina. The monkey bars allow him and his daughter to train year round in their home fitness studio. To mount the structure to the ceiling, the standard railing flange is used.
To create the actual "monkey bars", the single socket tee is used. This fitting allows pipe to slide through an open socket on one end while terminating a length of pipe at the other end. Since the fitting is locked down using a set screw, the bars can be adjusted in distance by loosening the set screw on the fitting, resetting the position, and tightening the set screw back down.
DIY Pipe Weight Rack
Have a lot of weights? You'll need somewhere to store them! This weight rack uses industrial pipe to create the rack frame and cinder blocks are used for the base. Using pipe to create a weight rack like this allows you to build one specific to your weight set.
If cinder blocks aren't your thing, we have multiple different fittings that can act as footing as well. You are also able to add multiple tiers to the rack to support even more weights. We also provide a handy pipe selection guide that details how much weight a certain span of piping can hold without additional supports.
Volleyball/Punching Bag Station
This unique use of Kee Klamp fittings creates a station for Volleyball practice inside the house without having to worry about breaking anything. The station can be used to build hand and eye coordination, speed, and strength. The volleyball is attached to the frame using bungee cords. This design could also be used to support a speed punching bag.
While most of the structure featured above was built using clear PVC pipe, Kee Klamp fittings and pipe could be used instead to create a stronger and more stable structure.
DIY Wing Chun Dummy
This crazy looking structure is known as a wing chun dummy and is used to practice various martial arts techniques. The design is unique and looks like something you might see in a Transformers movie. While the design goes a bit overboard in terms of functionality, it's definitely a conversation starter.
However, if you want to build something similar, you don't need to use as complex of a design as this person did. Some of the important fittings used in this project include the single swivel socket and the obtuse angle elbow.
DIY Parkour Structure
We've had many customers build Parkour and American Ninja Warrior training structures using Kee Klamp fittings. This structure built by Daniel in Fallston, Maryland is just one of them.
We've featured it in this list because it represents one of the simpler designs we've seen and it's a manageable build for most people that just want to build a smaller unit for training at home. The design could also be modified to create a pull-up bar/dip station.
At the top of the frame, the side outlet elbow fitting is used at each corner to connect the pipe bars. To add the two horizontal pipe supports, the single socket tee fitting is used.
For more Parkour and American Ninja Warrior training structures, check out our Sports & Gym Projects Area here.
Seesaw Balance Structure
This Seesaw balance structure was built by Anthony in Decatur, Georgia. It is used in adventure races put on by Uquest in Atlanta, Georgia and Charlotte, North Carolina. The structure is quite simple using just a 2x10 wood board placed over top the pipe frame.
The important fittings used in this project are the 90 degree elbow and single socket tee.
DIY Nexersys Fitness Machine
This odd looking structure was built by Tyler in Arnold, Maryland. It's a DIY version of a Nexersys home fitness machine. If you're familiar, the Nexersys is an interactive machine that can be used for boxing and MMA style workouts.
To build the structure, Tyler used Kee Klamp fittings and pipe to create the frame. The pads are attached to the frame using homemade springs. Inside each pad is a simple pressure sensor that is wired to an Arduino microcontroller. These sensors register a hit when a pad is struck.
Tyler wrote a few different computer programs for different workouts that can be used with the machine. Here's what Tyler had to say of the project:
"I built it because my wife has been eyeing the Nexersys unit for a few years now but there was no way we were going to spend near $3000 for a workout machine. My project is still a work in progress, but most of the functional parts are complete, working great, and all for a fraction of the cost of a Nexersys unit."
If you need help creating your own equipment or designing your own gym, we offer free design assistance. Our team here at Simplified Building can assist you in creating a solution that will work for you. If you need a bit more inspiration, try browsing our Sports & Gym section in our Projects Area.
This project is awesome!
Love this project? Share it with your friends on your preferred social network
Sours: https://www.simplifiedbuilding.com/projects/build-an-entire-home-gym-from-industrial-pipe
Machine homemade squat
How to Build a Homemade Squat Rack
Before social distancing orders were put into place, access to a barbell, squat rack, weight plates on weight plates on weight plates was a short drive to the gym away. But nearly half a year into the coronavirus pandemic, and most studios and gyms are still closed. Sigh.
So, you may be noodling on ways to finagle some sort of squat stand into your garage, basement, or living room. I'm with you. Just last night, after measuring out the spare space in my bedroom-turned-office, I was furiously googling "homemade squat rack" and "cheap squat rack." Truthfully, the search results were pretty bleak.
That's why I rang up three of my favorite fitness pros for advice on how to build a homemade squat rack, and they had some helpful ideas.
Why Squat Racks Rock
HGTV-ing your own squat rack is no small feat. So if you need a refresher on why building one is worth the work, here's a reminder!
For starters, you can crank out weighted barbell front and back squats (both of which are full-body movements) with the help of a squat rack. "When done with proper form, barbell front and back squats can help you build muscle in your quads, hamstrings, glutes, calves, core, and more," says Brianna Bernard, an Isopure nutrition coach personal trainer. And building muscles has perks like increased muscle mass, reduced body fat, boosted metabolism, and more, says Bernard. Woot! (See more: 11 Major Health Benefits of Lifting Weights)
Plus, squats aren't the only move you can do with a squat stand. Squat racks allow you to easily do other strength movements like barbell lunges, Bulgarian split squats, shoulder press, and more, adds celebrity fitness trainer Oscar Smith, owner and founder of O-D Studio, a personal training gym in New York City.
"If the squat rack allows you to adjust the height of the barbell, you can even do movements like the bench press, inverted barbell row, chin-up, pull-up, and inclined push-up," says Smith.
...But Store-Bought Squat Racks Are Pricey AF
With all the different movement options, there's no doubt: a squat rack is a great investment to make for a home gym. The problem? Even the most streamlined rack will cost you at least a couple hundred dollars. For example, this CAP Barbell Deluxe Power Rack ranges from $220-$440 (Buy It, from $220, amazon.com) depending on color, this Rogue Squat Stand I've been eyeing is $445 (Buy It, $445, roguefitness.com), while more souped-up racks like this Titan Fitness Competition Rack (Buy It, $1,099, walmart.com) rings up at more than a grand.
Not to mention, you'll likely need to invest in a standard 45lb barbell (Buy It, $120, amazon.com), some weight plates (Buy It, from $190, amazon.com), and bar clips (Buy It, $14, amazon.com) too. Yeah, yikes—home gyms don't always come cheap.
And even if the cost isn't a huge factor, "in the middle of a world-wide pandemic, finding in-stock squat racks is even more difficult as tracking down a few rolls of toilet paper," says Bernard. (Raise your hand if you've also been refreshing Rogue's homepage since, like, March? 🙋)
Luckily, a trip to Home Depot or Lowe's and a little creativity is all you need to build a homemade squat rack. "Depending on what you use, it could even cost you as little as $25," says Smith. (Related: Homemade Weights That Will Enhance Your Workout On A Budget)
How to Make a Homemade Squat Rack
When you're ready to get swole and crafty, check out some of the most-popular homemade squat rack ideas below. And remember: "Your safety is of utmost importance, and having a 250-pound barbell on your back is probably not the best time to take big risks, should your squat rack hack malfunction mid-set," says Bernard. So, no matter what, use common sense and *don't* use anything wobbly. Your safety isn't worth a set or five of back squats.
But for the sake of safety, before you try a make-shift squat rack, watch this video about how to properly bail on a back squat. That way, if something does go haywire with your rack you can dump the weight from your back without hurting yourself.
1. Homemade Step Ladder Squat Rack
"Take two step ladders, that are about 5 feet high, then plop a barbell on top," says Smith. Easy!
When choosing ladders, the two important factors to keep in mind are height and load. "You want the barbell to be at a height that you can dip underneath the bar, and lift it when you stand up (without getting on your tip-toes)," says Smith. Typically, optimal bar height will be around six to 12 inches shorter than the height of your head. So, if you're 5'8", you're going to want two ladders that are 5ish feet tall like this 5 Foot Louisville Ladder (Buy It, $58, amazon.com). But if you're closer to 5', a ladder closer to 4' like this 4 Foot Louisville Ladder (Buy It, $51, amazon.com) is a better pick.
Before you buy, be sure to peak at the ladder's weight capacity. Most ladders can hold 300 pounds, so unless you're squatting huge weights, there should be no issue. But for the sake of safety, take a peek, K? (Speaking of lifting heavy AF, here's what you need to know about working toward a one-rep max).
Oh, and because the barbell will roll off the ladder unless you're holding it, Smith recommends securing rubber corner-guards to the corners of the top platform. This Roving Cove eight-pack only puts you out $12 bucks (Buy It, $12, amazon.com), but if you have any baby-proofing table-guards hanging around, those should work too.
Total estimated cost: ~$120
2. Milk Crate Squat Rack
Looking for something you can easily assemble and dismantle? Grab some milk crates—Muscle Rack Black Milk Crate (Buy It, $20 for two, amazon.com)—because when they're not trucking milk, they can be used to hold your barbell. "You can literally just make two stacks of three or four milk crates and sit a barbell between them," says Smith.
While he says these are pretty darn sturdy, you can zip-tie the crates in each stack together for extra reassurance. If you put the open side of the crates pointing up (like this person did), the weight plates on the barbell should be able to nestle right into the opening. If, for whatever reason, you need to flip them over, to keep the bar from rolling off the top of the crates, try using those aforementioned rubber stoppers. Or, take a page from one Redditor's playbook and plop two ten-pound weight plates on top.
Total estimated cost: ~$60
3. DIY Tire Squat Rack
If you've got access to a boat-load of tires, stack them! "You might be able to go to a junkyard or your town's tire shop to get old tires for free," says Smith. Truthfully though, if not, this isn't your most cost-effective option. After all, one tire will cost you $20-150 and you'll need at least six. (A bright side: Then you have some tires for flipping, should you want to add that to your workout!)
Total estimated cost: ~$0-160
4. Wood plans
Are you, like, reallyyy good at putting together Ikea furniture? If so, consider building a squat rack out of wood, nails, and screws. "I have a number of clients who found a building plan online and have hand-crafted beautiful wooden squat racks that are both functional and safe," says Bernard.
You can usually lift pretty damn heavy with these things, too. For instance, "I've used a self-made squat rack out of 4x4's and 2x4's with the ability to squat over 600 pounds and bench over 300 pounds," says CJ Hammond, XPS certified personal trainer with RSP Nutrition. Pretty impressive, right?
The material for a simple DIY like this homemade squat rack or this homemade squat rack will put you out $50 or less. "Just don't leave it in the middle of the middle of the yard where termites exist," says Hammond.
Total estimated cost: ~$50
And If You Don't Have a Squat Rack? Don't Worry, You've Still Got Options!
Not good with a hammer? Don't wanna deal with Home Depot? Can't find a barbell and plates to go with your squat rack? Fear not. It's entirely possible to weight your squats—and do movements like the push-press, bench-press, or weighted lunge—without a rack or barbell. *Whisks away droplets of stress sweat.*
If you already have other weights such as dumbbells, kettlebells, or sandbags on hand, Bernard suggests holding the weight in a goblet position. Doing so will really fire up your glutes and core, she says. If the weights you have are lighter than your usual squat weight, she suggests implementing a 3- to 5-second hold at the bottom of each squat to increase the time under tension and thus boost strength gains. You can also add resistance bands to already-weighted moves to fake the feeling of heavier weights.
If not, it's time to see your house through the lens of a lifter. "Cat litter, mulch, 5-gallon water-bottles, old milk jugs, and bags of flour can all be used to weight movements," says Smith. "You can even just throw a bunch of dirt or mud into a garbage bag, tie it up, and use it as a sandbag." (Watch these trainers use household items as workout equipment for even more inspo.)
No Matter What You Use, Be Safe!
Whether pre-global pandemic you were a strength athlete or not, Smith has a word of advice: "Be careful and use less weight than you think you can use to start." It's common for people to lift too much quickly and to side-line themselves with injury, he says. He recommends using less weight and higher rep schemes (think: 4 sets of 8) for at least two weeks to give your body time to adjust to lifting again.
"You can't go back to that original weight, you have to progress your way up," he says. "But if you're consistent you'll get back there in no time." (Related: What to Know About Training Volume If You're New to Lifting Weights)
On that motivating note, please excuse me—I've got a few things to pick up at Lowe's…
Sours: https://www.shape.com/fitness/gear/equipment/homemade-squat-rack
Custom Made Squat Rack
.
Similar news:
.
295
296
297
298
299