Traditional Tattoos: The History, Designs, and Artists
Guides
Styles
Traditional
In this article we explore the history, designs and artists within the Traditional tattooing style.
Summary
Although Captain Cook and his crew are often cited as the beginning of the Traditional tattoo trend, tattoo historian Anna Felicity Friedman notes that explorer Charles Pierre Claret de Fleurieu spoke about tattoos around Europe much before Cook's voyage.
Part of the reason why American Traditional tattoos are so popular is that Americans have been involved in almost every single war since 1775, and both soldiers and sailors who had tattoos often traveled when participating in these wars.
Sailor Jerry, Mildred Hull, Don Ed Hardy, Sailor Jerry, Bert Grimm, Lyle Tuttle, and more, are some of the people who made American Traditional famous.
Valerie Vargas, Stewart Robson, Shaun Topper, Beau Brady, Katie Gray, Alex Zampirri, and so many more continue on the legacy of American traditional tattooing.
The History of Traditional Tattooing
The Style and Iconography of Traditional Tattooing
Artists of Traditional Tattooing
Bold black lines that etch out the image of a wing spreading eagle, a rose encrusted anchor, or ship at sea...these are only some images that may come to mind when Traditional tattooing comes to mind. Part art movement, part social phenomena, the United States has created a style of ink that is all its own. Truly an important facet of American culture, we expound upon the history, designs and artists of this famed tattoo aesthetic.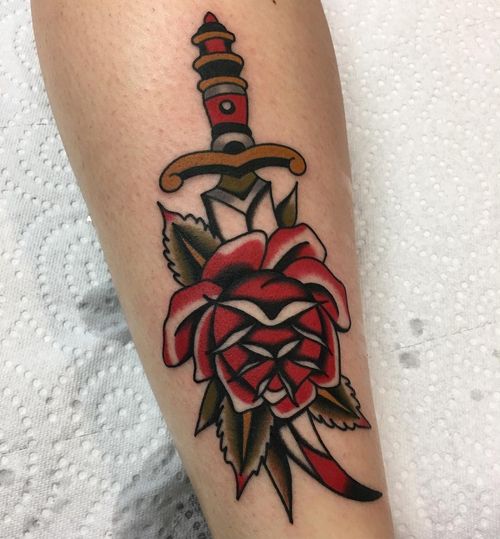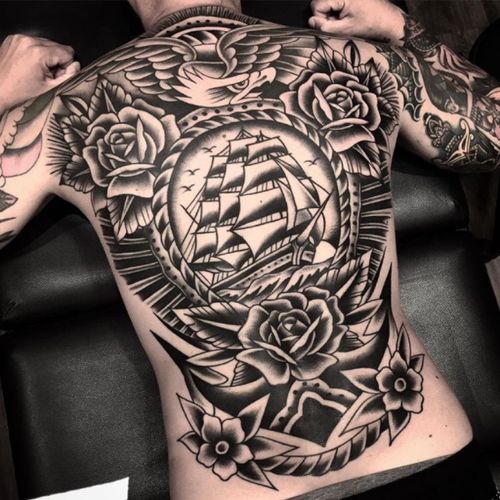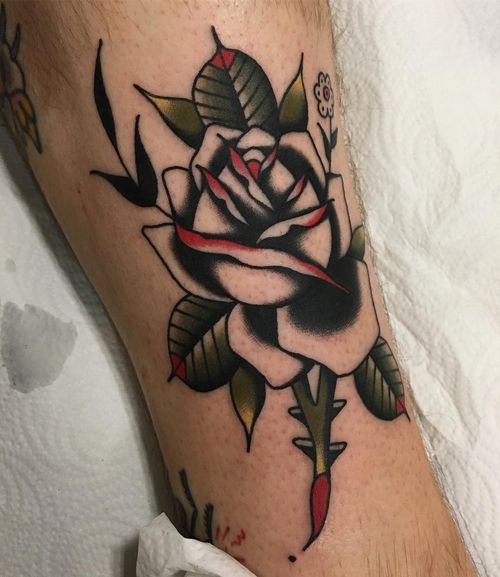 The History of Traditional Tattooing
Although most of the tattoos on ancient mummies are simple abstract lines, dots, and shapes, the Princess of Ukok, a 2,500 year old mummy, hosts an incredible collection of ink that is much similar to contemporary tattoos. This particular mummy was found in southern SIberia and is a great reminder of the cross cultural aspects of tattooing. It is safe to say that every continent, at one point, has had its practice of tattooing that went on to influence the art form in numerous ways. To be sure, tribes all over the globe have practiced tattooing, and although Polynesian tattoos are said to have been the ultimate roots of Traditional tattooing, there are other origins to be considered.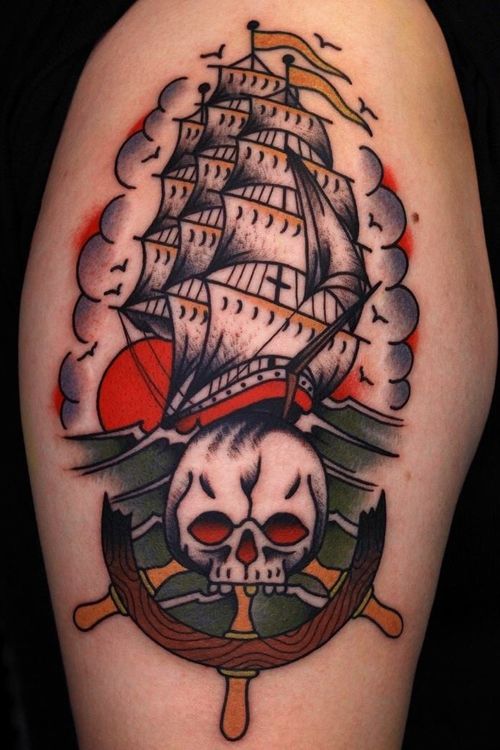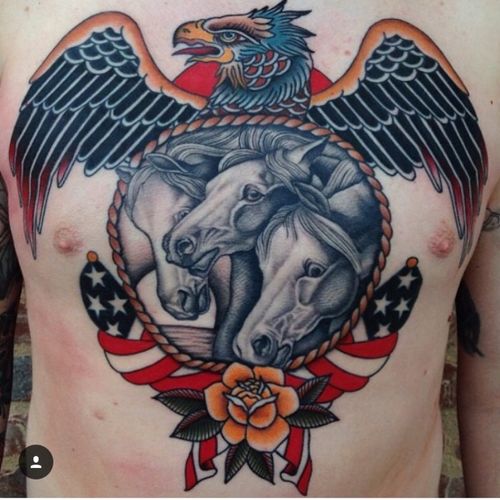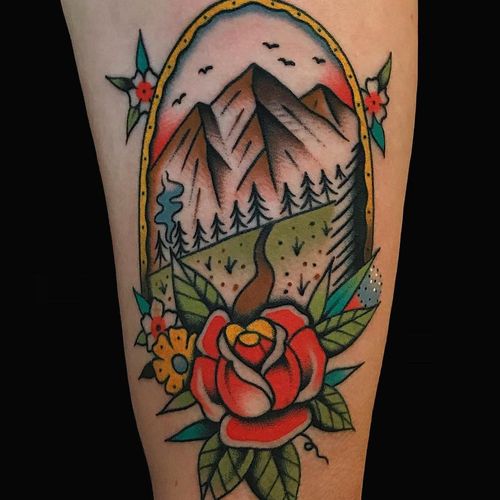 While many sources will state that the findings of Captain Cook and his crew helped spread tattooing to the western world, tattoo historian Anna Felicity Friedman has researched the historical accuracy of this and supports another idea. She states, "A look at texts from before the mid-eighteenth century demonstrates that many authors, explorers, scientists, etc. were well familiar with the practice of permanently marking the body with a substance embedded underneath the skin. For example, one of Cook's contemporaries, explorer Charles Pierre Claret de Fleurieu, writing about the Marquesan tattooing he saw in 1791, noted the similarities to and contrasts with the European tattooing that he said was not only common but of great antiquity: 'We should be wrong to suppose the tattooing is peculiar to nations half-savage; we see it practised by civilized Europeans; from time immemorial, the sailors of the Mediterranean, the Catalans, French, Italians, and Maltese, have known this custom, and the means of drawing on their skin, indelible figures of crucifixes, Madonas or of writing on it their own name and that of their mistress.'" Even earlier than de Fleurieu's description came the prints of John Simon who depicted Native American's with full body tattoos. As the official New York City guide described, "Titled The Four Indian Kings, the set of images portrays three members of the Mohawk tribe and one Mahican tribesman before they traveled from New York to England to meet with Queen Anne."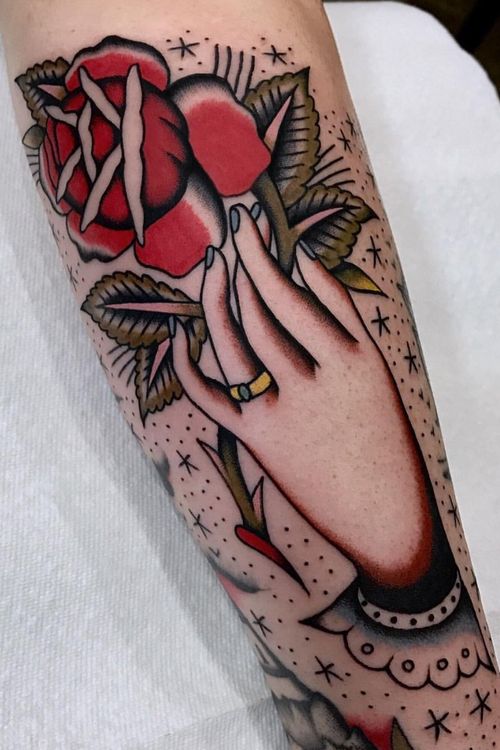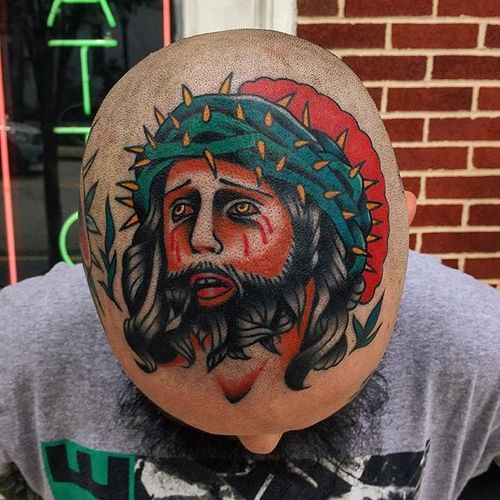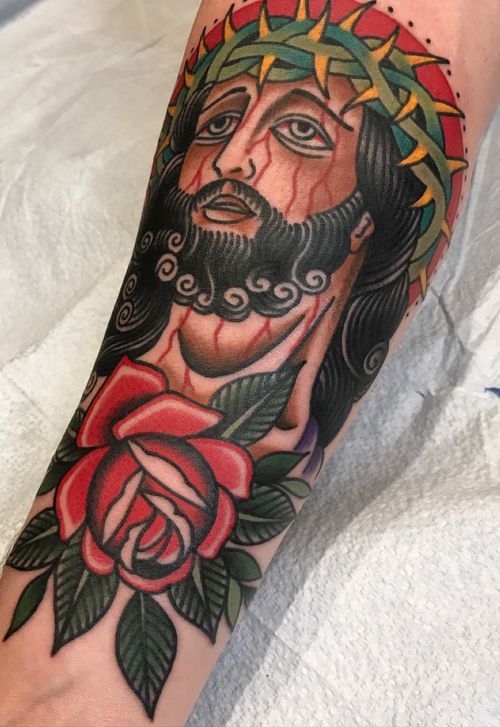 Traditional tattooing, as the case with all other styles of tattooing, has a foundation in the history of many cultures, and many countries. But, perhaps, there are a few reasons why Traditional Americana flourished so much. It's true that sailors and soldiers were some of the main aficionados; their consistent travel to new lands guaranteed cross cultural experience with new styles and ideas. America has been involved in major wars, most notably since the American Revolution in 1775. Martin Hildebrandt, said to have opened the first New York City tattoo parlour in 1846, also stated that he had tattooed soldiers of both sides in the American Civil War. Part of the tradition of service men getting tattoos was not only to carry symbols of protection and reminders of their loved one, but to also mark their body for identification if their lives were lost in war.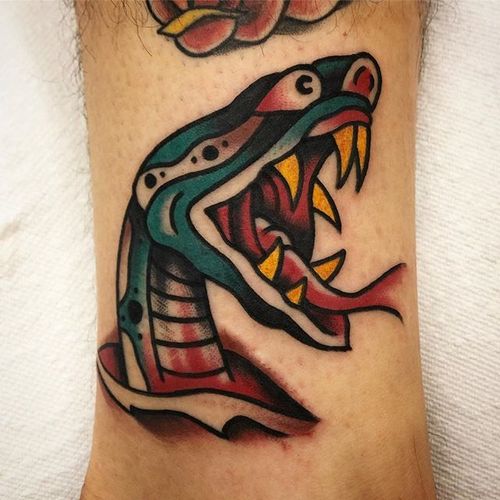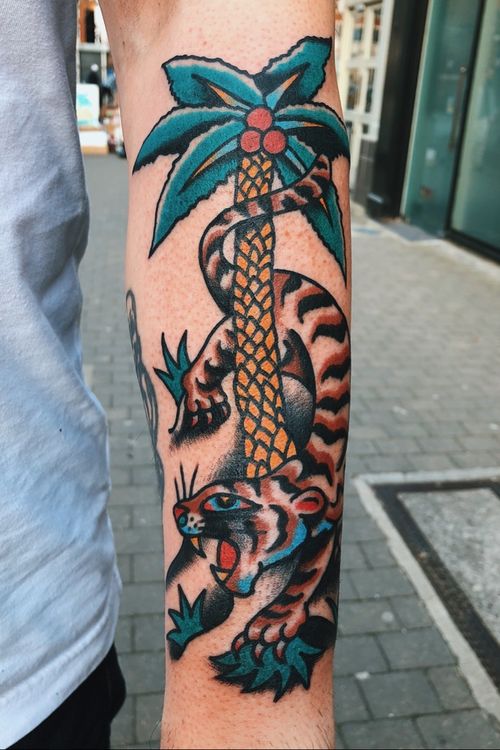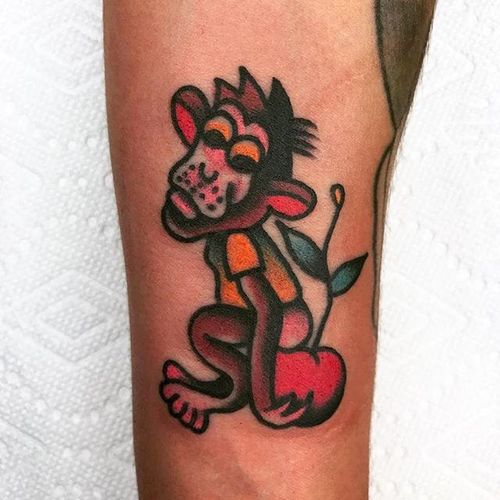 The added support of modern Traditional tattooing, is the invention by Samuel O'Rielly, the electric tattoo machine, which helped revolutionize the industry in 1891. Sam took Thomas Edison's electric pen, and modified it to create the forerunner of the machines now used the world over. By 1905, a man named Lew Alberts, known as Lew the Jew, was selling the first commercial tattoo flash sheets. With the invention of the tattooing machine, business had been growing for tattooists, and the demand for new designs and more ideas became imminent. This helped spread the iconography and specific style of Traditional tattooing across the states, and soon there was unified aesthetic of Traditional Americana. It is also worth mentioning that in the early 1880's many "tattooed" performers working in conjunction with the traveling circus, such as Nora Hildebrandt, Captain George Costentenus, and John Rutherford. Many of these performers had tall tales about their personal histories, but it did bring tattoos to a new crowd quite literally.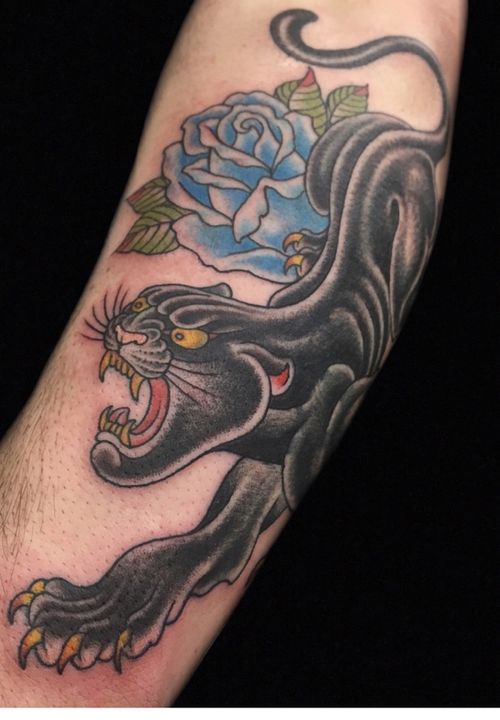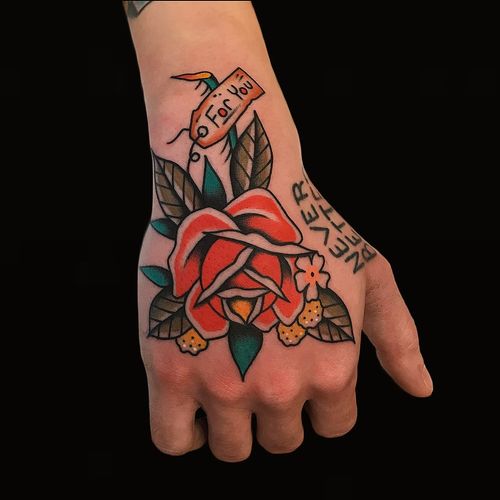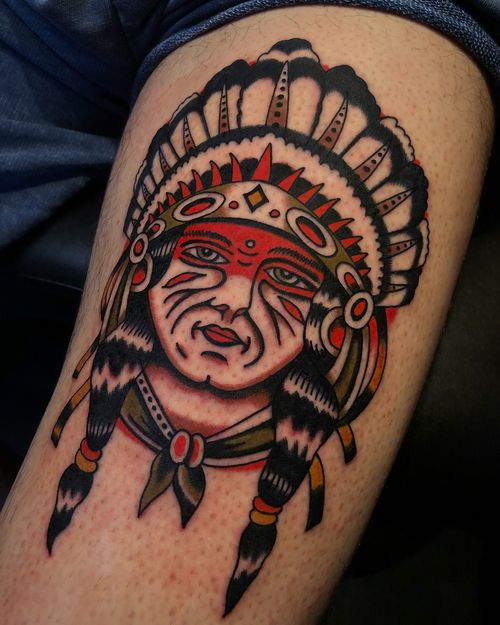 There are many people who aided in the preservation and popularization of Traditional tattooing, including Sailor Jerry, Mildred Hull, Don Ed Hardy, Sailor Jerry, Bert Grimm, Lyle Tuttle, Maud Wagner, Amund Dietzel, Jonathan Shaw, Huck Spaulding, "Shanghai" Kate Hellenbrand, and those persons listed above. Each within their own way, with their specific story and skills, helped shape the style, designs, and philosophies of American tattooing. It's worthwhile to know that many of these artists are considered to belong to certain aspects of the tattooing movement within America. While tattooists such as Sailor Jerry and Bert Grimm are considered the "first wave" of Traditional tattooing helping to spread and hone Traditional design and techniques, there were those such as Don Ed Hardy, Jerry's apprentice, and Lyle Tuttle who went on to define the societal acceptance of the art form. Lyle Tuttle is known for tattooing celebrities such as Janis Joplin and Henry Fonda. Don Ed Hardy later produced a line of clothing which is well-known in mainstream pop culture. Again, many artists have helped make contemporary Traditional tattooing what it is today. Their ingenuity and fearlessness are all part of American culture that influenced this art movement.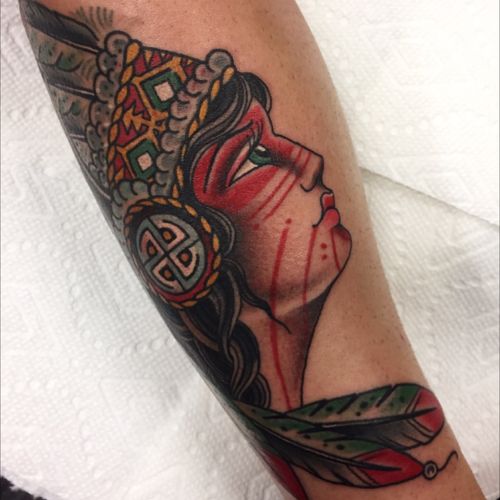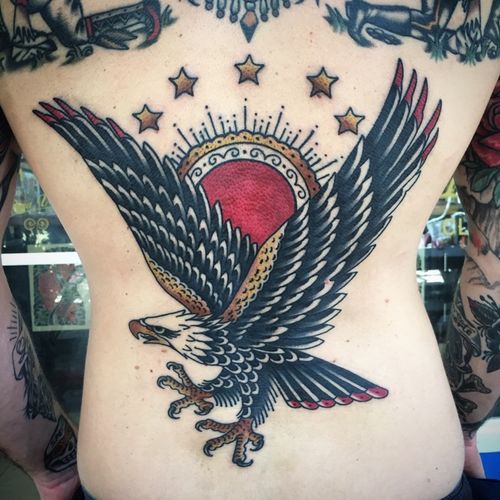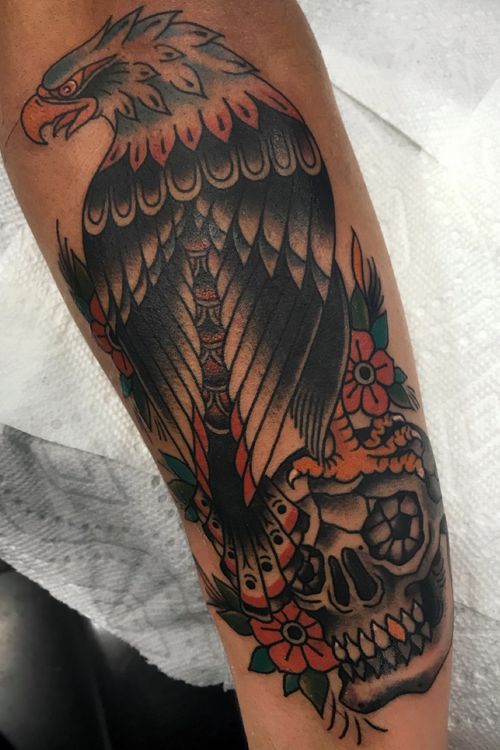 The Style and Iconography of Traditional Tattooing
In 1933 the book 'Tattoo: Secrets of a Strange Art' by Albert Parry was published and helped capture the growing industry. As the New York Historical Society states, "According to Albert Parry's book….tattooists of the time were so inundated with requests that it was difficult for them to keep up with the demand for new designs. But the exchange of flash during the late 19th and early 20th centuries, which were largely distributed with other supplies through mail order catalogs, helped artists keep up with the growing marketplace." These flash sheets preserved pieces that artists had been tattooing for decades: religious iconography, symbols of courage and strength, beautiful pin ups, and more.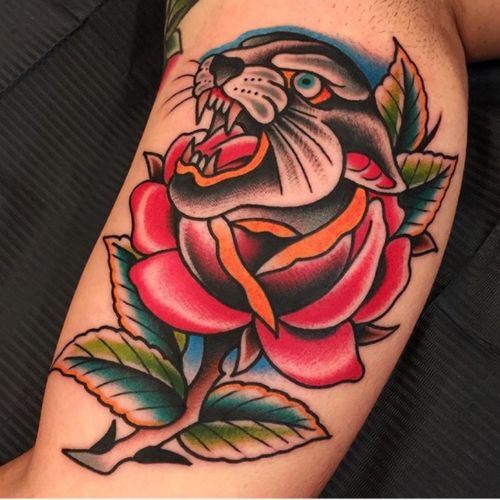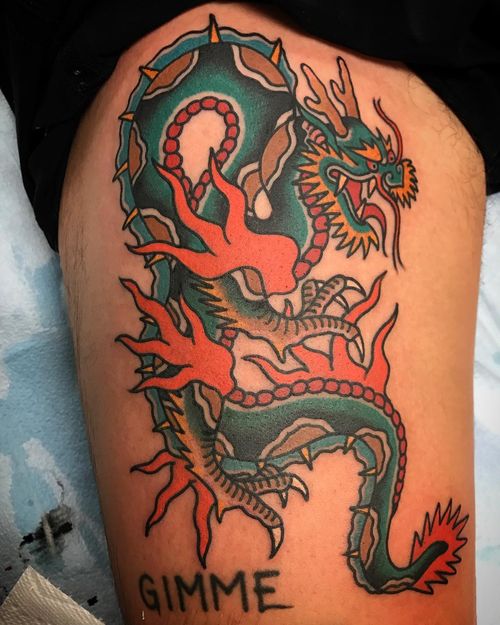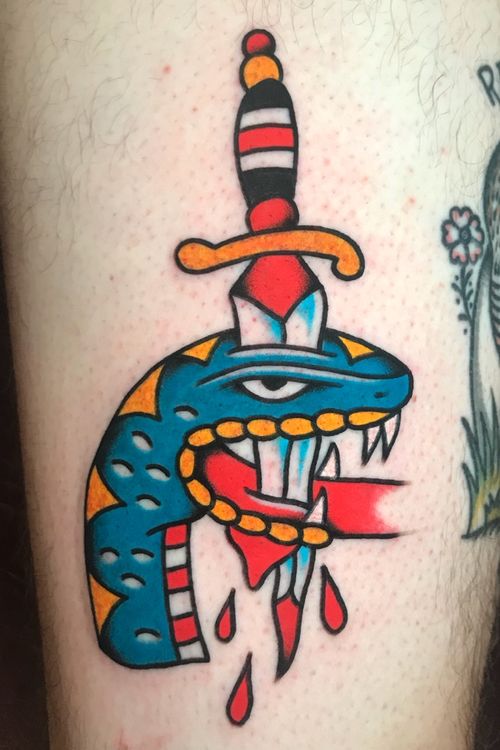 Animals, landscapes, Military insignia, and shapes like stars and hearts all show up within many of the Traditional tattoo design portfolio and each has a specific meaning attached to it. While swallows might mean the distance a sailor has traveled, it may also signify the idea of returning. This particular bird will always migrate back to its original home. Sharks, panthers, and snakes all have similar ideas based in strength and more, but it's also a visual embodiment of the wearers personality. The dragon tattoo, first seen due to Sailor Jerry being the first Western tattooist to be in contact with Japanese tattooists, is not only a deep appreciation for Irezumi, but is also a nod to the power of the mythical beast. Another important icon of Traditional tattooing is the Rock of Ages, a cross made of stone within a woman clinging to its edifice, usually in the middle of crashing waves and an endless sea. First seen in the 1860 paintings of Johannes Oertel, it is a religious image that many Americans, tattooists and clients included, resonated with. There are thousands of images that coincide with the Traditional tattooing style, each a symbol of something meaningful, that have been collected by studios, art books, and artists around the globe.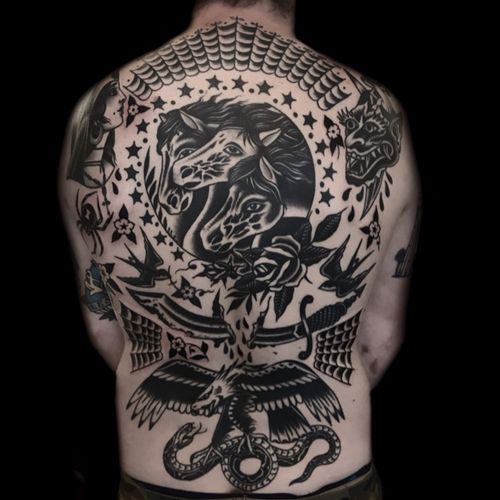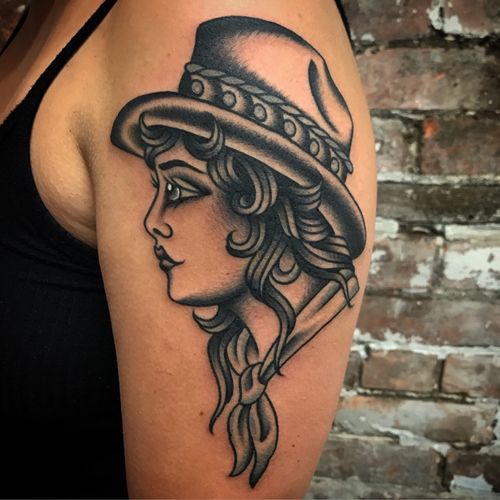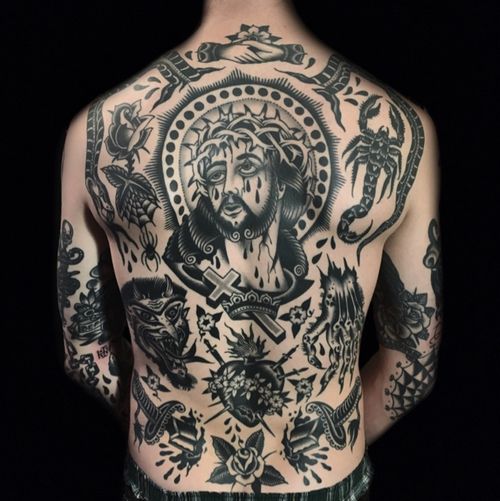 As for the actual visual style of Traditional tattooing, the bold black lines and use of pigment all have rather rational uses. The illustrative look may have originated with European designs, but the bold black lines were perhaps a technique taken from the tried and true methods of tribal tattooists, whether belonging to Polynesian or Native American peoples. For centuries, carbon based ink has proven to age incredibly well, not only holding its shape for ages, but also in aiding the clarity of a design. The vivid tones Traditional tattooists used were also tied, mainly, to what was available when pigments used for skin where not at their highest quality or technological advancement. The tattoo ink was confined to those particular colors due to their lack of fading, but also due to the availability of inks at that time.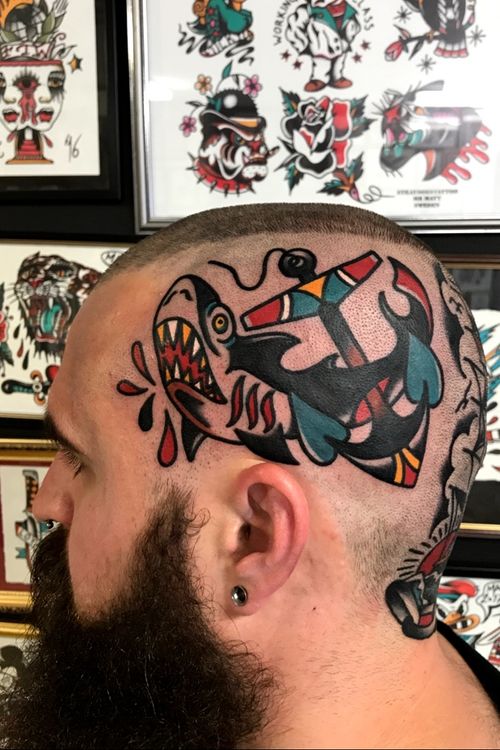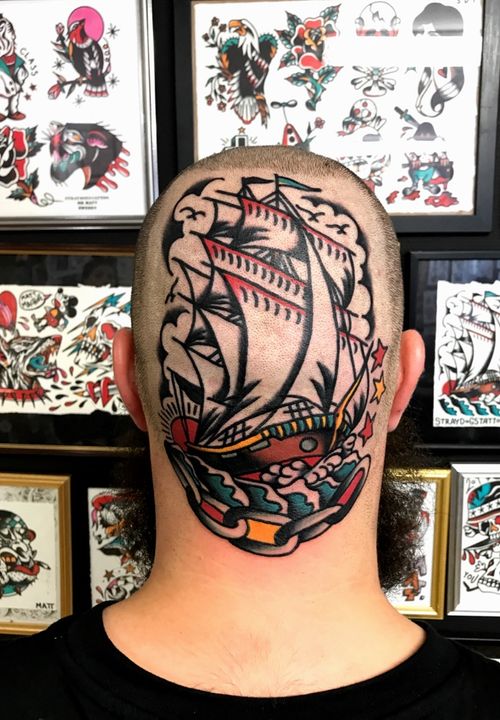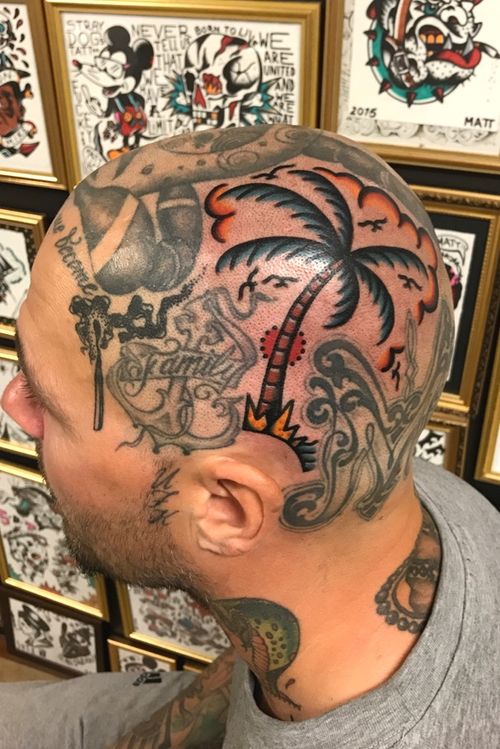 Artists of Traditional Tattooing
While Traditional tattooing has its own heavy roster of skilled artisans, there are definitely those who are trailblazers. Including those artists named above who helped lay the foundation of Trad, contemporary tattooers such as Valerie Vargas, Stewart Robson, Shaun Topper, Beau Brady, Katie Gray, Alex Zampirri, and so many more continue on the legacy of American traditional tattooing. While some are influenced by Japanese aesthetics, realism, black and grey, each applies their personal styles and interests to preserve Traditional Americana while also making it their own.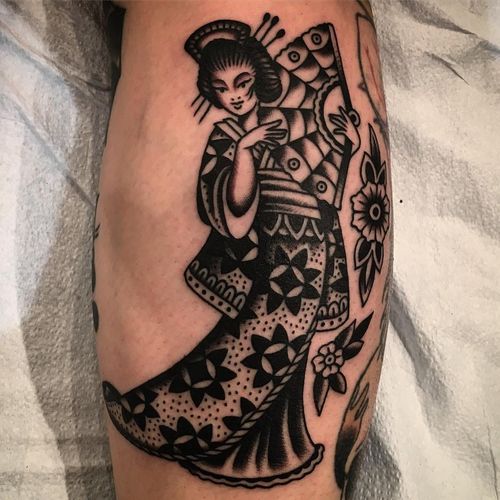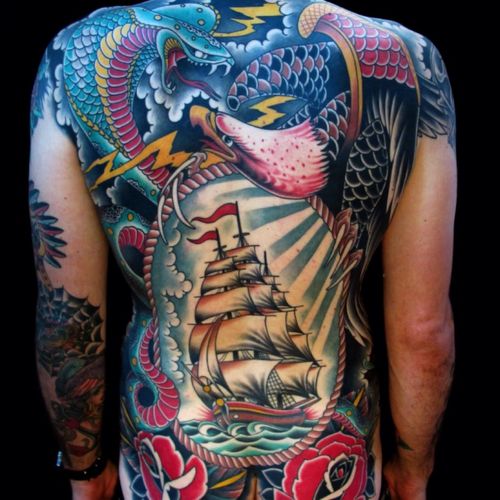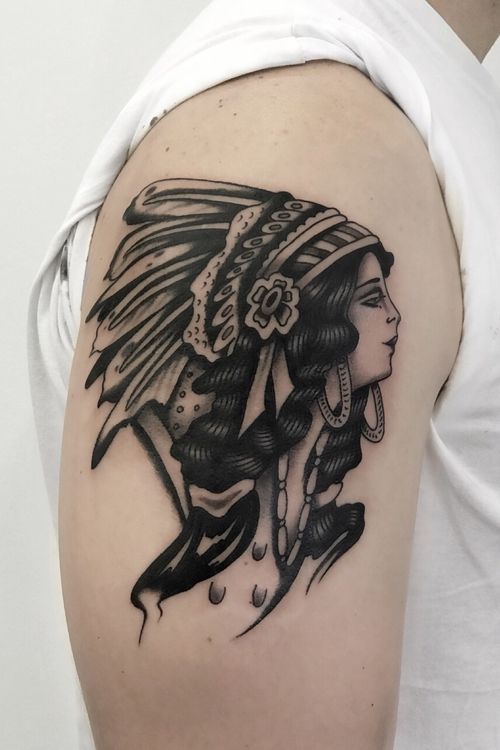 It is also worth mentioning the museum of Daredevil Tattoo in New York City. The museum not only has tons of state specific historical objects, NYC was an epicenter for the trade in the beginning of Western tattooing, but it has tons of artwork, machines, and photos from old school tattooers centuries old. There are also many artists currently working there who work in the style of Traditional tattooing, including owner Michelle Myles who opened the shop with her partner in 1997 when tattooing was finally legalized in New York.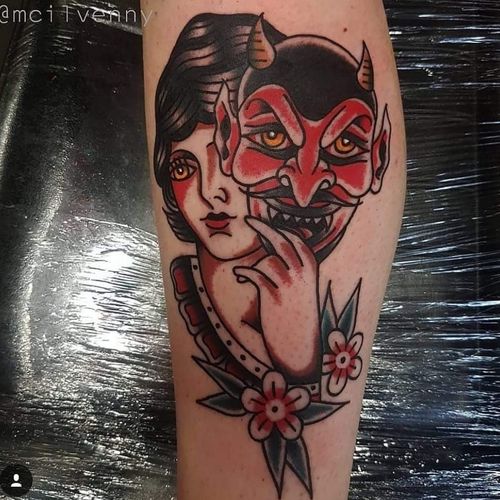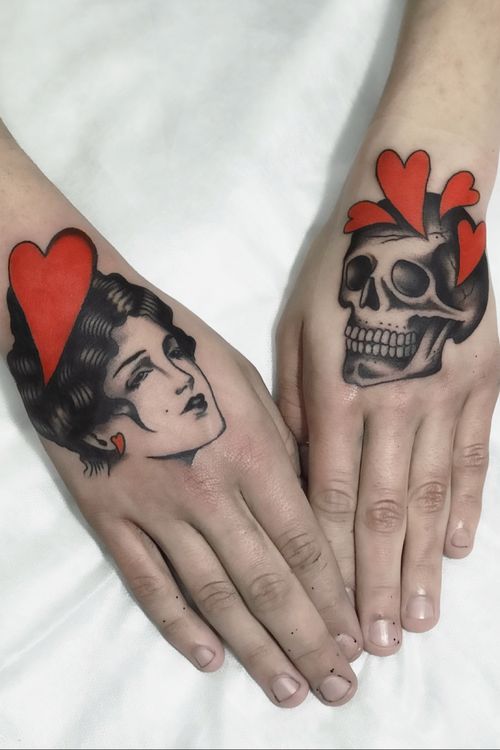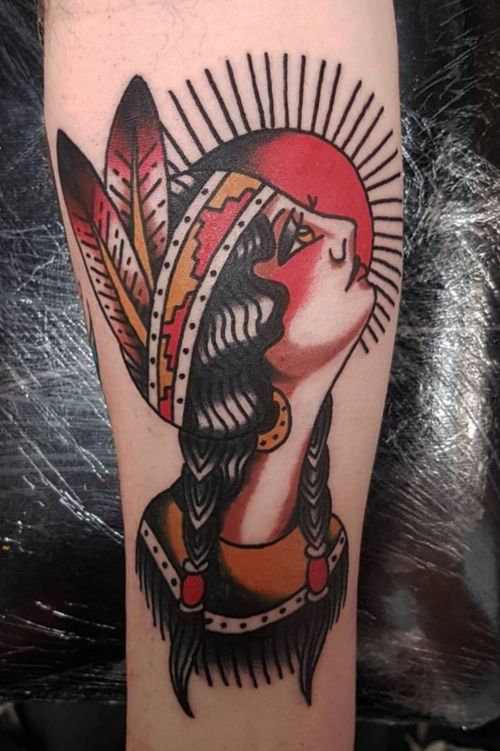 In 2017, USAToday revealed statistics from the Pew Research Center that stated about 38% of people from ages 18 to 29 have at least one tattoo, and the industry is not seeing a slowing of numbers. In an article published in the Wall Street Journal of August 2018, more statistics were shared, "Last year, the [tattoo] industry generated an estimated $1.6 billion in revenue, according to the market research firm IBISWorld." Tattoos have clearly come to be widely accepted and practiced, and Traditional tattooing is a large part of that. Aesthetically, and philosophically, Traditional Americana is a style, much like Irezumi and Tribal, that could be considered one of the foundations of contemporary tattooing. Like a trifecta, these particular styles have been tested with time, and still come out as inspiring and incredible as they were hundreds of years ago.

By Justine Morrow
Sours: https://www.tattoodo.com/guides/styles/traditional
12 classic tattoo styles you need to know
There are probably thousands of styles of tattoos around now, with talented artists creating their own every day. But a lot of those designs are adapted from certain historically popular tattoo styles—many of them decades or even centuries old.
Here are twelve of the classic styles of tattoo art, the ones you definitely want to know before you start getting into tattoo design. If you're looking for the perfect tattoo style, you may not be able to use the exact terminology of what you want, but in all likelihood you'll have one of these in mind already. Figuring out how exactly you want your perfect tattoo to look like is hard, but we hope the styles below will help you narrow it down.
1. Classic Americana
—
These may be the first kind of tattoo you think of, an old-school style defined by bold outlines and the use of similar colors and imagery. They're closely tied to the ocean and nautical imagery, pinup female figures, fierce predatory animals, or combinations of hearts, roses, and daggers. The tattoo style was popularized by Norman "Sailor Jerry" Collins in the 1930s, but is a consistent choice today—shown here by Frankie Caraccioli of Kings Avenue Tattoo.
2. New school
—
New School tattoos are like a crazy comic book on your body. Jesse Smith's work is famous in this category, depicting fabulous imagined worlds full of chaos and very often chariactured animals in vivid color.
3. Japanese
—
As we showed you in a previous post, there are centuries of history for the art tattooing all over the world. One that has maintained it's popularity is the Japanese style Irezumi. Tattoo artists still create both traditional and new takes on these classic masterpieces. And it's a genre particularly known for large images that cover the back, arms, and legs.
Here, Chris O'Donnell of New York shows off the traditional animal, floral, and samurai imagery of this style.
4. Black and grey
—
Jessica Mascitti of LA's East Side Tattoo shows us great examples of different kinds of work in a genre that can encompass a wide range of styles. Black and grey images aren't as limited by subject matter, depicting anything and everything realistically in shades of grey, originally done by watering down black ink to create a spectrum of shades.
5. Portraiture
—
Shane O'Neill shows us how realistic you can get with tattoos with his portraiture, a sub-set of the realism genre (which is just like it sounds—realistic renderings of imagery). Without the black outlines of some of the more classic styles, artists are able to achieve eerily accurate renditions of people both in color and black and grey.
6. Stick and poke
—
Artist Slowerblack shows off the possibilities of the stick-n-poke, where the artist uses a single needle to create simple designs. Recently popularized for DIY tattoo-ers, in the hands of a professional this art can go to beautiful levels, characterized by thick and bold lines most often in simple black with small decorative patterns.
7. Realism
—
Realistic tattoos can portray anything from scenery or objects to animals and people. Whether colorful or in black and white, this is a classic tattoo style that is ideal if there's something very specific you want to portray. Realistic tattoos are hard to get perfectly right and it takes a skilled tattoo artist or tattoo designer to create a realistic-looking artwork with amazing visual impact.
8. Blackwork
—
Blackwork is a tattoo style originally derived from the original tribal tattoos, made of thick and bold black lines in a variety of geometric shapes. But artists continue to take this genre to new levels, incorporating patterns and imagery derived from all sorts of sources into mesmerizing pieces swirling in different forms around the body, like these from Nazareno Tubaro (who also created the featured image!)
9. Biomechanical
—
Typically freehanded, Biomechanical tattoos adapt to the unique flow of a person's body, meant to mimic machinery that could be hidden within the skin. It's hard to get away from Roman Abrego's name when you bring up these bad boys—his alien and mechanical-inspired images covering often the arms and legs of his clients.
10. Geometric
—
Geometric tattoos are very popular right now and can be really timeless when done right. They can either feature geometric elements only or have a combination of geometric and organic (often floral or natural) elements. The contrast between the exact, sharp lines of this tattoo style and the curves of the body makes them stands out in a bold way.
11. Realistic Trash Polka
—
Realistic Trash Polka was created by Germany's Buena Vista Tattoo Club. Created by Simone Plaff and Volko Merschky, it's instantly recognizable for it's collage-like structure, intricate and sampling from printed materials—from photography to hand-writing, paint splashes to type-writing.
12. Surrealism
—
The art genre of surrealism gives artists loads of material to work with. The artistic style can change, the subject can change, but as long as the viewer comes out of the experience with that feeling of sublime fantasy, the artist has achieved their purpose. Pictured here are the amazing works of Milanese tattoo artist Pietro Sedda, owner of the shop The Saint Mariner.
What are your favorite tattoo styles? Tell us in the comments!
Want a unique tattoo design?
Our creative community of designers can create something incredible for you.
Get a custom tattoo design
This article was originally written in 2015. It has been updated with new information and examples.
Sours: https://99designs.com/blog/creative-inspiration/classic-tattoo-styles/
A Beginner's Guide: Popular Tattoo Styles Briefly Explained
When it comes to selecting the right style for a brand new tattoo, it is important to know how to talk the talk before just walking into a shop and requesting some flash off the wall. That's why we thought it would be helpful to give you our insider perspective on the most prominent tattoo styles in the industry today. After reading this, you'll be able to tell a traditional piece from a Japanese one at a glance, distinguish between neo-traditional and new school without breaking a sweat, and see the differences in blackwork and tribal designs without batting an eye.
1. Traditional Tattoo Style
Looking for a tattoo artist?
That's why we're here. No matter your idea, budget or location, we will help you find the perfect artist for your next tattoo.
Get started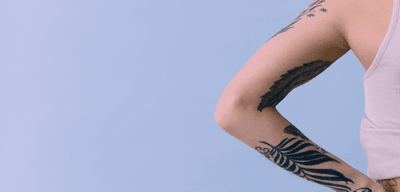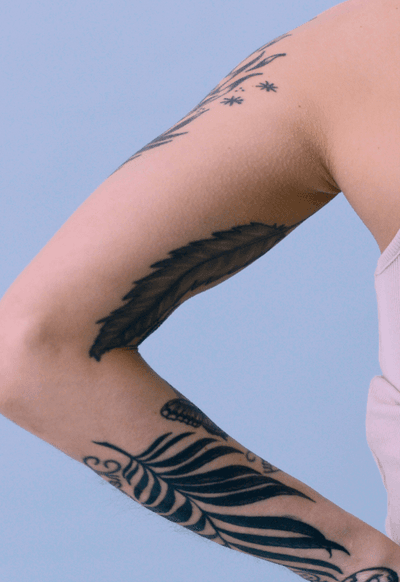 The traditional style, also called old school tattoo style, American traditional tattoo style, classic tattoo style or Western traditional tattoo style, is known for its bold lines, bright colors, and iconic designs like roses, anchors, and gorgeous lady heads. With heavy hitters in the history of Traditional like Sailor Jerry, Don Ed Hardy, Bert Grimm, and Lyle Tuttle, this style of tattooing is one of the most well-known and beloved aesthetics within the tattoo community. They're gorgeous from the get go, age beautifully, and are filled with the history of tattooing. You can't really go wrong with a piece in this genre!
Old school (Traditional) tattoo artists:Rose Hardy, Derick Montez, Matte Bokis...
See more traditional tattoos
2. Realism or Realistic Tattoo Style
Though classic realism has been a part of the fine art since as far back as the Renaissance, it only found its way to the world of tattoos recently, cropping up around the latter half of the 20th century. Since then, this new tattoo style has become increasingly refined and extremely popular. As it now stands, you can find jaw-dropping color and black and grey portraits of pretty much any celebrity you can think of as well as realistic depictions of nature and just about anything else imaginable, even the surreal.
Realism tattoo artists:Megan Massacre, Kevin Ibanez, Ganga, Kade...
Learn everything about realism:The Essential Guide to Realistic Tattoos or See more realism tattoos
3. Watercolor Tattoo Style
The watercolor style is currently in vogue. It's in extremely high demand by the most recent generation of tattoo enthusiasts, who seem to be looking for modern tattoo types to match the new millennium. It looks like what it sounds like, as if rendered with a brush dabbled in watery pastels. However, looks can be deceiving, while it's easy to create this aesthetic when working with actual watercolors on paper or canvas, doing it with ink on the human body is no simple feat. Still, artists make all sorts of whimsical and poetic pieces using this innovative approach to tattooing.
Watercolor tattoo artists:Doug Mundy, Deborah Genchi, Christopher Hedlund...
Learn more about watercolor tattoos:The Essential Guide to Watercolor Tattoos or See more watercolor tattoos
4. Tribal Tattoo Style
Tribal tattoos — i.e. indigenous body art — are the oldest in the world, dating back thousands of years. This style should actually be thought of as multiple styles or more so different traditions of tattooing from aboriginal communities all around the globe. These diverse and beautiful styles are frequently referred to under the umbrella term "tribal," but to the trained eye, Polynesian body art is distinctive from Marquesan or Maori tattoos, just like tattoos on Inupiaq matriarchs' faces are different from those found on Berber women. Though these styles are all unique, they are somewhat similar— almost always done in black with elaborate patterns.
Tribal tattoo artists:Jondix, Seth Arcane, Tuigamala Andy...
Learn everything about tribal tattoos:The Essential Guide to Tribal Tattoos or See more tribal tattoos.
5. New School Tattoo Style
Don't let the name fool you, new school isn't really all that new anymore. It rose to prominence in the weirdness that was the late '80s and early '90s, but lately it has waned in popularity. This is probably because it was very much a product of its time, featuring a highly animated aesthetic that takes after popular entertainment from that period in American history. The style is cartoonish and wacky, featuring caricatures and other exaggerated figures. If you're the sort of person who likes their body art injected with the spirit of Ren and Stimpy, then this comic style is for you.
New school tattoo artists: Ed Perdomo, Steven Compton, Roberto Euan...See more New School tattoos.
6. Neo Traditional Tattoo Style
Neo traditional, as the name implies, is an evolution of the traditional style. It features the core properties of its predecessor, like pronounced linework and extremely vibrant colors but it also has an illustrative quality to it. This is because Neo traditional artists are highly influenced by Art Nouveau and Art Deco aesthetics. The main difference between traditional tattoos and neo traditional tattoos is that neo traditional tattoos often have a broader color palette and a broader range of motifs. Pieces done in this style are known for their lush, decorative details as well as the use of natural imagery such as florals and animals.
Neo traditional tattoo artists:Miss Juliet, Antony Flemming, Vale Lovette, Hannah Flowers...
See more Neo Traditional tattoos.
Get inspired by tattoos in all styles 🔥
Download the app for tattoo inspiration & find tattoo artists in your area!
Download for free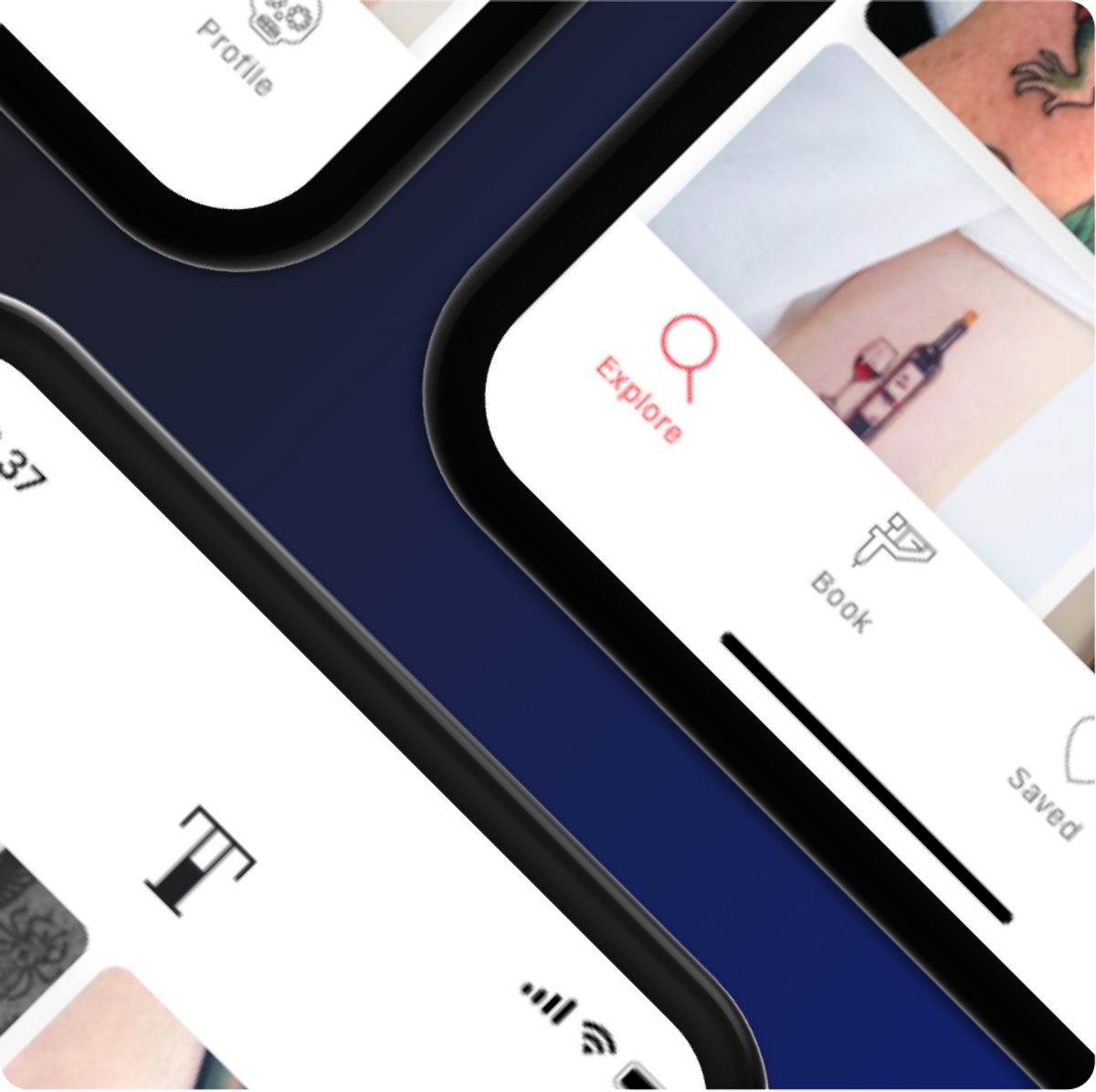 7. Japanese Tattoo Style
The traditional Japanese style, aka Irezumi, originated during the Edo period (1603-1868) alongside ukiyo-e — woodblock prints that were hugely popular among the merchant class at the time. Because of this, the icons found in this time-tested genre of body art come from the country's age-old folklore, featuring tattooed heroes from the Suikoden and mythological creatures like dragons, kirins, and phoenixes. In short, every tattoo done in this style tells a story about Japans rich past, and beyond their dramatic smoke and wave filled appearance, this is what makes Irezumi masterpieces so powerful.
Japanese style tattoo artists:Henning Jorgensen, Christopher Henriksen, Sergey Buslaev...
See more Japanese (Irezumi) tattoos.
8. Blackwork Tattoo Style
Stylistically speaking, blackwork is a very broad categorical term. It applies almost any body art that's created using solely black ink, but as you can imagine, a lot can be done with this versatile and striking color. Looking through blackwork artists portfolios, you'll see all kinds of tattoo types from ancient sacred geometry to modern abstract ornamental designs to extremely detailed illustrative pieces. It is hands down the style where the most experimentation is currently occurring in the industry, and some of the work being produced today is absolutely mind-blowing.
Blackwork tattoo artists:Gakkin, Oscar Hove, Andrew Black Craft...
Learn more about blackwork tattoos: The Essential Guide to Blackwork Tattoos or See more blackwork tattoos.
9. Illustrative Tattoo Style
A large variety of work can be called Illustrative, and that is because there are so many techniques and art movements that inspired it! From etching and engraving, to abstract expressionism, and even fine line calligraphy, this tattoo style is extremely versatile. Many artists who work in this style will blend their own aesthetic with it to create a whole new style of their own...but as long as their tattoos look like they could belong on a piece of paper or a canvas hanging up in gallery, you know it's Illustrative!
Illustrative tattoo artists:Mick Hee, Servadio, Ruby Gore...
See more Illustrative tattoos.
10. Chicano Tattoo Style
The Chicano style has so much cultural influence that it has gone on to influence other styles as well. Steeped in the history of things such as the Mexican Revolution, Los Angeles low-riders and Pachuco culture. Born behind bars, the aesthetic evolved from artists in prison who used what few materials they had to beautifully capture what they loved and missed on the outside. Usually fine line, black and grey, and wrapped up in the Chicano culture, this genre of tattooing is absolutely enthralling.
Chicano Style tattoo artists: Illegal Tattoos, Chuco Moreno, Alejandro López...
See more Chicano tattoos.
Take This Quiz & Find Your Tattoo Style
Still not sure which style you prefer? We put this interactive quiz together to help you figure it out.
Take The Quiz Now!
We hope you enjoyed learning a little bit about each of these styles. They are by no means all of the ones currently circulating throughout the contemporary tattoo scene, but they are some of the most prominent. Should you want to find out more about these tattoo styles, check out some of our stories on the artists featured here.
---

Written byJustine Morrow
Social Producer, Journalist, Editor, and Curator for Tattoodo I am here to support you 🌻 IG: @lathe.of.heaven
Sours: https://www.tattoodo.com/articles/a-beginners-guide-popular-tattoo-styles-briefly-explained-6969
How To Paint Old School Tattoo Flash Pin-Up Designs Tutorial
.
Artwork traditional tattoo
.
Traditional Tattoo Flash Painting
.
Similar news:
.
28
29
30
31
32