Freddy WR.UP Shape Indigo Dyed Denim Leggings Review
My denim review this week is on something a little bit different as it's not strictly jeans. These are the Freddy WR.UP Leggings which are coated to look like denim. For those of you who aren't familiar with the brand, they are an Italian brand that make sports clothing with shaping technology, which is incredible! Who doesn't want to look good while they work out? So lets get to this review already, shall we?
Fit – These leggings are a very low rise, skinny, stretchy fit. Just like a legging would be, but the rise is around 7 inches in height. They have a customised silicone band at the inside of the waist which shapes and sculpts the waistline while keeping these pants up and in place so that they don't slip down. I had to take these in a Medium though as I found they run a bit small. I did originally take the Small which is a size UK 8, but had to get the Medium which is a UK 10-12 as it was more comfortable and less restricting in certain areas.
Fabric – These Freddy WR.UP Leggings are made from a high quality cotton/jersey fabric with the perfect amount of stretch combined with strategically placed panels to provide a smoothing and shaping effect to the hips and thighs. The fabric itself is extremely giving and comfortable, so you can definitely work out until your heart is content in these, that's for sure. They aren't uncomfortable or restricting in any way at all, so just like sports leggings, you can spend all day in them if you want to.
Lift – I'm including this in its own section as these leggings do something I've not experienced before. They have specially designed seams to define the bottom while creating a supportive lift. You can see in my photos that there's seams under the butt cheeks, and on top of them in a heart shape design. These seams actually cup the bottom and really make your butt look rounded and perky (see here too). It's amazing just how these pants can lift it up like that! I love that about them! If only they actually made real denim jeans with this technology as well, it would be fantastic. The shape of the crotch is good too, they used materials and different types of sewing to make sure that the fit is perfect at the grooves.
Details: They feature 2 buttons at the closure and a very tiny zip, and they also have a logo badge on the back which you can see above. They are a very dark denim blue with a light waxed finish in areas which give them a coated appearance. The details are all very subtle, but because of the seaming and the badge on the butt, you know they're Freddy.
Overall Opinion: My overall opinion of these Freddy WR.UP Leggings is positive and negative as I have mixed feelings towards them. The negatives are that the rise is really low and possibly a bit too low for me these days as it only just skims the top of my butt, so there's not much room for bending over without revealing yourself, plus the inseam is a little bit too long for me (30 inches) which means it bunches up quite a lot on the legs.
The positives though are incredible because the lifting and shaping technology on the butt is a dream. I haven't seen it look this perky in leggings before now! The colour of the fabric is really nice though and I like the coated texture on it as well, so I definitely have mixed emotions here. I don't think it's anything some hemming and a longer top can't fix though. What are your thoughts?
Shop Freddy WR.UP at CubaClothing.com
Jeans courtesy of Cuba Clothing/Opinions all my own.
Sours: https://thejeansblog.com/denim-reviews/freddy-wr-up-shape-indigo-dyed-denim-leggings-review/
Ready for a booty enhancing experience..
Will Freddy jeans help shape your butt or are you going to have to workout harder and sculpt it yourself?
Freddy is an Italian apparel brand that become popular in the last few years when they exploded onto the Instagram scene with their patented WR.UP jeans that aim to make your booty shape more refined and accentuated.
Let's find out whether they do lift up your booty and create a flattering appearance and then let's look at some great alternatives.
My favourite Freddy Jeans Reviewed
[easyazon_image align="center" height="500″ identifier="B016A4B17K" locale="US" src="https://m.media-amazon.com/images/I/31gjJp8m8xL.jpg" tag="seekpretty-20″ width="500″]
Click the photo to view Freddy Jeans on Amazon
One of the biggest reasons Freddy Jeans have grown so popular and attracted lots of Instagram hype is some unique features in their jean and pant design. Freddy use Silicone stretchy material inside the waist band itself and in the butt area. Usually silicon is uses for breast implants so you could say that Freddy jeans are giving the rear of the jeans fabric a similar boost in size.
The silicone panels are the unique feature that Freddy Jeans use to make certain areas of your bottom stand out more. They don't however give somebody with absolutely no figure, a massive boost but the difference between Freddy pants and regular jeans without the silicone sections is noticeable.
Freddy Jeans stretchy material is a much thinner denim style fabric that is more like a pair of leggings or a t-shirt like fabric. Although stronger and a bit more substantial than leggings these are definitely not a thick pair of jeans even though they look like they are. They may have since released thicker jeans but this is one factor that disappointed me a little bit, I do like thick fabric that feels as substantial as it cost to buy.
The cute knee detail is pretty and the pretty little logo attachment on the rear right hand pocket is a nice touch. Stitching around the rear pocket and across the top seam of the jeans is stylish and has a beautiful and gradual curvy pattern.
Thankfully there is no camel toe popping out in the crotch area, which is always nice, but this might vary a little with jean size and your body shape.The silicone butt enhancing sections also help create the appearance that your legs are slimmer because the areas that stand out reduce the attention and appearance of your legs.
Freddy Jeans Materials
Freddy jeans denim is made using a blend of 80% cotton & 20% elastane. This Elastane is what makes the fabric spring back into shape after washing. Elastane is comfortable and allows the fabric to stretch and feel really comfortable to wear.
Be aware that these jeans hold their shape really well so they won't give and lose shape like regular jeans so make sure you get the right size.
 Freddy Jeans feel like you are wearing casual wear hoodies or leggings leggings because of the lightweight thin denim fabric. I was surprised how tight the fabric is when you first try and pull them up over your legs but then somehow you fit in them and everything is OK and comfortable and you can move quite freely as though the fabric is moulded onto your body and moves with you like a second skin.
Colour & Style Choices – Freddy WR-UP
Here are some images of my favourite colour choices available in Freddy Jeans pants collection, followed by a list of other colour choices.
WR-UP Denim -Dark Rinse
[easyazon_image align="center" height="500″ identifier="B016A4B17K" locale="US" src="https://m.media-amazon.com/images/I/31WzC9KEFeL.jpg" tag="seekpretty-20″ width="500″]
Click the image to view WR-UP Denim effect on Amazon
I love the dark rinse denim blue colour of these jeans. I don't usually like lighter shades and feel this dark blue is a nice tone that works well with my casual t shirt collection.
WR-UP Medium Rinse Denim 
[easyazon_image align="center" height="500″ identifier="B01EPC09XG" locale="US" src="https://m.media-amazon.com/images/I/41LTsohlqEL.jpg" tag="seekpretty-20″ width="500″]
Click the image to view WR-UP Medium Rinse Denim on Amazon
The medium rinse colour tone is much lighter and has some beautiful fading tones. A top with a hint of green colour works well to match with this colour jeans.
Other colour tones Freddy Jeans offer:
Stonewash
Black with black stitching.
Dark blue with white stitching.
Dark blue with blue stitching.
Light blue with yellow stitching.
Dark blue with yellow stitching.
Grey with yellow stitching.
Black
Grey
Review of Freddy Jeans Vs Normal Jeans
Let's see how Freddy Jeans differ from your regular designer jeans. For starters most regular jeans aren't as stretchy as these jeans, and when they are they don't hold their shape as well or they look cheap like leggings and not as stylish. Normal jeans usually lose their shape after some wear but Freddy Jeans generally stay very sloe to their original size so make sure you get your size choice right.
Freddy Jeans differ from a lot of other jean designs because they offer implanted silicons sections in the rear and waistline of their pants that give your bum a strong shape. Other Jean brands are now starting to release similar buttocks enhancing jeans as you'll see with my alternative choice selections below, but the special silicone features are what make Freddy jeans so popular and loved by fashionistas and influencers around the world.
Jeans Similar to Freddy Jeans (  Butt lifting jeans )
Here are a selection of some other jean brands with a similar buttocks lifting style that compares to Freddy Jeans.
YMI Jeans
[easyazon_image align="center" height="500″ identifier="B07WTZCLK2″ locale="US" src="https://m.media-amazon.com/images/I/31KVhA6pWkL.jpg" tag="seekpretty-20″ width="391″]
Click image to view YMI jeans on Amazon
YMI Have named their line of jeans WannaBettaButt. YMI offer a cheaper alternative to Freddy that also goes some way towards shaping your booty a little. They don't have the same silicone implants but the contours and pockets are moulded in a way that does make your bum look bigger.
These jeans are comfortable and much cheaper than Freddy and the details on the rear pockets draw attention to your best features. Freddy offer a higher end experience but these are a good runner up choice.
---
Freddy Jeans video review
This video shows you some more of the pros and cons of choosing Freddy jeans WR.UP pants.
FAQ
Where are Freddy jeans from?
Freddy Jeans originate in Italy but their jeans are produced in different locations and the brand doesn't really use it's Italian heritage in it's marketing because they are relatively modern in their designs.
Do Freddy jeans run small?
Freddy Jeans are quite a tight fit, but the sizing is quite accurate. When you first try on Freddy jeans they feel tight but you'll find you fit into your regular size as the fabric stretches out a lot.
How do you wash Freddy Jeans ?
Washing WR-UP jeans requires a little more patience and care than regular jeans. The elasticated material is more delicate so it is a good idea to wash them in cold water using your hands. You can't bleach them because this will ruin the dye and tumble drying or dry cleaning aren't recommended.
The best way to wash them is by hand in cold water and then let them air dry on your washing line. Make sure that if you are ironing them that you don't directly iron around the buttock area, especially where the thicker silicon implants are, because heat can damage them and cause the jeans to lose shape.
Conclusion – Do Freddy Jeans make your Booty look more shapely.
I like Freddy jeans a lot. They do exactly as the advertising says and they make your bum look much more shapely and also have a little slimming effect. The fabric itself is very comfortable and they do look stylish and cute. The innovative silicon implants are a unique and interesting feature so these jeans are great if you are looking for something different to wear.
I would highly recommend Freddy jeans but after reviewing them I think there are a few changes that the fashion brand could make to really appeal to a wider audience. The price of their pants is high and although the unique design features work well the stretchy fabric doesn't make you feel like you are getting great value for money.
It would also be great to see a selection of thicker fabric jeans or to see how the booty shaping features would work in a much wider selection of jean styles.
Overall, you'll love these comfortable jeans but if the price is a little too high consider one of my suggested alternative brands above. Please leave a comment and let me know what you think of these jeans and check out our latest luxury fashion brand comparison. 
Categories FashionSours: https://seekpretty.com/freddy-jean-reviews/
The Best Butt Jeans- Review and Comparison
There's been a serious trend for some time now. It's all about the butt, which is why I need some jeans that specifically focus on this area. And, of course, being me, this led to some serious research, reading and watching a whole lot of reviews.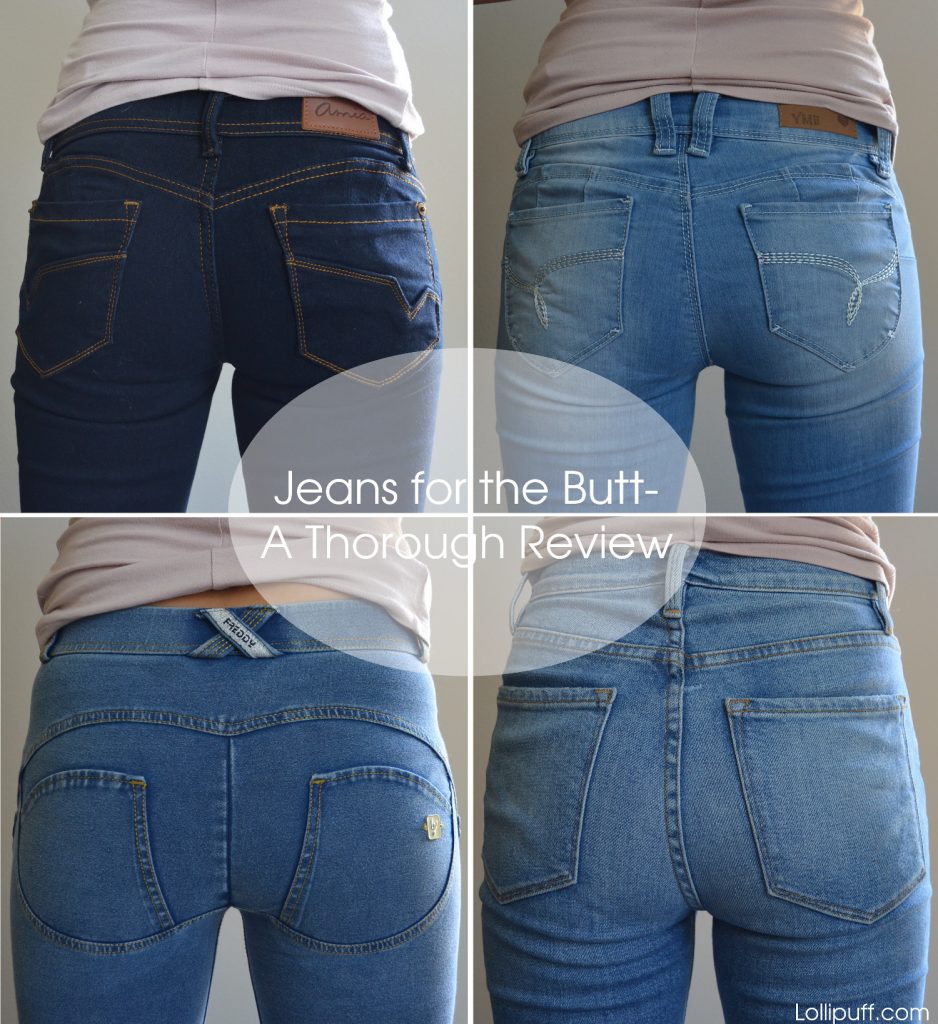 With all the sponsorships and photoshopped instagram posts going on, I needed to personally try out some of the options touted online. Here's a thorough, honest review of 3 jeans specifically made to make the derriere look extra good.
But, before you read any further, take a look at the side-by-side comparison above. Which do you think looks the best? If you could do me a wee-bit favor, please let me know in the comments below.
Freddy Pants
You may have seen these before. They have invaded social media, and the company runs a lot of online ads. They are the Freddy Wr.Up pant in midrise; their low-rise is extremely low. They come in a number of options including jeans which are really jeggings, pant leggings here, and here.
IMO, the online hype is hype. This company has a high probability of having sponsored a LOT of influencers. These are nothing more than, arguably, a good pair of leggings. The reason why they emphasize the booty is because all leggings have a tendency to emphasize the backside as they are so tight and second-skin.
Here's the problem that I have with these. First, quality for the price. These retail for over $120, and they are a very fragile thin, stretchy material. You'll notice this when you touch the fabric and when you read their care instructions. Their care instructions requires these pants to be hand-washed AND air-dried, away from sunlight. ALSO, they even emphasize how they should be pulled on like hosiery and to avoid your fingernails from getting caught in them.
Many people have stated that the pants will develop holes after just a few wears. YIKES! Those are some of the most fragile leggings ever.
But, in general, I'm not a fan of the fit. There really wasn't any of the purported lifting and the pocket design is just a little too low in my opinion.
Also, watch out for their return policy. On most of the pages of their site, they state free returns for 30 days. However, if you dig through 3 different pages, you'll find in very fine print on one of the pages that items bought with any discount code or sale price including the $10 discount paraded throughout the site will void any possibility of a return for refund.
As returns are so confusing and kind of risky on their own site, I prefer to shop second party for these pants like here, here, and here.
I wear size 24 in designer jeans and US size 0. In Freddy pants, I was an xs.
YMI WannaBettaButt Jeans
The YMI WannaBettaButt jeans are probably my favorite cheap jeans ever. I have only worn designer jeans for years and years... but this made me add low-end jeans back into my rotation! From the front, they looked very similar to some of my favorite designer jeans. To see this, check out this fashion tip blog post featuring the YMI WannaBettaButt jeans.
The pocket design makes the backside slightly perkier simply from its clever pocket and yoke design, but it's nothing life-changing. And, really, there is no shaping from the material. However, in my search for butt-shaping jeans, I have found something that is worthy to add to my wardrobe for less than $30!
I wear size 24 in designer jeans and US size 0. In YMI, I was a junior's 1.
Amia / Columbian Jeans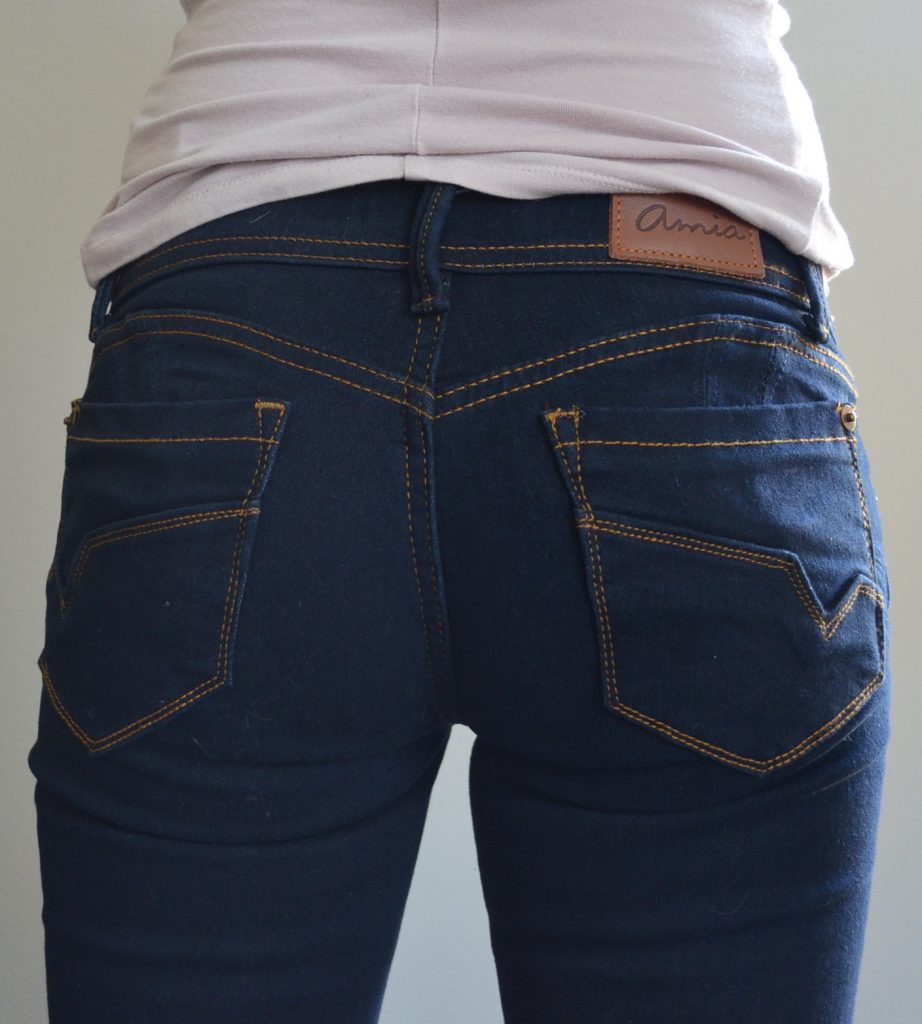 Columbians have been making jeans catered towards the backside for a very very long time now, so of course, I needed to try something from there. The hold on these jeans was strong around the midsection and thigh, but because I am so thin, I didn't really need any hold in these areas. And, the thicker denim was not as flattering around my thinner frame. :/
It seems like Columbian sizes like 1,3,5, etc are most similar to US junior sizes 1,3,5, etc. I am a size 1 in Columbian clothes and normally wear size 24 in designer jeans.

So, back to the 5 jeans comparisons near the beginning of this post. Number 1 is Amia, the Columbian jeans. Number 2 is YMI WannaBettaButt. Number 3 is Freddy Wr.Up. Number 4 and 5 were not discussed, as they are regular jeans put in as a control group; they are the Frame Ali high-waist jeans and Frame Skinny de Jeanne, respectively. My favorite for the bootie is number 2 and number 4. What do you think?
Sours: https://www.lollipuff.com/the-best-butt-jeans-review-and-comparison
UNBOXING: Freddy WR. UP Pants Haul
.
Review freddy pant
.
FREDDY Pants
.
You will also like:
.
307
308
309
310
311