Google signs up Verizon for its AI-powered contact center services
Google today announced that it has signed up Verizon as the newest customer of its Google Cloud Contact Center AI service, which aims to bring natural language recognition to the often inscrutable phone menus that many companies still use today (disclaimer: TechCrunch is part of the Verizon Media Group). For Google, that's a major win, but it's also a chance for the Google Cloud team to highlight some of the work it has done in this area. It's also worth noting that the Contact Center AI product is a good example of Google Cloud's strategy of packaging up many of its disparate technologies into products that solve specific problems.
"A big part of our approach is that machine learning has enormous power but it's hard for people," Google Cloud CEO Thomas Kurian told me in an interview ahead of today's announcement. "Instead of telling people, 'well, here's our natural language processing tools, here is speech recognition, here is text-to-speech and speech-to-text — and why don't you just write a big neural network of your own to process all that?' Very few companies can do that well. We thought that we can take the collection of these things and bring that as a solution to people to solve a business problem. And it's much easier for them when we do that and […] that it's a big part of our strategy to take our expertise in machine intelligence and artificial intelligence and build domain-specific solutions for a number of customers."
The company first announced Contact Center AI at its Cloud Next conference two years ago and it became generally available last November. The promise here is that it will allow businesses to build smarter contact center solutions that rely on speech recognition to provide customers with personalized support while it also allows human agents to focus on more complex issues. A lot of this is driven by Google Cloud's Dialogflow tool for building conversational experiences across multiple channels.
"Our view is that AI technology has reached a stage of maturity where it can be meaningfully applied to solving business problems that customers face," he said. "One of the most important things that companies need is to differentiate the customer experience through helpful and convenient service — and it has never been more important, especially during the period we're all in."
Not too long ago, bots — and especially text-based bots — went through the trough of disillusionment, but Kurian argues that we've reached a very different stage and that these tools can now provide real business value. What's different now is that a tool like Contact Center AI has more advanced natural language processing capabilities and is able to handle multiple questions at the same time and maintain the context of the conversation.
"The first generation of something called chatbots — they kind of did something but they didn't really do much because they thought that all questions can be answered with one sentence and that human beings don't have a conversation," he noted and also added that Google's tools are able to automatically create dialogs using a company's existing database of voice calls and chats that have happened in the past.
When necessary, the Contact Center AI can automatically hand the call off to a human agent when it isn't able to solve a problem, but another interesting feature is its ability to essentially shadow the human agent and automatically provide real-time assistance.
"We have a capability called Agent Assist, where the technology is assisting the agent and that's the central premise that we built — not to replace the agent but assist the agent."
Because of the COVID-19 pandemic, more companies are now accelerating their digital transformation projects. Kurian said that this is also true for companies that want to modernize their contact centers, given that for many businesses, this has now become their main way to interact with their customers.
As for Verizon, Kurian noted that this was a very large project that has to handle very high call volumes and a large variety of incoming questions.
"We have worked with Verizon for many, many years in different contexts as Alphabet and so we've known the customer for a long time," said Kurian. "They have started using our cloud. They also experimented with other technologies and so we sort of went in three phases. Phase One is to get a discussion with the customer around the use of our technology for chat, then the focus is on saying you shouldn't just do chat, you should do chat and voice on a common platform to avoid the kind of thing where you get one response online and a different response when you call. And then we've had our engineers working with them — virtually obviously, not physically."
He noted that Google has seen quite a bit of success with Contact Center AI in the telco space, but also among government agencies, for example, especially in Europe and Asia. In some verticals like retail, he noted, Google Cloud's customers are mostly focused on chat, while the company is seeing more voice usage among banks, for example. In the telco business, Google sees both across its customers, so it probably made sense for Verizon to bet on both voice and chat with its implementation.
"Verizon's commitment to innovation extends to all aspects of the customer experience," said Verizon global CIO and SVP Shankar Arumugavelu in today's announcement. "These customer service enhancements, powered by the Verizon collaboration with Google Cloud, offer a faster and more personalized digital experience for our customers while empowering our customer support agents to provide a higher level of service."
Sours: https://techcrunch.com/2020/07/13/google-signs-up-verizon-for-its-ai-powered-contact-center-services/
Virtual
Agent
Features & benefits
Virtual Agent gives your customers more power to find solutions fast rather than waiting on the phone or sending an email—and gives you a simple way to drive customer experience. 
Conversational. Interact with customers in their language and provide relevant responses
Escalation. Control costs in contact centers; route sensitive issues to live agents
Narrow AI. Smart enough to know what it can answer, and learns and improves over time
Proactive. Enable push notifications to keep users informed and engaged
Why Verizon Virtual Agent?
Market-leading technology and platform for bot solution development, reporting and management
Ability to escalate to a live agent when necessary, while retaining context
Intent engines make use of machine learning, deep learning, predictive analysis and sentiment analysis
Administrators can use an easy drag-and-drop configuration to design and update conversation workflows

How to implement Virtual Agent?
Identify a few use cases to start with that are ideal for self-serve automation and can provide a quick win for call deflection to the contact center
Our CX design consultants will help identify simple, repeatable inquiries or tasks, such as reset password, check order status, and will answer FAQs for your initial implementation
We will build a seamless escalation to human agents, so end-users don't get frustrated
As the business gains insights from analytics on what end-users want to accomplish, Virtual Agent will learn and we can make adjustments to configurations to improve the customer journey
Virtual Agent Professional Services
We can provide you with a portfolio of customer experience-related professional services, including consultation, journey mapping, system integrations, solution performance monitoring, analysis and enhancement recommendations to help improve customer experiences over time and drive measurable results. 
Our "train the trainer" methodology helps you implement your digital transformation strategy. A comprehensive e-learning program along with CX consultation will help put you ahead of the learning curve when deploying and managing a virtual agent solution. 

Sours: https://www.verizon.com/business/products/contact-center-cx-solutions/customer-engagement/virtual-agent/
You call Verizon. A Google bot answers. You demand a human. The human is told what to say by the bot
Verizon has turned to Google Cloud's Contact Center AI to automate its customer-service phone calls and chatbot conversations.
"Verizon customers in search of support may soon find a more natural and streamlined digital experience, thanks to a new collaboration with Google Cloud," the US telecoms giant gushed on Monday.
"What they won't see behind this experience is the conversational artificial intelligence that can help customer care agents respond to customer queries, as well as assist consumers directly."
The Contact Center AI technology will, we're told, use natural-language recognition to transcribe on-the-fly customers as they talk down the line. This speech-to-text output will be fed into Dialogflow, a platform that parses the text and generates responses in real-time. Similarly, written conversations with online support chatbots will be processed in real-time by Google's AI.
The overall aim is to allow subscribers to rant, er, complain away using natural language at the computer system, from their keyboards or over the phone, and the artificial intelligence should be able to work out what customers want, and help them out, without them having to navigate a menu or bark simple commands.
And presumably the aim is to sort out simple stuff quickly without a human operator having to come on the line and deal with it. Subscribers with trickier problems should also, we hope, be directed to a human being without having to negotiate their way through a menu or a script of irrelevant procedures.
The software agents can also suggest relevant online documentation, such as information on how to view or pay a bill, based on a subscriber's request.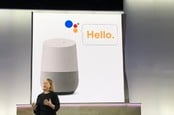 Google answers 'Why Google Cloud?' with services and spectacle
READ MORE
"Whether through voice call or chat, customers will not need to go through menu prompts or option trees; they simply say or type their request, and the natural-language recognition feature finds the best way to assist them. No stilted speech or robot-like commands," Verizon claimed.
Amusingly, if you get through to a human, or demand to speak to a person, the staffer will probably just tell you what the AI wanted to say anyway: the software will, behind the scenes, provide prompts to the call-center workers.
"For live agent requests, the Contact Center AI Agent Assist feature offers Verizon's customer care agents a real-time digital assistant that fetches relevant articles within the knowledge base, and then recommends personalized responses to agents at each turn of the conversation, assisting the care agents in effectively answering customer questions and addressing any issues," the telco said.
Google's Contact Center AI service was launched last July and made available for general use in November. It features two main tools: virtual agent and agent assist. The former carries out basic interactions and connects customers to real humans for further support. The latter processes and transcribes calls and suggests to human agents step-by-step instructions to solve an issue.
It's unclear how and when Verizon will deploy Google's software. The Register has asked the cellular network giant for comment. ®
Sours: https://www.theregister.com/2020/07/13/if_customer_service_for_verizon/
How to Add A Chatbot to Your Website
.
Bot verizon chat
.
How to create an accurate Chat Bot Response System in Python Tutorial (2021)
.
Similar news:
.
314
315
316
317
318