Pin and Cut with a Pattern
If your pattern paper is wrinkled or folded, press it with a dry iron (no steam). Position the pattern on your fabric. In our pictures, two pieces of fabric are layered with right sides together before adding the pattern piece.
Use as many straight pins as you need to hold paper or tissue pattern in place on fabric. Pin through no more than two layers of fabric at a time. Pin into pattern corners and perpendicular to straight edges. Keep pins inside the pattern lines.
TIP: Make sure your pin points face the outside of the pattern. This will keep bumps from forming in your fabric.
Use sharp scissors or shears, cut precisely on drawn lines.
TIP: For accurate cuts keep shears and fabric flat on table as you cut.
Sours: https://www.allpeoplequilt.com/how-to-quilt/cutting/pin-and-cut-pattern
I know this might sound like telling my Grandma how to suck eggs, but it is an issue we come across time and time again in our workshops. So I thought I would just go over my method to see if it can help you too.
Now I also know that not everyone likes to pin out their patterns on to the fabric and they use weights and a rotary cutter instead – that's absolutely fine. If you do prefer to pin, and I must admit I do, then there is an easy way of doing it.
We find sometimes in our workshops there is a temptation to try and lift up the pattern and fabric and slide your hand in underneath so you can feel where the pin is as you pin the paper pattern to the fabric
However, this can distort the fabric laying underneath the pattern as you're lifting it. The easiest way to pin a pattern to the fabrics is this:
Pinning patterns
Lay all your pattern pieces out onto your fabric first before pinning. You can double check everything is in the correct place – all the pieces that need to be on a fold are on a fold and that all the grain lines are parallel to the selvedges, and that you have enough fabric to fit all the pattern pieces on.
Start by pinning the corners of the pattern piece. Try and keep the pin diagonally across the corner as this will hold more of the pattern paper flat.
Ensure that the whole pin sits on the paper and doesn't hang off the edge. Even just 1mm over the edge of the paper could potentially get caught on your precious fabric shears and leave them with a frustrating notch in the cutting blade and render them useless.
Next look at any long edges on the paper pattern that might lift up and then pin along those.
Space your pins roughly a hand width apart and make sure they sit parallel to the edge of the pattern paper.
Curves are next and usually only two or three pins will suffice. Too many pins may distort the edge of the pattern paper and make it trickier to cut the fabric.
Once your pattern is in place you're ready to cut!
Remember to throw out any blunt or bent pins as they are just plain annoying and of no use to anyone!
There are no hard and fast rules in sewing really, whatever works best for you. But these are just a few tips I have picked up over the years and I hope they work for you.
Do let me know how you get along with pinning. Are there any tips that work well for you? Or anything you're not sure about?
Happy Pinning
Jules x
Sours: https://sewmesomethingblog.com/2018/02/08/back-to-basics-how-to-pin-out-your-pattern/

Pin, Cut, Sew With Jan is a sewing business offering alterations, sewing classes and custom orders. The brief was to create a logo that represented the brand and the services it offered whilst being eye catching and inkeeping with the client's guidelines. 

Ongoing visuals for social media to promote the company's services. 
Working with the client to create a following and gain customers through their social media page.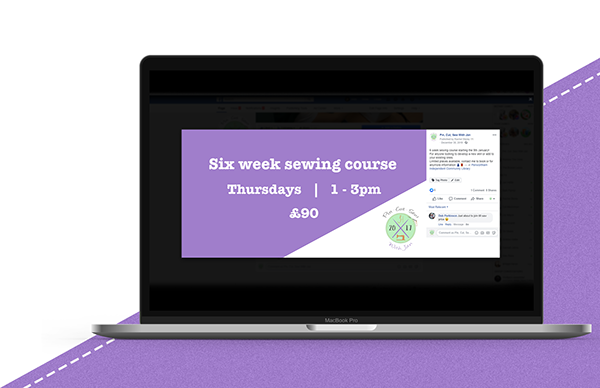 ↑Back to Top
Sours: https://rachelstorey.com/pin-cut-sew
How to Sew a Ribbon Tag Baby Blanket
.
Sew pin, cut
.
How to Sew Easy Pot Holder Mitts
.
Similar news:
.
36
37
38
39
40