Updated on: May 2nd, 2019
If you are here, chances are that you are an enthusiastic owner of a Fujifilm X-T20 or X-T30 and you are looking for some accessories to improve the user experience or expand your creativity. Whatever the reason, you've come to the right place!
The problem with accessories is that there is a lot of choice and picking the right ones isn't always easy. This is why we've carefully selected and tested all the products listed in this article. That's right, it's not just built around specifications and reviews we've read online. We bought them, we tried them and if we weren't satisfied, we replaced them with something else. We even went a step further: for each category, we compared two products so that you can choose the best one for your needs.
Last but not least, we tried to make this list personal. We've used the Fujifilm X-T20 for a long period of time and we currently own an X-T30 so we prepared the list with the following question in mind: would I buy these accessories for my own personal use?
Before beginning, please take a moment to read the following notes:
Suggestions: as you can imagine, it is impossible to try all the accessories out there. If you have experience with something in particular and would like to mention it, don't hesitate to leave a comment at the end of this article. We always welcome suggestions!
X-T10, X-T20 and X-T30: this article was first build around the X-T20, but because the three cameras are so similar, I've specified the compatibility of the three cameras for each product. For this reason, the list can be considered useful for X-T10, X-T20 and X-T30 owners.
Updates: as with many other posts on this website, this article is dynamic meaning that if we come across other products we like in the future, we may add them to the list.
---
Ethics statement: The accessories mentioned in this article all all items we either bought or received on loan for a period of time. We were not asked to write anything about these accessories, nor were we provided with any sort of compensation. Within the article, there are affiliate links. If you buy something after clicking the link, we will receive a small commission. To know more about our ethics, you can visit our full disclosure page. Thank you!
---
[toc heading_levels="2″]
---
Article updates
May 2019: added compatibility information for the X-T30, updated the powerbank list, added a selection of microphones and audio accessories, as well as memory card wallets
---
Design and comfort: half case
Half cases can give your camera a nice vintage look but they are appealing for other reasons too. First, while they might not cover the entire body, some parts are indeed well-protected. Second, they can improve the grip and comfort when holding the camera and this is exactly what I experienced with the X-T20 and X-T30. Being a small and compact mirrorless, the Fuji doesn't have the best grip, especially for someone like me who has big hands. The extra thickness on the front grip and the extra height at the bottom are both welcome features.
Useful notes:
Leather cases can discolour after long periods of use

if you often use a tripod plate, it can leave some marks on the leather part at the bottom
even though the case fits the camera well, dust can start to build up underneath over time

Fujifilm BLC-XT10 Leather case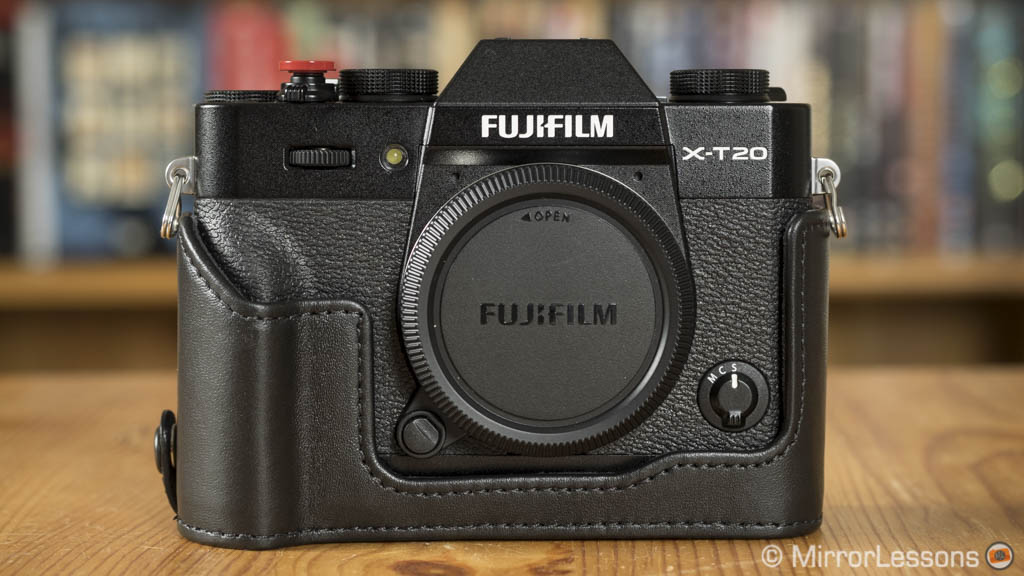 Our first contender is the official half case made by Fujifilm. It comes in genuine black leather so your camera remains discreet, which is good if you don't fancy something flashy and colourful. The case feels well-made and the stitches look strong. It has an opening for the battery compartment that is perfectly designed: getting the battery and SD card in and out is a cinch. You can attach a tripod plate directly to the case. It is a little bit pricey but the box includes a matching leather strap.
Because the case is slightly larger than the bottom plate of the camera, you have to tilt the LCD screen using the left side rather than the bottom. The only drawback? The case covers the USB/HDMI/remote ports on the left so if you use these connections often (remote control, microphone etc), it's not the case for you.
Good: leather quality, grip and comfort, tripod socket, battery and SD card remain accessible, leather strap included
To consider: LCD needs to be tilted using the left edge, it covers the USB/HDMI/2.5mm connectors, available in black only
Compatibility: X-T10, X-T20 and X-T30
Check price of the BCL-XT10 on B&H Photo
Megagear "Ever Ready" Leather case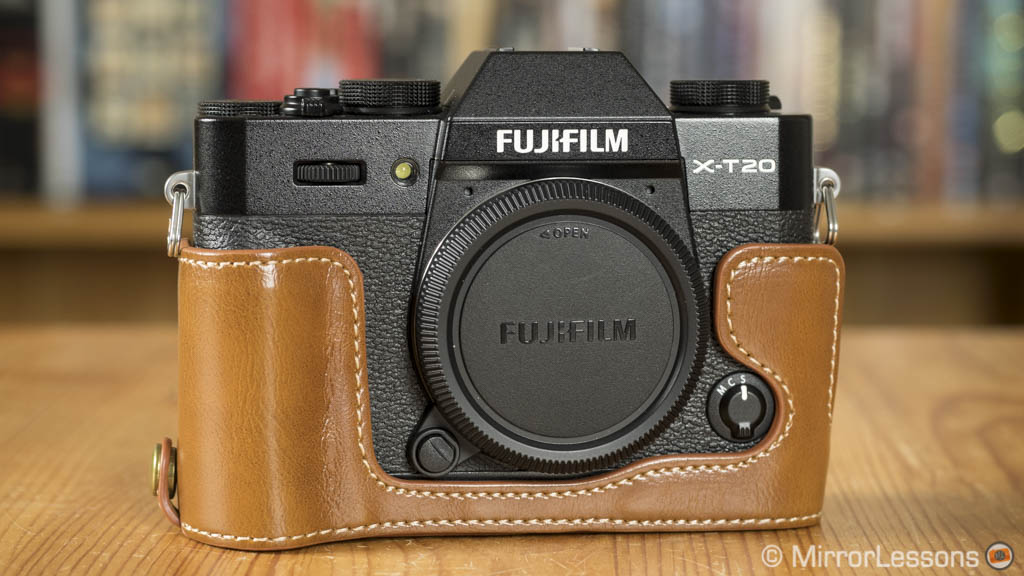 If you are looking for an inexpensive option, the half leather case from Megagear is a valid choice. It comes in a much simpler package (no box, just wrapped in plastic) but is available in different colours (black with red stitches or brown with beige stitches). It is lighter but retains the same features as the Fuji version including access to the battery/SD card and a tripod mount. Furthermore it doesn't cover the connectors on the side. The bottom part has a little less height than the Fuji version, meaning you can tilt the rear screen from its bottom edge.
The leather is good quality although the stitching looks a little less precise in a few spots. The design on the front is a little bit different: it travels around the focus selector which makes it slightly more uncomfortable to turn but I don't consider it a deal breaker. If you remove the case, be aware that the screw doesn't remain attached like on the BCL-XT10 so you can easily lose it if you are not paying attention.
Good: price, colour choice, grip and comfort, tripod socket, battery/SD card and USB/HDMI ports remain accessible
To consider: the focus mode selector is slightly more difficult to turn but it's not a major flaw
Compatibility: X-T10, X-T20 and X-T30
Check price of the Megagear "Ever Ready" on Amazon, Amazon UK and eBay
---
Extra touch: soft release button
The X-T10, X-T20 and X-T30 have a threaded shutter release button to which you can attach various accessories. One of them is a soft button. I've used them on many cameras including the X-T2, X-Pro2 and X100 series and it's one of those things I love to have. You may think it only improves the aesthetics but it does actually bring some advantages: the shutter button becomes larger, it's easier to press and it reduces micro vibrations as your finger doesn't touch other parts of the camera (useful with slow shutter speeds).
Useful notes – I've never lost one accidentally but to be sure it doesn't happen to you:
make sure to screw it on with the supplied rubber ring as it creates friction and prevents loss
every now and then, make sure it hasn't loosened a little (such as after you remove it from your camera bag) and if it has, tighten it
Lensmate soft release button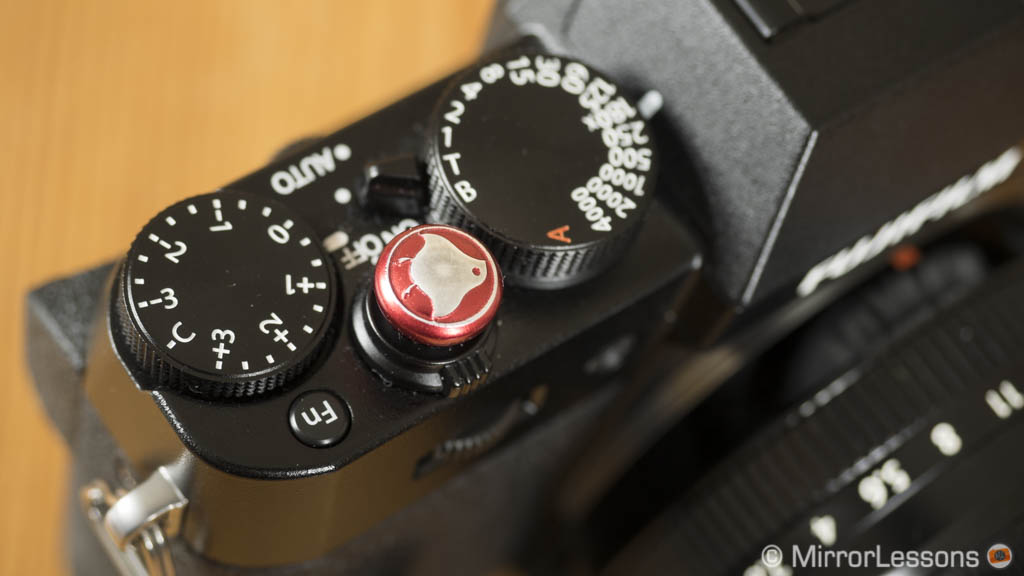 Lensmate products are my favourite. Not only is the quality top notch but there is a nice variety of designs to choose from. We own the Anodised Red Bird and Brass Lizard versions but there are many others with different colours and symbols. They add an elegant touch to your camera in addition to being functional.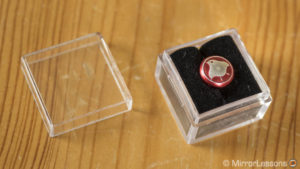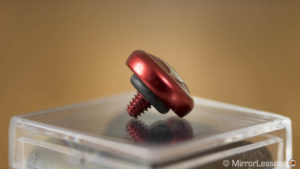 Good: quality, choice of design and colours
Compatibility: X-T10, X-T20 and X-T30
Check price of the Lensmate soft button on Amazon and eBay

JJC soft release button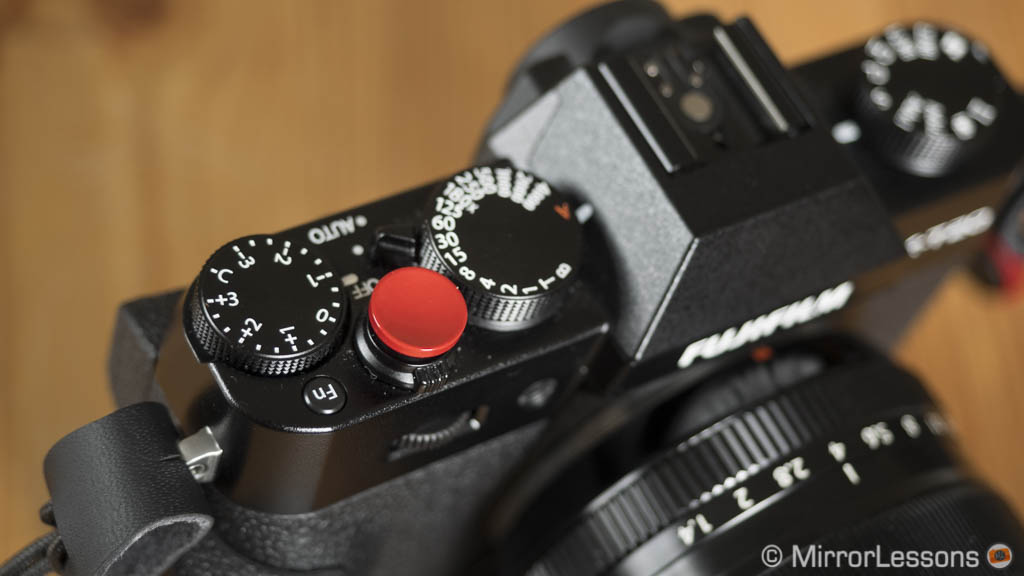 If you don't like the idea of spending more than 10 bucks for a soft button, then the ones from JJC are a good solution. There are different colours available and one advantage over Lensmate is that you can find concave versions. I chose the latter as it adapts perfectly to the shape of your finger. They are made of metal and come with two rubber rings (one is spare).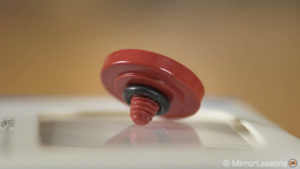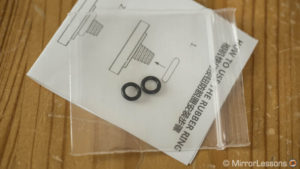 Good: inexpensive, good quality, choice of colours and form (concave or convex)
Compatibility: X-T10, X-T20 and X-T30
Check price of the JJC soft button on Amazon, Amazon UK and eBay

---
Extra protection: screen shields
Rear LCD screens are generally robust but you may not always be able to prevent tiny scratches from appearing after long periods of use. A more severe impact could damage it or leave a more distinctive scratch while others can lose their anti-glare coating after a while. Bottom line: spending a few dollars to protect the rear screen is not a bad idea (just as most people – including myself – protect their smartphones).
Useful notes:
make sure to clean the screen properly and check that there isn't any residual dust before applying it
I've never had big issues with internal bubbles but it all comes down to how you apply it (even if they say it's bubble free). Don't rush, apply it step by step and run your finger from the centre towards the edges or carefully from one side to the other to stick it in place. If some bubbles appear, drag them out right away.
mine have always lasted for more than a year
Expert Shield screen protector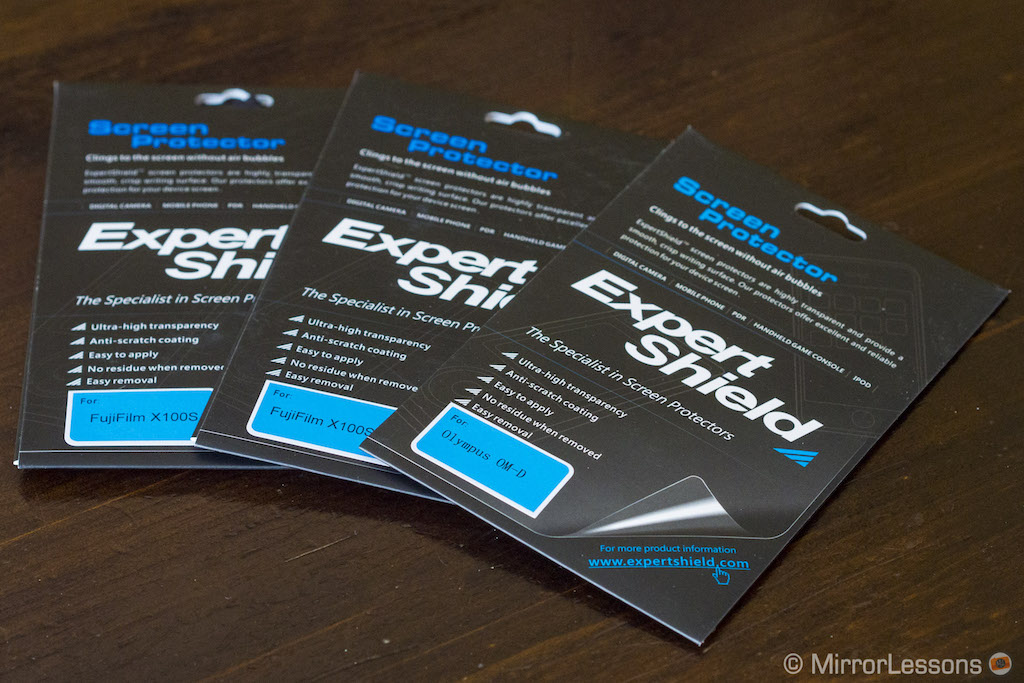 We used Expert Shield on several of our mirrorless cameras in the past and we've always found them inexpensive and reliable. There are three types you can choose from: Anti-Glare uses a special matte finish to reduce reflections, Glass is thicker (0.28mm) while the Crystal Clear version is less visible (0.15mm).
Personally I like the Glass version as it does a better job of protecting the camera against strong impacts. (However, it can also shatter more easily.) They are easy to install and remove and don't interfere with touch sensitivity. A lint cleaning cloth is included in the package.
Good: quality, easy to remove, three types to choose from, doesn't impact touch sensitivity
Compatibility: X-T10, X-T20 and X-T30
Check the price of Expert Shield on Amazon, Amazon UK, eBay and B&H Photo

GGS Larmor screen protector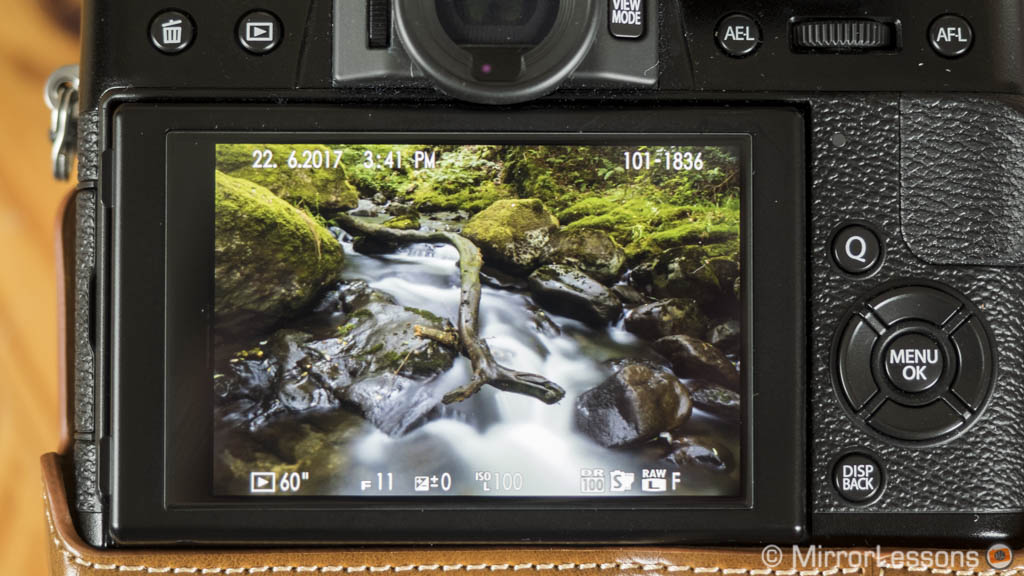 I recently tried the GGS protector and was very impressed by it. The first difference is that it comes with a black frame that matches the borders of the camera screen. It fits between the plastic borders perfectly. Thanks to its thickness (0.3mm) it is extremely easy to apply and I didn't have much trouble with bubbles. The design fits the rear monitor of the X-T20 perfectly, so much that it almost looks like it came with the camera. It comes in a nice plastic box and includes a wiping cloth.
Good: dark frame, robust, perfect size, no issues with the touch screen
Compatibility: X-T10, X-T20 and X-T30
Check GGS screen protector on Amazon and eBay

---
Better ergonomics: landscape grips and thumb rests
While the half cases seen at the beginning add extra comfort, you may be interested in a solution that solely concentrates on improving the grip rather than the aesthetics. There are two types of external grips you can add: a landscape version that attaches to the bottom of the camera or a thumb rest on the hot-shoe. They can even be used together, making the camera much nicer to hold and use.
Fujifilm MHG-XT10 hand grip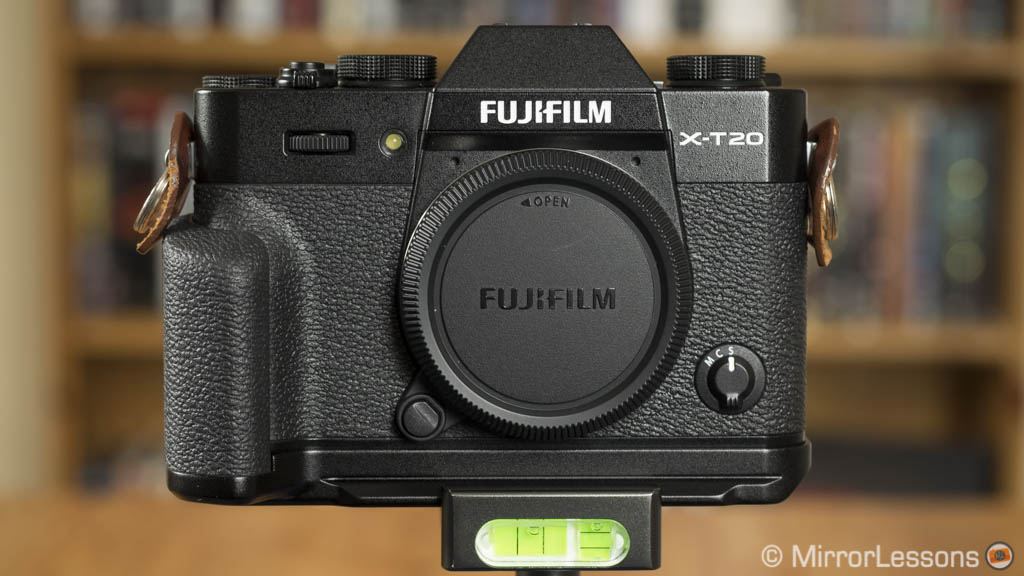 The official option is light, has a metal base and a plastic front, and is covered with faux-leather rubber that matches the design of the camera. It makes the front grip more prominent and gives it some extra height. The camera becomes easier to hold especially when your arm is relaxed as you don't feel that the camera is slipping away. There in an empty space at the bottom that allows you to access the battery/memory card.
Another advantage is that the tripod mound is centred with the lens axis – unlike the camera – so if you attach a plate to the grip, it won't prevent you from opening the battery compartment. That being said, only small plates don't block the battery door. If you use Arca Swiss tripods, you won't need a plate as the grip itself can be attached directly to the head.
And the downsides? The two little screws that hold the grip in place at the bottom feel a little weak and several users have reported that they lose them after a while (it hasn't happened to me yet). A simple DIY solution is to put a small piece of black tape over top to prevent losing them.
Good: makes the grip larger, moves the tripod mount to the centre (no obstruction to the battery compartment), arca swiss compatible
To consider: high price, twin screws that hold the grip can come loose
Compatibility: X-T10, X-T20 and X-T30
Check MHG-XT10 price on B&H Photo
Haoge L-plate grip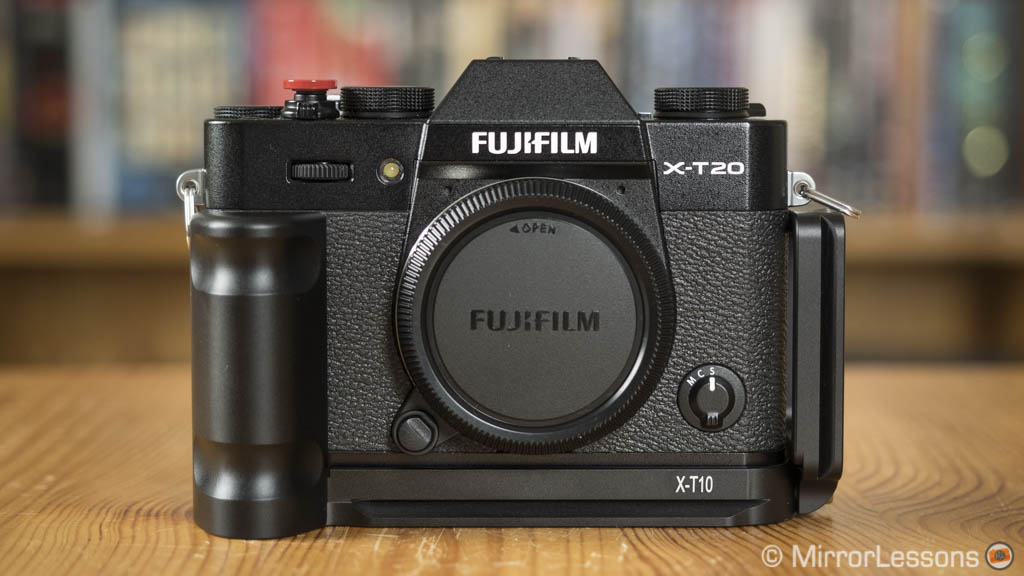 If you like the idea of a metal Arca Swiss compatible grip but don't want to spend too much money, the Hoage solution becomes interesting for different reasons.
First as you can guess, it is much more affordable. Second it comes with a removable L plate that allows you to mount the camera vertically on the tripod directly. The front grip is taller than the Fuji version which gives you a better grip when holding the camera even though the metal surface is slick. However keep in mind that the large grip size doesn't leave a lot of space for your fingers between the grip and the lens barrel when using a large lens such as the 50-140mm 2.8. The battery and SD card remain accessible. Like the MHG-XT10, the hole for an additional tripod base is separate but not as precisely re-centred.
When the L plate is attached, the connector door is impossible to open and the LCD screen is more difficult to tilt because of the lack of space on the left and bottom sides. It comes with a hex key (4mm) that allows you to attach the grip to the camera and the L-plate. The front grip is attached with two hexagonal screws that are more solid in comparison to the Fuji grip. However they are smaller: if you want to disassembled it or tighten the screws, the provided wrench is too large and you'll need to use a smaller one (3mm).
Good: larger grip, removable L-plate for vertical shooting, battery and SD card remain accessible, arca swiss compatible, low price
To consider: connectors door can't be opened when L-plate is attached, the provided hexagonal wrench is too large for the two screws that hold the front grip in place
Compatibility: X-T10, X-T20 and X-T30
Check Haoge L-grip price on eBay
Lensmate thumb grip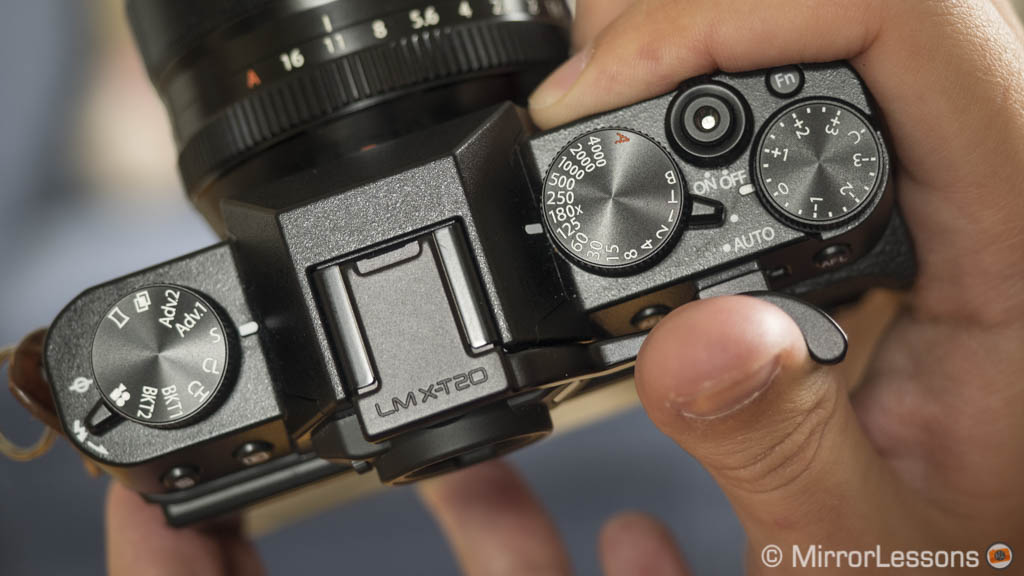 If you don't fancy landscape grips, a simpler solution is to use a thumb rest. It's a discreet solution that dramatically improves your grip on the camera. I've used them on most Fuji cameras including the X100 series, as well as the Sony a6000 series.
It is made of metal and specifically designed for the X-T20. It slides into the hot-shoe and features a silicone insert to provide a soft bumper between the grip and the camera. A second insert underneath the hot shoe tab prevents it from sliding out of place. It doesn't limit any access to buttons or dials. The only thing you won't be able to do is rotate the shutter speed dial with your thumb while using the EVF.
Good: improves the grip without adding extra bulk, sturdy, attention to detail, buttons and dials remain accessible
To consider: can become annoying to constantly slide in and out of the hot shoe if you often use it for other accessories (flash etc.)
Compatibility: X-T10, X-T20 and X-T30
Check price of the Lensmate Thumb Grip on Amazon and B&H Photo
---
Carrying solutions: neck straps
The strap provided with a camera is always basic but there are third-party products that are clever, more comfortable and, just as with the half case, can add a touch of style to your kit.
Peak Design Slide Lite strap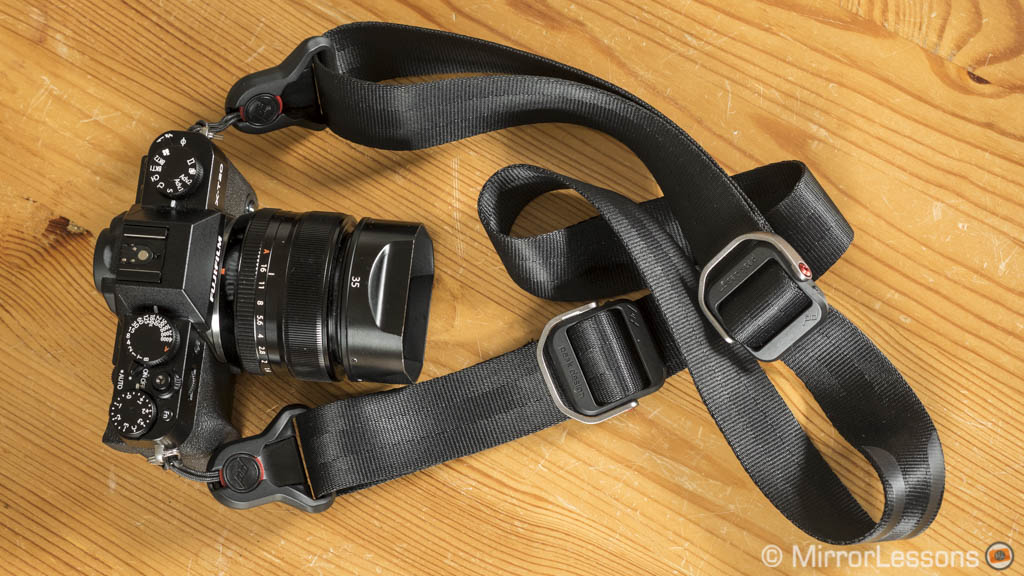 If you've been following us for some time, you'll know we are very fond of Peak Design products, and the Slide Lite is one of their best straps.
It is made of the same material used for seat belts. The aluminum quick adjusters allow you to extend or reduce the length of the strap very easily, allowing you to carry the camera around your neck or over your shoulder. The strap includes four anchor links which is the primarily reason we like these straps: you can attach/detach it instantly. The anchors are very robust and can sustain over 90kg: we've been using them from day one and never had any problems with them. There is also an Arca Swiss plate provided.
Good: robust, easy to adjust, anchor link system to quickly attach and detach strap
To consider: only one colour available
Check price of the Slide Lite on Amazon, Amazon UK, eBay and B&H Photo
4V Design Lusso Large strap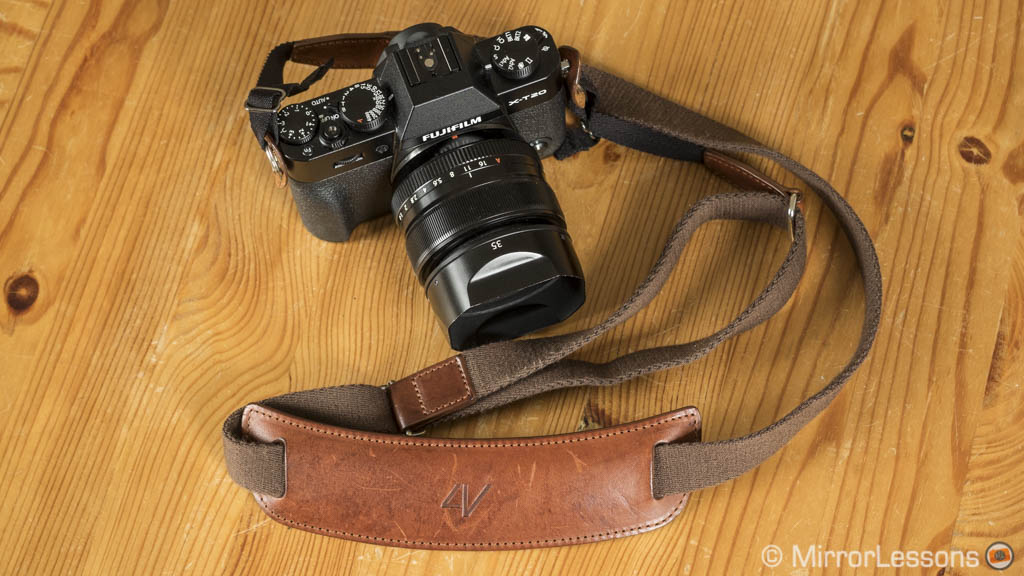 We had the chance to test several 4V Design products and we really appreciate the quality and attention to detail. They are made in Italy with Tuscan veggie leather and come in various colour combinations (leather and stitches).
The Lusso Large uses cotton canvas for the strap. It can be adjusted in length and is easier to fold than other materials when not in use. The main pad is very comfortable with leather on the outside and an anti-allergy pad on the inside. The edges are hand-painted. Bear in mind that if you have long hair, it can easily get caught underneath due to the grippy nature of the pad.
Included in the stylish box you will find two universal 10mm bands and protective covers. Note that there are three sizes: slim, medium and large and their designs differ (the medium uses a leather strap for example).
Good: premium quality, elegant design, comfortable
To consider: long hair can get caught underneath the main pad which can be a little uncomfortable
Check price of the 4V Design Lusso Large on Amazon, Amazon UK, eBay and B&H Photo
---
More power: spare batteries
The X-T20 doesn't have a bad battery life but for intense shooting or if you are traveling, having at least one spare battery is recommended. Plus the camera is a little bit slow in operation, so to improve the speed you need to select the High Performance option in Power Management that decreases the battery life more rapidly.
Fujifilm NP-W126S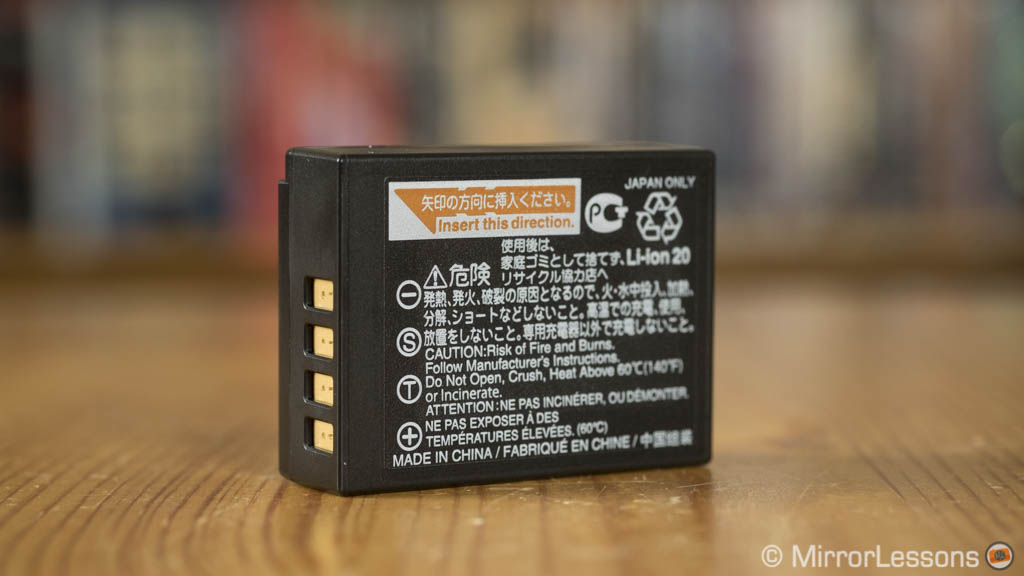 The camera is compatible with the new NP-W126S battery which was released by Fujifilm last year and improves the performance over the previous generation. It is definitely the best choice for the camera and works well on the flagship X-T2 and X-Pro2. Like most official batteries, it is more expensive.
Good: good performance
To consider: more expensive
Compatibility: X-T10, X-T20 and X-T30
Check price of NP-W126S on Amazon, Amazon UK, eBay and B&H Photo
Patona NP-W126 (Europe)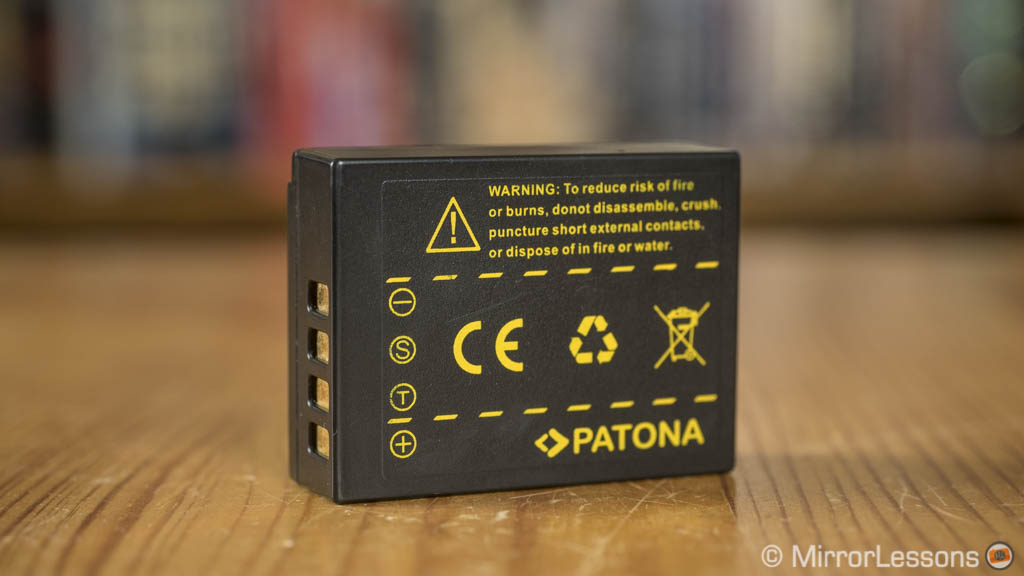 We've used Patona batteries on several of our mirrorless cameras over the past few years. They've proved reliable and their performance is almost as good as the originals. Obviously they come at a much more attractive price and you often find bundles with two batteries and a charger. It's hard to get better than that. There is also a premium version that is more expensive (but still cheaper than the official version) with a little more amperage.
Good: costs less than the official, can be found in bundles
To consider: performance is slightly below the originals
Compatibility: X-T10, X-T20 and X-T30
Check price of the Patona NP-W126 battery on Amazon UK and eBay

Wasabi / Watson NP-W126 (US)
The problem with recommending third party batteries is that you don't always find the same brand in all countries. If you live in North America, you will have a hard time finding the Patona brand but luckily there are other brands that have a good reputation. One of the most popular is Wasabi and just like Patona, it offers different bundles with more than one battery and a charger. An alternative is Watson: it is more expensive but offers an excellent dual LCD charger if you need to charge two batteries at the same time.
Note: because we live in Europe, these are the only items we weren't able to test personally.
Check Wasabi NP-W126 battery price on Amazon
Check Watson NP-W126 battery price on Amazon and B&H Photo
---
More power: portable charger
An alternative way to give your Fujifilm camera extra power is to connect a USB portable charger. Many are designed with smartphones or tablets in minds, but nowadays the compatibility has expanded to many other products. (You'll even find some that can charge a MacBook laptop.)
When it comes to mobile power banks, we're spoiled for choice. I haven't listed the most recent models here, but the ones I bought some time ago are still working well today. Just bear in mind that you can get similar units with more power, and more USB ports if you want to charge multiple devices at the same time. Some banks have rapid charger capabilities and USB C compatibility as well.
Note for the X-T30: since the camera has a USB C type port, you'll need a USB Type C to USB Type A 3.0 cable to use the devices below, which is not included in the box. Alternatively, you can buy similar products from the two brands that come with a USB C port and cable.
RAVPower 12000mAh Portable Charger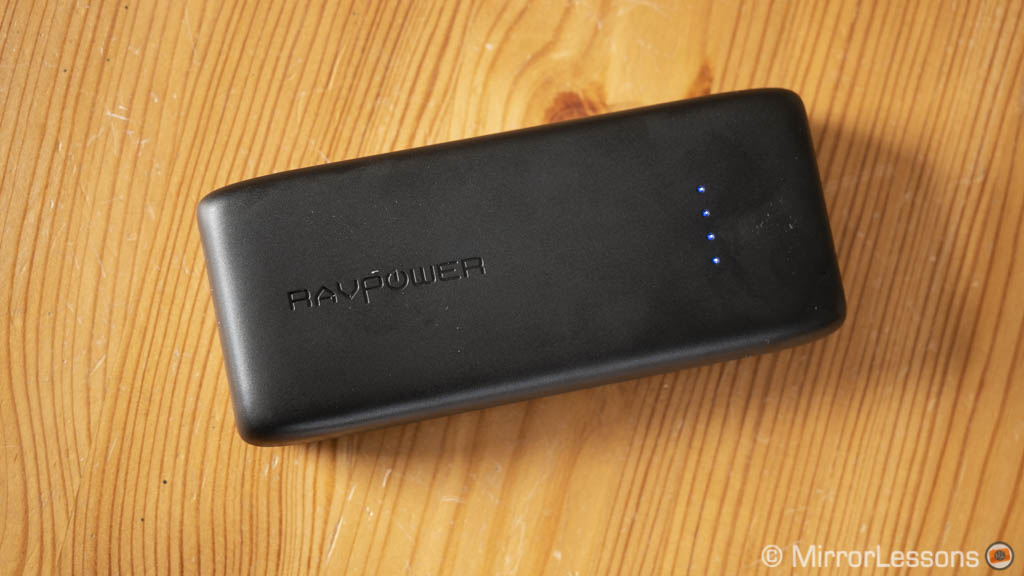 The RAVPower 12000 has a capability of 12000 mAh. The Fuji NP-W126S is 1260mAh which means that this unit can re-charge the battery approximately nine times. Remember however that charging over USB can require more time than with the supplied battery charger. In half an hour it gave me approximately a 40% boost (from 0 to 2 bars out of 5), then it kept adding 20% every 30 minutes, which means it takes approximately 2 hours to recharge the battery completely.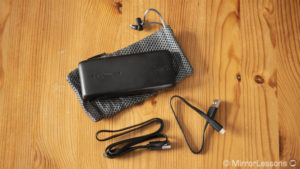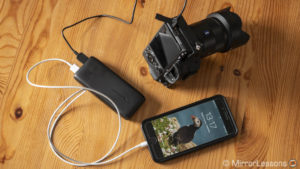 The design is pretty minimalistic and the only thing you'll find is four blue LED lights that indicate how much power the bank has left. It comes with two USB cables (different lengths) in the box.
The RAVPower unit has two USB 3.0 ports, so you can charge a second device such as a smartphone. Both the camera and the second device can receive power simultaneously. One of the USB port is Qualcomm 3.0 certified so it can charge a compatible device more rapidly.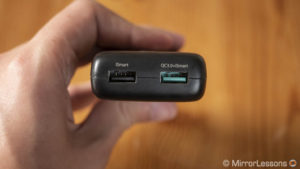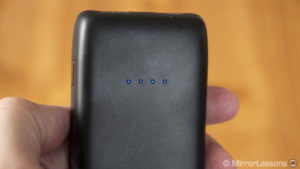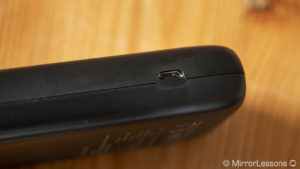 On the X-T30, you can also use such a device to power the camera while using it. The USB C port takes power delivery which can be useful for time-lapse work for example, if you plan to stay out all night. Remember that the USB Type C to USB Type A 3.0 cable is not included.
Good: affordable, can re-charge the battery in TIME and can power two devices at once. On the X-T30, it can also power the camera while in operation.
To consider: battery charging via USB takes a long time
Compatible with: X-T20, X-T30 (you need a USB C to USB A 3.0 cable which is not supplied with this particular model); the X-T10 cannot be charged via USB
Check RAVPower 12000 price on Amazon, B&H Photo and eBay
Anker Mini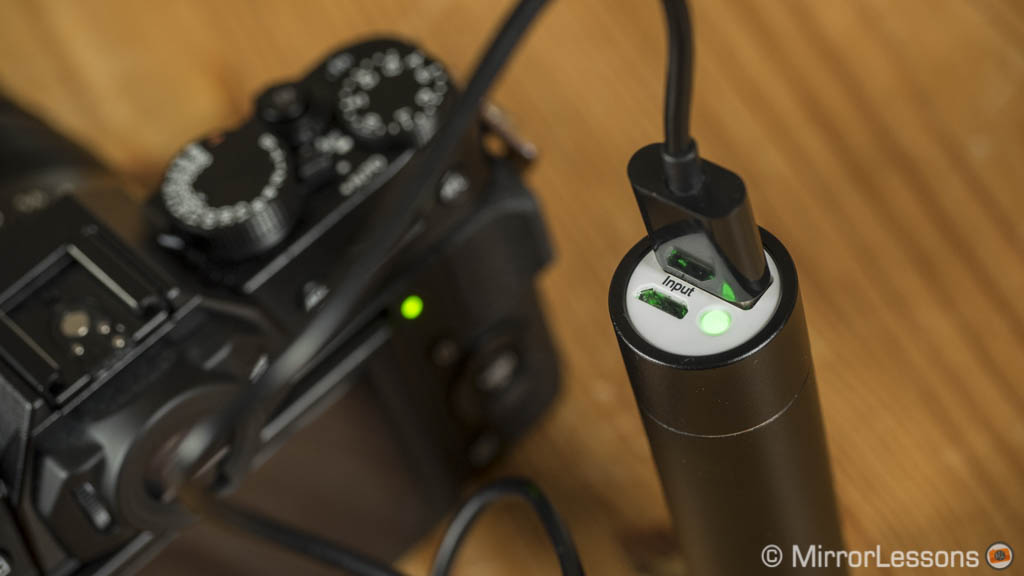 In addition to the spare battery and chargers mentioned above, an alternative solution is to take advantage of the USB charging capabilities of the X-T20. Having a portable charger with you can be useful if you want to boost the battery during a lunch break or when you don't have access to ground power.
We own the Astro mini which is the previous generation of the product you can find now. The model we have is 3200mAh meaning it is capable of charging one battery from 0 to almost 100% before it runs out of juice. In my tests, it charged a NP-W126S on the X-T20 from flat 0 to 55% in one hour and up to 98% in two hours. If you want more charging power or want it to last for a longer time, you need more amperage. You can find models at 5000mAh and 10000mAh and they don't cost much more. The Anker can be re-charged via USB.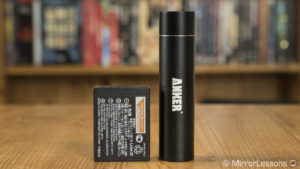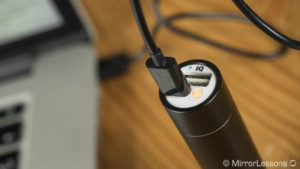 Good: small, inexpensive, can charge a battery from 0 to 98%
To consider: for better performance you need a model with more amperage
Compatible with X-T10: X-T20, X-T30 (you need a USB C to USB A 3.0 cable which is not supplied with this particular model); the X-T10 cannot be charged via USB
Check price of the Anker mobile charger on Amazon, Amazon UK and eBay

---
Let there be light: compact flash units
There is an increasing number of compatible flashes on the market for Fujifilm cameras nowadays. I recently had a look at several models and here are the ones that I find the most interesting for the X-T20 as a starter kit.
Useful notes:
if you already own flashes from other brands and want to use them on the X-T20, there are TTL-compatible triggers such as the Cactus V6 II that are worth looking into. I will try to test these as soon as possible.
Given its very attractive price and specifications, we will test the new Godox 350F as soon as it becomes available.
Metz Mecablitz M400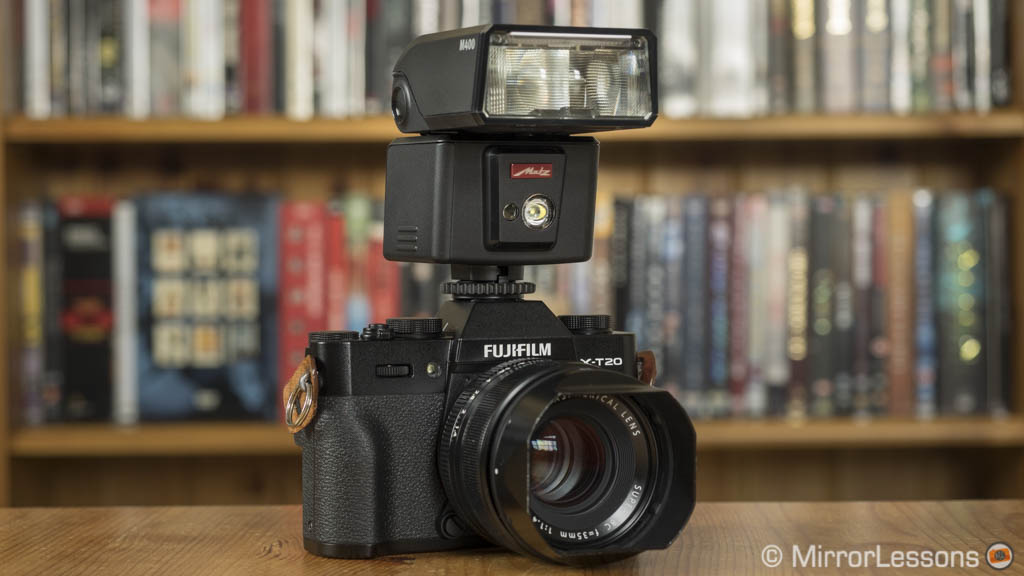 I chose to test the M400 because I liked the idea of receiving firmware updates via the USB port. A few days after the order, Metz announced a new version that enables remote control and High Sync Speed for Fujifilm cameras. What perfect timing!
The Metz M400 is light, compact and fits a small camera like the X-T20 really well. The build quality is robust. The head can be tilted up 90°, rotate up 180° and includes a reflector card and a wide angle diffuser. On the rear you find a monochrome vertical display that can be used to navigate through the various settings. It also shows useful information like the distance range according to your exposure settings. There is a 4-way control pad to change settings or vary flash compensation but the buttons lack some sensitivity. The On/Off button is too flat and hard to press.
Concerning the performance, the M400 has a guide number of 40/131' (ISO 100) and a range of 24-120mm (equivalent). The lamp recycling time is very short even when used in continuous shooting mode. The flash supports TTL and HSS. Paired with other M400s or units compatible with Fuji's remote system, you can work wirelessly with master and slave options (optical communication). In Servo mode you can control the M400 remotely with the built-in flash of the X-T20 (commander function) but it will only work in manual mode. There is a front LED light that can be used for video or an AF beam light. Finally you can save your favourite settings in two program modes to recall them quickly.
Good: reasonable price, small, powerful, TTL, HSS, USB port for firmware updates, useful LCD screen, easy to use
To consider: optical wireless communication, needs another unit for complete wireless functionalities, buttons lack some sensitivity
Compatibility: X-T20, X-T30 (not all the functions are available for the X-T10)
Check Metz M400 price on B&H Photo
Nissin i60A + Air 1 Commander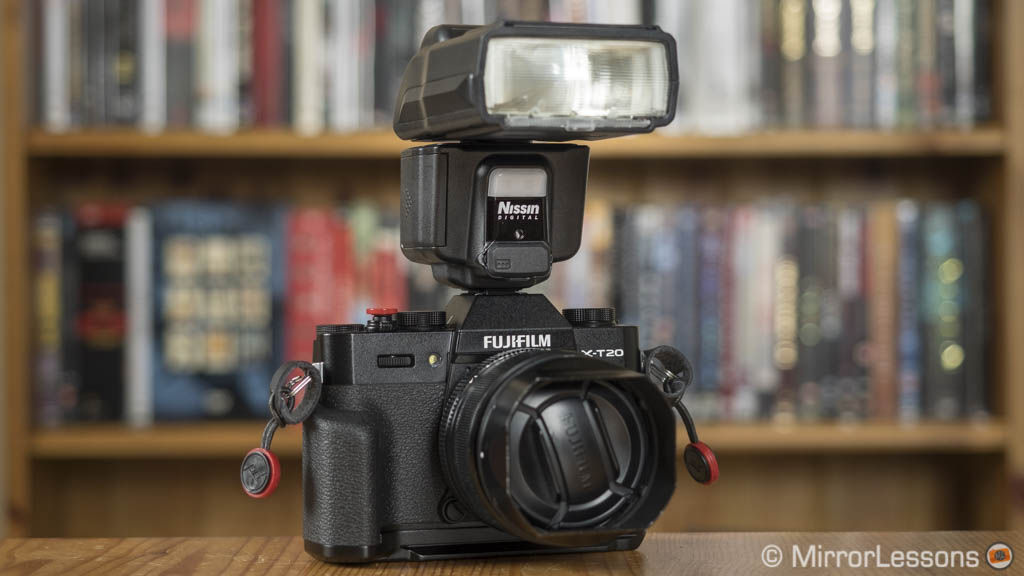 If you are interested in off-camera flash possibilities, the Nissin i60A is a good solution because it supports radio communication (2.4GHz), also called NAS (Nissin Air System). You will need the optional Air 1 Commander that allows you to control the flash wirelessly with TTL. The Air 1 can support up to 3 groups and 8 channels and works with every NAS compatible flash from Nissin, independently from the brand version.
On its own, the i60A is a good flash with a 60/197' GN and 24-200mm zoom range. It is compact and lightweight but heavier than the Metz. It has solid construction and a coloured LCD screen on the rear. Thanks to the two dials, the flash is very easy to set up and use but the LCD screen has a delay when changing settings which is somewhat annoying. It also produces a whistling sound when turned on. There is a fill-in reflector and a diffuser in the head and what I like is that they are separate so it's easier to use one or the two together. The kit includes a soft box. The flash can be connected to a power source to reduce the recycle time.
Important note about HSS:the i60a and Air 1 are compatible but need a firmware upgrade. If you already own the products, you need to send them to Nissin as it can't be done from home. If you are planning to buy them, make sure to buy the updated versions. On the i60A box there is a grey sticker stating that the flash has received the HSS update. On the Air 1 box there is a red dot. You can find some visual information on FujiRumors.
Good: not too expensive, powerful, TTL, easy to use, supports radio communication for off-camera work
To consider: make sure to buy the updated Fuji version if you want HSS, you need the optional Air 1 commander to work off-camera, a little bit noisy
Compatibility: X-T20, X-T30 (not all the functions are available for the X-T10)
Check Nissin i60A price on B&H Photo
Check Nissin Air 1 price on B&H Photo
Sours: https://mirrorlesscomparison.com/best/best-accessories-fuji-xt20/
10 Best accessories for Fujifilm X-T30
What are the best accessories for Fujifilm X-T30?
The Fujifilm X-T30 is a very powerful camera. As good as it is, it won't fit perfectly every workflow, and can certainly do with an extra layer of protection.
Whether you just bought it or are an experienced user, you may want to invest in some accessories. For a reasonable price, you can drastically enhance its capabilities, and your overall experiences.
From street photography to video making, in the studio or in the wilderness, you will benefit from expanding your gear and protect it from common hazards.
We selected for you the 10 best accessories that any Fujifilm X-T30's possessor should consider buying, from batteries to tripod and many more essentials!
---
Top 10 Best accessories for Fujifilm X-T30
1. Screen protector
Screen protectors are a simple yet very effective way to prevent damages on your screen. These kinds of protections are popular with smartphones.
Made out of tempered glass, they will prevent scratches and protect from shocks. They also help with dust accumulation and spillages. The screen protectors are quick and easy to set by following the manufacturer's guidelines.
Being sold for a ridiculously affordable price, this accessory is a no-brainer, and definitely a must-have to instantly improve your Fujifilm X-T30's durability.
---
2. Extra battery
The battery life of any camera is rarely enough, whatever the shot capacity per charge it can last. Batteries are long to charge, and running low in the middle of a shooting session can be a great source of inconvenience.
Save yourself some frustration by investing in an extra battery. Having even just a single spare battery will work well enough to use them in rotation. If you are a traveler, or plan a long session outside with nowhere to charge your batteries, having a third one may be a game-changing investment.
We recommend that you buy the original Fujifilm's batteries to be sure to have the best performances and compatibility.
---
3. Memory Card
SanDisk 128GB SDXC SD Ultra Memory Card Works with Canon EOS Rebel T7, Rebel T6, 77D Digital Camera...
Bundle includes (1) SanDisk 128gb Ultra 100mbs Memory Card and (1) Everything But Stromboli Combo Card Reader - Includes SD, Micro SD, M2, and MS slots for easy transfer
Compatible with Canon EOS Rebel T7, Rebel T6, 77D Digital Cameras and many other Canon Cameras
Waterproof, temperature-proof, X-ray proof, magnet-proof, shockproof
Memory cards are not an accessory to neglect. Their capacities and speed can determine whether you will be able to utilize the full capabilities of your Fujifilm X-T30 or not. A slow card will stop you from recording in the highest quality, and may affect the burst rate.
On the other hand, avoid buying a card too powerful for your camera. At best, the writing speed will be limited to the maximum allowed by your gear, at worst, it may not be recognized as valid.
If you are not sure about which memory card to buy, Fujifilm is listing all the compatible ones on the user manual, or on their website.
---
4. Memory card reader
UGREEN SD Card Reader USB 3.0 Card Hub Adapter 5Gbps Read 4 Cards Simultaneously CF CFI TF SDXC SDHC...
One Reader for Multi Cards: Ugreen USB Card Reader is designed with 4 card slots: SD, Micro SD, CF, MS slots and USB 3.0 connector, which allow you to read and transfer data the most popular flash...
Super Speed&High Capacity: Ugreen USB Memory Card Reader support SD/Micro SD card up to 512G and allows super fast data transfer up to 5Gbps - 10X faster than USB 2.0 (480 Mbps), which allows you to...
Compact Design&Premium Quality: So useful but so compact. Easy to grab and go. Reinforced cable, Tin-plated pure copper core and multi-shielded inside, sturdy exterior and heat-resistant connectors...
A memory card reader is the accessory to always carry around with you. Not all computers are equipped with a compatible one, as it tends to happen when you need it the most.
You may need to send the files from a shooting session to a client, or to a friend, so being sure to have all the gear you need is important. Memory cards readers are also interesting for uploading multiple cards on a PC or a Mac at the same time.
We recommend that you aim at a USB-C compatible card reader, as they will have a higher speed. Also, if you work with different cameras, a multi-format card reader is a clever investment, though they tend to be a bit slower.
---
5. Neck strap
Peak Design SLL-BK-3 Slide Lite, Mirrorless Camera Strap, Black
The newly updated Slide Lite packs the unrivaled versatility of Slide into a smaller package, perfectly suited for mirrorless and light DSLR cameras. Wear Slide Lite as a sling, neck, or shoulder...
Dual quick adjusters provide instant access and easy reconfiguration. Unique Anchor Link system connects quickly and dual points of connection keep your camera more stable than traditional sling...
Updates include a revamped silicone grip, upgraded webbing, lower profile strap/hardware transitions, and non slip quick adjusters. Anchor connectors have been updated to be smaller, faster, and more...
Get yourself a solid strap! The Fujifilm X-T30, as most cameras, comes equipped with a regular strap that will do the job for some time. But it is not the comfiest piece of gear, and it may become tiring after a while.
If you plan on doing long shooting sessions, a wide, padded shoulder strap will bring relief to your neck and back all throughout the day. If you are more into fast action or street photography, consider investing in a wrist strap.
These accessories are very convenient to carry around and will secure your camera firmly, always ready to snap.
---
6. Tripod
Are you tired of holding your camera all day long? Or maybe you try to snap that perfect night shot, but the result is always a bit blurry? It's time for you to buy a tripod.
Tripods don't have to be heavy or bulky. The Fujifilm X-T30 is light enough to be accommodated on a lightweight and transportable tripod. Make sure to look for a model with enough height for your need, as well as a wide base for more stability.
If you need a really tiny accessory for your travels, or just to keep on your bag all the time, consider buying a monopod. Despite being less known, they are pretty handy and will fit in any backpack.
---
7. A bag or carrying case
You may not feel the need for a bag or a carrying case, but soon enough this will become mandatory. This is especially true if you travel a lot or if you often work outside.
The Fujifilm X-T30 is strongly built, but you would be mindful to take any measure possible to protect its integrity over time. Camera bags are specially designed to be waterproof and padded, so you can transport all your gear without any risk.
Carrying cases will also be great if you have multiple lenses, and to carry your extra batteries, memory cards, and other accessories.
---
8. Microphone
More and more videographers are using cameras such as the Fujifilm X-T30 for podcasts, music videos or even short movies. Having a good microphone is essential to record a proper sound. There are plenty of options, from horseshoe mount microphones to wireless lapel mics.
You can also have a look on external recorders, but they will require a bit more post-production to sync the audio to the video. There are different kinds of microphone capsules for different usage, even though cardioid capsules are the most common and versatile ones. Before investing your money, make sure to get one that fits your needs.
---
9. UV protection filters
The sun and stage lights are badly affecting your lenses and even your sensor. UV protection filters are a very affordable way to avoid any problem. They also have the other advantage to add another layer of protection for dust, scratches, fingerprints or moisture on your lens.
They are easy to clean and resistant enough to last for a long while. You will have to find one that fits the diameter or the specific lens you are using. We recommend that you equip all your lenses with UV filters and keep them on all the time, so you are always ready to shoot.
---
10. Polarizing filters
67mm Circular Polarizers Filter, K&F Concept 67MM Circular Polarizer Filter HD 18 Layer Super Slim...
Ultra slim frame, only 4mm thickness.Double side 18-layer coated,water repellent,anti-oil,anti-dust,anti-soil,scratch resistant.
Ultra slim rim profile to avoid vignetting on wide angle lenses, while maintaining rotation capabilities to adjust polarization levels. Extra tough Magnalium frame ensuring great durability and...
Circular CPL filters allow you to remove unwanted reflections from non-metallic surfaces such as water, glass et. They also enable colors to become more saturated and appear clearer with better...
Polarizing filters are a very useful accessory to have yet many photographers and videographers are not using them. They work the same way as sunglasses, by blocking the direct sunlight.
They can be oriented to fit your shooting conditions. Polarizing filters will help you avoid glares and excessive overexposure on shiny surfaces. You can also get a deeper blue in the sky. The filters are affordable and will be a good fit for all your lenses, below a UV filter for more protection.
MORE USEFUL STUFF
TAGS: best accessories for Fujifilm X-T30 camera, Fujifilm X-T30 best accessories, must-have accessories for Fujifilm X-T30, Best Camera Accessories For Fujifilm X-T30, what accessories to buy for Fujifilm X-T30, Fujifilm X-T30 essential accessories, best camera accessories Fujifilm X-T30, Fujifilm X-T30 camera accessories, Fujifilm X-T30 accessories must have, Fujifilm X-T30 travel accessories
Categories Photography, Travel GearTags Photography, Travel GearSours: https://travelfornoobs.com/best-accessories-for-fujifilm-x-t30/
Best Fuji Accessories
I've put together this guide on my recommended Fuji accessories to help you get the most out of your camera.
Since their release of the first X-Series cameras, Fujifilm has become synonymous with beautifully designed, retro-inspired camera bodies which offer excellent performance for both amateur and professional photographers.
There are so many useful camera accessories available here in 2021, both Fuji branded goods as well as many great third-party options.
Let's have a closer look at the best Fuji accessories of the year so far.
Best Fuji Accessories in 2021
The Fuji accessories mentioned below are my favourite products that I've used with the Fujifilm X-T3, Fujifilm X-Pro3 (both interchangeable lens) and Fuji X100V (fixed lens) mirrorless cameras.
The majority of the accessories are obviously relevant for any Fuji camera you currently own.
I've tried to include information about why I think they're so useful, and how they can help make your favourite type of camera more efficient and fun to use.
1. Batteries & Chargers
A big advantage of Fuji cameras is the ability to charge them over micro-USB.
There are plenty of portable power packs (chargers) available – you may already have one to charge your smartphone, but my recommendation is the excellent Jackery Bolt 6000.
It's fast, powerful and lightweight, and I particularly like the inclusion of a built-in lightning cable and micro-USB cord, meaning I never have to remember to bring additional cables.
If you need a little more power and don't mind packing cables, the Anker PowerCore 20100 has almost double the charging capacity.
As for the actual batteries, it's common for Fujifilm camera owners to carry several spares – I've heard of Fuji wedding shooters to pack as many as ten spare batteries to last them an entire day!
Own-brand batteries are always the best for charge-duration, but if you're on a budget, there are some decent third-party batteries available for Fuji cameras – my favourite of which are from the Wasabi Power range.
If you own the Fujifilm X-T2, X-T3, X-E3, X-T30, X100V or any of the older FinePix cameras, you can grab a set of the Power Batteries for under $18!
You'll probably need a dual charger so you can charge both the batteries at once, in which case the Wasabi Power Batteries + Dual Charger option is great value for money at under $25. All items meet or exceed OEM standards and come with a 3-year manufacturer warranty.
Since the Fujifilm battery chargers operate via USB, you can plug them into a portable power pack for a completely portable set up.
Whether you use a third-party battery charger for your Fuji batteries or just the one that comes with your camera, there's one small, cheap gizmo that I highly recommend – the Mizar 2 Prong Right-Angle Wall Plug Adapter.
This little gadget effectively does away with the cord that plugs into your charger (with the other end going into an A/C outlet), meaning it makes your whole charging unit much more compact, which is particularly good when travelling.
As a further charging 'hack', check out the video below for a way to use an Apple adapter with your charger:
For flashes or any other double-AA battery-powered gadget I use with my Fuji cameras, I like the tried and tested Eneloop batteries, for their ability to hold a charge for years without discharging significantly.
The standard Eneloop (white) batteries are great, but the Eneloop Pro version is even better, delivering even more flashes per charge.
I have a set of Eneloops permanently installed inside my backup flash, and don't need to worry about them having discharged much if I ever come to use them.
2. Camera Grips, Cases & Straps
One of the main advantages of modern mirrorless cameras over DSLRs is the reduction in size and weight.
Having a lighter camera body is a huge plus for those who frequently shoot for long periods (wedding photographers!) and lovers of long-range zoom lenses (which are already inherently heavy), or simply those who travel a lot with their camera gear.
The ergonomics of Fujifilm X-Series cameras makes using them comfortable and pleasurable, but their smaller size may not be suitable to everyone, particularly if you're like me with rather large hands.
If you're struggling a little with the size of your Fuji camera and need a bit of extra room to rest your lower fingers, there's a great product called the Meike Hand Grip.
Available for a range of Fuji cameras, the Meike is just the right size to add a bit of extra stability when gripping your camera and helps to protect its base too.
If you're interested in taking portrait orientation tripod-assisted photos (such as for panoramas), the Really Right Stuff L-Bracket is a handy accessory, but it's only available for the Fujifilm X-T10 and X-T20 models.
If all you want is an extra place to rest your fingers, the above 'dumb-grips' are fine, but to really make the most of your Fujifilm X-T3 camera, I highly recommend the VG-XT32 Vertical Battery Grip.
Thanks to the new battery grip, you can now take advantage of the power of 3 batteries, the number of shots per charge increases to approximately 1,100. Also, as an added bonus, the VG-XT32 Vertical Battery Grip can actually charge both the batteries in less than 2 hours!
If you own the Fujfilm X-T2, the VPB-XT2 is the version you need, transforming your camera with boost mode performance, faster fps and extended 4K video.
If you plan to shoot all day, or if you need extended battery power for things like interval-shooting, or bulb mode long exposures, these booster grips really are essential Fuji accessories.
Aside from the plastic and metal Fuji grips available, there are also numerous other leather 'half-cases', which are a popular way to both protect your camera and provide some more tactile surface area for a secure grip.
My current favourite for the Fujfilm X-T2 is the Gariz Leather Half Case, which features a polished metal base, 1/4″ tripod socket and all-round good looks. It also doesn't cover the memory card/battery compartment, meaning there's no real need to remove the case when you have it on.
There's a range of Gariz Half Cases for the various Fuji cameras, including the most recent version for the Fujifilm X-H1.
As for camera straps for your Fuji camera, there are plenty of options to choose from.
One extremely popular option for mirrorless cameras including the Fujis is the Peak Design Slide Lite, which in conjunction with the included Anchor Links, transforms into one of the most functional camera straps you could ever want.
While I'm a fan of Peak products, for my Fujifilm X100V, I much prefer a basic leather camera strap, despite not being quite as functional as a quick-release nylon one with a grippy back.
Another recent favourite strap for Fujifilm cameras is the DSPTCH Braided Strap, pictured above.
Standout features include quick release clips, reflective stitching, 'reversible' nature, incredible strength and overall great, minimal looks – it's a premium product that doesn't attract attention.
Then there's the Holdfast Money Maker Solo (see title image) – a great-looking, highly functional cross-body strap that attaches to the 1/4″ hole on the base of your camera, allowing it to be carried upside down, which is arguably the most practical way of carrying a camera.
When I'm not using a neck strap, my preference is a hand strap, and the Gordy leather wrist straps really are unbeatable for looks and quality.
Then, of course, there's the excellent Peak Design Cuff, but we're moving away from 'retro' to 'techy' here a bit…!
3. Camera Bags
On the topic of how to carry your Fuji camera, there are a ton of different camera bags available in 2021.
There are no specific camera bags for Fujifilm cameras as such, but anything that encourages you to really take advantage of the smaller, lighter camera system by packing less, is a good thing.
I've already written guides to the best all-round camera bags, rolling bags, backpacks, camera messenger bags, bags for females and sling bags, so I'll include some of my current bag choices specific to smaller camera gear setups here instead.
If you've come from a DSLR background like me, I'm assuming you've significantly down-sized your camera gear collection by choosing Fuji.
It's refreshing to shoot with less equipment, and you can take advantage of much more compact and lightweight camera bags to complement your Fuji set up too.
I'm a bit of a camera bag hoarder and rotate an ever-changing selection of small to medium-sized camera bags depending on the shoot.
In keeping with the look of Fuji cameras, I prefer to use more classic, or retro-inspired camera bags to house all the gear.
If you're looking for a Fujifilm XT-30 camera bag, for example, you probably don't want to pair it with some garish hiking backpack…
It's hard to argue with the styling of a Billingham when it comes to Fujifilm bag choices.
For my other cameras, I'm a fan of the Peak Design Everyday Sling (reviewed here) and the Peak Design Travel bag (review) when I need to pack a bit extra.
However, with my Fujifilm bodies, I much prefer the aesthetic of a classic Billingham Hadley Pro.
For all the smaller bits and pieces like batteries, memory cards and cables, I usually use the Peak Design Field Pouch for its numerous useful organization pockets and slim-line design.
However, in keeping with the aesthetics of the Fuji camera accessories, I prefer a Klein Canvas Zipper Bag or two, in particular, the Natural Klein Tools version.
4. Lenses

I've written a popular article on some of the best Fujifilm X-mount lenses in the past, so be sure to read it if you're interested in learning more.
One of the best things about investing in a Fujifilm interchangeable lens camera is the availability of lenses. With new models being launched several times a year, there's a great lens for everyone, whether you're a fan of long-range telephoto zooms or compact primes.
If you're looking for Fuji XT-3 accessories (or for the newer X-T4), or for any of the other interchangeable lens X-mount cameras, remember this – zooms have their place, and telephotos such as the Fujifilm 55-200mm f/3.5-4.8 or the Fujfilm 50-140mm f/2.8 are my pick of the bunch.
However, for many Fuji shooters, the prime lens selection is where it's at.
I recommend that every camera user own a prime lens, and this is all the more important for Fujifilm shooters. Fortunately, there's a great selection to choose from…
I appreciate the practicality of a zoom lens and still encourage their use for the right situation, but to really take advantage of the size of a Fujifilm mirrorless camera body, you should own at least one prime (fixed focal length lens).
Remembering that all the cameras in the Fuji X-series line up have APS-C sensors, you need to take into account a crop factor of 1.5x to translate the focal length into 35mm (full frame camera) terms.
My first lens purchase for any camera is a 35mm equivalent, for pure versatility and usually good portability to boot. In the case of the Fujis, the Fujifilm 23mm f/1.4 is an outstanding lens, and arguably one of the best Fuji prime lenses ever made.
Paired with the Fujifilm X-Pro 3 or Fujifilm X-T4, the balance is perfect, despite the solid build of this 1.2 lbs (550 g) lens. It's super-sharp, focuses accurately and near instantaneously, has beautiful bokeh when shot wide open at f/1.4, and also displays some awesome sun stars when stopped down to smaller apertures.
If shooting in the darkest of light, handheld wasn't of prime importance to me, I'd get the Fujifilm 23mm f/2 WR in a heartbeat – at only 0.39 lbs (180 g), it's a much smaller and lighter 35mm equivalent lens with very similar image quality to the more expensive 1.4 variant.
The 'WR' in its name stands for Weather Resistance, which you can take full advantage of when paired with a weather-resistant camera like the FujiFilm X-T3 – see the 'don't-try-this-at-home' video below for an example!
My next lens to pair with the 35mm equivalent would be an 85mm equivalent, and fortunately, the Fujifilm 56mm f/1.2 fits the bill perfectly.
Being able to get an f/1.2 lens for just under $1,000 is a benefit reserved solely to Fuji shooters, and this little beauty is one of the best portrait lenses you can buy for any mirrorless camera.
Whilst similar f/1.2 lenses from Canon (which are over twice the price of this Fuji) display softness when shot at f/1.2, the Fujifilm 56mm f/1.2 manages to achieve incredible sharpness from edge to edge.
As for a wide-angle lens, I'd either invest in the excellent Fujifilm 16mm f/1.4 (24mm equivalent) for its incredible sharpness and weather resistance, or the similarly excellent Fujifilm 10-24mm f/4 if shooting in low light without a tripod wasn't necessary.
Finally, although not quite as sharp as the others mentioned above, I'm also a big fan of pancake lenses for travel and as walk-around lenses, and the Fujifilm 27mm f/2.8 is a great 41mm equivalent that makes any Fuji body feel as light as a feather.
One thing that has to be said about all the Fujifilm lenses is that there's rarely a bad thing to be said about them.
They're all well built, lightweight (when compared to DSLR equivalents), and exhibit stellar image quality – just check out all the glowing 5 star reviews on Amazon.
5. Flashes & Triggers

There are several flashes available for the Fuji mirrorless camera system, both Fuji-branded and third-party.
Normally I'd recommend the own-brand flashes if you're a heavy flash user and need the most powerful output and fastest recycle times, but in my experience, the top model Fujfilm EF-X500 doesn't actually offer all that more compared to third-party options.
The Godox series of flashes (rebranded sometimes as Cheetah, Flashpoint, etc.) is an extremely popular option for Fuji shooters, whether you're shooting with an APS-C body or medium format with the Fujifilm GFX 50s.
If you're looking for Fujifilm XT-30 accessories, for example, the Godox TT350f are tiny, reliable and cheap flashes which pair well even with the smaller size and weight of these camera bodies.
If you're ever used a DSLR hot shoe-mounted flash, you won't believe how small the Godox flashes are, and using them last thing at night on the dance-floor (when your arms are knackered!) incredibly refreshing.
It supports TTL, high-speed-sync, and even has a built-in receiver! At less than $90, and weighing in at a measly 200g (7oz) without batteries, it's a no-brainer to buy a couple of these bad boys whether you intend to trigger them together or not.
To trigger the Godox TT350f off-camera, I use the Godox X1T-F ITTL – it's simple to operate, lightweight, reliable and cheap.
Just make sure when you're ordering these Godox flashes that you're getting the right ones with an 'F' for Fujifilm after the model.
2 flashes and 1 wireless trigger now takes up the same amount of room in my camera bag as one DSLR camera body!
If you need something for off-camera work with more power, another popular option is the Godox AD200, reviewed here.
If you need something a little more powerful for on-camera flash use, the Godox V860II is a great choice, with up to 650 pops on full power and a fast 1.5s recycle time. It's a bit bulkier than the other flashes mentioned above, but that's to be expected for its increase in performance.
For those transitioning to Fujfilm from other systems, remember that you can still use your own-brand flashes on the Fujifilm camera bodies, albeit in manual mode.
As for flash modifiers, you can't go wrong with the MagMod flash modifiers. I own pretty much all of their gizmos, but mainly use the MagGrid and MagSphere if I need to alter the light from an on-camera flash on my Fujifilm X100V.
You can see in the above picture that the MagMod MagGrip easily fits around my Godox TT350f.
I also experiment with the Manfrotto Lumimuse 8 LED light on the hot shoe of my Fuji cameras, and love its tiny size/weight combined with a surprisingly powerful beam. Off-camera, it can be easily palmed by an assistant or passerby, to be used to create a quick rim-light behind the subject.
As for triggering the camera when attached to a tripod, the Neewer Wireless Remote Control for Fujifilm is affordable and handy, helping you keep your camera completely still when taking a long exposure, or allowing you to get a quick selfie without having to resort to the Fujifilm Cam Remote app.
Finally, if you like going old school with a wired shutter, you can't go wrong with the Vello Wired Remote Switch for Fujifilm.
Why would you choose to go wired instead of triggering your camera with the smartphone app? Well, if you want to shoot in BULB mode using the app, you're actually limited to a maximum exposure of just 30 seconds. Using a wired trigger allows you to be free of this restriction.
Just make sure that your Fujifilm camera can support the Vello Wired Remote – you can only use it with theX30, X100T, X-E1, X-E2 and X-T1.
6. Tripods
It goes without saying that any tripod can be used with any camera, so recommending tripods for Fujifilm mirrorless cameras seems a little unnecessary. Also, I've written a lot about various camera tripods in the past, so won't go into too much detail here.
Having said that, here are the tripods I use with my Fujifilm X100V when I need to get a steady shot and placing the camera on a wall or the group won't cut it.
First off, there's no getting away with the versatility of a Gorillapod. With so many cheap knock-offs on the market, I still recommend investing in the real thing – my first choice being the GorillaPod Hybrid.
I tend to use my GorillaPod as a way to either secure my camera or a light to a handrail, tree branch or table leg.
Thanks to the leaf shutter in Fuji mirrorless cameras, you're easily able to kill the ambient light in pretty much any environment, letting you use off-camera flash to instantly change the mood of a photo.
Using the GorillaPod Hybrid to attach a flash somewhere it wouldn't normally balance is a great way to take full advantage of this.
I also own and recommend the Manfrotto B-PIXI mini-tripod for travelling and as the perfect tripod for smartphones too.
Getting the legs of the GorillaPod exactly straight for ground use can be a little annoying, so in these situations, I prefer the simplicity of the B-PIXI.
If you need a lightweight travel tripod that's a bit taller, there are several recommended ones available.
I currently like the Rangers 57″ Lightweight Tripod which collapses down to a portable size, doubles as a monopod, and costs less than 70 bucks!
Even though you've probably never heard of Rangers, the tripod is backed up with plenty of 5-star reviews.
7. Memory Cards
Fast and reliable memory cards are another necessary purchase that is obviously not uniquely Fujfilm accessories. That said, there are some memory cards that will help you make the most of your Fuji camera's high-speed shooting capabilities.
In general, I recommend investing in the biggest capacity memory card that you can, since running out of space while shooting sucks.
Also, it's in the actual switching in and out of memory cards that increase the likelihood of corruption, or other issues resulting from dust and dirt entering the camera. If you have larger capacity SD cards, you'll not need to swap cards.
I'll be recommending memory cards for the Fujifilm X-T3, since I've spent a lot of time shooting with it recently and feel most comfortable recommending which SD cards to use to get the most out of it.
The advice can also be applied to any Fujifilm camera which can take advantage of high-speed burst shooting.
The Fujifilm X-T3 has two UHS-II slots that can be set up as backup, overflow, or RAW+JPEG. It features an impressive 1GB buffer, which means you can shoot around 100 frames before your camera has to take a breather while writing the files to the card.
To make the most of this, you really should be investing in some top of the line memory cards such as the Sony UHS-II G, the SanDisk Extreme Pro UHS-II or the Lexar 2000X UHS-II.
Any of these will do the job, but the most popular seems to be the Lexars – check out the video below to see the Lexar 2000X UHS-II being tested with the X-T2:
Lexar doesn't exist as a company any more, but that shouldn't make any difference as to how well their memory cards perform.
Lexar produced very high-quality SD cards that are widely held as the gold-standard for speed and reliability, so if you have the budget, the Lexar 2000X UHS-II are still the best-performing memory cards for your Fuji camera.
If you own the Fujifilm X-T20 or any other Fuji camera that supports the UHS-I interface, you'll be able to save some money since UHS-I memory cards are typically cheaper than UHS-II.
Top of the picks for a reliable, fast and affordable UHS-I memory card for your Fuji camera is the SanDisk 95 MB/s Extreme Pro, which will be able to keep up with 4K video recording too.
8. Screen Protectors
Just like when buying a smartphone, the first thing when buying any camera with an LCD screen (particularly a touch-screen) should be a screen protector.
Screen protectors for Fujifilm cameras range in price and quality, but I recommend the Expert Shield Crystal Clear. It's a little fiddly to put on, but lies flat to the camera and provides good clarity.
Best Video Gear for Fuji Cameras
While the Fujifilm X-T2 was Fuji's first attempt at implementing 4K video into one of their mirrorless cameras, the Fujifilm X-T3 is a giant leap up.
The X-T3 become a firm favourite for many video shooters who perhaps don't have the need (or the budget?) for a full-frame body.
Then the Fujifilm X-H1 and more recently the X-T4 brought in-camera image stabilisation to the mix, allowing video shooters to take advantage of hand-held filming with any of the non-image-stabilised Fujifilm lenses.
…and for a late entry, the movie quality/functionality of the X100V is actually surprisingly decent too!
9. Mic
If you're looking for a simple and affordable way to record quality audio from the top of your Fuji camera, the Rode VideoMicro is a great start. At less than 60 bucks, it's a good introduction to capturing high-quality audio, especially if you're still testing the waters of being a video shooter.
A cheaper on-camera shotgun mic alternative is the Takstar SGC-598, which is often pitted against the hugely popular Rode VideoMic Pro+, a mic over 10x the price.
I don't own either so can't really comment, but what I will say is that the Takstar is so cheap that it's worth a shot first, especially if you're not sure about whether you'll be shooting video regularly.
10. Gimbal
The in-camera stabilization of the new Fujifilm X-T4 is great, but if you want really smooth, cinematic quality video footage, a camera gimbal is a must-have.
Gimbals are also a more comfortable and secure way to hold your camera with one-hand at a distance from your body.
There are plenty of cheap and nasty gimbals out there that is certainly tempting for first-time video shooters, but it's definitely an area where you get what you pay for.
You don't need to spend a fortune at this stage, but something like the Zhiyun Crane 2 is a great option for Fuji cameras.
Unfortunately, you won't be able to use the dial on the handle of the Crane 2 to adjust the focus of your Fuji camera (a feature exclusive to Canon cameras), so you need to rely on your Fuji camera's subject tracking, or your own manual focusing abilities.
11. Field Monitor
A dedicated monitor may not be top of your list of Fuji accessories, but as you become more confident with your video shooting, it's useful if not essential.
Having a larger monitor on top of your camera allows you to compose your shot and check focus much easier than by trying to use the LCD on the back of your camera.
The BlackMagic Design Video Assist is a popular 5″ monitor for Fuji cameras with a built-in HDD. It can record directly from the uncompressed HDMI 8-bit 4:2:2 HDMI output signal to a higher quality 4:2:2 ProRes or DNxHD file, up to 1080i 60 fps – compared to the recording you can achieve with just the XT-2 alone, which is 4:2:0, MPEG-4, H.264.
This also means that when you shoot 4K and record in-camera, the Video Assist can still monitor the 4K signal (down-sampled to 1080).
A budget option to get a slightly larger (and front-viewable) screen on your Fuji camera is to use the Fujifilm Cam Remote app to 'stream' your camera's video Live View to a smartphone, then use the CamKix adapter kit to attach the phone to your hot-shoe mount.
Best Fujifilm Accessories | Final Words
With their class-leading features and competitive pricing, Fuji cameras offer a lot to photographers and videographers here in 2021.
Thanks to the growing number of Fuji accessories on the market, we can really take advantage of the smaller form factor and the latest technology of these incredible cameras.
I'll be adding to this list of recommended accessories for Fuji cameras in the coming months when I come across great products for both Fuji stills and video shooters.
If you own a Fujifilm camera and have any recommendations on how to get even more out of it, be sure to leave us a comment below.
Disclaimer: All recommendations are impartial and based on user experience, with no bias to the products or the brand. The products in this post may contain affiliate links.
Sours: https://shotkit.com/best-fuji-accessories/
5 Fuji XT3 Accesories Under $100
.
Accessories fujifilm x t30
.
Top 5 Fuji X-T3 or X-T30 Accessories UNDER $100 // 2019 Street \u0026 Travel Edition
.
Similar news:
.
452
453
454
455
456