20 Trendy Bald Fade Haircut Ideas for Men Right Now
Bald Fade Mohawk
Instagram @r23barber
How else can you rock this bald fade mohawk hairstyle if not with a neatly shaved side? This allows you to acquire more shape on top of your head to style.
Bald Fade for Black Men
Instagram @icutyobarberhair23
Precision is key to getting that outstanding shape like this bald fade for black men. Have your hair cut short and close to the scalp for a clean and professional appearance.
Afro Temple Bald Fade with Beard
Instagram @lordfader1
Flaunt your natural texture with this bald fade afro. Achieve this by getting your temples clean to the skin between a beard and the top hair for a sharp and neat vibe. Pairing this afro bald fade with beard creates a casual yet striking finish that most gents will love.
Bald Fade with Design
Instagram @theclutchbarbers
The bald fade with design is a clean look on the sides and a perfect partner for any hairstyle. Add on a cool shaved pattern for a noteworthy look.
What's best about this bald fade with hair design is that it works on any hair length and type.
High Bald Fade
Instagram @mrliptrot
Give your hair an instant refreshing feel with a high bald fade so your hair will look neater and less ragged. Much like a pompadour, this style can definitely be eye-catching.
Crew Cut with Bald Mid Fade
Instagram @jayy_blessed
This crew cut with bald mid fade style suits almost all cuts, short or long. Look dapper with cleaned-up sides like in this cut to level up your hair game.
Bald Drop Fade
Instagram @dacelebritybarber
This bald drop fade haircut features a smooth finish to complement any trendy hairstyle this season.
Full Bald Fade Undercut
Instagram @melissa_barberonfire
This is a fashionable and versatile full bald fade hairstyle that can be mixed with any casual style for an impressive result. The contrast it offers is just so remarkable.
High Top Bald Fade for Long Hair
Instagram @gabybarbertnf
High fades bring attention to the top section of hair. High top bald fade hairstyles are ideal for men with longer hair because it allows you to get a fresh look while keeping your length intact. Combining longer hair and a skin fade creates a unique style.
Bald Taper Fade with Hard Part
Instagram @jo_barbers
If you're going for a subtle and classy look, go with bald taper fade with a hard part. It's great for a business setting or any day you wanna look like a handsome gentleman.
Bald Fade with Textured Crop
Instagram @toni.luci
Combine the vintage side part with a modern clean shave and you'll get this outstanding skin fade haircut with a textured crop. This works on men with thin hair as it creates a fuller-looking outcome. When styling this bald fade with textured crop hair, feel free to use a small amount of gel for a shinier, sleek finish.
Bald Skin Fade
Instagram @britnie_shears
This bald skin fade on the sides provides the solution to looking cool every day. A high shaved side like this allows for more contrast and freshness.
Quiff with Bald Fade
Instagram @iamkanvas
The bald fade quiff is a clean, classic cut that requires low-maintenance styling.
What's the best thing about this cut is its versatility. You can combine and upgrade this bald fade to get a generally versatile look that goes well with any style you want aside from the quiff. Just choose between a comb-over or any high top.
Bald Cut Fade with Waves
Instagram @walt.daddy
This is a minimalist bald cut fade to combine with a natural waved top. It accentuates and cleans your look for a dapper finish.
Bald Fade with Curls
Instagram @nicks.clips
Men who have curls can rock fades like this one. The contrast of a totally clean side and a textured long top definitely grabs the attention of everyone. This bald fade with curls is a unique and standout style that suits men with lengthy hair on top more.
Slicked Back Bald Fade
Instagram @stefanofasano2015
Slicked back bald fade cuts like this creates a sharp and clean finish to brushed back hair. You can have a surgical line added for added contrast. Combover fades are easy to maintain but keeping the length is the important part.
Low Bald Fade with Pompadour
The short pompadour with low bald fade haircut is timeless and diverse that can accomplish multiple looks.
This bald fade with pompadour was an iconic cut in the early rap and hip-hop scene and to this day has been a staple cut in the African-American community.
According to barber Joel Belcourt of Canada, the best aspect of a fade that's bald is its diversity. "Whether you're the CEO of a large company or the next Dr. Dre, this cut looks clean, sleek, mature, and complex all while keeping it stylish, modern, and edgy," Belcourt explains.
All that being said, bald fades are not necessarily for everyone. Before Belcourt suggests the cut to anyone, there must be factors to consider first.
For instance, for men with a rounder face and head, Belcourt would suggest getting a low bald fade with length on top due to the transition ending in a longer length. This creates a square look transitioning from the ear to the parietal ridge, ultimately creating a straight vertical line rather than taking the shape of the head. Belcourt found that a longer pompadour and a straight blade "hard part" look very sharp.
Naturally, a high fade would do the exact opposite. Belcourt explains, "if the top is buzzed, the haircut rounds the head. The high fade is a more aggressive look due to the amount of skin exposed. Such a fade with a part slicked to the side with a pompadour can give a classic look."
Medium Bald Fade with Part
This is a medium bald fade with part, created by barber Jeremy Moya of Romeoville, IL.
"I went off the natural texture of his hair starting the bald blend low and gradually fading into a #2 or 1/4 inch into the side with the part. I did a shear work on top (point cutting technique), then finished it off with straight razor work on the line-up, hard part, and neckline," explains Moya.
Considering it's such a tight fade, it must also be kept looking fresh. Moya recommends getting it cut every two weeks to maintain the best results.
Also, the rounder the head shape or thicker the hair texture, you can take the fade to blend a little higher on the sides. On the other hand, the slimmer the head shape or thinner the hair texture, you should leave the fade lower and slightly over the ears (the bald part).
Bald Fade Faux Hawk
The bald fade faux hawk shows the perfect blend of skin to hair transition. The smooth skin is faded into limitless possibilities for the top of the head.
According to barber Uzi Qidwai of Canada, "the greatest thing about the skin fade haircut is that it can be paired with any type of style on the top, including a combover, buzzcut, textured crop, and spikes to name a few."
This style requires consistent maintenance on an average of two weeks to keep the hair looking crispy and fresh. Qidwai explains, "be prepared to see your barber often. Find one that you can have a long-term relationship with. Usually fades require frequent cuts to maintain the proper length."
Bald Fade Buzz Cut
This bald fade haircut with a buzz cut is urban but classic. The coolest thing about a very short fade is the transition from short to long, says barber Miguel Lora of Florida.
"The first thing I would look for is to see if they have any scars or lesions on their scalp. This cut is perfect for a guy who is thinning on top. It brings out the hair and makes it looks less thin on top. I think fades are great styles for most guys," Lora states.
Sours: https://www.latest-hairstyles.com/mens/bald-fade.html
Bald Fade Haircuts: What They Are And How To Get One
'Bald' isn't usually a wise choice of word when describing how you want your hair, even to the best barber. However, add the word 'fade' immediately afterwards, and your tonsorial prospects are almost guaranteed to go from grade zero to hair hero.
The bald fade is one of the most popular modern techniques employed by hairstyling professionals. It enables clippersmiths to achieve that surgically precise blended look seen rocked in recent years by everyone from Brad Pitt to Jamie Foxx.
This is barbering at its most technical, so naturally there's a lot to get to know. With that in mind, we've pulled together everything you need to understand about this contemporary classic, including the key variations you might want to consider for your next trim.
What Is A Bald Fade?
Think of the bald fade as a modern short back and sides. Fade is the word used to describe the seamless transition between shorter and slightly longer lengths of hair at the back and the sides of the head. In a regular fade, this might be from a grade two up to a grade five. However, in a bald fade, the hair will go right down to skin level.
The technique creates a high-contrast look where the longer hair further up the head gradually fades down until it disappears entirely. However, the point at which this change in length occurs depends on which type of bald fade you go for.
Bald Fade Vs. Skin Fade: What's The Difference?
You'll often hear the terms 'bald fade' and 'skin fade' used interchangeably, which can be a little confusing. However, the reason they get swapped out for one another is that they both mean exactly the same thing.
It's really nothing more than a follicular case of 'you say tomato, I say tomato'. Which, admittedly, kind of loses its significance when written as opposed to spoken. But you know what we mean. To put it simply: use either and your barber will deliver the same cut.
Types Of Bald Fade
When it comes to pinning down the right bald fade for you, there are various key styles to be taken into consideration. However, it's worth remembering that these styles aren't necessarily mutually exclusive. It's entirely possible to have a low bald taper fade or even a high bald drop fade. Mix them up and find what works best for you.
1. Low Bald Fade
The least severe style, a low bald fade starts from just above the ear, gradually increasing in length until it connects with the hair on top. This is the ideal style to choose for a first bald fade.
2. Mid Bald Fade
For a more noticeable style, opt for a mid bald fade. This will start slightly higher up – an inch or so above the top of the ear – and works particularly well to accentuate length on top in the case of a quiff or flat top.
3. High Bald Fade
To really dial up the contrast, ask your barber for a high bald fade. The hairless area will be taken right up to around two inches north of the top of the ear. From there, it's a quick graduation until the back and sides meet with the hair on top.
4. Bald Taper Fade
A bald taper fade differs from others in that doesn't rely on clippers alone to achieve the effect. It can be either a low, mid or high fade and transitions through grades before scissors are used, allowing for slightly more length higher up.
5. Bald Drop Fade
While all fade haircuts tend to slope downwards behind the ear, the drop fade uses this as a defining characteristic. The option lends itself well to a variety of styles, making it the perfect accompaniment to almost any classic short back and sides cut.
Asking your barber for a bald fade on the back and sides is only half the haircut puzzle. The other comes from what's on top of your head. So to help you complete the job, here are some of the best cuts to accompany it.
6. Bald Fade With Textured Crop
Thanks to a certain period drama, the textured crop has become one of the most popular haircuts of today. However, the undercut sported by Tommy Shelby can appear quite harsh and certainly isn't for everyone, so consider toning it down with a fade.
"Ask your barber for a bald fade on the back and sides with a short choppy texture on top and a cropped fringe," says Joth Davies, master barber and founder of Savills in Sheffield.
"But be warned, skin fades grow out very quickly due to the scalp exposure, meaning most people need to visit their barber on average every two weeks to maintain the look," he adds.
7. Bald Fade With Pompadour
As timeless as it is tall, the pompadour is one throwback cut that never seems to lose its appeal, but that's not to say it can't be updated for the modern man.
"Ask for a bald fade on the sides and back. A barber will know what you mean and guide you for what is right for your face shape," says Russell Brittle from Pall Mall Barbers in London. "As for the top, you want a pompadour style, leaving the fringe area longer than the crown. Ask your barber to slice in for added texture."
When it comes to creating the finished look, you'll need a blow-dryer, some sea salt spray and a styling hair product. "Wet look is achieved by using pomade," says Brittle. "If you're looking for a matte finish make sure you use a pliable clay."
8. Bald Fade With Buzz Cut
When receding, leaving too much length on top can actually make the hair look thinner rather than achieve the opposite. That's when this low-maintenance lid should come in.
"A buzz cut with a bald fade is sharp, simple and with no fuss," says Dan Glass, a senior barber at Murdock London. "It's a haircut defined by a clean finish up top, with graduation in length down to the back and sides.
To get the look, ask your barber for a grade one (or two if you'd like a little more length) on top, but don't stop there. "Ask for the fade to be blunt if you want a quick, rugged distinction between the top and back and sides. Or a clean, stretched out fade if you'd prefer a gradual change. If you want your hairline to be super sharp, ask your barber to razor the edges."
9. High Bald Fade With Side Part
From bomber jackets to the Nato strap, men's style has a lot to thank the military for, and this classic yet contemporary cut is yet another prime example.
"The side part was a very popular haircut in wartime," says Johnny Shanahan, founder of men's grooming chain Barber Barber. "This was because it had the strong, neat and masculine military look under the beret but allowed the wearer the freedom to comb and style his hair like the movie stars of the day when he wasn't on duty."
Enlisting a bald fade to flank the asymmetrical cut will not only bring the look speeding up to date, but it will also minimise the amount of time spent on styling each morning. Simply use some pomade and a comb to tame the top and add some definition, then you're good to go.
10. High Top Bald Fade
For a look that screams Fresh Prince of Bel Air, give the high top bald fade a go. This '80s favorite has structured, long hair on top, with a bald fade on the back and sides of the head. But if you're looking for a twenty first century spin on this men's bald fade, try adding in some natural texture to the high top.
11. Bald Fade With Afro
If you're blessed with an afro-textured hair type, incorporating a bald fade can add edge to any man's look. This hairstyle can work with any level bald fade, whether you want to go right down to the scalp or leave a little bit on the sides.
A modern style for the modern man, a bald fade with an afro is an excellent way to flaunt your hair's natural texture. Just use a little product in order to tame the frizz and you'll be ready for anything life throws your way.
Sours: https://www.fashionbeans.com/article/bald-fade-haircuts/
26 Modern Bald Fades to Show Your Barber
01of 26
Textured Skin Fade
"A water-based pomade will keep those baby hairs in place, and will add nice shine on the shaved sides," says Davie. Try Hanz de Fuko Two Ton Pomade ($18).
02of 26
Bleach-Out Mid-Skin Fade
"The tight transition on the sides allows the fade to pop even more, and has an added touch of attitude with the design on the side," says Davie. "Keeping those corners dark allows for the mid-skin fade to pop a bit more too."
03of 26
Burst Fade
Davie especially recommends this style for guys with oblong face shapes. "Also known as 'The South of France,' take the viewer for a ride by keeping the corners of this fade dark for a more defined transition," he advises.
04of 26
Drop Skin Fade
"A low skin fade works well for someone with a pronounced occipital bone and prevents it from sticking out," Davie says. "The stretching of this fade can also elongate the face, thus allowing more facial balance."
05of 26
Smooth Drop Fade
"Let the fade drop a bit and showcase the smooth transition from no hair to hair, without it feeling like a military high and tight," says Davie. "For added flair, apply some matte-clay pomade to showcase the natural texture." We recommend Triumph & Disaster Coltrane Clay ($30).
06of 26
High Taper
"As opposed to a full skin fade around the head, here you have a smaller section to work with, but can have the same result," says Davie. "This is great if you're looking to maintain curls on top (or in this case natural twists) but wish to add some flavor. Keep those corners a bit darker for a more 'burst' effect to the fade. Be sure to taper both the neckline and sides for a more symmetrical look."
07of 26
French Crop High Skin Fade
"The hard transition on the sides adds some attitude to the look," says Davie. "The color of the hair should allow for a smooth bald fade that leads the eye directly to the crown."
08of 26
Low Skin Fade for Flatter Back of Head
Davie recommends this one for people with flatter bone structure in the rear of the head. "Keeping the sides tight like this can also allow the free-flowing top to be styled nicely."
09of 26
Gentleman's Buzz With Fade
"Remember, each time you get a skin fade with a beard, complement it by fading in the beard, too," Davie says. "You can never go wrong with some traditional pomade to lay down the straight hair for maximum control and to showcase the defined part." (We like Imperial Barber Classic Pomade, $22.)
10of 26
Wedged Drop Fade
"This one has slight wedges on the sides, and the fade drops down for a more dramatic visual effect," Davie notes.
11of 26
Skin Fade With Natural Part
"Most of the time, a natural part can be topped with a skin fade like this," Davie says. "For a more defined jaw structure and full beard, the drop fade adds further symmetry and balance to the head shape."
12of 26
Low Skin Fade for Pronounced Back of Head
"This low fade minimizes a more pronounced occipital bone in the back," says Davie. "Consider this if you have a longer neck and face profile."
13of 26
Swept Top With Skin Fade
"This skin fade is stretched and has a smooth transition, considering the top is much longer and will be the focal point," Davie says.
14of 26
Gentleman's Cut With High Skin Fade
Davie likes this square cut for round faces. "The corners are cut tightly with a classic part to enhance that square shape we aim to maintain on a uniformed gentleman's cut," he says. "Add a slick pomade and comb the sides down for your next business meeting or formal event." Try Byrd Light Pomade ($20).
15of 26
Mid-Skin Fade With Side Part
"This accentuates the contours of the head," says Garcia. "It can be styled with a strong-hold, high-shine pomade to maintain the classic character of this modern cut." Try Blind Barber's 101 Proof Classic Pomade ($22).
16of 26
Mid-Skin Drop Fade With Hard Part
Garcia says that this textured cut transitions very well from the barbershop to the house, and will look great every day after the cut.
17of 26
Crop With Long Fringe and Natural Texture
Garcia recommends this high-contrast look for guys with dense hair. "It can hold up to any type of styling without appearing patchy or thin. The long fringe (not bangs) is another accent piece to the haircut, which can be adjusted according to the client's desired length and style."
18of 26
Contemporary Drop Fade to Skin
"Less is more in terms of styling here," Garcia says. "But a light cream would be a nice way to enhance the curl definition." Try Pattern Beauty Styling Cream ($25).
19of 26
Bald Fade With Ice Pick Sideburns
"Usually when you see a bald fade, the hair is taken down to the skin between the sideburn area and the temple," Garcia says. "This gives you the nice contrast between the sides and the top of the head. But what do you do if you want to keep the sideburns? Ice picks! That's what you call sideburns that narrow down to a fine point along the ear. This style gives you maximum definition around the face and adds contrast to the rest of the fade. It's sharp. It's bold."
20of 26
Crop With Heavy Fringe and Low-Skin Drop Fade
"I think that a low fade is the most versatile type of skin fade because it looks flattering on most hair types," says Garcia. "It's my go-to if I have a client who wants to try a skin fade for the first time. This is a great fade to match with a full beard, as it gives a seamless transition from the blend to the thicker facial hair."
21of 26
High Top With Skin Fade
"Here the natural texture is used to add contrast to the strong shape on top and the sharp lines along the sides and front," Garcia says. "It's a great option for someone looking for an easy-to-maintain, ready-to-wear style." Garcia adds that this cut looks great on women, too. "This is an awesome unisex style with plenty of variations. Just ask Grace Jones."
22of 26
High Skin Fade
"Here the fade is taken straight along the sides and the back, rather than a drop fade that dips around the head," Garcia explains. "It's complemented by a natural shape along the hairline, which looks great in any setting."
23of 26
Faded Undercut
"The hair can be worn slicked back with a high-shine, high-hold pomade for a more polished look," says Garcia. Try Fellow Strong Pomade ($25).
24of 26
Modern High Top Fade
Garcia would use a cream styler on this cut, for added moisture and flexible hold. "Hair at this length can be easily shaped with a curl sponge to add definition to the natural hair texture," he adds. "Or it can be shaped freehand for more separation." Try DevaCurl Styling Cream ($28).
25of 26
Pompadour Fade
Garcia likes the pompadour since it can be modified to suit so many hair textures and styles. "For extra drama, the smooth fade is offset by the bold hard part carved into the top," he says. "This adds updated style without sacrificing old-school class."
26of 26
Soft Pompadour Fade
"The mid-skin fade on the sides wraps the rest of the cut with a fresh balance of light and dark," says Garcia.
Sours: https://www.byrdie.com/bald-fade-haircut-5180153
EASY Mid Bald Fade Tutorial - @barberjdub
Bald fade haircuts that cut hair all the way down to the skin are a top trend for men. In addition to looking fantastic, they keep you cool or extending time between haircuts.
Also known as a skin fade, the bald fade tapers hair to expose the skin. Like other fades, the skin fade can be low, medium or high. Fades can also be straight, drop down, burst behind the ear, or taper the sideburns and neckline. Bald fades can also be added to any hairstyle, from short to long and straight to curly. As you'll see, this fresh cut is for everybody.
Check out these pictures for a 25 of the most popular ways to wear bald fade haircuts for men.
1. Bald Fade Haircut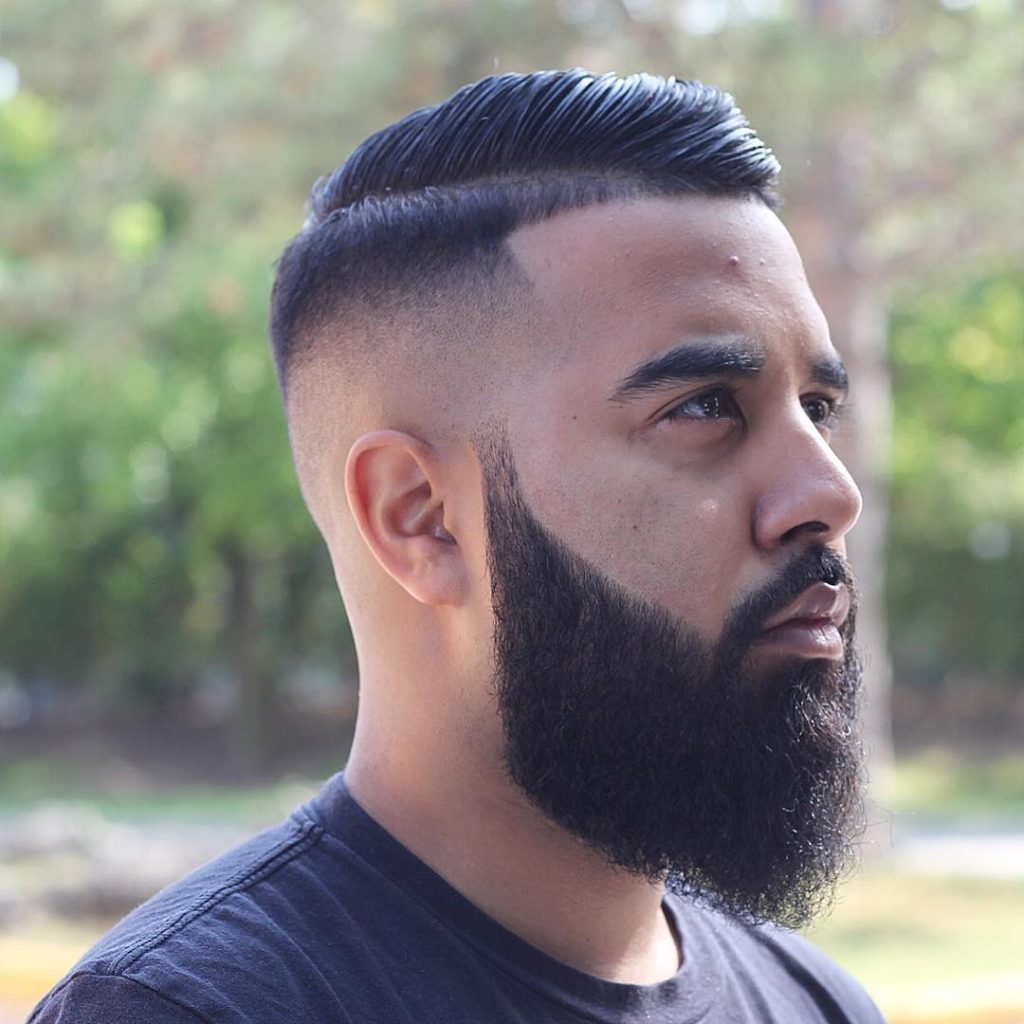 The bald fade, especially mid or high, is a flattering option for round, diamond or wide faces that don't want any additional width to the face, especially at the temples. Then it can be worn with any haircut, like this side part hairstyle with a full beard.
2. Low Bald Fade Haircut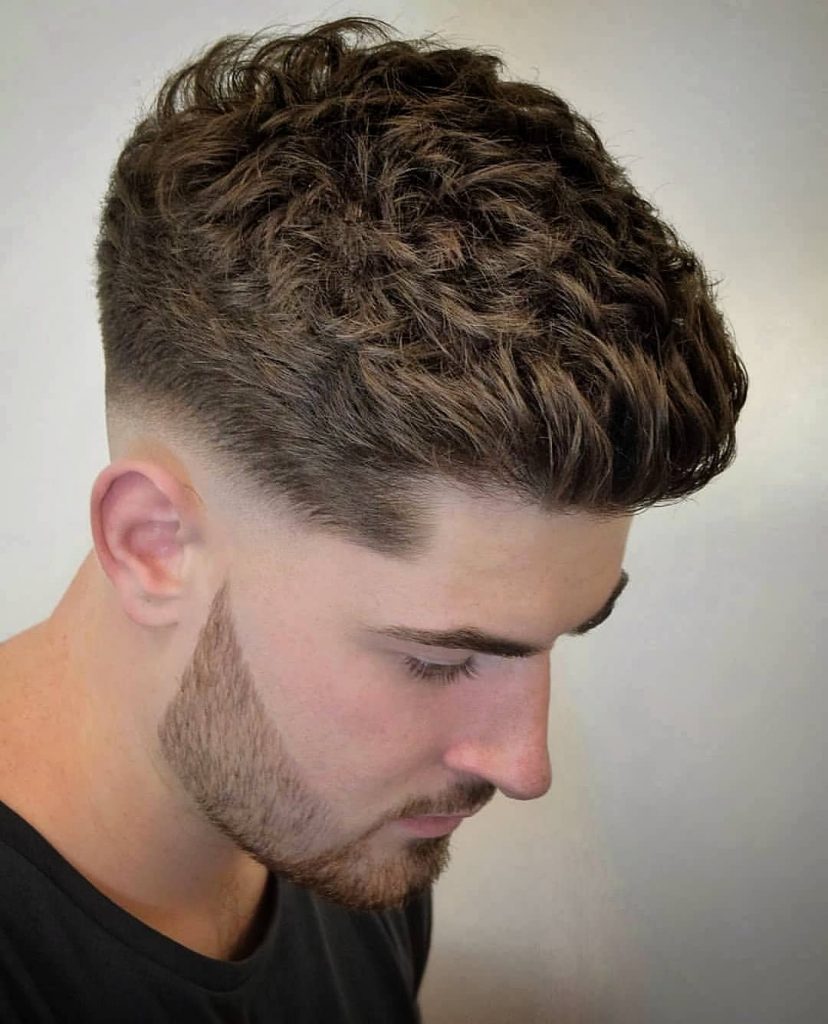 A low skin fade creates a new neckline. It pairs will with this thick and wavy hair up top.
3. Bald Fade Haircut For Black Men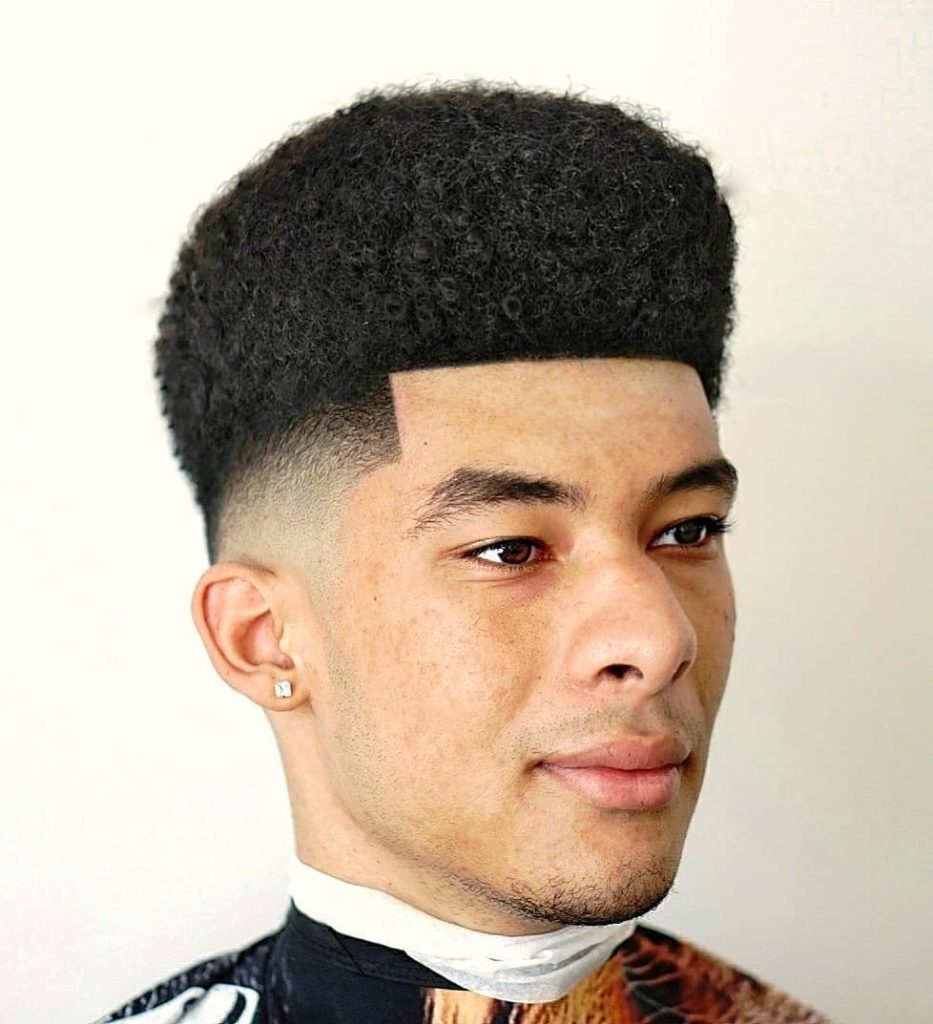 Before fades became a hair trendy, they were popular with Black men. This cool look features a curly high top over a bald drop fade for a retro-meets-moden style.
4. Black Bald Fade Haircut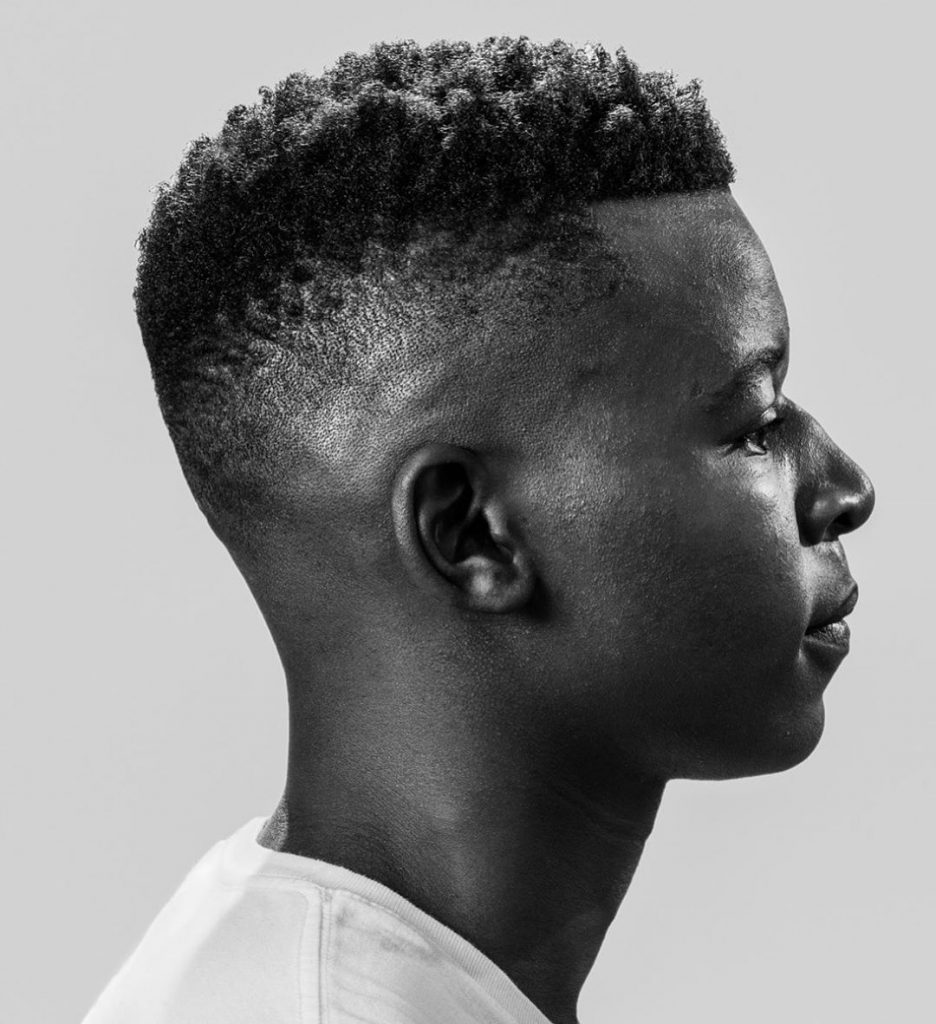 Another popular fade haircut for Black men is the high and tight, which can be cut short or worn with some texture like above.
5. High Bald Fade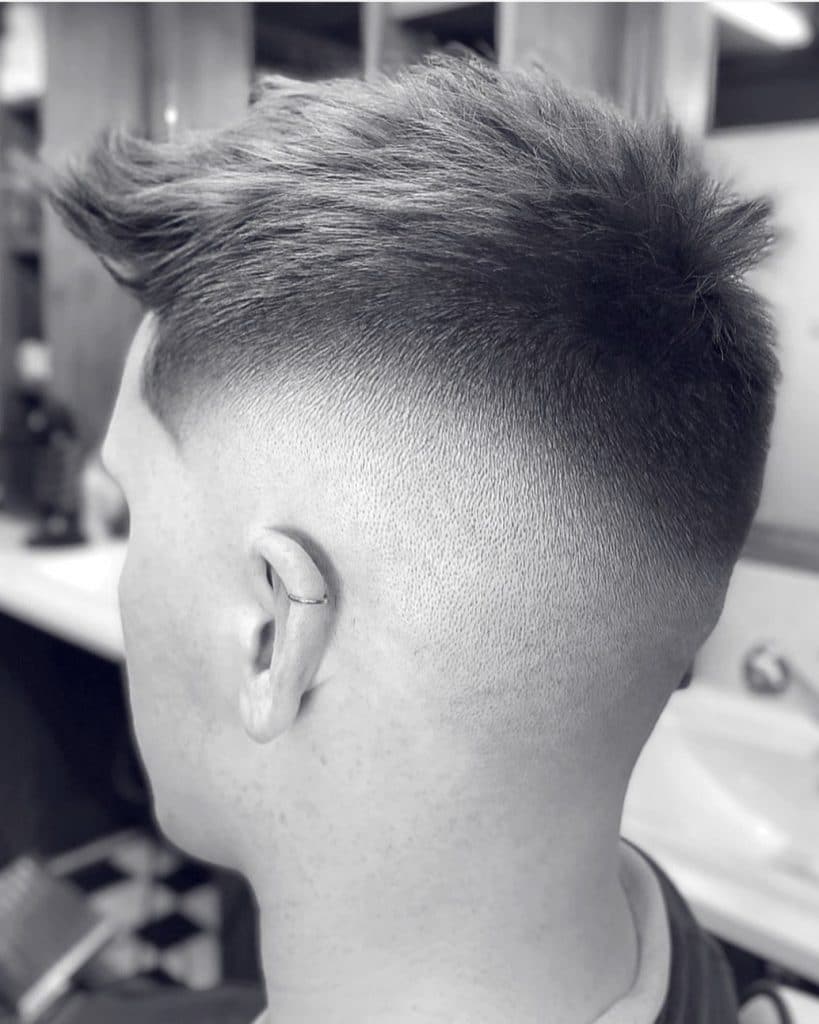 For a breezy and low maintenance style, take that skin fade up high. This look drops down below the crown to prevent hairs that sticks up and out in every direction.
6. Buzz Cut + Medium Bald Fade Haircut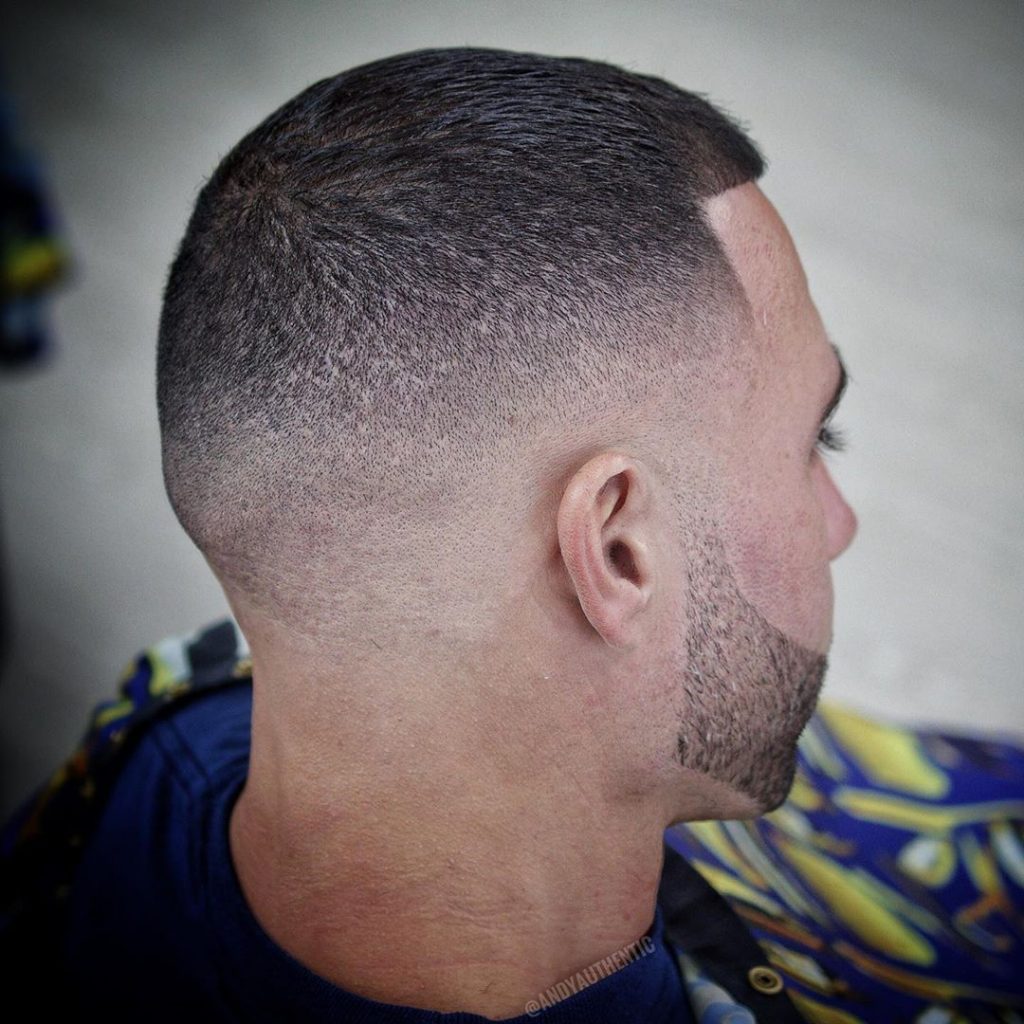 The mid bald fade can land anywhere in between what is considered low and high. This version cuts a blurry but straight line across the head but this fade can also drop down to follow the neckline.
7. Mid Bald Fade Haircut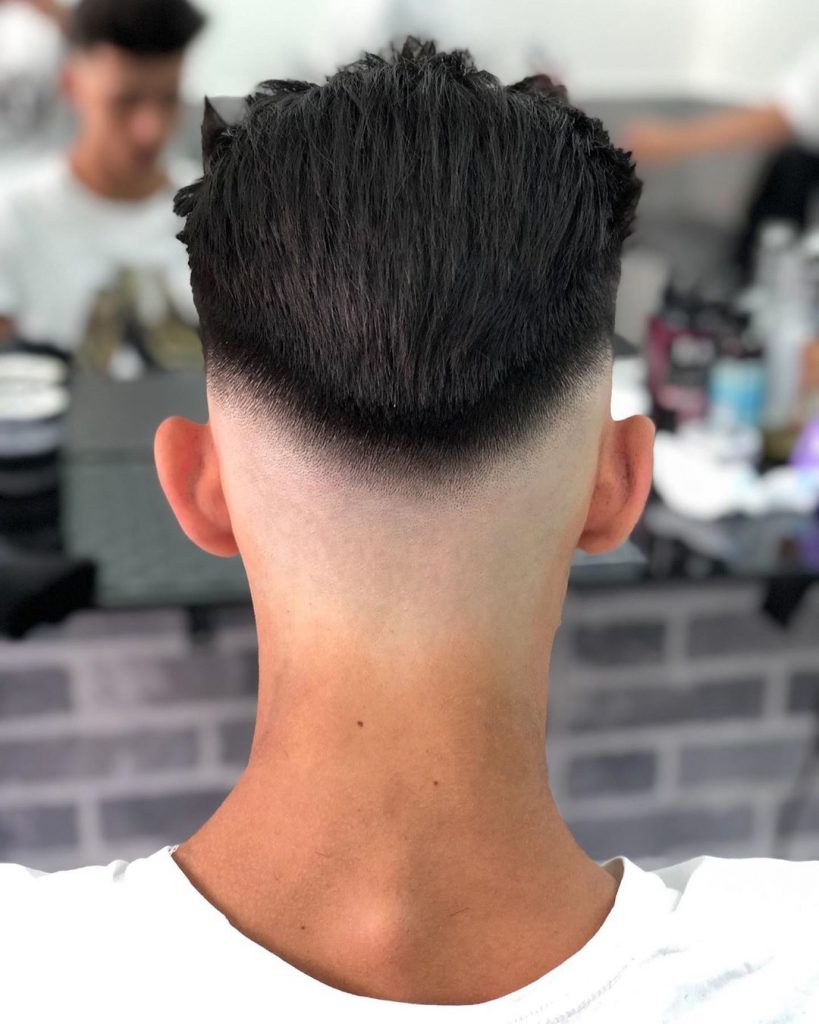 Don't worry about the tan line. The faded area will get some color in no time. Here's a curved mid fade with a more defined line than the last one.
8. Bald Taper Fade Haircut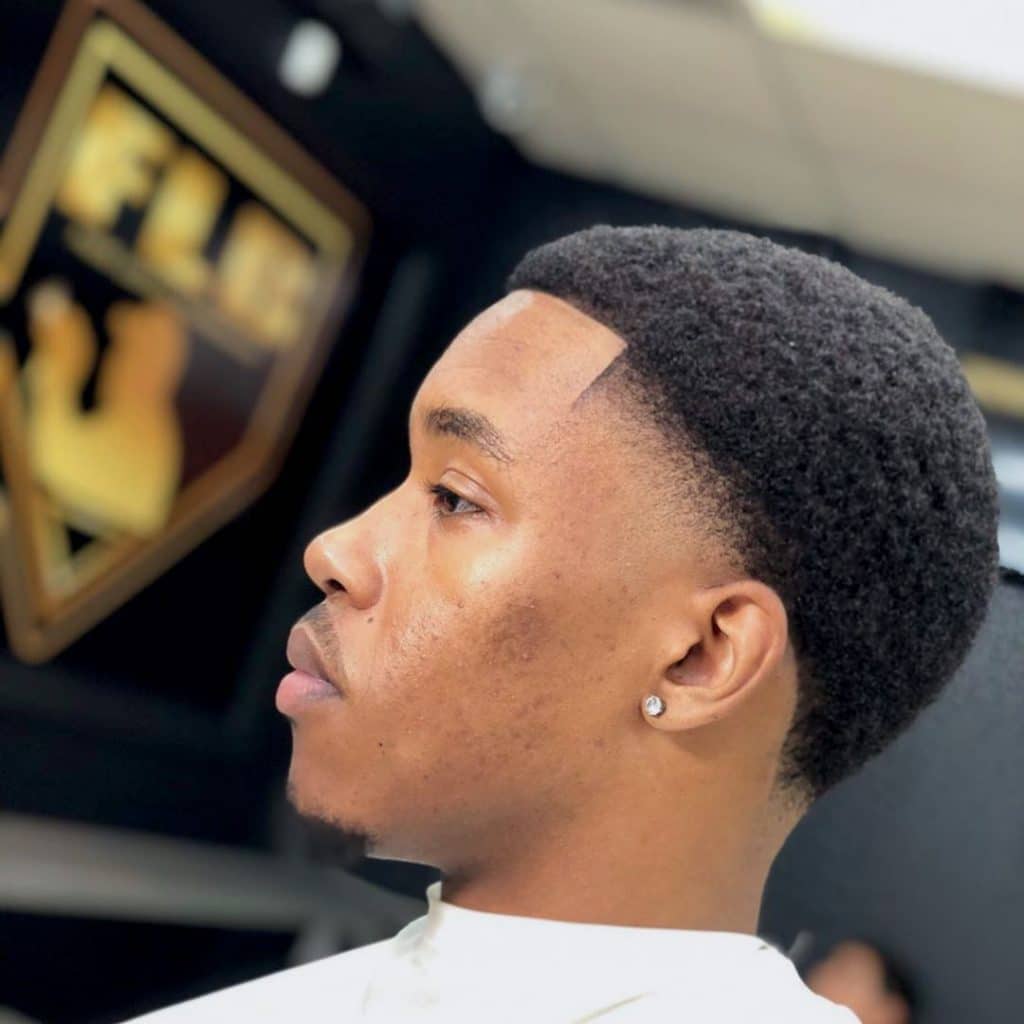 The bald taper fade eliminates hair at the side burn and neckline while leaving an arch behind the ear.
9. Bald Fade With Design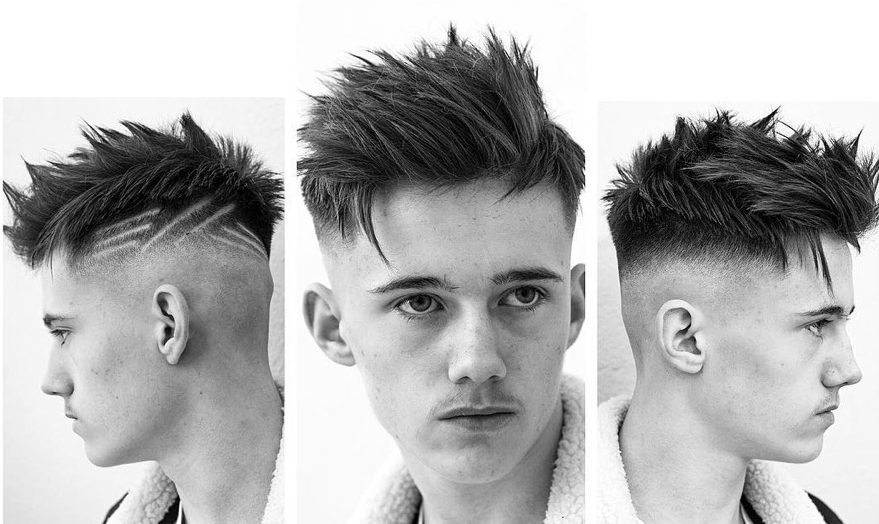 Why yes, bald fades and hair designs can be worn together. One way to get the look is to create the design with hair against skin. Or it can be done like this, with a design shaved into short hair above a bald fade. Both look very cool.
10. Bald Fade Haircut With Line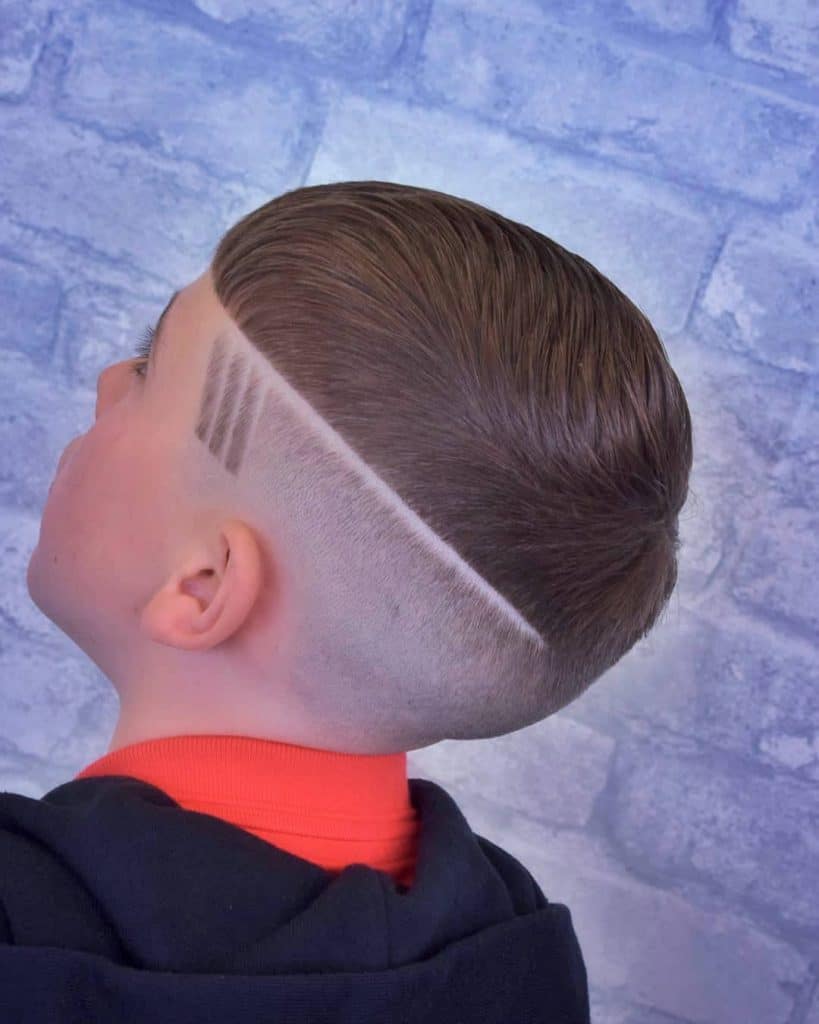 This cool crop for boys adds a cool racing stripe and a small homage to the three stripes of Adidas.
11. Best Bald Fade Haircut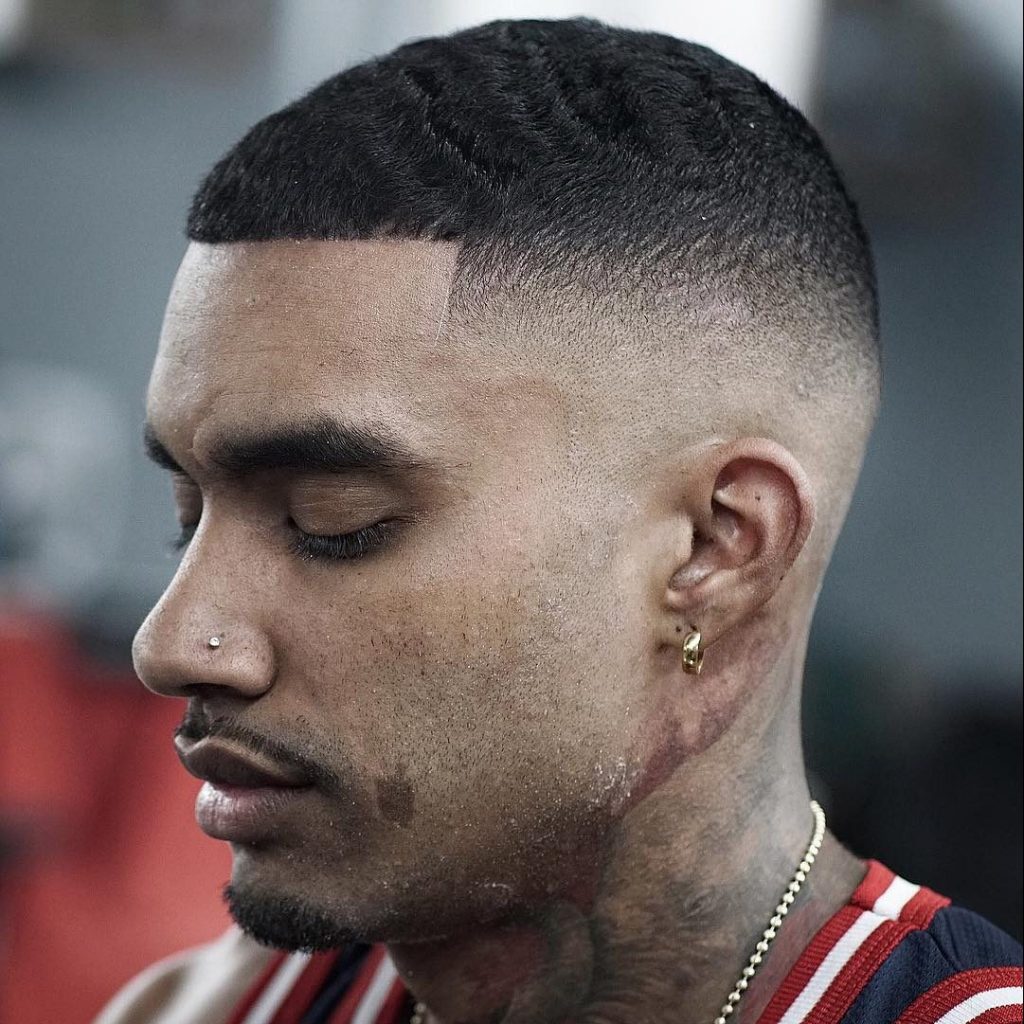 What makes this the best bald fade haircut? It's not the buzz cut, waves, or line up, even though they are all excellent. It is the expert execution that blurs the fade and matches the height and shape to the haircut and head shape. The best bald fade for you won't be exactly like this but something customized for you.
12. Boy's Bald Fade Haircut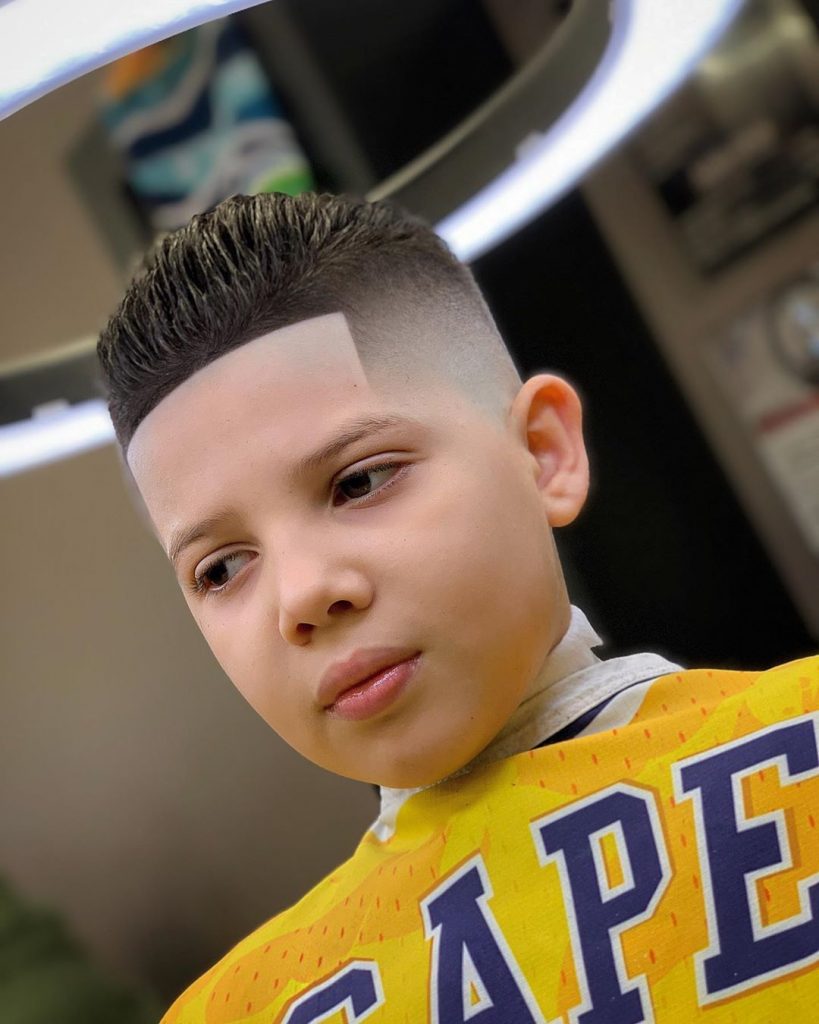 Fade haircuts are a cool and easy to wear haircut for boys that can stretch out time between haircuts.
13. Bald Fade Haircut For White Guys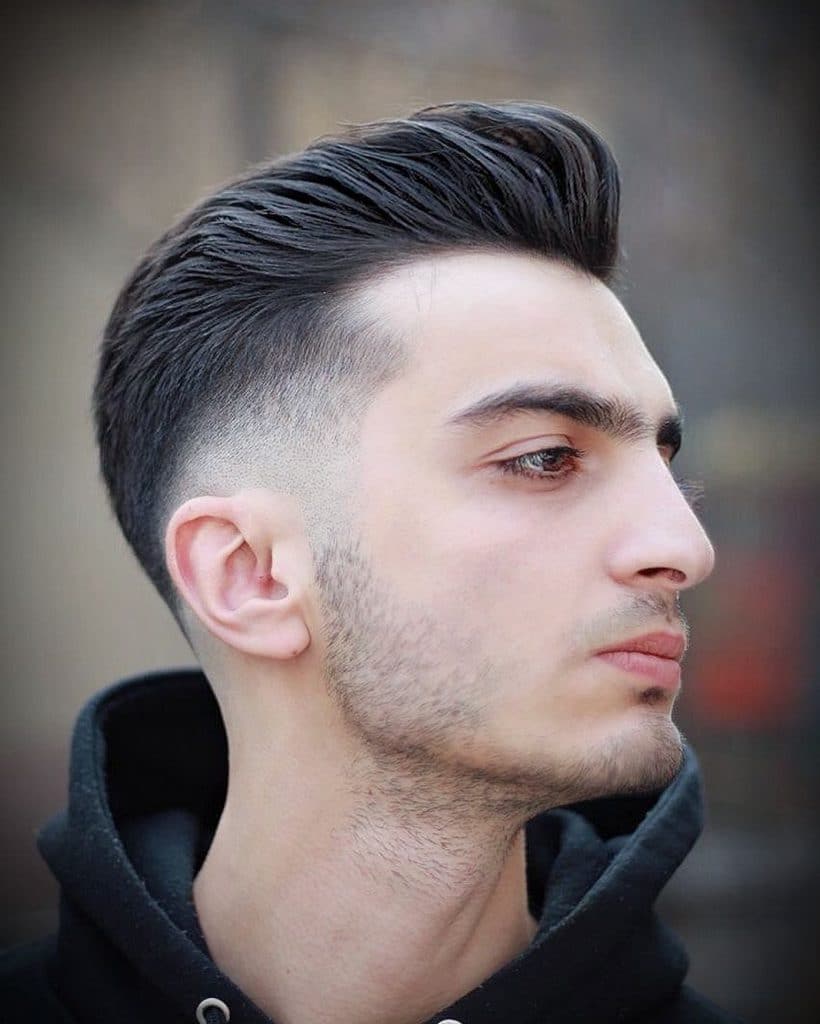 The fade is for everybody and every hair type. The ladies are even getting in on the look too.
14. Semi Bald Fade Haircut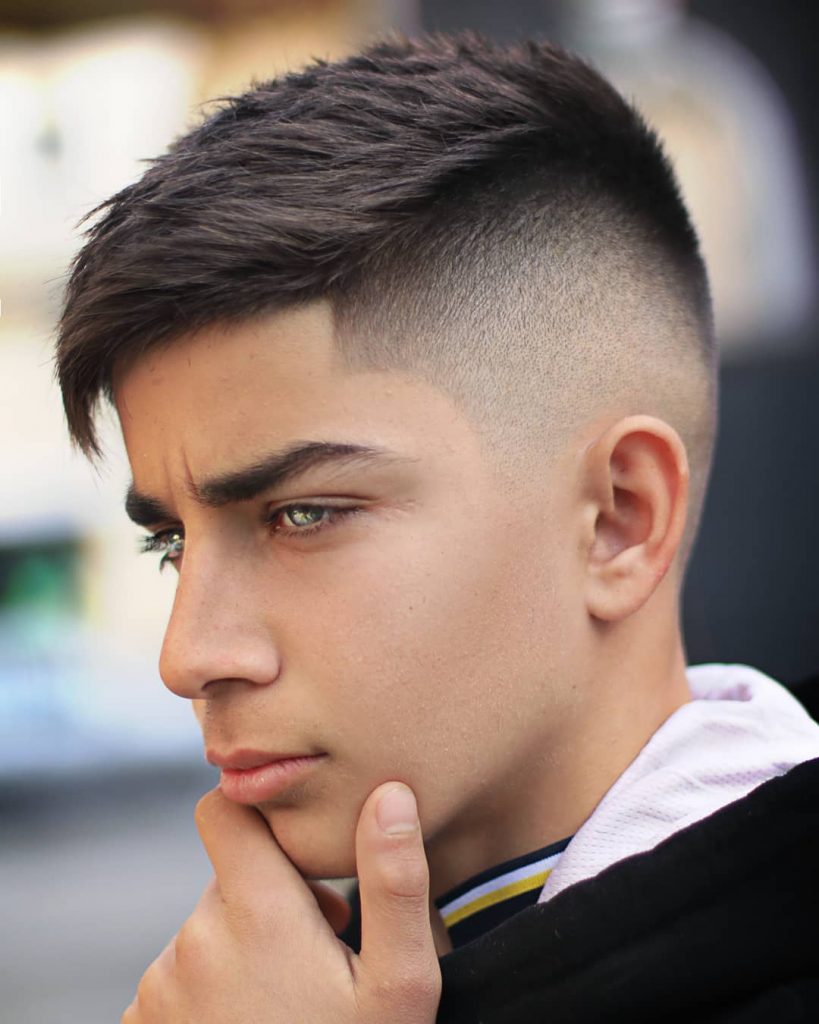 This cut is so blurry that it's hard to find where it goes down to the skin.
15. Curly Hair + Low Skin Fade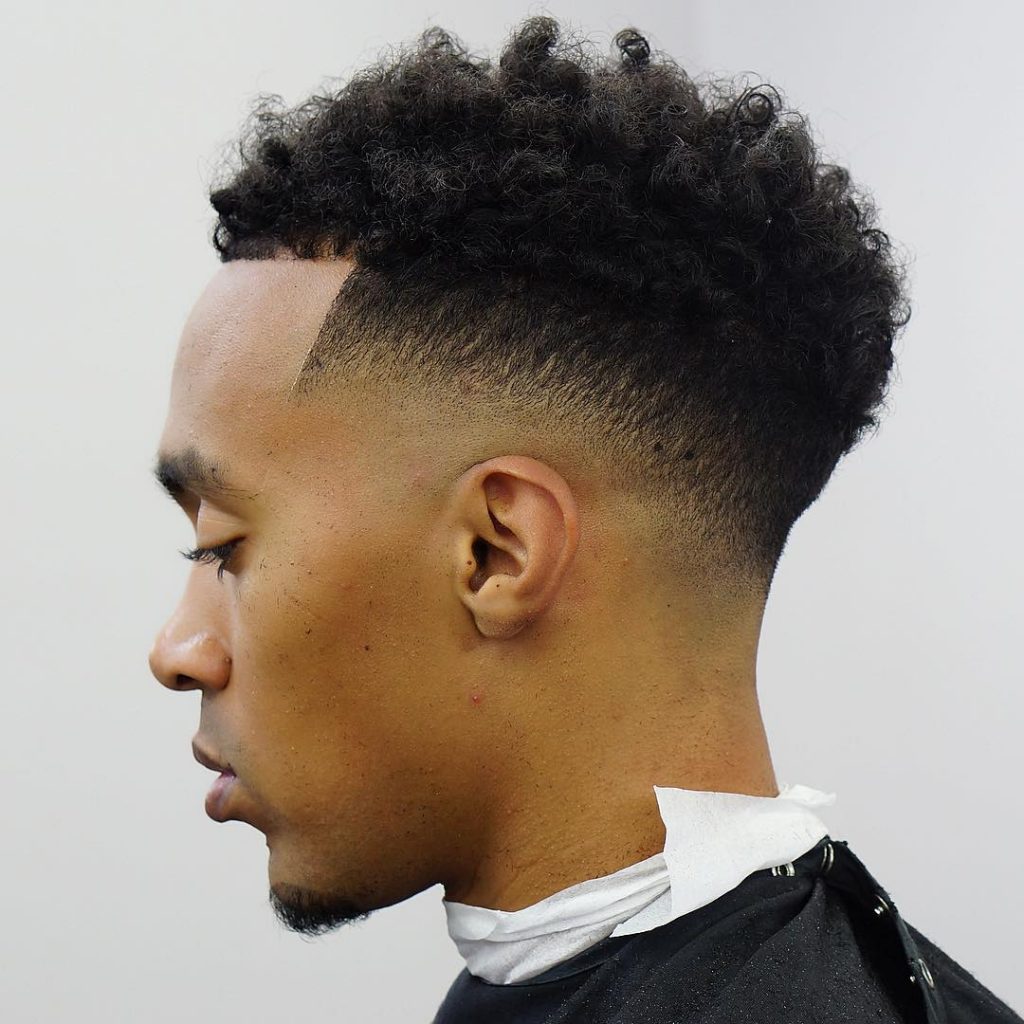 The skin fade is a stylish addition to all kinds of curly hair, especially tight curls. Hairstyles for men are longer this year and this is true for curly and black hair too. In this expert cut, a drop fade follows the arc of the hairline and is matched by the shape of longer curls on top.
16. Bald Drop Fade Haircut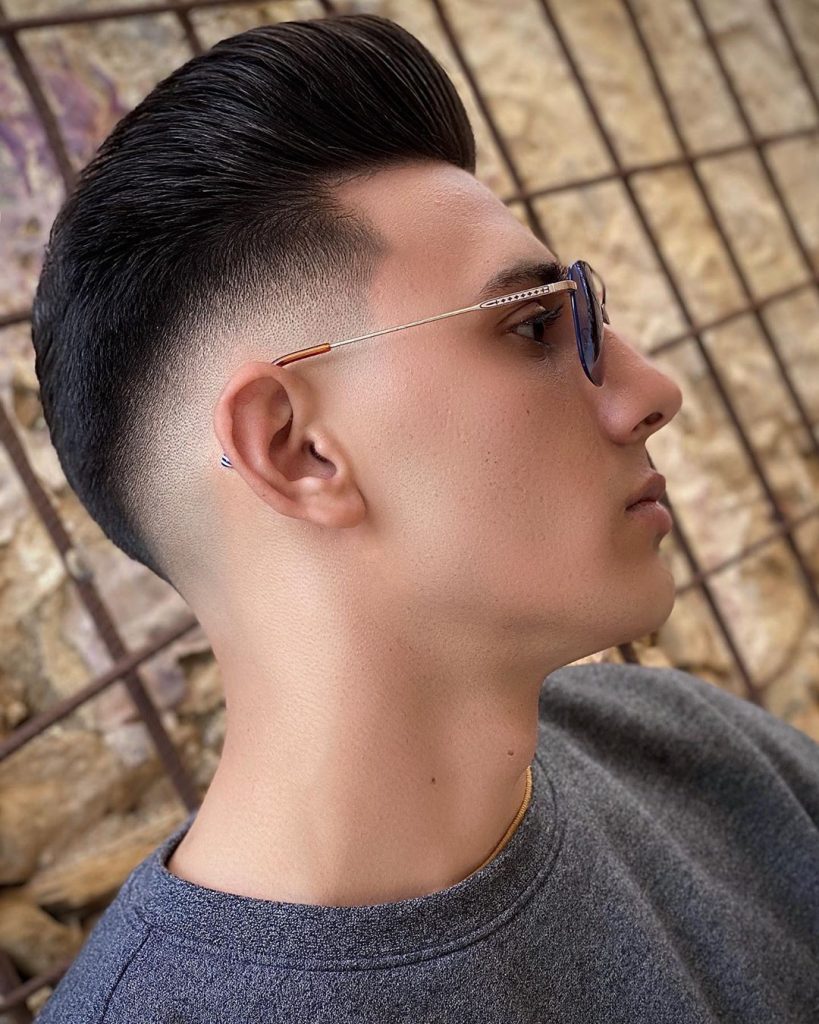 True to it's name, the drop fade drops down behind the ear.
17. Bald Fade Comb Over Haircut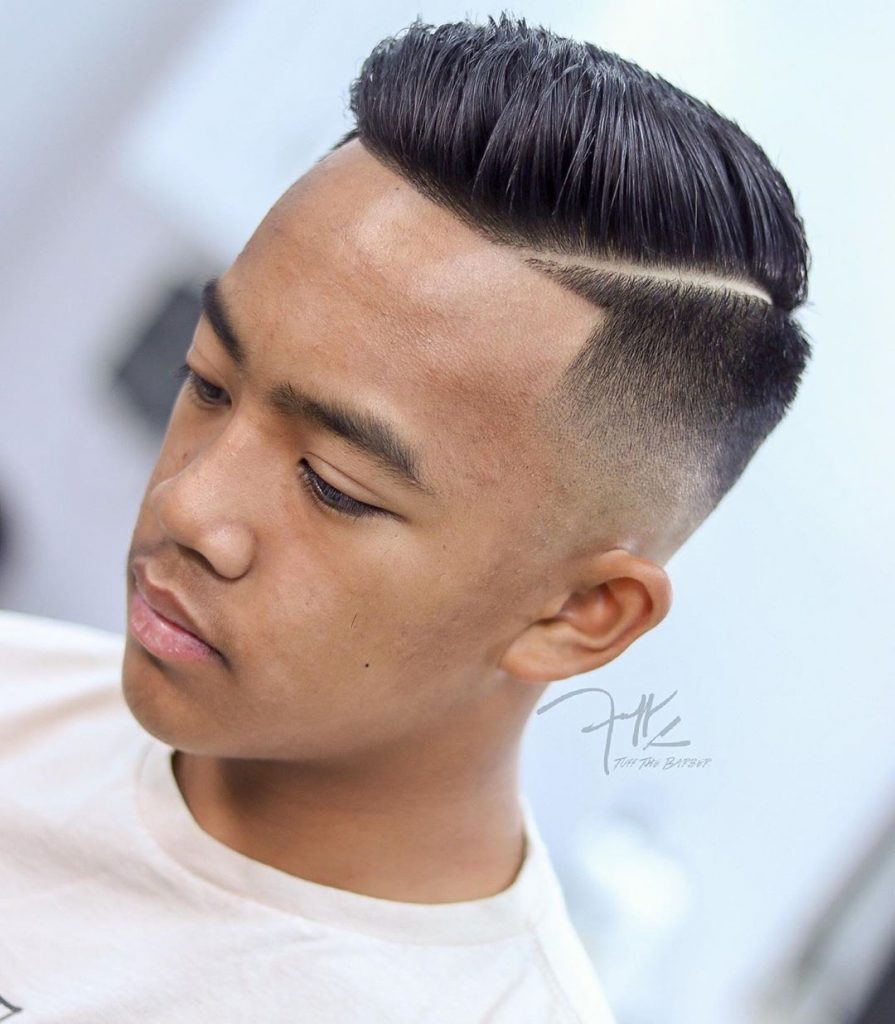 A different kind of comb over with a different kind of bald. This fresh look for young men also has a line up and hard part.
18. Bald Fade Haircut With Waves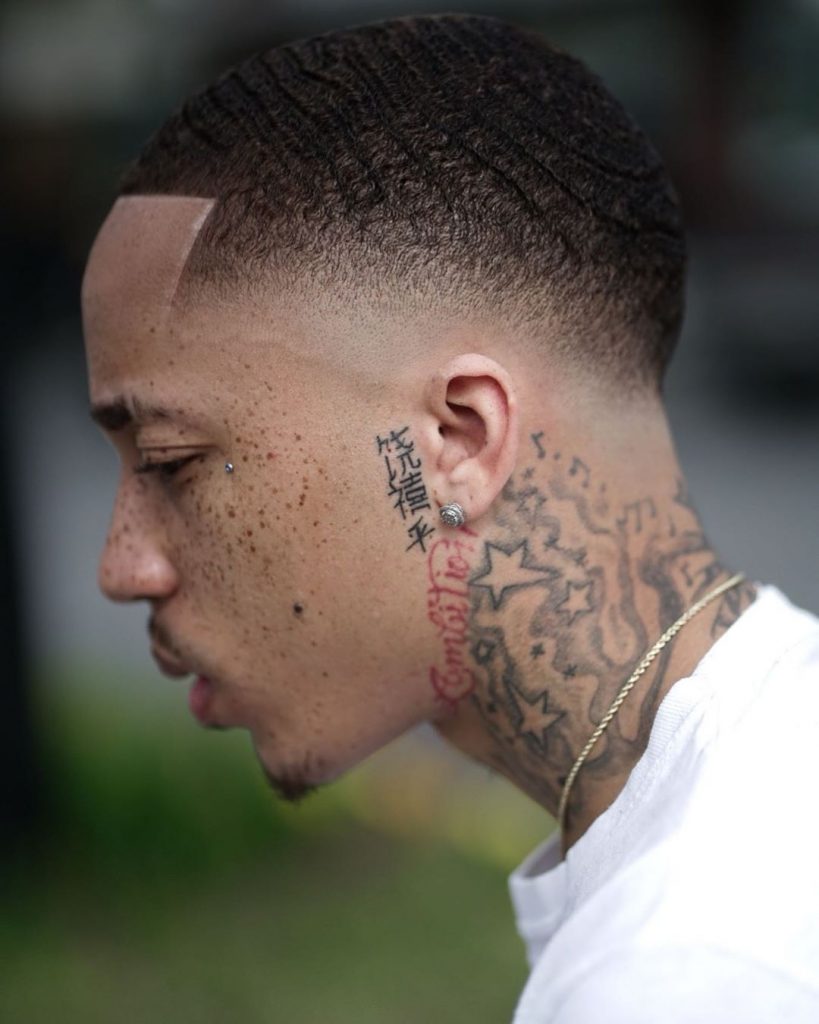 This combination of waves, lines, and blurry bald fade is so crisp.
19. Skin Fade Haircut With Beard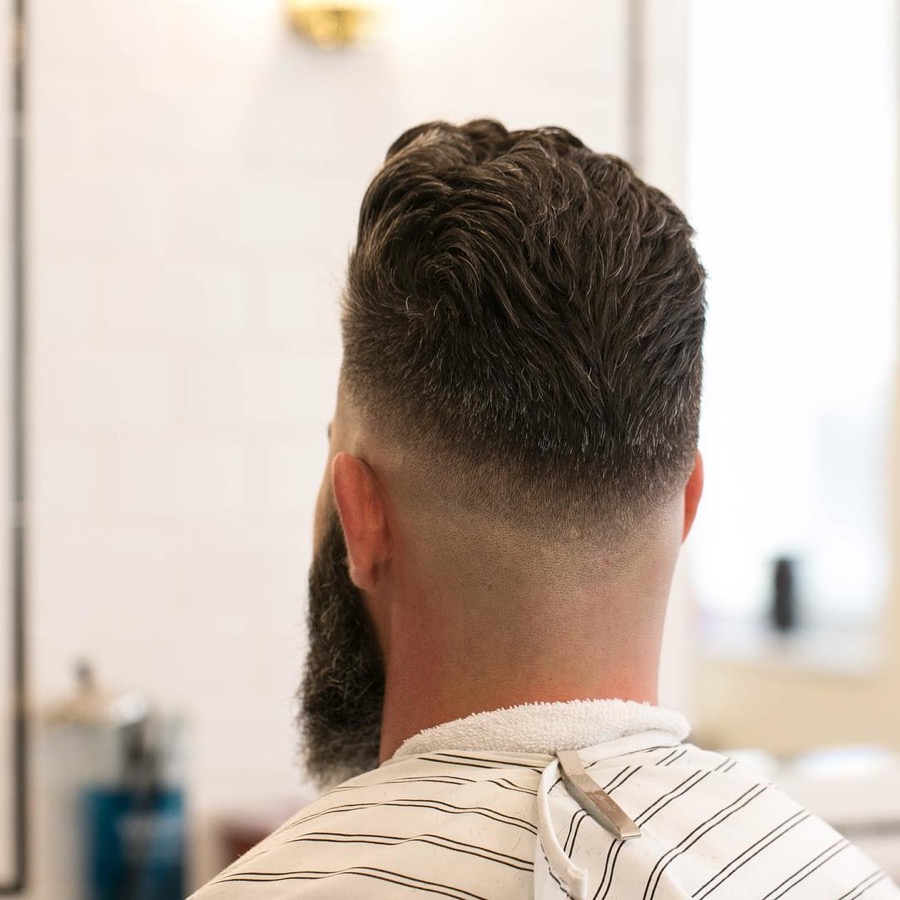 Can you wear a skin fade with a beard? It is working out pretty well for this guy. The bald fade cleans up the neck and provides a distinct separation between hair and facial hair.
20. Crop Top + Bald Fade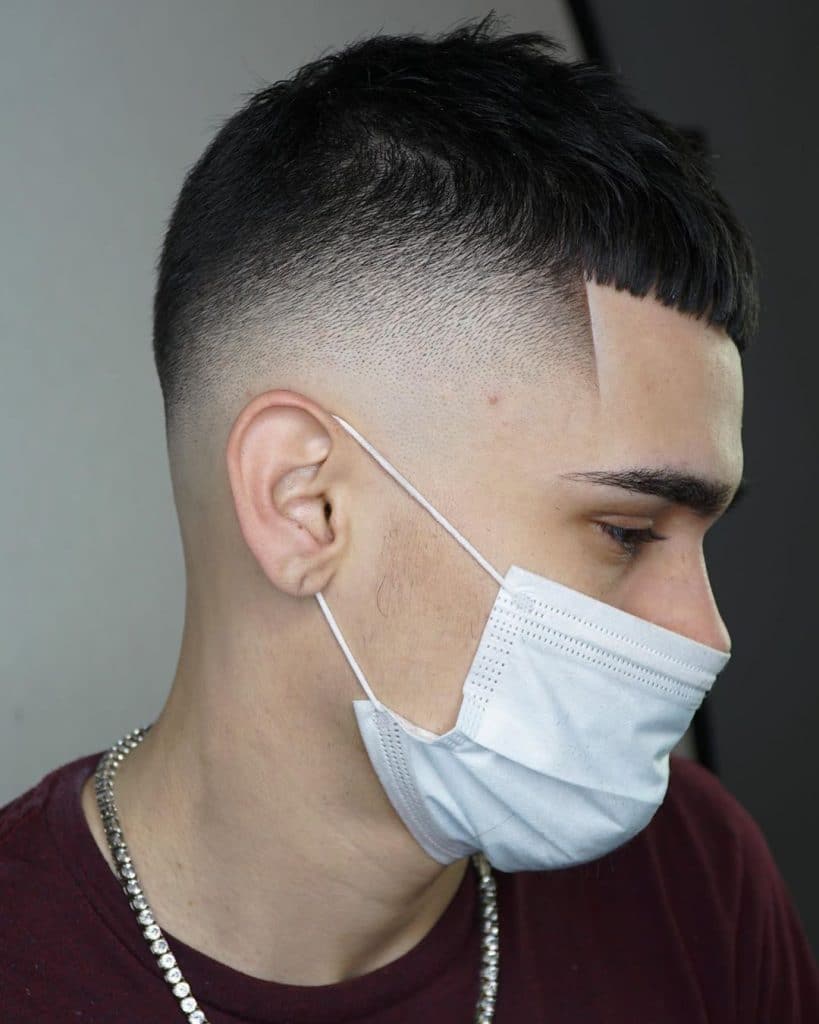 One of the definitive features of the crop haircut is a fade. This cool crop contrasts a line of blunt fringe with a curved blurry drop fade.
21. Low Skin Fade For Black Hair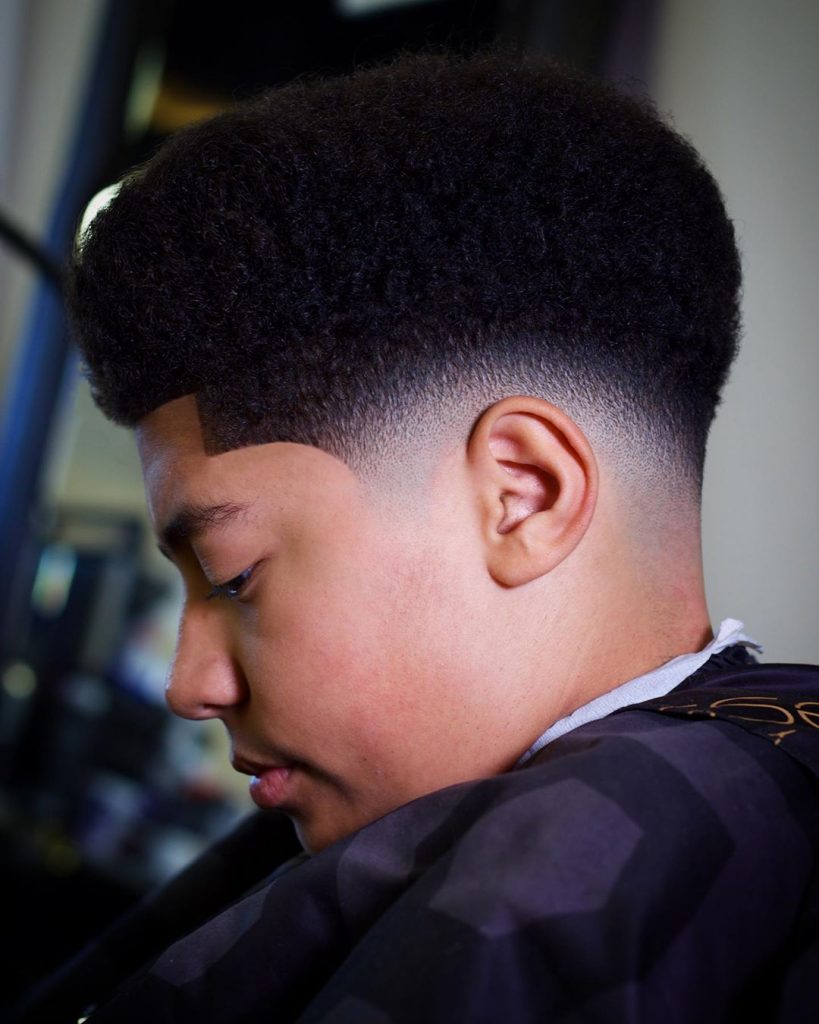 The line of this drop fade is part of a harmonious series of corners and curves.
22. Burst Skin Fade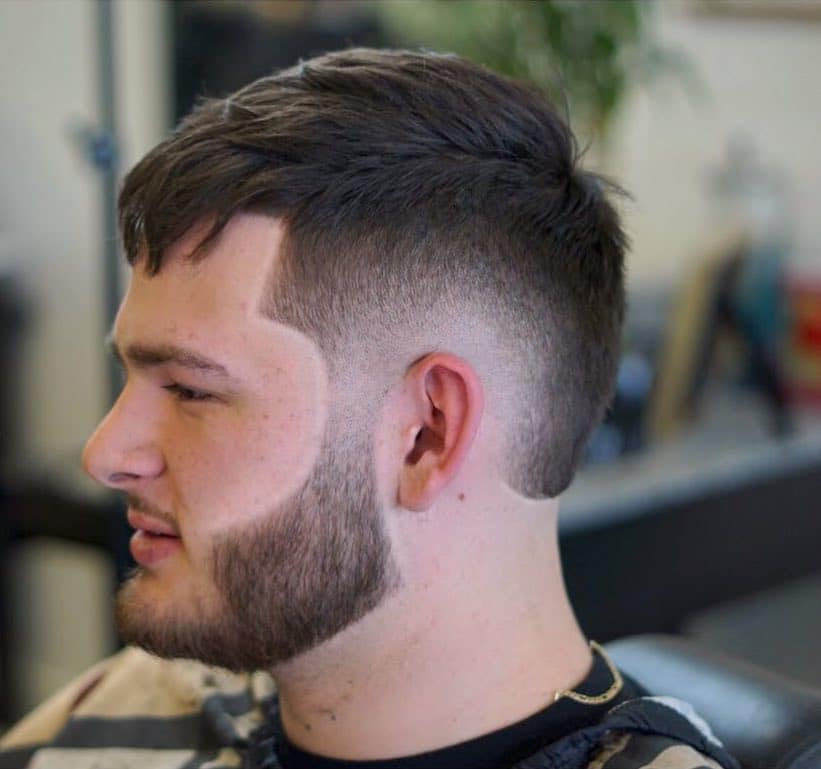 This unique way to wear a crop combines textured fringe and a burst fade for a mohawk effect. The sculpted beard works with the whole look.
23. Burst Fade Mohawk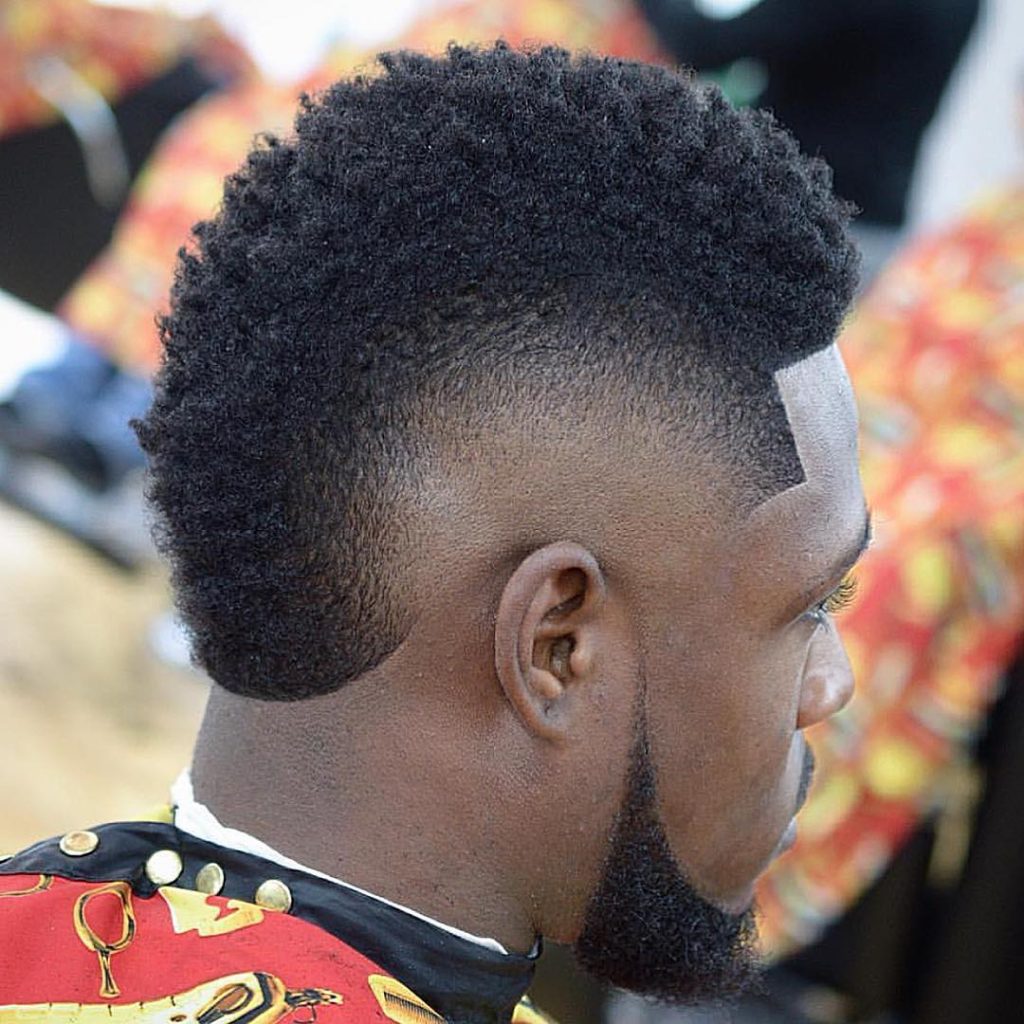 And here is a true mohawk fade with a bald burst fade that slowly ramps back up into a beard.
24. Popular Haircuts For Men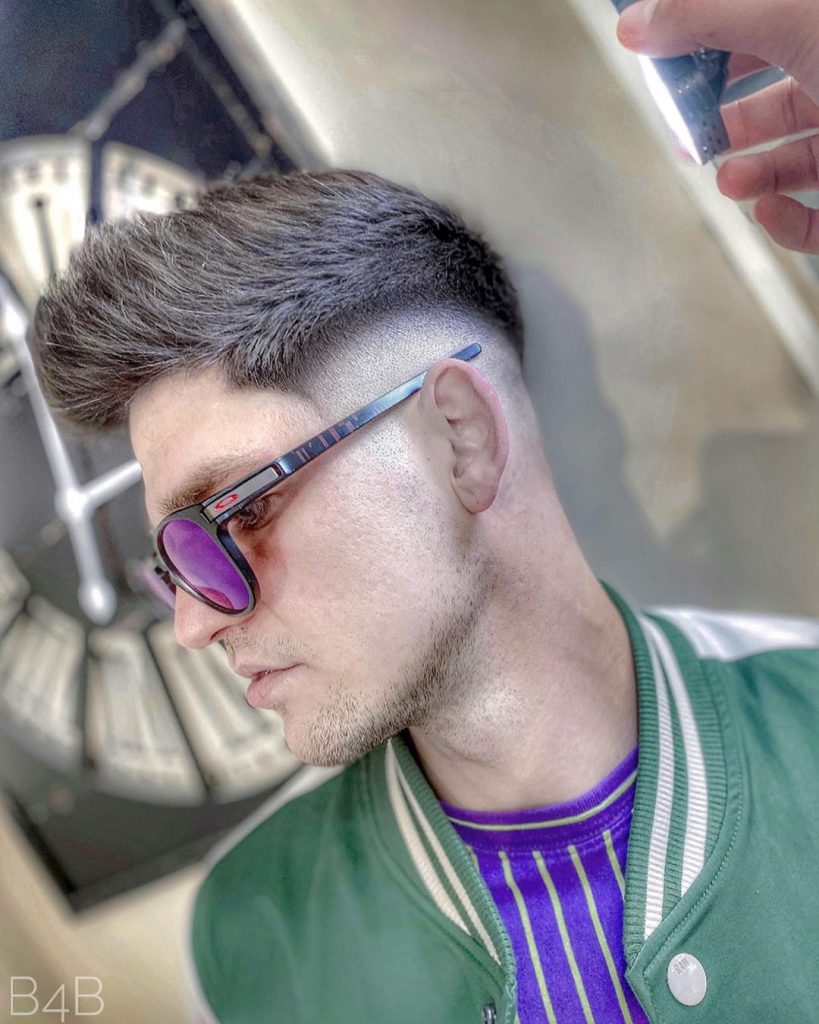 Between the trendy crop top and the faux hawk, this is a combination of the most popular looks right now.
25. Thick Hair + Skin Fade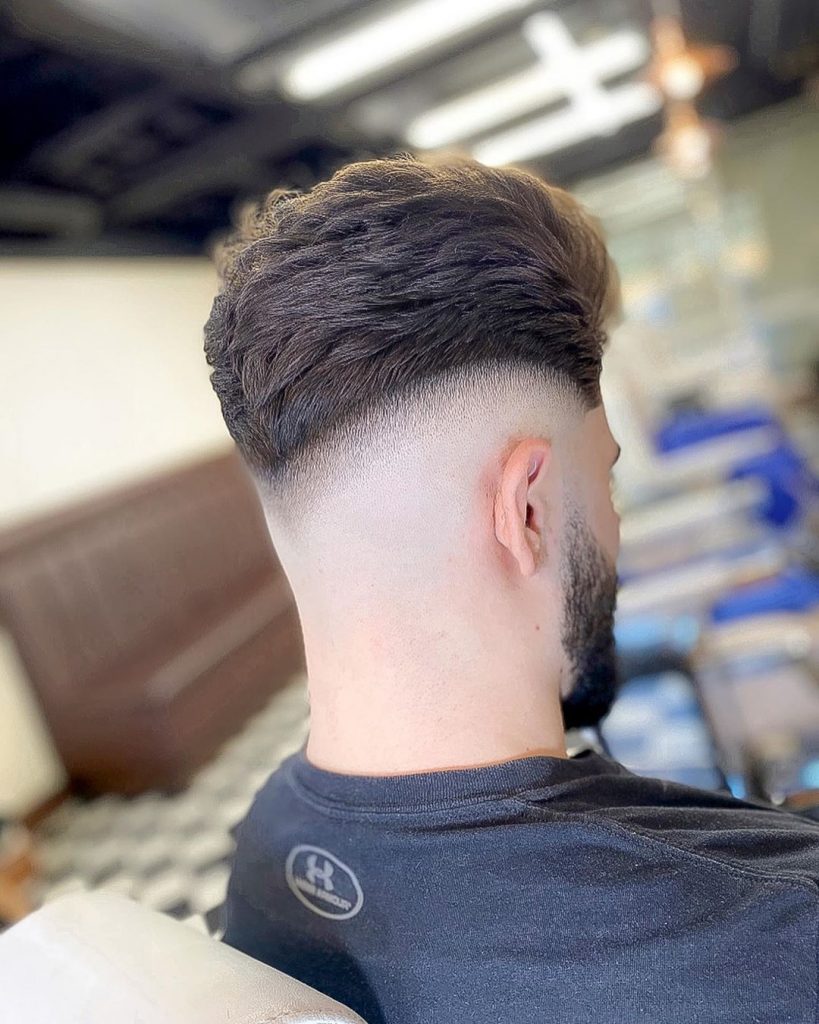 We'll leave you with this shining example of the dramatic contrast that a bald fade can create. It is most pronounced with thick hiar like so and a fade that goes quickly down to the skin. For an added detail, this version ends in a hint of a V.
This post may contain affiliate links. Please read our disclosure for more info.
Sours: https://www.menshairstyletrends.com/bald-fade-haircuts/
Fade mid bald
.
How To: MID-BALD FADE - Full Length Tutorial
.
You will also like:
.
516
517
518
519
520