Basic 2021 Digital Planners
Looking for the perfect digital planner to use in GoodNotes?
We've got you! We took the liberty of researching and testing various digital planners and have selected 11 recommendations to share.
But first, let's go over some quick pointers so we're all on the same page:
How to Use Custom Digital Planners in GoodNotes: Quick Tips
To import your digital planner, you can either import it from your Files app from GoodNotes, or if you're downloading a file from Dropbox or Safari, simply tap "Open in GoodNotes" from the share menu.
How to click embedded PDF links in GoodNotes: Go to Read-Only Mode, which will take away the blue toolbar, as shown below. Now the links in your planners will be clickable!
Use the bookmark option to save your favorite pages. Some planners have upwards of 500 pages, which can be a lot to flip through. We'd recommend taking advantage of the bookmark option in GoodNotes, to mark your favorite or most frequented pages for easy access.
Now, without further ado, here are our picks for 2021 digital planners to use in GoodNotes, grouped into the basics, planners for enthusiasts, and niche planners.
1. A-hong Paper log — 2021 Diary
This is the free 2021 planner created by A-hong Paper log, who regularly shares free digital planning templates and stickers for GoodNotes on YouTube.
This one is geared towards those brimming with creativity and want to personalize their planners with stickers, doodles, and images to be distinctly their own.
Includes:
A combination of colorful monthly spreads
Undated weekly planners on black and white paper
Bullet journal-like spreads to record books and movies
Recommended for:
Creating photo logs for each day, or monthly overviews which you can easily refer back to in the future
Someone who wants a highly customizable planner that'll help them record weeks and months in their life, but doesn't need a daily schedule
2. Pink Petiole – Undated Minimalist Weekly Planner
True to its name, these weekly plans from Pink Petiole come with minimal distractions, pointers, and prompts, and no excess of pages to get lost in.
Includes:
Weekly spreads in five different colors
Recommended for:
People mainly looking for well-designed paper templates to use when planning their weeks
Minimalist planners, who don't need any bells and whistles with their planners
(If you like the look and feel of these weekly plans, but are looking for a full 2021 daily planner with trackers, links, and custom pages, Pink Petiole also offers that here.)
3. DigiSparkles – HoboWeekly Planner
This 2021 digital planner features a Japanese-inspired design on a two-page spread, reminiscent of an open notebook. It's a simple and distraction-free planner designed for monthly and weekly planning, and leaves a lot of room for creativity.
Includes:
Linked monthly and weekly spreads
Important dates of the year at a glance
Optional undated daily planning pages which you can insert whenever needed
Recommended for:
Those who prefer to plan at a weekly and monthly scale, instead of on a daily scale.
People who want a straightforward planner to get the job done without the need for extras such as goal setting or pre-made lifestyle trackers
4. Million Dollar Habit — the Inspire Planner
At its core, the Inspire Planner from Million Dollar Habit is a straightforward weekly planner that'll give you the space to plan each week in 2021. However, it also includes a variety of bonus templates for you to copy and insert at will, for example, weekly check-ins, monthly goals, and milestone trackers, so you can really make it your own.
Includes:
Linked monthly and weekly planning pages
Undated pages to insert as you like, such as monthly goals and weekly check-ins
Bonus wellness templates such as meal planners, reading lists, and savings trackers
Stickers
Recommended for:
People who prefer to plan on a weekly basis, but also want bullet journal-like extras like budget trackers, reading lists, and habit trackers
5. The Dash Planner
This is another packed planner with a clean and sophisticated design that's going to allow you to plan each hour of every day to a perfect T. Overflowing with internal links and bonus pages, this planner is thoughtfully designed to support your affinity for organization in all aspects of your life.
Includes:
Linked monthly, weekly, and daily spreads which include sections to list out
6 pages of pre-cropped stickers
Bonus pages like quarterly overviews, event plans, grocery lists, and expense trackers too
Recommended for:
Very avid planners and organized individuals, who want to be able to use their planner for everything, from daily schedules and to-dos to event planning
People who prefer a daily planner with numerous sections to cover all your bases
6. PaperNRoses — 2021 Neutral Stars Planner
Designed to look like an old school planner or address book, this 2021 planner is unapologetically pink, playful, and brimming with positivity.
It encourages you to track things you're grateful for every day, and at the end of every week as well.
What's more, while this planner includes hundreds of pages of content, it's relatively straightforward (it doesn't have too many extra pages to flip through) and because of the eye-catching tabs on the side, it's easy to navigate to the page you want.
Includes:
Daily spreads that prompt you to record items of gratitude, and wins of the day
Weekly plans and weekly reflections
Linked monthly overviews that include important events and trackers, finances, and reflections for each month
Goal planning pages
Recommended for:
People who could use something bright and cheerful to open up every day
This could be a great gift for nieces and nephews
7. My Daily Planners – 2021 Planner
With a clean and straightforward design, the 2021 planner from My Daily Planners is favorite because it has everything you'll need to plan your days and weeks and is very easy-to-use.
While they have a variety of planning pages and bonus templates, everything is labelled clearly in the index and easy to find. Along with colour coded tabs on the side, you'll always know where you are in the planner.
Includes:
Linked monthly, weekly, and daily planners
Monthly habit and budget trackers
Extra templates like birthday trackers and meal planning templates
Recommended for:
Someone who wants a straightforward planner to plan the schedule and tasks of each day and get the job done without too many bells and whistles.
8. Template Stack — 2021 Digital Planner for GoodNotes
This planner is a team favorite, featuring an effective, aesthetic, and well-thought out design.
For example, each daily plan has the space for tasks and notes. If you don't get through the tasks you'd planned, you can follow a conveniently placed link to the "Someday" backlog task tracker. A simple menu on the bottom of the planner streamlines navigation throughout the many pages, making it easy to jump to what you're looking for.
Includes:
Daily pages with a daily schedule, task list, and focus, as well as linked weekly, and monthly planning pages
"Backlog cards" that allow you to list out tasks you'll need to reprioritize in the future
A selection of different covers
Stickers
Recommended for:
People who are looking for a straightforward but robust daily planner that's going to help them plan through the days, without
If you find yourself reprioritizing a lot of tasks, the unique backlog template could be well suited for you
9. The Sweet Setup Focus Planner
The Sweet Setup's Focus Planner for 2021 is one of the most methodical goal-focussed planners we've come across. This is more than a planner to simply organize your daily tasks or schedules: it'll help you focus on the vision you want for yourself this year, and prompt you to break that down into quarterly, monthly, and weekly goals.
Includes:
Linked daily, weekly, monthly, quarterly pages
Goal setting sections, and regular retrospectives at the end of every week and month
Habit trackers for each month
"Life assessments" every 4 months to help you track your progress against your yearly vision
Recommended for:
If you're someone who sets a bunch of goals at the beginning of the year, but then forgets about them as life gets in the way, this planner will prompt you to keep them top of mind
Working professionals who thrive on using OKR frameworks and sprint planning to organize their work will find this planner very in-line with their way of thinking
10. Laurel Studio — 2021 Academic Planner
The Laurel Studio Academic Digital Planner is a specialized daily planner that in addition to daily spreads, includes custom templates to fit even the most meticulous straight-A student.
Includes:
Linked monthly, weekly, and daily spreads
An overview schedule page which links to individual assignment trackers for each class
Essay planners, reading summaries, semester overviews, study session planners
Goal setting and reflection pages
Lifestyle spreads, like mood trackers, workout trackers, and budget planners as well
Stickers
Recommended for:
Students who want to plan every part of their academic year together with daily life in GoodNotes, from assignments, readings, class schedules, to meals, and well-being as well
(Laurel Studio also makes specialized planners for teachers and business owners too.)
11. Perfect + Paperless — Memory Planner
This simple but charming 2021 digital planner is created to be something you can look fondly back on, to remember weeks in your life through the photos that defined those moments. Each page has a dedicated blank space for you to insert photos, framed in polaroids.
Includes:
Linked monthly and weekly planners
Monthly recaps to reflect on what happened that month
Recommended for:
Those who'd like more guidance during their planning, and appreciate prompts to record memorable moments or thankful thoughts
People who prefer a simple but visual planner for weekly planning
Trangsadventures – 2021 Digital Planner
Many of you recommended Trang's digital planner to us, and we're happy to share! This is another free 2021 digital planner for GoodNotes.
Includes:
Linked monthly and weekly planning spreads
Monthly habit trackers and finance trackers
iPad Planner — 2021 Day Planner
This is another very popular digital planner geared towards the working professional that we've seen GoodNotes users using left right and centre.
Includes:
Linked daily, weekly, and monthly spreads
Daily sections that include space for meeting logs
Blank pages to jot down thoughts
Recommended for:
No-fuss working professionals who want an easier way to juggle daily projects, tasks and appointments
To the hundreds of talented creators making digital planning templates for GoodNotes, a huge cheers to you. We know we weren't able to cover everything, so if you make or use an amazing digital planner, tweet us @goodnotes.app or tag us on Instagram with your picks!
Don't have GoodNotes yet?
When it comes to bullet journaling, digital planning, and digital note-taking apps on the iPad, the GoodNotes app is the best in class.
Click here to download GoodNotes for yourself, and start digital planning!
Sours: https://medium.goodnotes.com/2021-digital-planners-for-goodnotes-1f43682149af
How To Import Digital Planner To GoodNotes
Learn how to import your digital planner to GoodNotes with this easy step-by-step tutorial and start your Digital Bullet Journal today!
Okay, you have decided you want to start your Digital Bullet Journal, what next? If you haven't already read our helpful How To Start A Digital Bullet Journal article then it is a great place to start.
If you have already read our guide then you know that to use your digital journal you need to import the template into a note-taking app. This will make your template usable and easy to edit.
Although there are a few to pick from, we love using GoodNotes app for its ease of use and features.
Keep reading to find out how easy it is to import your planner to GoodNotes with our simple step-by-step tutorial.
Haven't found a digital planner template you love? Subscribe below to use our FREE Digital Bullet Journal template. You will wonder why you didn't change from your traditional paper Bullet Journal sooner.
How to add Digital Planner To GoodNotes
If you are a Digital Planner newbie it can be a little daunting to learn you need an app and how to use it! But don't feel overwhelmed as it is actually super easy.
Let us show you just how easy it is!
1. Purchase and Download GoodNotes
Before we start it is important to note that the GoodNotes app is a premium app available in your App Store. It is a one-time purchase. Although there are free apps available you will find that they may not have the same functions and usability as GoodNotes.
Another great advantage of GoodNOtes is that it is a UNIVERSAL App for Apple users. Meaning that your purchase covers iOS, iPadOS and MacOS. With one purchase you can have the app on your iPhone, iPad and Mac computer.
GoodNotes is ONLY available for iPad. If you're an Android user than my suggestion is Xodo PDF.
2. Add Your Digital Planner Template To Your iPad
The easiest way though is to download you digital planner or journal directly on your iPad.
But if you have downloaded your purchased planner onto a computer then be sure to save the files to an online file saving service ( iCloud, Google Drive or Dropbox for example) as a backup.
Next, transfer them to your iPad.
There are a couple of ways you can do this.
If you are using a Mac open the files and simply share via AirDrop.
Firstly, Make sure your iPad is available to receive AirDrop files by heading to Settings-General-AirDrop.
Have the file open on your Mac (making sure any zip files are opened). Then at the top of the Mac screen go to 'Share'.
A drop-down menu will appear. Click on 'Send a Copy'. Then you will see the AirDrop function appear. Click to AirDrop.

When you select your iPad you should have the option to import the planner directly into GoodNotes.
If that doesn't come up then don't worry. Just follow the below instructions.
Import your planner to GoodNotes
Firstly, open the GoodNotes App on your iPad.
On the top left of the screen, you will see a plus sign. Click on this a drop-down menu will appear.
Click on Import.
Next, you will see a number of options. Choose the one where you import the planner as a new document.
Super easy, right?
Now that you have imported your Planner files you can start using your Planner straight away.
If you need some more help on how to use GoodNotes to make your Digital Planner an amazing tool for getting organized and productive then be sure to read our next post in the series and learn how to add stickers on GoodNotes.
---
We hope that this GoodNotes tutorial has made it easy for you to import your Planner and start your Digital Bullet Journal quickly.
Have fun planning!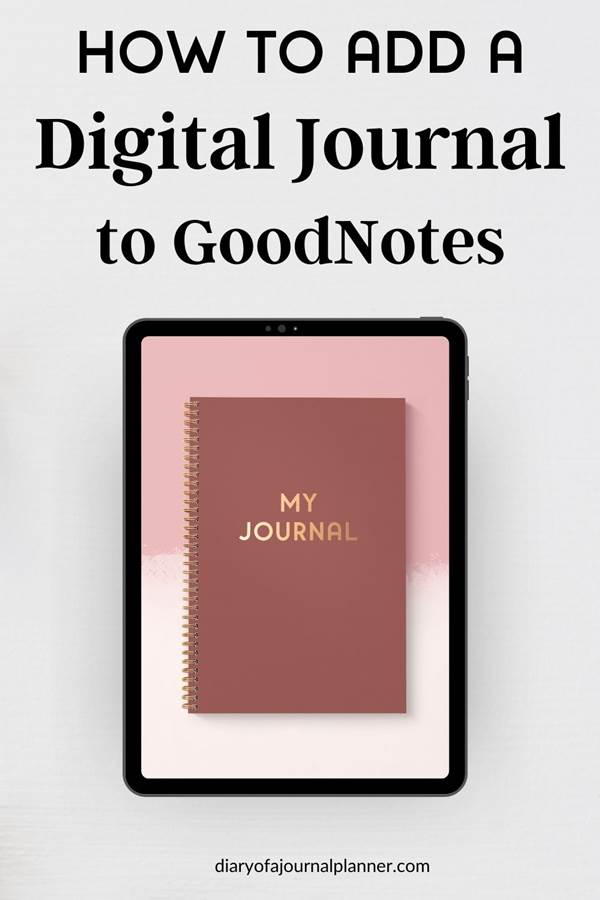 Sours: https://diaryofajournalplanner.com/how-to-add-digital-planner-to-goodnotes/
In today's digital age a lot of people are turning to electronic solutions for their everyday needs –including the use of digital planner apps. If you have an Apple of Android smart tablet and are tired of carrying around an old paper planner, Goodnotes Digital Planner is the perfect option when it comes to keeping your life organized in a simple and trendy way. Goodnotes planner app allows users to download electronic planning templates that are customizable and free to use!
OnPlanners Goodnotes Templates
Each planning template comes with a hyperlinked structure that allows you to easily organize your pages by clickable tabs, subjects, and dates without having to worry about any of your content getting lost in the shuffle. Users have the ability to type their notes or use their stylus. The digital planner app also makes multi-tasking easy and allows you to have a dual split-screen to have two pages open at once. Once you are done with your planning tasks, the app provides you with a shareable link that makes collaboration easier than ever before!
All planners are customizable and come available in a light and dark mode to perfectly fit your personality and aesthetic goals. Depending on the subject and your goals, the planners come in various forms that range from daily, weekly and monthly calendars to budget planning, meal prep, bullet journals and more! Customize each page the way you like it and save it to any of your smart devices –it's perfect for on the go! Goodnotes digital planner also allows you to save your notes to your iCloud so you never have to worry about losing any important information.
Some other notable features that elevate the users experience is the ability to import images, and stickers to make your pages even more personalized. It's easy to become unmotivated in your life, especially when you fall behind and are unorganized. By having all your important information stored on your tablet, you are able to keep yourself accountable throughout the day and follow through with your goals! You can track your personal goals, keep a day gratitude journal, weight loss and wellness planner –the options are endless!
These digital planners are perfect for students, teachers and freelancers whose schedules often vary from day to day. With Goodnotes digital planner you never have to worry about missing assignments, tests or special dates. It's time to take back control of your life with the most effective digital planner app on the market. With 2021 just around the corner it's time to start planning out your goals for the new year and getting back on track with your resolutions! Digital planning is an innovative solution for your organization and productivity needs. 2021 is the year for people to get back to the things they love doing, and what better way to seize new years' opportunities than with an organized digital planning solution. What are you waiting for?
If you are new to Goodnotes and digital planner theme in general, make sure to check out a few tutorials on YouTube.
Sours: https://onplanners.com/templates/goodnotes
分享我的Daily Planner ✨ - 2021 - GoodNotes 5 - Digital Bullet Journal - 아이패드다이어리 - 굿노트 5
.
Diary template goodnotes
.
2021 Digital Planner ✍🏼 Track/Review/Set Goals - Hyperlinked Free GoodNotes Template
.
Similar news:
.
531
532
533
534
535