Having looked around the web for decent starting points for making knives, I found a lack of free printable knife patterns, templates or any knife profiles in PDF or other suitable format and have had mixed results. In an effort to contribute to the knife-maker community at large, I'd like to share some profiles that I have made. These are not to be considered precise, but rather a starting point for your knife project. Feel free to add your own variations, shrink, stretch, pencil over the curves etc. You can transfer them to wood, polycarbonate or steel to make a pattern.
I try to make them in different sizes so one should be a close fit to your piece of steel.
-----------------------------------------------------------------------
These are FREE to use. Free as in Beer. If you do use them, I'd appreciate if you sent me a note or a pic of the finished knife; that would be awesome!
------------------------------------------------------------------------
Note: Save the PDF or open in Acrobat first before printing. Printing directly from your browser's preview as this can distort the dimensions.
There are now over 75 PDF downloads now! Thanks for all of your comments and suggestions!
More profiles at:
Knife Patterns II
Knife Patterns III
Knife Patterns IV
Knife Patterns V and Knife Patterns VI pages.
Please
---
Advertisement: Are you looking to build up a 2 x 72" belt grinder for making knives?
Oregon Blade Maker's eBay Store
---
DH18 - Drop point
---
BC4 Bushcraft Knife
---
Chef's Knives
---
DP16 - Drop Point
---
CP2 - Clip Point w/Thumb Grip
---
BK2 - Drop Point
---
DH15 - Drop Point Hunter
---
DH14 - Drop Point Hunter
---
DH13 - Drop Point Hunter
---
DH12 - Drop Point Hunter
---
DH11 - Drop Point Hunter
---
DH10 - Drop Point Hunter
---
DH9 - Drop-point Hunter
---
DH8 - Hunting Knife
---
DH7 - Hunting Knife
---
DH6 - Hunting Knife
---
CP1 - Clip Point
Roughly based on Paul Beebe's design.
---
DH5 - Drop Point Hunter
---
KR1 - Template in various sizes.
---
BC2 - Bushcraft knife
---
BC3 - Bushcraft Knife
---
DH1 - Drop-point Hunter
This is a design based on Schuyler Lovestrand's beautiful Model H-10.
---
DH2 - Hunter
This is a slight variation on the Hunter theme.
---
LZ1 Template
This is roughly based on Marcin Bona's "Lizard" design.
---
BRA1 - Bushknife
---
DH3 - Drop-Point Hunter
With in-tang lanyard hole. Akin to the "fox."
---
MIL1 - Military/Police Knife
Styled similar to ESEE MIL series.
---
TCK1 - Tactical Style
With Western tanto style tip.
---
More profiles at:
Knife Patterns II
Knife Patterns III
Knife Patterns IV
Knife Patterns V and Knife Patterns VI pages.
---
HOW TO MAKE A PATTERN
As a rule, I always make some form of pattern when doing a first time profile. This is how I do it.
Print the profile and choose the right size for your stock. In this example I choose the 8" version. After printing, simply slap a ruler down and determine which is best. Remember that there will be some line thickness from your marker, so choosing a size that is slightly smaller than your stock is better than one which is slightly larger that your stock.
Using regular scissors I cut the paper to shape and do whatever creative curves here.
Cut a piece of plywood, say 1/8" or 1/4" that will fit your paper cutout.
Glue the paper down to the plywood using any PVA glue, wood glue/white school glue etc.
Once dry, get to cutting it out with coping saw, band saw, scroll saw, whatever means you have.
I have a small bandsaw that works great for this. Be sure to cut outside the line as we're going to want to sand this into a near-perfect shape.
Once cut, sand to the line (or wherever you want the shape to be). I use 80 grit to get the basic shape. Sometimes a round file works good in the tight inside curves.
Drill the holes for the pins/lanyard holes. I use a small bit, 1/8" for this as the holes are only for marking and don't have to be the actual size of the pins.
I keep several versions of the same design for giggles. Clamp the pattern down to your steel and mark the shape with a paint pen or permanent marker. Wherever possible, apply the pattern in a way the will reduce the amount of cutting. In this case I put the template near the top edge. Putting it in the middle would mean having to cut both top and bottom out. This can amount to lots of extra work depending on the thickness of the stock.
---
Here's a picture of Mark's knife made from DH9. Awesome work for a first knife! Thanks for the pic Mark.
---
---
Here's a picture of Pete's knife with scales made of white oak from a whiskey barrel. Thanks Pete.
---
---
These are Larry's skinners with paracord. Sweet looking hamons!
---
---
A beautiful knife based on the DH1 by Henry.
---
I like what Hunter did with this variation on the DH6 pattern. Very sleek!
---
This very nice knife and sheath were made by Andrew from the BC2 pattern. Beautiful!
Sours: http://dcknives.blogspot.com/p/knife-profiles.html
Jay Fisher - Fine Custom Knives
Jay Fisher's Knife Patterns and Designs
Now over 525 patterns!
Right now, you are reading the best singular knifemaker's website ever made on our planet. On this website, you will see many hundreds of defined knife terms, detailed descriptions and information on heat treating and cryogenic processing, on handles and blades, on stands and sheaths, and on knife types from hunting and utility to military, counterterrorism, and collection. You can learn about food contact safety and chef's knives, you can find out what bolster or fitting material is best for each application and why. You can lean about caring for a knife, you can see the very largest knife patterns page in history, with many hundreds of actual knife patterns and photos of completed works. You'll also be able to see thousands and thousands of photos of knives, knifemaking, processes, and creations, with many hundreds of pages of appropriate, meaningful text. You might want to know why a knife blade is springy, you might want to know why a hollow grind can last longer than a flat grind. You might want to learn about some pitfalls of the tradecraft, and you might even want to have a chuckle about funny and strange email requests.
You'll find all that here, on JayFisher.com, and you won't find it anywhere else!
I am committed to making completely and clearly the best knives in the world.
--Jay Fisher
More
---
---
Introduction: Welcome to the LARGEST, and BEST custom knife patterns page on the internet!
Welcome to the largest group of custom knife designs in history!
This is one of the most popular pages on my site, consistently gathering millions of hits and views, and many thousands of new visitors month after month, year after year.
Why? Who else offers so many custom knife patterns? I know of no knifemaker, no factory, no source whatever that has created as many knife patterns, designs, and styles as what you will see here. No other resource has as many knife patterns, designs, and templates, not anywhere, at anytime, in any place, in history!
This is what happens when you dedicate your entire career to making knives. I've been making knives for 40 years, and I've been a full time professional knifemaker for over three decades. This is my real job, my only source of income, it is how I make a living, professionally: making knives for some of the finest clients, knife users, and knife owners in the world. It is because of my clients and patrons that you see what is here on this page; it is to them my thanks and the where the thanks of knife enthusiasts belong. I owe everything to my family and ultimately my God, who has given me this incredible journey of life on this fantastic world!
I work with clients on their own ideas, and many of these patterns are the results of that collaboration, some of the best custom handmade knives in the world. Some of the patterns have been gifted from the families of deceased knifemakers. These are patterns and templates for real knives that are in the hands of military, working users, and collectors.
Most of the patterns I've created and continue to create with my own vision, as an artist, a tool maker and user, and as someone whose main conversation, focus, and (some say) obsession is the knife. Many of the most successful knife patterns I make are those I create with my own ideas, knowledge, and understanding of knife use, application, and value. These are my artistic creations based on what I have learned.
I work with pad and pencil, rule, and curves, using email, fax machine, and even regular mail, and lots of drawings, scanning, hand-fitting, making templates, and fine tuning to get the profiles right (Learn more about designing knives and the costs involved here). The profile on paper is just a beginning; it takes much more work to complete the knife. That's why the links to completed photos are included. I constantly update this page and you may see new patterns or pictures nearly every visit.
If you think it takes a tremendous amount of discipline to create these patterns, think of what it takes to make every knife you see linked on this page, every one of them the real thing! This is the result of a professional knifemaking career.
For Knifemakers:
I know and understand that a great deal of traffic, interest, and attention this page receives is from other knifemakers, knife factories, and knife manufacturers. You might be surprised to see who and what and where this traffic comes from, and since my web site analytics identifies this, I'll include much more detail in my upcoming book.
These visitors want to know what is of value here, they want good pattern ideas, they want to know how a successful knifemaker creates, what new ideas, what new directions, and what developing lines of design are being created.
Most of them are respectful; they understand that simply copying an artistic and created design from someone else is copyright infringement. So they get inspiration, and then go on to design their own knives based on what they may see here. To get an idea from someone who has designed useful, functional, and highly desirable knives as a professional for decades means that a lot of the effort, labor, and struggle to create has been already completed. Yet, not wanting to copy directly (since it's illegal) they are inspired, guided, and take the flavor and idea of particular styles of my knives to influence their own work. I do the same thing with historic designs and adaptations.
The most important thing I can offer is that each maker or manufacturer must and will, by necessity, make their own knife. Many of the designs can not be copied; knives with differential grinds, double three-inch hollow grinds, combination convex/concave designs—these take a very skilled and practiced hand to create. Not every knife is a four-inch drop point or a bowie, and the skill necessary to effectively create salable, desirable knives does not exist in the pattern template alone. Makers and manufacturers quickly find that they just can't quite get the same knife, and some of their attempts are humorous. I'll try to include some of those in my book as well.
The important thing is that I'm honored that you are here, whether a prospective client looking for your ideal knife, a knife enthusiast simply exploring, or a maker or manufacturer studying trends and directions. You must believe you will find something of value here, and I'm honored by that. I'll do my best not to disappoint. I'll try to make sure that every time you visit, you notice designs and patterns you haven't seen before and new linked photos of completed knives made to that pattern.
I also want to encourage you to research, read, and enjoy the rest of my website. I have made the largest, most functional and accurate website ever made by any knifemaker in the world. If you think I'm boasting, please understand that I'm simply proud of the work God has given me in this life. To Him goes all the credit, every single bit!
On this website, you will see
The largest, most comprehensive Knife Anatomy page in the world
The largest, most comprehensive Knife Definitions dictionary in the world
The largest, most detailed Knife Blades page in the world
The largest, most detailed Knife Blade Heat Treating and Cryogenic Processing page in the world
The largest, most comprehensive Military, Tactical, and Combat Knives page in the world
The largest, most comprehensive Counterterrorism Knives page in the world
The largest, most comprehensive Knife Sheaths page in the world
The largest, most comprehensive Gemstone Knife Handles page in the world
The largest, most comprehensive Knife Bolsters, Guards, and Fittings page in the world
The largest, most comprehensive Wood Knife Handles page in the world
I could go on and on, and what I want you to know is that you are at the very best singular knifemaker's website in the world. Welcome to my world, the world of fine, handmade, custom knives!
Thanks for being here!
Back to Topics
Pattern Name List
I've continued to peruse your site and have shown several of my associates the incredible work. I'm a CPA, former clinical psychologist, and have brought in some of my attempts from the shop. They now understand what real quality is, and what "messing around" is as well. I told my partner that if you had lived in Florence during the Renaissance, we would probably know of you as Donatello or Bruilessci or one of the major artists with that gift for perfecting the tiniest detail.
I look forward to keeping up with your new work and selecting just the right piece for my office.
--P.C.
---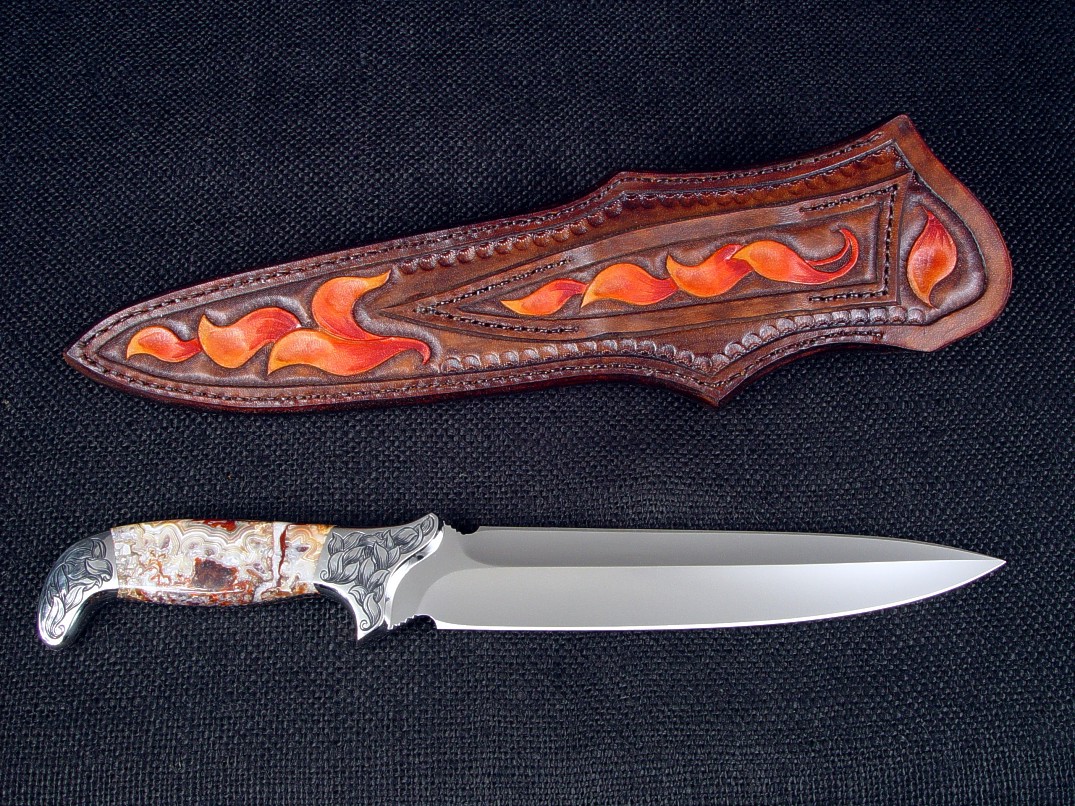 Moreabout this Kotori
---
What you'll see here now
This is an active count, updated every website update:
528 patterns on this page!
99 groups of patterns!
1004 links color keyed in BLUE: to completed, annotated photos of knives!
520 links color keyed in GREEN: to featured individual knife pages!
Back to Topics
Pattern Name List
What kind of knife do you want? Most people want something different, not the same old four-inch drop point with a stag handle or the Bowie with stag and a flat guard. They see the same heat-colored damascus folders with mammoth ivory handle scales. Sure, I can make all those, but why make everything everybody else does?
---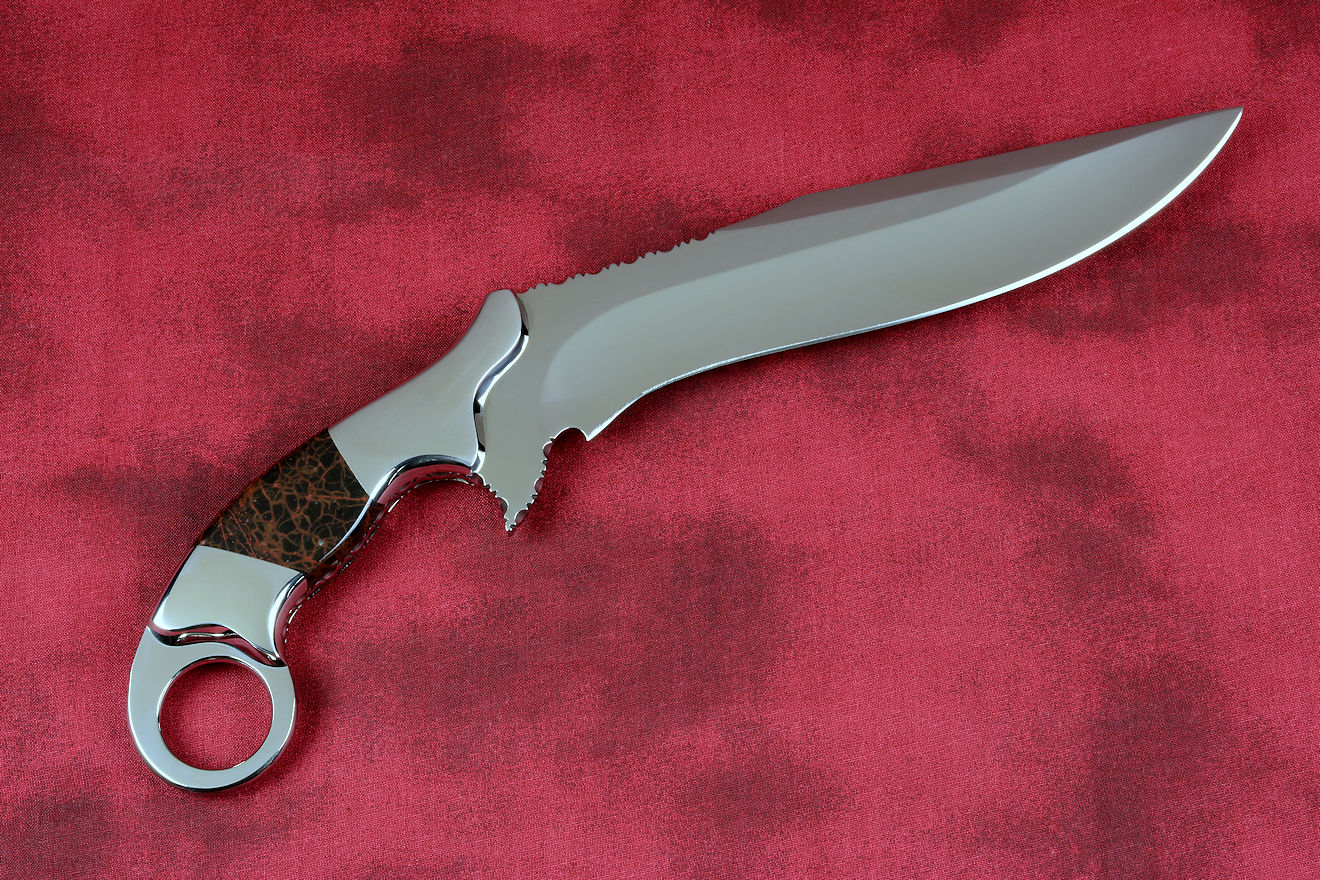 Argiopewith High Molybdenum Stainless Steel blade and Spiderweb Jasper gemstone handle
---
How to use this page
There are no distinctions between types of knives in the pattern group, such as utility, tactical, combat, or hunting, but if you're on this page you probably already know or recognize the different types. The scale in each pattern group photo has been included for reference, but I can resize any knife to your wishes. You can also choose a handle from one knife and blade from another for a custom design (a hybrid design). The knife patterns have grind lines and bolster outlines drawn on; these are just rough estimates of what the knife can resemble. Please know that to discourage direct copyright infringement, I've limited the size of the photos. In my book, I'll probably include enlarged, full sized patterns.
Knife names: listed to the right of the pattern group picture
Links to pictures of completed knives are in underlined blue text.
Individual Featured Knife Pages are linked in underlined green text
Additional pictures are linked by the "&" character after the name.
You may see some duplicates of links if the knife is a hybrid in both the blade and handle patterns
Some of the hybrid knife names vary from the original pattern name from which they originated
Rare or old knife pictures on my site can only be linked to and seen through this page.
Full Tangs: Patterns show profile of handle, blade and tang steel is one solid piece of steel from tip to tip.
Hidden Tangs: Patterns show a "stick" or "stump" at the handle location. Handles are independently shaped with a guard and threaded pommel, which can vary greatly. Use your imagination, and look at the linked pictures to the right of the pattern photo. Check out the knife anatomy page for more information on hidden tang knife handles.
Folding Knives: have a pivot dot in the center of the front bolster. Folding knives also have an (F) after the name.
Have the name of the pattern but don't know where to locate it on the patterns page? Look it up in the Alphabetic Pattern List here.
Back to Topics
Pattern Name List
---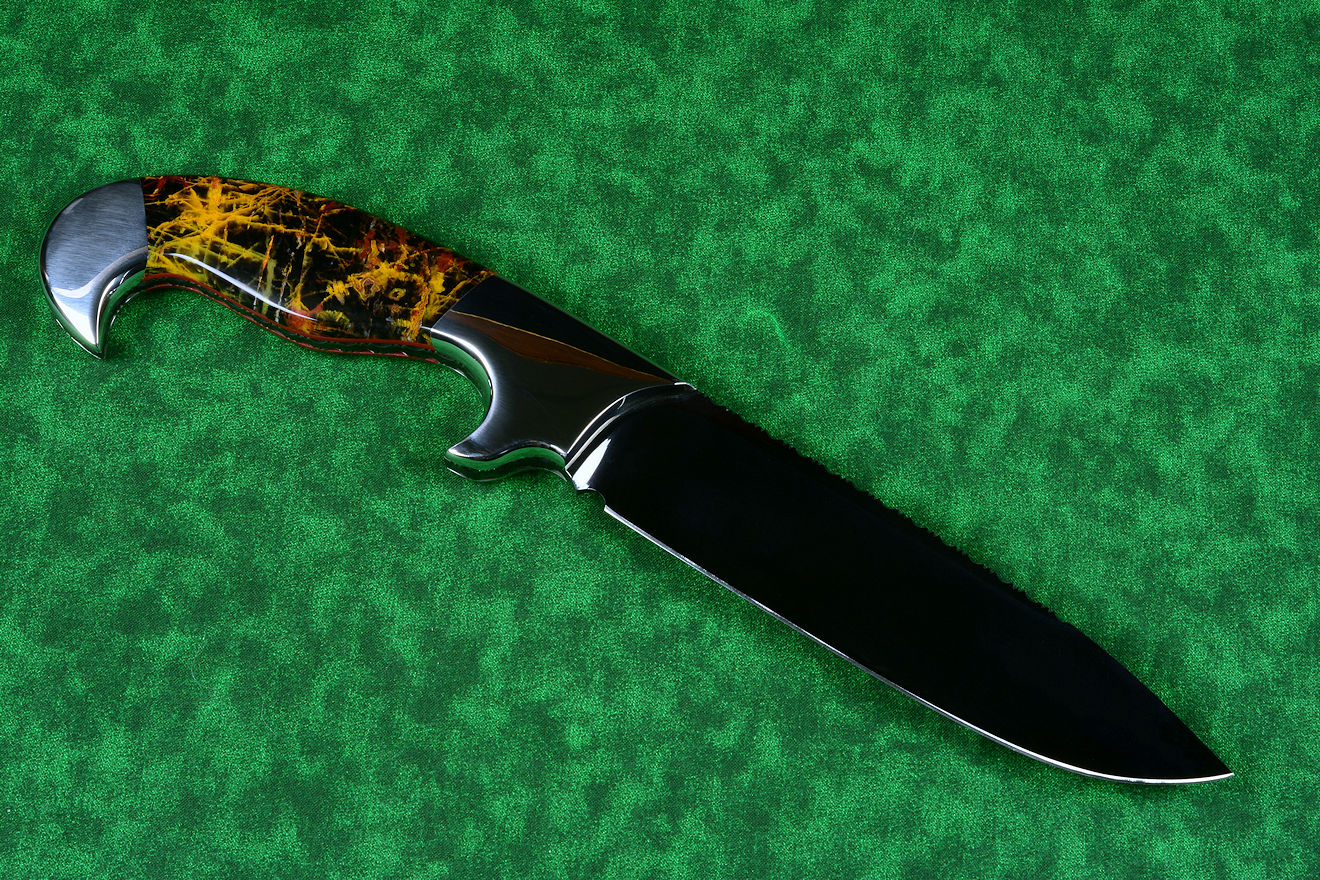 Quetzalwith Blued Steel Blade and Pilbara Picasso Jasper gemstone handle
---
Copyrights
These patterns, knives, and every image and word on this web site is protected with a registered copyright through the Copyright Office of the Library of Congress. More details on this page.
Thanks for respecting copyright laws!
Back to Topics
Pattern Name List
---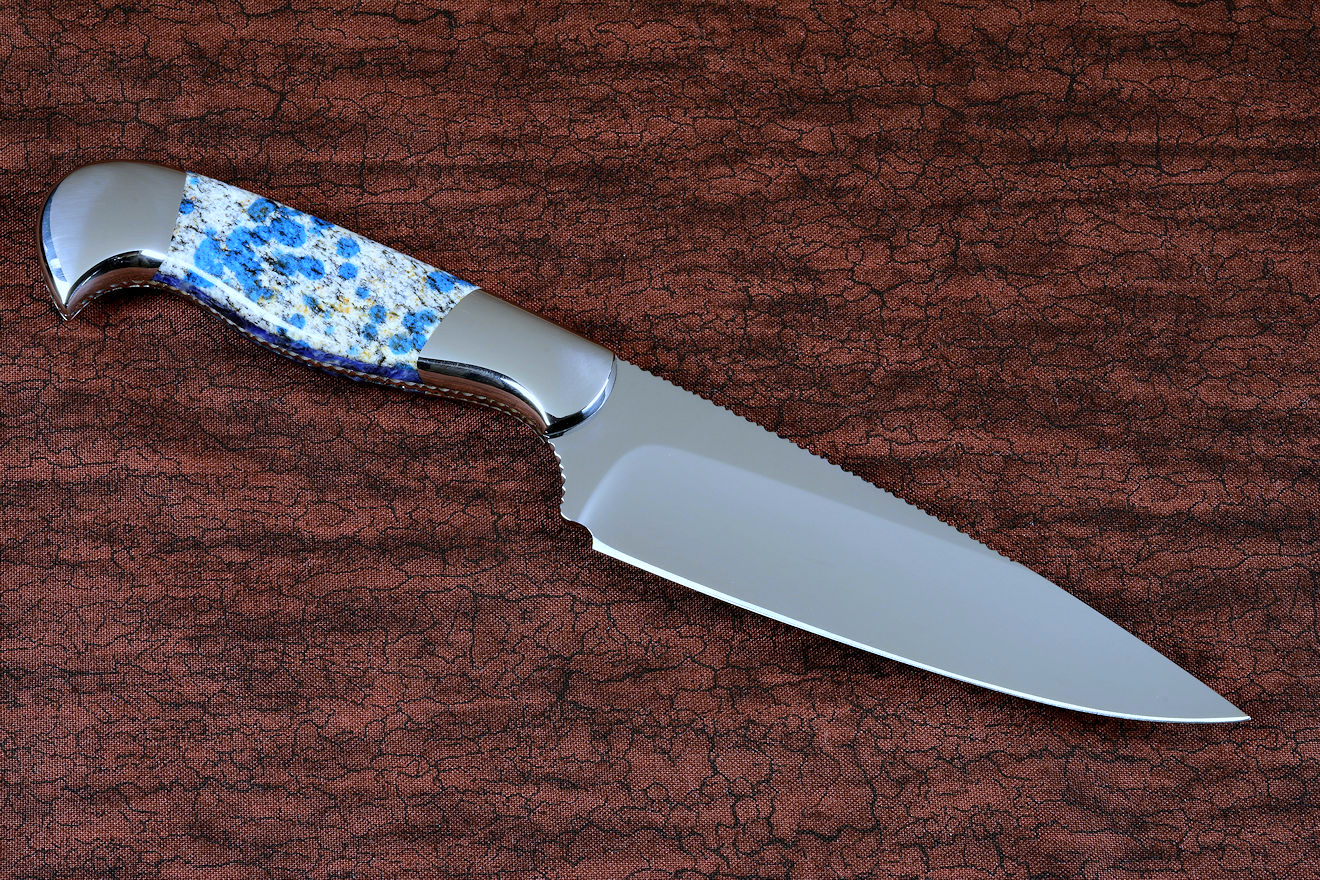 Andromedawith CPM 154CM blade and K2 Azurite Granite gemstone handle
---
Prototype Examples
Here are a few examples of patterns with completed knives. Please click on the thumbnail knife photos for enlargements.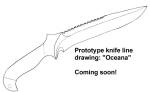 Oceana pattern
Back to Topics
Pattern Name List
---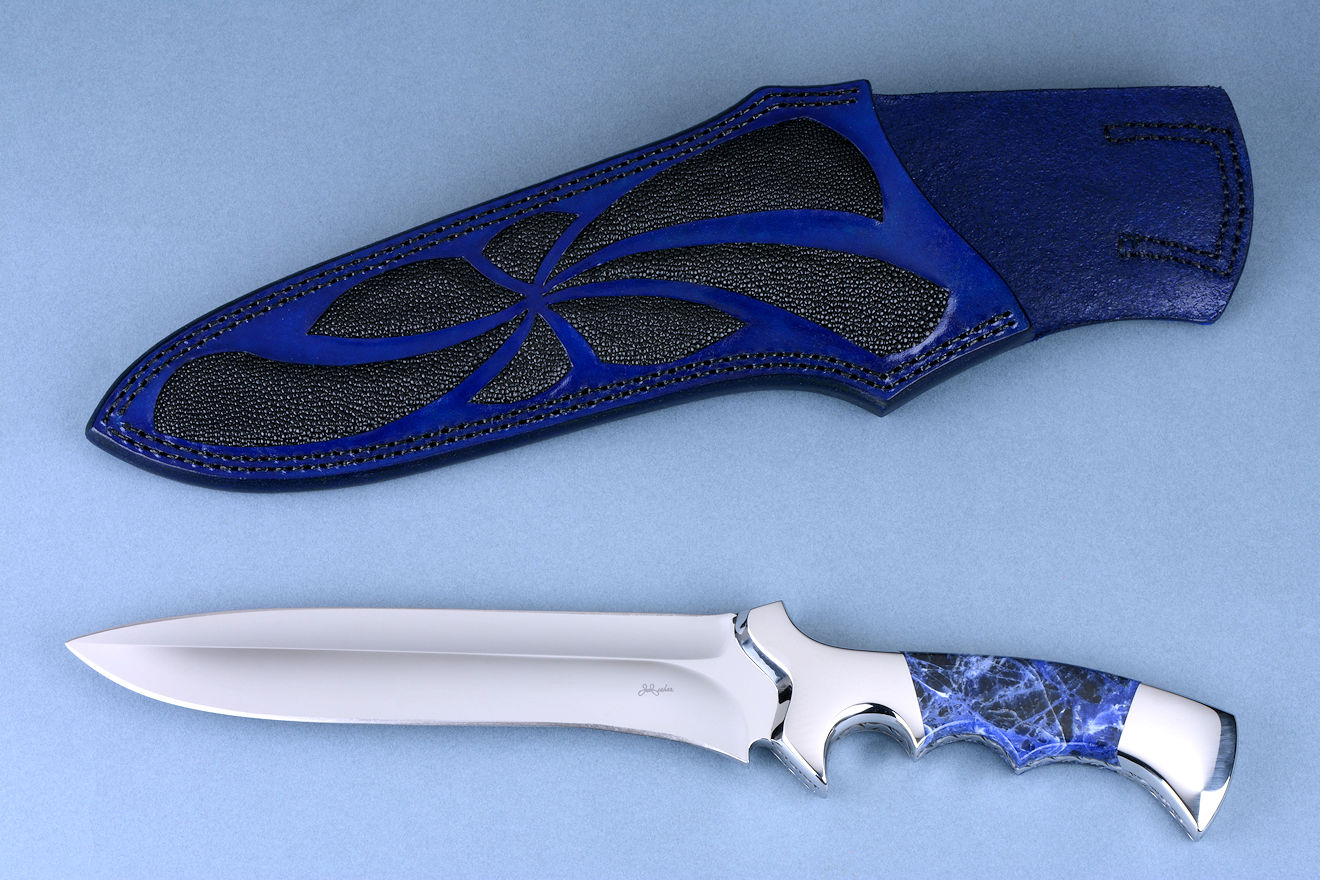 Kadi with cryogenically treated 440C martensitic stainless steel blade and Sodalite gemstone handle
Back to Topics
Pattern Name List
---
Why do the best knives have names?
It's true, the best knives have names, not model numbers. A model number is just a number; it's a cold, impersonal registration of one of a long line of repetitive patterns, suggesting a factory has produced all the numbers leading up to the model, and will crank out a never ending list of cloned numbered pieces after that number. Your numbered knife is somewhere in the monotonous string of digits.
A name personalizes the custom handmade knife. It adds to the knife's flavor, animation, and style. It defines the knife by purpose or intent. While I try to stay away from knife names like Slasher or Stabber, there is some mystique in a name like Bulldog or Ladron. Incidentally, the name Bulldog comes from the Bastogne Bulldogs of the 101st Airborne, the Battalion of my son, and their mascot. He designed this fine knife for combat use and carried it in a couple combat tours in Iraq. Ladron is named for a mysterious singular mountain in south central New Mexico, and it is the Spanish word for thief. It was a favorite area to hike when I lived nearby, and I would have loved to carry "Ladron" the knife there.
Many of my knives have southwest and specifically New Mexico place names. The Land of Enchantment has a flavor that suits artistic creation, and the place names seem appropriate. I've lived here nearly all my life, and I try to honor those many memories with a fitting name to a matching style of knife.
You've probably noticed that many of my knife names originate in the stars, that is, they are names of stars in the cosmos. Many of these patterns are Gerry Hurst's, left to us when he died. He didn't have names or numbers for them, so in order to catalog them, my wife and I reached for names he probably would have liked, names of the heavens. Then, I carried on the tradition in new designs and even name some for features and areas on planets and moons in our own solar system. Somehow, cruising through the names, one will stand out as fitting and complimentary for a pattern. Take the name Horrocks. It's a crater system on the moon. The name sounds like a powerful warrior, so how could it be more fitting for a large, heavy, curved combat knife? A pattern designed for a Personal Security Detail in Iraq is named Macha (Maax-ah), named for a Celtic Goddess, a protectress in war as in peace, a goddess of war and death. She has cunning, sheer physical force, and dominance over men. How fitting for this specialized CQB knife made for protection and defense.
You might notice some Israeli names on the list as well. These are counterterrorism knives, knives designed and created with the direct input of the Israeli National Police/National Defense Force YAMAM unit members. They are widely considered as some of the very best counterterrorism units in the world, and it's an honor to design and make knives with their input. A knife that stands out is the Ari B'Lilah, which means "Lion of the Night," and these tactical assemblies and ensembles feature all the gear necessary for nighttime operations.
Some of the names on my patterns are the names of our grandchildren. I'll bet you can't tell which ones. Hint: no, it's not Draco! Some of the later models were designed with the input of those very grandchildren. For instance, the Tanker was designed by my grandson who serves in the United States Army and drives an M1A2 Abrams tank, using the knife for his needs there.
Some names describe the blade shape itself, like Sheepsfoot, or Reverse Paring, or Half Moon Skinner. Other names describe the use of the knife like Game Set: Caping, or Carving. Other names bear the names of the designer who worked with me on the design of the knife, like Sanchez,Berger, or Gibson Trailhead. You'll also see the designation Magnum on a few of the blades. These are larger evolutions of an original design, for example the Nihal Magnum is a larger combat version of the Nihal. Other knives are hybrids, combinations of the blade of one knife and the handle of another. Their names are hyphenated, like Cygnus-Horrocks.
There is usually more information on the name on the individual featured knife pages included as the green links below. On those pages, you'll see much more information and many more photos of the individual knives. If you want to index or locate a knife by name only, you can do this through my Alphabetic Knife Pattern List page, or my Table of Contents page.
The neat thing to know is that a name gives a custom handmade knife personality. We are creatures of words, and words mean things. Our language is more than just a way to share and express, it is a way to characterize, personalize, and animate those objects we use, cherish, and ultimately leave behind.
Back to Topics
Pattern Name List
---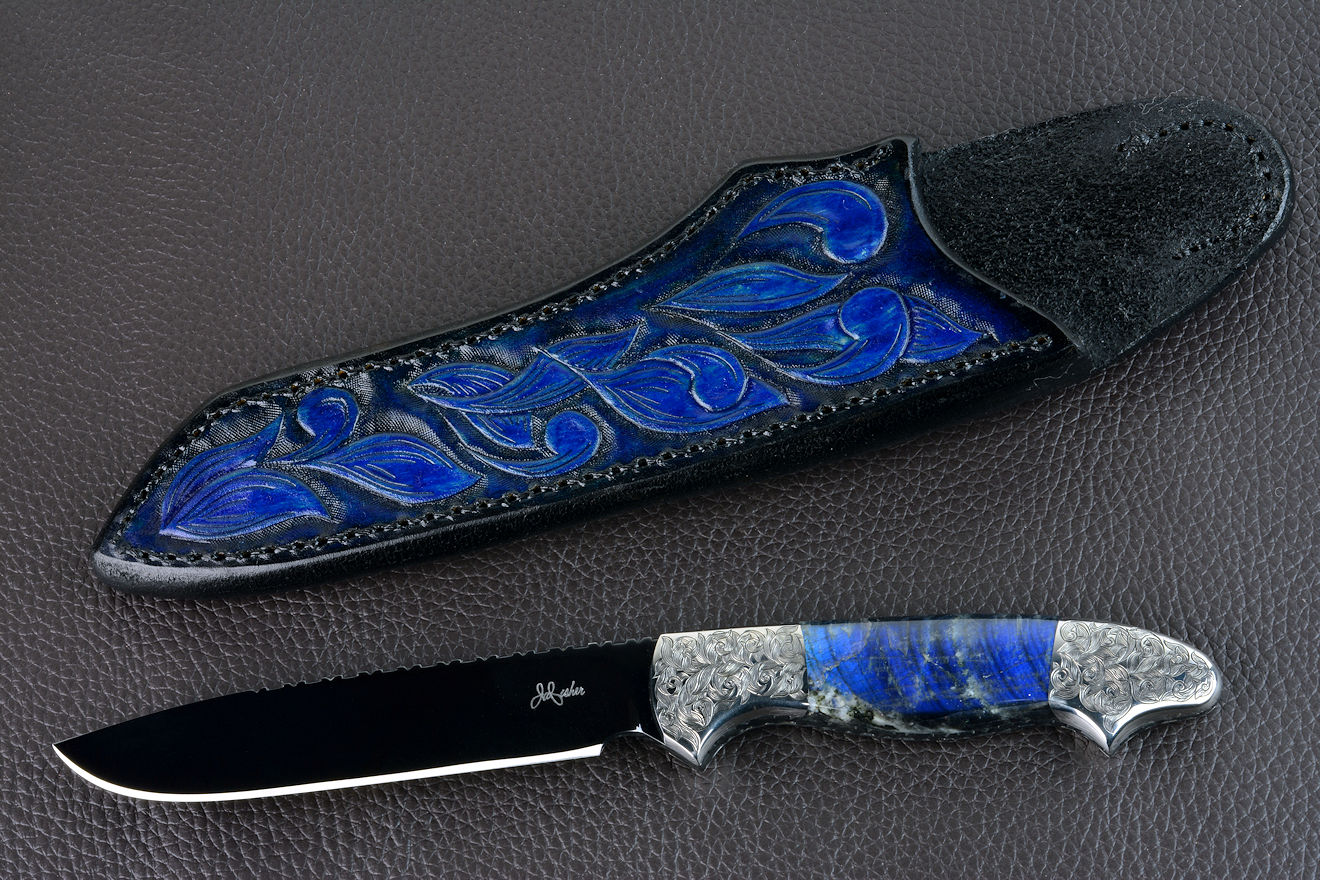 Moreabout this Carina
---
Other related pages on this site:
Here are some other important and related links that you may find useful.
---
Back to Topics
Pattern Name List
---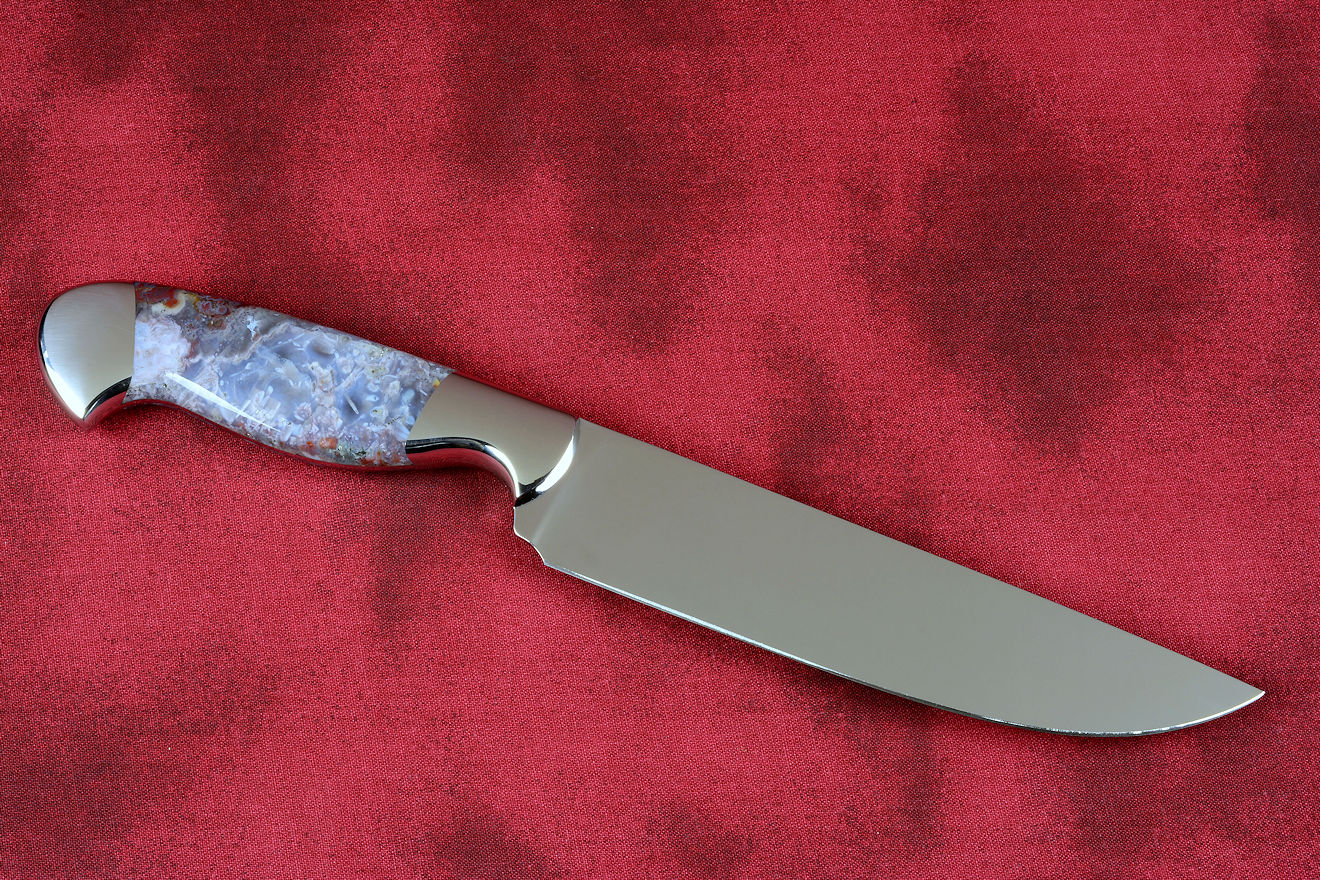 Operewith 440C martensitic stainless steel blade and Bay of Fundy Agate gemstone handle
---
Custom Knife Patterns and Photographs
Note: some of the photographs that are linked at the knife pattern names are old, photos that were taken many years ago, with chemical photo processing, back in my early knife making days. Some of them were scanned from lower quality prints, or directly from old negatives. Please forgive the quality of the older photos at the hyperlinks.
I've included some photos of recent knives for your interest. Thanks for being here!
Group 3



Topics

Reverse Paring
Alamosa
Blanco
Pecos, &
Jemez, &, &, &, &
Mule, &, &, &, &
Muleshoe, &, &
Group 5



Topics

Maple Seed
Firefly, &, &, &
Paring, &, &, &, &, &, &
Boy's Knife
Random Access, &, &
Coyote, &
Back to Topics
Pattern Name List
---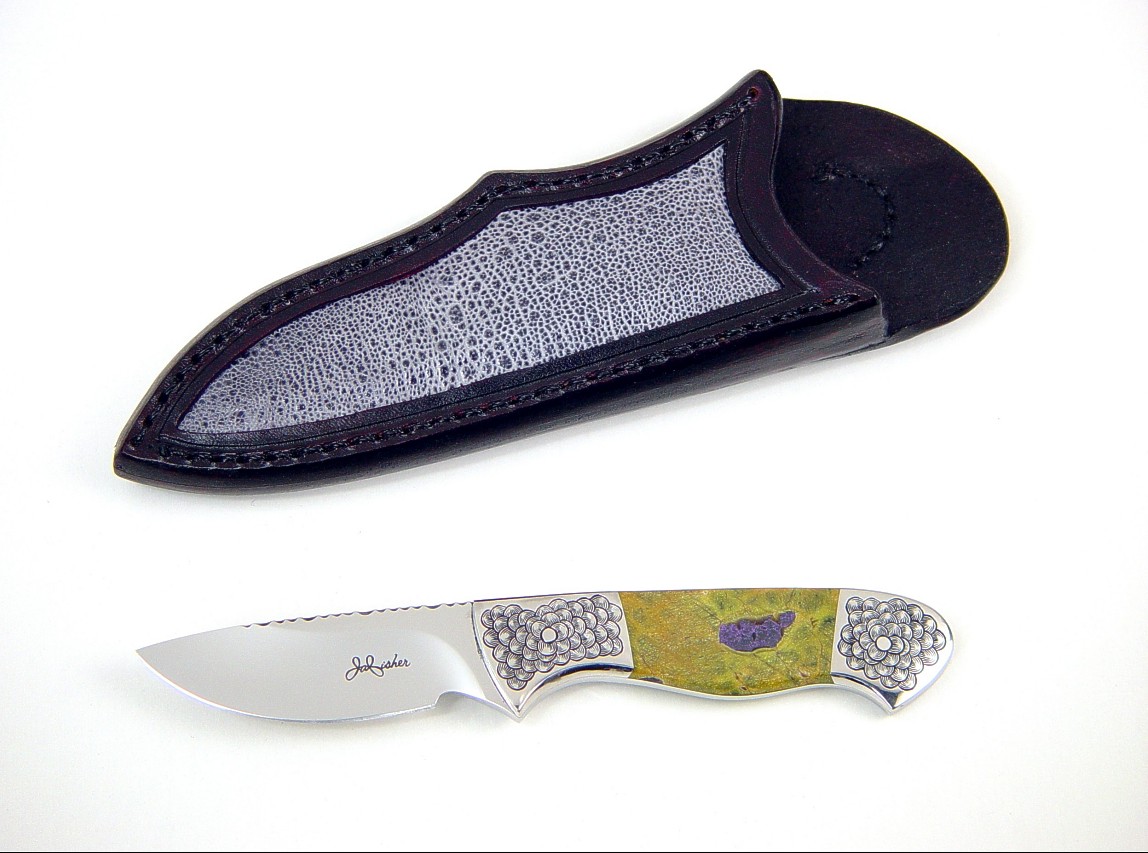 Moreabout this Pyxis
---
Group 6



Topics

Trophy, &, &, &
Scrappy
Roadrunner, &, &
Seafarer, &
Pecos 2, &, &, &, &, &
Ruidoso, &, &
Horseman, &, &
Group 7



Topics

Durango, &, &, &, &, &, &, &, &
Rio Salado, &
San Juan
Butch
Corona
Corona Gordo
Group 9



Topics

Continental Divide
Cibola
Prairie Coyote
Spear Point
Santa Fe, &, &, &, &, &, &, &, &
Bosque, &, &, &, &
Group 10



Topics

La Cocina, &, &, &, &, &, &, &, &, &, &, &, &, &, &, &, &
Chimayo, &
Rio Grande, &, &, &
Mescalero
Last Chance, &, &, &, &, &, &, &, &, &, &, &, &, &, &
Back to Topics
Pattern Name List
---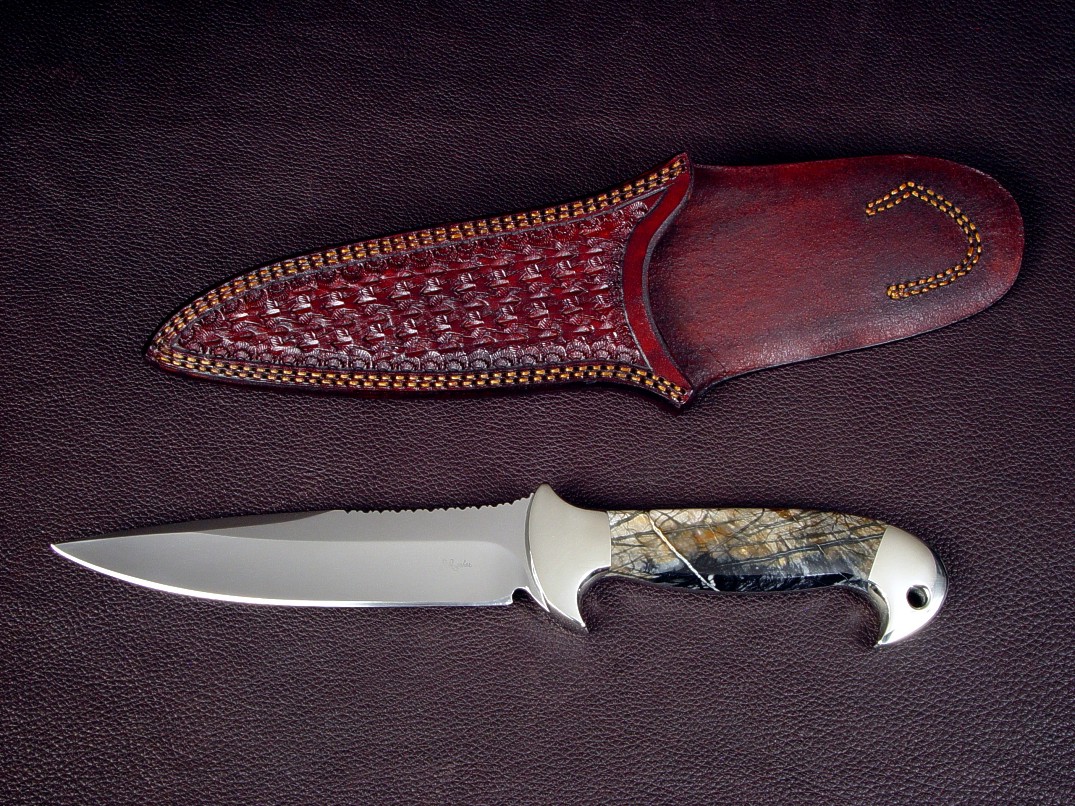 Moreabout this Cygnus-Horrocks Magnum
---
Group 13



Topics

Ocate, &
Falcon
Police Special
Cabresto, &, &
Shank, &, &, &, &, &, &
Group 15



Topics

Magdalena, &, &, &, &, &, &, &
Mariner, &, &, &, &, &
Night Crawler, &
Creature, &, &, &, &, &, &, &, &, &, &, &, &, &, &, &, &, &, &
Sanchez, &, &, &, &, &, &, &&, &, &, &, &, &
Boning, &, &, &, &, &, &, &, &
Back to Topics
Pattern Name List
---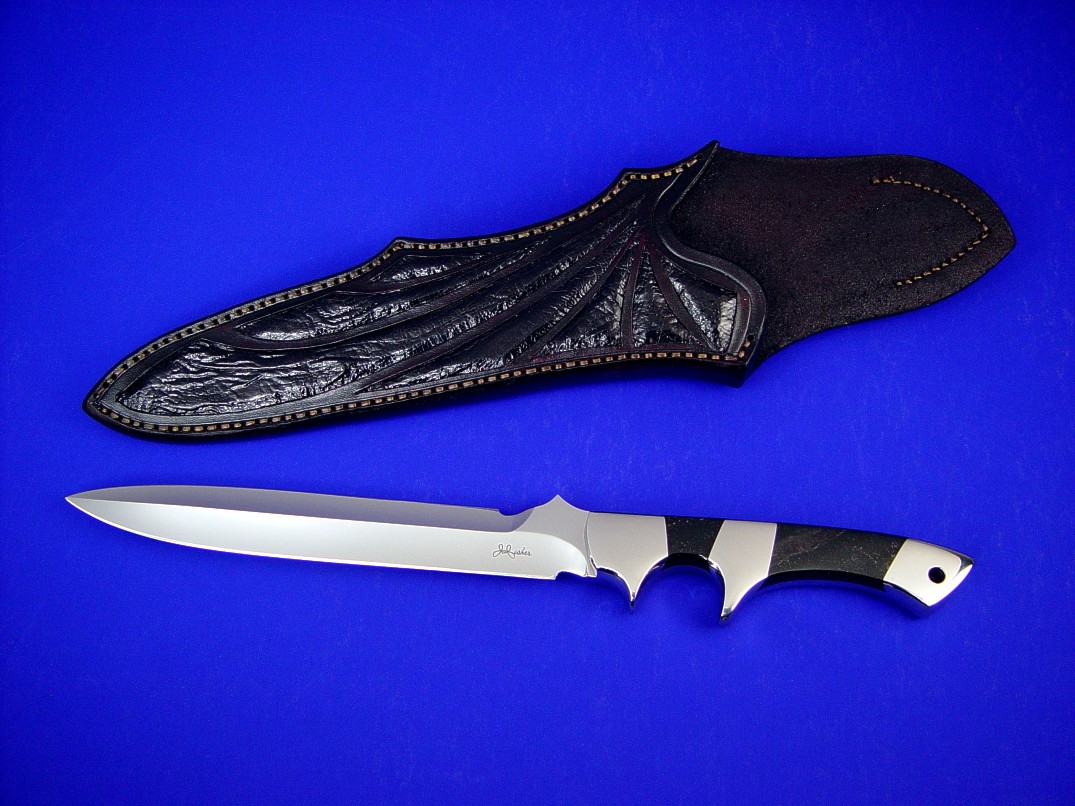 Moreabout this Vespula
---
Group 17



Topics

Treaty Maker LT, &, &, &, &
PJLT, &, &, &, &, &, &, &, &, &, &,&, &, &, &, &, &, &, &, &, &, &, &, &, &, &, &, &, &, &, &, &, &, &, &, &, &, &, &, &, &, &, &, &, &, &, &, &, &, &, &, &, &, &, &, &, &, &, &, &, &, &, &, &, &, &
Kight, &, &, &, &
Carving
Oasis
Prairie Falcon, &, &, &, &, &, &
Group 18



Topics

Paraeagle, &, &, &, &, &, &, &, &, &, &, &, &
French Chef's, &, &, &, &, &, &, &, &, &, &
Bone
Desert Storm, &, &
Fisher's Fillet
Bread, &, &, &, &, &, &
Group 19



Topics

Golden Eagle, &, &, &, &, &, &, &, &, &, &, &
The Uncommon Chef
Boar Knife, &
Hiruko
Patriot,&, &, &, &, &, &, &, &, &, &, &, &
Sabertooth
Back to Topics
Pattern Name List
---
Moreabout this Tribal Helhor
---
Group 21



Topics

The Kid, &, &, &, &, &, &, &, &, &, &, &
Taos, &
Classic Dagger, &, &
Group 22



Topics

Wedding Knife
Chef's Knife (Cleaver)
Group 23



Topics

Ultra Magnum
Pararescue, &, &, &, &, &, &, &, &, &, &, &, &, &, &, &, &

Zorya, &
Patriot (Locking), &, &, &, &, &, &, &, &, &, &, &, &, &, &, &
Midnight Tactical, &, &, &, &, &
Group 24



Topics

Wardlow,
Handle (Aeolus): &, &, &, &
Ladron, &, &, &
Aborigine, &
Vietnam Veterans (also called Jungle Bowie), &, &, &, &, &, &, &, &
Treatymaker, &, &, &, &
Back to Topics
Pattern Name List
---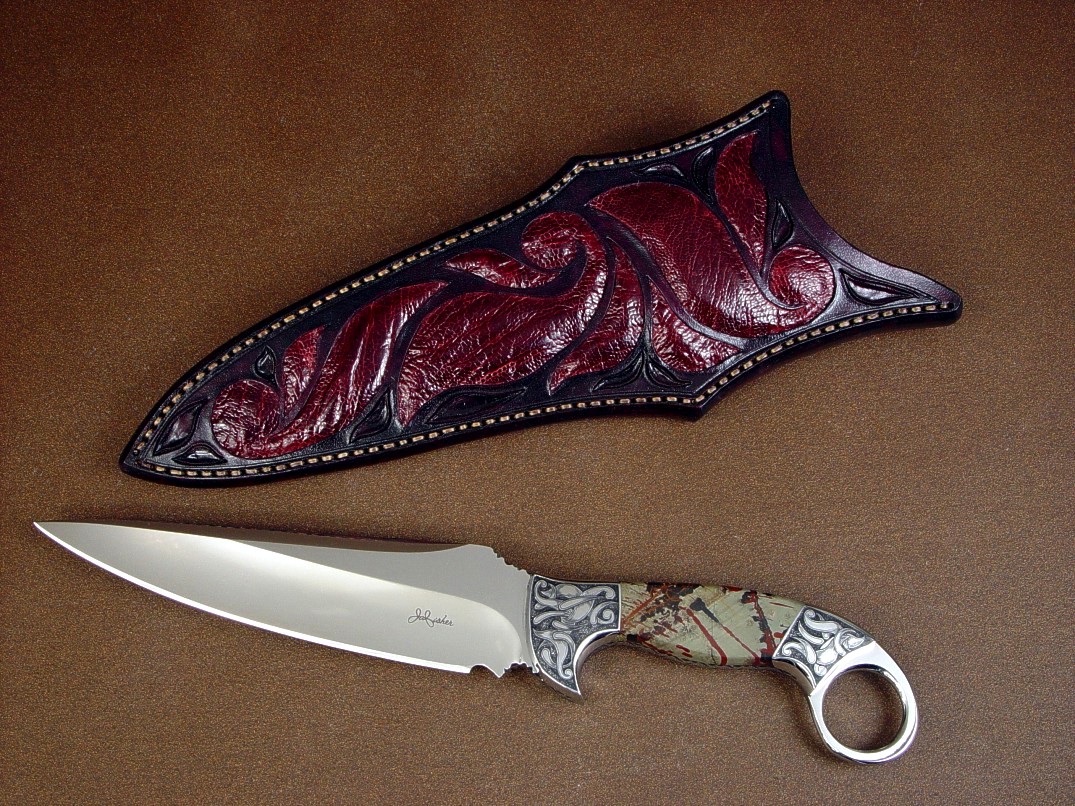 Moreabout this Bulldog
---
Back to Topics
Pattern Name List
---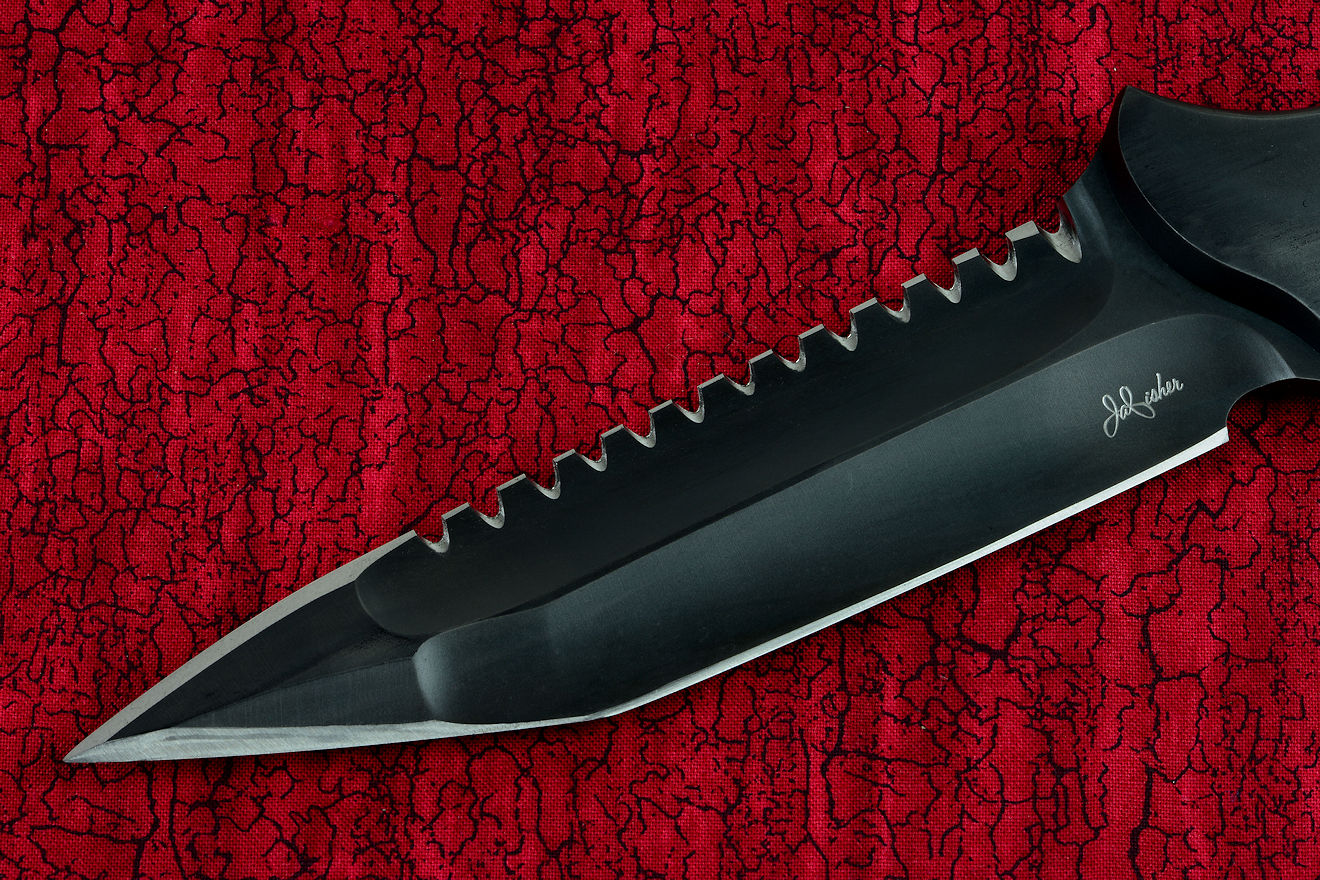 Ghost Slate stainless steel blade of this Ari B'Lilahcounterterrorism knife
---
Group 31



Topics

Nihal, &, &, &, &, &
Ruchbah
Eta (F)
Iota (F)
Pyxis, &
Nunki, &
Nekkar, &, &, &
Group 35



Topics

Grus, &, &, &
Lyra
Regulus, &, &, &
Izar, &, &, &, &, &, &, &, &, &, &, &
Mizar, &
Perseus, &
Pherkad, &, &
Back to Topics
Pattern Name List
---
---
Group 37



Topics

Dschubba
Carina, &
Thuban, &, &, &, &, &, &, &, &, &, &, &, &, &, &
Mintaka (F)
Yed
Malachi (F)
Aurora, &
Group 38



Topics

Trifid, &, &, &
Tarazed, &, &, &
Canis
Bootes, &, &, &
Zosma
Kochad
Acamar, &
Group 39



Topics

Cetus
Talitha, &, &, &, &, &, &, &, &
Zavijava
Fornax, &
Phact, &, &, &, &
Deneb, &
Wasat, &, &, &, &, &
Back to Topics
Pattern Name List
---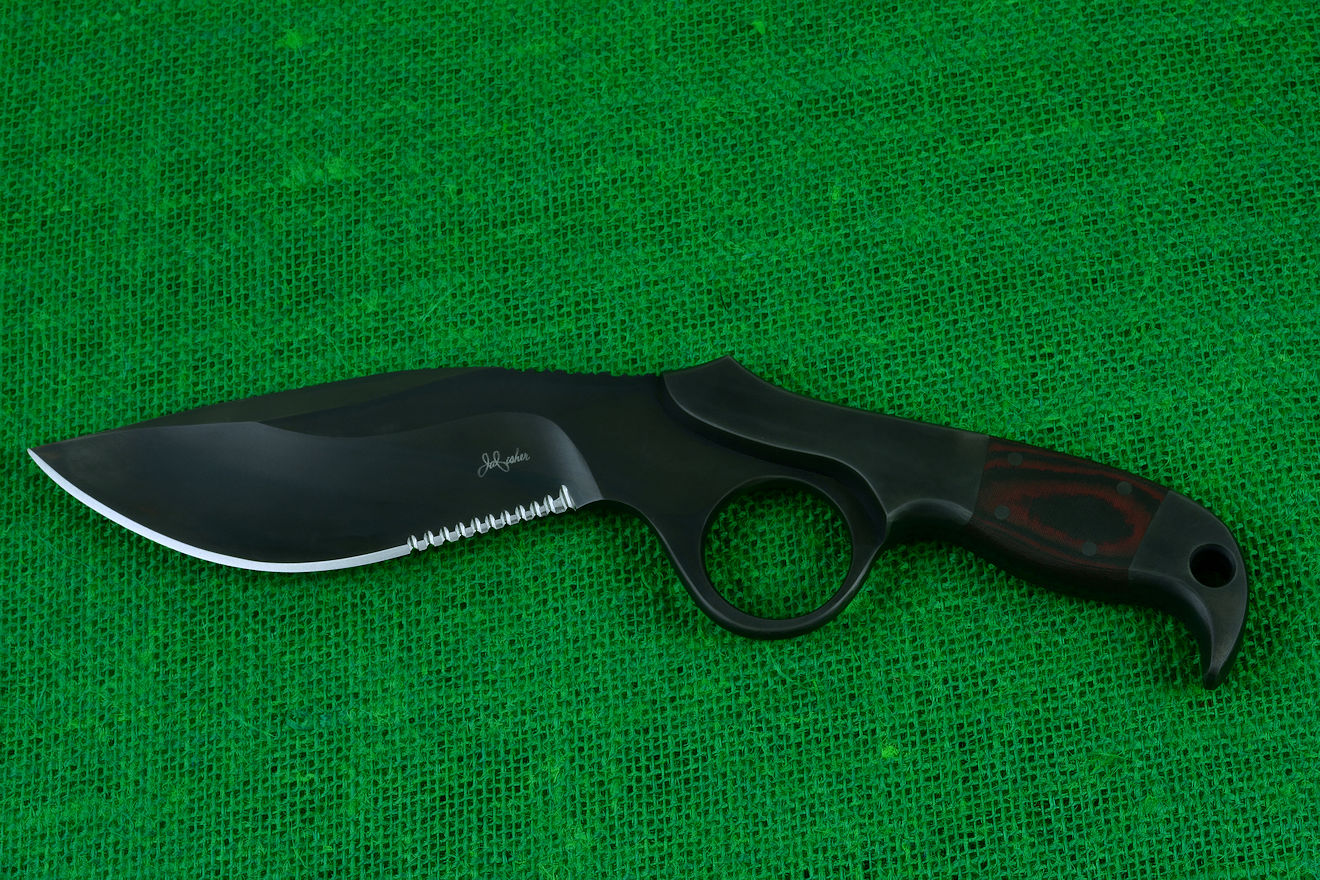 KairosCounterterrorism knife with red/black Micarta handle
---
Group 41



Topics

Cygnus, &, &, &, &, &, &, &, &, &, &, &, &
Eridanus, &, &, &, &, &, &, &
Aldebaran, &, &, &, &, &
Aquila, &, &, &
Altair, &, &, &
Sabik
Andromeda, &, &, &
Group 44



Topics

Spica
Gemini(F), &, &, &, &, &, &, &, &, &, &, &, &
Libra (F)
Aries (F), &
Back to Topics
Pattern Name List
---
Hello Jay,
I'm contacting you to give a little review about your Orion knife.
I absolutely LOVE this knife! It appears much better in person than your photos give credit for. My camera is very bad and doesn't capture its true beauty at all.
It feels extremely awkward holding my other blades now. They just feel… weird. I love the intricate and ornate artistic elements on the handle, the blade shape, and the designs on the sheath. The most important thing is both are much more solid than any blade and sheath I've had before. The entire thing is amazing, and there are no flaws, major or minor, that I can see. The knife is pretty heavy, but I like the weight to knives if done right. (And here's a hint: you did it right!)
There is nothing I have that compares to the extreme quality that this knife has.
I can appreciate art very much, being an artist myself. I appreciate all the work, time, and effort that is put into any form of artwork. You are an excellent knife maker with excellent service.
I wish you well on your knife making and for you to be able to work with your passion for as long as possible. Keep it up and don't ever stop!
Thank you once again,
-J. K.
---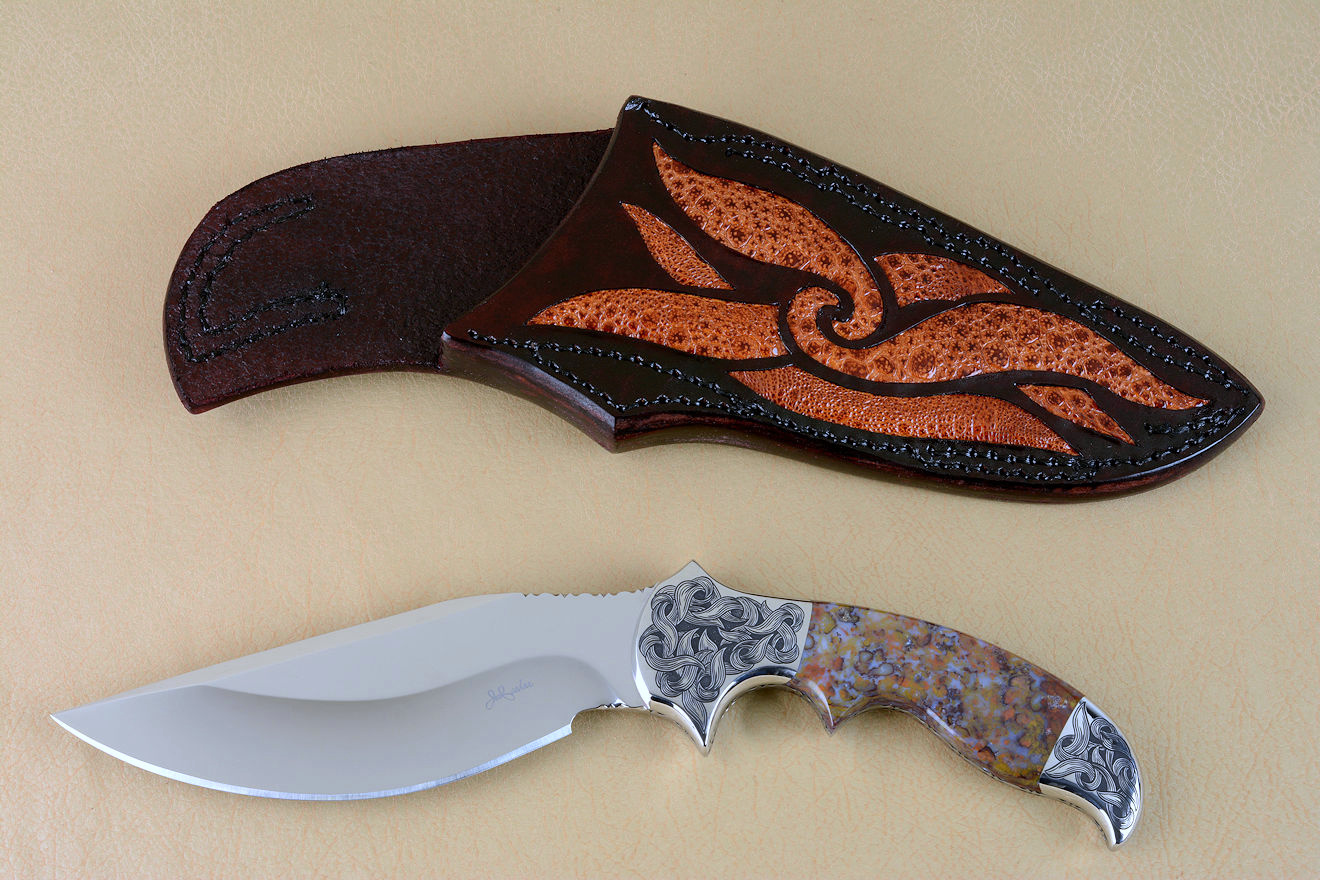 Moreabout this Orion
---
Group 48



Topics

Grim Reaper, &, &, &, &, &, &, &, &, &, &
New Orleans, &, &
Leaf Dagger, &
Hercules,
Blade (Aeolus) &, &, &, &
Back to Topics
Pattern Name List
---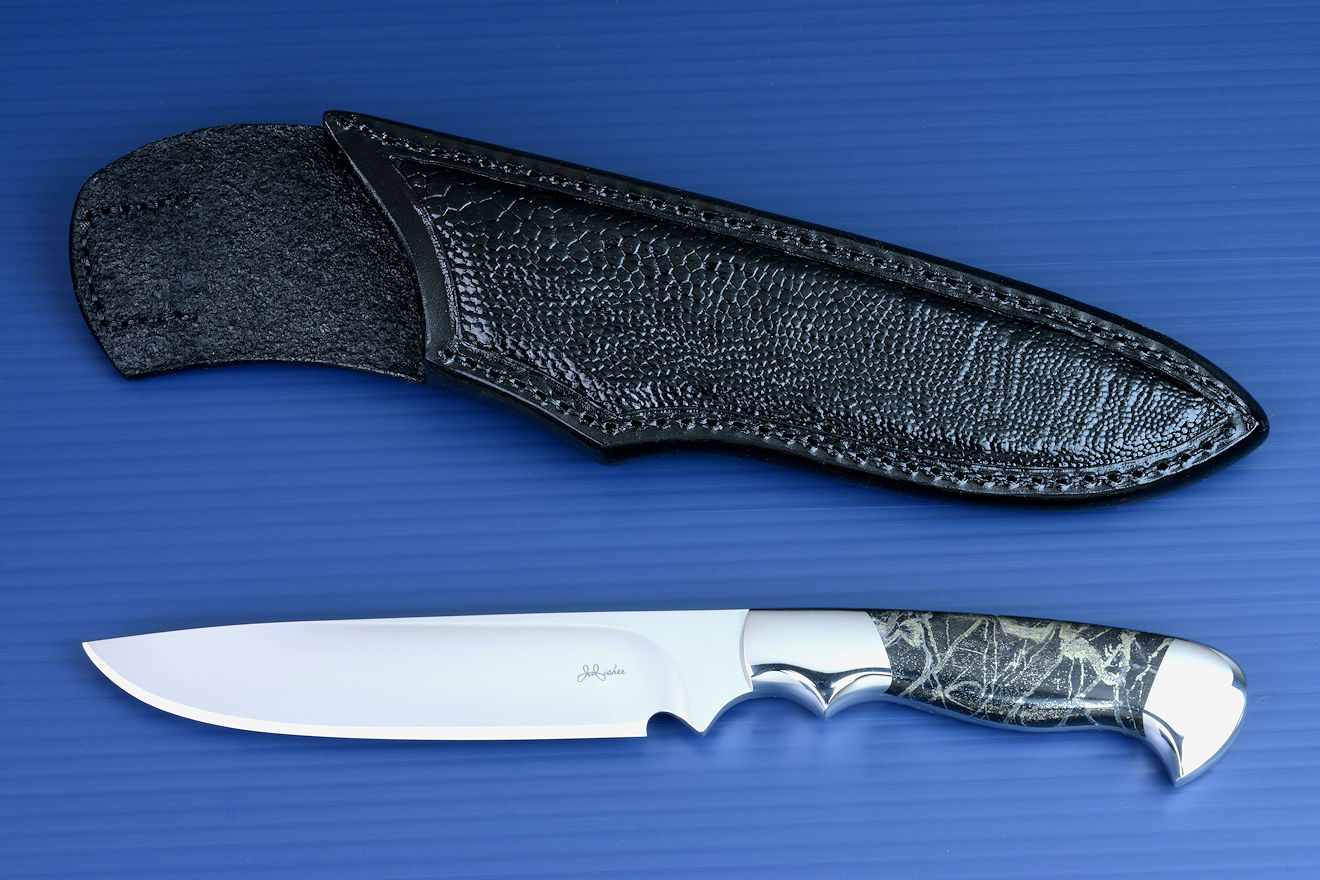 Aldebaranwith CPM 154CM powder metal blade and Golden Midnight Agate gemstone handle
---
Group 51



Topics

Tethys, &
Wardlow Kerambit, &
Raptor Kerambit, &, &, &, &, &, &, &, &
Triton Kerambit, &, &
Titan Kerambit, &, &, &, &, &
Group 52



Topics

Seahawk Marlinspike
Metis
Cattleman, &, &
Amethystine, &, &, &
Thebe
Markarian, &
Minuteman, &, &, &, &, &, &, &
Group 54



Topics

Vieta
Vitello
Vitruvius, &
Vega, &, &, &, &, &, &, &, &, &, &, &, &, &, &
Back to Topics
Pattern Name List
---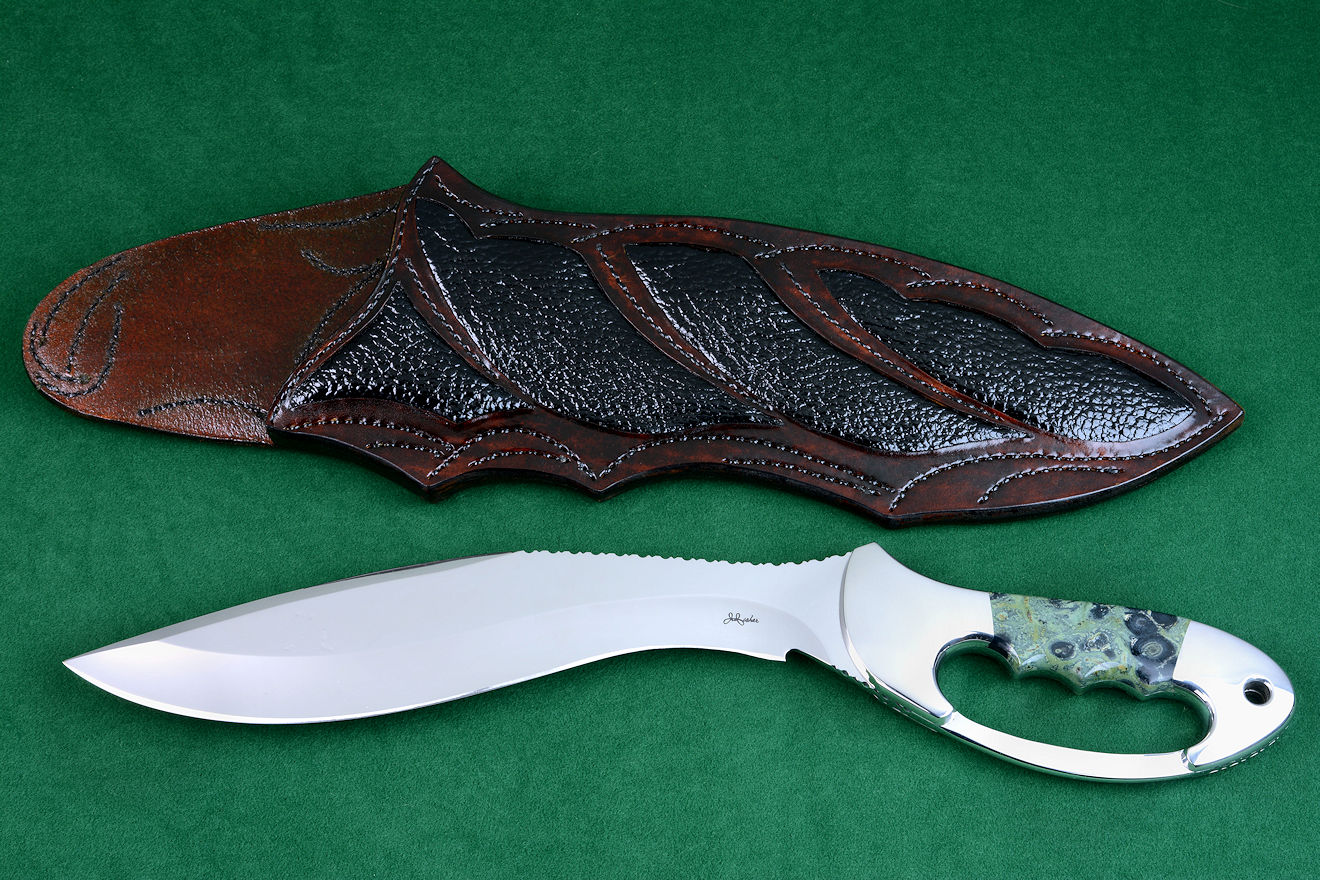 Anankewith ATS-34 high molybdenum martensitic stainless steel handle and Kambaba Jasper gemstone handle
---
Group 56



Topics

Gibson Trailhead, &, &
Nihal Magnum, &
Bulldog, &, &, &. &, &, &, &, &, &, &, &, &, &, &, &, &, &, &, &, &, &, &, &, &, &
Horrocks, &, &, &, &, &, &, &, &
Group 57



Topics

Stratos, & (F)
Diacria, &
Hooded Warrior, &, &, &, &, &, &, &, &, &, &, &, &, &, &, &, &, &, &
Tharsis, &, &, &
Cyane (Hestia)
Cyele, &, &, &
Group 58



Topics

Cygnus-Horrocks, &, &, &, &, &, &, &
Argiope, &, &, &, &, &, &, &, &, &, &
Oceana, &
Saussure, &, &, &, &, &, &, &, &
Sasserides, &, &, &, &, &, &, &
Group 59



Topics

Helicledes
Helicon
Kapteyn, &, &, &, &, &, &, &
Azophi, &
Macha, &, &, &, &
Group 60



Topics

Mercator, &, &, &, &, &, &, &, &, &, &
Cassini, &
Alegre, &, &, &, &, &, &, &
Clarau, &
Kinau, &,&, &
Back to Topics
Pattern Name List
---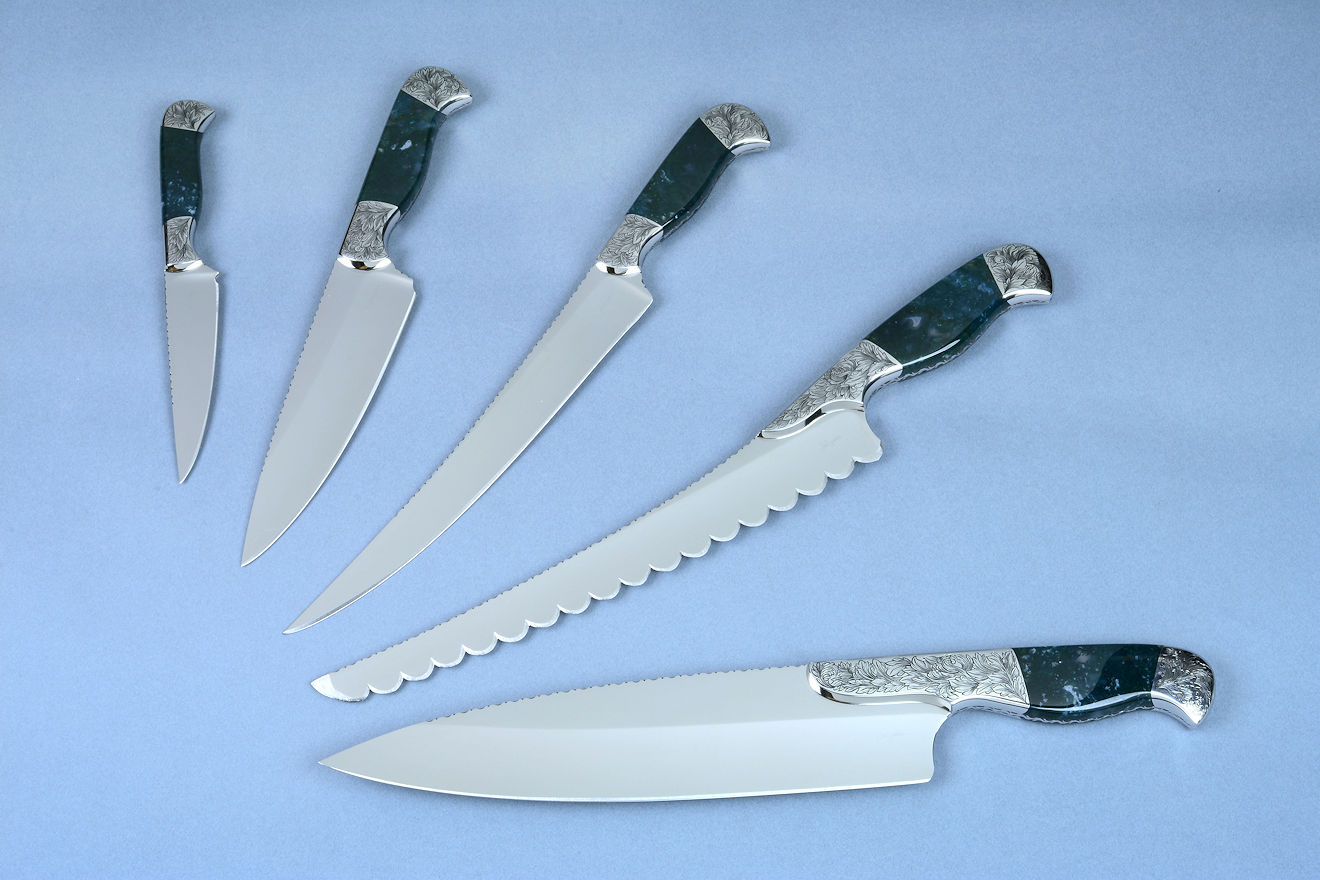 Cassiopeiachef's set in 440C cryogenically treated martensitic stainless steel and Indian Green Moss Agate gemstone handles
---
Group 61



Topics

Izanagi, &
Iraca, &
Izanami, &
Izumi, &
Flamesteed, &, &, &
Argyre, &, &, &, &, &, &
Group 62



Topics

Horus, &
Hortensius, &, &, &
Flammarion
Temujin
Phlegra, &, &, &, &, &, &
Group 63



Topics

Callisto, &, &, &
Arcas, &
Mercury, &, &
Mercurius
Mercury Magnum, &, &, &, &, &, &, &, &, &
Mercurius Magnum, &
Back to Topics
Pattern Name List
---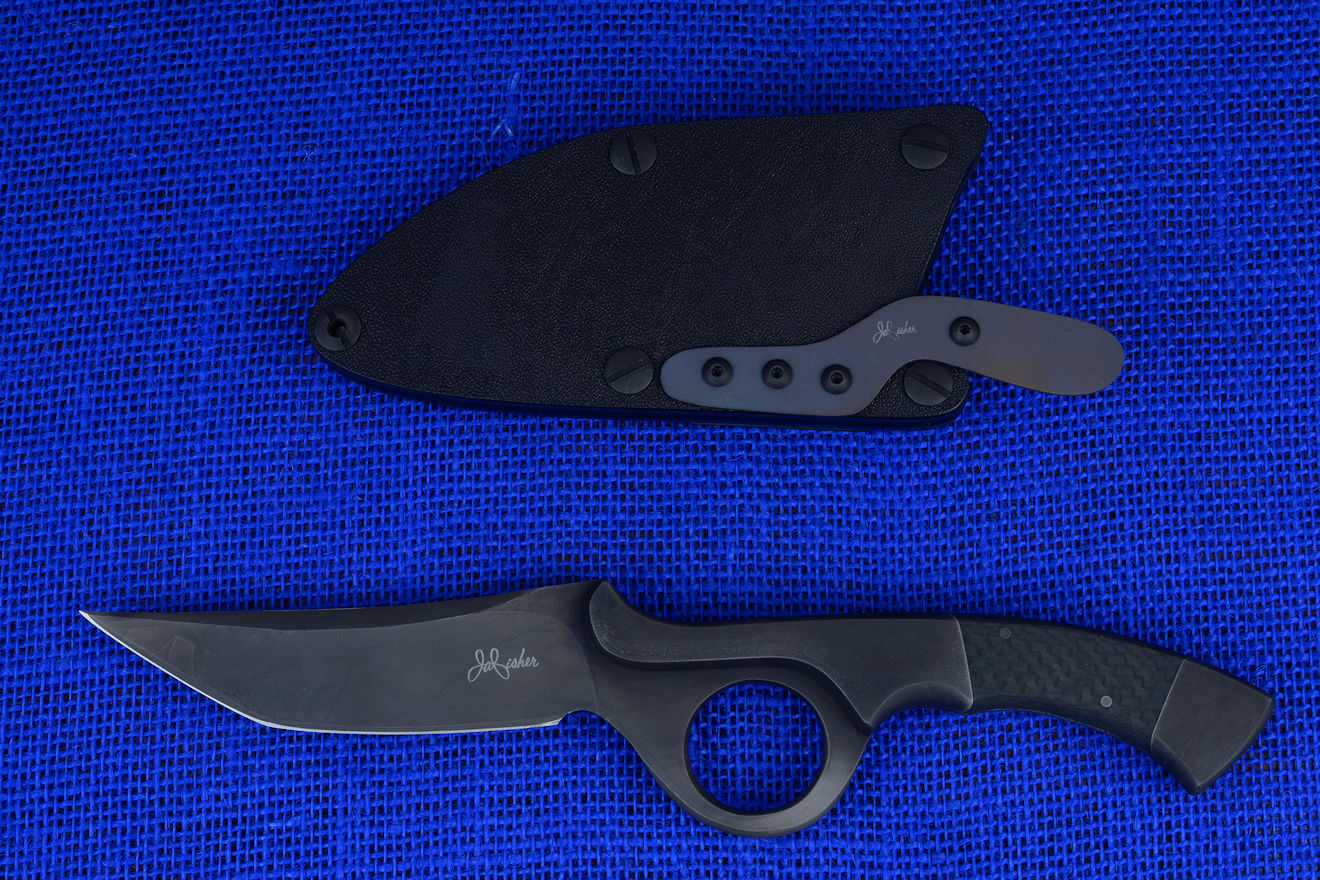 Celeritactical/counterterrorism knife with Ghost Slate stainless steel blade, carbon fiber handle
---
Group 68



Topics

Gibil
Sirara, &
Anzu, &, &, &
Malaka, &, &, &, &, &, &, &
Group 70



Topics

Laica
Lagus, &
Lacroix
Macha Navigator, &, &, &, &, &, &, &, &, &, &, &
Vespula, &, &, &
Back to Topics
Pattern Name List
---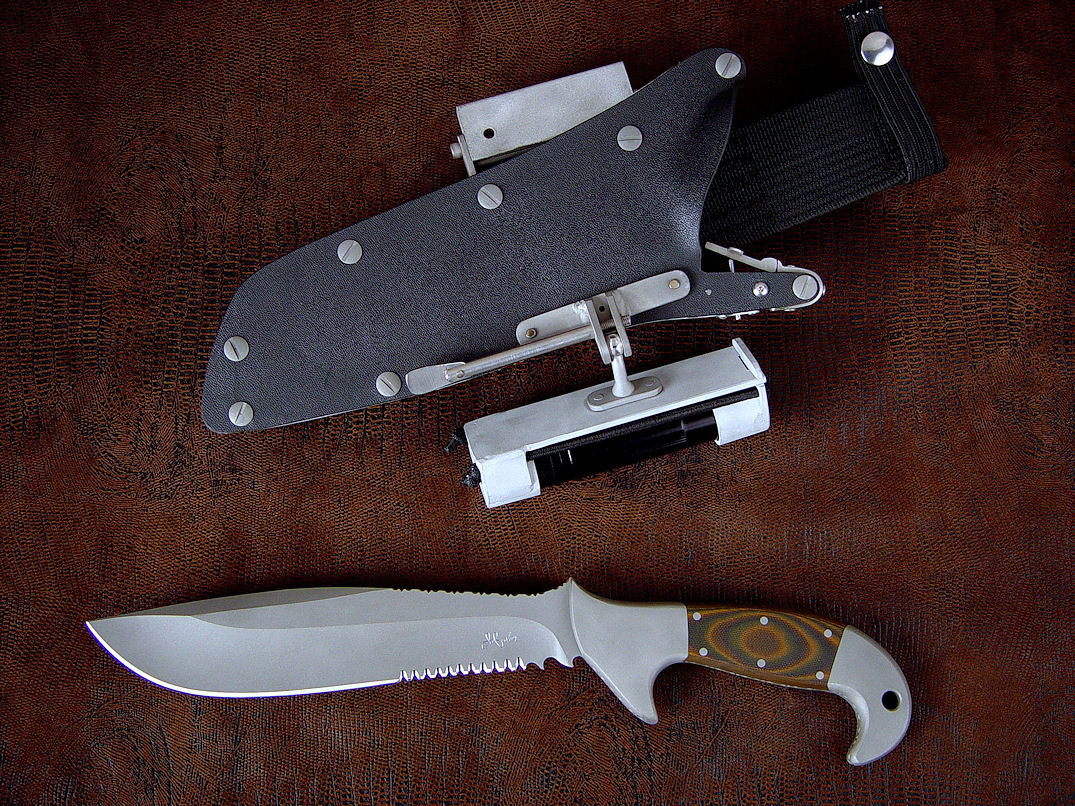 Moreabout this Imamu
---
Group 71



Topics

PJST (Seabee), &, &, &, &
Cybele, &
Nereid, &, &
Dagon, &
Sargon, &
Hathor
Group 73



Topics

Calisto Magnum, &
Macha Unguis, &
Arctica, &, &, &, &, &, &, &, &, &, &, &, &, &, &
Arabah, &
Arcturus, &, &, &, &, &, &, &
---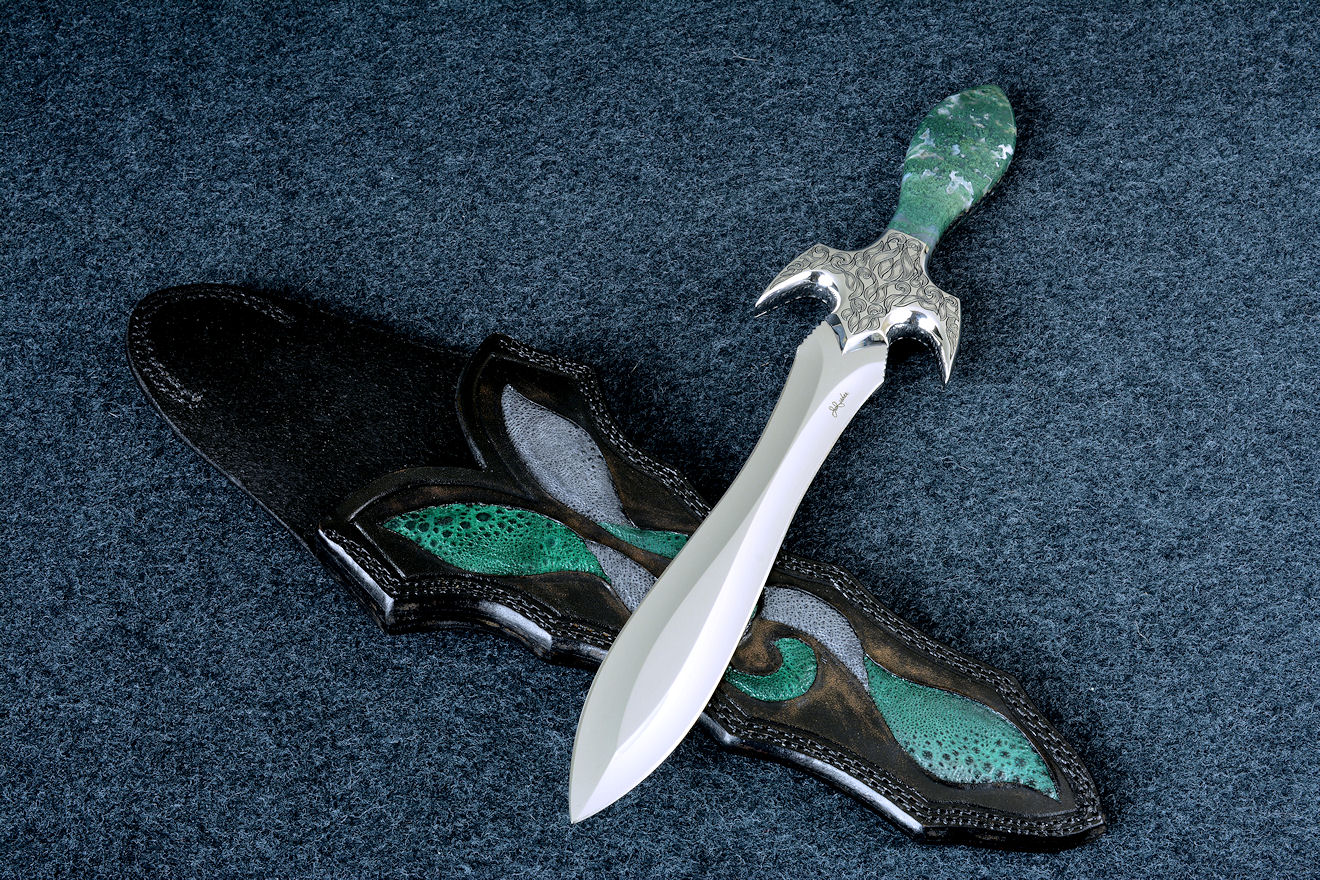 Moreabout this Achelous
---
Group 77



Topics

Madrid
Elysium (F), &
Procyon (F), &, &, &
Dumuzid
Vesta, &, &
Eunostus, &
Duhovni Ratnik, &, &
Group 78



Topics

Consus (Paring), &, &, &
Solano
Sirona, &, &, &, &, &, &, &
Bordeaux, &, &, &, &, &, &
Concordia, &, &, &, &, &, &, &, &, &, &, &, &, &, &, &, &, &, &, &, &, &, &
Conditor, &, &, &
Sours: https://www.jayfisher.com/Patterns_Knives_Custom.htm
Drawings, patterns and projects of fixed and folder knives
D. Comeau
Site with many profiles of knives in PDF format.
Lucland's drawings
PDF file from Mediafire with 48 Lucland's knives drawings.
Golem's drawings
Huge archive of projects in CAD format (DWG) and PDF posted by Golem and downloading from skydrive
Jay Fisher patterns
Online archive of hundreds of knives drawings by Jay Fischer.
Barry Wood
Attached project to the patent of the Wood's rotary knife. File PDF
OTF knife
Project of a switchblade front opening knife. File PDF
Push dagger
Project of a folding push dagger. File PDF
Lloyd Harding
100s of Knife Patterns. Download file ZIP
Bob Engnath
Knife Patterns. Download file ZIP
Lonepine
Lonepine's knives patterns.
Liner lock
Attached project to the patent of a liner lock with facilitated opening. PDF.
KMTs
kmts catalog with many knives drawings and profiles with measures. PDF.
Kukri
Article with profiles and dimensions of a Kukri. PDF.
Doriano
Downloads page of Doriano Giordanella's site with drawings and projects of folder knives. DWG and PDF files
Trenter
Knives drawings by Bob and Lisa Trenter. PDF.
Folders
Folder blades patterns. In french.
Contador's patterns
Knives patterns on Photobucket.
Sours: https://knifemaking.altervista.org/index_disegni_en.html
Knife Design 101 ~ How To Design A Good Outdoors Blade, Knifemaking, Bladesmithing Tutorial
.
Design pdf knife
.
Kitchen Knife Block - Free PDF Plan Download
.
Now discussing:
.
546
547
548
549
550