Dayton Audio B652 6-1/2" 2-Way Bookshelf Speaker Pair
They're tiny, but there's plenty about them to like
You've seen the B652 speakers reviewed positively by Stereophile, c|net, and Apartment Therapy. Now try them for yourself!
Engineered to deliver conversation-starting bang-for-the-buck
Dayton Audio's B652 2-way bookshelf speakers are perfect for offices, dorm rooms, apartments, or any other living area. Measuring under 12" tall, these small but mighty speakers will never overwhelm the decor in any room. The B652's 2-way design features a 6-1/2" polypropylene cone woofer and a 5/8" polycarbonate ferrofluid-cooled dome tweeter to reproduce audio accurately from 70 to 20,000 Hz.
Plays well with others
Supplement the B652's solid, punchy low frequency performance by adding a Dayton Audio subwoofer, and enjoy a sonic experience that rivals many high priced speaker systems. Installation features include quick-connect speaker terminals and keyhole hanger. Removable grill.
A lifetime of audio pleasure, for the cost of a pizza and hot wings
These compact, powerful speakers make a great addition to any living space. Packaged and sold in pairs. Includes two 9-1/2 ft. long 20 AWG speaker cables and non-marking rubber feet. Compatible with amplifiers that support 4-8 ohm speakers.
Specifications: • Woofer: 6-1/2" polypropylene • Tweeter: 5/8" polycarbonate ferrofluid cooled • Power handling: 40 watts RMS/75 watts max • Impedance: 6 ohms • Frequency response: 70-20,000 Hz • Sensitivity: 87 dB 1W/1m • Dimensions: 11-13/16" H x 7-1/16" W x 6-7/16" D • Sold in pairs.
c|net Review - May 21, 2012
c|net Review - May 18, 2010
Apartment Therapy Review - March 3, 2010
If you are using these speakers in a home theater system, add the matching center channel speaker for less than $30
Product Details

Brand
Dayton Audio
Model
B652
Part Number
300-652
UPC
844632083327
Unit of Measure
Pairs
Weight
11.6
Product Specifications

Color
Black
Configuration
2-way
Input Rating
6 ohm
Woofer Diameter
6.5"
Sours: https://www.parts-express.com/Dayton-Audio-B652-6-1-2-2-Way-Bookshelf-Speaker-Pair-300-652
Dayton Audio MK402 review:
Great stereo speakers for the price of sneakers
While your first choice might be a Bluetooth speaker or even a sound bar, the ultra-affordable Dayton Audio MK402 makes an excellent case for building a stereo system on a budget. These speakers may not look high-end, but more importantly, they don't sound low-end.
If you simply cannot afford to spend more than $100 on a pair of passive speakers, these Daytons should be high on your list of products to consider. The MK402s are yet another standout product from the company that brought you the Dayton Audio B652, Parts Express.
Design and features
Parts Express has been building AV accessories and budget speakers since 1986. The $129 MSRP/$69 street price Dayton Audio MK402 is the company's newest speaker, and in relative terms it costs almost nothing, yet it offers features you won't see anywhere near the price.
The speakers feature a 4-inch woofer mated with a 0.75-inch tweeter. The speaker has a relatively low 4 ohm impedance (most bookshelf speakers are 8 ohm), but we didn't have any issues driving them.
As you'd expect from a speaker with tiny drivers, the cabinets themselves are small: 9.5 inches high, 5.75 inches wide and 6.625 inches deep.
Budget speakers typically have cheap push-clip wire connectors that don't make tug-proof secure connections. But the MK402 has binding posts for banana or bare-wire connections. That's nice!
There's a bass port on the MK402's backside, so the speaker should be placed at least a few inches from the wall behind it for better low-end response.
One thing we found disappointing, though not surprising at this price, was the general finish of the product. For instance, the vinyl wrap on both speakers had started to bubble on top, and while it's not really noticeable at a distance, it's just a little annoying. In addition, the speakers came with grills to protect the drivers but the pegs attaching them came out too easily. The speakers look and sound better without them, anyway.
Finally, for all of our listening tests we used a Sony STR-DN1080 AV receiver and an Oppo UDP-205 Blu-ray player.
Sound
Don't make assumptions about the Dayton Audio MK402's sound before you hear it. Yes, it's tiny, but in the smallish CNET listening room, even when perched on tall metal stands four feet away from the front wall, the MK402 sounded remarkably full range. Dayton claims just 60Hz bass for the MK402, which is respectably deep bass for a small speaker with a 4-inch woofer, but it's a very solid 60Hz bass. Not for a second did we feel a need to add a subwoofer when playing music. Sure, for a stereo home theater, adding a sub makes sense if you want to feel special effects, but for music or straight dramatic movies or TV the little speaker's bass output is more than adequate.
The MK402 sessions followed on the heels of our time with the Dayton Audio T652-AIR, a tower speaker with an Air Motion Transformer tweeter and dual 6.5-inch woofers. But even so, the MK402 wasn't overshadowed by its bigger brother. While the tower was more powerful, the MK402's tonal balance was smoother than the T652-AIR's. Warning: If you want to party, don't buy a little speaker with a 4-inch woofer!
Listening to the "She's Leaving Home" outtake from the newly remixed "Sgt. Pepper's Lonely Hearts Club Band" album, the MK402 did a fine job reproducing the strings accompanying the famous Beatles tune. Getting the sound of strings right isn't easy, especially for pint-size budget speakers, but the MK402's sweet tone was just right. Stereo imaging was respectably wide and floated free of the speakers locations in the room. We had to remind ourselves we were listening to a $69-per-pair speakers!
Thom Yorke's vocals on Radiohead's "A Moon Shaped Pool" album were especially natural, and when we turned up the heat with the Replacements album, "Don't Tell A Soul," the MK402s proved themselves credible rockers. They easily put the $400 Google Home Max speaker to shame; the Max sounded awfully mini next to the MK402s.
Should you buy them?
The MK402 is an ideal speaker for smaller rooms -- bedrooms, kitchen, dorm room, office and so on. The MK402 wins by not calling attention to its weaknesses. Pair it with the Dayton APA102 stereo integrated amplifier ($100 on Amazon) or the Yamaha R-S202 stereo receiver ($119 on Amazon) and you're good to go.
That said, if you can increase your budget to $129 for a pair of Pioneer SP-BS22LR bookshelf speakers (which are part of Pioneer's SP-PK52FS 5.1 system), we'd recommend them. They're bigger but they sound clearer, play louder with greater ease, and make more bass than the MK402.
Sours: https://www.cnet.com/reviews/dayton-audio-mk402-review/
Dayton Audio MK402 Bookshelf and MK442 Center Speaker Review
Dayton Audio recently announced two budget speakers in their product line up, the MK402 and the MK442. The MK402 is a 2-way ported design with a 4" midbass driver and .75" soft dome tweeter and sells for a meager $69/pair. The MK442 steps it up with an additional 4" driver in an MTM driver topology along with a more sophisticated crossover network and again sells for only $100/pair. In this review, we take a look at both speakers to better understand what type of performance to expect for what amounts to a cost less than most audiophiles spend on speaker cable.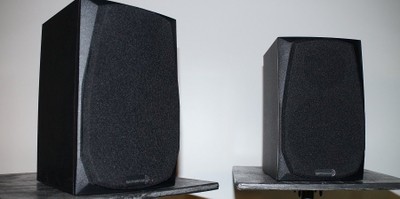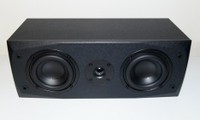 The MK402 is a small speaker designed for systems where space is at a premium and a subwoofer might not be in use thanks to its 60 Hz extension, which is unusually low for such a small speaker. Scenarios for such a product would be a desktop stereo system, a small system for a shelftop in an office or bedroom, or a bedside system. It is intended for setups in close proximity to the listener, and it looks like it would be a good fit for a system with simple electronics, i.e., a small amplifier and no bass management. Dayton Audio is positing the MK402 as an affordable yet still high-fidelity speaker by stressing its heavy-duty woofer, chamfered edge baffle, a crossover that is more than just the barebones high-pass filter ("more than just a Capacitor" says Dayton Audio's literature), and ¾" soft dome tweeter. The MK442 is its corresponding center channel speaker. So how well do the MK402 and MK442 accomplish their mission of being small speakers with meaningful bass extension and high sound quality for their low cost? With the pair of MK402s and a MK442 that Dayton Audio has sent us for review, let's now try to answer that question.
Unpacking and Appearance
The MK402s and MK442 came packed in a cardboard box with two thick foam pieces sandwiching the speakers which protects them from shock and gives them space from the sides of the box. They were wrapped in plastic for protection against moisture and scuffs. The packing was reasonably good considering the cost.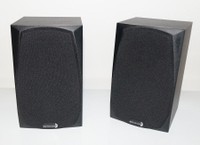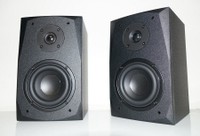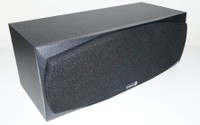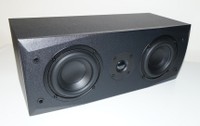 These are not bad looking speakers. They use a textured black vinyl finish that, combined with their chamfered front baffle edges, do project some sense of style. The grilles do hide the drivers, but that makes the speakers look a bit more plain. The glossy black tweeter and beefy surround on the woofer along with its concave dustcap give the MK402 and MK442 speakers a somewhat brawny look for small speakers. With the grilles off, they are just begging to blast some tunes; the grilles give them a more sedate appearance.
Design Overview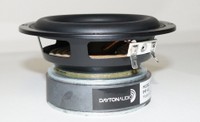 The MK402 and MK442 speakers are a nearly textbook case of getting a full sound out of a small size. The key component in this goal is the woofer and its bass extension ability; it will need some specific qualities towards achieving this end. But before we get into the woofer, let's talk about the MK402's diminutive size. At 9.5" high, and about 6" wide and 7" deep, it is on the small size for bookshelf speakers. It isn't enormously heavy either, at 5 lbs. It's a bookshelf speaker that could fit on many people's desktop setup. That small size does have a penalty; it doesn't get as loud for the same amount of electrical current as a larger speaker would, all other things being equal. The MK442 should be a bit more capable since it has two woofers.
Dayton Audio claims the MK402 and MK442 has usable bass down to 60 Hz, which is quite a feat from a 4" bass driver. However, the bass driver used in these speakers is rather heavy-duty, considering the cost of the speakers. It is the Dayton Audio TCP115-4. It has a relatively low resonant frequency for such a small cone with a stated Fs of 53.8 Hz. Its beefy motor uses a ¾" tall, 3" diameter magnet with a vented pole piece. The voice coil is a 1", four-layer CCAW (copper-clad aluminum wire) wound around an aluminum former for better thermal dissipation. Its suspension system uses a 3" diameter spider along with a ½" wide surround; a very brawny surround for a 4" woofer! The cone is made from treated paper with an inverted dustcap. It looks to me like the bass driver forms the heart of this particular speaker; it has the sort of build quality that I would expect to find in a speaker at twice this price.
Editorial Note: Hoffman Law for Speakers

Small speakers don't usually produce much bass as a consequence of their size and the laws of physics. The large wavelengths of air pressure waves in low frequencies require a lot more air displacement than higher frequencies to maintain the same loudness level. This is why tweeters are small and bass drivers are large. A driver with a small woofer diameter would have to compensate for its small size with an ability to move large distances in order to reproduce significant bass; breadth is replaced by depth in order to achieve the same displacement of air. The drawback of that is the moving components of long-throw, small diameter woofers must necessarily be relatively heavy, and that weight penalty means it takes a lot more energy to move the driver to achieve the same loudness levels. 

That is related to a rule of thumb within the speaker industry called "Hoffman's Iron Law" (named for Anthony Hoffman- the 'H' in KLH speaker company name) that states a speaker can have only two of the following but never all three: low bass extension, high-sensitivity (sensitivity meaning how efficiently does the speaker turn electricity into sound), and small enclosure size. A speaker that has high sensitivity and real bass ability has to be large by necessity. A speaker that is small but has high sensitivity will not have any real ability to reproduce bass. And a speaker that is small but also has significant bass extension will not be very sensitive- and this attribute is the trade-off that Dayton Audio makes with the MK402 bookshelf speaker and MK442 center speaker.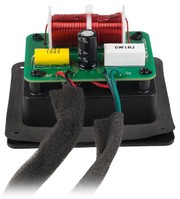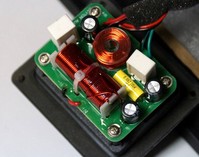 MK402 crossover (left), MK442 crossover (right)
The MK402 and MK442 both use a ¾" silk-dome tweeter with ferro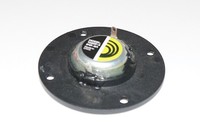 fluid cooling (the Dayton Audio TD20F-4). Such a small diameter tweeter should have wide dispersion even at very high frequencies. The MK402 speakers use a four-element crossover network with a 2.5 kHz crossover frequency: an inductor and capacitor are used for a 12dB/octave low-pass filter on the woofer, and a capacitor is used for a 6dB/octave high-pass filter on the tweeter. There is also a resistor intended to pad the tweeter since the tweeter has a higher sensitivity than the woofer. The MK442 uses a more sophisticated 8-element crossover that has four capacitors, two inductors, and two resistors for an 18dB/ octave slope high-pass filter on the tweeter and a 12dB/octave low-pass filter on the woofers.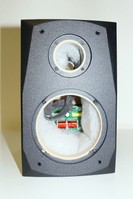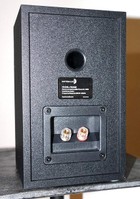 The cabinet is made from ½" thick MDF paneling all around with no internal bracing. Internal bracing in such a small cabinet is probably overkill, so the omission of bracing here isn't a worrisome matter, especially at this price point. Both the MK402 and MK442 are rear-ported with the MK402 using a 1" diameter port and the MK442 using a 1.5" diameter port. The ports have only slight flaring. As was mentioned previously, there are some chamfered edges on the front baffle, but this appears to be done more for the sake of style than to reduce baffle diffraction because it still leaves quite a bit of surface surrounding the tweeter which is where diffraction would be at its most severe. The interior is stuffed with a good amount of polyfill to damp backwaves and also for isothermal conversion (isothermal conversion turns acoustic energy into heat to make the enclosure seem a bit larger than it actually is).
The grilles use a ½" thick sheet of MDF with cut-outs for the drivers and covers everything in an acoustically transparent fabric. It is attached to the front of the speaker with plastic pegs. A grille like this, which essentially protrudes from the front baffle in front of the tweeter, is bound to cause extra diffraction which isn't going to do the sound any favors. It is there to protect the drivers and make the speaker look more innocuous. Four small, soft rubber discs serve as feet. The softness of the rubber here is a good idea for damping since this small speaker has a relatively long-throw bass driver that can play to such low frequencies where rigid feet would likely cause audible vibration on a hard surface.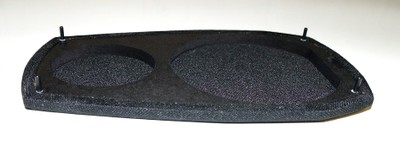 Taking a step back from an assessment of individual parts, the small diameter of the woofer and tweeter suggests that the MK402 and MK442 should have a very wide dispersion; in other words, the speaker should be able to project sound outward at a very wide angle, so there won't be a small 'sweet spot' or a restricted area where the speaker sounds good. If the response of the dispersion is smooth and even, then the speaker should sound good nearly anywhere in front of it. It is also a speaker that attempts to squeeze real bass frequencies out of a small container which is never an easy feat. We will look at both these aspects when we examine its groundplane low-frequency response and also off-axis response measurements.
Listening Sessions
In my approximately 24' by 13' listening room, I set up the speakers with stand-off distances between the backwall and sidewall, and equal distance between speakers and listening position, with speakers toed-in toward the listening position. Listening distance from the speakers was about 6 feet. Amplification and processing were handled by a Pioneer Elite SC-55 AV receiver. No room correction equalization was used. At times, subwoofers were used to supplement the bass, mostly using a 100 Hz crossover frequency.
Music Listening
Diana Krall sounded legitimately good on these $70 Dayton speakers!
I started off with some vocal music since an errant reproduction of the human voice is fairly easy to detect. I borrowed a CD copy of "The Very Best of Diana Krall" for this purpose. Diana's voice sounded vibrant and rich, and I did not sense anything amiss. Imaging was very good, as good as I have heard on much more expensive speakers. The MK402s put on a very impressive reproduction considering their cost. The MK402s caught all the bass that this album had to offer as well. While the bass wasn't as powerful as it is with subwoofers, it was clean and was not overly-emphatic on any particular group of notes. This album sounded legitimately good on these $70 speakers! I then threw in Madonna's "Immaculate Collection," a CD I have heard many times and was very familiar with. Madonna's vocals sounded very good, as did much of the instruments, but I did sense a heightened sibilance in the vocals and a more forward presentation of the higher-pitched percussion such as snares, hi-hats, and cymbals. I repositioned the speakers to have a strong toe-in angle, which put me about 30 degrees off-axis with the speakers' aim crossing well in front of me. I reasoned that a speaker with a small diameter tweeter like the MK402s would have a very wide dispersion, so a more severe toe-in would be needed to make a real difference in the sound. I found this toe-in did soften up the sound a bit and made it less fatiguing, although the treble still seemed somewhat elevated.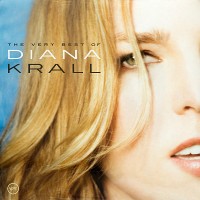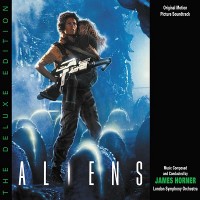 I turned to orchestral music with more complex instrumentation to see how the MK402s would handle denser passages. One disc I listened to was the deluxe edition of the original soundtrack for "Aliens" by James Horner, a famous score which really needs no introduction. The MK402s proved to be deft with this material. Brass had a vivid shimmer, tympanies had a convincing thud, and the string sections provided an unsettling melody for the more tense passages. Instruments had reasonably good separation. As with the Diana Krall album, imaging was surprisingly good. The MK402s could get adequately loud in my theater room, but I didn't push them too hard. There is only so much wattage a small bookshelf speaker can take before the woofer is beaten to death or the tweeter starts smoking. So, I did not push these to reference levels. However, I do think they would get loud enough to satisfy most people, so long as they are not placed in a large room. Subwoofers would help out in this respect as well, by greatly reducing the excursion needs for the small 4" woofer. Since I have subs located throughout the room, I was able to set the crossover point higher than 80 Hz without having bass localization issues, and such a high crossover point is undoubtedly beneficial for a small bookshelf speaker like the MK402. 
I decided to go for something that could push the system more with a high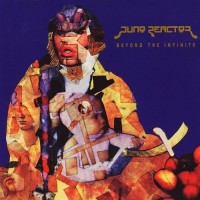 er crest factor (ratio of peak value to RMS value in the waveform, i.e., it's more continuously louder) than orchestral or lounge music, so I brought in Juno Reactor's "Beyond the Infinite". This is an energetic techno album with world music influences from 1995 (I bought this not long after it came out, but it doesn't feel like it was that long ago- am I getting old?) "Beyond the Infinite" has a production quality that exceeds that of typical techno music, but still keeps things boisterous and fast. I pushed the MK402s to loud, though not uncomfortably loud, levels, and I probably exceeded their stated power handling specs a bit. But, they did not lose their composure and sounded clean and strong throughout. I used subwoofers for most of this album, and when I did switch the subs off and ran the speakers full-range, they did struggle by running into some audible port turbulence and distortion. However, while they can stay clean at relatively loud levels, they are most certainly not party speakers. I did not try to push them to club-loud levels, and they wouldn't have survived long if I did. While they can probably get loud enough for most people, these speakers are not going to satisfy head-bangers.
I should also note here that I tried the MK402 speakers in the near-field as speakers for my desktop PC setup. Some bookshelf speakers do not hold their far-field sound in the near-field and so do not sound good at this close distance. I would have guessed that the small form-factor of the MK402s would be beneficial for listening at this distance, and I was right. The MK402s image very well in the near field. I kept the aggressive toe-in angle that I used in my home-theater system to alleviate the heightened treble and listened to a variety of content, mainly music, computer games, and television shows, and I enjoyed the MK402s as desktop speakers. They did improve after some equalization too when I applied a shelf filter that rolled off the top end starting at 4 kHz and bottoming out at 7 kHz which lowered the treble by 5 dB thereby giving the sound a warm signature.  
Movie and Television Listening
To gauge how well the MK402's and MK442 deal with dialogue intelligibility, one program that I watched with them was the first two episodes of the second season of HBO's "True Detective" series. Season two of this very dark noir series was not as well received as the classic first season, but I contend that it is still a terrific watch and, for me, very absorbing and atmospheric. I think it is a good trial for dialogue intelligibility because of how abridged and elliptical the dialogue can be at times even though it is well-recorded. Music is also beautifully recorded and has some folk music performances in a grim and sad style that compliments the show. Of course, the MK442 center will carry the burden of a surround sound mix in "True Detective," and I can report that it executed the dialogue well. I did have to lower the gain considerably on all of the surrounds and subs since they were set for speakers that were much more sensitive than the Dayton Audio MK speakers, but once that was done, the system sounded very good as a whole. The dialogue was clear as were effects sounds and music. I have been looking forward to re-watching the second season of "True Detective" and am glad that I could do it with speakers that can render it as naturally as these.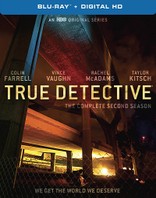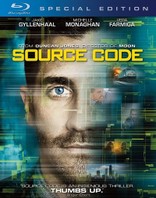 A movie that I watched with the MK speakers was the 2011 science-fiction thriller "Source Code," a very polished and highly-regarded film that has a sound mix with a good balance of dialogue, effects, and music (if you haven't seen this under-rated movie yet, do so immediately). Much of the movie is set aboard a train with stretches of dialogue and tense music punctuated by bomb explosions. The high production values and frantic pace of "Source Code" make it a fine choice for evaluating a sound system. The MK402 and MK442 speakers reproduced "Source Code" very nicely. If I didn't know, and someone had told me the sound that I heard during "Source Code" was coming from small bookshelf speakers with 4" woofers, I would have been very surprised. It should be kept in mind that, at a six-foot distance, I did have them placed closer to the listening position than the ten feet distance that I normally give speakers, but that is the kind of concession that has to be given small speakers to retain a good dynamic range. The farther these speakers are away from the listening position, the greater the disadvantage they will be at for reproducing loud sound cleanly. 
Additional Listening With the MK442s as an Upright Pair
After measuring the acoustic behavior of the MK442 in free-air testing, I was quit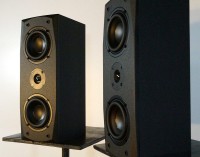 e impressed with its behavior on its vertical axis. From the response I measured on its vertical axis, I reasoned that the MK442s would make for an exceptionally good speaker when used on its side. I asked Dayton Audio to send me another MK442, so I could listen to them as a stereo pair in that orientation. As the measurements suggested, these sound very good when used standing on its side for a vertical alignment of the woofers. They had excellent center imaging and a good spectral balance. While just a tad bright, they were easier on the ears than the MK402s, and I did not feel the need to equalize them or use a hard toe-in to alleviate the treble response. They sounded good right out of the box. From listening and comparing a pair of MK442s to a pair of MK402s for stereo music listening, I think that the extra cost for a pair of MK442s is well worth it. The MK442s sound good without even considering cost and without adding any caveats or conditions. When considering that they only go for $100 a pair...well, I am listening to a pair as I type this, and they are astonishingly good for the price.
Next Page ⇨

Like This? Check out our other Bookshelf Speaker Reviews!
About the author:
James Larson is Audioholics' primary loudspeaker and subwoofer reviewer on account of his deep knowledge of loudspeaker functioning and performance and also his overall enthusiasm toward moving the state of audio science forward.
View full profile
Confused about what AV Gear to buy or how to set it up? Join our Exclusive Audioholics E-Book Membership Program!
Recent Forum Posts:
Read the Complete Thread
Jon AA posts on August 27, 2019 21:31
Well, I've got my son building me a new computer and I figured the new computer should have decent sound. So I ordered the DTA-2.1BT2 100W 2.1 Class D Bluetooth Amplifier + MK402X 4" 2-Way Bookshelf Speaker Pair + The MKSX4 Four 4" Driver Low Profile Passive Subwoofer.

I started out planning to just get the MK402BTX speakers but like usual, I talked myself into spending more. I figured with the amp I'll have more power, sub output and a tone control and if I want to change speakers in the future I can use anything I want with it. The sub looks perfect to put on or under a desk somewhere and should really take a load off the little speakers and should improve the overall sound quite a bit vs. expecting desk sized speakers to have adequate bass.

Should be one heck of an upgrade compared with the tiny little computer speakers I've been using all these years. Thanks for the review on these, I don't think I would have chosen these otherwise.
Adam2434 posts on August 24, 2019 12:39
If my math is right, the 18V 2A power supply can only deliver 36 W. Assuming 90% amplifier efficiency, that would translate to 16.2 W/ch. Sound right?

Plugging 16.2 W/ch into this Peak SPL calculator, I get the numbers below at 15 feet and 3 feet. If all these numbers are pretty accurate, they confirm my observations that these speakers get plenty loud nearfield and loud enough for background music at 15 feet. When testing them in my garage, at about 15 feet away, they got as loud as I would want to play in the garage…any louder and I might bother the neighbors.

Net, these speakers make a nice sounding, inexpensive, compact system for background music in a garage.

Doing better for the money ($100),IMO, would require scoring deals on a used receiver and a good pair of used bookshelf speakers for $100 total. This is totally possible if you have the "eye" and patience - I have done it several times! In fact, I'm currently also playing with a $6 Onkyo TX-8211 50 W/ch receiver and a $70 pair of Polk RT35i in the garage. This system sounds "bigger" than the MK402BTX (because it is),but the MK402BTX hold their own at moderate levels.

Edit: for some reason, some spaces were lost after commas. Not sure if this is a common issue on this forum.

30727
30728
Adam2434 posts on August 23, 2019 13:54
I'd be curious to know the actual max w/ch vs. distortion and SPL the powered MK402BTX can do.

The specs are attached, but it's hard to tell what they really mean. My best guess is that the internal amp provides 20 w/ch RMS at <0.7% THD+N.

A distortion vs. SPL level test would be cool (as well as a frequency response test to determine if the new crossover delivers).

I'll lend my pair to Audioholics for a test.

These little "Mighty Mites" will do moderate background and nearfield levels just fine.
30719
Adam2434 posts on July 30, 2019 07:46
After listening to the 402BTX some more last night, I think they may still have a bit of an elevated treble response, but not to an annoying or harsh level. Lively top end is how I would characterize them. For me personally, I would rather have bit of liveliness over dullness.
Adam2434 posts on July 29, 2019 19:08
Many of you may know that there is now an "X" version of the 402 and 402BT with a refined crossover per Parts Express:

"The built-in crossover creates a non-fatiguing, enjoyable listening experience. It features a 3.3 kHz, 3rd order high-pass, 2nd order low-pass The 7-component crossover uses asymmetrical slopes to help blend the two drivers in a more musical way. The crossover now has a flatter treble response that delivers a smoother high-end."

I wonder how the X version would measure, and whether they have eliminated the elevated treble of the original versions.

I'm playing around with a pair of the 402BTX just for kicks. I'm fairly impressed with the sound quality for $100. I have been using a Chromecast Audio with FLAC files and Spotify Premium. I plan to gift them to one of my kids after I give them a rundown.
- Pretty balanced and engaging sound.
- Decent bass within the limitations of a small speaker with a 4" woofer.
- Can hit moderate levels cleanly with the built-in amp.
- Sound much better than the typical $100 bluetooth speaker.

Nitpicks:
- Ports chuff and whistle when the volume is pushed with bass-heavy content. I'm talking stuff like Chris Stapleton's last 2 albums, not rap.
- Grill emblems are crooked on both speakers.
- Grills impact sound negatively.
- One of the crossover screws was stripped.
- Would like aptX and AAC bluetooth codecs, but that would add some cost.

I think a larger powered version (perhaps the 442 or a 5.25" woofer version) with more power, 1 or 2 (better) optical inputs, remote control, and aptX/AAC bluetooth for around $150-200/pr would be cool, as these speakers and drivers are a good budget platform to build from.
Post ReplySours: https://www.audioholics.com/bookshelf-speaker-reviews/mk402-and-mk442-review/
Best Budget Bookshelf Speakers? Dayton MK402 Review, Unboxing and Sound Test
I was ready to have some fun with Dayton Audio's B652 loudspeakers—the ones with the outrageously high price of $39.80/pair.
Available from Parts Express (catalog #300-652), the Dayton B652 is a simple two-way, sealed-cabinet design with a 6.5" polypropylene mid/woofer and a ferrofluid-cooled, 5/8" polycarbonate tweeter. The cabinet is clad in black vinyl and has a removable grille of black cloth. The B652s sounded pretty much the same regardless of whether the grilles were in place, but I preferred their looks with the grilles off, so that's how I listened. Better looks often equal better sound—at least in my home.
And as far as looks go, the Dayton's not so bad—neither excessively flashy nor terribly chintzy, but simple, modest, and fine. I would never feel embarrassed to have the Daytons in my listening room, which is much more than I can say about some of the overbuilt, honky components I saw at RMAF. The B652's rear panel is as clean and tidy as its front baffle: There's a discreet key-hole hanger near the top, and a pair of plastic spring-clip speaker terminals in the center.
The B652 measures 11 13/16" (300mm) high by 7 1/16" (180mm) wide by 6 7/16" (165mm) deep and weighs only 5.8 lbs (2.6kg). Knocking on a side panel produced a clearly audible resonance. Dayton specifies the speaker's impedance as 4 ohms, its frequency range as 70Hz–20kHz, and its sensitivity as 87dB/W/m.
Listening
Believe it or not, music through the little Dayton B652s was always very enjoyable. Unlike the Klipsch Synergy B-20s ($279/pair; reviewed June 2011), which had an unnaturally bright and unforgiving top end, and the Energy Connoisseur CB-10 ($269.99/pair; reviewed November 2011), which had an upper-bass boost that I simply couldn't forgive, the Dayton B652 never got in the way of the music. Its sins were of omission: Though it could sound big and dramatic enough to fill my listening room, the Dayton lacked deep bass, high-frequency extension, and ultimate control, sounding a bit hard and bothered during the most complex passages of music and when pushed to high volumes.
Listening to "The Nightcaller," from Flying Lotus's excellent new Until the Quiet Comes (LP, Warp WARP230), I heard an impressively large soundstage, good image separation, and a very fine sense of momentum and flow, the up-tempo track moving steadily along with no hint of temporal distortions. High frequencies, however, sounded etched, instrumental colors muted, textures thin.
I noticed some hardness in the highs, some softness in the lows, and the overall picture wasn't as big or as clean as I'd heard it before. But those flaws were easy enough to forgive and forget. The music remained intact.
By comparison, my PSB Alpha B1 speakers ($299/pair) produced an even wider and especially deeper soundstage, with greater overall clarity, openness, and detail. High frequencies were far smoother and better controlled, bass was more forceful, and there was a greater overall ease to the sound—when the music grew in complexity, scale, or volume, the PSBs didn't break a sweat.
Summing Up
But still. You could buy seven pairs of Dayton B652s for the price of the Alpha B1s. Keep a pair in your dorm room, a pair on your desktop, a pair in your office. As long as your expectations are realistic and you're willing to have fun, the Daytons are sure to please.
Sours: https://www.stereophile.com/content/dayton-audio-b652-loudspeaker
Speaker reviews dayton
Dayton Audio B652-AIR Speaker Review
This is a review and detailed measurements of the Dayton Audio B652-AIR budget bookshelf speaker. I purchased a pair of these for US $67.70 from Amazon with Prime shipping. A kind member also bought a pair and sent them to me. The measured speaker is his.
I have to tell you, someone in China has managed to nail the look of these speakers as to make them seem more expensive than they are:
I took the grill off for my testing. The back panel shows the cheap construction all around:
The whole package is quite light and those spring connectors don't inspire confidence but are workable.
Still, the whole package has my admiration as far as visual execution at this price point. You start wanting this thing to measure and sound good.
Researching this speaker, seems like the star of the show is the "AMT" tweeter which was added to this model variation. There seems to be this love for AMT tweeters out there which I don't understand.
This review is super popular so has been reviewed to death. I thought I quote a few starting with Steve Guttenberg's CNET review:
Clear and clean, Steve? We shall see.
Sound and Vision magazinehad this to say after giving it 5 stars for performance:
Stereophile dunk its beak into the water and had this to say:
Always enjoyable? We shall see about that as we get into measurements and listening tests.
Measurements are performed using the Klippel Near-field Scanner (NFS). This is a robotic measurement system that analyzes the speaker all around and is able (using advanced mathematics) to subtract room reflections. It also measures the speaker at close distance ("near-field") which sharply reduces the impact of room noise. Both of these factors enable testing in ordinary rooms yet results that can be more accurate than anechoic chamber. In a nutshell, the measurements show the actual sound coming out of the speaker independent of the room. All measurements are reference to tweeter axis with the grill removed.
740 points were measured (from 20 to 20 kHz) around the speaker resulting in less than 1% error across the full frequency spectrum.
Spinorama Audio Measurements
Acoustic measurements can be grouped in a way that can be perceptually analyzed to determine how good a speaker can be used. This so called spinorama shows us just about everything we need to know about the speaker with respect to tonality and some flaws:
Well, this is a bad way to start things. There are so many problems here. We have a suck out at 340 Hz. Then various peaks and dips due to resonances. By the way, a resonance is some part of the system singing at that range of frequencies when activated. To the extent it is from the mechanic construction of the speaker, it makes for a horrible little speaker creating its own sound. Depending on its phase, it may combine, subtract or something in between with the main sound playing by the drivers. The moment they show up in this graph, it means they are loud enough to make an audible impact so are worrisome.
Stepping back, instead of a flat on-axis/listening window response, we have all kinds of peaks and valleys. Depending on what music you play, the accentuation may be a good thing (if a ton of distortion doesn't come for the ride) or more likely, not.
Looking at predicted in-room response, we see that these sins are written all over the graph when you include the room reflections:
None of these rough edges were apparently audible to our reviewers.
Basic Measurements
Here is our impedance and phase:
Kinks in the phase/amplitude response as noted usually indicated resonances. We saw the same problems in the spinorama though so there is no need to look for them here.
Rated impedance of 6 ohm doesn't hold at 40 Hz where in my analysis has the peak response in music. It is more like 4.5 ohms.
Some of you love to see these CSD/waterfall measurements. Here is one of countless views I can make up with this graph:
Distortion data for a change shows useful information:
What did Steve say? Clear and clean with this much distortion in upper frequencies?
Here is the "in-room" (in-garage) response:
Note that the above is highly compressed graph so the frequency response looks much flatter than it is.
Advanced Speaker Measurements
Above are some of the ugliest measurements I have seen so far.
Eye-candy Speaker Measurements
Our Klippel NFS system reconstructs the full soundfield around the speaker down to whopping 1 degree of resolution. Using that, we can get a 3-D picture of what is going on. Let's look at the problem at 3.7 kHz:
We see that both the tweeter and woofer singing strongly together so no wonder there are cancellations all around.
We had a severe notch at 340 Hz. Let's look at the response below, at and above 340 Hz:
Dark color indicates loudest signal. We can readily see that some kind of cancellation has sucked out the energy from the woofer at 340 Hz (middle image).
Listening Tests
I set up the measured speaker to the left of my monitor, elevated about 5 inches from the desk and tilted up and pointed toward my ear. On the right side I had the Pioneer SP-B22-LR for comparison. The Dayton Audio B652-AIR sounded good for about 2 seconds until the piercing and distorted highs started to bother me. They stood out because there is no upper bass. There is lower bass that was vibrating my desk a bit but lack of upper base made them almost absent. Female vocals were deadly with distorted lisping galore. In sharp contrast, the Pioneer was warm, and far, far more balanced in response.
Having been biased with the measurements, I thought I drag my poor wife up for a listen without telling here anything. She immediately commented on the female vocals being annoying in the Dayton. I forget her exact words but they were right on the money as far as what I observe with respect to shrill and distorted sound. However, she liked the sound of some of the instruments that were brought out more by the Dayton. Since she plays musical instruments, she focuses on them a lot more than I do. I listen for overall balance but she seems to search for the individual strings and if she hears them, she likes that.
Conclusions
The Dayton Audio B652-AIR does everything wrong that you want to avoid in modern speaker design. The woofer is run full bandwidth with no crossover meaning it sings along with the tweeter way above its linear frequency response. The thin cabinet sings (easily audible in measurements) and combines with the woofer to create problems even in its target range. The AMT tweeter has only a capacitor (single order filter) and resistor to tame it and clearly that is not enough. All of this is due to the fact that a good crossover would cost far more than the individual components or even price of a full speaker!
Does it sound better than a truly garbage speaker? Yes. But I am here to keep you from bad sound and this is bad sound folks. Spend a few more dollars and get the Pioneer SP-BS22-LR.
Needless to say, I cannot recommend the Dayton Audio B652-AIR. I have no idea how those reviewers have written what they have written. Five star performance? Are you kidding me? Clear and clean with no obvious flaws? Mr. Guttenberg, please get your ears trained and perform some comparative AB tests using single speakers. This is embarrassing.
------------
As always, questions, comments, recommendations, etc. are welcome.
Hungry for some Chinese food. Going to go out to get some. When I get back, I hope you all have collected enough money for that using
:
https://www.audiosciencereview.com/forum/index.php?threads/how-to-support-audio-science-review.8150/
Sours: https://audiosciencereview.com/forum/index.php?threads/dayton-audio-b652-air-speaker-review.11410/
The Best Driver For Your First DIY Speaker Build? -- Dayton Audio PS95 Point Source Driver Review
Dayton Audio B652 Bookshelf Speaker
A little background before we begin:
My first review of these speakers was done in January 2013, and was the reason for starting this site. The performance that I heard from a speaker that was hailed by Stereophile and all of the industry as "an acceptable audiophile speaker" was pretty much the worst speaker I had ever heard. You can read my previous review here. Well, after taking a public lashing and everyone in utter denial of my measurements and findings, I did get my redemption when 5 months later it came out that there was a major manufacturing flaw in the speakers. Parts Express pulled the speaker and made some changes, once the revised version came out I repurchased a "fixed pair" to test, those were broken as well. I was done at this point. Fool me twice, well I'm no fool, etc. etc..
Until recently when I got a pair of B652's for free as a part of a make it right campaign that parts express is doing. If you bought B652 speakers from October 2012 to July 2013, please contact Parts Express and yell at them softly until they send you a fixed pair. They didn't even want my pair back so you may not even need to do anything accept pick up the phone.
So starting fresh with the Brand New 100% fixed Dayton B652 - let's do this thing: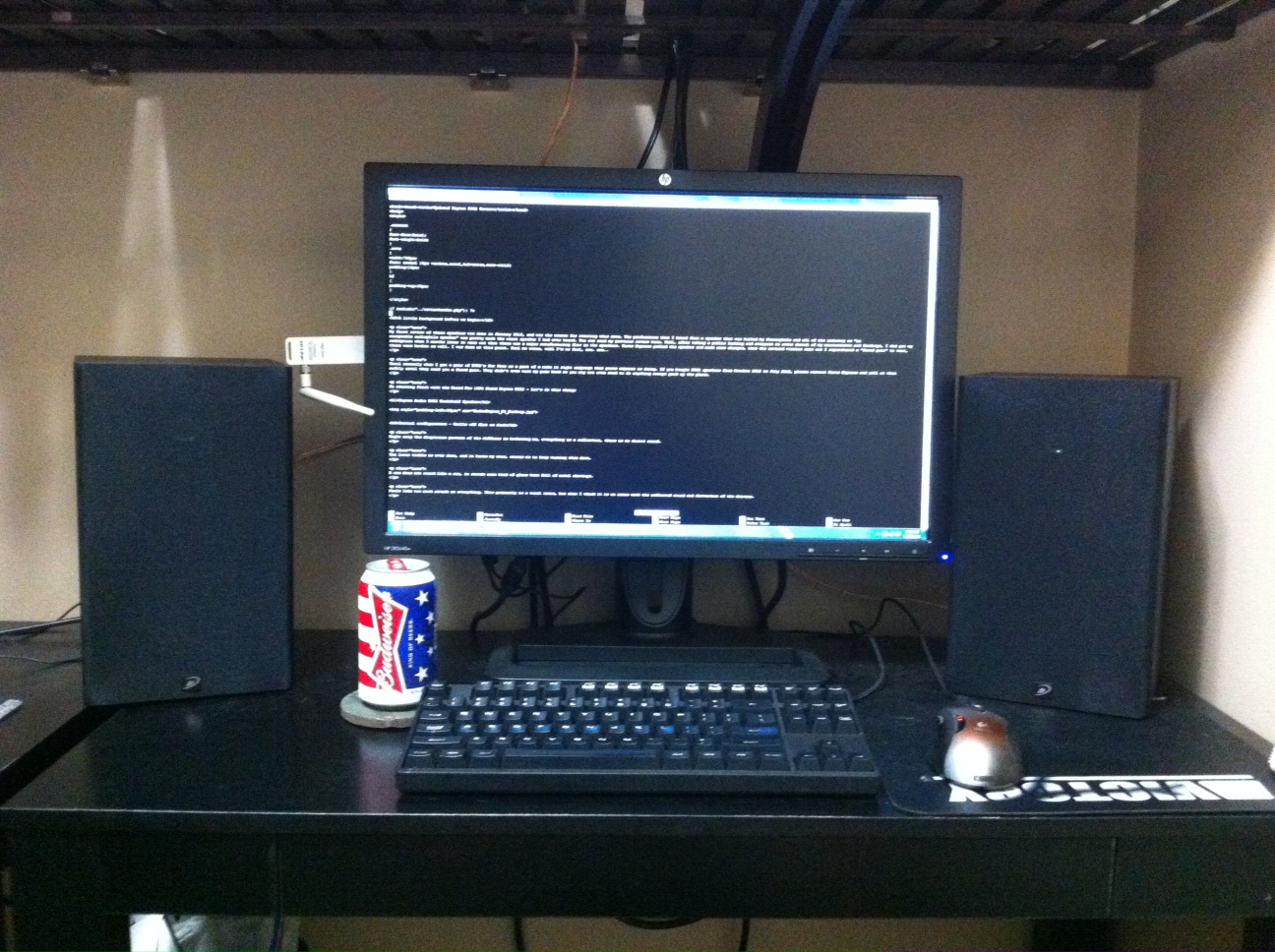 Initial configuration - Grills off flat on desk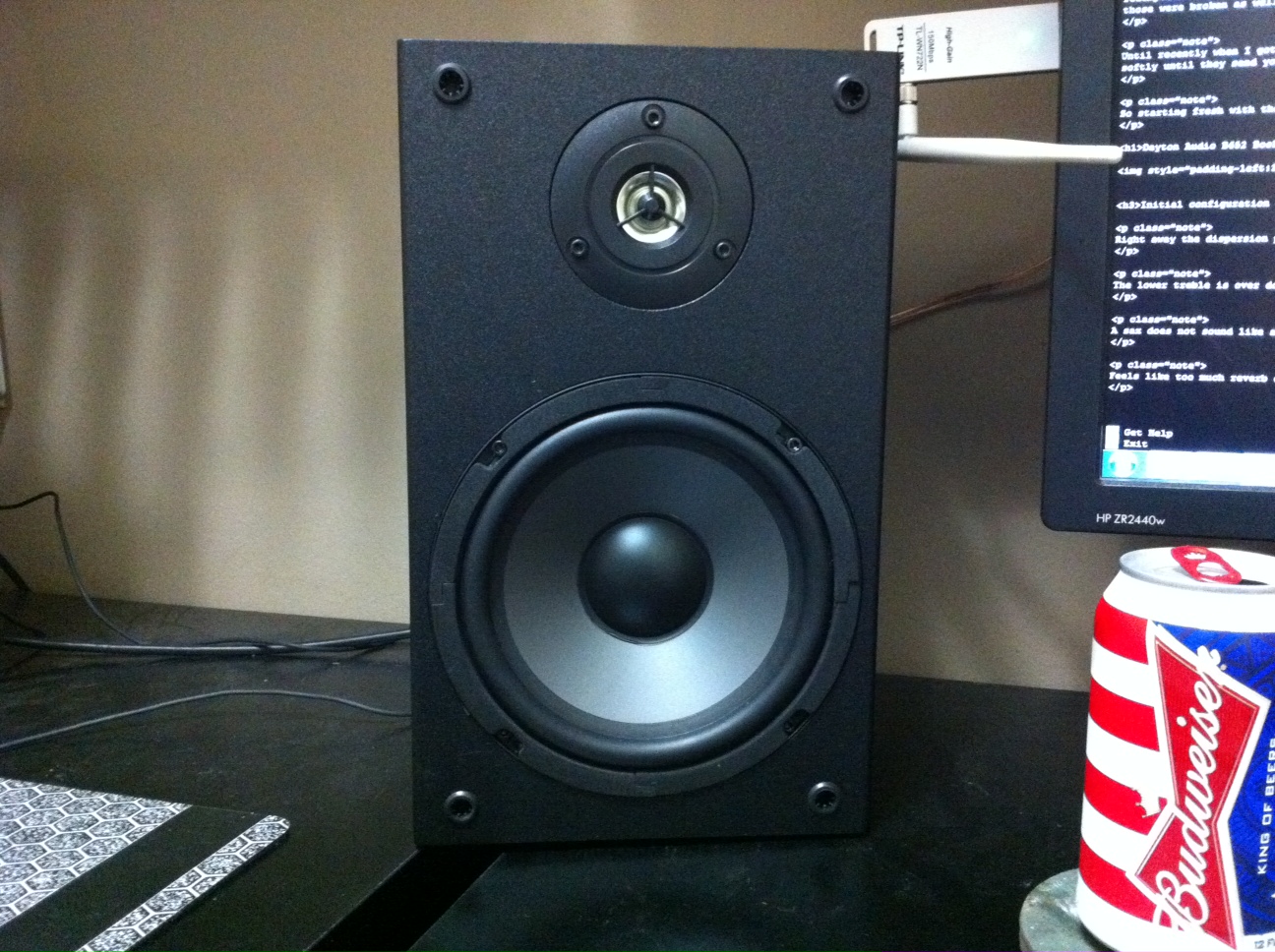 Right away the dispersion pattern of the diffuser is bothering me, everything is a reflection, there is no direct sound.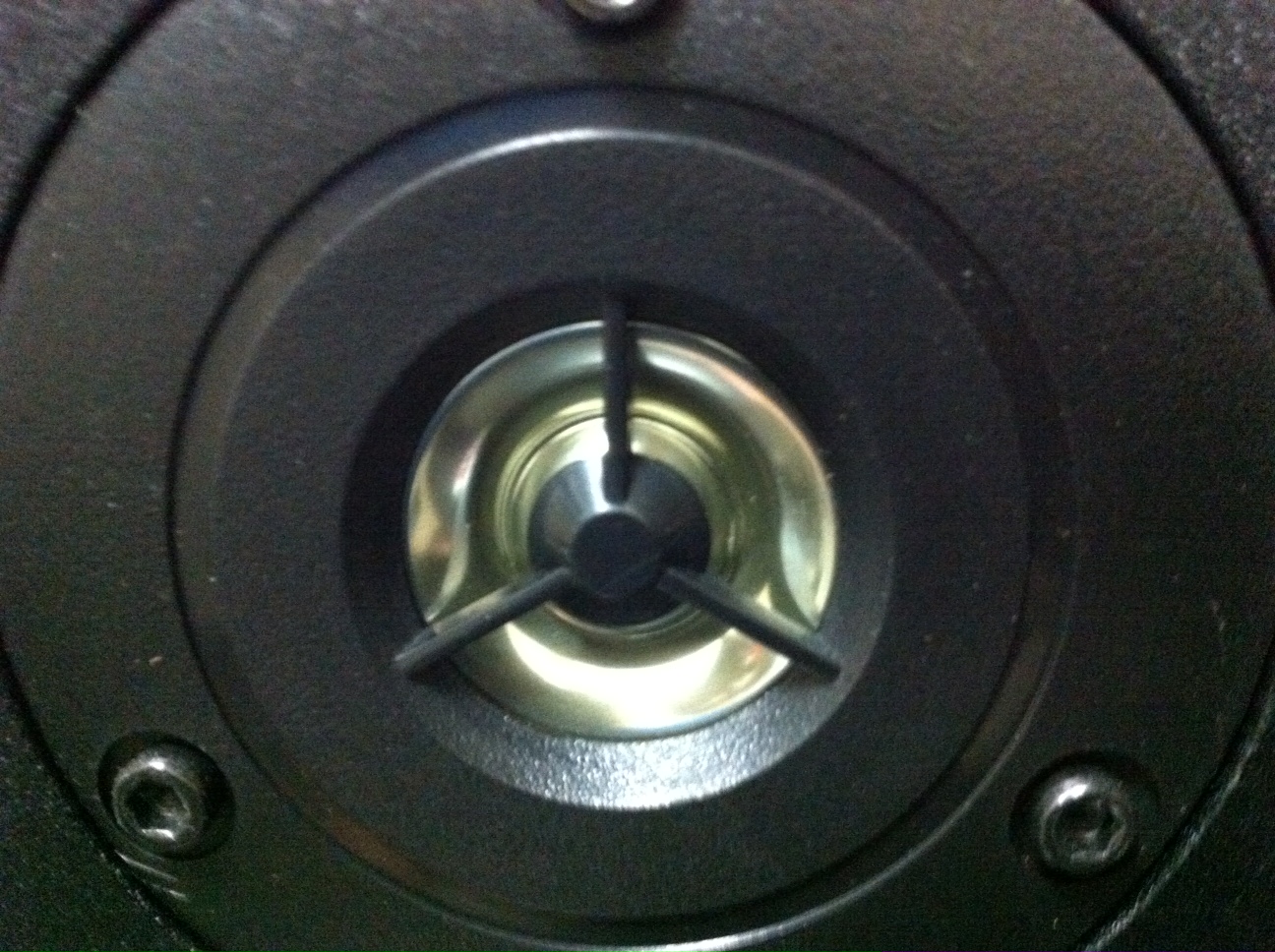 The lower treble is over done, and it hurts my ears, causes me to keep turning them down.
A sax does not sound like a sax, it sounds some kind of glass horn full of metal shavings.
Feels like too much reverb on everything. This primarily is a tonal issue, but also I think it is an issue with the reflected sound and distortion of the drivers.
Configuration attempt number 2 - Grills on flat on desk
Putting the grills back on helps a good bit with tone, but now the image is smashed or gone completely.
They definitely sound like big speakers, much larger than they are and they are pretty large speakers compared to many of the micro speakers I've reviewed.
There are some obvious tone issues here, With the grills off they sound very hot in the lower treble which is the most sensitive band as far as detecting loudness, which is why they sound so damn loud.
There is a cone break up in the tweeter or something going on in the upper treble, it's making the cymbal hits ring.
Time to try some female vocals.
This is just not getting any better. damn, I need to practice what I preach.. time for some speaker stands.
Configuration attempt number 3 - Grills on, on stands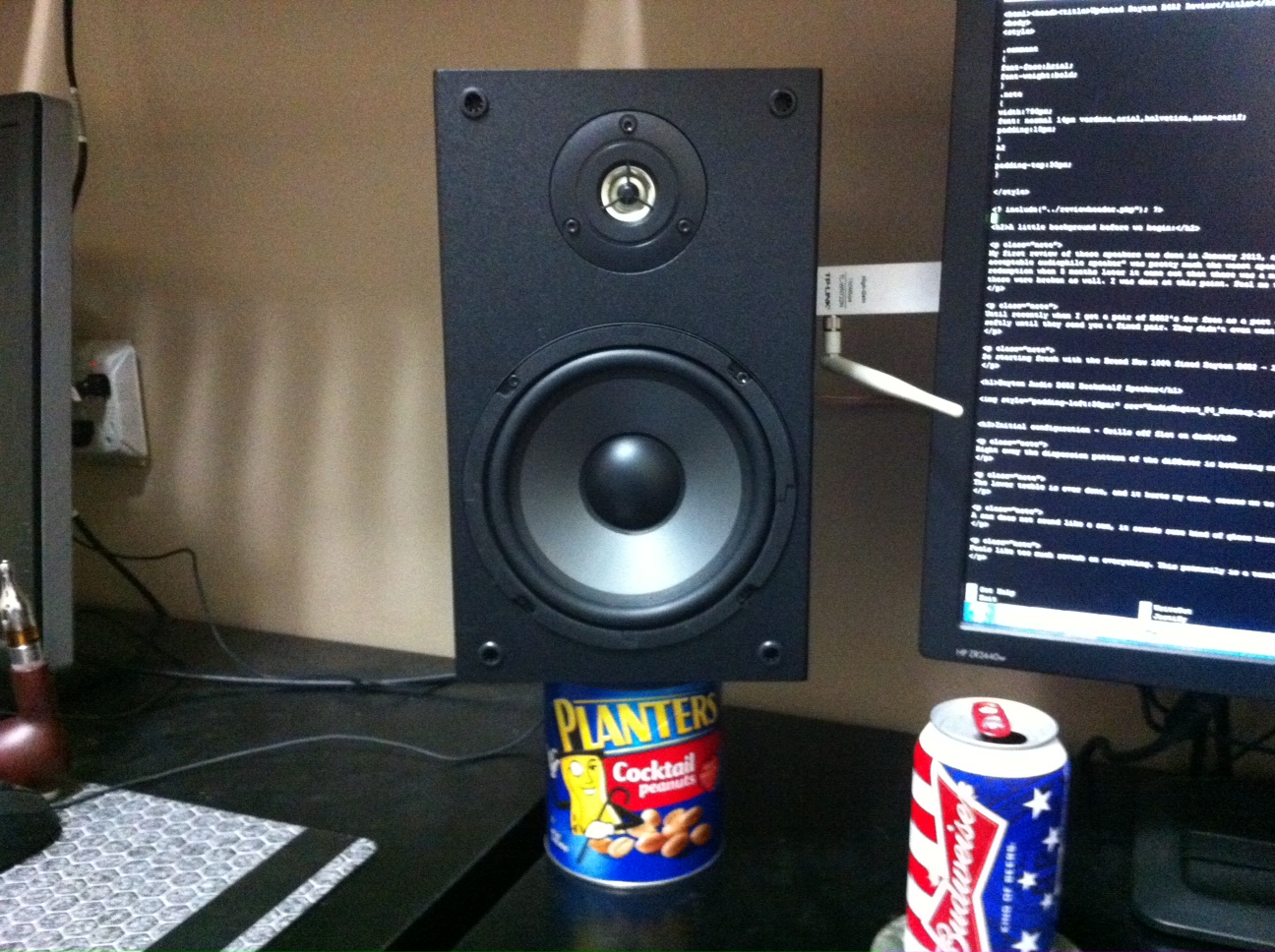 I'm just nuts about avoiding early reflections.
Sounds almost like the channels are reversed.. there is a center image, but it's all behind me. Backing up helps, but it's still goofy. Seems like the image is made up from wall reflections instead of from the speakers. I've got them less than 2 feet apart, but they sound like they still need to be closer together.
Configuration attempt number 4 - grills off, on stands:
This tone is the sound of cheap, loud and upper midrange heavy.
Stevie Nicks sounds like a chipmunk - all of the body was sucked out of her and she has a tiny little head that can't reach the lower octaves.
Tone strikes again with guitar picking sounds getting pushed up to interfere with snare drum hits, makes of a confused mess.
My ears are getting used to this now, my brain has adjusted to most of the sharpness that causes pain. Time to try a run through of Come with us by the chemical brothers - at volume.
Compression nightmare - These tweeters are garbage, total trash.. nothing can save them.
Configuration attempt number 5 - grills off, upside-down on stands
The woofer is still sounds the same as the one as the original set and has the same issues, rising response to cone break up coupled with a massive drop in response. I still can't run far enough away from these tweeters.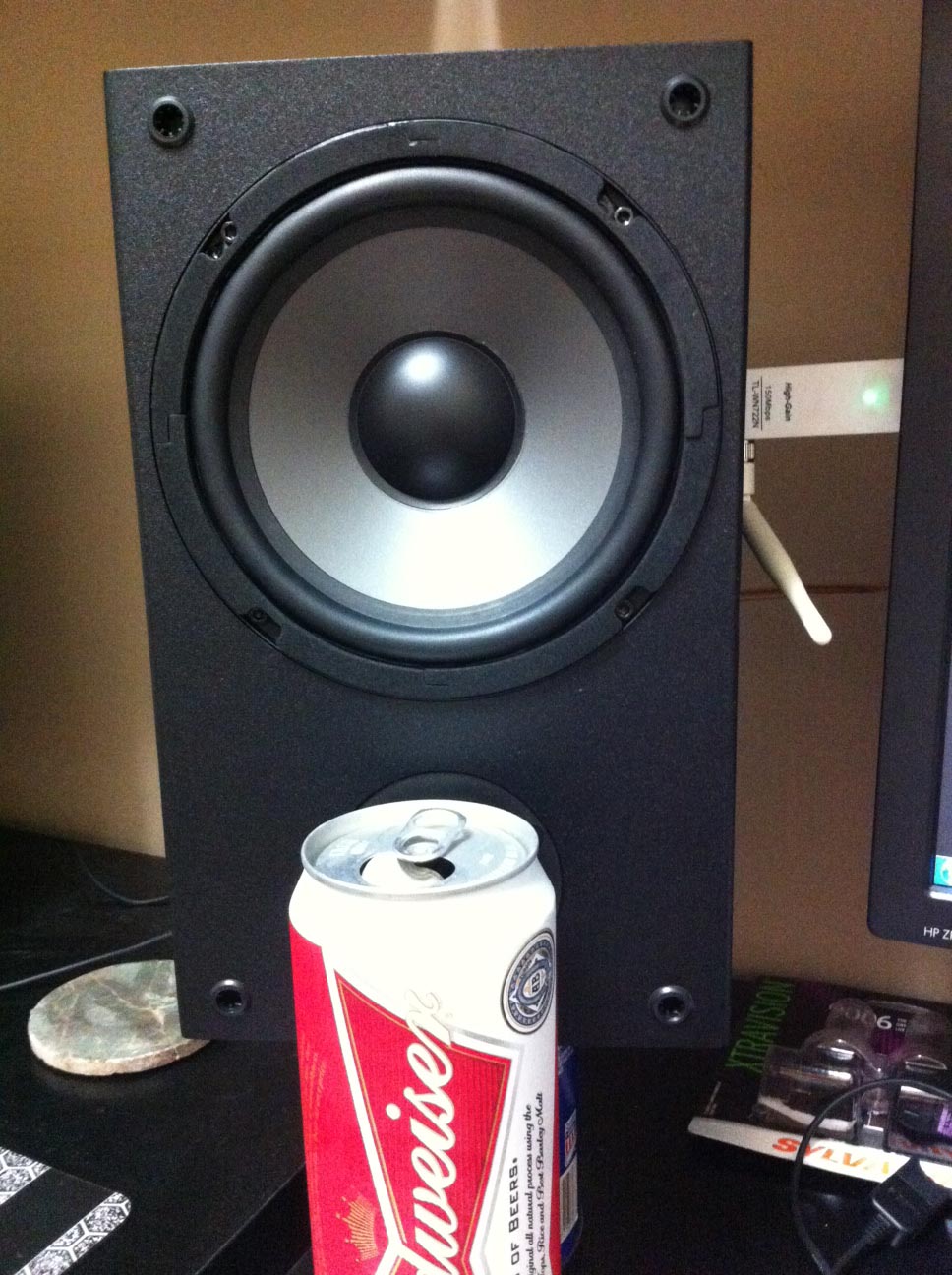 I knew there was a reason to buy a 24oz can.
Bass sounds good and clear.. most people would see the top end as a reference point and say the speaker lacks bass, but honestly bass is the only thing I like about these so far. Nice acoustic suspension design that provides a pretty good lower mids and upper bass.
Configuration attempt number 6 - speakers on stand upside-down, grills on:
In this configuration they lack excitement, sounds like I'm listening to a woofer with a nasty tweeter somewhere in the room. Also almost sounds like phase issues with sound coming from the room.
Configuration attempt number 7 - Speakers upside-down, grills right-side-up covering the majority of the woofer, and letting the tweeter have more space.
This is getting silly now. I might just point them face down at the desk next. No one can accuse me of not trying hard enough to like these speakers.
Surprisingly this is an improvement in tone, but honestly it's such a mess like this it's hard to tell what is really happening other than I put a block of wood in front of the woofer.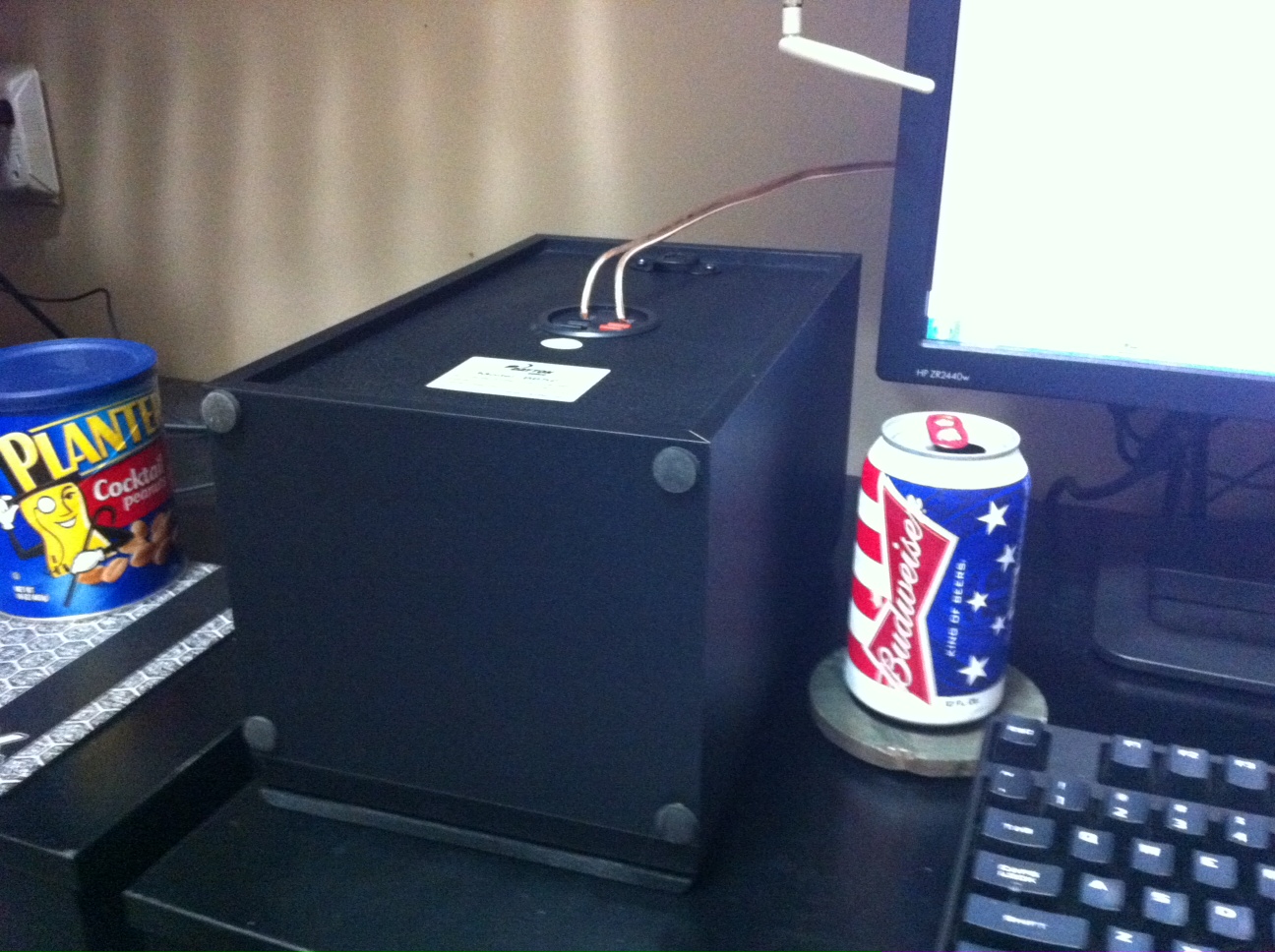 Correct Placement
Uncorrected Verdict
I would not call this a good speaker, because I want to keep turning it down instead of up.
I think for a home theater you might be able to use these to some effect in conjunction with a Audyssey enabled receiver, but for near field don't think about it.
Maybe I can do something with the DSP correction, parts express says this is the final build and no more changes are expected. Hopefully that is true and they are built consistently enough to apply a standard filter to them.
DSP Correction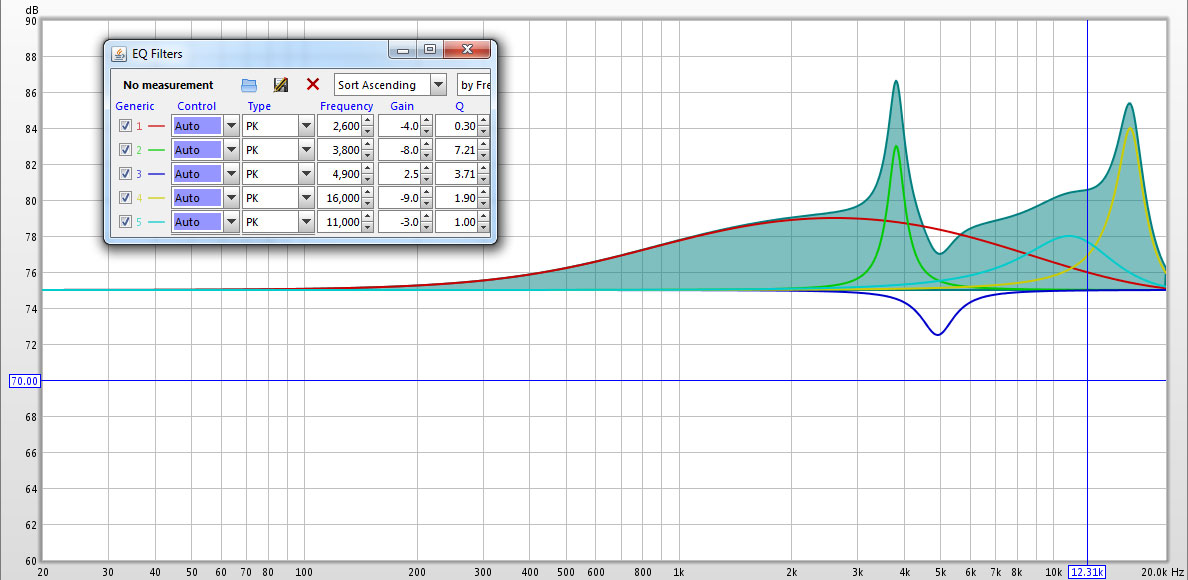 Rising response and cone break up of the woofer are really the only issues here.
Corrected listening impressions
Driver distortion is a problem at volume with the tweeters, nothing can be done about that. These are better speakers with the correction, but they are still garbage.
The problems with this speaker are inherent to the driver selection which is a direct reflection of the limited budget. On the plus side I think this is probably as good of bass performance that you can get for the money as far as bass clarity, but once the woofer cone break up is taken care of the tweeter is the biggest problem here. A replacement driver may do something for you, but honestly it's not going to count for much if you can't match them up with a decent crossover, and no a premade off the shelf crossover is never a viable solution. If you dump any money into this speaker you are probably better of just starting over and getting something better as a starting point.
Final Thoughts:
There is something to be said for getting sound on the cheap, but If you start out your audio life with these speakers look for a replacement as soon as you can possibly afford it. A little bit of perspective here, we have a $40 pair of speakers.. they sound like $40 speakers. In comparison to what they were 8 months ago when the tweeter was broken and crossing over to early this is a huge improvement. If you buy these you are getting what you pay for, but not a penny more. These are not the saviors of budget hi-fi, they are cheap in sound and performance.
Other content you may like:

Sours: http://noaudiophile.com/Dayton_B652/
You will also like:
.
692
693
694
695
696