15 trending TikTok challenges right now and how to find them
If you're not partaking in the latest TikTok challenge, why are you even on the app? All jokes aside, this short-form video social media platform truly is all about trends. Whether you love them or hate them, jumping in on a trend is one of the quickest ways to go viral and land on a coveted spot on the For You page. But how does a TikTok challenge start, anyway?
Most TikTok challenges start with a popular song or sound. One video with that sound goes viral, and soon, other users start putting their own spin on it. And when more and more people start to do their own versions, it quickly becomes a trend. That said, it's much easier to hitch a ride on an existing trend than to try to create one of your own. And to help you out, we've rounded up some of today's top TikTok challenges.
The most popular TikTok dance challenges right now
It just wouldn't be a list of TikTok challenges if we didn't start off with the app's top dances. Read on to decide the next choreography routine you'll be learning to get more views.
1. The "Unlock It (Lock It)" TikTok challenge
To the tune "Unlock It (Lock It)," this fun and simple dance is making waves on TikTok. While you can perform the moves in any location, it's growing in popularity because people are doing it at their jobs, on vacation, and with big groups.
2. "Yah Trick Yah" dance challenge
The song "Yahhh!" may have been released in 2007, but it's making a comeback in 2021 as a viral TikTok dance. Set to the classic beat by Soulja Boy, this dance is a favorite because of how easy it is to do. Simply lip-sync the "Yah Trick Yah" lyrics in the beginning and then bust a couple of moves at the end to complete this challenge currently dominating the For You page.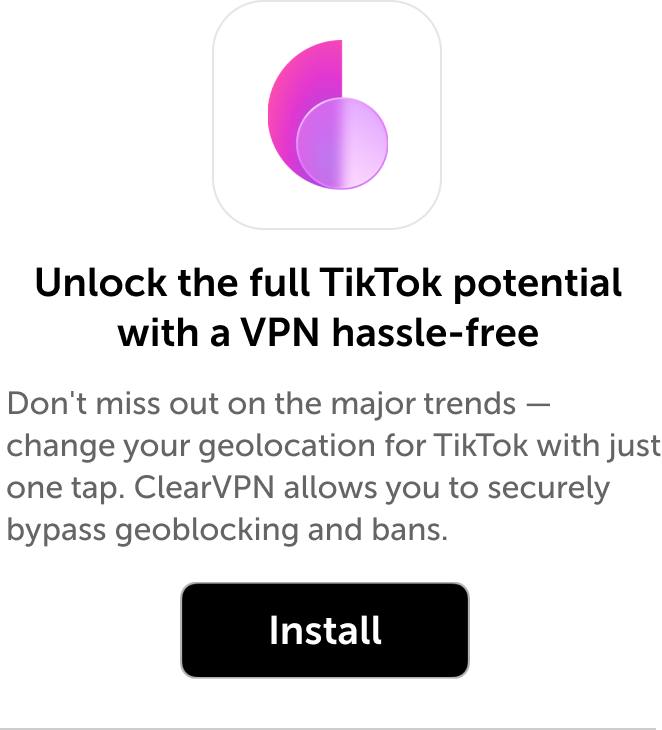 3. The "Get Up" challenge on TikTok
Set to another song from the 2010s, this challenge features a choreography routine to the 2016 song "Get Up" by Ciara featuring Chamillionaire. While it's a little more advanced and requires some skilled moves to pull off, all you really need to bring to complete this dance challenge is a lot of energy. Bonus points if you do it at your place of employment.
4. "Up" TikTok challenge
Cardi B's wild hit "Up" has risen to the top of the charts — and to the top of TikTok's For You page. You'll really need to bring it with the moves and high energy for this challenge as it requires you to get low and pop back up.
5. "What You Know Bout Love"
This adorable dance is a popular one for couples and best friends alike. Set to the song "What You Know Bout Love" by Pop Smoke, this dance has you drawing a heart with your hands and completing a few quick moves, ideally standing next to someone you love.
Fun TikTok challenges for couples
The only thing better than doing a TikTok challenge? Doing a TikTok challenge with your significant other. Read on to learn about the top TikTok couple challenges happening right now.
6. Perfect match dance challenge
This challenge is all about showing how you and your partner's differences complement each other. Each person sarcastically describes themselves. Then they dance around in a circle while holding hands.
7. Without telling me TikTok challenge
This challenge has become a TikTok staple. And while it can be used for pretty much any scenario, people tend to take on this challenge to poke fun at their partner. The original video will set up by saying something like, "Tell me your boyfriend is messy without telling me your boyfriend is messy." Then other users duet the video showing messes made by their boyfriends.
8. I hate all men TikTok challenge
Despite the brutal-sounding title of this challenge, it's actually adorable. This one starts with the user lip-syncing to the sound, which says, "I hate all men but when he…" Then the video cuts to a montage of videos showing the couple, screenshots of sweet text messages, or other examples of why the user loves their significant other.
9. "Take a look at my girlfriend" TikTok challenge
For this challenge, post a photo of your significant other to the song "Cupid's Chokehold" by Gym Class Heroes. It should line up with the lyric, "I know I'm young but if I had to choose her or the sun, I'd be one nocturnal son of a gun."
10. The first name challenge on TikTok
This challenge is another funny one to try out on your partner. Record their reaction to you calling them by their first name instead of whatever pet name you normally use. The results are bound to be hilarious.
Other trending challenges on TikTok
And now, it's time to go over some of the non-dance challenges making the rounds on TikTok right now, from the straightforward to the delightfully weird.
11. Reese's Puffs TikTok challenge
For this challenge, all you need to do is dance around to this funny beat, which just repeats the phrase "Reese's Puffs" over and over again. Then add some text that describes a funny situation where you're not paying attention — when you should be.
12. "Now look at this" challenge
This outrageous trend challenges users to show off some of the weirdest and funniest videos they've ever taken or simply stumbled across on the internet. Film yourself with the viral sound from Kid Cudi's song "Day 'n' Nite" and features the attention-drawing lyric "Now look at this." Then cut to the ridiculous video of your choosing.
13. Cheering crowd
The sound is simple: A crowd cheering and giving out big applause. The challenge here is to have the crowd cheering for a small or silly feat. Make sure to use a subtitle or the video's caption to type out whatever insignificant deed the crowd is supposedly cheering for.
14. Clown challenge on TikTok
For this challenge, all you have to do is add some text to your video describing a time when you were duped or got something oh-so-wrong while using the popular Psychedelic Clown filter. While sounds for this challenge vary, the most frequently used sound is a song called "Pan Con Choclo" by Firenetics, uploaded by user Angi_randxm.xD.
15. "Waking up in the morning" TikTok challenge
And finally, we have the challenge that uses the iconic soundbite from "Sad Song" by Gia Giudice of The Real Housewives of New Jersey fame. Start by filming yourself during the beginning where the sound says, "Waking up in the morning, feeling so many things," and add some text describing your most embarrassing moment. You can also cut to any evidence of the incident, like photos, screenshots, or videos to add to the story.
How to find new TikTok challenges
The best way to know what's trending on TikTok is to be active on the app. If you spend some time each day scrolling the For You page, chances are you'll start to see the same sounds, effects, and video styles being used. The more common the videos are, the bigger the trend.
You can also check out TikTok's Discover page to see what hashtags are trending. Most TikTok challenges will come with an accompanying hashtag that states that it's a challenge. Scroll through the Discover page and see if you find any. You can also try looking at trending sounds and scrolling through the videos using them to see if you can spot any trends.
TikTok is one of the most engaging platforms thanks to trending dances and fun challenges. If you're seeking to grow your following on the app, getting in on trends is a great way to do so. And if you're looking for even more ways to increase engagement, try posting on TikTok at the best times. Good luck!
Sours: https://backlightblog.com/trending-tiktok-challenges
These Are The Most Viral Dances On TikTok For 2020 So Far
One thing that's made TikTok stand out from the very beginning is the way dance challenges spread through the app like wildfire.
Here is our ongoing list of 2020's most popular viral dance challenges. Make sure to check back as we update this post. You can also check out this year's most popular songs (not always the same thing!).
1. "Say So" by Doja Cat
OK, yes, technically this dance got popular at the end of 2019, but it's entirely worth including. Not only did this dance remain popular well into 2020, but Doja Cat released a music video for the song in February that included not only the dance, but its creator, @yodelinghaley.
2. "Cannibal" by Kesha
I know this feels like it was 20 years ago, but it was actually just February. This dance went completely viral but was started by @ya.girl.bri.bri97.
3. "Motion Sickness" by Phoebe Bridgers
This is like the indie/art/alt/queer girl version of a TikTok dance craze. This one was started by @biblegirlirl.
4. "Blinding Lights" by the Weeknd
This dance challenge was particularly cute because it emerged in the early days of the pandemic when everyone was trapped at home with their parents, inspiring family versions.
5. "WAP" by Cardi B and Megan Thee Stallion
It was only natural that one of the biggest songs of the years would turn into a dance challenge. And yes, your butt will be doing the heavy lifting on this one. If you go to creator @besperon's channel you can find a slowed-down tutorial.
6. "Tap In" by Saweetie
This was so popular that Saweetie herself did it, too, along with the likes of Addison Rae, Charli D'Amelio, and James Charles. It was created by @yodamnmomma, who also posted a tutorial.
7. "3 Musketeers" by ppcocaine feat. NextYoungin
Both this song and dance were all over TikTok this summer with all your favorites doing it, but it was actually started by @colo.cag, and here's how to do it yourself.
8. "Attention" by Todrick Hall
So here's one that requires actual dance skills since it's more involved than just some arm movements. Prepare to sweat! In what is actually kind of a rarity, this one was started by Charli D'Amelio, probably because she's actually a trained dancer.
9. "Supalonely" by BENEE
Creator @zoifishh certainly wasn't super lonely in dancing to this catchy song.
10. "Savage" by Megan Thee Stallion
You know Meg would be coming up again! This was created by @keke.janajah, but you can just call her Queen Keke.
11. "WAP" vs. "Anaconda" by Adam Wright
Dancing to this mashup is extra fun because you get to duet yourself! It was created by @gwenythryan in October.
Sours: https://www.buzzfeednews.com/article/laurenstrapagiel/most-viral-tiktok-dances-of-2020
The Best TikTok Dances of 2020 So Far
During this socially distanced and extremely online time, TikTok has emerged as the uncontested social media platform of the moment—and thus TikTok dance challenges, long the domain of Gen Z, have become omnipresent on the Internet at large.
The formula for creating one of these entertaining clips is deceptively simple: about 15 seconds of fast choreography (short and tight moves are preferred to fit the app's vertical frame), set to a song's catchiest snippet. Pair the right shimmies and gestures with an earworm of a music clip and you could find yourself being mimicked by millions of other TikTok users who are eager to learn a new dance routine—or just trying to get some movement in while staying home.
But the power of a trending dance extends beyond the views of a viral video; this year so far, TikTok dance challenges were responsible for securing top chart spots for artists like Drake, Doja Cat and Megan Thee Stallion, whose songs provided the addictive soundtracks for these dance trends. For Drake, no stranger to the potential of a viral challenge, having the "Toosie Slide" hit #1 on the Billboard Top 100 appeared to be a clever feat of reverse engineering, thanks to his instructive lyrics that were perfect for a soundbite, and the "leak" of a hip hop dancer-slash-influencer performing choreography to it. The dance challenge began before the song had even dropped.
Other artists have acknowledged the power of the TikTok dance as well; Doja Cat included Haley Sharpe, the TikTok user who created the viral choreography to her song "Say So," in the official music video for the track, while Cardi B has vowed to learn the choreography to the dance challenge that choreographer Brian Esperon debuted on TikTok to her song "WAP" with Megan Thee Stallion. (Since the song released two weeks ago, "WAP" has been used as the audio for just under 200,000 videos on the app, while the hashtag #WAPdance has amassed over 2.7 million views.)
So, while the Trump Administration has issued executive orders that some fear could lead to the app getting banned in the United States, it appears that for now the TikTok dance challenge is here to stay. From the Renegade to the WAP challenge, here are the best TikTok dances of the year and how they took over the Internet.
The Renegade with "Lottery (Renegade)" by K Camp
Consider the Renegade the dance routine that introduced TikTok dances to the mainstream. The New York Times reported in February that the wildly popular version of the dance that was circulating on TikTok was taken, without credit, from a 14-year-old dancer named Jalaiah Harmon, who had posted the original and more complex routine on an app called Funimate. The dance's viral popularity brought issues with crediting and influencer culture—especially when it comes to taking (and benefiting from) content made by Black creators—to the forefront of Internet discussion.
"Blinding Lights" by The Weeknd
The Weeknd's '80s-flavored hit "Blinding Lights" inspired TikTok user @gregdahl7 to create a challenge in its name, which involves a group of people dancing with sweeping arm movements. Unlike other TikTok challenges, this one tends to involve more space and movement, as it begins with a run into the frame and ends with a jump.
"WAP" by Cardi B and Megan Thee Stallion
While there are multiple dances that have been choreographed for Cardi B and Megan Thee Stallion's late-summer hit "WAP," the routine that begins with a high kick, twerking and falling into the splits—created by choreographer Brian Esperon—is the one that's Cardi-approved and has found fans among influencers like Dance Moms star Nia Sioux.
"Tap In" by Saweetie
TikTok user Lesley Gonzalez is credited with creating the choreography for the "Tap In" dance, which begins with a literal interpretation of the song's title. The dancer first "taps" the air like a phone screen, then launches into a series of flashy upper-body dance moves and body rolls.
"Say So" by Doja Cat
When 17-year-old Haley Sharpe created this quick routine filled with arm rolls and punches in her bathroom, she helped to catapult Doja Cat's song "Say So" to both TikTok fame and the top of the charts. Sharpe's influence didn't go unacknowledged either; Doja had the teenager appear in the '70s-themed official music video for the song, where Sharpe performed the routine while roller skating at a disco rink.
"3 Musketeers" by ppcocaine ft. NextYoungin
According to New York Magazine, the body roll-heavy dance routine that's become synonymous with ppcocaine's song "3 Musketeers" was created by TikTok user @colo.cag. The choreography is punctuated with lots of chest pops and hip thrusts, which makes it a great match for the energetic, if chipmunk-esque, vocals from ppcocaine (formerly known as trapbunniebubbles).
Savage Challenge with "Savage" by Megan Thee Stallion
When Megan Thee Stallion dropped her EP SUGA in March, her song "Savage" became a hit on the Internet, where fans particularly loved the hook that described Meg as "classy, bougie, ratchet." TikTok user Keara Wilson created a dance routine with demonstrative movements for each of those descriptors that was so captivating that Meg not only reposted Wilson's video, but also uploaded a video of herself doing the choreography.
"Cannibal" by Kesha
Kesha's old music—party anthems ripe with hyperbole and debauchery—make for TikTok gold: since the dances that trend on the app do well with literal interpretations, the more dramatic the lyrics, the better. So perhaps it should come as no surprise that Kesha's song "Cannibal" has become a viral hit on TikTok nearly a decade after its release. The routine created by user Briana Hantsch features a dance move of pretending to eat alongside the line "I'll eat you up," and became so popular online that Kesha herself released a video of herself doing the dance online, alongside TikTok super-influencer Charli D'Amelio.
"Savage Love (Laxed – Siren Beat)" by Jawsh 685 and Jason Derulo
Singer and burgeoning TikTok influencer Jason Derulo has made no secret of his love for the app, using it to boost the release of his song "Savage Love" in June and using TikTok videos of influencers and celebrities dancing to the track as the official music video. The release did came with some controversy, however; Derulo was called out for using Joshua Styla's "siren jam" beat (which had found popularity on TikTok earlier) in a sneak-peek snippet, without crediting him or clearing its use. Styla, a Polynesian 17-year-old living in New Zealand, had created the beat to pay homage to his Samoan and Cook Island heritage; while Styla later received song credit, according to Variety, he was in the middle of label discussions and conversations about artists he might collaborate with (including Derulo), when Derulo leaked the song.
Do I Have Your Attention Challenge with "Attention" by Todrick Hall
This dance challenge is for the flexible among us; started by user Alejandro Santos, it consists of gymnastics-inspired moves, with many people hitting feats like kicks, splits and back handsprings to the high energy of Todrick Hall's track "Attention."
"Vibe (If I Back It Up)" by Cookiee Kawaii
As far as dance routines go, this might be one of easiest ones to hit TikTok. Users can basically freestyle "throwing it back" as they see fit, as long as movements coincide with the quirky sound effects (a whip crack and sea gulls squawking) in the Cookiee Kawaii track.
"Supalonely" by BENEE ft. Gus Dapperton
The "Supalonely" dance, created by user Zoi Lerma, is a study in telling a narrative through dance. Consisting of mostly sweeping upper-body moves, the choreography mimes actions like "drinking" and "thinking" to match BENEE's lyrics about feeling, well, "super lonely."
"Get Loose" by Huncho Da Rockstar & KBlast
The "Get Loose" dance challenge was inspired by the TisaKorean music video for the song of the same name by Huncho Da Rockstar and KBlast. In the video, the artists stand in a triangle formation, stepping forward and back as they twirl one of their arms, before jumping in unison. According to Business Insider, the dance challenge on TikTok started after user Taydon Smith recreated the dance in a video on the app, staggering his movements with his friends.
"Why Is Everything Chrome (Lean Swag Rock Wit It)" by King Critical
The dance created to accompany a clip from King Critical's song "Why Is Everything Chrome?" has become one of the most popular routines on the app, with even Justin and Hailey Bieber giving it a try. The moves are drawn fairly directly from the lyrics, relying on the interpolation of "Lean Wit It, Rock Wit It" along with some well-placed hip sways.
Ahi Challenge and TraChallenge2 with "Tra Tra" by Nfisis
According to Oprah Magazine, the original "Ahi" challenge was created by TikTok user @elrodcontreras, who choreographed a simple routine in which users sway their hips and raise their hands to the beat of the song "Tra Tra" by Nfisis. A later challenge, called the "Tra Challenge 2" kept most of the same movements and the same music.
Hit Every Beat challenge with "U Can't Touch This" by MC Hammer
This TikTok dance, created by user Thaddeus William-Coates, is a riff on the Macarena, set to a remix of MC Hammer's classic track, "U Can't Touch This." Simply align your Macarena movements to the beats that follow Hammer saying "can't touch this," before adding a drumming motion and the "woah" at the end.
More Must-Read Stories From TIME
---
Write to Cady Lang at [email protected]
Sours: https://time.com/5880779/best-tiktok-dances-2020/
〓Hip Sway TikTok Dance〓HAKU〓【MMD】【73】
TikTok: What is the hip walking trend? Here's what users think about the challenge
TikTok has a new trend called the hip walking trend but what exactly is this challenge about? Here are those videos and the song behind the trend explained.
Every now and again, a new challenge pops up on TikTok, making it the latest new thing of the social media platform.
A recent challenge, called the hip walking trend, has started trending and users rushed on the internet to find out more about it.
So, what is this trend all about? Let's find out.
TikTok: What is the hip walking trend?
The hip walking trend is one of the latest challenges on TikTok which started trending only a week ago.
The first few seconds of the clip shows a person walking as they film their face before they show a close-up of their bellies and continue walking.
The challenge is called the 'hip walking' trend but the whole emphasis of it comes on people's bellies where some users have showed off their abs.
Many users have said that people can't naturally walk like that and added that those who tried the trend seem to be "body flexing".
Users react to the trend
It's safe to say that social media users are divided over the newest TikTok trend and many have explained why.
Some have said that the challenge feels toxic and can lead to body image distress for people who deal with eating disorders or body image insecurities.
"This "hip walking" trend on tiktok is just body checking and I'm not here for it," reacted one Twitter user.
"This made me feel insecure but I'm glad they feel confident in themselves," wrote another person to which someone else replied:
"You shouldn't let it make you feel insecure. Sometimes we let things make us feel a certain way when we don't have to."
"And that's why people have eating disorders," said another person to which someone else responded: "Other people have nothing to do with another person's insecurity or body problems. You choose to compare yourself to people, and put yourself down. And saying stuff like this won't get your self esteem anywhere but lower and lower."
TRENDING: Why is Instagram Carousel not working?
What is the music behind the trend?
The song behind TikTok's hip walking trend is called Pusher – Clear ft. Mothica (Shawn Wasabi Remix).
Thanks to the viral challenge, the remix has gained millions of new views.
One Twitter user explained: "So @shawnwasabi's remix of Clear ft @dearmothica is #35 globally in Shazam right now. Driven by 750k TikTok videos using it. This is really wild stuff."
You can listen to the full song on YouTube from the link down below.
In other news, Does Trisha Yearwood have any biological children?
Have something to tell us about this article?Let us know
Sours: https://www.hitc.com/en-gb/2021/05/21/hip-walking-trend-tiktok/
Tiktok dance original hip sway
.
Hipsway dance cute twin girls
.
You will also like:
.
729
730
731
732
733